When you are looking at advertising through social media the first obvious choice is Facebook, but if you want to advertise on other platforms what else should you consider? I suggest Instagram.
Instagram is one of the fastest growing social media platforms and was so successful that back in 2012, Facebook acquired the business for $1 billion. Back then, Instagram had 30 million users. Fast forward five years to 2017, and now Instagram has 700 million users. In fact, the last four months marks the fastest ever growth for Instagram. With more and more people signing up to the social media platform, it could be worth considering whether you can reach your target market through Instagram.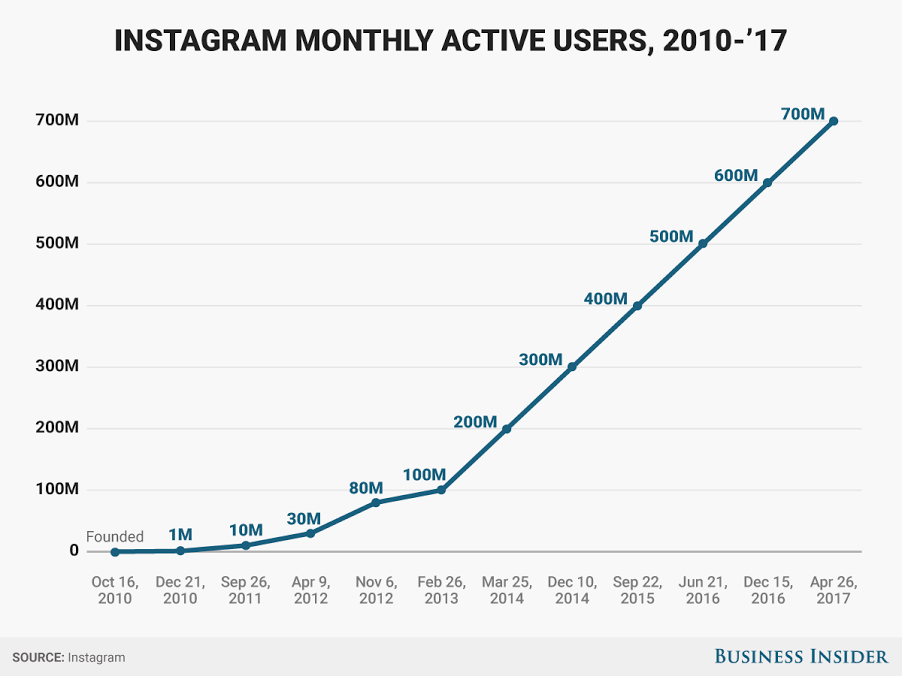 Source: Business Insider
Market research firm Emarketer released a report in 2016 predicting that Instagram advertising may even overtake Twitter. Emarketer's study predicted three-quarters of companies in the United States with 100 employees or more would start to use Instagram for marketing in 2017. Meanwhile, they predict Twitter's popularity will stagnate.
Source: Mashable
It is clear that Instagram is no longer just a place to share photos with your friends, it is also a great option for advertisers. In fact, a study undertaken by Instagram found 75 percent of users take actions including visiting websites, searching, or telling others after seeing an Instagram post.
How to Advertise on Instagram
Convinced you should be advertising on Instagram? The next step is knowing how to set up ads.
First, you will need to log into Facebook Business Manager. If you don't have an existing account, you will need to sign up. Then, you will need to enter your business name and select a primary Page. If you don't have a Page set up for your business, you will be directed to do so. 
It is important you ensure your Facebook and Instagram accounts are linked to take full advantage of Instagram ads.
To link accounts, log into Business Manager. Next:
Click on Business Settings, followed by Instagram Accounts. 
Select Claim New Instagram Account.
Add your Instagram username and password and select Next.
To authorize, select the box next to your Instagram account and click Save Changes. 
Now you are ready to start creating your Instagram ad. First, navigate to ad creation. You will then have to select a marketing objective. The objectives are broken down into three categories - awareness, consideration, and conversion.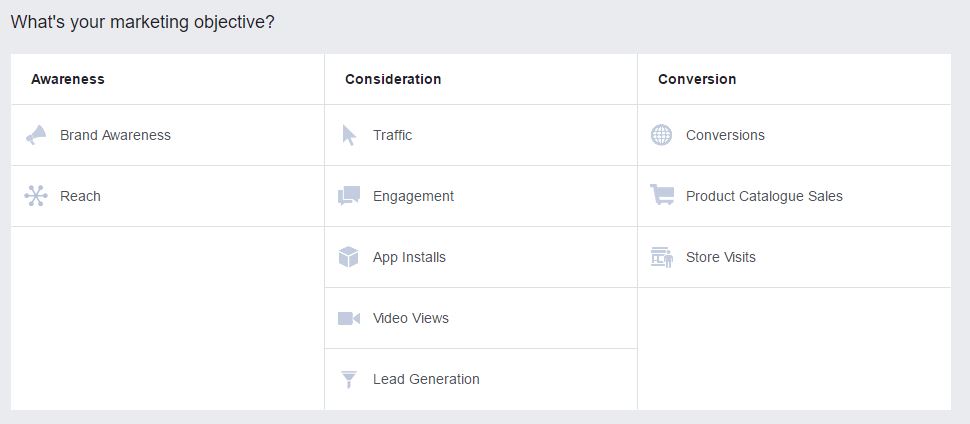 At this point, you will need to name your campaign. This will help you to keep track of each of your campaigns. If you wish, you can use the default name that appears. 
Targeting
Once you have selected your campaign objective, it is time to choose which audience you want your ad to target. 
If you are already using Facebook for advertising, you won't have any issues figuring out how to target audiences on Instagram. This is because Instagram uses targeting the same way as Facebook does. You can target a wide range of demographics, including:
Location

Gender

Age

Languages

Work status

Education

Interests

Behaviours
Instagram's ads allow you to create a custom audience, whereby you can target those who have already interacted with your brand. You can even create a lookalike audience, which will target people on Facebook who are similar to your most valuable audience. You can also save audiences and use them again later. This is a great feature if you are testing different target audiences, as you will be able to track who you previously targeted.
You can also choose a custom audience or lookalike audience to exclude from seeing your ad. If you know there is a particular audience who definitely has no interest in your product or service, this feature can be very helpful. However, it is best to use it with caution, as you don't want to exclude a group of people who will potentially want to see your ad.
Next, you need to set placements. There are two options - automatic or edit placements. By selecting automatic, your ad will be shown in places where it is most likely to perform best, with placements on both Facebook and Instagram.
If you want more control over where your ad will be shown, select Edit Placements. This allows you to select whether your ad will be shown on all devices, or just desktop or mobiles. You can select whether your want your ad to show in Instagram's feed or Stories, however, where your ad is allowed to be displayed will depend on which objective you selected.
Budgets
Once you have your target audience and placement, you will need to organize a daily or lifetime budget. What are the differences between the two options? Selecting daily budget allows for the ad to run during the day, with your budget being automatically-paced. Meanwhile, a lifetime budget continues for the whole duration of your ad campaign, and your budget is paced for the specified amount of time.
If you have selected a lifetime budget, you will be able to create an ad schedule. This allows you to select hours the ad will be shown. If you have a daily budget, you will not be able to schedule ads, and the ad will be shown at all times. You can also choose to accelerate your ad, meaning it will be shown as quickly as possible. 
You will also need to set a bid amount. There is an Automatic option, where Facebook's algorithms will make all the decisions for you. If you want to set the bid amount yourself, you can choose the Manual option. Remember that your ad will be shown instead of a competitor's if you have a higher bid, so don't put your prices too low. Your pay will be based on either link clicks or impressions depending on which option you chose.
What type of ads does Instagram have?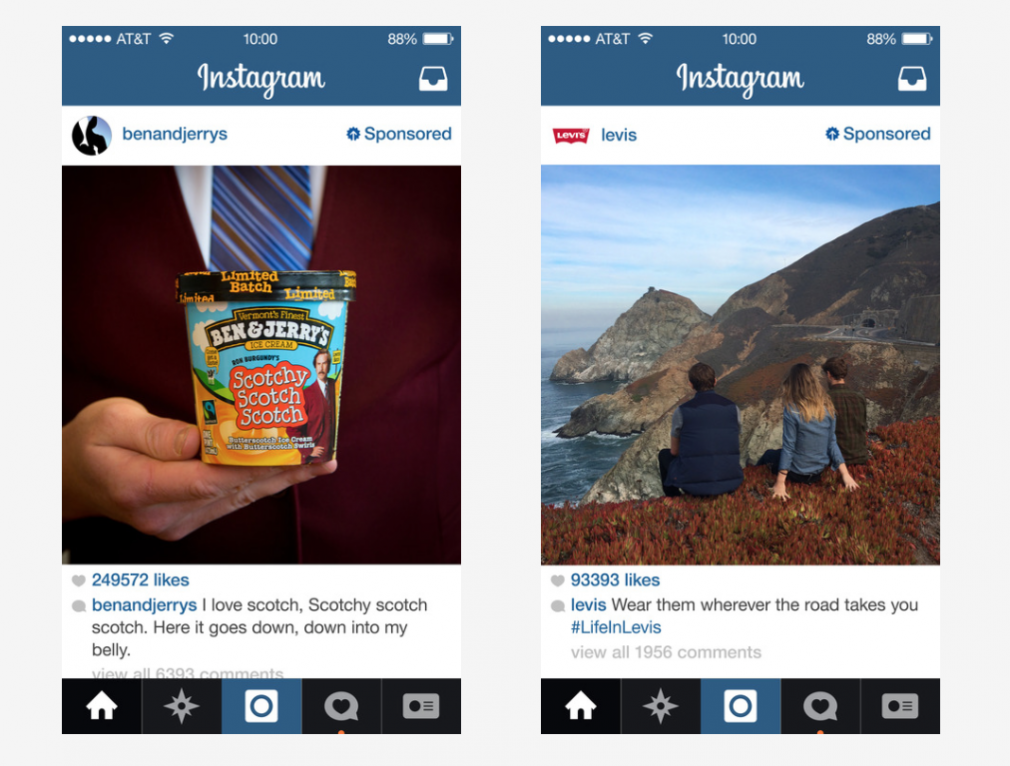 Image source:  The Verge
Under the Advert tab on the ad creation page, you will be able to choose what type of ad you want for your campaign. There are three different types of ads you can choose for Instagram. What you use will vary depending on your goals. The types of ads are:
Carousel: includes two or more scrollable images or videos.

Single image: an ad with one image. You can create up to six different ads.

Single video: one video ad.

Slideshow: using up to 10 images to create a looping video ad.

Once you decide on what type of ad you are going to run, you will be directed to upload your images or videos. You can also insert what information is going to be displayed with the ad. You can include your website URL, a headline and text caption. For the text caption, you can use 2,200 characters, but sometimes shorter is better. The ad will display 125 characters, with users having to click "more" to read the rest of the text. You can also choose to include a call to action, which includes buttons such as Learn More, Apply Now, Contact Us, Book Now, to name a few.
Once you have made these changes, you are ready to press the green Place Order button. Make sure you double check everything is correct before placing your order to ensure your campaign is successful as possible.
Once your ad has gone live, make sure you track your campaign daily to see how it is going. This will help you know if your ad is on the right track, or whether something needs to be changed. To track ads, use the Facebook Ads Manager, which allows you to see metrics such as reach, results, likes, comments, shares, and frequency, to name a few.
With so many users on Instagram, it is clear that this platform is definitely one to consider for your next advertising campaign.