This article is under our "Opinion" category. We recommend you share your thoughts with the author.
App farmlands are growing in big numbers. And you'll be glad to learn that harvest is bumper. According to a Statista report (June 2016), the Apple App Store had 2 million apps, while the Google Play Store boasted of 2.2 million apps.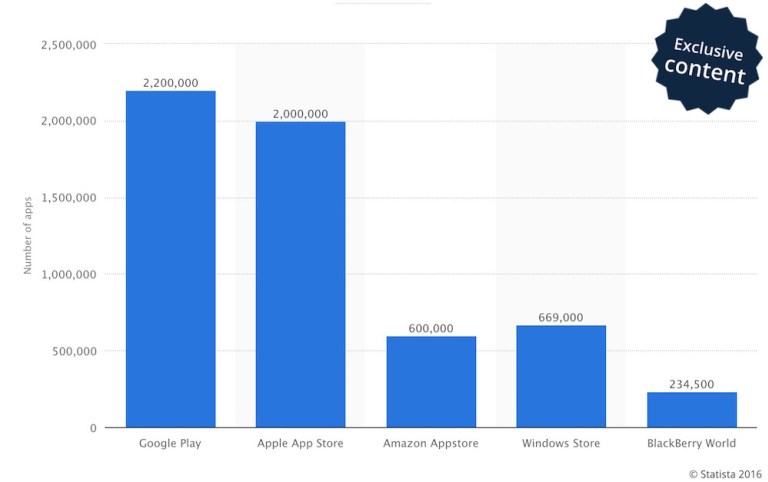 Total no. of apps @ Apple App Store and Google Play Store on June 2016
Of all the app categories, Messaging and Social Media apps are doing amazingly well, besides shopping and finance apps. In fact, Messaging and Social Media apps saw 394% growth in 2016, while business and finance apps witnessed 43% growth in time within the apps.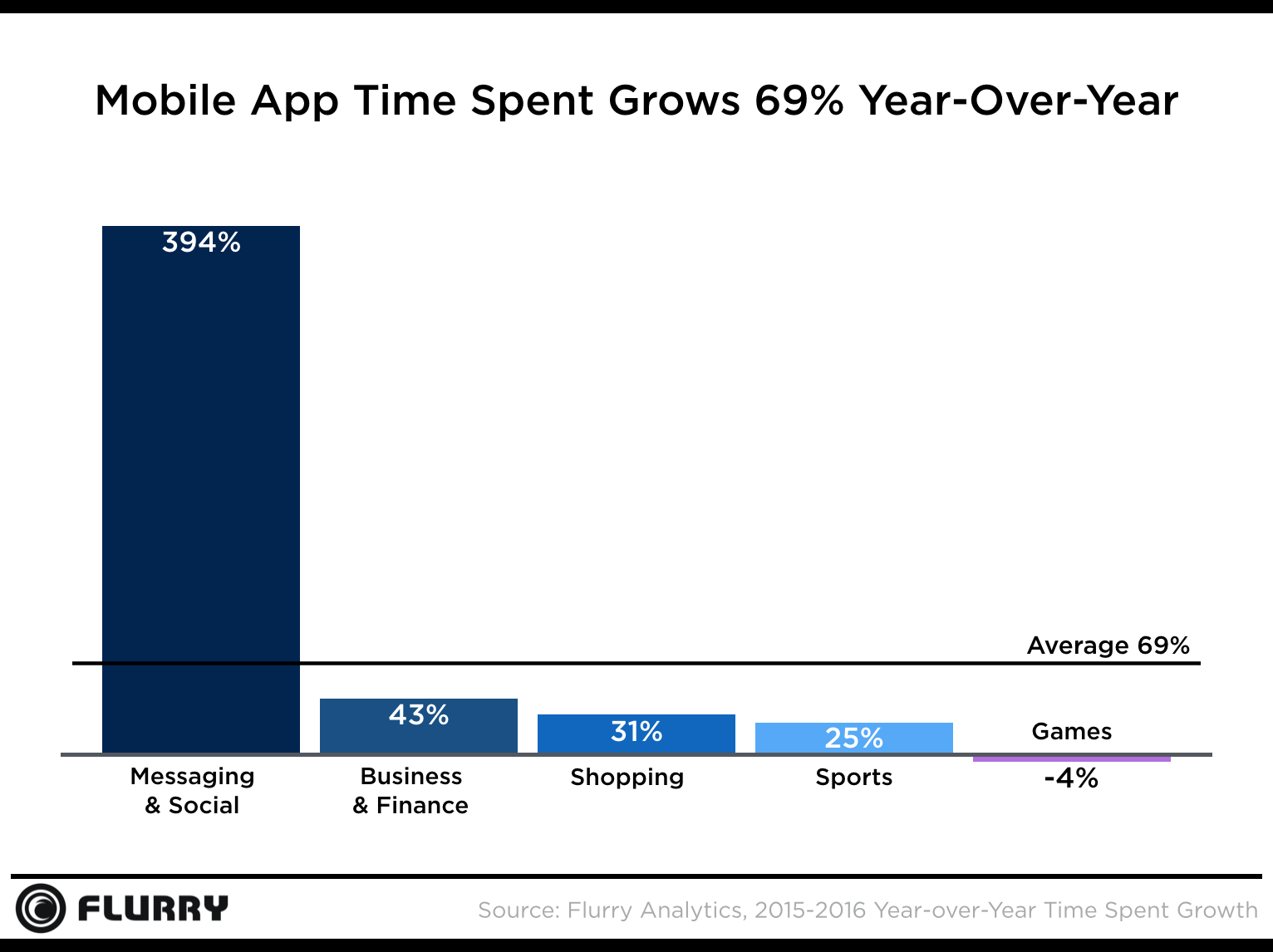 Messaging and Social apps outperformed other app categories by a huge margin in 2016
Yes, everything seems to be going fairly well for the app industry, but then there are a few high-profile reports that clearly clear that app gold rush is over and the industry is on the brink of death.
Let's admit that these reports are partly true. If anything, there are  bad apps galore sold in the app stores including several imitation apps. For instance, today there are over 600 task managers for the iPhone alone, and a new one is popping up every other week.
Once upon a time, the climate was conducive for aggressive app development and so app farmers went ahead and sowed app seeds in colossal numbers.
But then people quickly realized that most of these apps offer low value or no value at all.
According to Compuware study, 80-90% of the apps get deleted after the first use.
One of the reason cited being that apps crash often and suffer from bugs. Other reasons include poor UX, intrusive in-app purchases, too much of unwarranted information, and so on and so forth.
All these factors have led to the rise of bad apps that's killing the app industry. 
Taking a note of the rising number of bad quality apps, the App Store last October removed 47,300 apps. This was in addition to the monthly average of 14,000 apps being removed from the app store from January to September 2016.
Apps Removed From The App Store on October 2016
With only a handful of good apps left, people have started spending a majority of their time on the No. 1 app and about 9 to 10 minutes on other Top 5 apps.
When users tend to spend more and more time on tops apps, it's a given that new apps won't find any takers. That means new apps die the moment they are born. So, in a way, it's not very surprising when tech publications predict the app industry's death.
How to salvage this industry that is almost on the brink of death? Simple: move on to other developer platforms.
Instead of trying to create yet another blockbuster app, focus your attention on newer platforms that are going to be app-based, plus work on newer technologies.
If you are clueless as to what new developer platforms and technologies could help your app industry stay afloat in future, here is a sneak peek and what's trending. All these 8 platforms and technologies would ensure that your app start-up would have enough opportunities to churn apps in big numbers in 2017 and even in the years ahead.
#1 Bots
A Washington post report claims 2017 to be the year of bots. In fact, several messaging platforms such as Wechat, Facebook, Slack, and Telegram are already helping developers in this pursuit and their messaging interfaces programmed to offer automated services.
If reports are to be believed, messaging bots would be programmed to facilitate reading and writing of messages. E-commerce bots for buying goods and services, content bots for sharing relevant content, food bots for ordering dinner, workflow bots for automation of business flow and so on and so forth.
#2 IOT
It's being predicted that 34 million devices will be connected to the internet by 2020 . Which means, every human will have 4 devices, to say the least.
Gartner predicts that nearly 1 million new IoT devices would be sold every hour by 2021.
The morale of the story being that IOT would penetrate homes, businesses and cities in a colossal way and apps stand to gain in a big way from this move, given that IOT devices run on apps.
#3 AR and VR
According to Gartner by 2020, 100 million consumers will shop through augmented reality . So this is a huge opportunity for the retail sector that could leverage this technology to up sell and cross sell. On the other hand, customers could use them for trying on their clothes and more. 
In terms of VR, the top contenders using VR technology would be fashion houses, real estate sector and the online gaming sector. 
#4 Screenless Devices
With the new breed of screenless devices like Amazon Echo, Google Home and Apple's Airpods entering the market space, the need for voice-driven apps would be growing in the immediate future. These devices would act on your voice commands. Say, for instance, through Amazon Echo you control music, thermostats, lights and other things, with the help of your voice. Moreover, it comes attached with an expertly tuned Bluetooth speaker as well, which makes your voice heard almost anywhere.
#5 Daily Habit apps
Despite the allure of social and messaging apps, business, finance, shopping and sports apps are doing well. Partly because they offer services that are intrinsically linked to our lifestyle, and partly because they offer real-time data. So you could even think of developing some beautiful yet functional apps in these evergreen categories. 
#6 Instant Apps
Develop apps that don't require installation at all. Yes, you heard that right. Apps could be run without installation just like Android Instant apps. So, take a cue from Android and get your app development machinery churning accordingly. 
#7 Phablet Apps
With each passing year, users are getting drawn to large screen sizes.For instance, Phablets have captured 41% of the market share. This could be directly correlated to the growth in the media consumption and social engagement app categories.
For your information, this rise of Phablets would eliminate the medium and small phone industry completely.
#8 Multipurpose Apps
Agreed, the western world likes single purpose apps. But then, according to industry experts, 2017 could see the rise of multipurpose apps akin to WeChat of China. Through We Chat, users could chat, pay, catch up on the latest news, book a doctor's appointment and more without leaving the app.
In short, an app capable of offering 10 or 15 different services is in high demand. 
This trend is considered crucial because according to the folks at Tune, 75% install just one app per month. And more than that, users tend to engage with only a few apps daily and more than a third of their time is spent on a single app only. The means developers should forget developing single purpose app and focus only on multipurpose apps.
Bottomline
Red Smith, one of the legendary sports writers of yesteryears once said: "Dying is no big deal. Living is the trick." Applying the same philosophy in the app context, hundreds and thousands of apps die without a trace. That being said, by figuring out the right platform your app is sure to enjoy a longer shelf life. 
Let's discuss below...
Do you have an app for your business?
What apps do you use on your phone the most?
Mobile App Insights
Get access to Mobile App Overview and SearchAds Intelligence