What Is Keyword Cannibalization?
Keyword cannibalization is an SEO issue that occurs when multiple pages on a site target the same keyword(s) and serve the same purpose, and in doing so harm each other's search engine rankings. This is because the search engine can't determine which page is the most relevant result for associated queries.
SEO keyword cannibalization can happen when you:
Publish similar pieces of content over time
Publish a new version of a page without redirecting the old one
Create different paths to the same product category
Optimize similar pages for the same keyword
Do not optimize subcategory pages
Keyword cannibalization in SEO is not just caused by mentioning the same keyword on multiple pages. 
You can target a keyword on multiple pages if the search intent is different. 
Take the search engine results page (SERP) for "hotels in paris france." 
The search intent is mixed:
Google ranks travel guides because some searchers want information about hotels in Paris.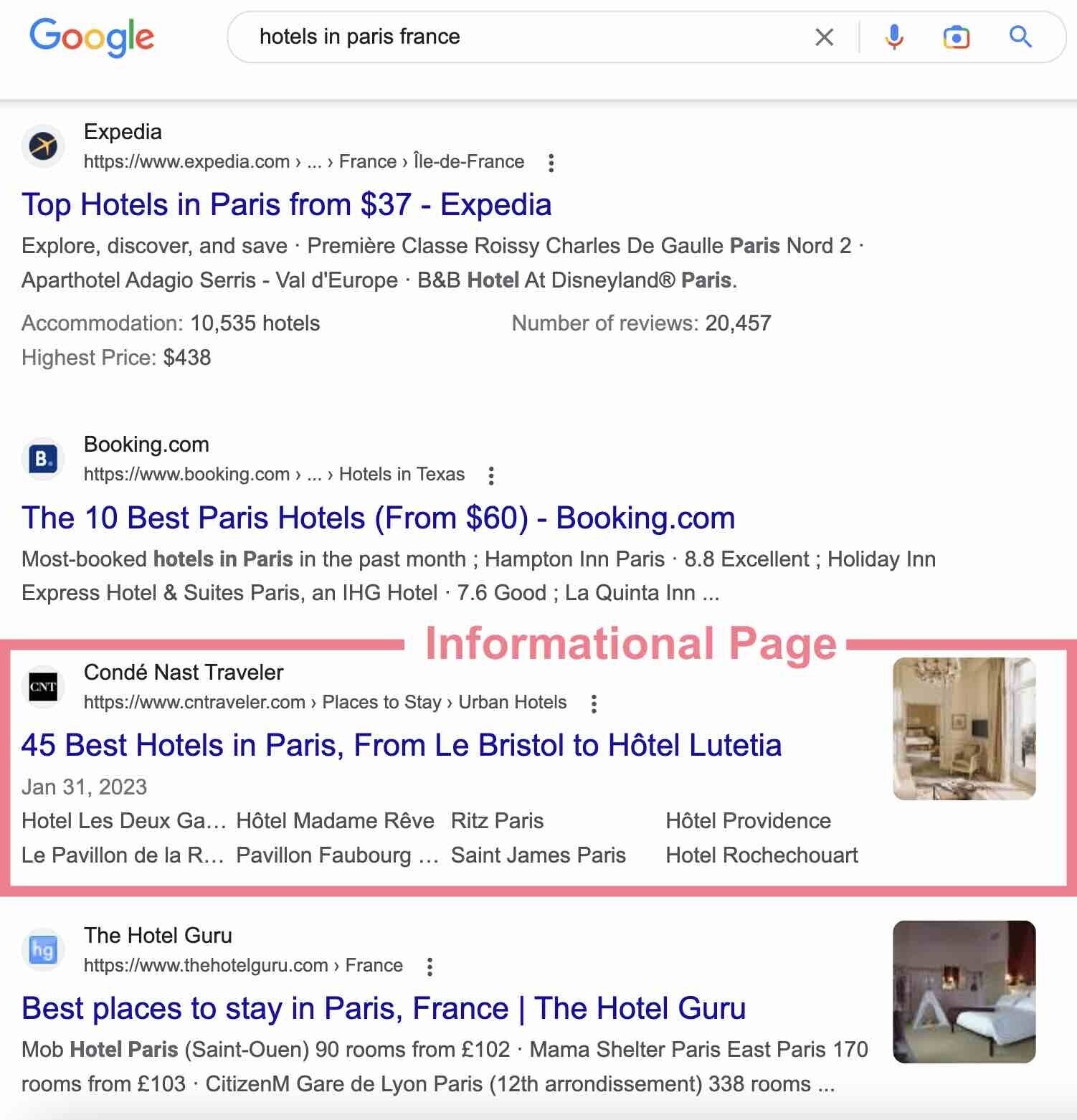 But it also ranks hotel listings, because some searchers are ready to book.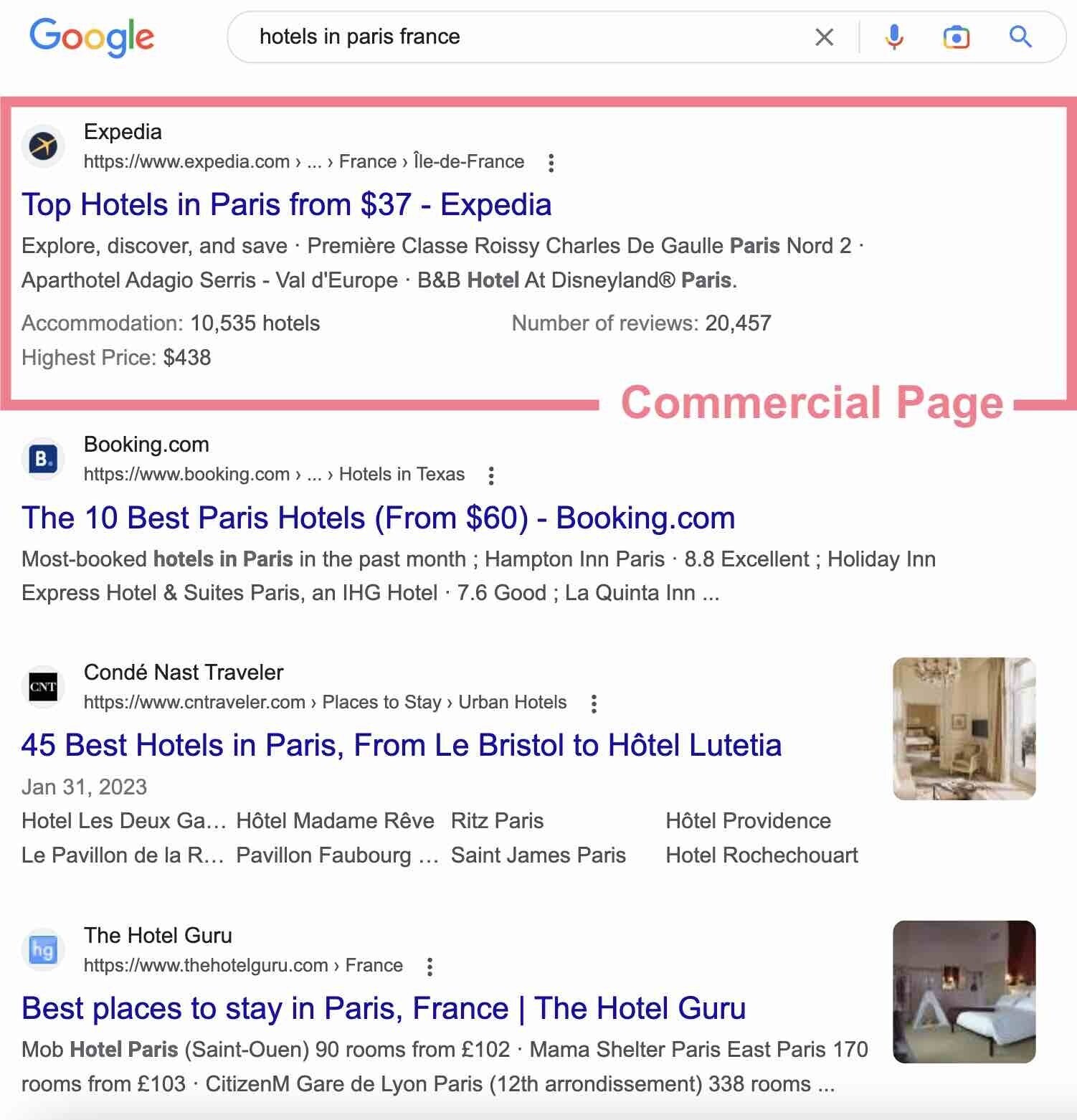 If you owned a hotel site, you could create both types of pages. And target the keyword on both without causing keyword cannibalization.
Catering to both types of search intent could help you secure one high ranking, rank for other valuable keywords, and deliver a better on-site experience to users.
Also, in the case of branded keywords (keywords that contain your brand name), it's common to secure multiple high rankings for the same keyword. 
So you don't usually have to worry about keyword cannibalization with most branded keywords. As long as you're serving the user's search intent with every page you create.
For example, Apple occupies the top three organic results for "macbook pro 13 inch" here: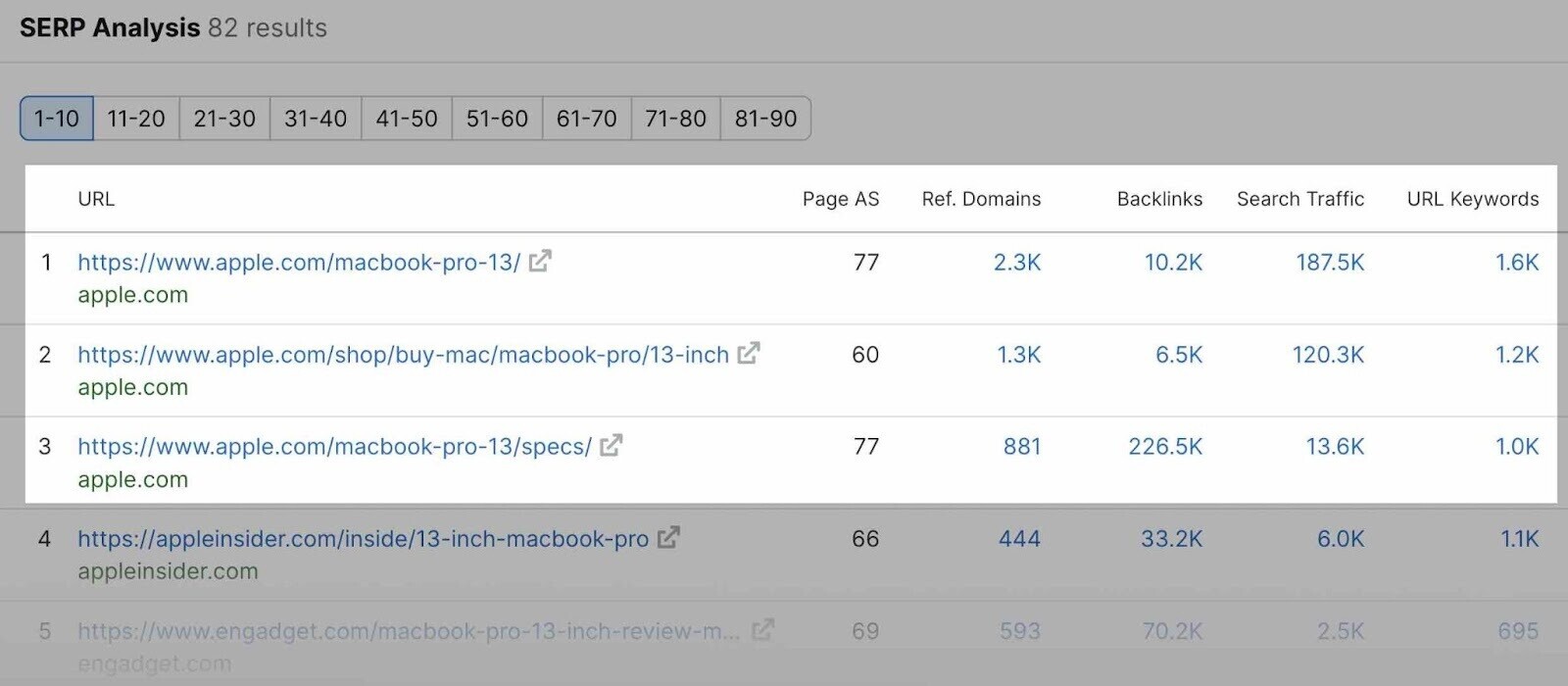 The top result takes the user through key product features.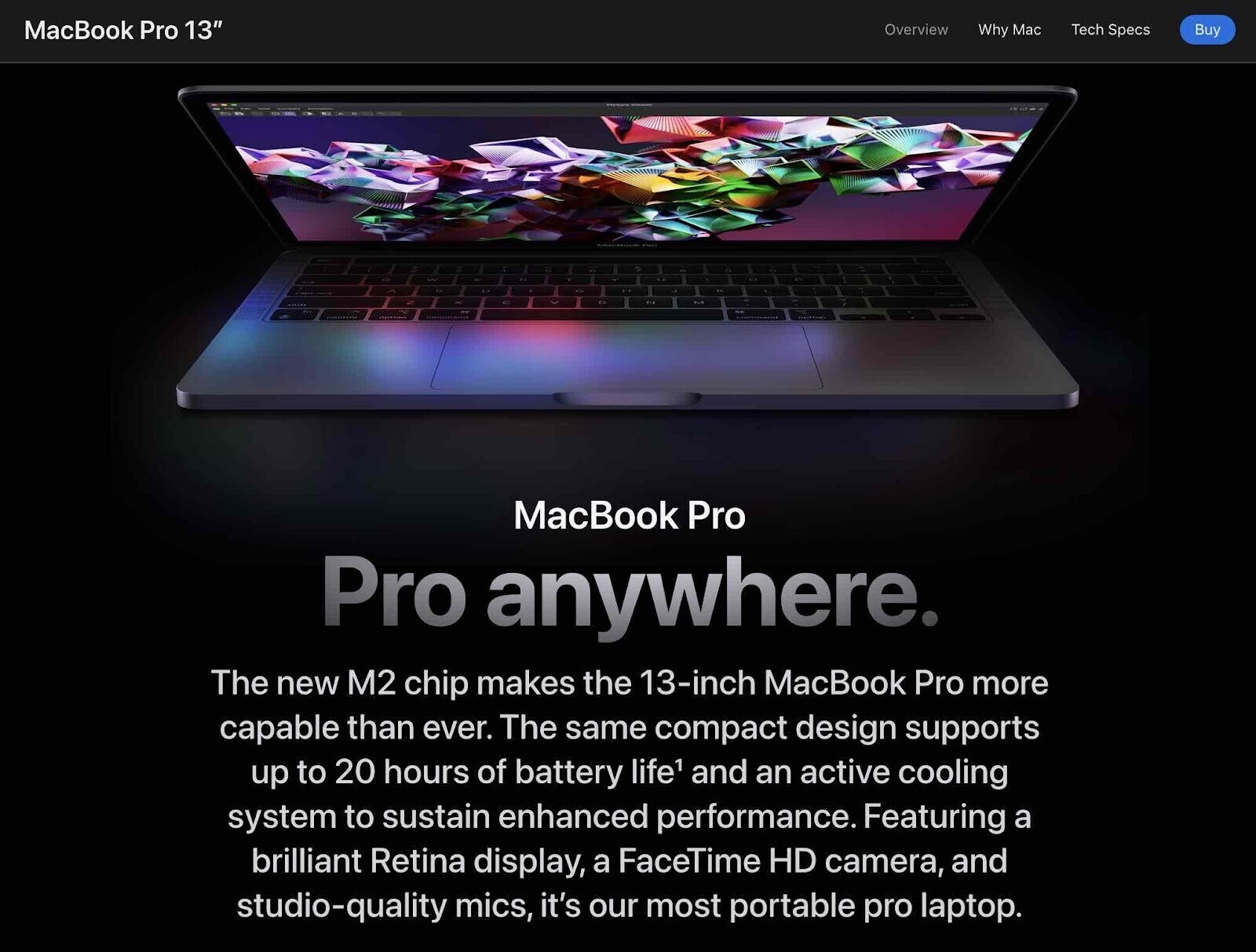 The second allows shoppers to start the checkout process.
And the third covers product specifications in depth.
In this example, targeting the same keyword on multiple pages leads to multiple high rankings. Which helps Apple dominate the SERP and increase traffic. 
It's not keyword cannibalization because each page fulfills a distinct need. 
How to Find Cannibalized Keywords
SEO cannibalization can harm your rankings and conversions. So it's important to identify issues as soon as possible.
Here are three ways to find cannibalized keywords:
Semrush's Cannibalization Report
Semrush's Position Tracking tool monitors your Google rankings to identify potential cases of keyword cannibalization. It provides key insights in the Cannibalization Report.
To get started, enter your domain and click "Set up tracking."
Enter the location you would like to track rankings in. Then click "Continue To Keywords."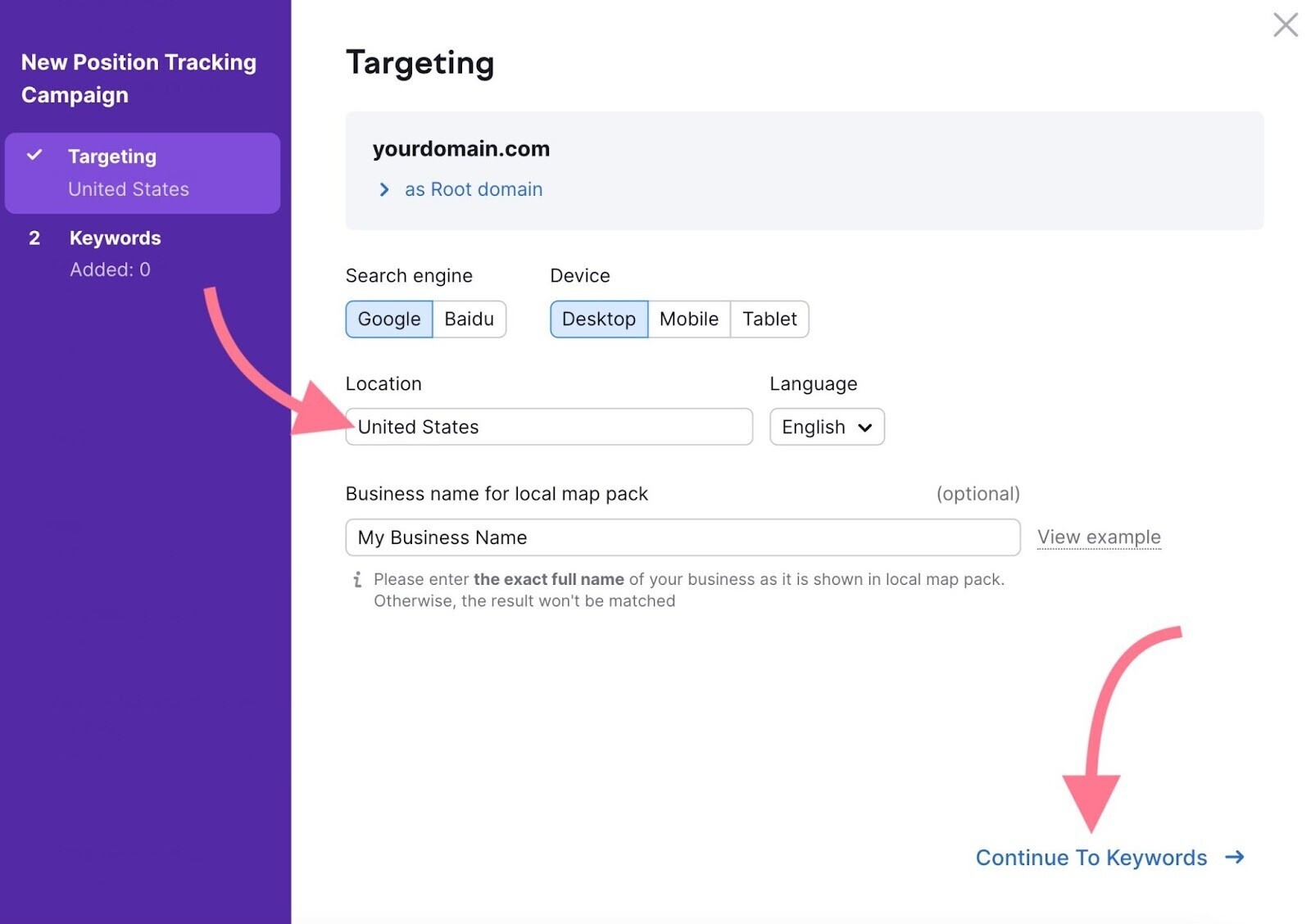 Now, add your target keywords. Use the "Import from…" button to add keywords from Google Analytics. You can also import from other places or get keyword suggestions from Semrush. 
Tip: If you're not sure what your target keywords are, check out our keyword research guide.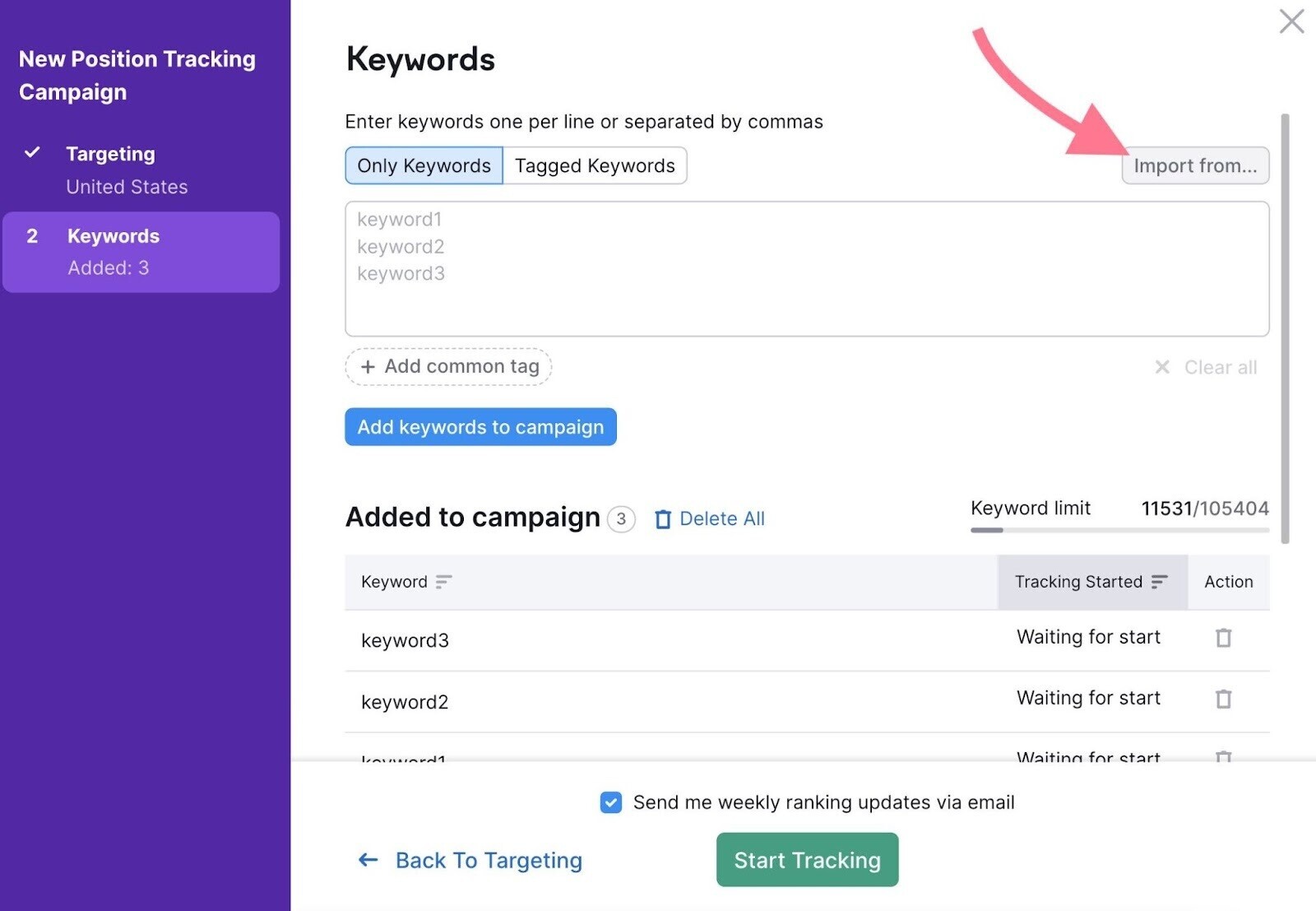 Click "Add keywords to campaign" and "Start Tracking."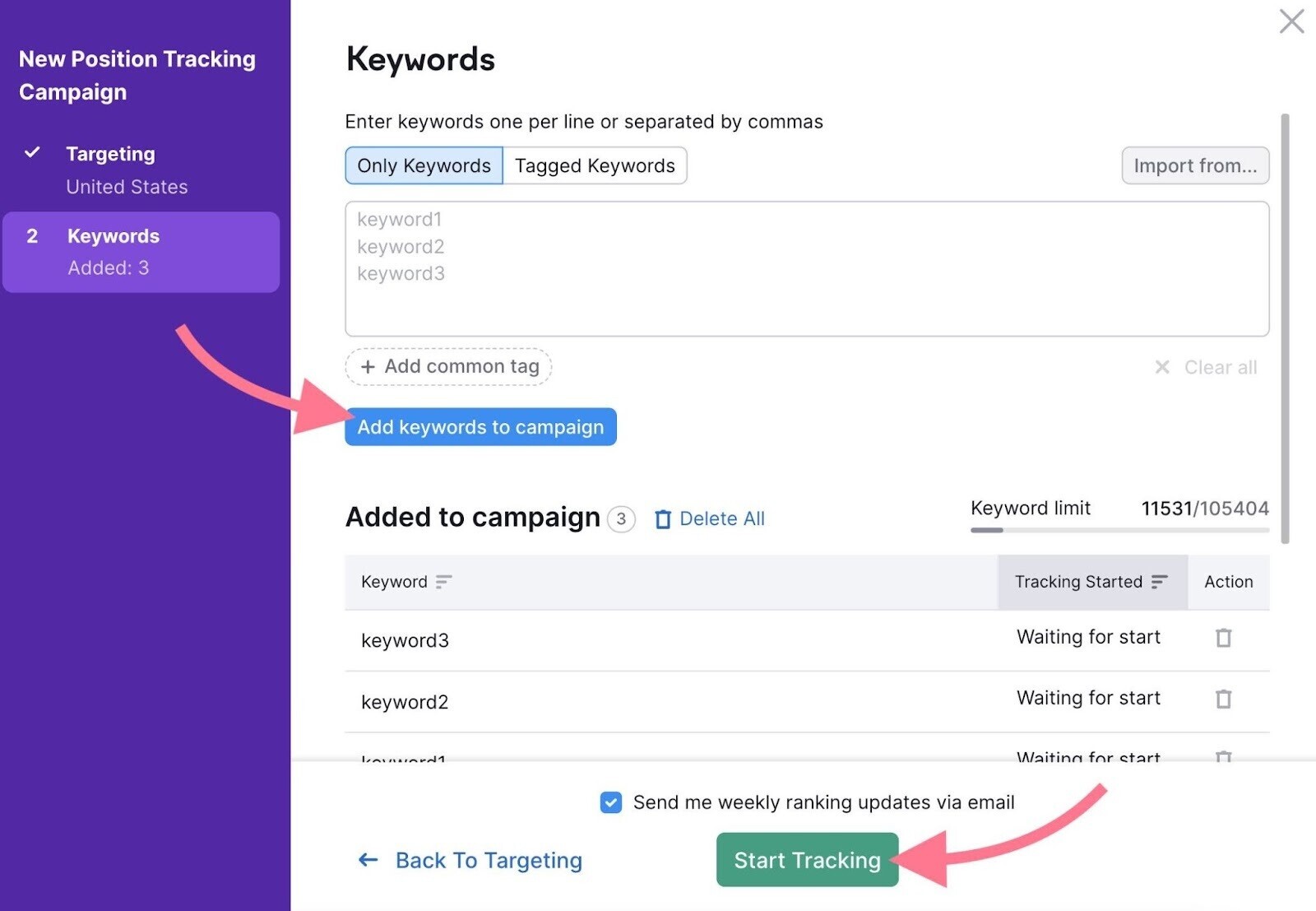 Your project is now ready.
Go to the "Cannibalization" tab to see the number of:
Affected keywords: Keywords that have more than one page ranking in the top 100
Cannibal pages: URLs that share a keyword ranking with another URL (or more)
Scroll down to the "Cannibalization" section. 
We recommend looking at the "Keywords" breakdown.
Use the arrow to expand any result. You'll see ranking URLs and associated data, such as:
Pos.: The URL's ranking for the keyword (on the latest date in view)
Volume: The average number of monthly searches for the keyword (in your chosen location)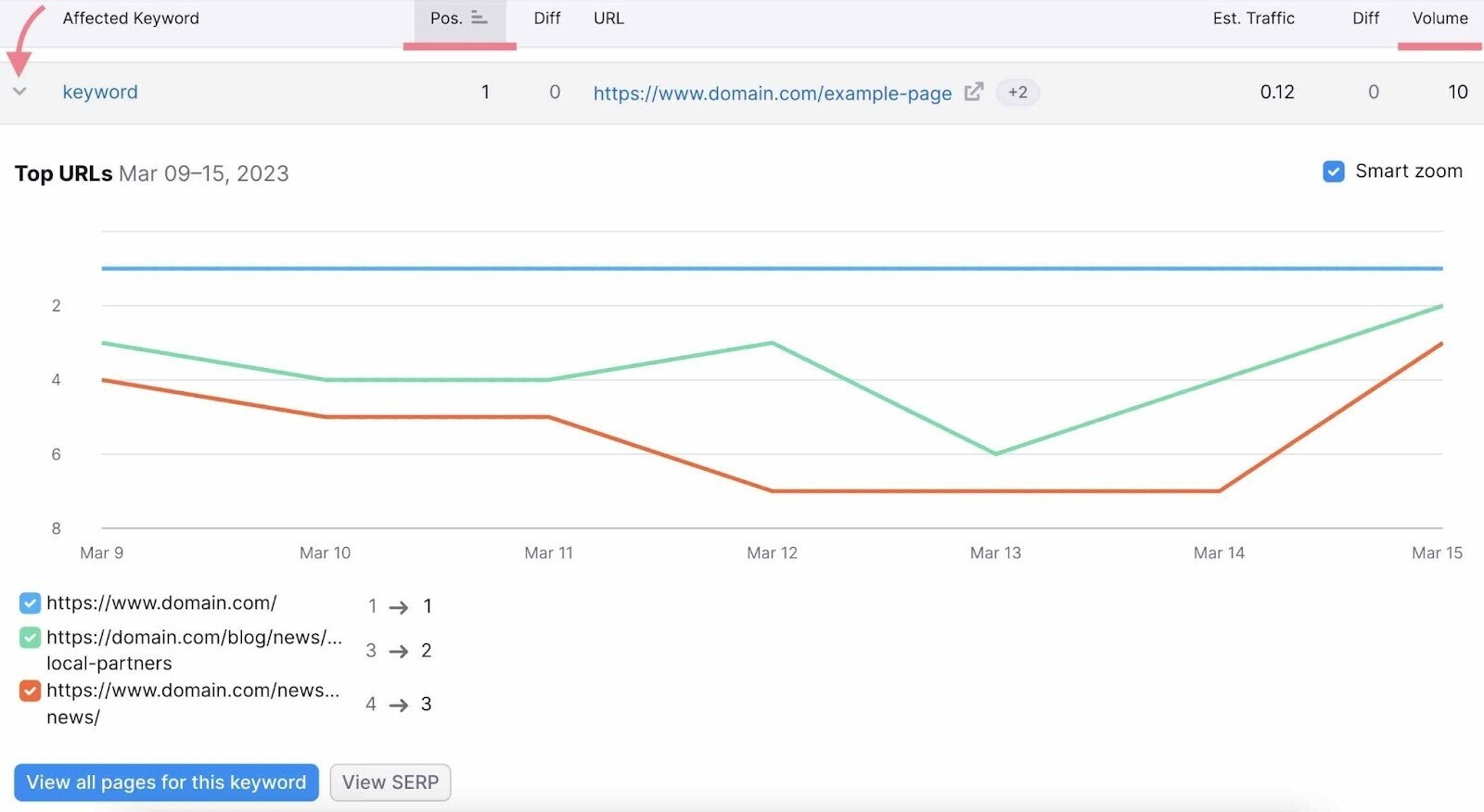 Remember: 
Having multiple URLs rank for the same keyword isn't necessarily a problem. Especially if one or more ranks well (in the top three positions).
To identify keyword cannibalization, ask yourself whether the pages fulfill the same user need. 
If so, you should implement the appropriate fix.
Google Search Console
Google Search Console (GSC) is a free tool that can help you identify keyword cannibalization SEO issues. But it does require some manual work.
Tip: New to GSC? Start with our definitive guide to Google Search Console.
Sign in, then click "Search results" in the "Performance" menu.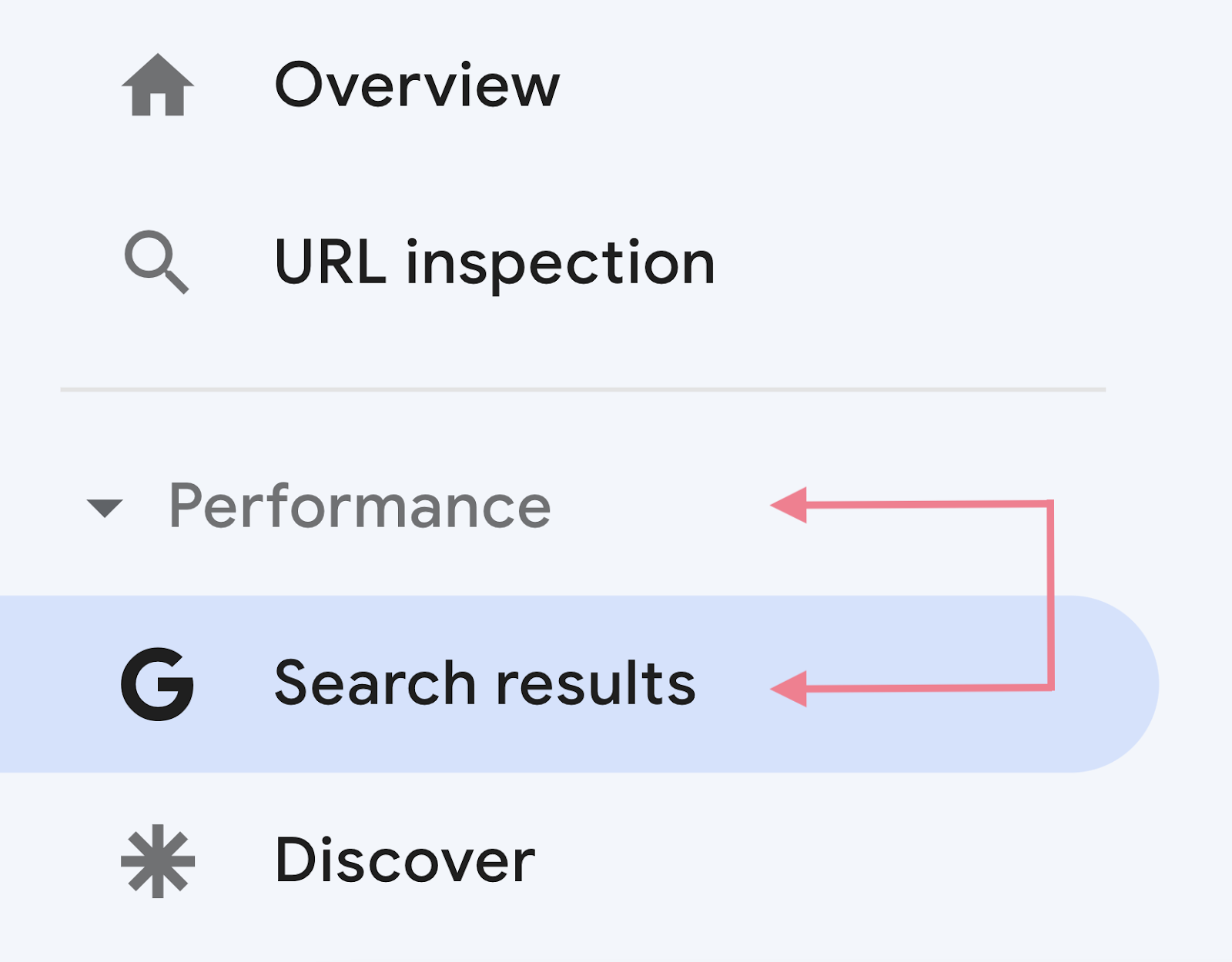 Scroll down to see a list of search queries (or keywords) your site has earned impressions and clicks from.
Click a keyword you want to check. This will apply a "Query:" filter. 
Pro tip: To apply a custom query filter, scroll up to click "+ New" then "Query…" and enter your settings. You can use this option to check multiple related keywords at once.
Navigate to the "PAGES" tab to see which URL ranks for this query.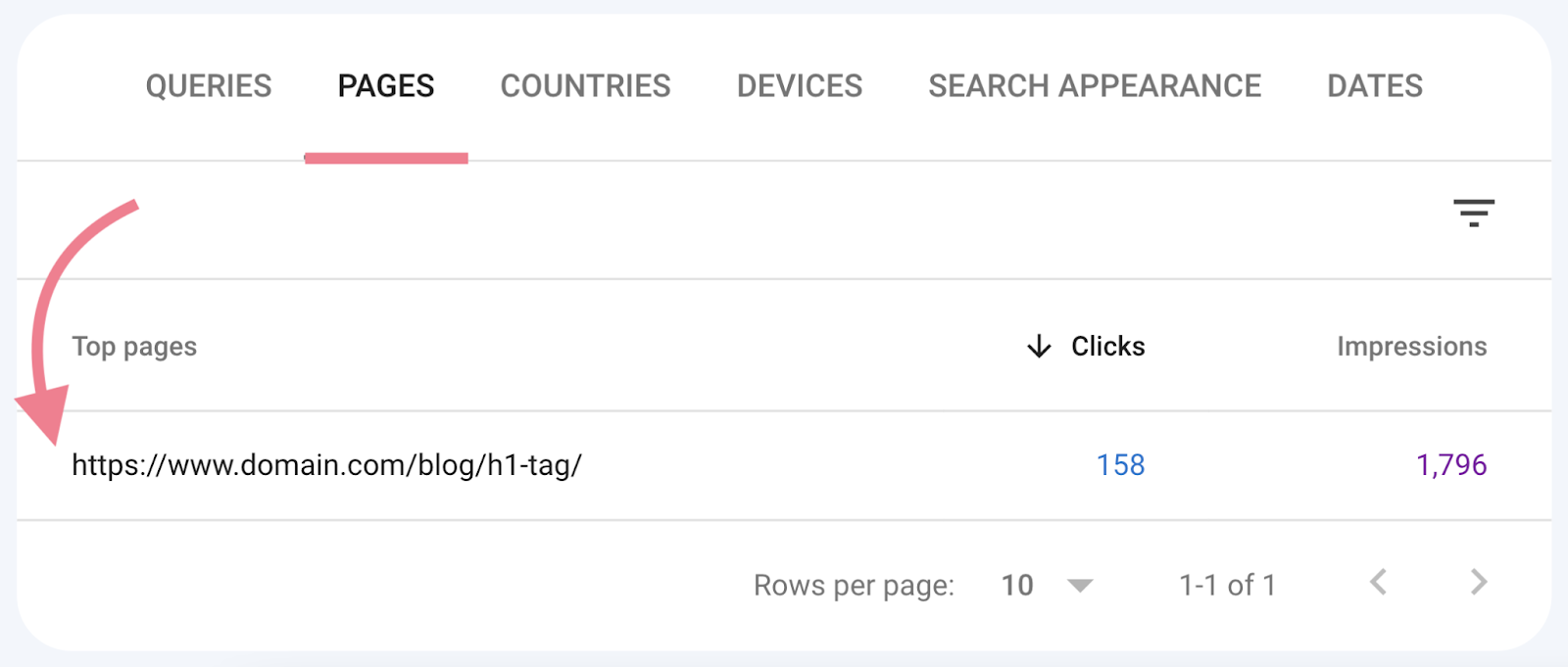 If more than one URL earns clicks and impressions, this could be a sign of keyword cannibalization.
Manually analyze the pages to see whether they have overlapping search intent. Then implement the appropriate solution. 
Search Your Site
Find overlapping pages the manual way by searching your site via Google.
The "site:[domain]" search operator filters for results from your domain. Use it in combination with a keyword to find related pages.
Like this: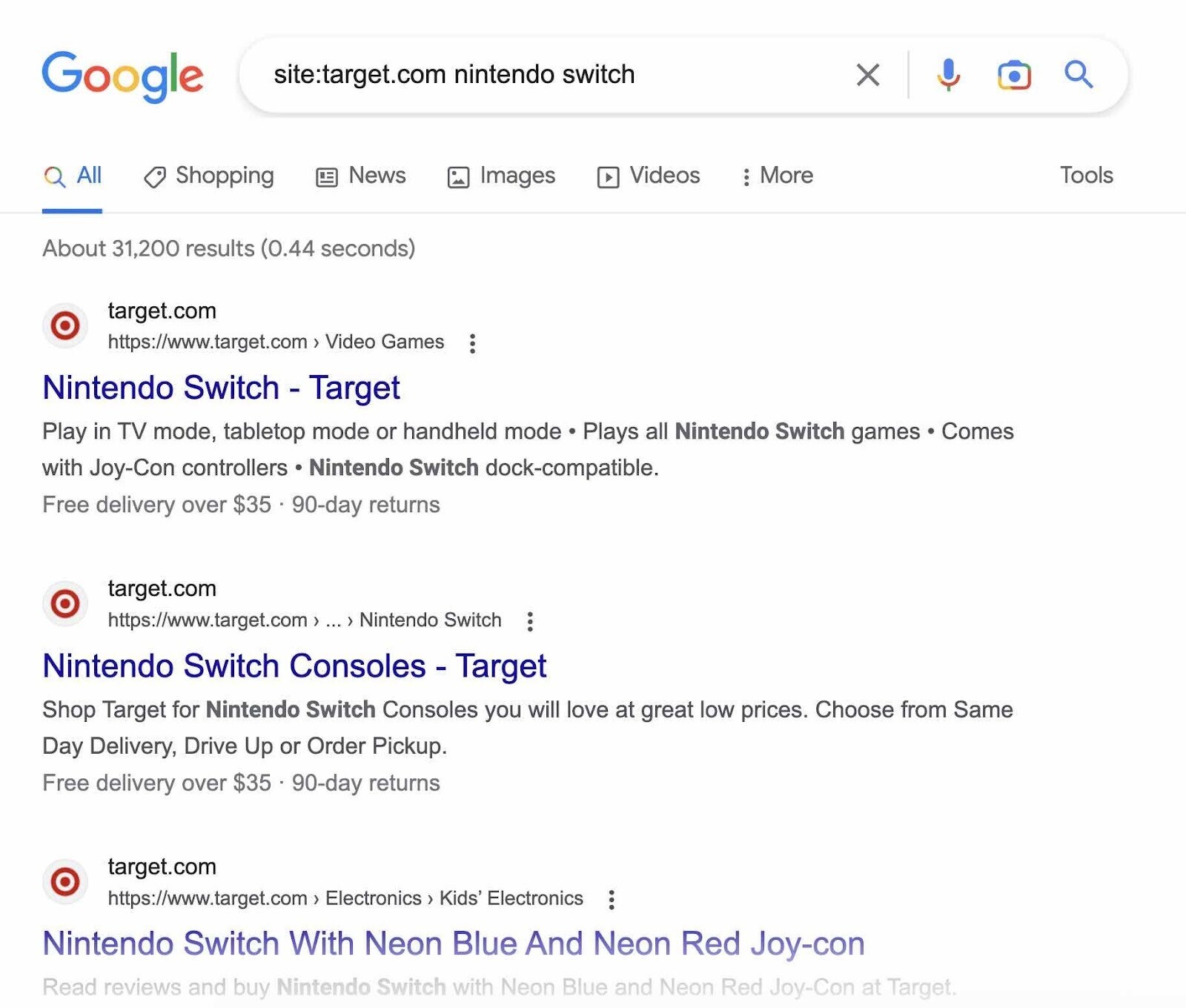 Analyze the results. Do any pages cater to the same search intent? If so, you have a potential keyword cannibalization issue to address. We'll cover that next. 
Tip: Google "site:" queries don't always find everything. Another option is to search your site via your content management system (CMS). 
How to Fix Keyword Cannibalization
Here's the basic idea behind fixing keyword cannibalization: 
Pick one preferred page (also referred to as the "primary" or "principal" page) for each affected keyword. And make this preference clear to Google so it knows which to rank highest.
The best way to indicate this preference depends on the circumstances.
Here are some common solutions:
| | |
| --- | --- |
| Cannibalization solution | Best for… |
| | Similar or duplicate pages you don't need to keep |
| | Duplicate pages you need to keep |
| | Similar pages you need to keep |
| | No existing pages cater to the search intent for your target keyword |
| | Similar pages you need to keep, when other solutions won't work |
Explore each solution in more detail below.
Redirects
Perhaps you have multiple pages that target the same keyword and satisfy the same search intent. But you only need one of them.
For example:
Multiple blog posts covering the same topic
Old versions of landing pages
Near-identical FAQ pages
In this case, redirects can solve your keyword cannibalization issue.
To get started, analyze your overlapping URLs and choose the preferred page.This should be the URL with the strongest SEO potential, which you can determine with metrics like the following:
| | | |
| --- | --- | --- |
| Metric | What to measure  | How to find it |
| Backlinks | The number of backlinks pointing to the page | Semrush's Backlink Analytics tool |
| Rankings | The page currently ranking highest for cannibalized keywords | Google Search Console or Semrush's Position Tracking tool |
| Traffic | The total number of visits to the page over the past 30 days  | Google Analytics or Semrush's Organic Traffic Insights tool |
Note: You can redirect all your overlapping pages to a new URL. But it's usually better to build on the performance of an existing page.
Next, draft an updated version of your preferred page. Add valuable info from the cannibal pages and optimize your content for target keywords.
You're then ready to do the following:
In addition to eliminating internal competition, this method helps to consolidate all the "ranking power" in one place. 
Google typically removes redirected URLs from its index within a few weeks. (Although you should keep your redirects in place for at least a year.) This should fix the keyword cannibalization issue and boost your preferred page's rankings.
Canonical Tags
Sometimes, you need to keep duplicate or near-duplicate pages. You want users to access them via your site or elsewhere. But they don't add SEO value.
The following types, for example:
Dedicated pay-per-click (PPC) landing pages
Alternative paths to the same product category (e.g., "/accessories/socks/" and "/footwear/socks/")
Pages with complex URL parameters (e.g., "/accessories/socks?size=10&color=blue")
In this case, canonicalization could help you solve keyword cannibalization issues. 
Canonicalization is using a canonical tag to point Google to the primary version of a duplicate page. The tag is added to the cannibal page's HTTP header and looks like this:
<link rel="canonical" href="https://www.website.com/preferred-page/" />
Canonical tags tell Google that the canonical page is the preferred page—the one that should appear in search results. This consolidates your ranking power in one page, rather than diluting it across multiple URLs.
To learn more, check out our beginner's guide to canonical tags.
Optimize Links and Content
Keyword cannibalization can occur when a more authoritative page (i.e., a page with stronger SEO signals) overshadows a similar page.
Let's say you have a "/laptops/" category page with links and content that reference gaming laptops. Versus a "/laptops/gaming/" subcategory page with no links and little content relevant to gaming laptops.
Google may rank the "/laptops/" page higher for the keyword "gaming laptops." Because it struggles to recognize the more relevant result.
You can direct Google to the right place by building a link from the cannibal page ("/laptops/") to the preferred page ("/laptops/gaming/"). Using the cannibalized keyword ("gaming laptops") as anchor text.
Like this: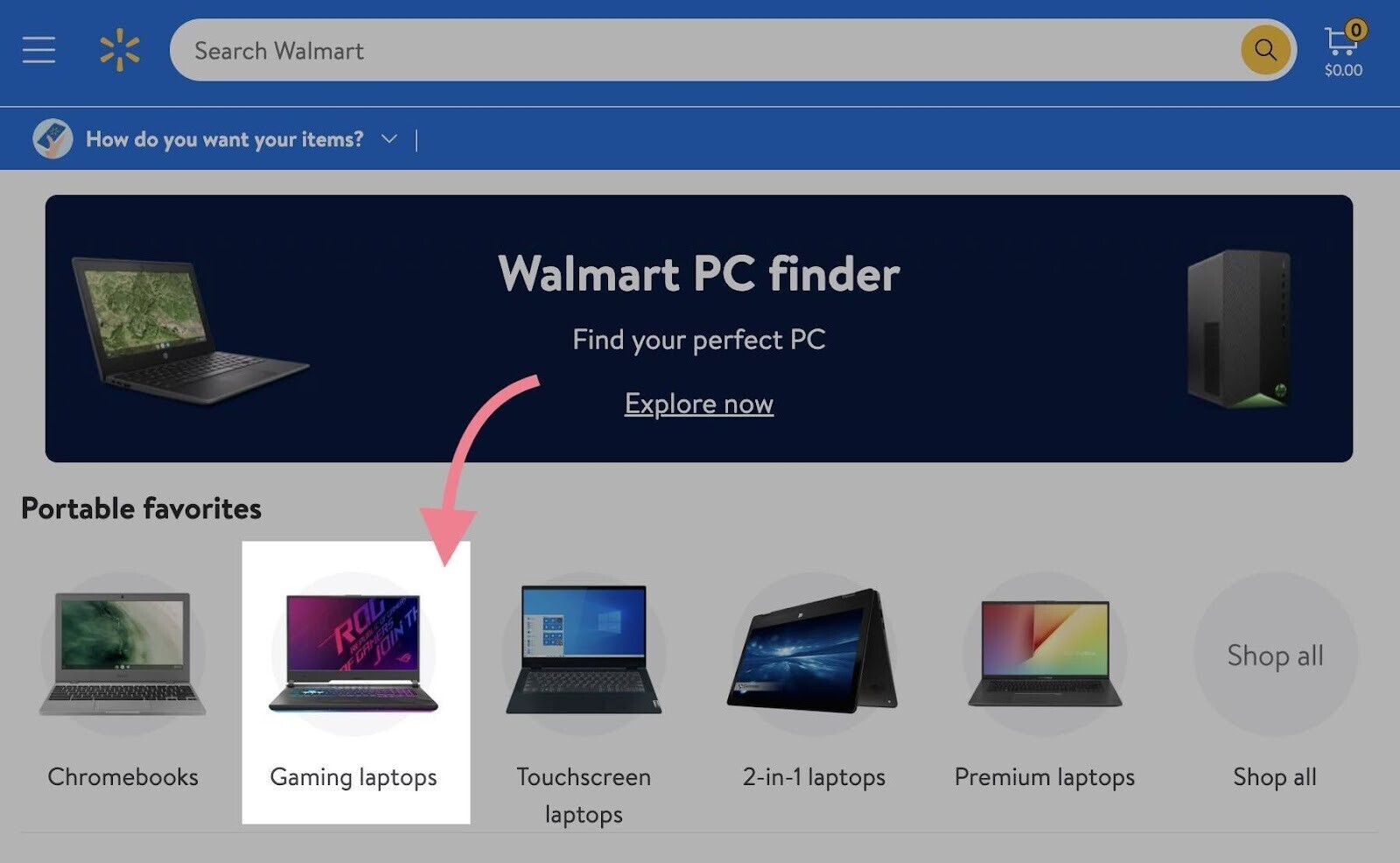 Link to "/laptops/gaming/" from other relevant pages, too. Making sure to use descriptive anchor text. Internal linking is a simple and effective way to help Google understand your site's structure.
Pro tip: Building backlinks (or external links) to your preferred page can also help with rankings. See our guide to learn more.
Next, optimize your preferred page for its target keyword. This is a key function of on-page SEO.
For example, Best Buy has a gaming laptop category page that mentions "gaming laptops" in the following key places: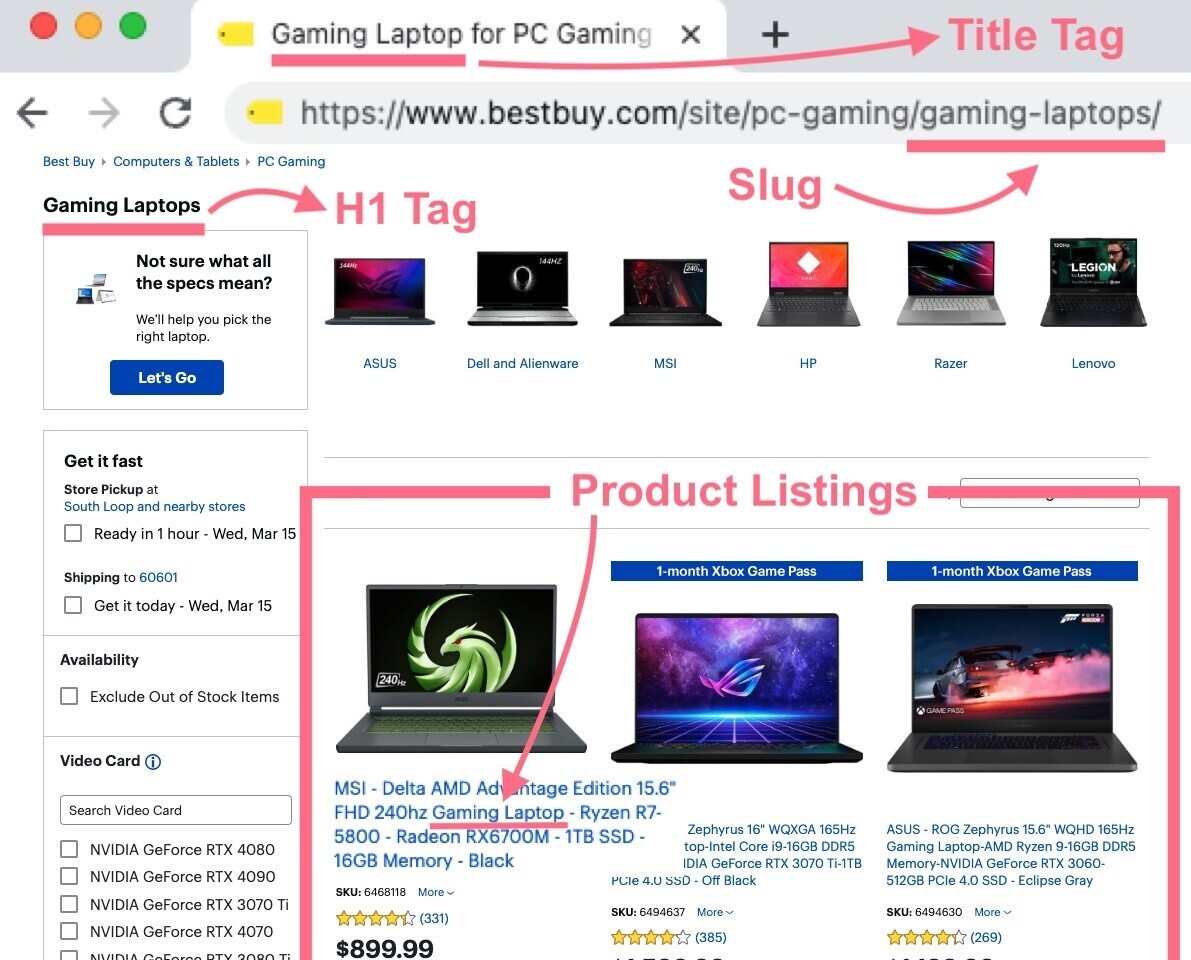 You can get recommendations for your preferred page using Semrush's On Page SEO Checker. It provides optimization ideas based on the top 10 results for your target keywords.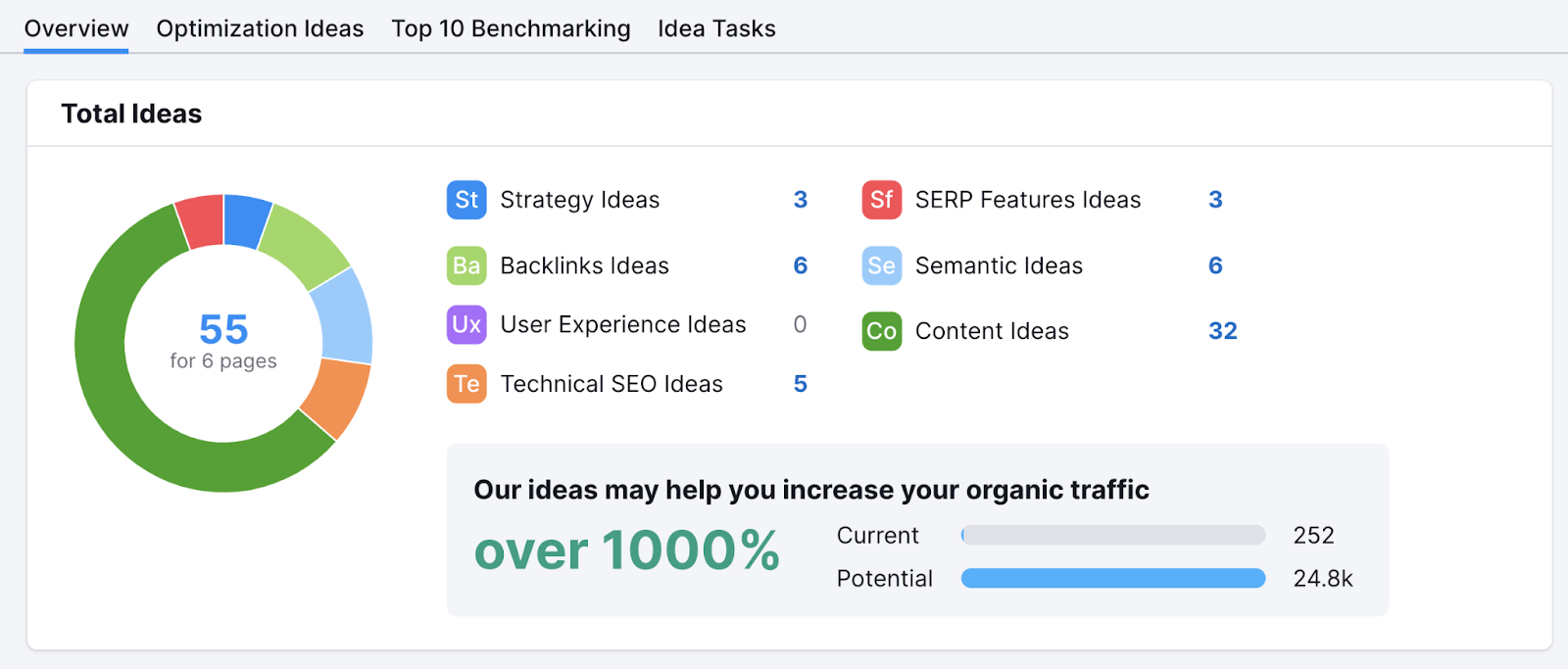 These techniques should help Google recognize the preferred page and rank it higher. 
Content Creation
Keyword cannibalization can occur when you target the same keyword on multiple related pages. Because you don't have one page that clearly caters to the searcher's needs best.
Let's say you have "Oak dining tables" and "Walnut dining tables" category pages. And you target the keyword "wood dining tables" on both.
To fix this potential keyword cannibalization issue, create a highly relevant "Wood dining tables" category page (that includes products from your oak and walnut collections). And optimize it using our on-page SEO checklist.
These kinds of pages perform best on the SERP: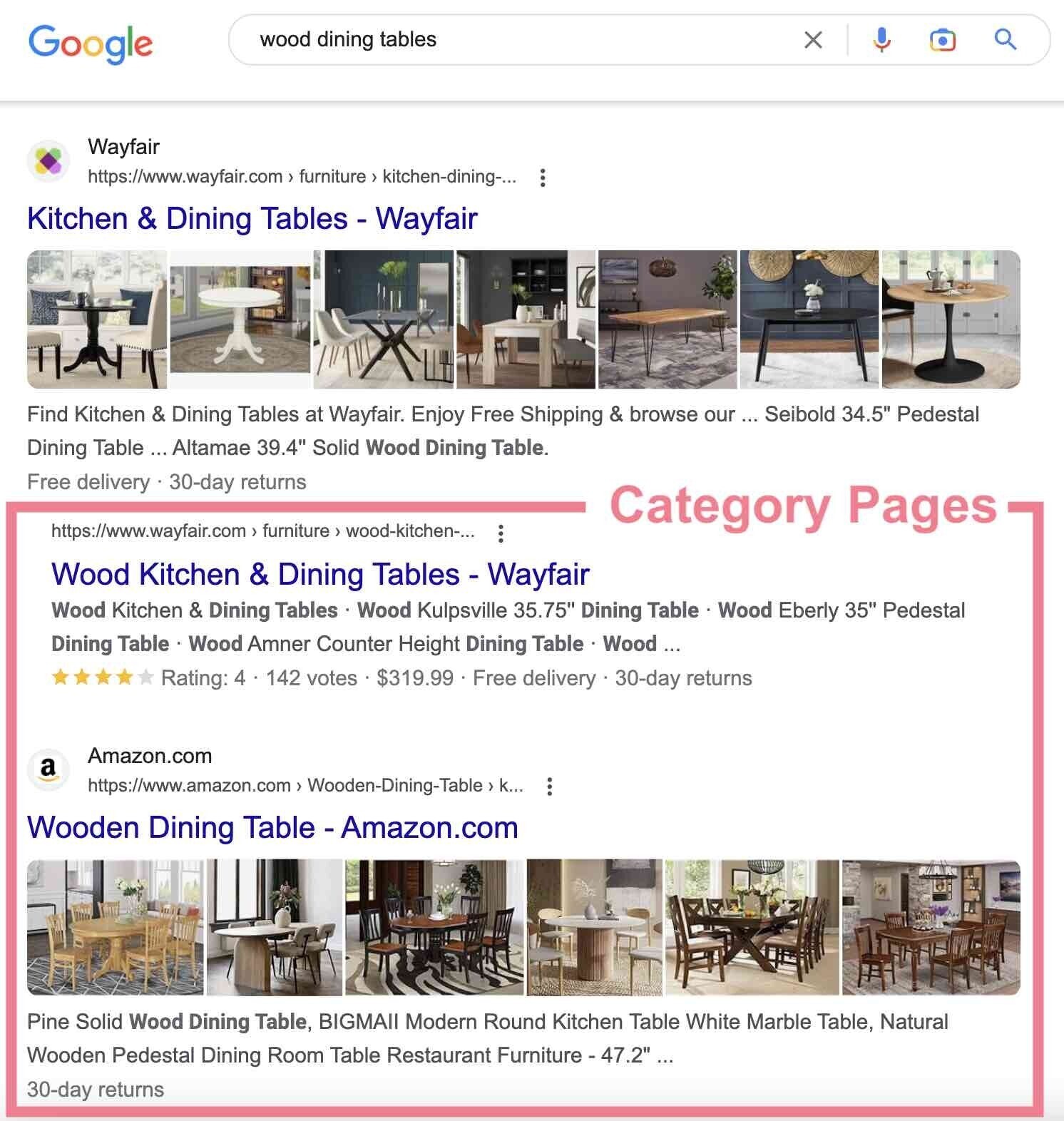 You should also "de-optimize" your oak and walnut pages for the "wood dining tables" keyword. There are two main ways to do this:
Replace mentions of this keyword with more relevant keywords (e.g., "oak dining tables")
Add a link to the new "Wood dining tables" page using the anchor text "wood dining tables" (or something similar)
This new page should fix the keyword cannibalization issue over time. And deliver a better user experience to relevant shoppers. Both should ultimately lead to more sales.
Noindex Tags
The noindex tag is a piece of HTML code that instructs search engines not to index a page—i.e., not to include it in search results. It looks like this:
<meta name="robots" content="noindex" />
Excluding cannibal pages from search results can stop them from competing with your preferred page. However, there is no "forwarding" of ranking signals with noindex tags.
So, you should only use noindex as a last resort. For example, on blog tag pages that have thin content, no backlinks, and no organic traffic.
Learn more about noindex tags and how to implement them in our robots meta tag guide.
How to Prevent Keyword Cannibalization
To prevent keyword cannibalization, avoid publishing pages that target the same keyword and satisfy the same search intent. Always check your site before creating (or optimizing) content. 
You can search via your CMS. Or use the "site:[domain] [keyword]" operator in Google.
Like this: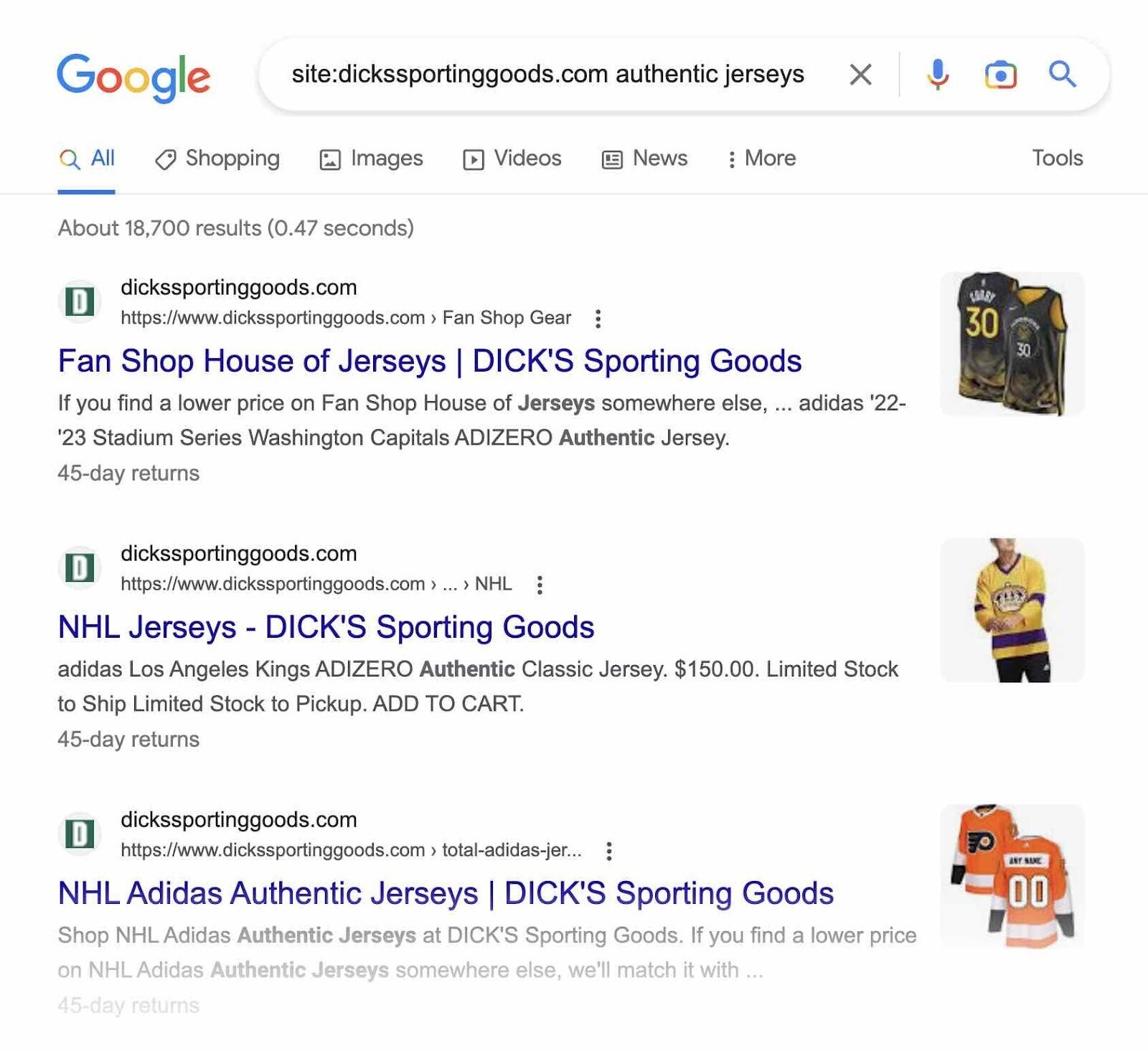 If you find a page that ranks for the same keyword and caters to the same search intent, optimize that page rather than creating a new one. Or prepare the necessary redirects, canonicals, or noindex tags and launch everything simultaneously. That way, Google never has a chance to get confused.
And monitor your rankings via Semrush's Position Tracking tool or Google Search Console. The sooner you find and fix keyword cannibalization issues, the better your site should perform.
---
This post was updated in 2023. Excerpts from the original article by James Brockbank may remain.