What Is Keyword Research?
Keyword research is the process of finding and analyzing keywords your ideal website visitors enter into search engines. That enables you to target the most effective keywords in your content strategy.
Keywords are words or phrases people use to find information or products in search engines. For example, if you wanted to buy food for your puppy, you might type the keyword "food for puppies" into Google.
Properly conducted keyword research helps you to:
Better understand your niche and target audience
Tailor your content strategy to the needs of your audience
Get more relevant organic traffic to your website
On the other hand, without keyword research, you might end up targeting keywords nobody is using. Or not targeting any keywords at all. (Both of these are common problems on many websites.)
In this guide, we'll cover the three steps of keyword research:
Finding keywords: how to find relevant keywords with keyword research tools
Analyzing keywords: how to prioritize keywords using key metrics and criteria
Targeting keywords: how to identify primary keywords and nail their search intent
Let's get started…
Step 1: Finding Keywords
The best way to find keywords is to use a keyword research tool. 
Not only does a good keyword tool help you discover thousands of keyword ideas, but it also provides essential metrics that will be invaluable in the keyword analysis process. 
Tip: Create a free Semrush account and get 10 free searches per day so that you can follow along with the steps in this guide.
Let's cover some of the most effective ways to use keyword research tools.
Use a Seed Keyword to Get More Keyword Ideas
A seed keyword is any bigger keyword from your niche that is used as a stepping stone to finding more keyword ideas. 
In our example—keyword research for a dog food company—we can simply use the keyword "dog food."
Note: To better illustrate the keyword research process, we'll be using a single example— keyword research for a dog food company's blog—throughout this guide.
First, enter your seed keyword into a keyword research tool like Semrush's Keyword Magic Tool.

Then, select your target location and hit "Search."

The tool will list all the keyword suggestions based on the keyword you entered. (More than 377,000 in our case.)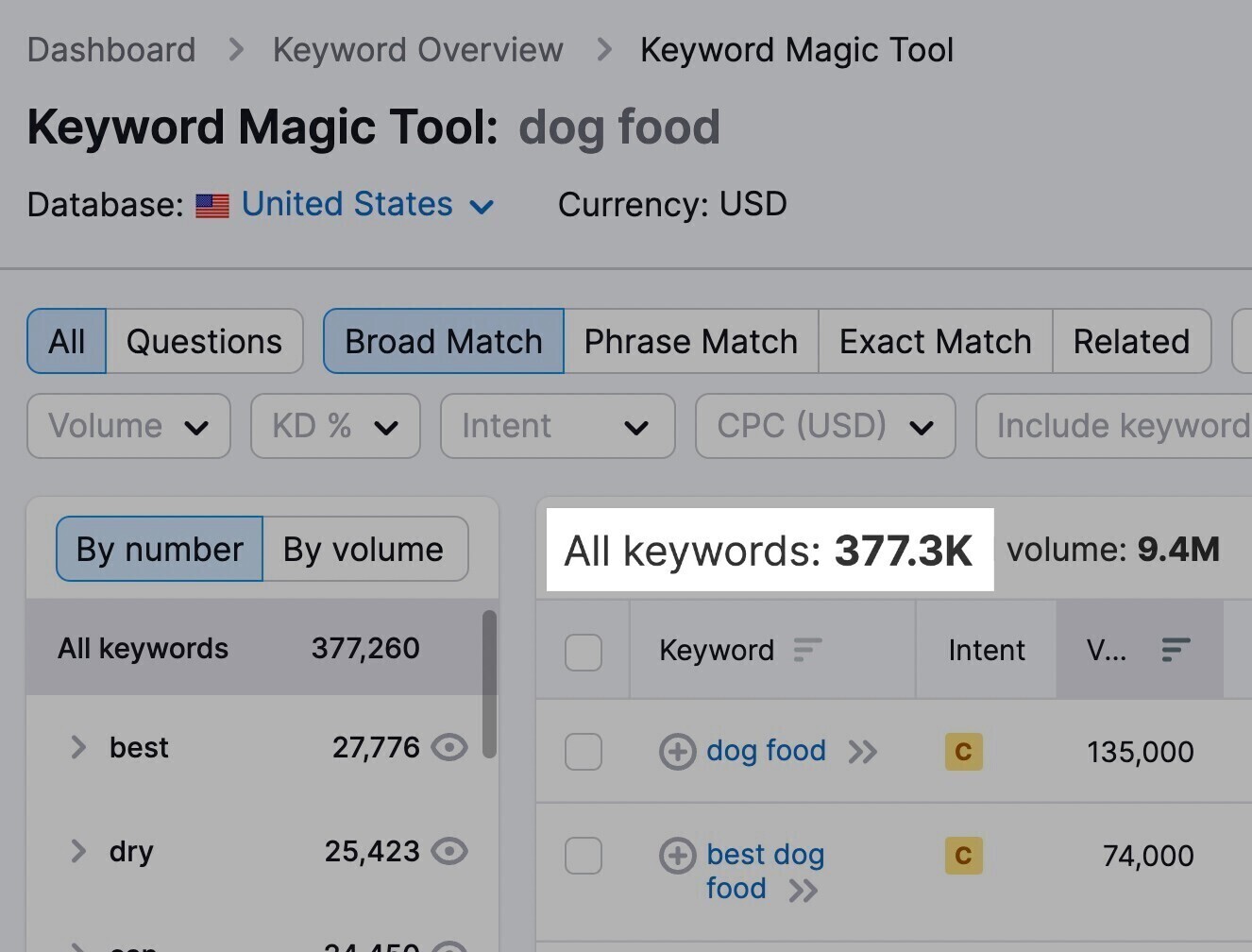 You'll get a better overview of the most popular topics within your niche thanks to the list of topical groups and subgroups in the left column of the tool interface.
In our case, we can see that the most popular keyword groups contain words like:
Best (e.g.,"best dog food for puppies")
Dry (e.g., "dry dog food") 
Grain (e.g., "dog food with grain")
You can use these groups to exclude keywords that are not relevant for you. Just click on the eye icon next to the group name.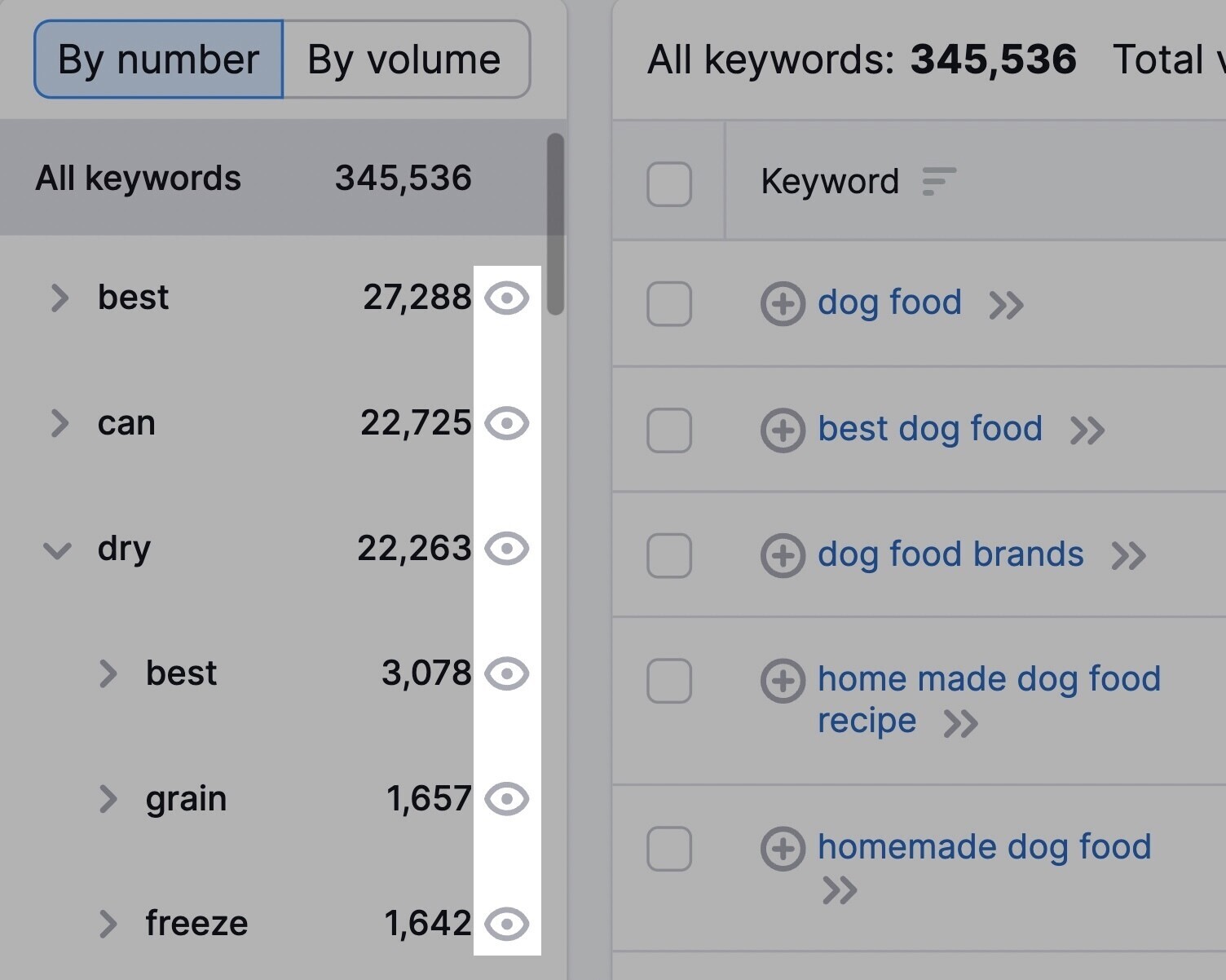 For example, we could exclude all the keywords containing "review" or "best" since neither reviewing our own products nor mentioning competitors' products would be desirable on a company blog. 
Additionally, you can drill down into each of these topical groups to get to the more specific subtopics and their keywords.
For example, we can select groups "can" + "eat" + "puppy" to see all the question-based keywords related to what puppies can and cannot eat.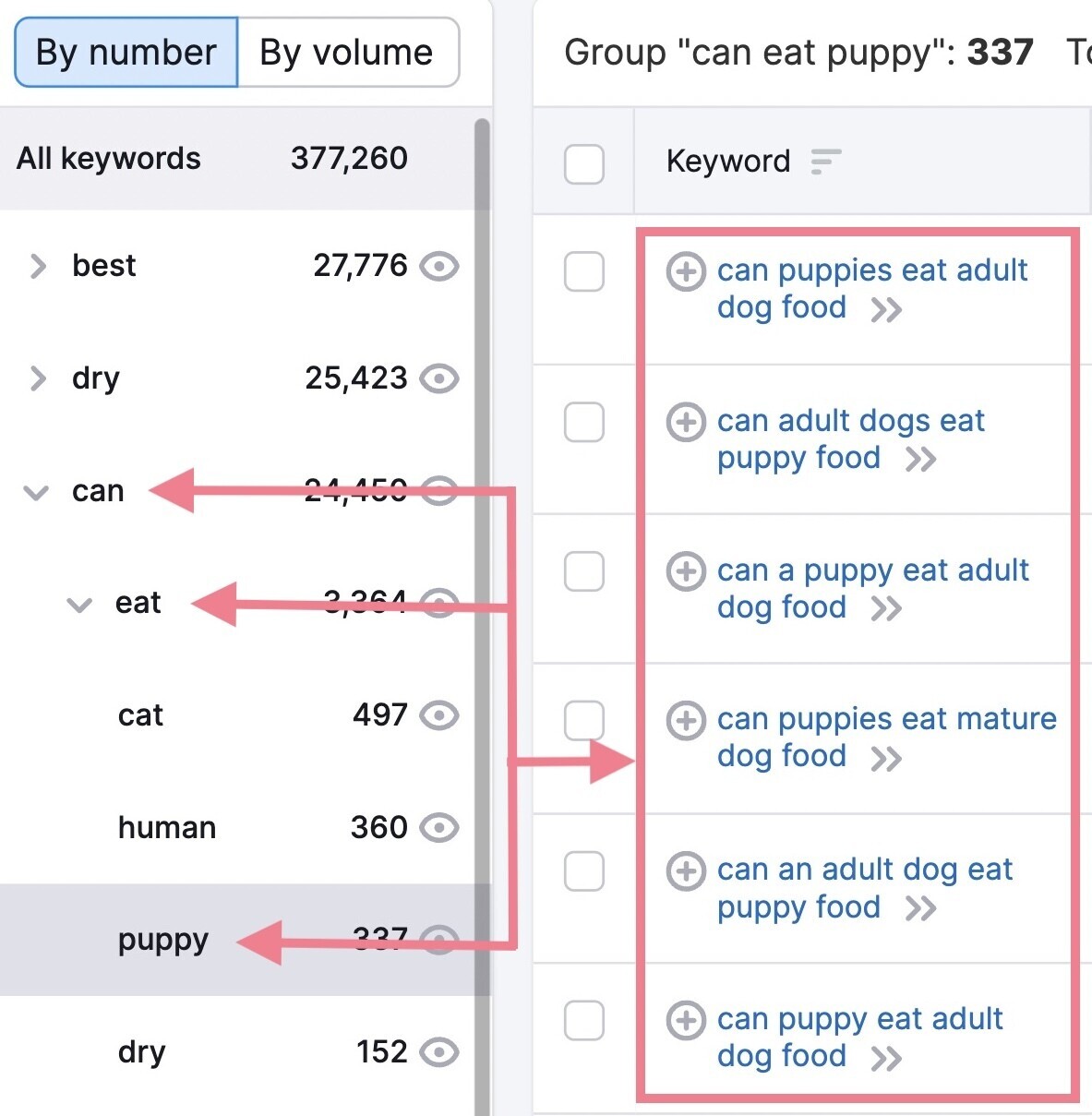 And if you're doing this keyword research for a local business (such as a veterinary clinic or a pet supply store), you can identify locally relevant keywords in your area. 
This allows you to analyze both national keyword search volumes and those related to your specific location.
Let's say you run a pet shop in Tampa, Florida, and you want to sell more dog food.
Simply enter your location from the drop-down in the Keyword Magic Tool.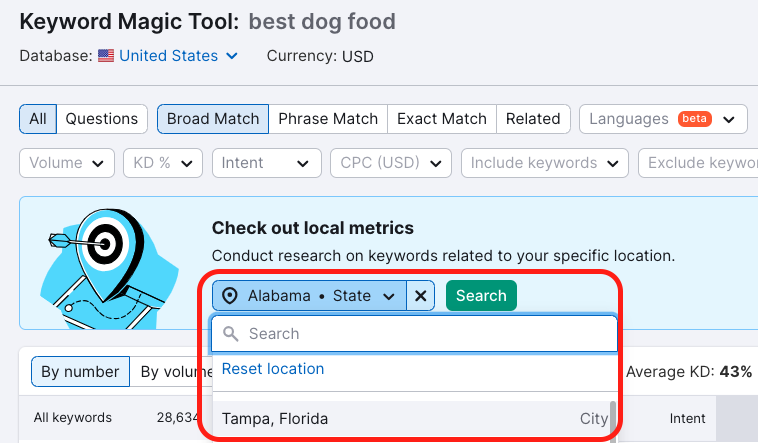 This will take you to local metrics on intent (which we'll explore below), keyword difficulty, and keyword variations that could more closely align with customers in your area.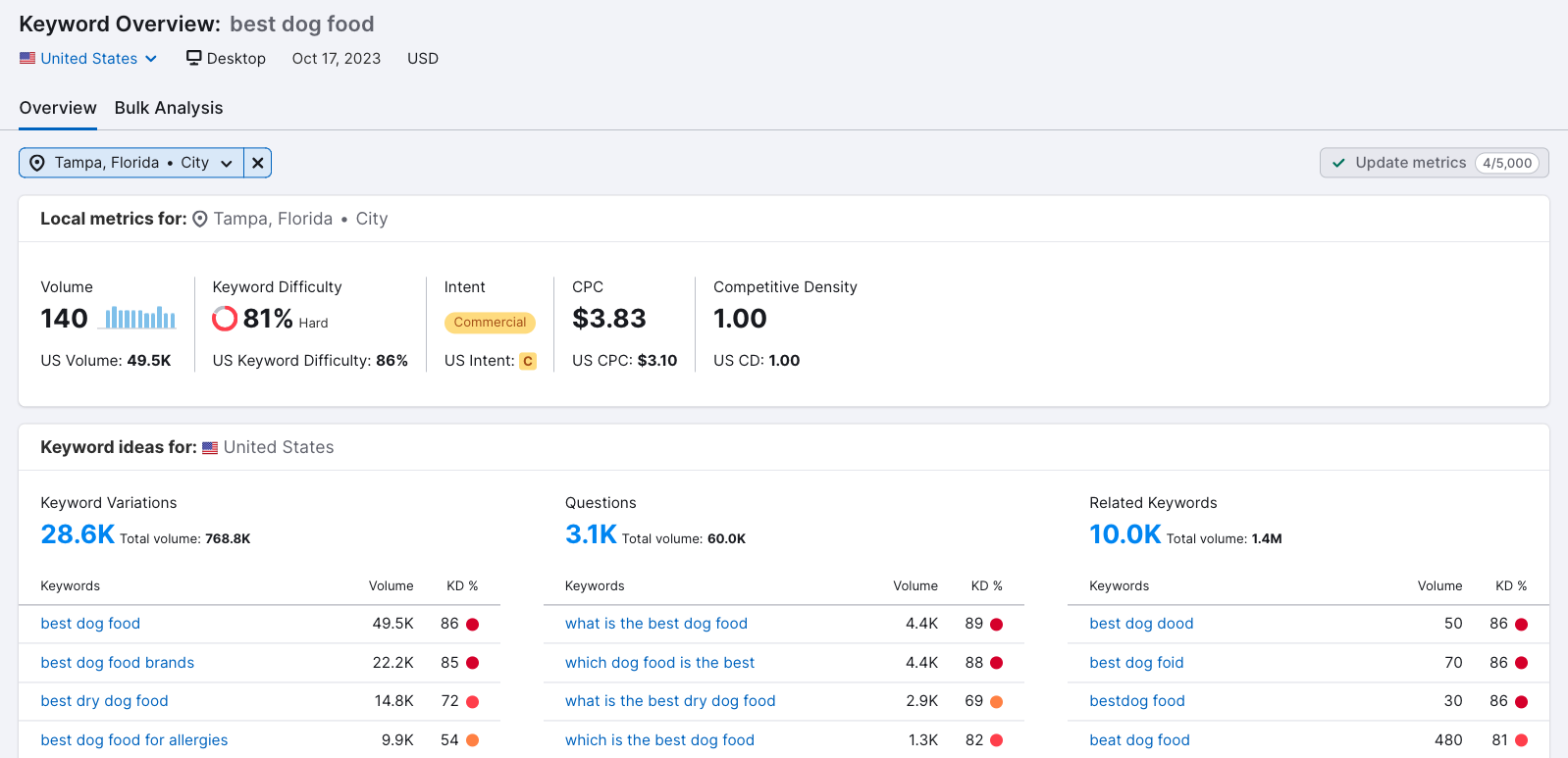 At this point, you'll have a basic overview of the most popular keyword groups. And you can start collecting keyword ideas. 
In the second step—Analyzing Keywords—we'll explore how to prioritize keywords based on three important criteria: search volume, keyword difficulty, and search intent. 
But first, let's talk about how to utilize a gold mine of new keyword ideas: your competitors.
Look at Your Competitors' Keywords
Knowing which keywords your competitors rank for can help you both understand your competitors better and find great keyword opportunities.
To see these keywords, you can use a competitive analysis tool like Semrush's Organic Research tool.
First, enter your competitor's domain, select the target location, and hit "Search."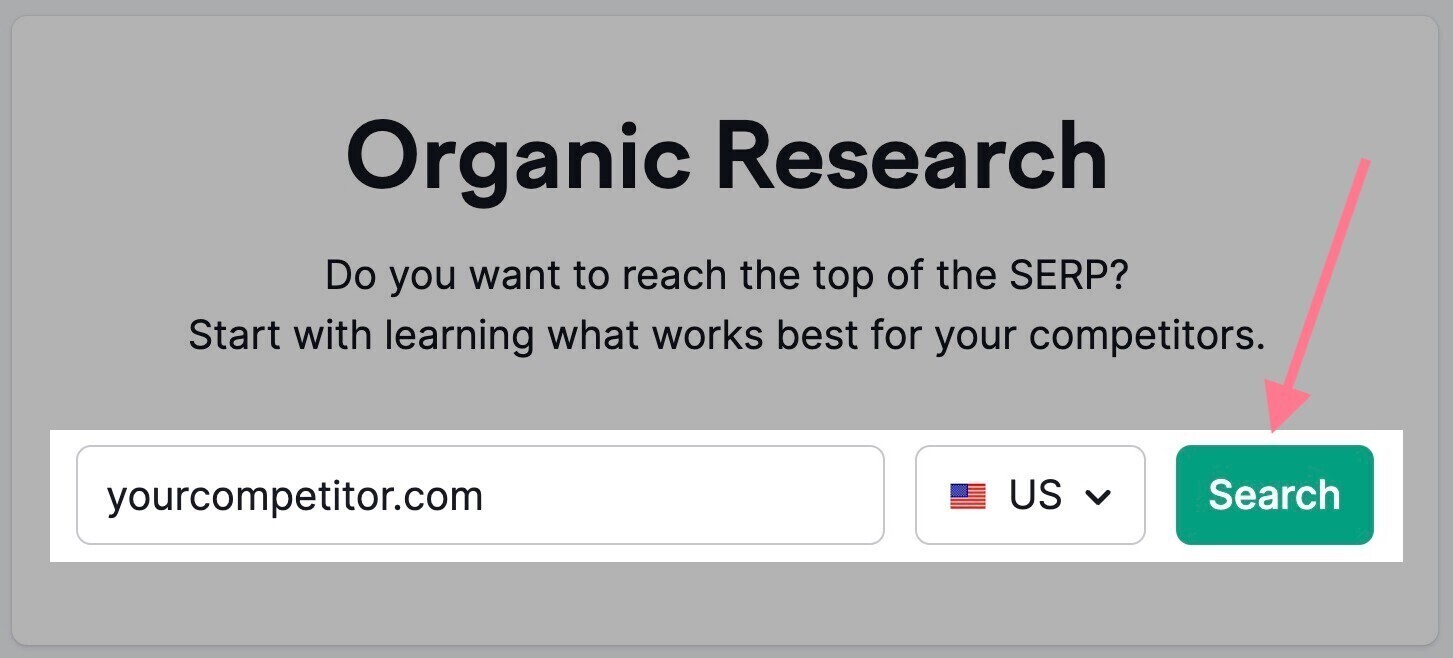 Note: If you're not sure who your competitors are, start by searching your own domain and head to the "Competitors" tab. Also, check out our post on competitive analysis for more in-depth info. 
Then, go to the "Positions" tab.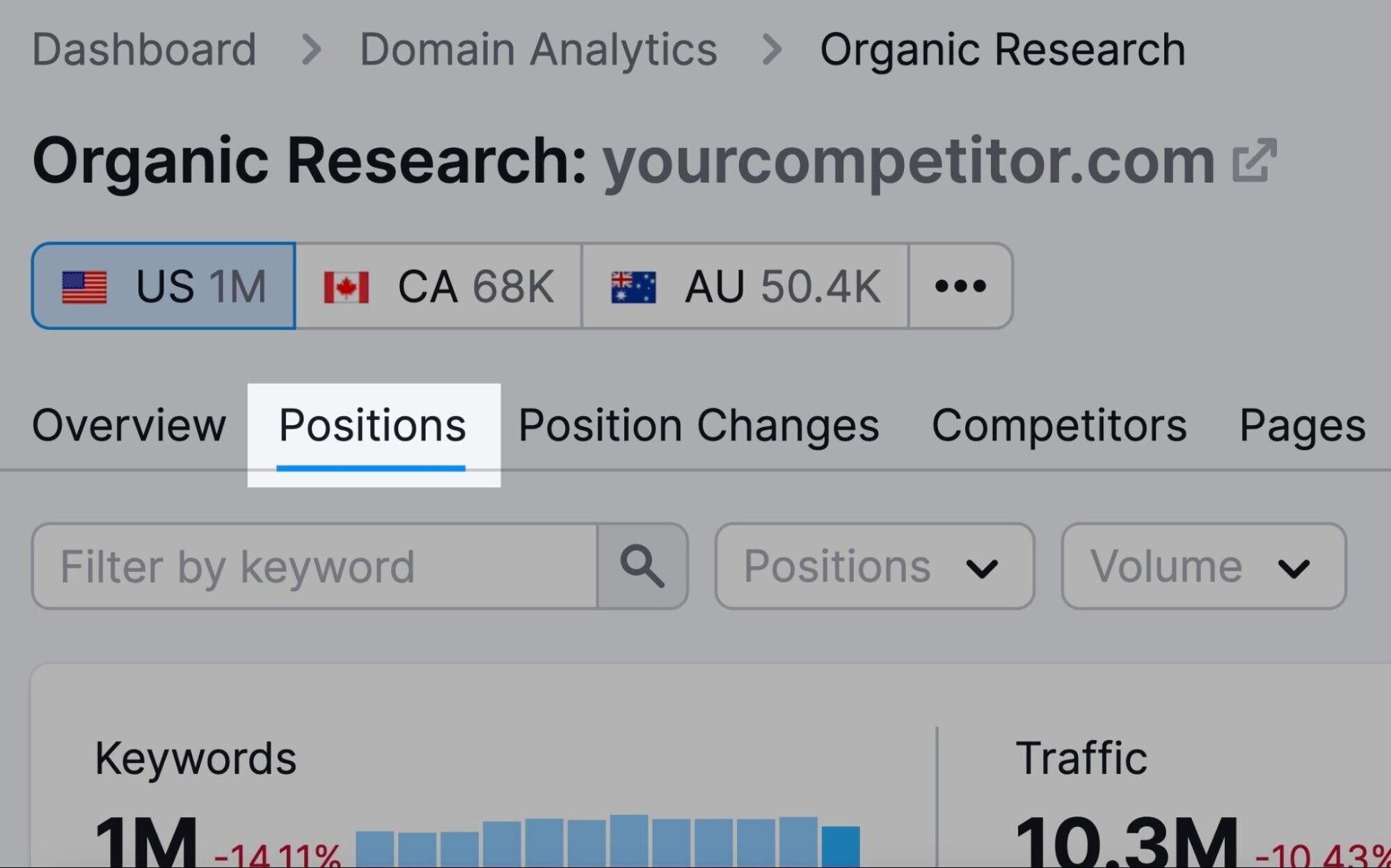 The tool will provide a detailed list of your competitor's keywords. Including where they rank for each keyword in search results and how much traffic each keyword brings them.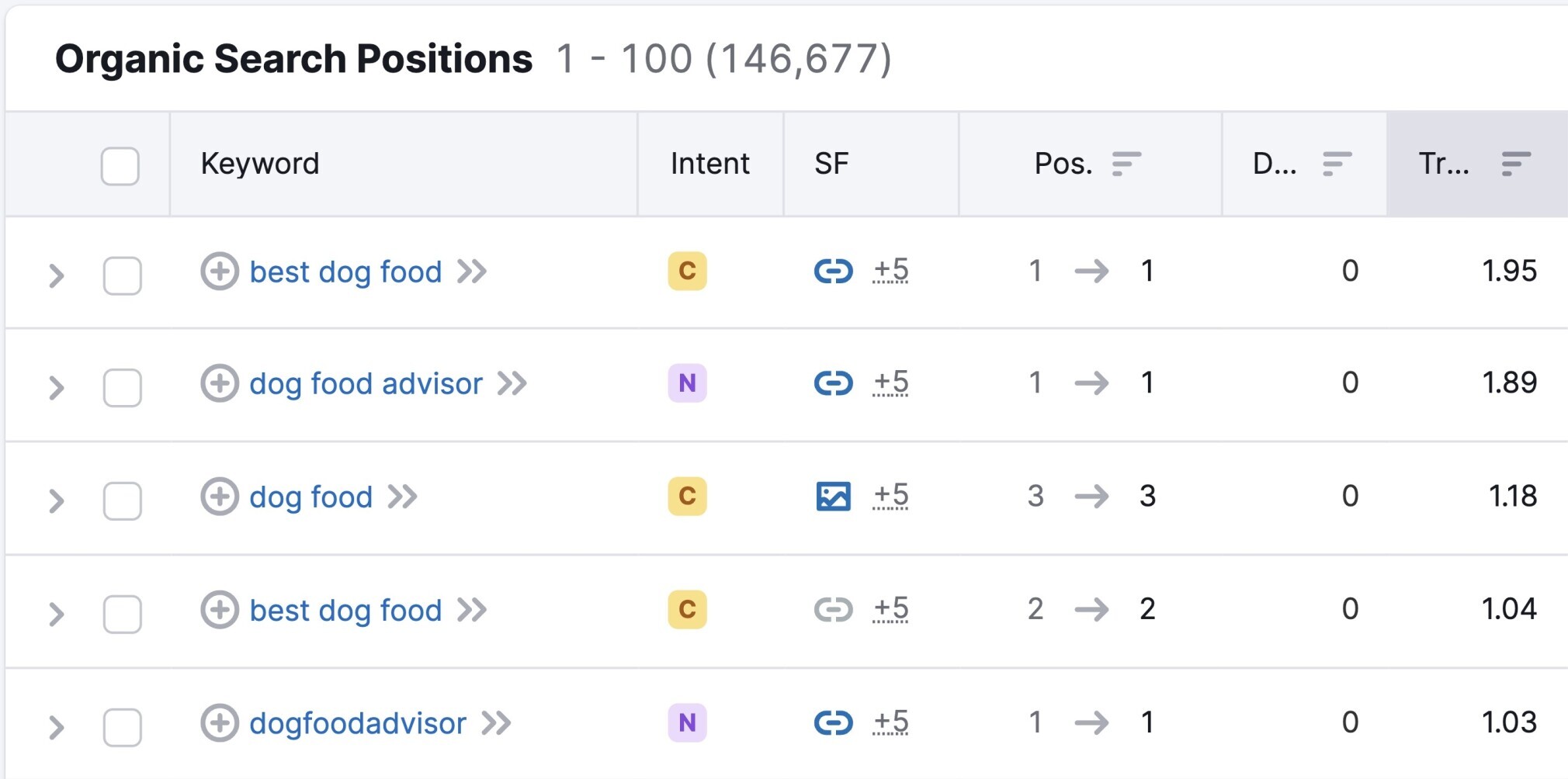 To filter out their brand keywords, go to the right side of your screen and click "Advanced filters" > "Exclude" > "Keyword type" > "Branded."

What you'll see is a list of your selected competitor's best keywords that you could potentially target.
Go through the list. Get some inspiration. Then, repeat the process with another competitor.
Tip: You don't need to cover all of your competitors. Analyzing the two or three biggest players should give you plenty of keyword ideas to work with.
Discover Keywords You're Missing Out On
If you run an established website and already cover some of the keywords within your niche, you can make your competitor analysis even more effective. 
Use a tool like Keyword Gap and compare your keywords with the keywords of your competitors. This way, you can spot keywords you don't currently rank for. 
First, you need to enter your domain and up to four competitor domains. (You can type in your competitors manually or pick organic competitors the tool suggests.)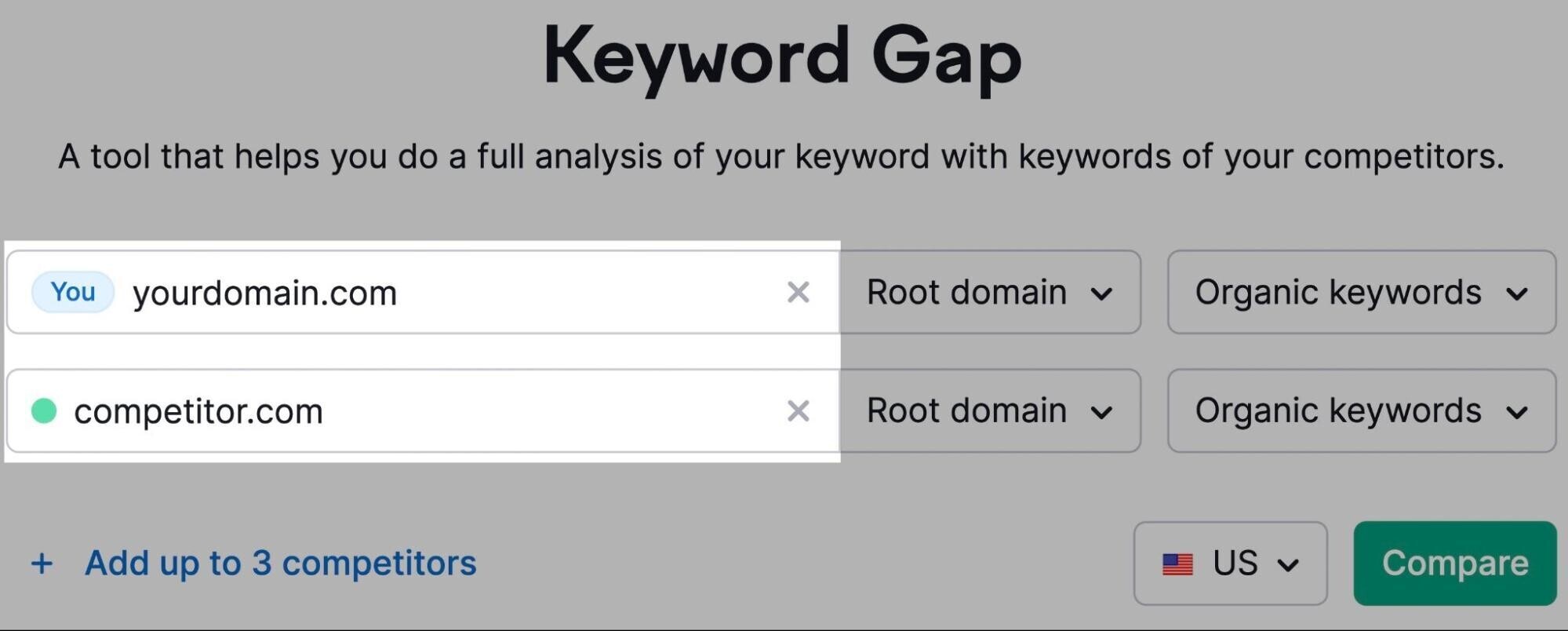 After you've selected your target location, hit "Compare."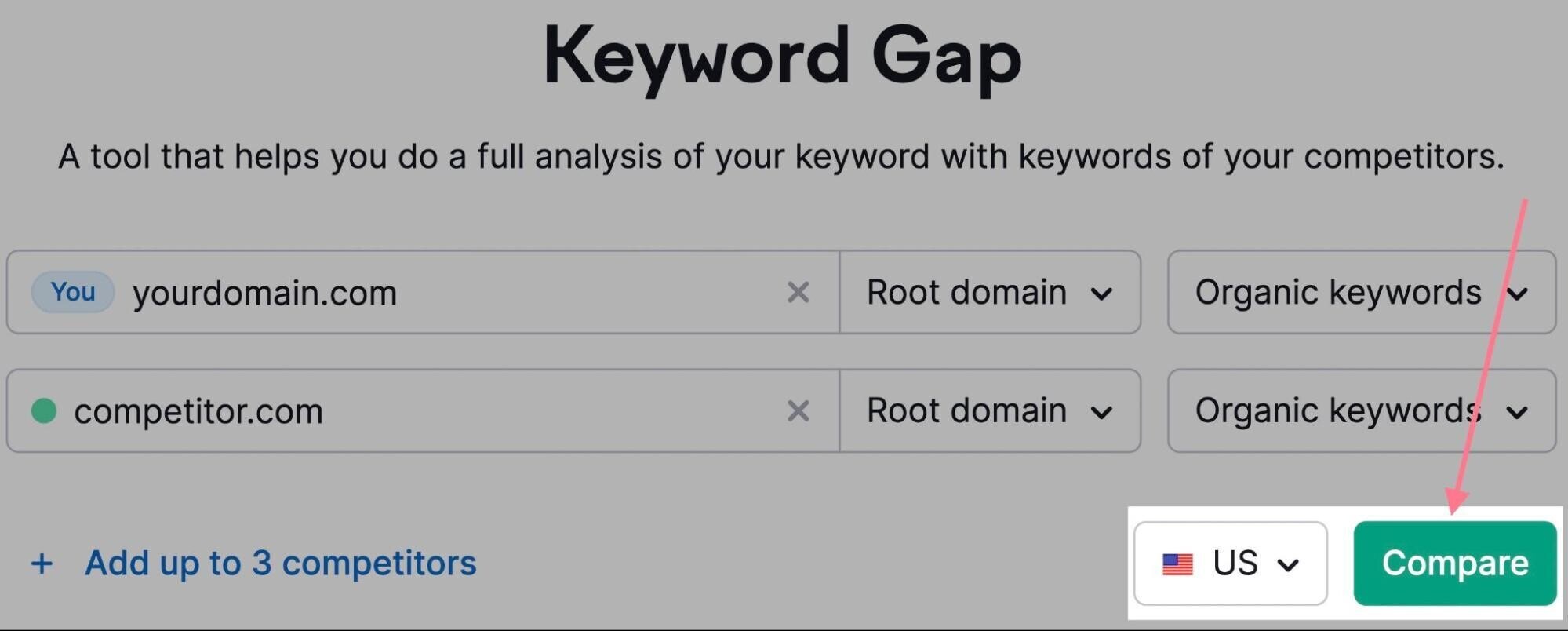 Then, scroll down to the keyword list and focus on these two tabs:
Missing: keywords your competitors rank for but you don't
Weak: keywords your competitors rank for higher than you
There's a very high chance that you'll find some great keywords here. (All of your competitors consider them worth targeting, after all.) 
Step 2: Analyzing Keywords
Now that we've covered basic techniques to find keywords, it's time to drill down to choose the ones that will work best for you. 
Consider Key Metrics
Two basic keyword metrics will help you prioritize your keywords:
Search volume: How popular is the keyword?
Keyword difficulty (KD): How hard is it to rank for the keyword?
In any keyword research tool by Semrush, you can see both of these metrics to help you analyze and prioritize your keywords easily. 
Here's where you find them in the Keyword Overview tool: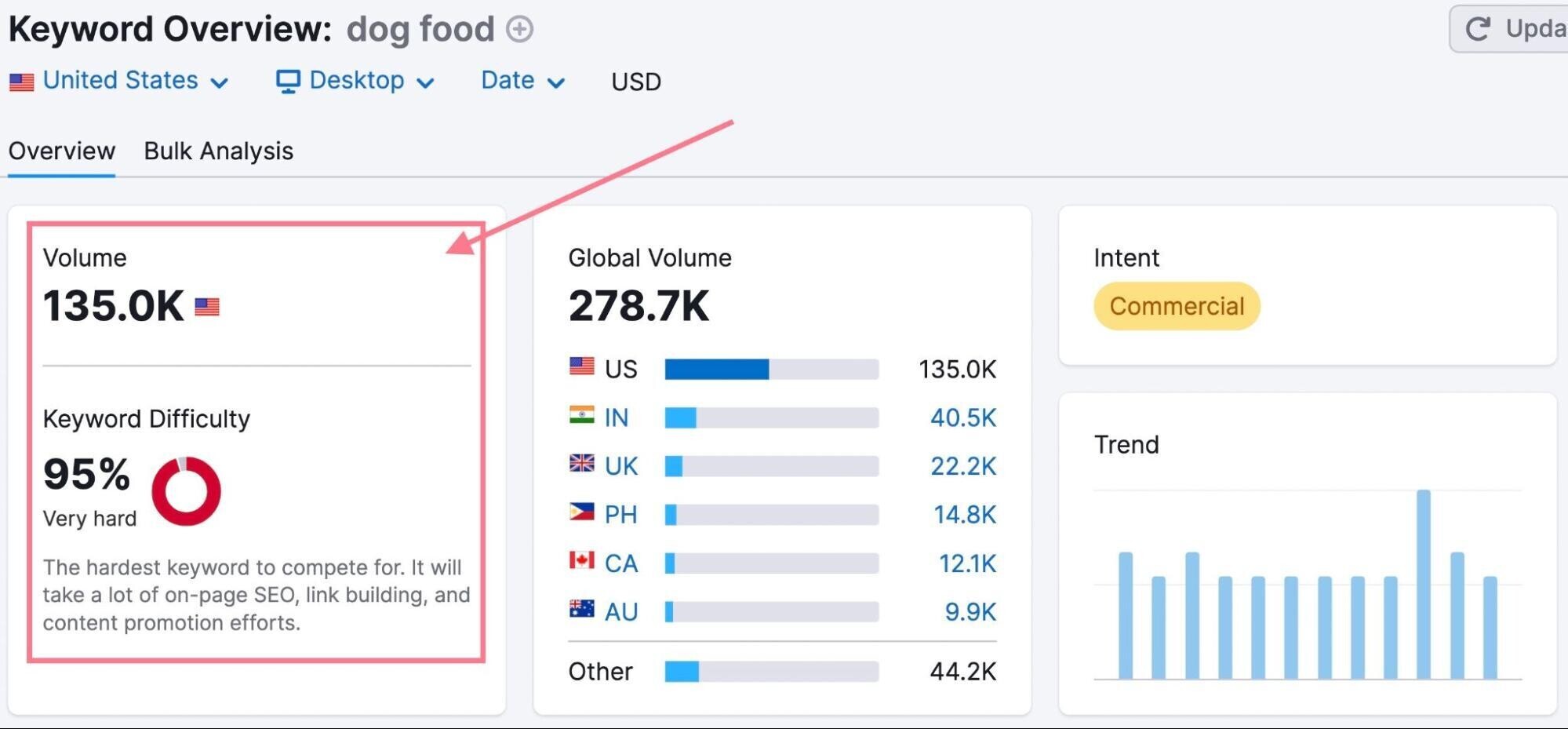 And here are the same metrics as data columns in the Keyword Magic Tool:
Let's explore both of these metrics in detail and see how we can use them in our keyword research.
Note: If you're wondering about the "Intent" metric here, we have a whole section on analyzing and nailing the search intent in the next step. 
Search Volume
Search volume tells you how many times searchers enter a particular keyword into Google per month (on average). The higher the search volume, the more traffic you'll potentially get if you rank well for that keyword.
The value represents the average number of monthly searches in the last 12 months.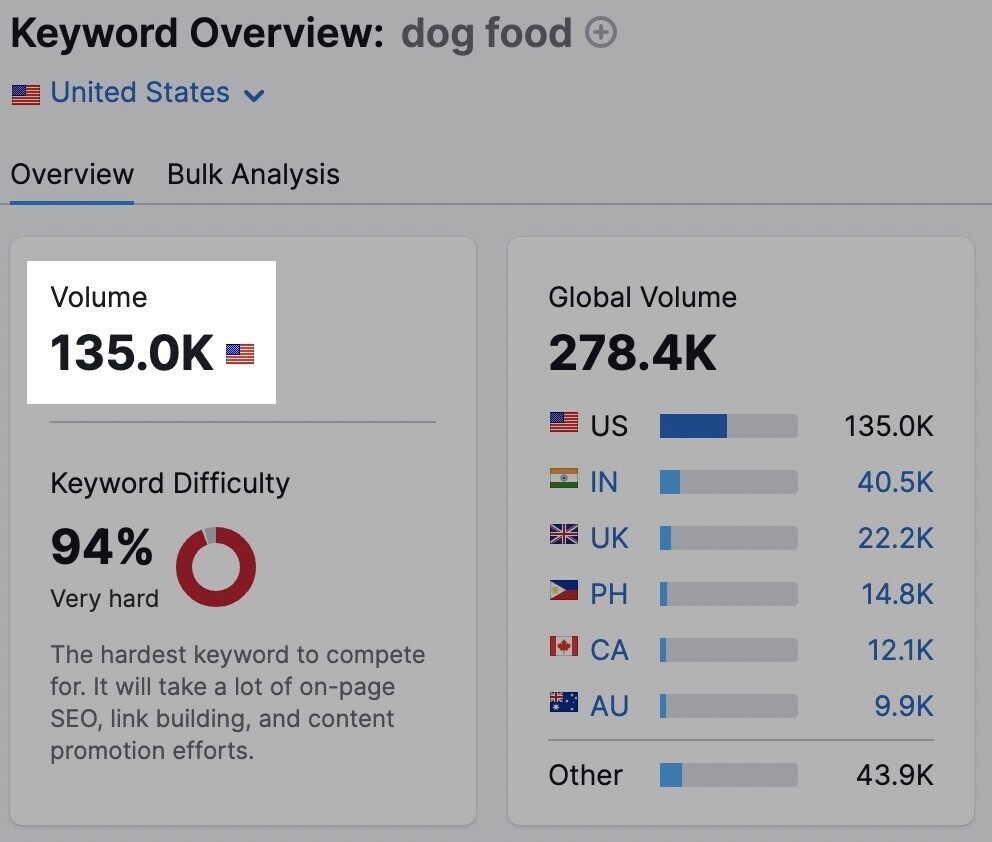 Besides the average monthly search volume, you can also see the Global Volume metric in the Keyword Overview tool: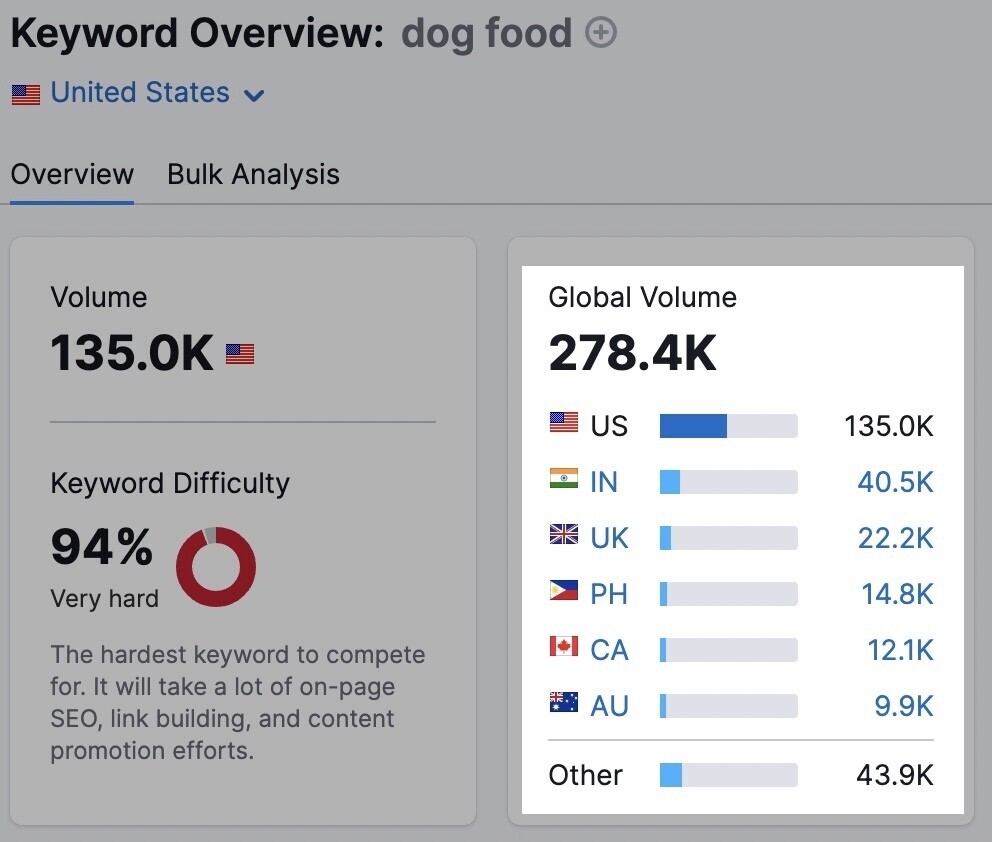 The Global Volume shows the total number of searches globally, with the breakdown of other locations where the keyword is popular. You can use this metric if you're targeting a worldwide audience.
Now, let's get back to our keyword research example:
We'd probably be interested only in keywords within a particular search volume range—let's say at least 100 searches per month. 
In the Keyword Magic Tool, click on the "Volume" filterand select a range, or type in the desired search volume in the "Custom range" section.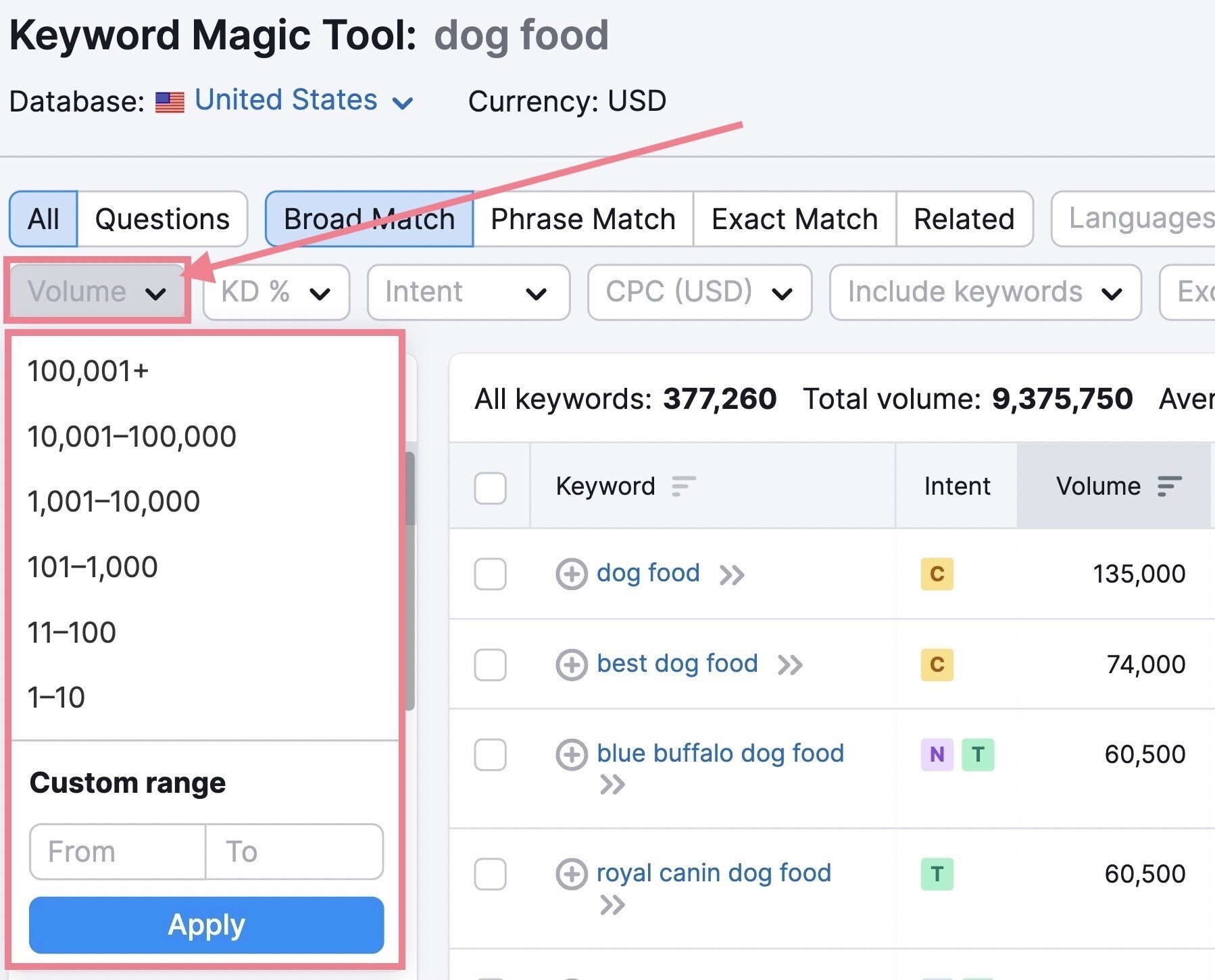 Then, click "Apply." The tool will filter out all the keywords that do not fall into your desired search volume range.
Note: Learn more about this metric in our beginner's guide to search volume. 
Keyword Difficulty
Keyword difficulty (KD) is a Semrush metric that helps you estimate how hard it is to rank for a keyword in the top 10 organic search results. 
It is based mostly on the authoritativeness of pages ranking on the first search engine results page (SERP). And it's expressed on a scale from 0 to 100. The higher the number, the harder it is to rank for the keyword.
Keywords with the highest search volumes usually have very high difficulty scores.
If we look at the most popular keywords from our "dog food" search, we can see that all of them are in the red KD zones: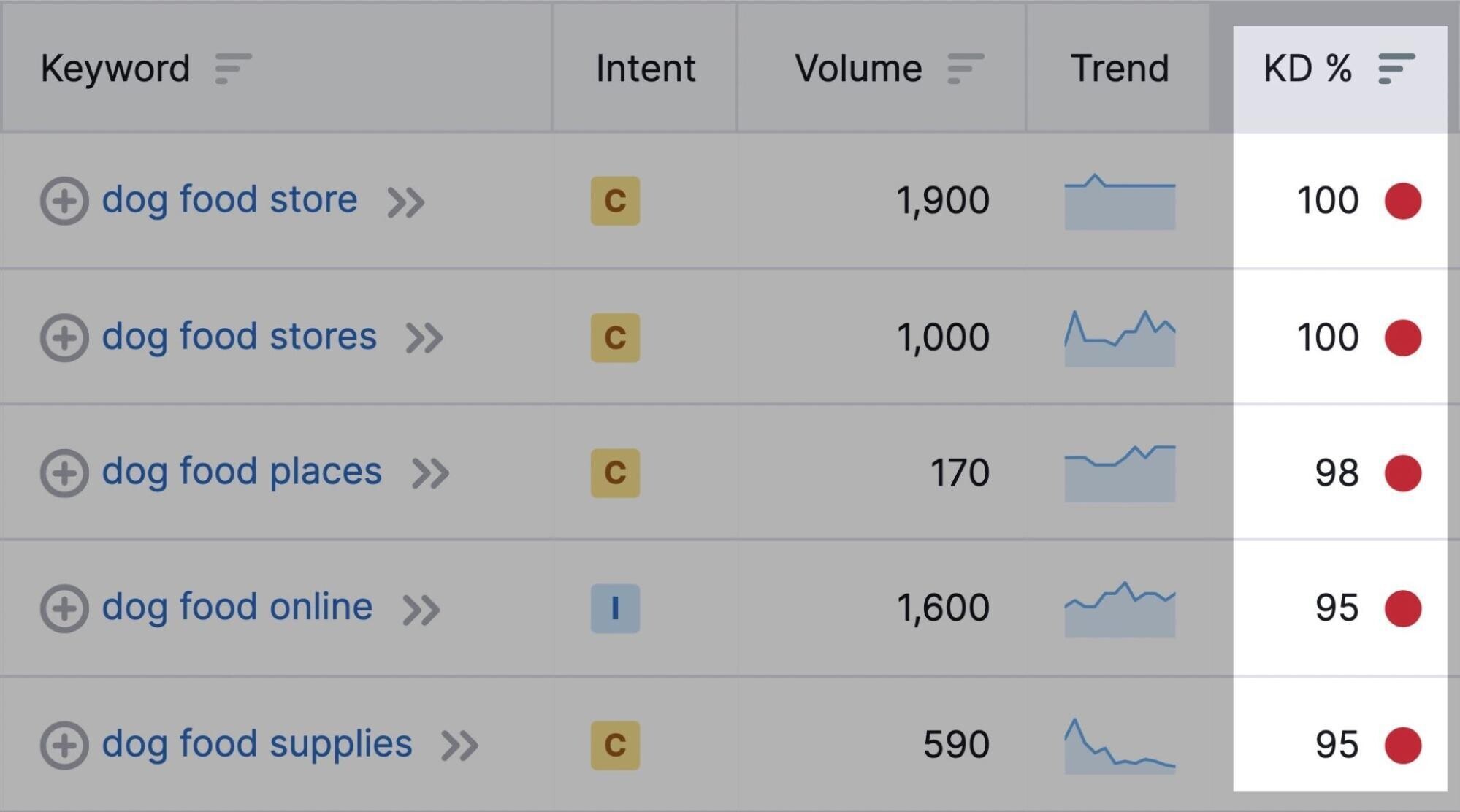 It would be very challenging to rank for most of them in top positions organically.
When starting a new website, it's usually good to target low-hanging fruit first. That's why we'll aim at keywords from the "Very easy" and "Easy" category.
Click the "KD %" filter and enter the Keyword Difficulty range you want to see (0 to 29% in our case):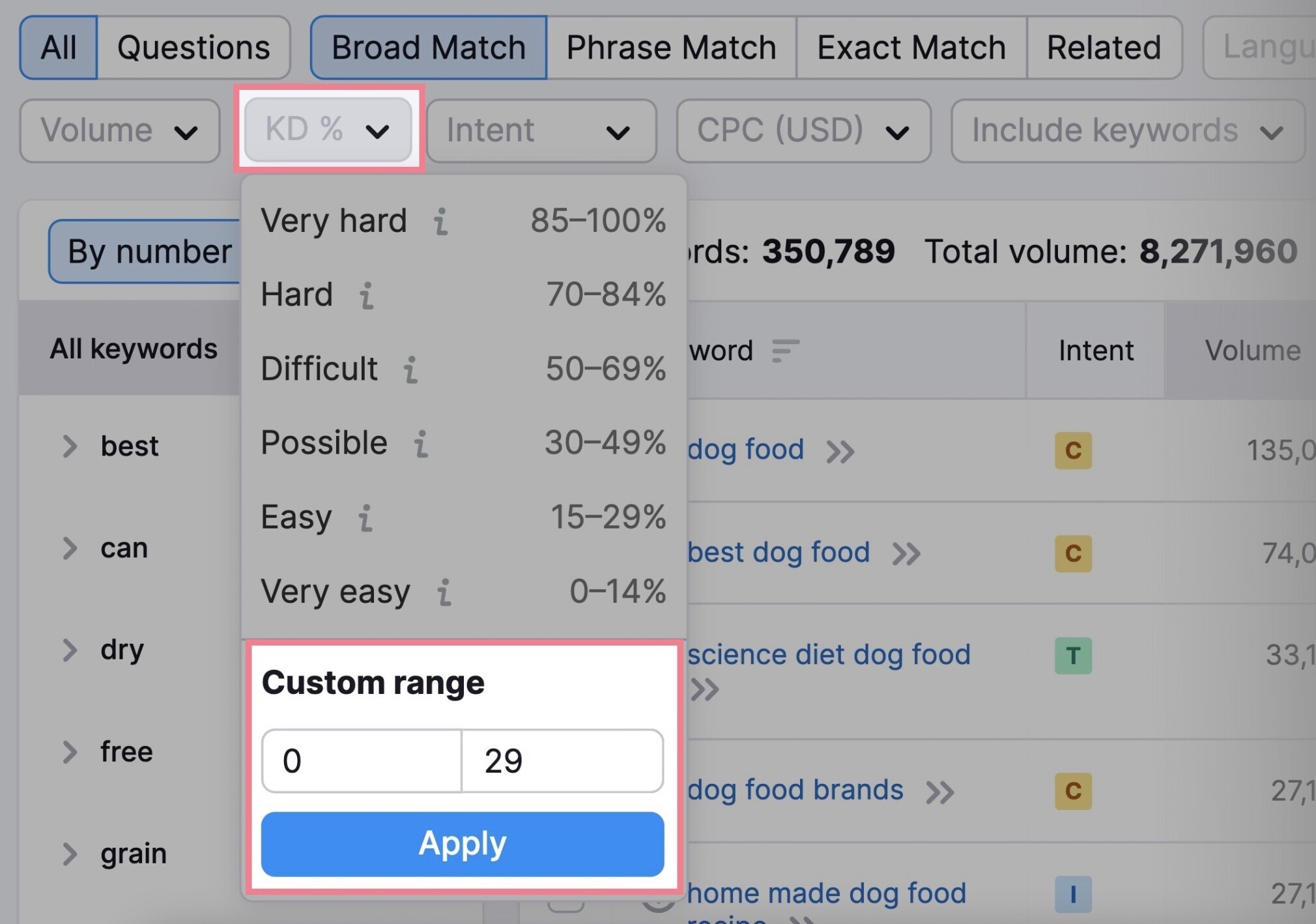 A very popular keyword strategy that is closely connected to keyword difficulty is targeting so-called long-tail keywords—longer keywords with lower search volume. 
This strategy has its advantages:
It's usually much easier to rank for long-tail keywords because the competition is less.
Long-tail keywords tend to have better conversion rates. They are more specific, which usually means people know exactly what they're looking for (and they are closer to the bottom of the marketing funnel).
Look at these three keywords:

Notice that the longer the keyword is, the fewer searches it has. And the less difficult it becomes to rank for.
The long-tail keyword"best dry dog food for small dogs" only has 2,400 searches per month (as opposed to 135,000 searches for "dog food").
However, long-tail keywords are:
Although there are exceptions, this pattern is quite common.
Here's an example chart that shows the correlation between the length of the keyword and its potential conversion rate: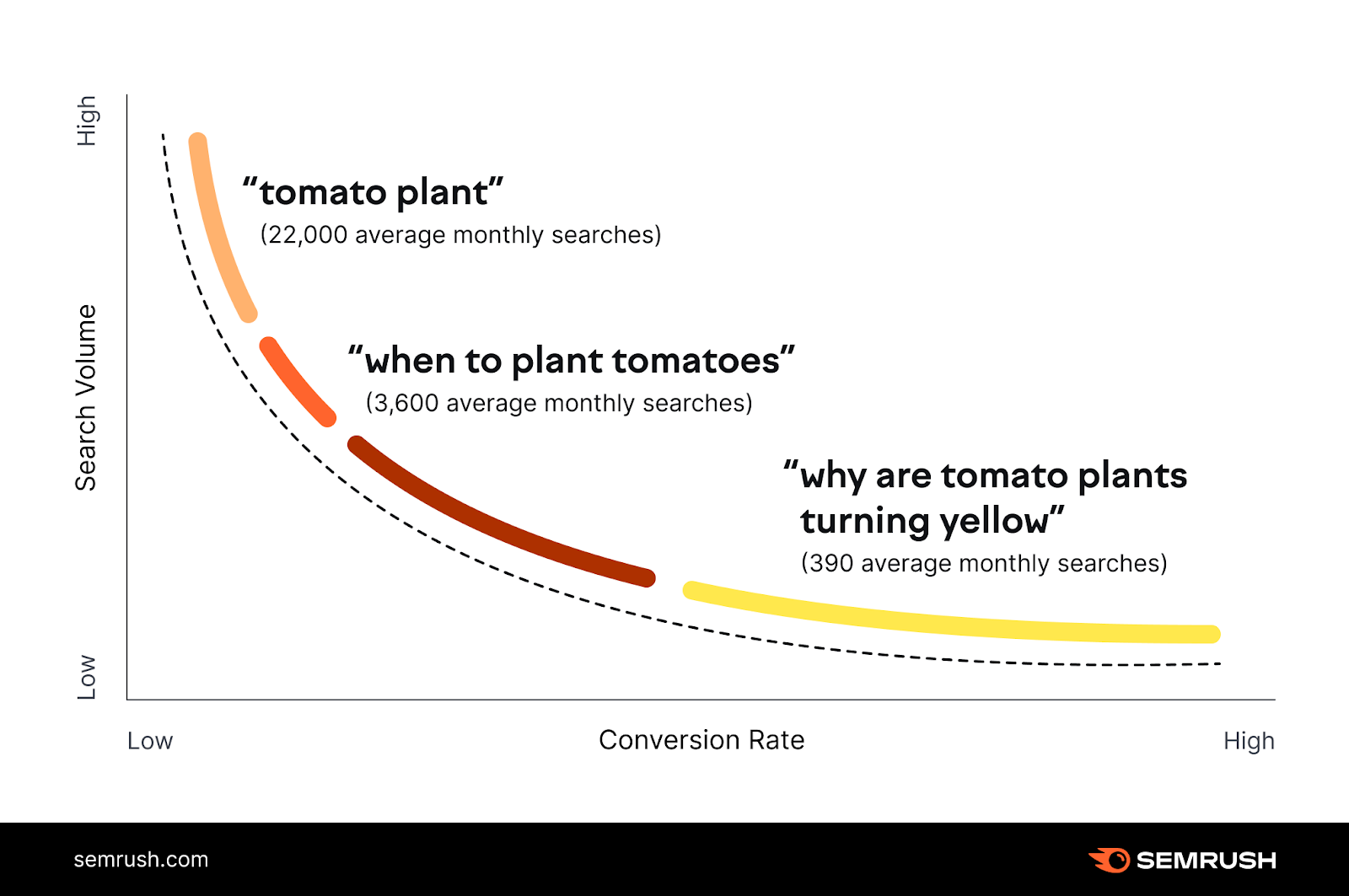 Another advantage of long-tail keywords is their scalability. 
While there's only a limited number of head terms like "dog food" within one niche, there are usually hundreds of long-tail phrases you can target (or more). So although they usually have a lower search volume, the search volume adds up as you target more and more long-tail keywords.
A great way to find long-tail keywords is to use the "Questions" filter at the top of the list.
Just click the "Questions" tab. The tool will show you all the question-based keywords from the database:
This is especially useful when doing keyword research for a blog and looking for easy-to-rank-for keywords with informational intent (more on search intent later).
Tip: Read our guide to long-tail keywords to learn more about their importance and how to find them. 
Of course, other factors influence the overall difficulty of ranking for a particular keyword. You should always consider things like:
The authoritativeness of your own website: The more authority your website has, the easier it will be for you to target some keywords—even keywords with higher difficulty(and search volumes)
The resources you'll need to rank: For example, the subjective difficulty of ranking for the keyword "dog food calculator" is much higher if you first need to develop a free online tool to be able to compete for this keyword 
The relevance of the search results: Sometimes, if there are not enough relevant results for a query, Google will rank semi-relevant websites with high authority. Although the KD is very high in these cases, you can still outrank the "giants" with content that is more relevant and better at fulfilling the needs of a searcher. 
Tip: To dive deeper into this topic, read our guide to keyword difficulty. 
Estimate the Business Value
Estimating a keyword's business value means estimating how probable it is that ranking for that particular keyword will lead to an action that's profitable for your business. 
Let's take a look at some examples:
Some keywords, although topically relevant, will probably not lead to conversions. 
So keywords like "can cats eat dog food" will not be high on our priority list because they do not have much business potential for a dog food company blog.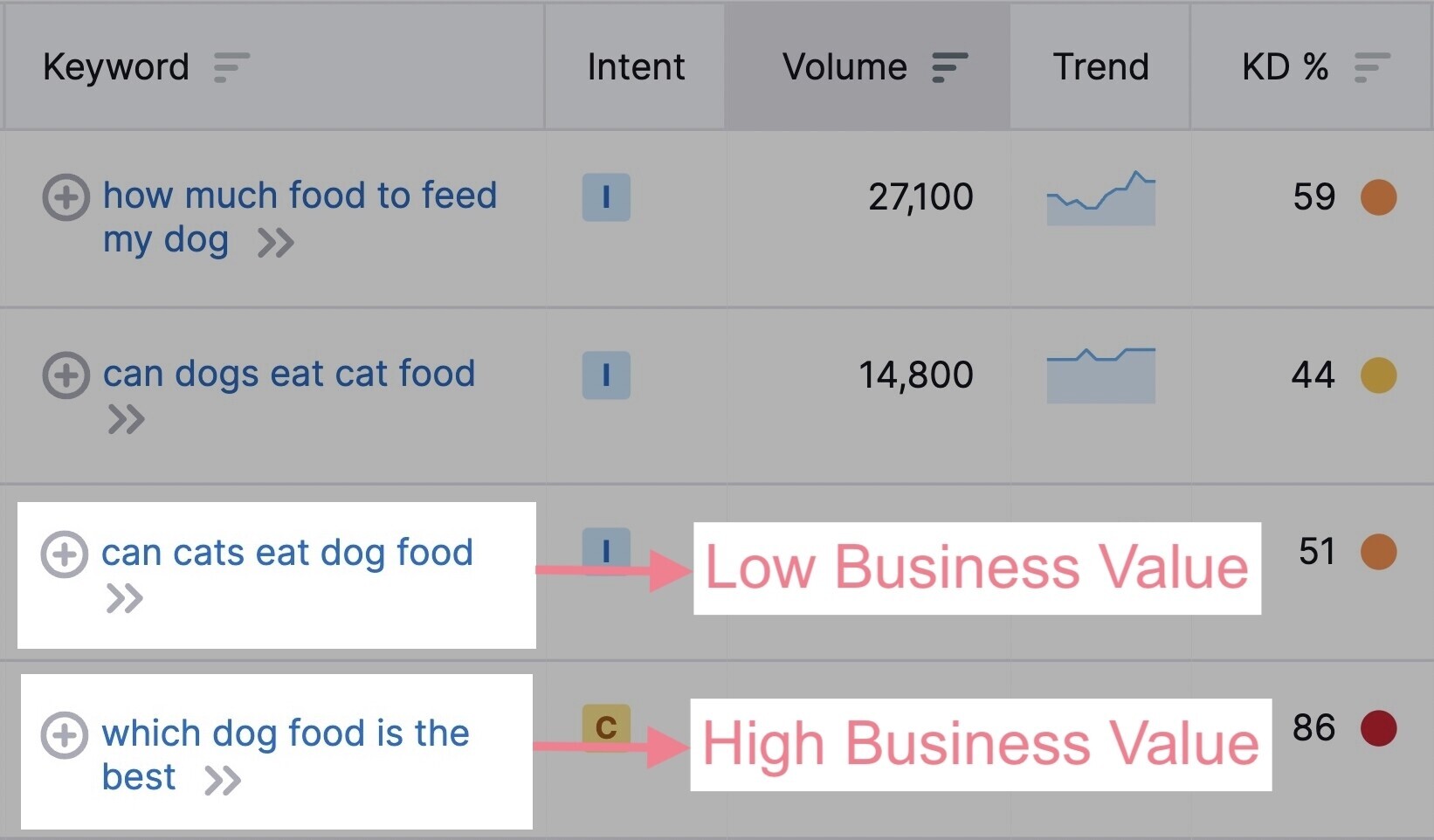 On the other hand, the keyword "which dog food is the best" is an obvious example of a keyword with high business value. 
The third category is keywords that may not always lead to a purchase but can still be valuable.
For example, a person who is searching for "do dogs get tired of eating the same food" may not be interested in buying something right away. However, a helpful post targeting this keyword and containing tips on how to create a well-balanced dog's diet is great context to introduce the product in a natural, unobtrusive way. 
Finally, ranking for a keyword can be valuable even if it doesn't lead to direct conversions. 
Here are some reasons why you might consider targeting keywords that do not lead to conversions:
You can get organic backlinks
You can improve brand awareness
You can establish yourself as an authority in the field
You can get a relevant audience for your remarketing campaigns
Estimating the business value of your keywords is not necessarily about excluding keywords. But it can be very useful when prioritizing what keywords you should target first.
Save Keywords to a Keyword List
Once you've narrowed down your keywords using the above metrics and prioritized them based on their business value, you can save all the relevant keyword ideas to a keyword list.
In our case, we've successfully narrowed down our results from 377,000 keywords to 85 keywords: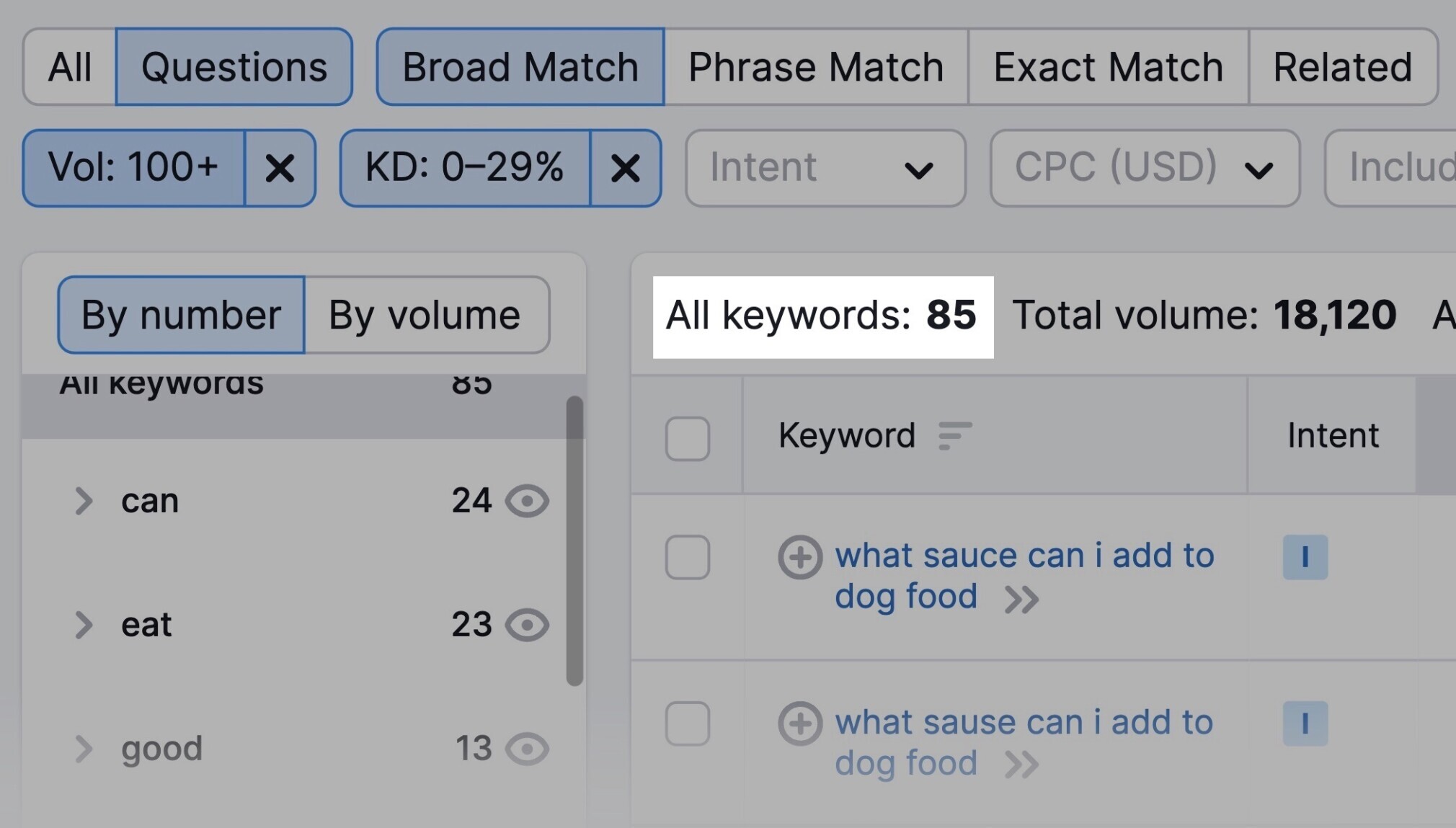 First, select the keywords you want to save by checking the boxes next to them.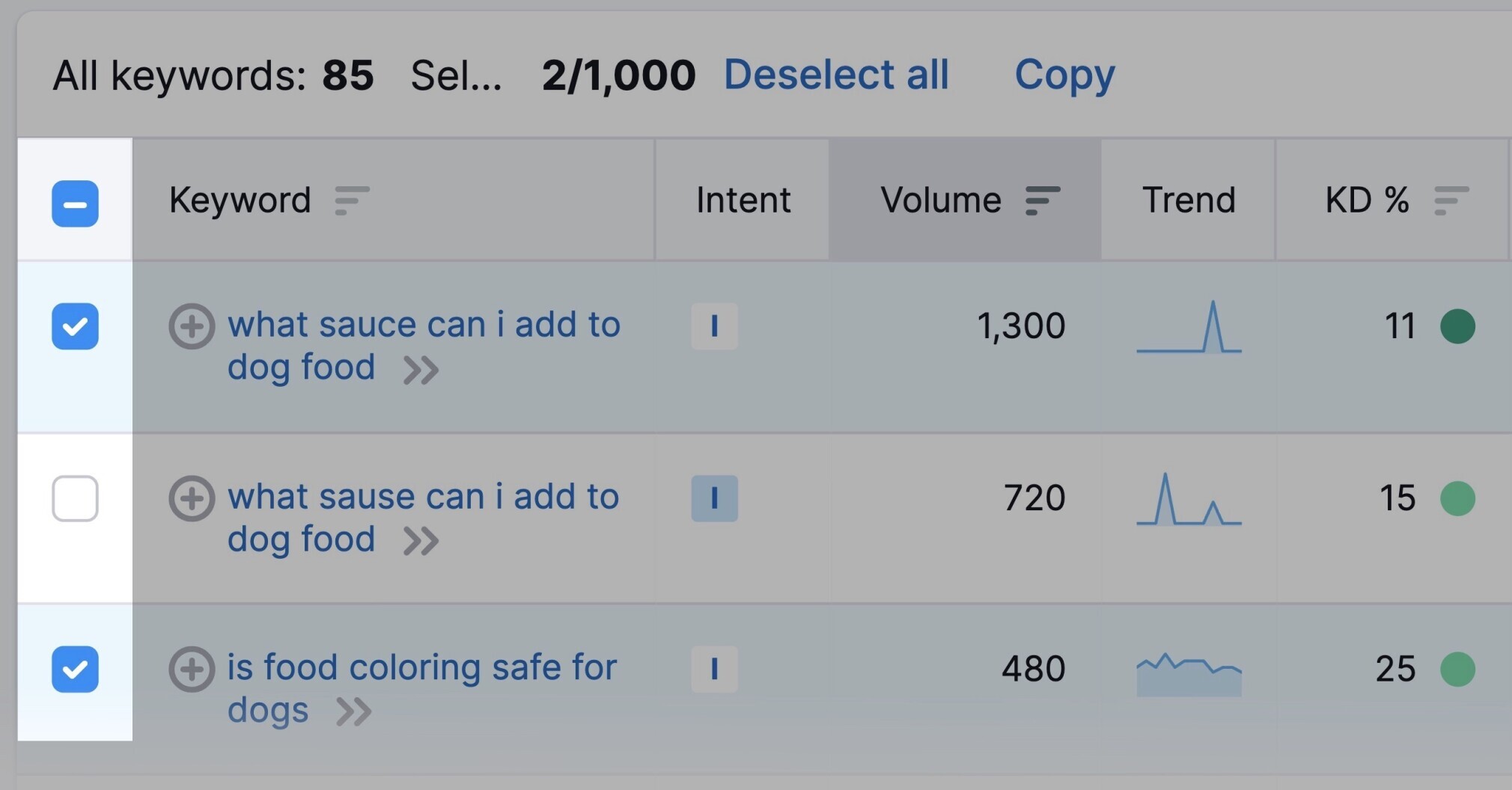 Then, click "Add to keyword list" in the top right corner and pick an existing list or create a new one.

Now, you'll have all your keyword ideas in one place so you can work with them further. 
Note: Saving your keywords to a list doesn't necessarily have to be part of this step. You can also create a list of more "raw" keyword ideas at the beginning of your keyword research or save only keywords you're 100% sure you want to target at the end.
Step 3: Targeting Keywords
The last step of keyword research is to find out how to target the keywords you want to rank for.
Identify the Primary Keyword
One topic usually contains multiple keywords. This means you can rank for many keywords with one piece of content that covers the topic thoroughly.
However, you still need a single primary keyword that will help you target the topic. 
A keyword can be one of these two:
A primary keyword: a keyword that is the best representation of the topic, has the highest search volume, and is used in the key elements of the page (such as the URL, title tag, heading, etc.). For example, the primary keyword of this guide is "keyword research."
A secondary keyword: a keyword within the same topic with a lower search volume you also want to rank for but is not your primary target. There can be multiple secondary keywords within one topic (e.g., "what is keyword research," "how to do keyword research," "how to find keywords").
Sometimes, it can be difficult to tell whether a keyword is a primary keyword or a secondary keyword. Luckily, Google has already made that decision for us. All we need to do is to analyze its results.
Let's take a look at the keyword "how to soften dry dog food" as an example.
First, open this keyword in the Keyword Overview tool:
Then, scroll down to the "SERP Analysis" section and look at the results. 
The first hint that "how to soften dry dog food" is not the ideal target keyword is that it does not appear in the URL slugs of the results. 
None of the URLs include the word "dry." 
Now, let's click the first URL—it will open in the Organic Research tool. 
A quick look at the top keywords for that particular page will confirm that the biggest keyword within this topic is "how to soften dog food"—it has a higher search volume and brings much more traffic to the page. 
We can conclude that "how to soften dog food" will be a better primary keyword than "how to soften dry dog food" in this case. We can still use the latter as a secondary keyword, though. 
Tip: To learn more about how to optimize your pages for keywords, check out our keyword optimization tips. 
Identify and Nail the Search Intent
To compete for any keyword, you need to find out what kind of content people expect when Googling the keyword. 
In other words: What is the intent behind their search? 
Analyzing and nailing search intent is probably the most important aspect of keyword research. 
Traditionally, we differentiate between four types of search intent:
Navigational: The user searches for a specific page (e.g., "pedigree foundation")
Informational: The user searches for general information on a topic (e.g., "can dogs eat spicy food")
Commercial: The user researches their options before making the final decision on which product to buy (e.g., "best dry dog food")
Transactional: The user searches for a specific product or brand with the intention to make a direct purchase (e.g., "pedigree puppy food") 
Nailing the search intent means targeting the keyword with the right content. So first, you need to find out the search intent behind the keyword.
To make this process easier for you, all the keyword-related tools in Semrush have an "Intent" metric.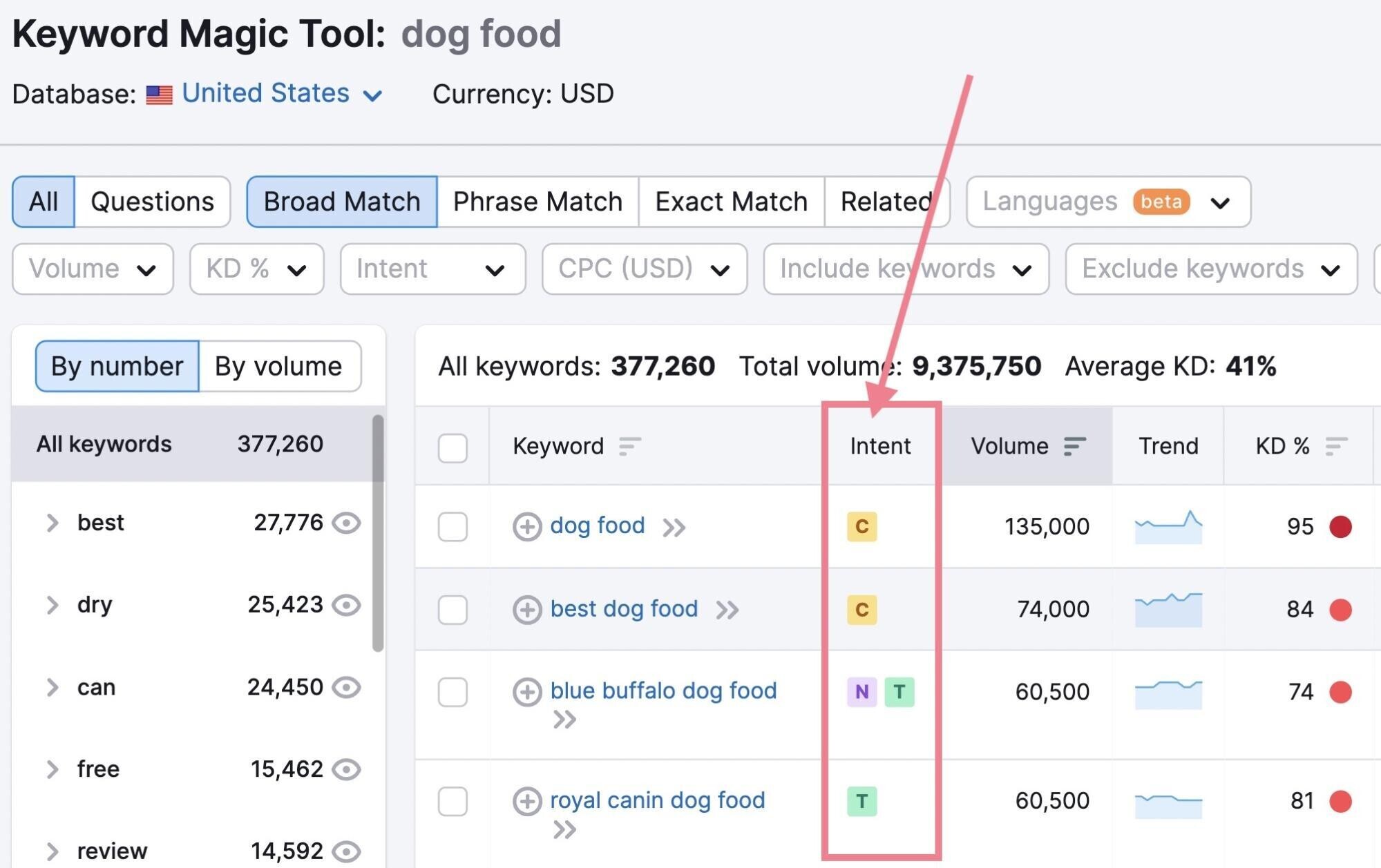 This way, you can easily filter your keywords based on the four basic categories of search intent right in the keyword tool.
Let's get back to our dog food company example:
Since we're doing keyword research for a blog, we'll have the best chance to rank for keywords with informational search intent.
Click the "Intent" filter and select the desired search intent category:
Now, you'll only see keywords that match your selected intent.
Combine this filter with the other metric filters we've covered earlier—search volume and keyword difficulty—and you'll find the best keywords for you. 
An important step in identifying and nailing the search intent of a keyword is to do a SERP analysis. 
Although we can see the keyword's intent in the Semrush tools, it is still useful to look at the SERP before deciding to target a specific keyword. This will help us analyze what types of pages rank for the keyword and take inspiration from them. 
You can use the "SERP Analysis" section in the Keyword Overview tool, or you can click the icon under the "Results" column in the Keyword Magic Tool.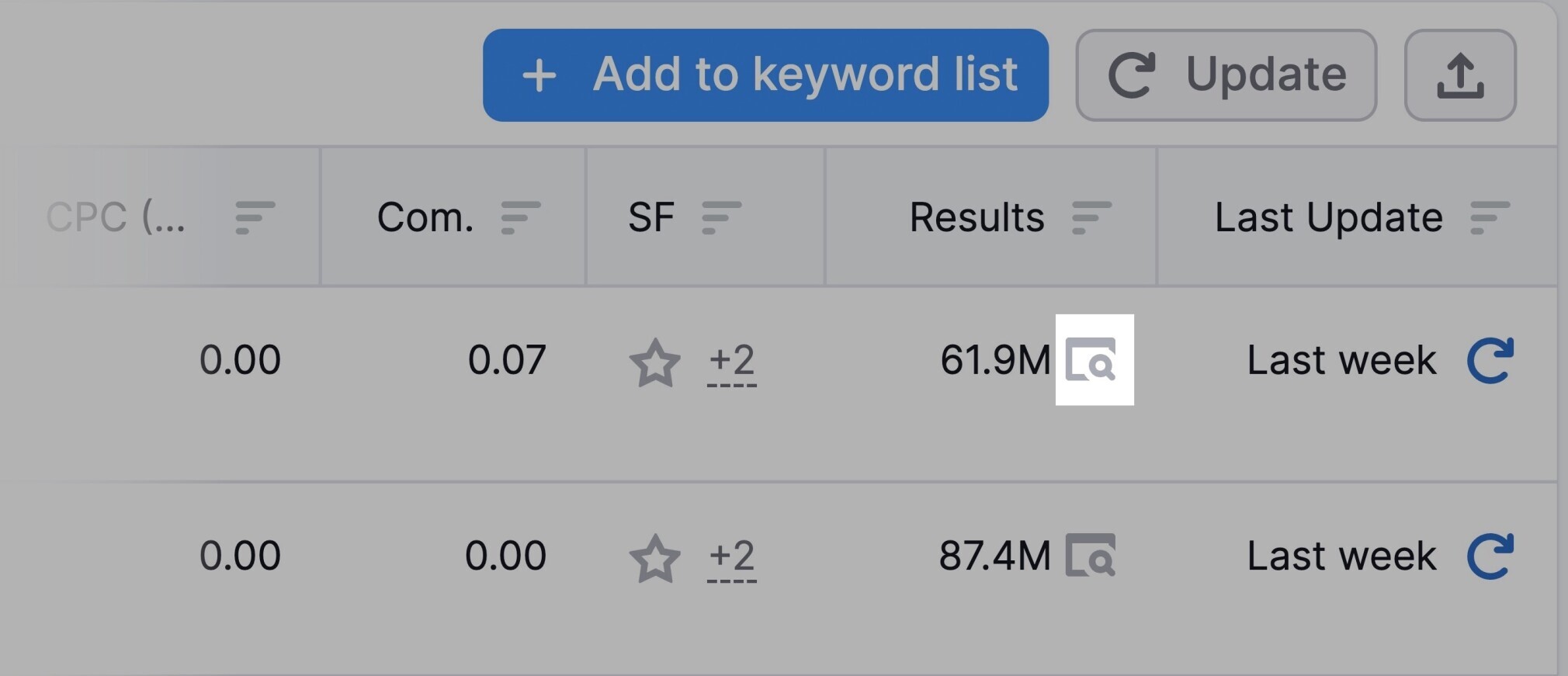 Then, go through the top results and analyze them closely. 
This way, you can:
Look at the actual pages that rank for the keyword
Find out what search intent Google attributes to that keyword
Create corresponding content
For example, if all the results ranking for a keyword are product landing pages, you probably shouldn't target that keyword with a blog post. And vice versa—if there are 10 results with review posts, you likely won't be able to rank your landing page. 
You can also get inspiration from the top-ranking pages. First, try to analyze why they're ranking well and how broadly they cover the topic.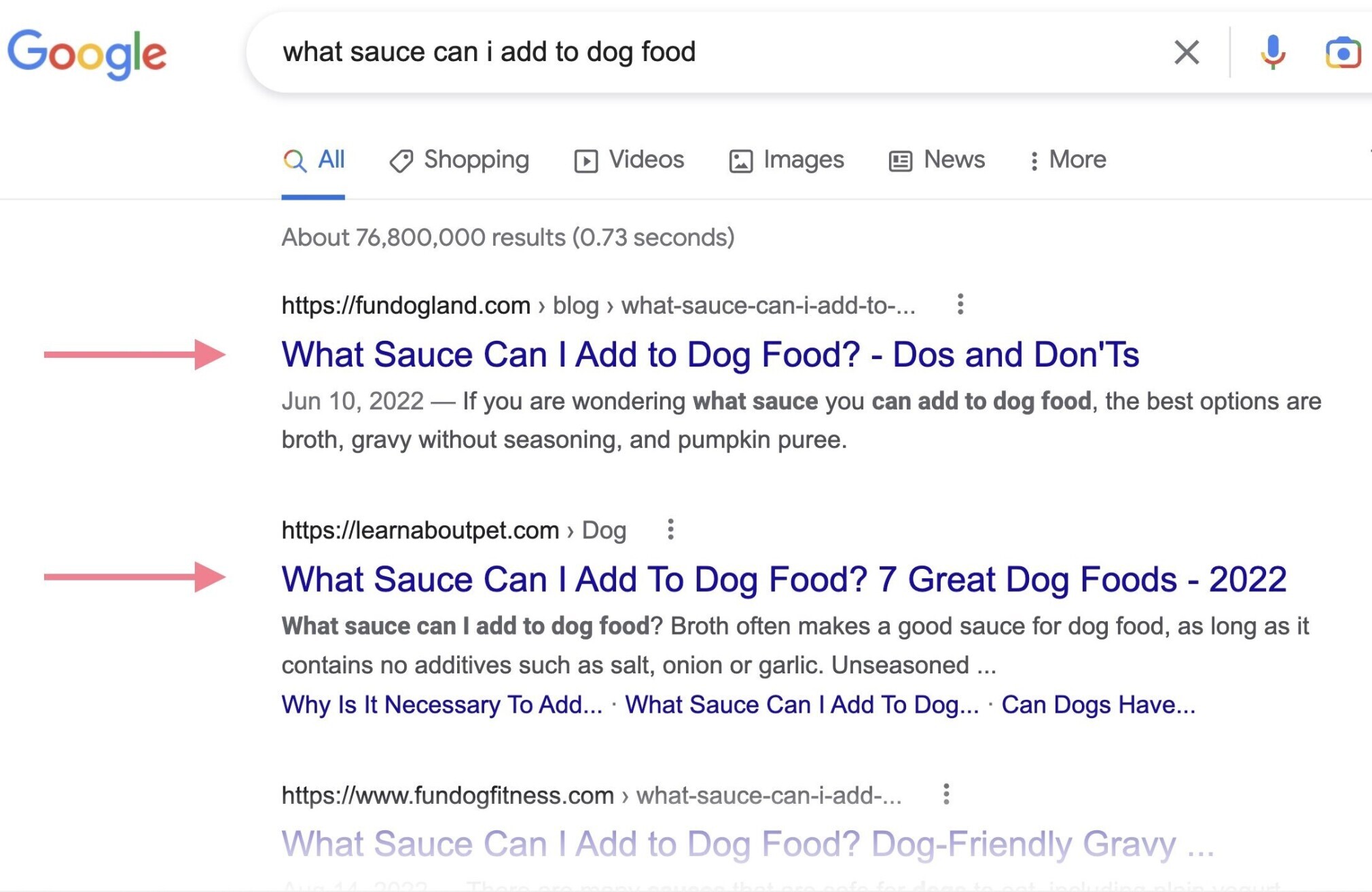 Secondly, think about how to provide added value and stand out among your competition. That might mean things like:
Covering the topic more deeply
Using a new, unique angle
Providing helpful examples
Adding original data
Providing an exceptional user experience
Creating original media
Useful Keyword Tools
Here are some of the best keyword research tools to help you get started:
Semrush Keyword Tools
We've already covered the five essential Semrush keyword research tools in this guide. Here's a quick recap of these tools and their primary functions:
Keyword Magic Tool: finding keyword ideas based on seed keywords
Organic Research: finding your competitors' best keywords
Keyword Gap: finding keywords you're missing out on
Keyword Overview: getting a detailed analysis of a single keyword and its search results
Keyword Manager: Clustering new and existing keyword lists and refreshing keyword metrics in real-time
Create a free Semrush account (no credit card needed) and try them right away! 
SERP Gap Analyzer
Use the SERP Gap Analyzer app to find keyword gaps in the top results of Google SERPs where your competitors are currently ranking with "weak" content. 
Uncovering these weaknesses gives you quick win ideas without going through the entire keyword research process. Any weak page that's ranking is a chance for you to position your site ahead.
Each listing in the dashboard will give insights into the seed word entered, like global search volume, keyword ranking difficulty, and competing sites' weaknesses. 
When you identify weaknesses like these on the SERP, you know that with a few adjustments, you can easily outrank those pages.
Google Search Console
Google Search Console is a great tool to see what keywords you're ranking for and how many clicks and impressions you get for them in Google search. 
Also, you can integrate it with your Semrush account and connect it to your Google Analytics data to get invaluable website insights in one place. 
Google Keyword Planner
Google Keyword Planner had long been a go-to free keyword research tool for many marketers. However, it has become increasingly difficult to get exact search volume data in the tool, so its popularity has decreased over the years.
Still, it can be a valuable tool if you're on a tight budget.
Just keep in mind that because the tool is made for keyword research for paid advertising (PPC), it doesn't provide any information about organic difficulty or search intent.
Google Trends
Although not exactly a keyword research tool, Google Trends can be a very useful tool when it comes to:
Finding currently trending topics
Comparing the popularity of two or more products
Estimating the long-term popularity of a keyword or topic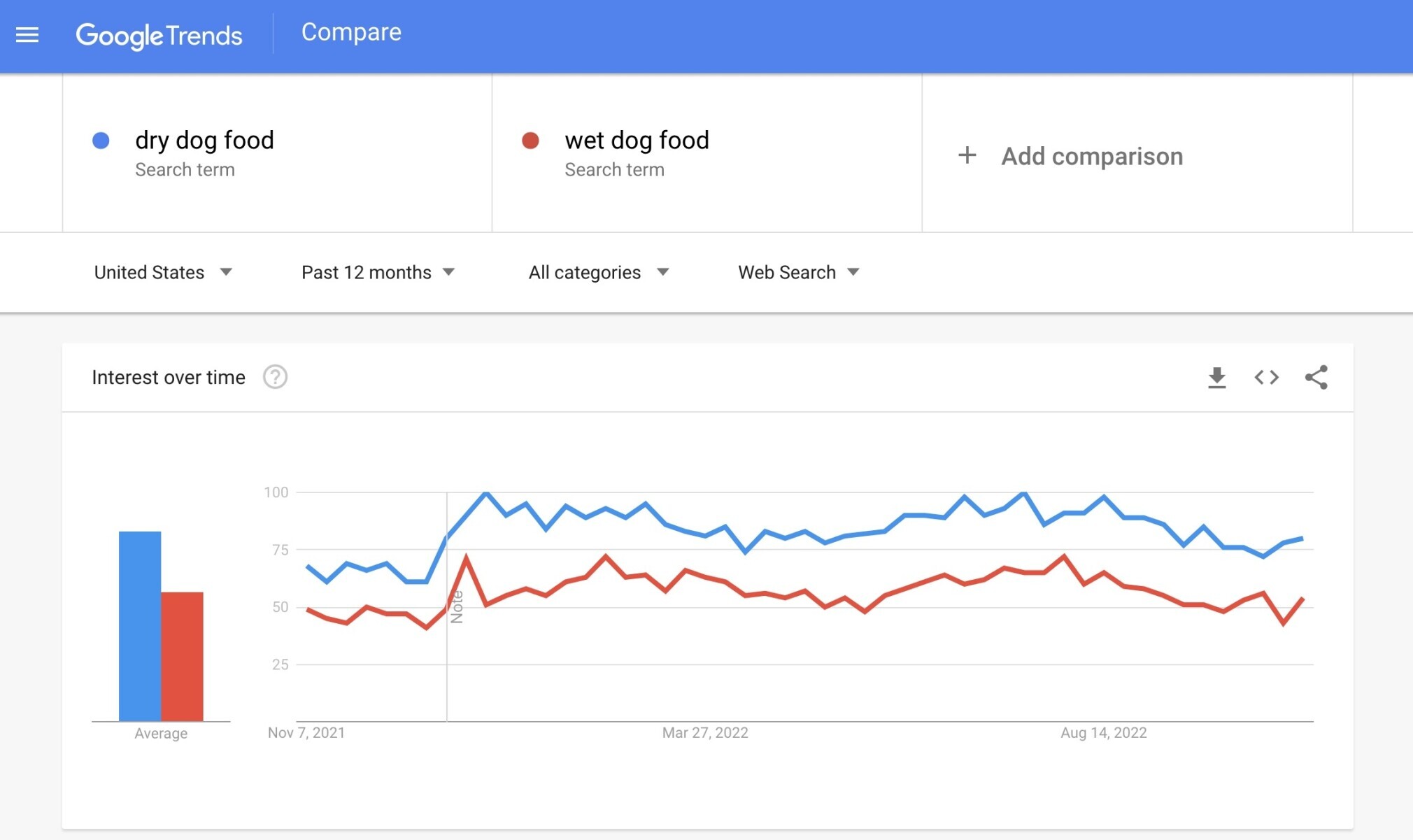 To learn how to use this tool for SEO, check out our guide to Google Trends. 
FAQs
Why Is Keyword Research Important?
Keyword research helps you find the best keywords for your SEO strategy. When done right, keyword research can help produce highly targeted content that engages readers and leads to more traffic and conversions. 
When Should I Conduct Keyword Research?
You should do keyword research at the very beginning of your content strategy creation (or even before that, if you're just picking your niche; e.g., as an affiliate blogger). You should also re-evaluate your keywords every few months to stay updated and keep finding new keyword opportunities. 
How Long Does It Take to Do Keyword Research?
Basic keyword research will usually take a couple hours. Of course, it depends on the size of your niche and the scope of your business. Keyword research for a small, narrowly focused local business will take considerably less time than keyword research for a broad ecommerce website with thousands of products. 
Final Thoughts
Keyword research for SEO is an essential part of any online business strategy. 
Now, it's time to put theory into practice and dive into keyword research for your own website. Create a free Semrush account and start right away (no credit card needed).
Happy researching!