Keyword search volume is a valuable metric in search engine optimization (SEO). It refers to the number of times a specific keyword is searched for in a specific time frame.
Whether you're building a new website, crafting a pay-per-click (PPC) marketing campaign for your Google AdWords account, or doing keyword research to draw more organic traffic to your existing website in the hopes of acquiring new customers, you should consider keyword search volume.
The below guide provides more detailed insights into what keyword search volume is and how you can use it to improve your SEO efforts.
What Is Keyword Search Volume?
Keyword search volume reveals how many times a certain keyword is searched for within a defined time frame.
Professional SEO marketers will look at keyword search volume averages over predefined periods to determine just how popular — and competitive — a keyword is. This information then guides their strategy regarding what keywords are most likely to garner interest and drive traffic.
How Do Keywords Work?
Keywords help Googlebot and other search engine crawlers determine what a webpage is about. The bots can then correctly index the page in the search engine database so that when a user types in a keyword, the search engine will include the webpage in the user's search engine results pages (SERPs). Relevant keywords are a critical element of on-page SEO.
Seasonal and Evergreen Keywords
Keyword search volume may be steady or seasonal. Evergreen keywords are searched for consistently, regardless of the period. Seasonal keywords are time-sensitive. For example, people are more likely to Google "holiday gift ideas" in the run-up to festivities like Christmas, Hanukkah, or Kwanza. 
How Do You Find Keywords?
Algorithms may structure search engines, and bots may be the ones crawling websites to determine SERPs results — but ultimately, SEO is all about meeting the needs of human users.
When it comes to selecting effective keywords, it's critical to consider user intent. Also called keyword intent or search intent, this refers to the purpose behind a query. What does a person hope to find when they input a specific set of words into a search engine?
Meeting user intent is critical to ranking well in the SERPs. Say you have a website dedicated to the best restaurants in Greensboro, North Carolina.
You would want to include localized SEO keywords that address this location. You will then attract internet users who are actively inputting search queries to find eateries in Greensboro instead of people across the country — who likely won't be interested in a Greensboro-specific platform.
So, how do you find the right target keywords? This isn't a guessing game. As with most things in SEO, there are data-driven tools available to guide the process. Here are some keyword research tools that can help you find search terms, with a brief primer on how to use each one:
Google Trends
Google Trends is a free tool that visually represents how popular a keyword is over time. All you have to do is visit the Google Trends portal, input the keyword you want to know about, and you'll get a line chart showing search highs and lows.
Take the word "firework," for example. This chart reveals that searches for "firework" spike around the Fourth of July. There is also a slight increase in searches around New Year's Eve.

These are both holidays celebrated with fireworks, so you can see that this is a seasonal keyword. Scroll further down, and you can get geographic data on where the term is searched more frequently.
In this case, the geographic area has been set to "United States" at the top of the page, but you can also change it to "Worldwide" or designate other countries. You can also change the given period. In this case, the time window is set to 12 months.
Scroll even further, and you'll get related topics and queries (e.g., "Fourth of July fireworks 2020"), which can help inform your chosen keywords.

If you want to know more about using Google Trends for keyword research, read our blog on the topic.
Google Keyword Planner
Formerly known as Google Keyword Tool, Google Keyword Planner is another free tool from the search engine giant.
To access Keyword Planner:
Visit this page and click on "Go to Keyword Planner."
Once you set up, click on "Tools" in the menu bar
Select "Switch to expert mode."
Then, you'll see a link to the Keyword Planner on the main menu page.
There will be two options: "Discover new keywords" and "Get search volume and forecasts."

To find keywords, click "Discover new keywords." You can then enter specific keywords or even the URL of your website to determine what keywords fit.
So, if you input your business website, Google will provide keyword suggestions for suitable SEO keywords. Every suggestion provides average monthly searches (keyword volume) and competition. Here's an example using the U.S. McDonald's website: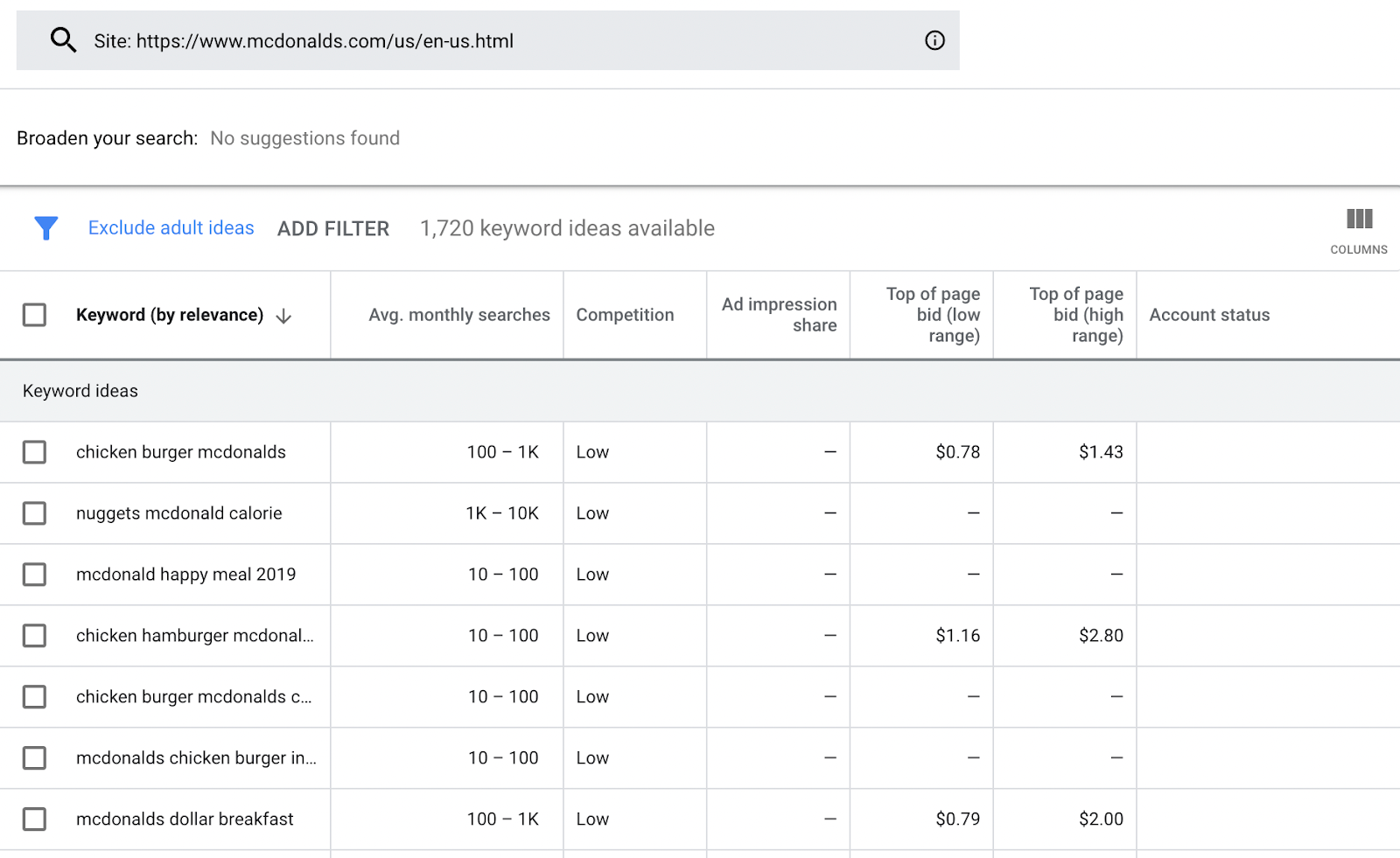 Take a look at the first keyword idea listed, "chicken burger mcdonalds." Its average of 100 to 1,000 monthly searches and competition for the keyword is qualified as "low."
Note: when referencing 'competition' within Google Ads, it is important to note is that competition in Google Keyword Planner refers to the advertisers bidding on a particular keyword, not its organic competition.
However, Google Keyword Planner provides a lot of great ideas for your paid keywords and for building out your larger keyword strategy, too.
Google Search Console
Google Search Console is another free tool and generally useful for tracking your website's performance in terms of organic search engine traffic. You can use it to find new keywords and get data on keywords you're ranking for, allowing you to determine their utility.
To get started, visit the Google Search Console page and click the blue "Start now" button.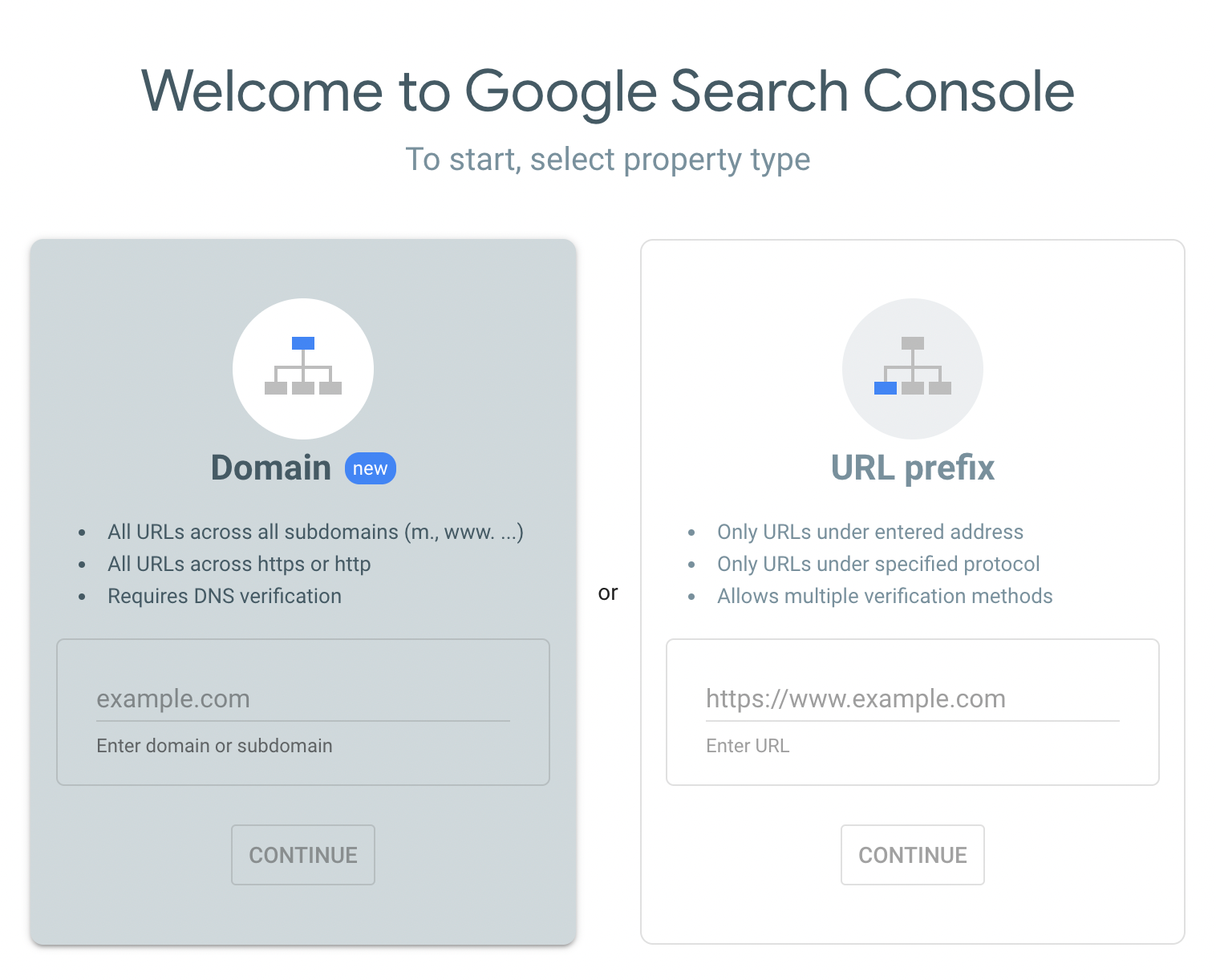 You can then enter your domain. You'll have to verify that you own that domain using DNS verification or by uploading an HTML file to your website.
Alternatively, you can add an HTML tag to your site or use your Google Analytics or Google Tag Manager account. Once you're in the system, you'll see your dashboard.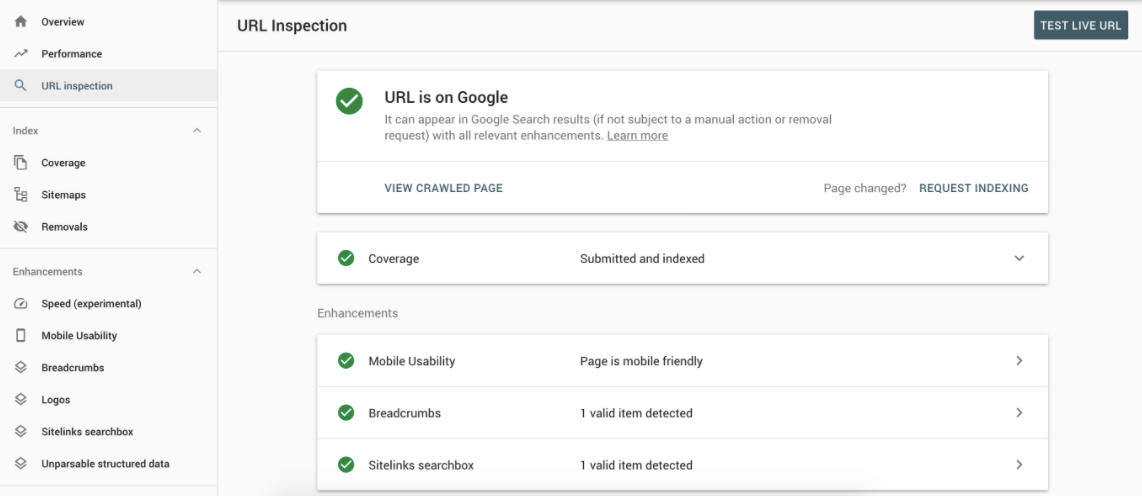 To see how your keywords are performing, download your search results report. To find new keywords, sort the report's click-through rate (CTR) from low to high. This will show you unexpected keywords that you rank for but don't actively target. Keywords with many impressions and a low CTR may be worth targeting (for example, by building a new page of content around that keyword).
Keyword Sheeter
Keyword Sheeter is another free keyword tool that takes a different approach: In this case, the data is taken from thousands of Google autocomplete suggestions.
To use this tool, enter the keywords you're interested in (one per line) and click "Sheet keywords." Here's an example: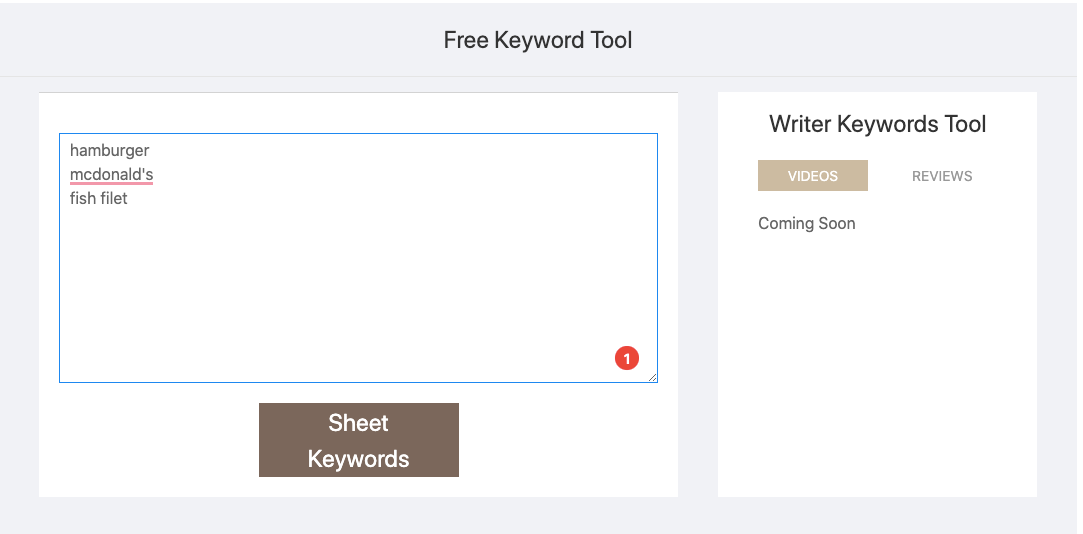 You will then get a list of ideas.
You can easily export the given data via the "Export data" button at the bottom of the screen. Scroll down, and you'll also get a detailed keyword table.
If you want more comprehensive information, you can pay for a report. Different report options are available, including "Search Volume + CPC Priority Queue," "Google Organic Difficulty Report," and "Top 100 Google SERP queue."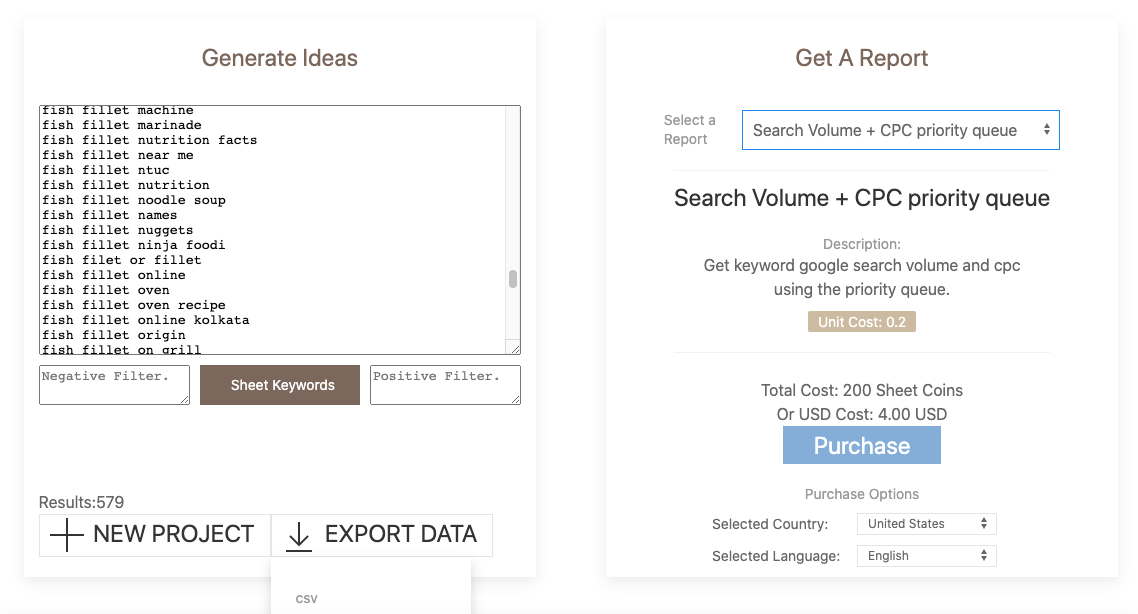 AnswerThePublic
AnswerThePublic is another unique platform designed to determine what people are asking online. It covers questions, prepositions, comparisons, alphabeticals, and related searches.
Here's a step-by-step breakdown of what happens when you enter the keyword "hot yoga" (make sure to set your language and country as needed):

First, you get a visualization of questions that people ask related to this topic, including "Is hot yoga good for you?" and "Is hot yoga safe?"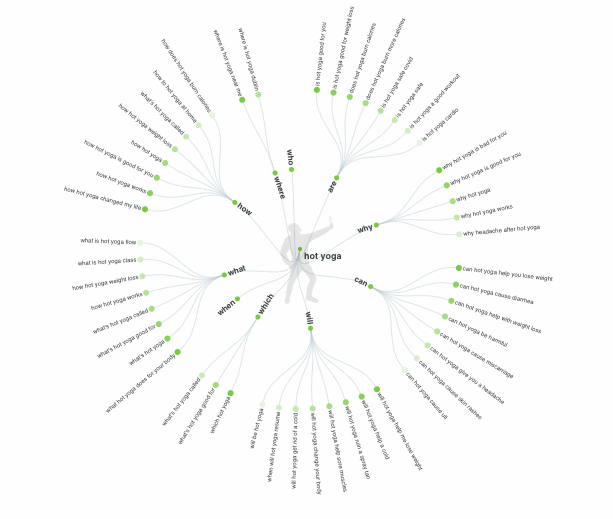 You can also view the information in a simple list-style data format: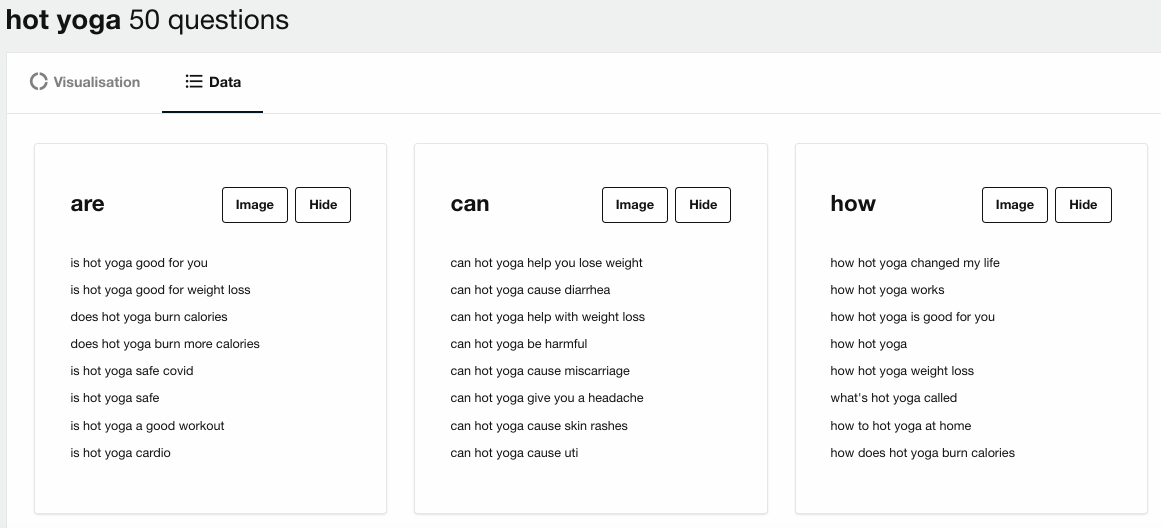 Scroll down further, and you're given combinations of the term "hot yoga" with certain propositions (e.g., for, near, can). This further delineates what people are searching for, such as "hot yoga for weight loss" and "hot yoga near me." Scroll further, and you get comparisons (e.g., "hot yoga versus regular yoga").
At the very end, you get what AnswerThePublic refers to as alphabeticals: a list of hot yoga-related search terms in ABC order. In the first position under "A," you have "hot yoga arlington va," while in the final position under "Z," you have "hot yoga zen." In each case, you can view the data in the form of a list or visualization. You can also download a CSV file with the information you want.
You can use AnswerThePublic for free. However, if you want to compare data, you'll need a Pro account. A monthly subscription is $99 per month, and an annual subscription averages $79 per month. There's also an Enterprise plan for companies, starting at $399 per month.
Semrush Keyword Magic Tool
Semrush's Keyword Magic Tool is another tool that operates on a "freemium" model, meaning you can access some parts of the tool for free but need to upgrade for full functionality.
Input a keyword, and the tool searches a database of more than 20 billion keywords, providing feedback like keyword difficulty, competitive density, and search volume. 
First, input your term. Say you own a website that sells vintage video games and pinball machines, for example. You might check out the keyword "vintage pinball." Here's the output:
As you can see, you get a great deal of granular data, including suggested keywords, search volume, trends, KD percentage, cost-per-click (CPC) fees, competitive density, SERPs, and the number of URLs displayed in organic search results for that keyword ("results"). We get into greater detail about using this information to find popular keywords and search for volume metrics below.
Semrush offers three price points to meet the needs of different businesses. The Pro plan for freelancers and startups costs $119.95 per month. The Guru plan for small- to midsize enterprises costs $229.95 per month. Finally, the Business plan for larger companies costs $449.95 per month. You can choose to be billed on a monthly or annual basis. Annual billing will save you 16% compared to a monthly plan.
How Do You Find Popular Keywords?
You can use the Semrush Keyword Magic Tool to find popular keywords to drive successful PPC marketing campaigns and attract traffic to your business website.
Let's continue with the above example. After you've input your seed keyword, you'll get a list of relevant terms. You can also click "Related" on the far right-hand side to get a list of closely related keywords.
How Do You Search a Keyword for Volume Metrics?
You can sort your list of given keywords by various metrics, such as click rate and volume. To search by volume, click on "Volume."
Semrush even has extra features that can be helpful, like the Keyword Overview research tool. This provides additional data like localized versus global volume, keyword difficulty, and results on the SERP.
Here's what you can expect based on the "vintage pinball" example:
What Is a Good Keyword Search Volume?
So, what's a good keyword search volume? You have to strike a delicate balance.
You want a high-enough volume without overly competitive rates. If you only use keywords no one searches for, nobody will find your content. If you're only using keywords with an extremely high Google search volume, you'll be stuck competing with larger sites, making it harder to do well in search engine rankings. 
There's no single number to go by when determining a "good" keyword search volume. Your site size and budget are also considerations. If you're running a corporate website and have a lot of money available, you may be willing to spend more on highly competitive keywords to maintain your competitive edge.
How Do You Know If Your Keyword Search and Implementation Was Successful?
Keep in mind that keyword search volume isn't the same as clicks. Just because people are searching for a certain word doesn't mean they're clicking on results related to that word.
While Google search volume isn't a foolproof predictor of search traffic, it's still critical to inform data-driven keyword research and successful PPC bidding strategies for digital marketing.
How can you tell if your keyword search and implementation is succeeding? SEO tools can help. Monitor your website regularly to see what pages are doing well (getting many clicks, backlinks, and user engagement).
What keywords are driving engagement to those pages? What keywords are related? Use this feedback to further refine your keyword strategy.
Get More Insights Into Your SEO
The above list provides a range of resources to help you choose the best keywords and improve your search engine optimization efforts. The  Keyword Magic Tool makes it easy to keep track of which search terms serve you well and which ones need to be updated. Your SEO doesn't need to be a guessing game. Data and tools are available to help guide your keyword choices — take advantage of them!
Last but not least, don't forget to revisit your keywords. Search engine algorithms are constantly evolving, and the SEO landscape is always changing as a result. You can't just research keywords once and never revisit the topic. Check back regularly to ensure that your given keywords are still performing adequately.