If you are a PPC professional, you don't need any convincing on why you should use dedicated landing pages (LP) for your lead-gen campaigns. LPs usually have a higher conversion rate, which means a lower cost per conversion and therefore greater ROI.
However, is that always the case?
If you are selling something that is of a "sensitive" nature aka, a high-involvement decision or those where the implications and potential risks of the purchase decision have a high emotional impact, then there is a good chance that dedicated landing pages, no matter how well it is optimized for conversion, may not cut it.
Our example below is one of those cases.
(To clarify, by landing page, I am referring to pages you may have created using a tool such as Unbounce, Instapage and so on).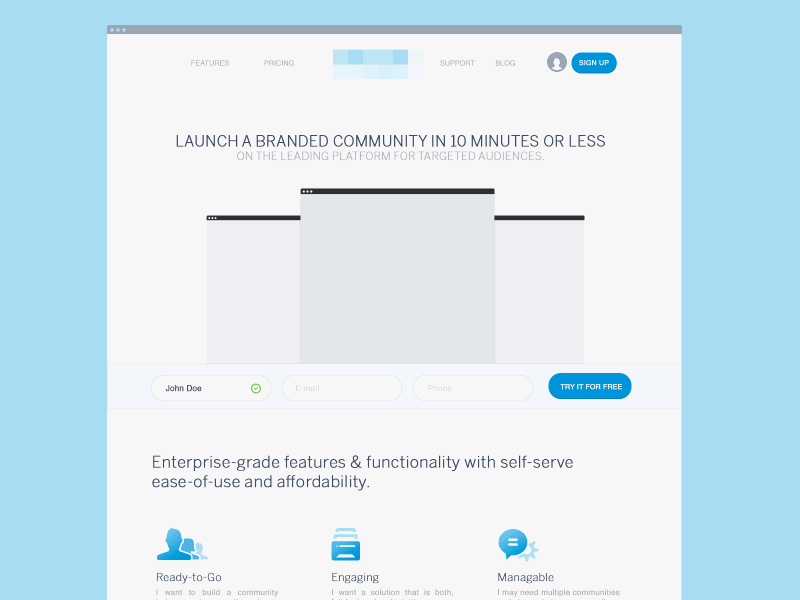 A typical landing page
Choosing A Summer Camp For Your Child 
Where to send your child for the summer break; it is an critical decision for any parent.
You are likely to want to have answers to a lot of questions before you even decide to make an inquiry – is my child going to be safe in this camp? Is the staff qualified? Who is organizing this camp? And so on...
Of course, emotions impact every purchasing decision to some level, but the intensity varies. Recently I set about launching a Google Ads campaign for a school. 
And, like any self-respecting digital marketing professional, I set up the campaign so right off the bat I was testing at least two versions of the landing page — the existing page for the camp in this case as well as a dedicated landing page built for this campaign.
To LP Or Not To LP
Some insights from past experience — I have managed campaigns in similar industries such as health (to be precise, a balm to heal slipped discs) where the emotional cost of the decision is higher and purchase life-cycles are longer. Based on previous results, I knew that a dedicated landing page hosted on an isolated sub-domain stripped of main menu items might not be quite as effective.
Even if you manage to cram all the info you think the user will need to make an informed decision into a single-page website (which is essentially what most landing pages are), you may not fare too well for a sale such as this one.
However, it wouldn't be a great idea to not test at least one LP to start with so I launched the summer camp campaign with both the pages, not knowing that I was about to find out just how much better the current LP was going to perform compared to the dedicated one I had built.
Lo And Behold, The LP Performs.....Miserably!
It turned out, the current page on the site outperformed the LP by a whopping 400%. 
Here is a screenshot of the experiment results:

Landing page performed miserably compared to the original
And, as the table above shows, the existing page performed significantly better than LP in almost every way:
Conversion rate was 400% higher than the LP.
Delivered 300% cheaper cost / conversions.
Averaged 10% cheaper cost per clicks.
What Happened Here?
As mentioned above, for a service such as this one, it is likely parents will want to get a good sense of the establishment before they decide whether to make an inquiry or not. To provide what the parents wanted or needed to see meant spending time looking around, clicking pages, watching videos, reading up bios of the various school staff and so on; something a single landing page just can't accomplish.
This screenshot from GA shows you just how much more engaging the current page was compared to the LP.
I create a list below of all the page elements that will be important for a campaign like this one, and it is important to note that almost all of the ones listed here were present on the existing site pages as well as the dedicated landing pages.
What was missing was the "browsing" factor.
The landing page was essentially a single page website, so there was nowhere else to go, which robbed users of the experience of clicking around and visiting multiple pages all of which would help them become more familiar with the brand, and ultimately inspire enough trust and confidence for them to make an inquiry.
List of Elements That Can Inspire Trust and Confidence
Accreditation logos – Having logos of professionals organizations that you are a member of isn't mandatory but does generally help to improve conversion rates especially if the logo(s) are recognizable.
For example, in the UK, OFSTED is the official governing education body, and a seal of approval from them goes a long way in increasing brand credibility and therefore, conversions. 
For most good schools, this isn't a problem so if you do have an accreditation(s), you want to use the logo as frequently across your site as possible and also place them strategically near your contact forms. 
Videos – Regardless of what you are selling, videos can help increase your conversion rates and add a human touch to your website. For a school, this becomes even more important as it gives your website visitors a chance to get a better sense of the experience in a way that text or images simply can't.
Testimonials – Having quotes from your biggest fans is a must for any business. For a school, even more so.
Another possibility is to have independently verified feedback from a tool such as Feefo or Trust Pilot dynamically fed to your website, but this option can be pricey for native integration. Having static testimonials can still go a long way especially if you have other trust elements in place. 
Social Media – Technology is continually evolving; digital marketing channels come and go, but the power of referrals still reigns supreme. Having an active and engaged Social Media community for a school isn't really a luxury anymore; it is needed, and it can go a long way in increasing your brand's credibility and trust factor.
Conclusion
Although dedicated landing pages to tend to perform better in most cases, it helps to consider take customer psychology when thinking about your conversion strategy.
If you are selling something that requires a fair amount of commitment, in terms of time or cost or emotions, traditional conversion best-practices may become less important, and even something which may seem counter-intuitive, like not testing landing pages, may turn out to be an excellent idea after all.