In a study conducted by SEMrush and Ghergich & Co., we analyzed 6.9 million featured snippets. Furthermore, we analyzed 80 million keywords. The goal was to break down featured snippet percentages by keyword group.
Our focus was on questions, prepositions, and comparisons search phases. I have seen great success earning featured snippets in these three areas. But I wanted the data to back up what I saw on the ground. Now, thanks to SEMrush, I have it. TL;DR Raw Data Linked at the bottom of this article.
Let's start by looking at the power of question keywords.
New to Featured Snippets? The data says start here!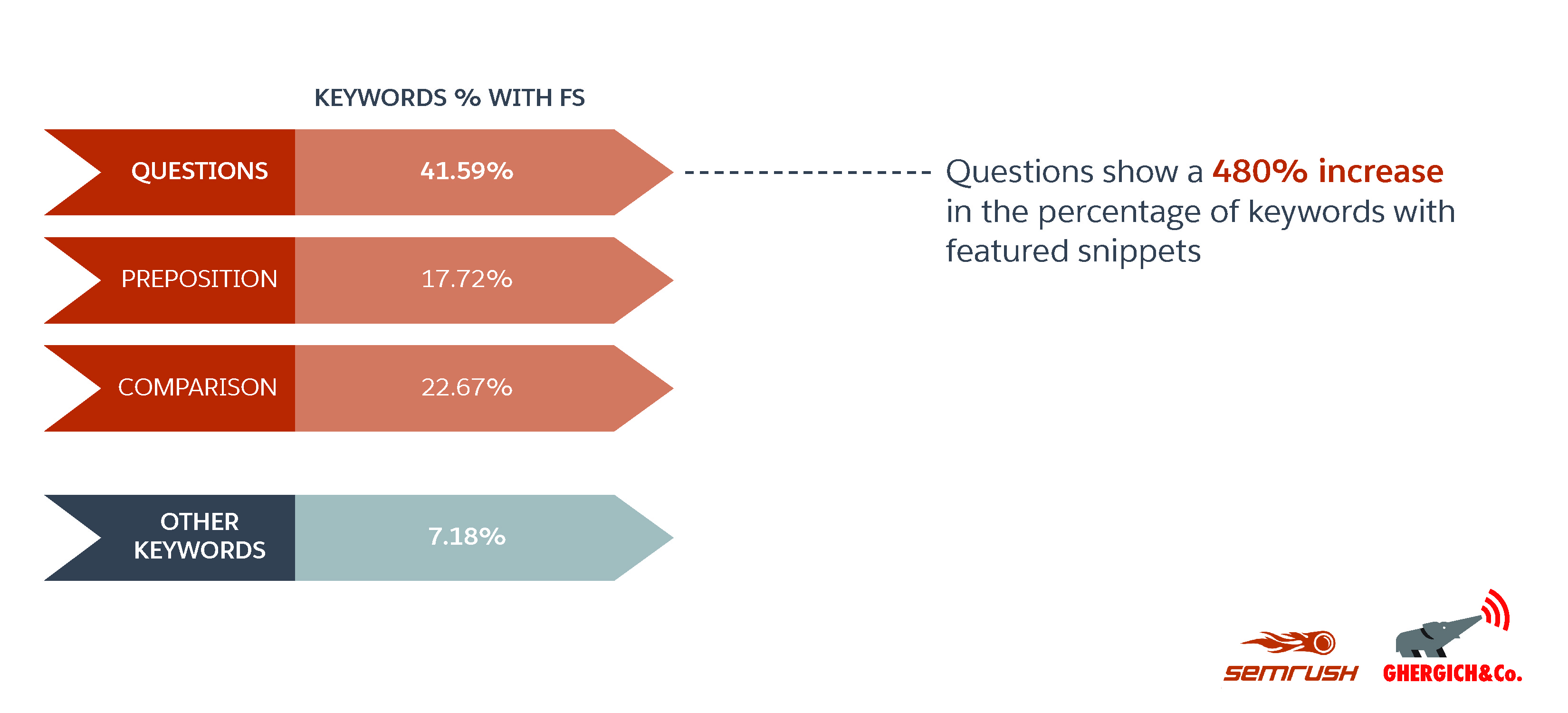 Something shocking happens when I remove questions, prepositions, and comparisons from our large data set. Contrary to popular belief, only 7% of generic keywords have featured snippets. Small studies show higher numbers, but 80 million keywords is the largest study I have seen.
(Generic keywords are any non-question, preposition, or comparison keyword.)
You can see in the chart that 41% of questions have featured snippets. Comparison and preposition keywords are also more likely to show featured snippets.
If you are starting to look at featured snippets, side with data and optimize questions.
Questions show a 480% increase in the percentage of keywords with featured snippets.
Featured Snippet Question Findings
What jumps off the page is how well questions do at earning paragraph featured snippets. The main exception to that rule is "how" phrases. "How to" keywords are fantastic at earning featured snippet lists.
Featured Snippet Preposition Findings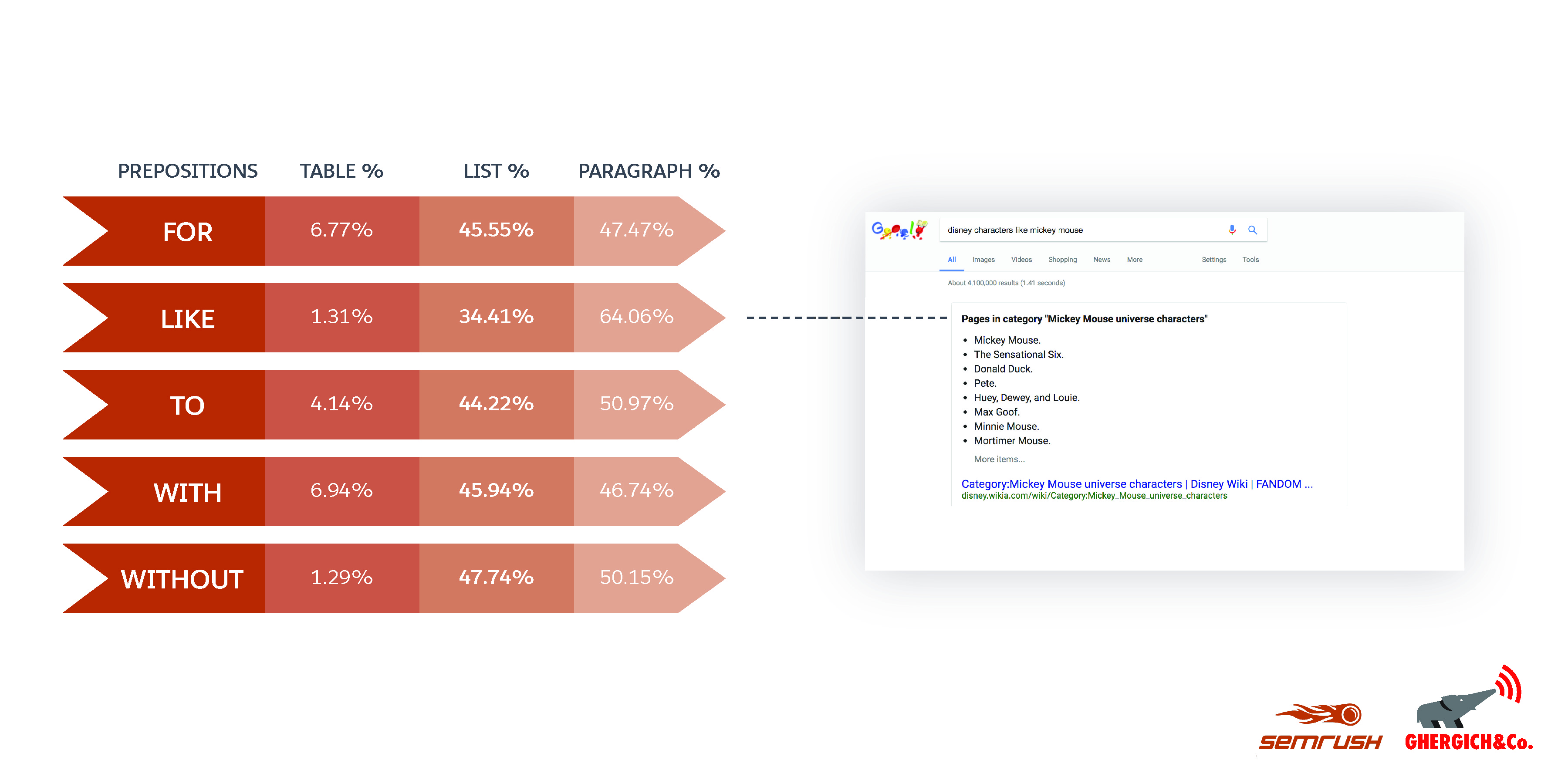 Look closely at preposition keywords, and you can see what I mentioned about "how to" keywords. Prepositions are a great opportunity to optimize ordered and unordered lists.
Featured Snippet Comparison Findings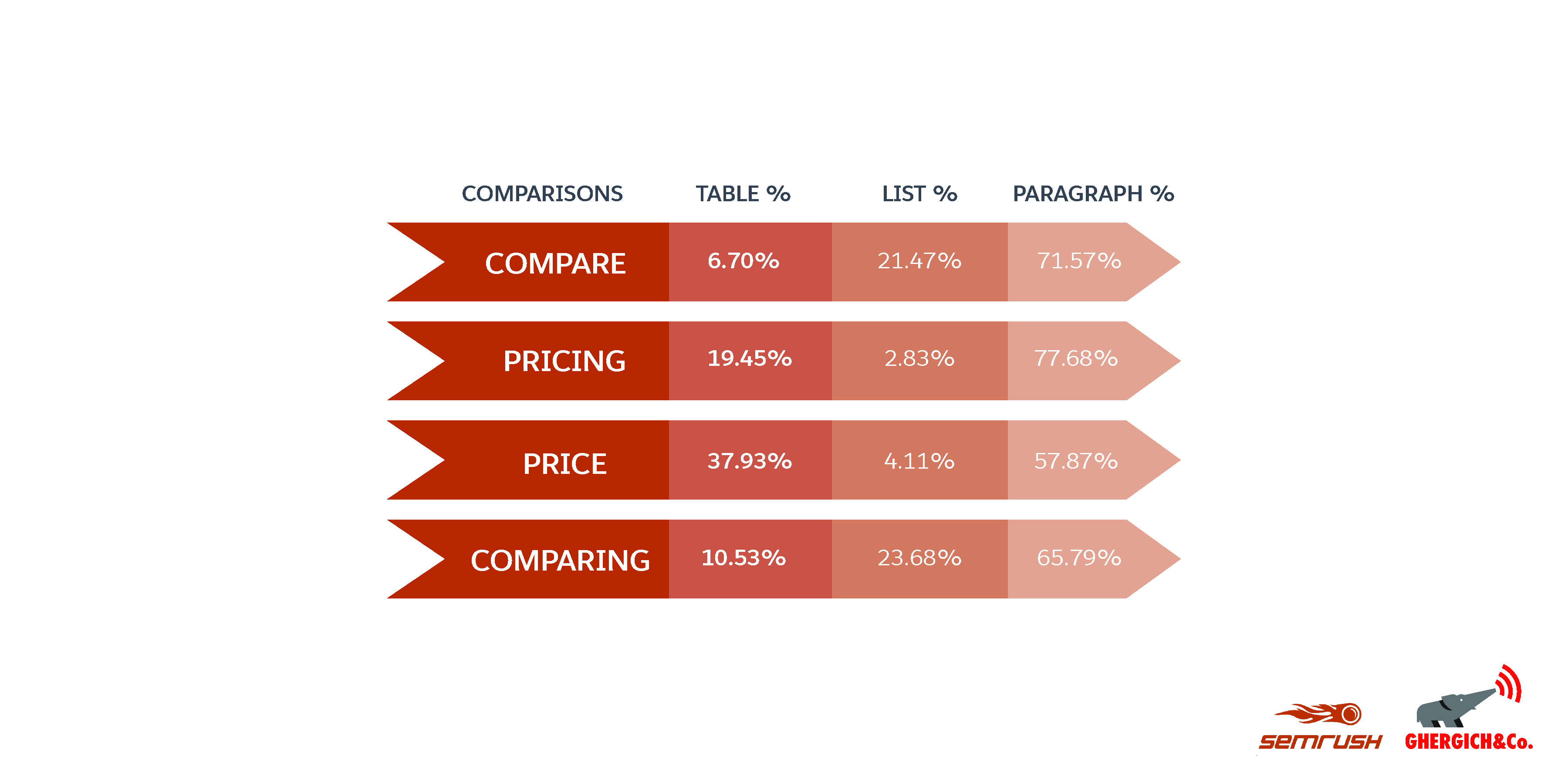 Our analysis of comparison keywords is a bit tricky to break down. On the surface, it seems they are well suited for paragraph featured snippets. But that is because there are not a lot of well-structured comparison tables for Google to pick from.
I have had success formatting pricing comparisons into tables and earning featured snippets. The content did not change — only the way we presented the data. Pricing keywords are the type of end-of-buying-cycle keywords that tend to have high conversions.
Featured Snippet Overall Breakdown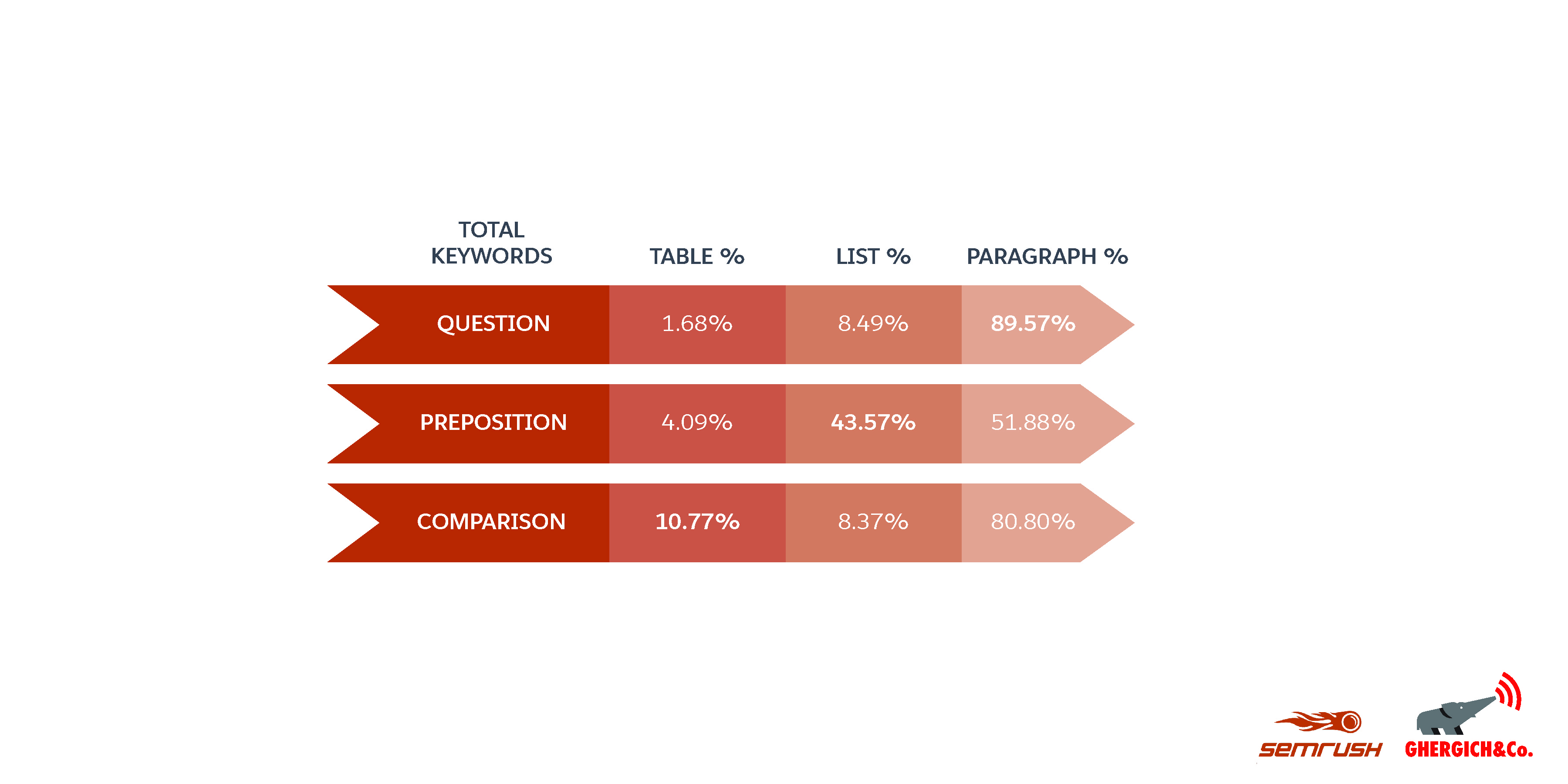 The chart shows that if you try to rank for questions, go for a paragraph featured snippet. If you are trying to rank for prepositions, use a list. Pricing comparisons perform well in tables.
Now you have the data on what type of featured snippet to optimize for. Let's look at how to optimize your content for featured snippets.
How Long Should Featured Snippet Content Be?
Optimal Paragraph Lengths
As a good rule of thumb, I tell copywriters to create paragraphs in the 40–60-word range. You need to be succinct and avoid giant walls of text.
Optimal Lists Lengths
You should use longer lists whenever possible, so Google is forced to truncate the results. You need to give the user a reason to click through to your site. If it only makes sense to use a short list, try to use enough words for each item, so Google truncates each list item.
That said, keep what is best for the user in mind. Sometimes that is a short, straight to the point list, and that is ok.
Optimal Table Lengths
Like lists, you should look to create tables that Google will truncate. Focus on end-of-buying-cycle keywords, such as price.
Optimal Featured Snippet Image Size
The takeaway is to use landscape images. We found that the most common aspect ratio for featured snippets images is 4:3. The media image size in pixels was 600w x 425h. Landscape images also look less pixelated when Google scales them down.
What is a Featured Snippet Hub?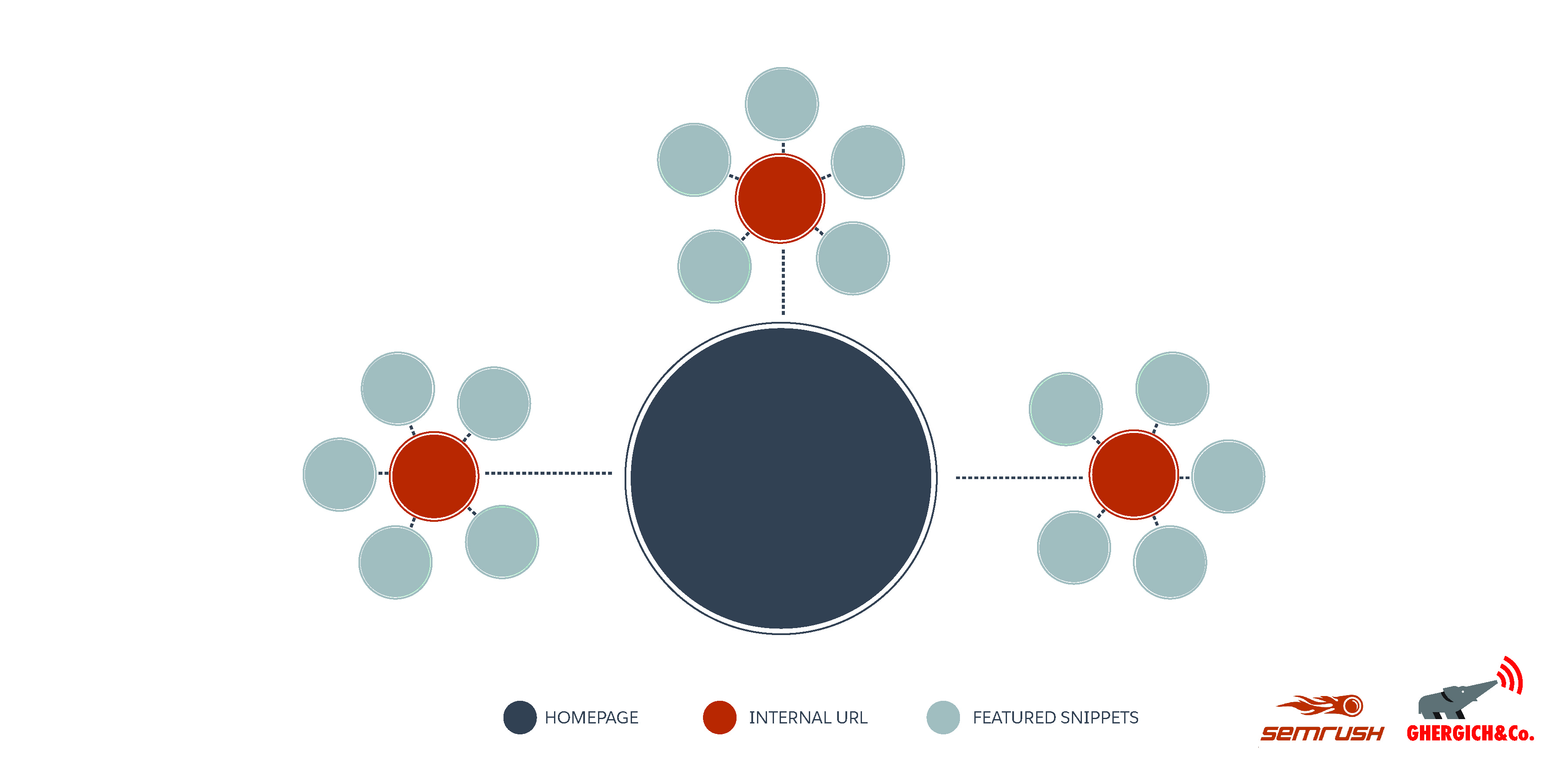 A featured snippet hub is an internal URL that has earned 10 or more Google featured snippets for a single page.
I coined this phrase to give a name to something exciting we saw in the data. You can't really be in marketing without naming everything you come across.
We found individual pages earning 200-300 featured snippets for a single internal URL.
Breakdown of Featured Snippet Hubs
In total, we discovered 3,800 URLs earning 10 or more featured snippets for a single page. Analysis on these featured snippet hubs shed interesting light on featured snippet optimization.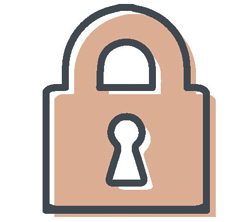 Secure HTTPS Adoption is No Longer Optional
70% of featured snippet hubs have adopted HTTPS. This number shows a steep rise over the past six months.
Use Media to Break Up and Visualize Your Content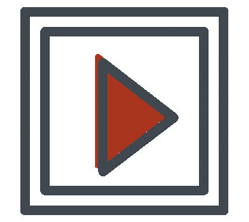 Analyzing image use is hard because some images are for design purposes. To combat this, we only looked at images containing alt tags. On average, we found 14 images with alt tags per URL. Some of these images are still likely to be design-oriented, but the takeaway is pretty clear.
The days of using a stock photo at the top of your article and calling it a day are over. They should never have existed in the first place. Don't fixate on the count, fixate on providing visual aids inside your content to drive your points home.
Authoritative Domains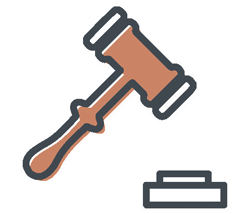 Median Root Domains 3,500

Median Awesome Score 60
Think of authoritative domains as relative to your niche. Few small businesses need to earn 3,500 root domains to be considered a topical authority vs. the competition.
Social Engagement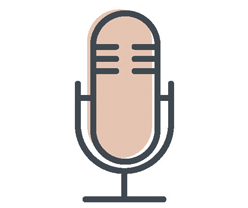 89% of the featured snippet hub URLs have social activity. This does not mean social shares equate to higher rankings or earning snippets. What it means is that content we see in these positions shows strong user engagement signals.
Mobile Friendly or Die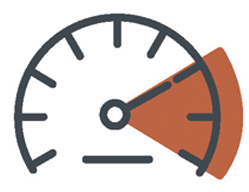 We ran all 3,800 URLs through Google's Page Speed API. Site speed scores were what I expected, but the mobile friendliness and usability scores were off the charts!
The average Mobile Friendly Score is 95/100. The average usability score is 96/100. For a list this large, obtaining that high of an average score demands attention.
I do not believe the exact score matters in the end. What matters is that mobile users have an excellent experience on your site. They must be able to access answers quickly and navigate your site with ease.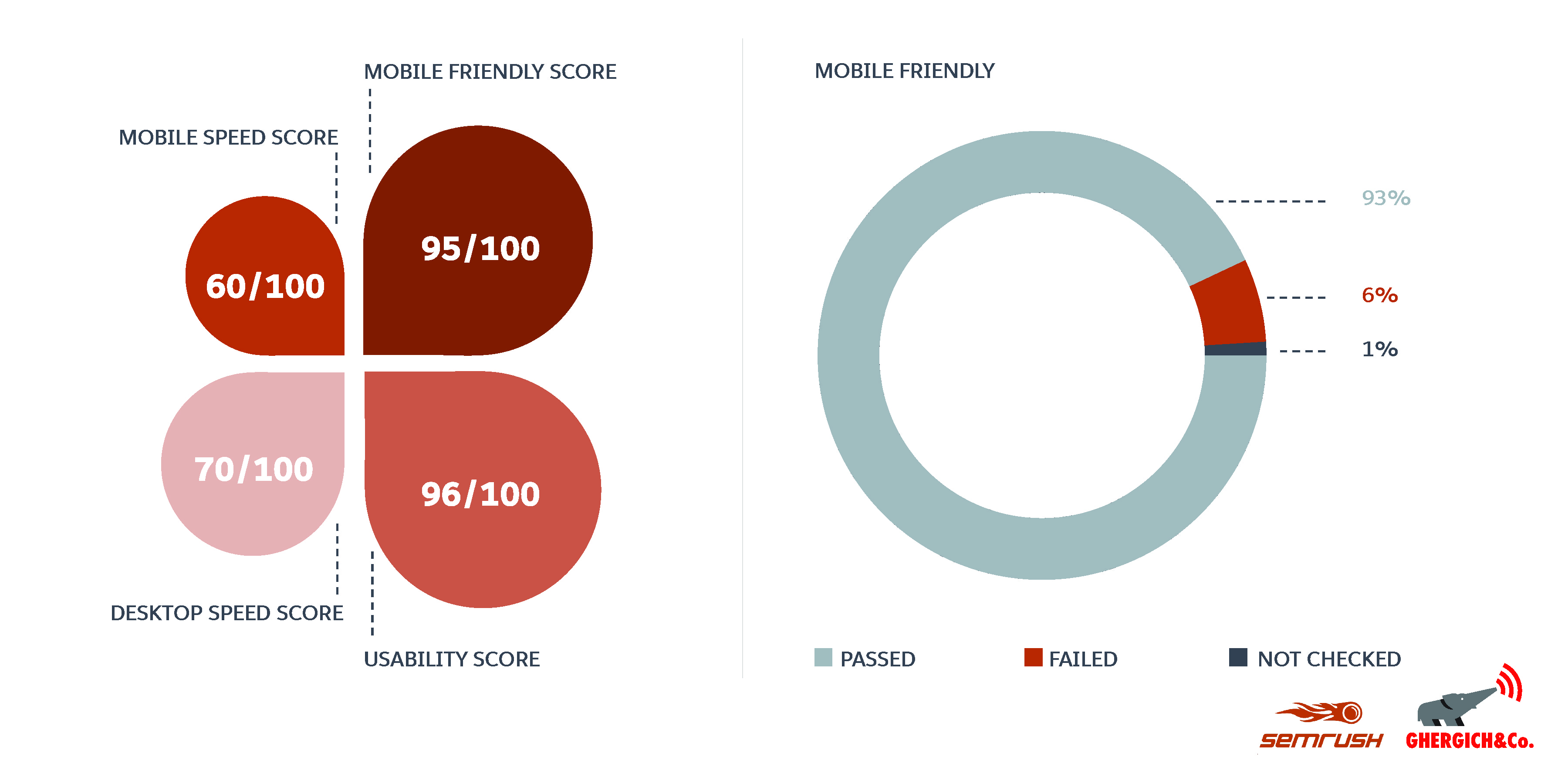 HTML Elements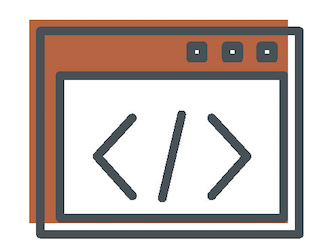 95.77% of featured snippet hubs use lists. Not only one list, but many ordered and unordered lists per URL.
Anatomy of a Featured Snippet HubExample 1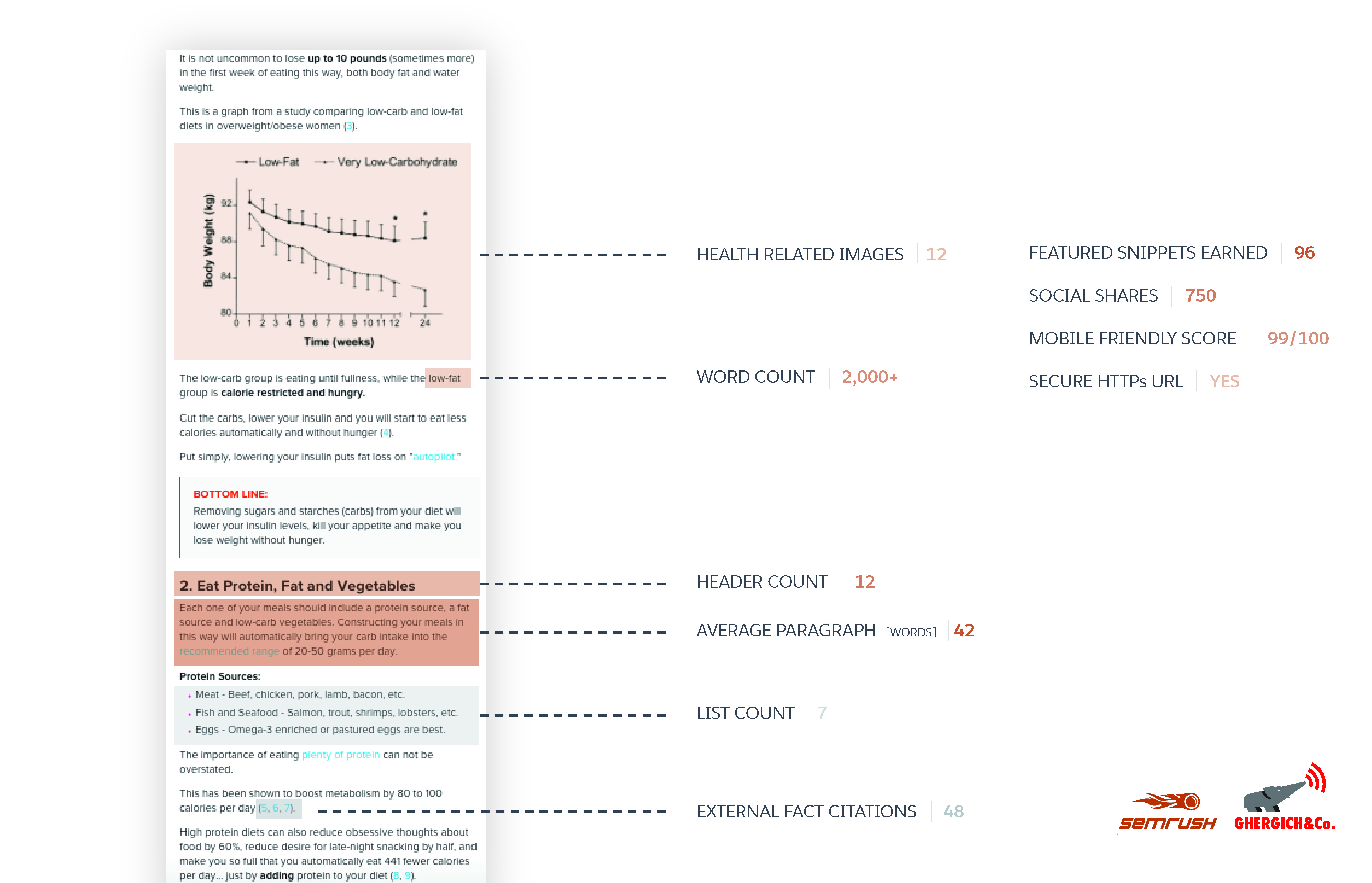 https://www.healthline.com/nutrition/how-to-lose-weight-as-fast-as-possible
This URL Earned 96 Featured Snippets
High User Engagement: 750 social shares

Mobile Friendly: 99/100

HTTPS Adoption: Yes

Media Usage: 12 health-related images

Word Count: 2,100 words

Clear Headers: 12 h1–h6 tags

Succinct Content: Average paragraph length is 42 words

Uses Lists: 7 ordered or unordered lists

Cite Facts: 48 external fact citations
Anatomy of a Featured Snippet HubExample 2
http://trendblog.net/how-to-track-your-lost-iphone-or-ipad-without-tracking-app/
This URL Earned 87 Featured Snippets
High User Engagement: 7,000 social shares

Mobile Friendly: 98/100

HTTPS Adoption: No

Media Usage: 15 iPhone related images

Word Count: 2,078 words

Clear Headers: 16 h1–h6 tags

Succinct Content: Average paragraph length is 34 words

Uses Lists: 6 ordered or unordered lists

Cite Facts: 6 external citations
This is a great time to mention that correlation is not causation. I do not look at featured snippet hubs as a black box that holds secrets to earning featured snippets. I am simply pointing out some common themes that I think are instructive for content creators. Understanding that, our findings make total sense from a search engine's perspective.
Let's look at a few things Google must do when sending users to specific content.
If you look at the common findings for these hubs, they align with a search engine's goals.
1. Provide succinct answers
Average paragraph is 42 words
Lists are great for mobile

Clear headers for scanning
2. Use trusted sources
Strong external links

Strong social engagement
3. Establish thorough topic coverage
48 external fact citations

2,100 words
4. Focus on secure browsing
5. Ensure great user experience across devices
High mobile friendly scores

High mobile usability scores
Thanks to SEMrush, we have the data on what type of featured snippet to optimize for. You know the exact lengths you should use for each type of snippet. You also have insights into feature snippet hubs and why Google trusts their content.
Use this study to re-optimize your best old content that ranks in the top 10, but lacks featured snippets. Put these findings in place for all future content production.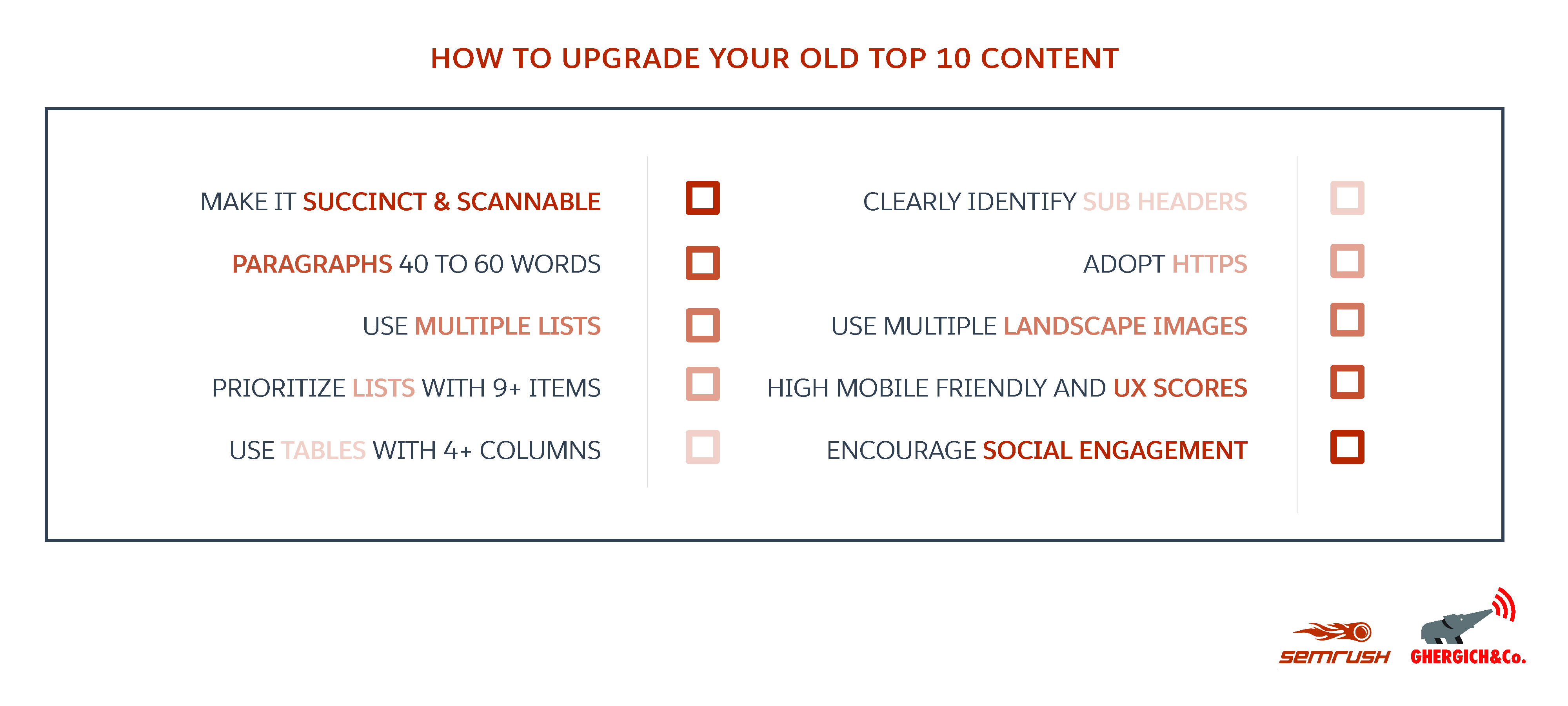 Give search engines the answers they need. Use succinct formats, focus on mobile user experience, and you will reap long-term rewards.
Get the Raw Data (Save Google Sheet as Copy)