Here at SEMrush we're always developing new features for our users. Maybe you've seen some new reports pop up in the navigation menu with an orange "beta" tag, but haven't had the time to really test them out or learn how to use them.
Our Customer Success team continually updates the SEMrush user manual and creates new video tutorials to keep you updated on how to use what's new on our software! The manual will walk you through how to use everything properly and the videos will show you examples of how things work.
Below, you can check out the most recent updates to the manual and some of our newest videos. Use these to get more familiar with reports you're already using, or learn how some of our new reports can benefit your competitive research and marketing efforts.
New Manuals
SEO Keyword Magic Tool: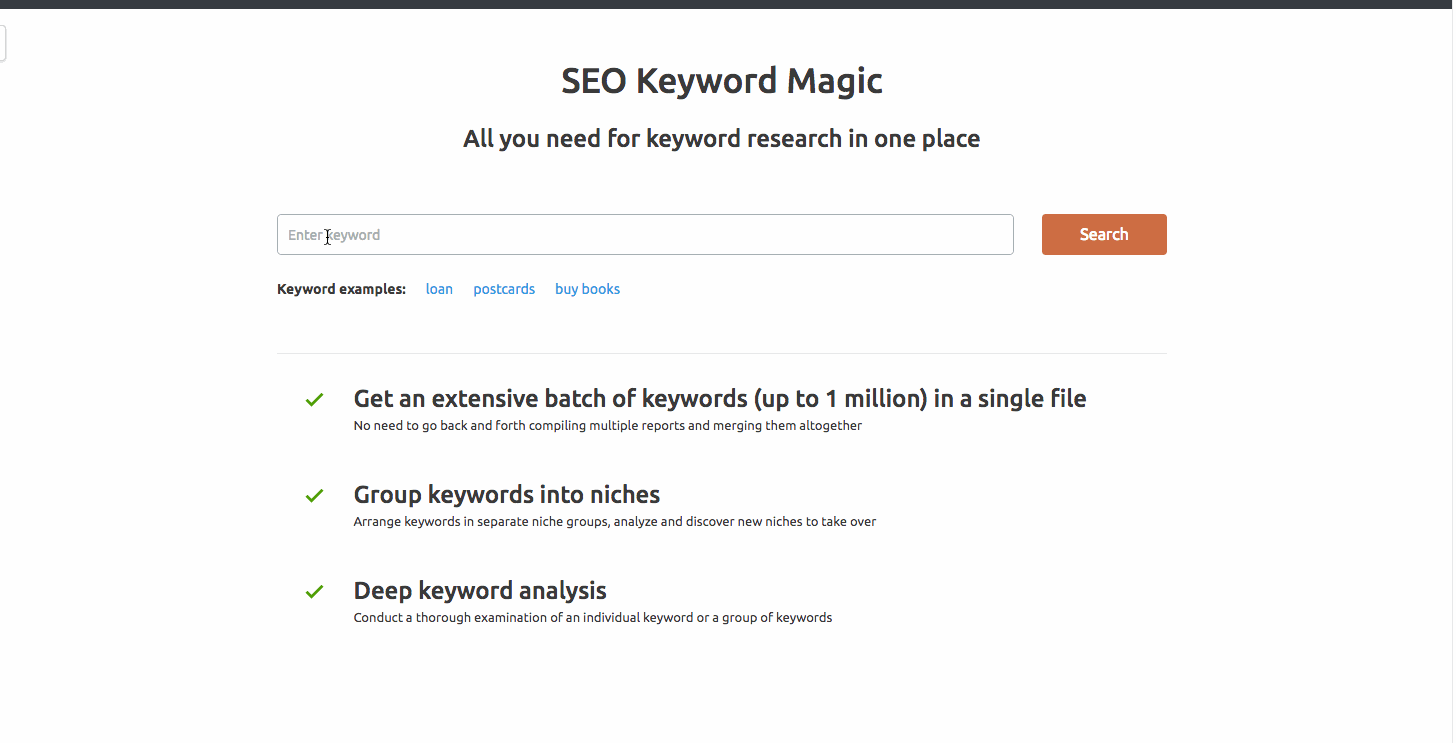 Use this tool to explore topics, find semantically related subtopics, and generate a master list of up to one million keywords to export.
Just enter a keyword and you'll receive a detailed table of every related search term broken into subcategories.
PPC Keyword Tool: Use this tool to save time as you create and manage your PPC campaigns. Import your keywords, research keywords, create groups, and generate intelligent negative keyword lists all in one place. All campaigns, groups, and keywords organized in this tool can be easily exported and uploaded to your AdWords account.
Brand Monitoring Tool: This tool will help you track the mentions of your brand across news, blog, and websites across the internet. Add custom filters, tags, and sentiment labels to efficiently organize a feed of your brand's reputation as we find mentions on a daily basis.
This is a valuable tool for PR managers, brand managers, and link builders that want to stay on top of their brand's online reputation on a daily basis.
Video Advertising Research: Use this tool to analyze how your competition is using YouTube to place their video ads. Look up different channels, advertisers, videos, video ads, topics, landing pages, and more. For digital marketers advertising on YouTube, this report can provide essential research.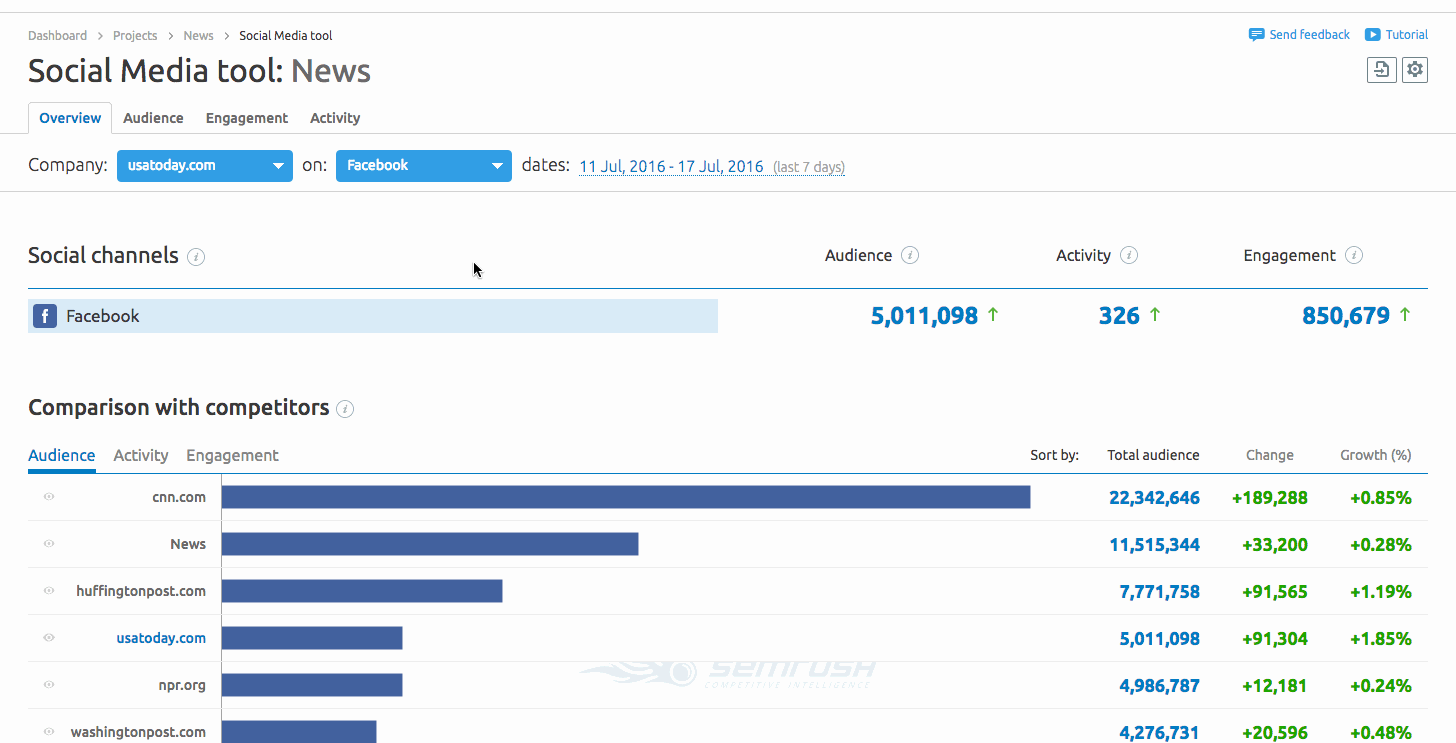 Use this tool to track the audience, engagement, and activity levels of you and your competitors on social media. The tool currently covers Facebook, Twitter, Instagram, YouTube and Google Plus. Choose to receive weekly reports to stay on top of your campaigns and keep an eye on your competition.
New Videos
Quick Tips: Setting Up and Deleting Projects: 
This video walks you through how to set up and delete projects within SEMrush.
Quick Tips: Our US Database: This video will tell you about the size of our US database and how often we update these keywords.
Position Tracking Overview Report: 
Learn about the new look and features of our Position Tracking tool. With Position Tracking, you can see where you and your competitors rank for any keywords (even those not in our database), add or remove keywords from your campaign, and view snapshots of the actual SERPs where we found our data.
Keyword Difficulty Tutorial Video: Use this report to analyze the difficulty scores of up to 100 keywords at a time. You'll see monthly search volume in addition to the difficulty metric so you can plan a keyword strategy based on the most efficient keywords.
Learn why SEOquake is one of the most essential browser plugins on the internet for SEOs and marketers. From functionality to quick tips, this video will walk you through how this plug in helps with your digital marketing strategy.
Creating Parameters in SEOquake: By creating new parameters with SEOquake, you can customize your own set of metrics to research on webpages you find across the internet. Creating new parameters is relatively simple and will save you time when conducting research and competitive analysis.
SEOquake Quick Audit: Use the Quick Audit on SEOquake to get a run-down of any issues that could harm the SEO of a webpage. You can review your pages' desktop and mobile compliance and see the possible solutions that will help optimize your pages.
Analyzing Keyword Density with SEOquake: Using SEOquake, you can identify the exact keyword density of any webpage. Use this metric in a competitive analysis to discover the right density percentage that will help a page rank for a specific keyword.
Of course, if you ever have any additional questions or concerns about using our software, we'd love to answer your questions.
Just give our support team a call at +1-855-814-4510 Monday to Friday anytime between 9:00 and 5:00 GMT.