There's a lot to learn about SEO. We're here to show you exactly where to start.
In this guide, we'll provide you with an overview of the SEO basics. And give you useful tips on how to learn SEO on your own. 
Let's dive in.
Start with the SEO Basics
Let's start with a brief overview of the SEO fundamentals. 
Each section links to further resources to help you delve deeper into specific topics.
What Is SEO?
SEO (search engine optimization) describes all processes and techniques that help you rank higher in search engines (such as Google). 
The higher you rank, the more people will visit your pages. So the primary goal of SEO is to get more organic (non-paid) traffic from search engines.
Further resources:
How Search Engines Work
To understand how to do SEO, you need a basic understanding of how search engines work. 
First, search engines have to discover your page. They use programs (called crawlers or bots) that follow links from known pages to discover new pages. This is called crawling.
After the search engine discovers a new page, it analyzes its content and stores it in a huge database of pages called an index. This step is called indexing.
Finally, the search engine uses various algorithms to pick the best and most relevant pages from its index and serve them as ordered search results for users' search queries. This is called ranking.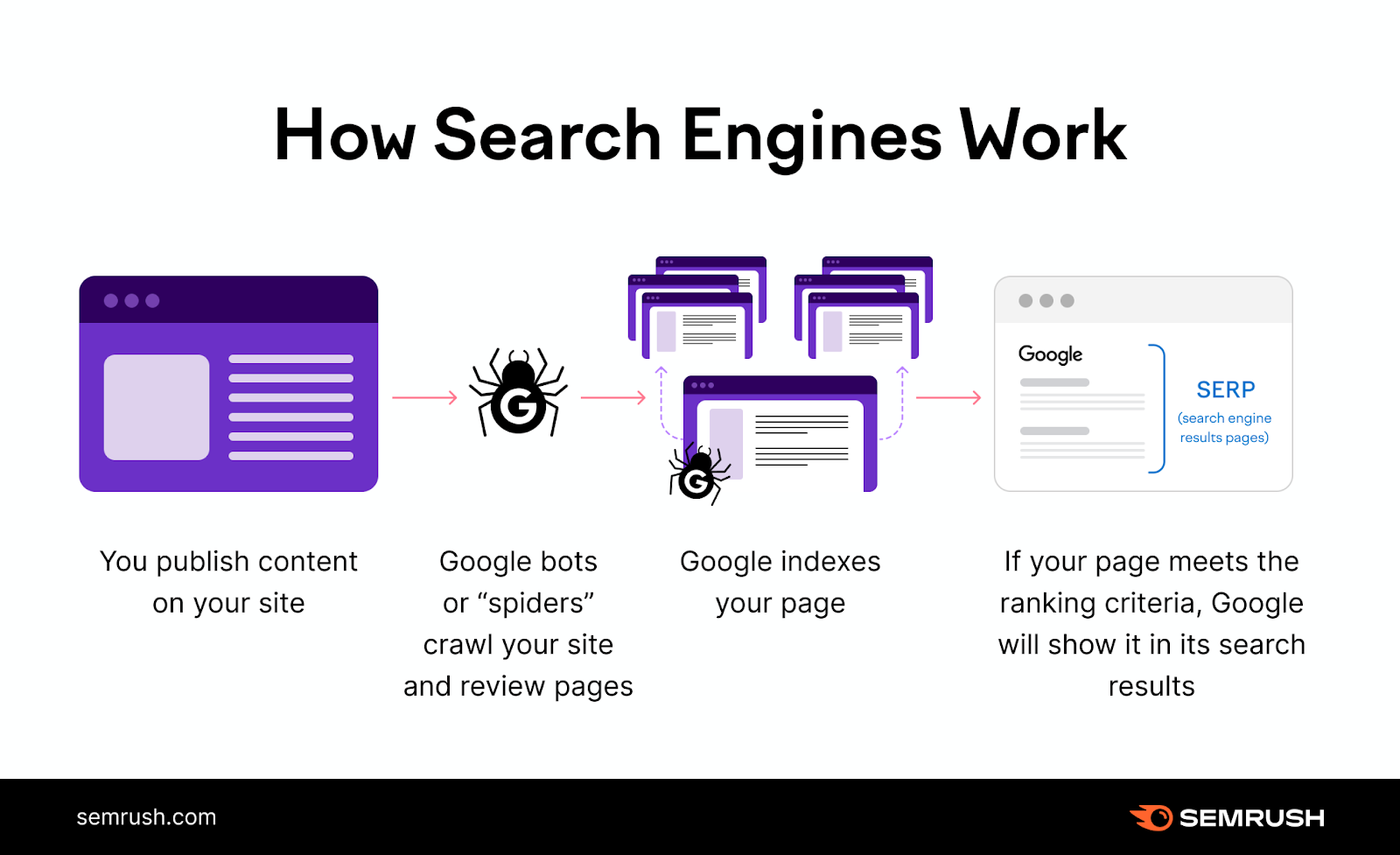 SEO is all about making sure search engines can crawl and index your pages and showing search engines that your content is the best (in terms of quality, relevance, and user experience) for users.
Further resources:
Types of SEO
Traditionally, SEO has been divided into two categories:
On-page SEO: Includes all the optimizations you do on your website, like content creation, title tags optimization, technical SEO, internal linking, etc. (Further reading: On-Page SEO Guide)
Off-page SEO: Includes all the SEO-related activities outside of a website, like link building, content syndication, review management, listing management, etc. (Further reading: Off-Page SEO Guide)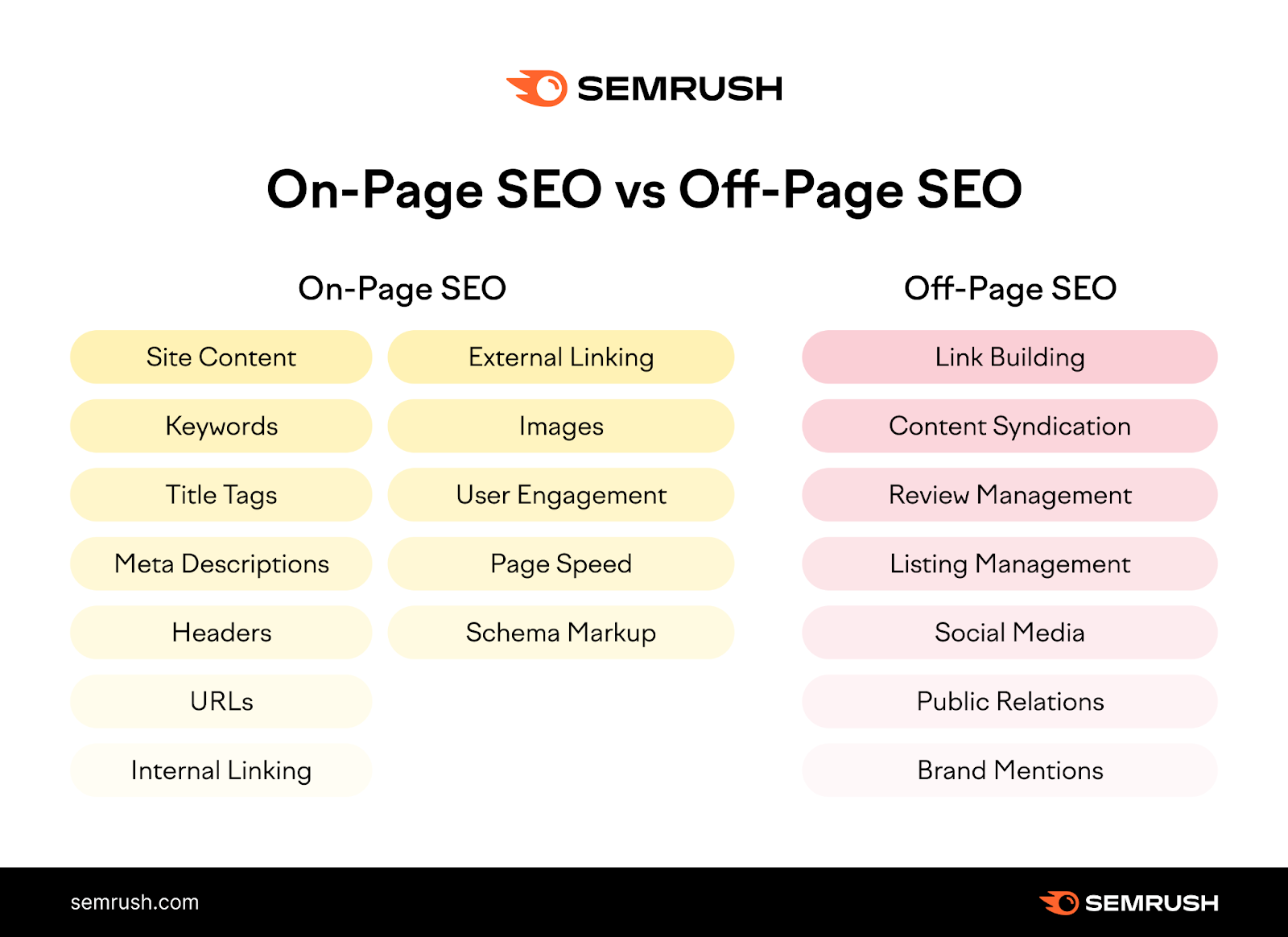 As you can see, this categorization is based on where the optimization takes place.
You may have also come across other types of SEO. They refer to a specific set of actions typical for certain types of businesses or websites and include both on-page and off-page elements. 
Local SEO: SEO for a local business website, aimed at getting more customers to your physical location (further reading: Local SEO)
International SEO: SEO related to websites that serve multiple languages and locations (further reading: International SEO)
Ecommerce SEO: SEO aimed at online stores (further reading: Ecommerce SEO)
These specific types of SEO are only relevant to you if your website falls into one (or more) of the respective categories (e.g., if you run a website for a local business).
Essential SEO Skills
SEO consists of multiple disciplines and requires several hard skills. Here are the four most important skills for SEO:
1. Keyword Research
Keyword research is the process of finding, analyzing, and choosing the keywords to target with your content.
To conduct keyword research, you'll need a good keyword research tool. It will help you analyze things like the search volume of the keywords, their keyword difficulty, or the search intent behind them.
The latter—identifying search intent behind the search queries—is a key part of keyword research and SEO in general. It helps you satisfy the users and provide relevant, high-quality content.
Further resources:
2. Content Creation and Optimization
Creating high-quality, well-optimized content around your keywords is an integral part of SEO. 
Because one of the primary goals of search engines is to satisfy the needs of the users, search engines do their best to rank the most relevant and high-quality content. That means you need to create content that is comprehensive, unique, and trustworthy in order to rank well.
When it comes to content optimization, you need to address factors like:
Further resources: 
3. Technical Optimization
Technical SEO involves the optimization of various technical aspects of a website. The goal is to make sure search engines can crawl and index your website properly.This includes things like:
A huge part of technical SEO is related to the improvement of website performance and user experience.
Things like:
Further resources:
4. Link Building
Backlinks are links from one website to another. Search engines use them as indicators of trustworthiness and quality.
The idea is simple: If many authoritative pages link to a certain page, that page is also considered to be authoritative.This is why link building—a set of practices aimed at increasing your number of quality backlinks—has always been an important part of SEO.
Further resources:
Learn By Doing
The best way to learn SEO is to put your knowledge into practice. 
You may already have a website where you want to apply what you learn about SEO. If you don't, here are a few options: 
Start a blog on any topic you feel passionate about and try to rank for a couple of keywords
Start a side project (e.g., an affiliate website) that may transform into an additional source of income
Help a friend or a family member optimize their website for free
Besides, every niche is a little different. So even if you have a business website, it may help you to also run a personal project where you can experiment freely.The more websites you work on, the more SEO experience you'll gain.
When picking a new niche for a side project, make sure it is something you like (interest) and know a lot about (expertise). And, of course, that you can potentially make money with it (profitability). 
You will find good niche ideas at the intersection of interest, expertise, and profitability: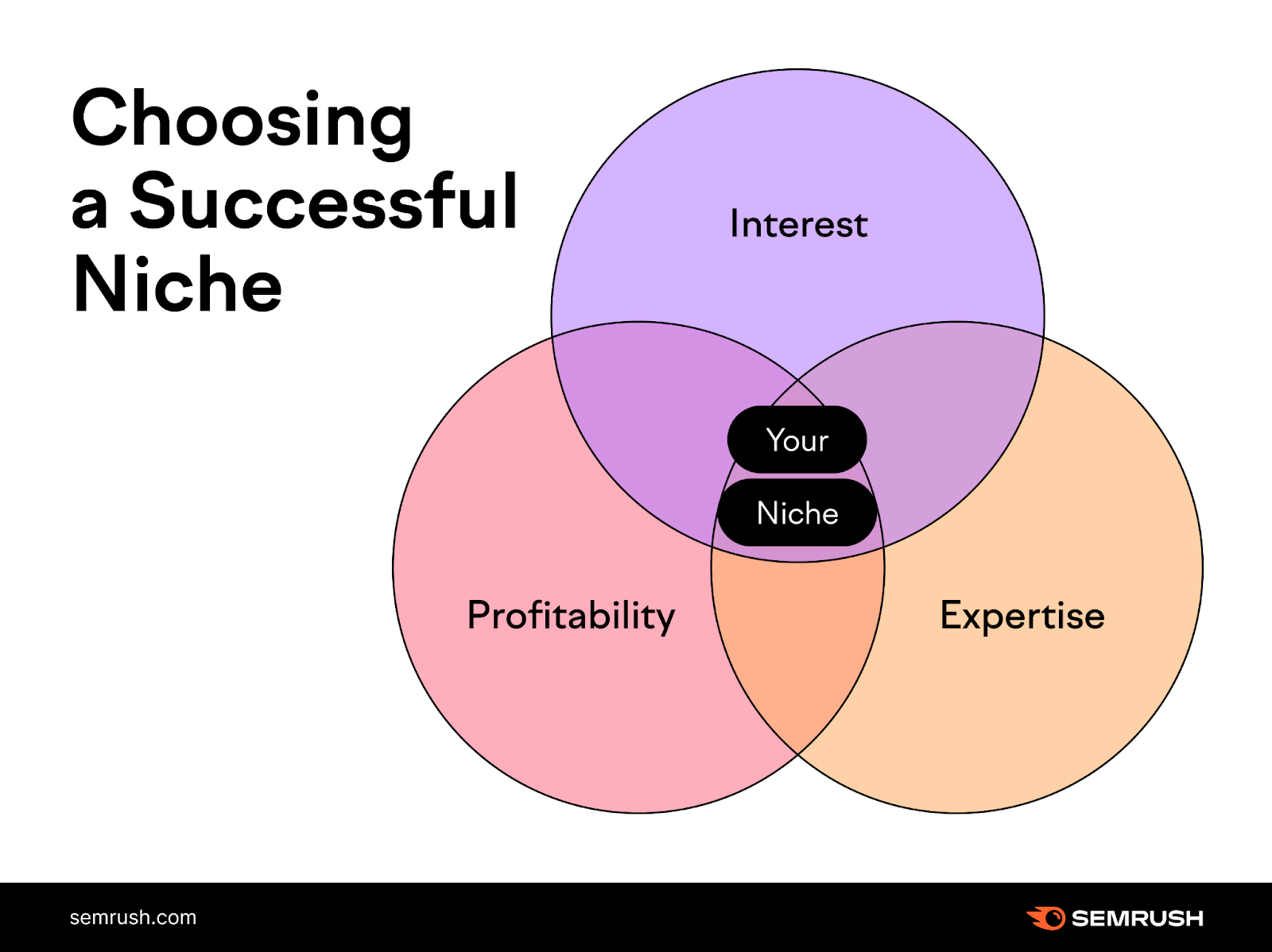 Don't be afraid to try new things, do some SEO testing, and learn from your own mistakes.
A final piece of advice if you really don't know where to start:
This brings us to the next important step:
Try Out SEO Tools
Some SEO tasks are impossible without SEO tools. That's why learning how to use the essential SEO tools is an important part of learning SEO.
Set Up and Learn Google Search Console
Google Search Console is a free Google tool that allows you to monitor your site's performance in Google Search. As well as various aspects of technical SEO.
Here are some of the reports you'll find in Google Search Console: 
Search performance report: Data about how your website performs in Google search results
Indexing report: List of all the pages that have been successfully indexed, as well as those that have been excluded and the reasons why
Page experience report: An overview of your site's performance in terms of usability
Learn how to navigate the tool. All of these are useful reports you'll make use of sooner or later.
Further resource: Google Search Console Guide
Get Acquainted with an SEO Tool Set
If you run a business website, a quality SEO tool set is an investment that will definitely pay off. Not only will it help you make informed SEO decisions based on real data, but it will also save you a lot of time. 
Last but not least, it gives you competitive advantage over competitors that use free SEO tools (or no SEO tools at all).
When choosing an SEO toolkit, make sure it contains at least these basic SEO tools:
Keyword research tool
Competitor analysis tool
Rank tracking tool
On-page analysis tool
Technical audit tool
Link building tool
You may need other tools based on your particular needs. Such as a listing management tool for your local SEO efforts or an SEO reporting tool for reports to your clients. 
Getting acquainted with an SEO tool set can take some time, especially for beginner SEOs. Make sure the SEO tool set you choose has a lot of resources that will help you get started, as well as quality customer support.
Semrush covers all of the tools mentioned above and much more. (In fact, our tool set includes more than 55 tools.) And it has an extensive Knowledge Base and a dedicated support team ready to help you 24/7.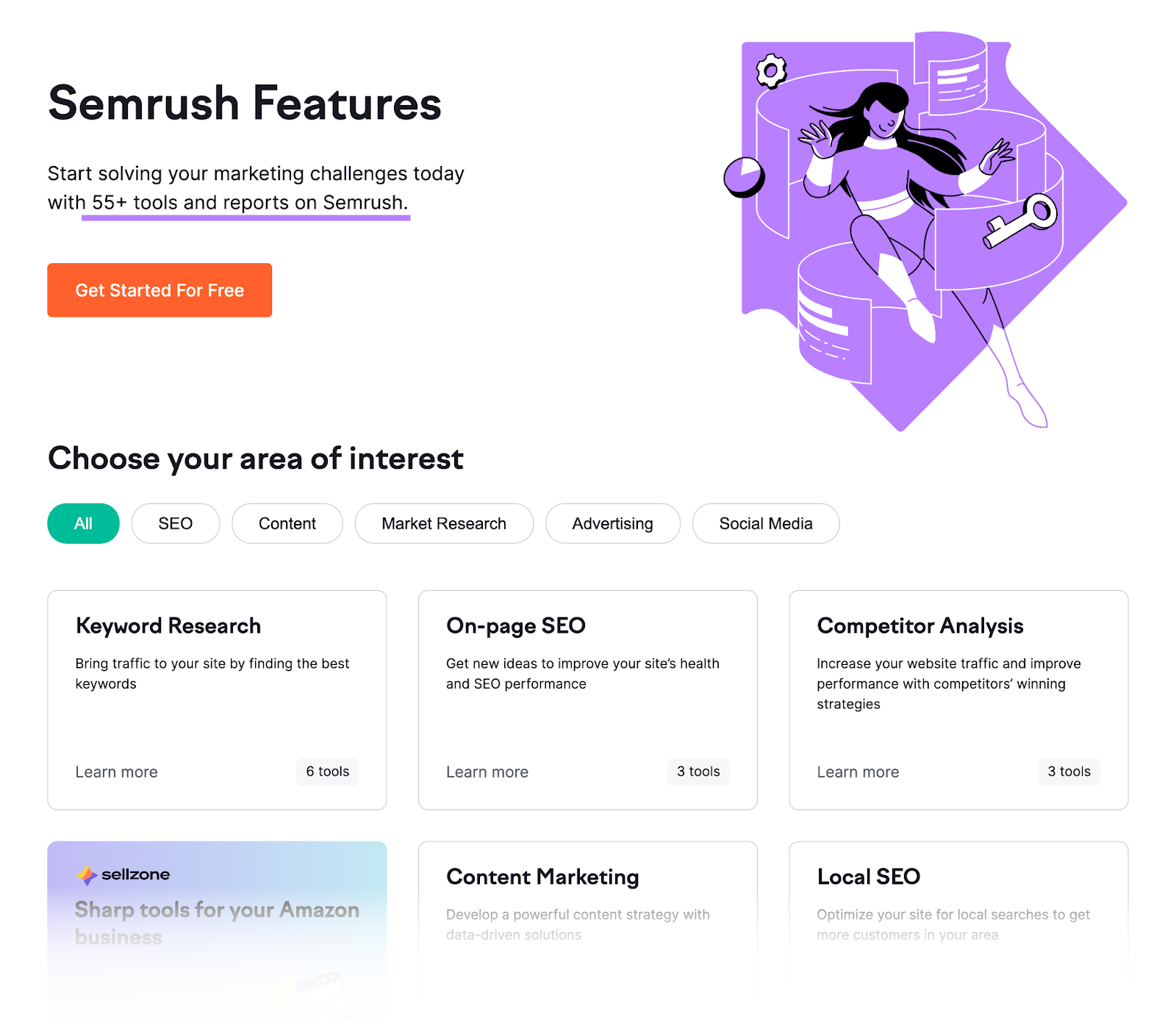 You can try Semrush with a forever-free account. (Create one right now or learn more about what you can do with it first.)
Further resources:
Master SEO Tools Within Your CMS
No matter what content management system (CMS) you use, it's good to get to know the basics of SEO for that particular CMS.
Chances are you're using WordPress. If you do, you should definitely be using an SEO plugin (like Yoast SEO or Rank Math). These plugins make your WordPress website easier to optimize. 
Learn about all the plugin's features and options to make sure you're getting the most out of it. 
Further resources: 
Get Advice From Expert Sources
Unfortunately, there's a lot of bad SEO advice out there. So you should be very careful and only choose educational resources that provide accurate, proven, and up-to-date information.Moreover, reliable sources help you keep up with the latest trends and changes in SEO.
Official Google Sources
Google is the largest search engine in the world. Learning SEO directly from their official sources means you get information directly from the horse's mouth.
Here are some official Google resources every SEO should know: 
Google Search Central Blog: The official blog where you find information about news, algorithm updates, and SEO best practices (including Google's SEO Starter Guide).
Google Search Central YouTube Channel: Google news, updates, tutorials, podcasts, and interviews. It also includes Google SEO Office Hours—monthly Q&A sessions with official Google representatives about SEO. (We recommend this library by Lumar to find key takeaways from previous sessions.)
Search Quality Rater Guidelines: Extensive guidelines for Google's Search Quality Raters, who assess the quality of pages and provide Google with feedback. These guidelines can teach you a lot about what Google deems high-quality content. 
Last but not least, it's worth following John Mueller, Google's Search Advocate and one of the most notable mediators between Google and the SEO community. He's active on Twitter and Mastodon, as well as Reddit. 
SEO Blogs
Reliable SEO blogs can teach you SEO basics, provide you with proven strategies, and keep you up with the latest news. 
Here are a few of our go-to SEO blogs:
Free SEO Courses
Courses are a very popular way to learn SEO online. They are usually divided into easy-to-digest chapters and award you with an SEO certificate upon completion.Here are some popular free SEO courses:
FAQs
Is SEO Worth Learning?
Yes. With the majority of online experiences beginning with a search engine, having a strong understanding of SEO can help you drive organic traffic to your website, increase your online visibility, and ultimately, drive more revenue.
Whether you are a business owner, marketer, or content creator, investing time in learning SEO can help you achieve your online goals and improve the performance of your website.
How Long Will It Take to Learn SEO?
In general, it can take a few weeks for beginners to gain a basic understanding of SEO concepts and practices. However, it may take several years of continuous learning and practice to become an SEO expert.
It is also important to understand that learning SEO is an ongoing process that requires keeping up with the latest updates, trends, and developments in the SEO industry.
Does SEO Require Coding?
SEO does not necessarily require coding knowledge, but having a basic understanding of HTML, CSS, and JavaScript can be helpful. 
Some advanced SEO techniques, such as implementing structured data markup, may require coding skills or the assistance of a developer. 
Is Learning SEO Difficult?
While learning SEO is not super complicated, SEO is a complex discipline. 
It requires both theoretical and hands-on knowledge, as well as technical, creative, and analytical skills. To learn SEO, you'll need:
A website to learn on
Willingness to try out new things
Access to reliable resources
An SEO toolkit with quality data