For bloggers without a technical background, 'SEO' is a dirty acronym.
But the funny thing is, you don't have to stretch far outside of your comfort zone in order to learn enough SEO to get your blog found by search engines.
Here are some general on-site SEO for bloggers considerations to get you started and on the right track!
Keyword Planning
As with any website project, all SEO starts with the keyword you choose.
The keyword you pick will play an important role in the rest of your SEO tactics.
So the question is, how do you choose the right keyword?
A good place to start is Google's Keyword Planning Tool.
From there, I recommend taking a look at one of SEMRush's previous posts about keyword research.
Once you've picked the perfect keyword, it's time to incorporate it into your post. Some people try to do this once they've already written it out, but it's honestly much easier to start with your keyword in mind. This will stop you from trying to make it work later when the phrasing is just too awkward.
To illustrate how to implement keyword research, I'll take you through a recent post for my blog called "5 Social Wordpress Plugins You Need for Your Blog." The keyword I'm focusing on is "social Wordpress plugins."
Title
One of the most important places to make your keyword work is in the title. Not only should your title incorporate your keyword, but it must also be something that someone is tempted to click. After working hard on a blog post, you don't want to lose a reader before they've even had a chance to see your work. That's why the title is so important… if it doesn't entice a reader, then they won't ever even read the post.
Headings
Just like in the title, it's also quite important to use the keyword in at least one heading tag. The closer to the top of the article that you use the keyword, the better.

Content
You need to use your keyword naturally and in the right places. I usually try to include the keyword in the introductory paragraph, as a question at the end, and a few times in the body of the content. Everyone does it their own way, but that's a good way to make it seem almost natural.
Besides just including the keyword, you should also aim to be using it with different text treatments, like italics, bold, and underline. Make sure you're consistent with your formatting from blog post to blog post.
URL
A blog post that consists of numbers, or doesn't explain what the post is about is useless to web surfers and search engines. Instead, make sure that your URL format is based on your page title. You need to use the keyword in the URL to get full SEO benefits.

Images
An often overlooked, but important SEO factor on blogs is images, and their treatment.
Image names, titles, and alt tags should all include the keyword. Do this for every image.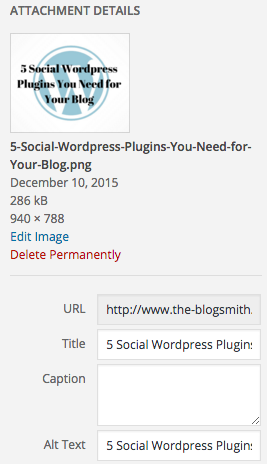 Internal Linking
Are you tired of keywords yet? Good, because we're moving on.
Another basic on-site SEO principal is to create connections between the pages on your blog.
The easiest way to do this is to reference previous blog entries and your other pages on new blog posts. Don't forget to do the opposite – if you write a new blog post that relates to an older blog post, go back in and edit the old blog post with a link out to your newer post.

Plugins
If you're worried about keeping track of all these principals, or just want a checklist to make sure that you've got everything covered, you need to download SEO by Yoast. It's a plugin that every blogger needs if they want to make sure they've got their SEO basics covered.
Yoast asks what keyword you're targeting for and gives you an SEO "grade" based on how thoroughly you included it in all the necessary components of your blog post. It even gives you some advanced guidance if you're wondering where the score came from.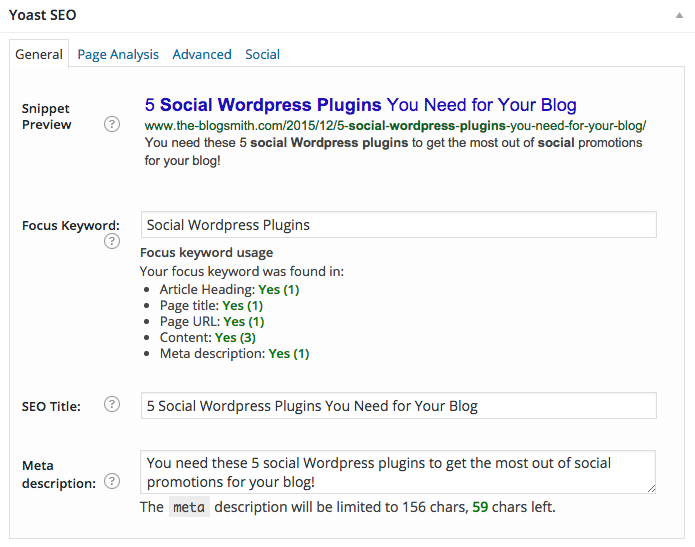 Other Considerations
A few last thoughts…
As far as SEO is concerned, longer posts = better search engine placement, and also tends to be an indicator of better social sharing. Posts should be a minimum of 500 words, but that standard is starting to creep closer to the 600 word mark.
Start thinking about ways to get links back to your blog. Without getting into a lot of detail, which is beyond the scope of this post, the higher the authority of the website that links to you, the higher SEO placement you'll enjoy as a result. A good way to start getting backlinks is to guest post on other people's blogs with a link back to your website in the bio. 
Always remember that you're writing for a human. Click to Tweet
Finally, sometimes keywords aren't the right way to strategize for a successful blog post. If you're trying to make a keyword work and it sounds awkward, it's probably not going to help you get more traffic. Always remember that you're writing for a human. If you have a truly great title that doesn't have great keywords, there's still the possibility that it may still get shared virally, which will get you as much traffic or more than a search engine.
What are some on-site SEO tips that you'd recommend to new bloggers? Please share in the comments so we can all get better at what we do!
Maddy Osman (@MaddyOsman on Twitter) is the blogger behind ChicagoCheapAss.com and a Digital Marketer who helps businesses use blogging and social media to accomplish business objectives. You can find more related articles at her website, The Blogsmith.