Here at SEMrush, we are always developing new features for our users. You may have seen new reports pop up in your dashboard and noticed the orange "beta" tag next to them. These are the latest reports brought to you by SEMrush.
Our Customer Success team constantly updates the SEMrush user manual and creates new video tutorials to keep you updated on the newest updates to our software! The manual will walk you through how to use everything properly and the videos will show you examples of how these features work.
Below are some of the latest SEMrush manuals and videos produced over the past month. Use these to get a better understanding on some of the latest changes made to SEMrush reports.
Manuals
Position Tracking
The Position Tracking tool allows you to receive daily updates on how your website ranks for your target keywords in the top 100 organic and paid search results of Google. With this tool, you can track search results for any domain and any keyword - across any device type and location around the globe.
You can discover your top competitors in both organic (SEO) and paid (PPC) search results, and see how they rank for the same keywords you're targeting with your website.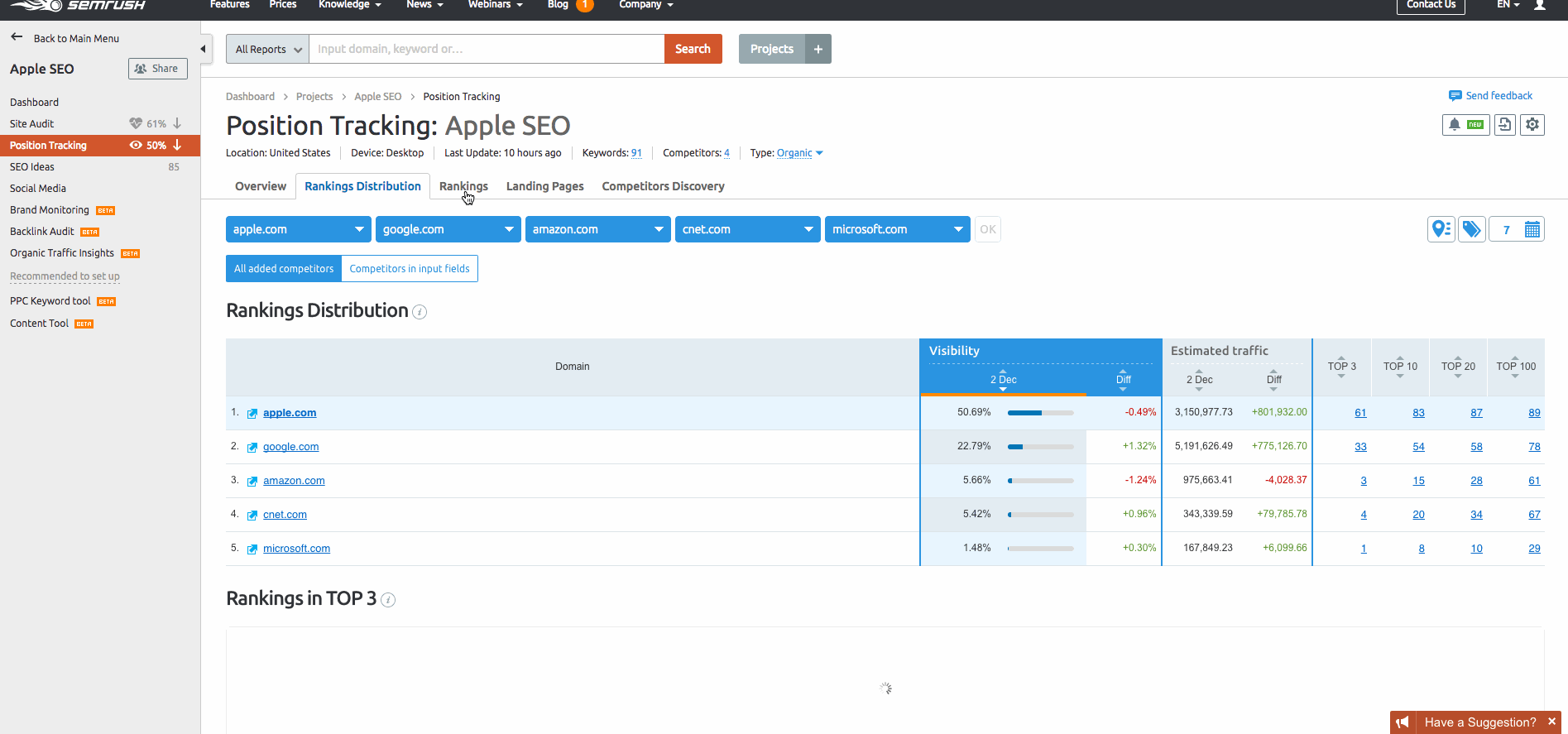 SEO Ideas
SEO Ideas is a tool that provides actionable ideas on how to improve a website's organic rankings for a set of target keywords. This tool works by taking keywords that you want to target and analyzing the pages ranking in the top 10 positions to identify SEO strategies that are working for your rivals.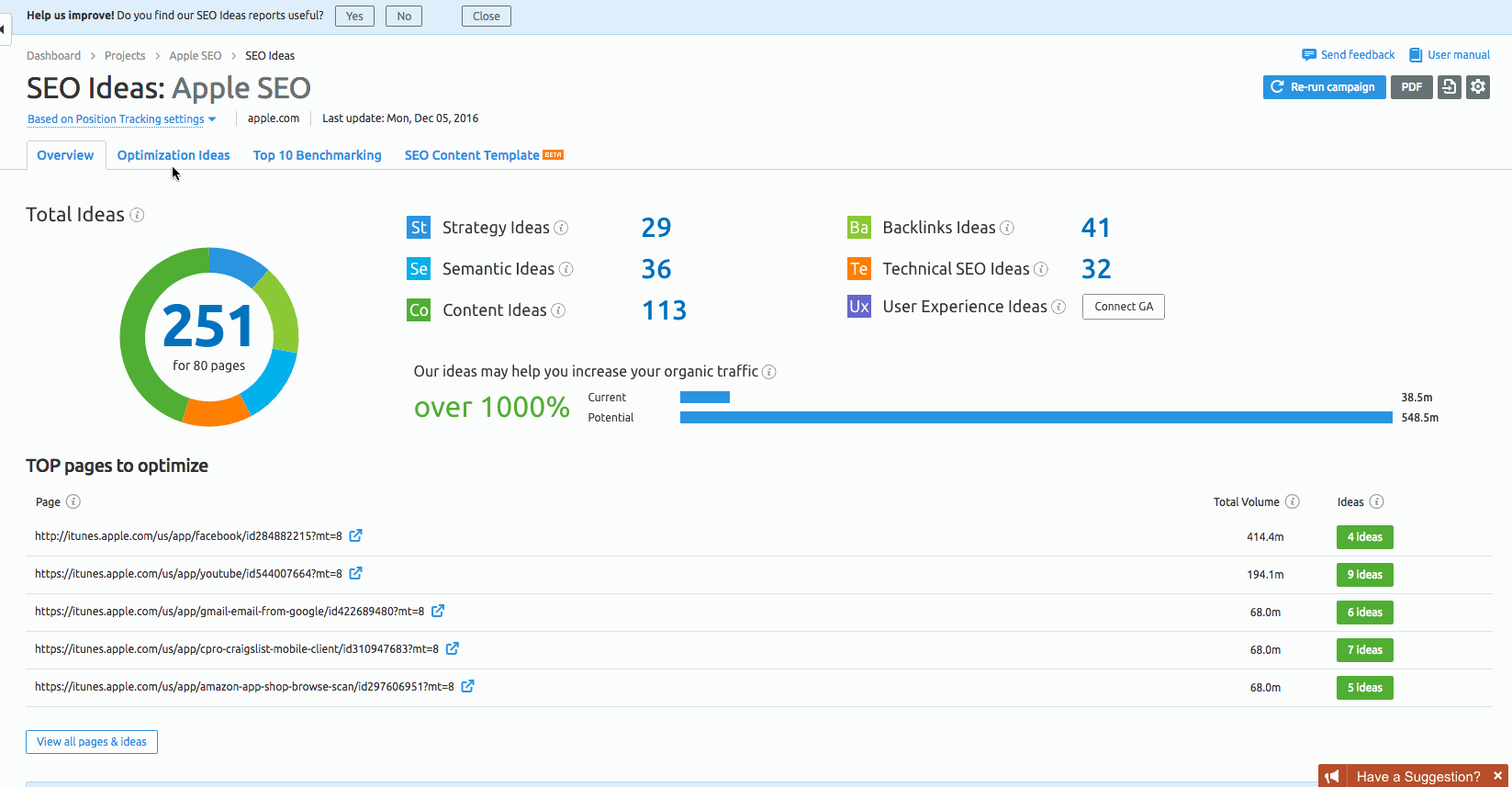 Backlink Audit
Using the Backlink Audit Tool will allow you to take an in-depth look at your domain's backlinks and help secure your SEO link building efforts from Google penalties. The Backlink Audit Tool allows you to audit your entire backlink profile and identify poor backlinks.
The Backlink Audit Tool will alert users if it is suspected that they might be affected by a Google penalty.
By assigning a Toxic Score to your backlinks and showing you why they are considered toxic, you can clearly see which of your backlinks should be removed from your site. You can also get rid of your toxic backlinks by either requesting removal through Google or disavowing them yourself!
New Videos
Quick Tip - What is Organic Traffic Insights
The new Organic Traffic Insights tool within SEMrush Projects is the perfect tool to pair your Google Analytics account with SEMrush. This can ensure you are getting the most accurate and up to date data about your website. Gathering data directly from Google ensures that you are covering all the different bases of your SEO.
Google Analytics offers you an additional set of data to look over when setting up an SEO campaign.
Connecting with the Organic Traffic Insights tool will help you see the actual organic traffic driven to your domain for each keyword. Not only can you track your Google Analytics data but you can now combined this with your Google Search Console account for an all in one tool. This is perfect for those who want all of their website data in one simple place.
Take a look at this Quick Tips video to learn more about our Organic Traffic Insights tool!
Quick Tips - What Is The Lead Generation Tool
It's no secret that every business needs clients. Many business owners are turning to innovating methods to attract customers nowadays. Since there are a lot of potential clients on the Internet, lead generation is a very hot commodity. The Lead Generation tool offers great ideas for earning extra clients.
Want to improve the way you show yourself to your clients? Need a better way to demonstrate the progress you have made? The SEMrush My Reports section allows users to create custom PDFs that will wow your clients and impress your bosses. Want to learn more? Take a look at this video!
SEMrush: The All-In-One Digital Marketing Platform
When marketing your brand online, multiple tools usually come into play. However, you only need one software suite to achieve all of your digital marketing goals. Say hello to SEMrush and the all-in-one digital marketing platform! SEMrush offers various reports and features that will cater to all facets of digital marketing including SEO, PPC, SMM, PLA, & Display to name a few. Check out this video to get an overall picture of everything that SEMrush can do for you!
Thanks for reading, and if you ever have any questions or comments about our software, feel free to reach our Customer Support team at +1-855-814-4510 or by email at mail@semrush.com.