The legal industry is experiencing long-overdue changes brought about by Covid-19, new technologies, and new consumer habits. Client calls, discovery, and other traditionally person-to-person services are moving 100% online. 
Legal firm owners understand that high visibility on the Internet is a must to be competitive in today's world. However, they don't always understand how significant the role of content is. Content is the face of your firm, confirmation of your expertise, and a perfect ice-breaker in your relationships with potential customers.
Read on to learn:
Why Would You Need Content Writing for a Law Firm?
There are three main reasons why content is so crucial for a law firm:
1. To show your expertise in your legal practice 
Publication of your lawyers' comments, as well as case studies on specific areas of law, will differentiate your firm from your competitors and establish your firm as an authority in the market. 
According to Zahavian research, law firm websites that had a blog but were not actively writing new content generated 237% more visitors than websites without a blog. Those websites that were actively blogging and adding new content generated over four times more traffic than those with inactive blogs and 15.9 times more traffic than those without a blog.
2. To increase the level of trust between potential clients and you 
Your customers want to feel connected to the business before they make a purchase. This is true for companies in any niche, especially in the legal services industry, where problems often affect clients at a deeper level. 
3. To build a long-term relationship with the client 
A Google survey found that 49% of people research their legal issues before hiring a lawyer. If you provide actionable takeaways, the client won't hesitate to approach you with a new query or recommend you to their friends when more need arises. 
Вefore moving on to the detailed content creation process, save a short step-by-step guide: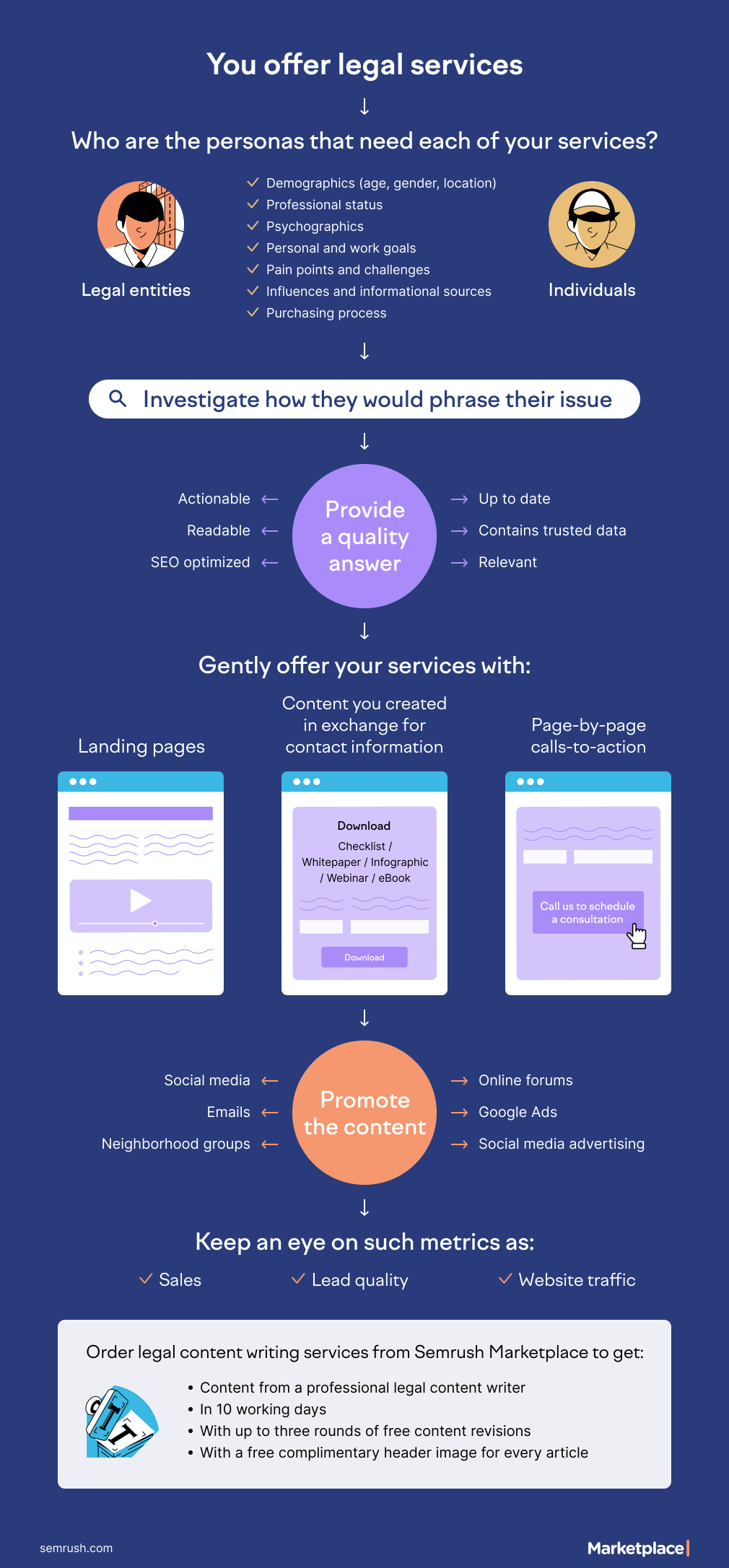 How to Define the Topics to Write About
Content marketing is the art of delivering a clear message to your website visitors without selling. Let's think, what is vital to the visitor? Solving their issue. What is essential to the site owner? Attracting customers. To satisfy both, the site must provide high-quality, helpful content to the reader and at the same time subtly offer collaboration with your firm. 
With this in mind, here's how to define what your audience wants to talk about with you:
1. Understand your buyer personas.
To build content creation around your readers' needs, the very first thing you need to do is create your buyer persona, a detailed description of someone who represents your target audience.
Ask yourself:
What kind of help does your potential audience need? What kind of people face these problems? Include as many details as possible:
Demographics (age, gender, location)
Professional status
Psychographics
Personal and work goals
Pain points and challenges
Influences and informational sources
Purchasing process
How to learn about customers' demographics, interests, habits, and behavioral patterns:
Data from existing customers — you can carry out customer interviews or ask your sales specialists about customers' pain points, challenges, obstacles, goals, and values.
Google Analytics insights — this GA guide can be of use when studying the demographics of your web traffic.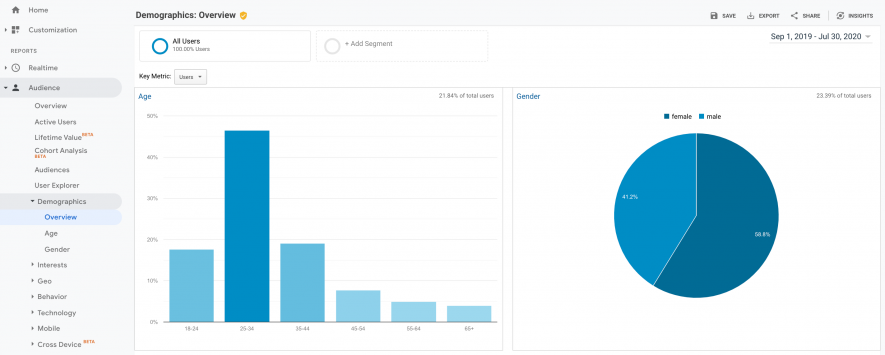 3. Facebook Audience insights — this post will walk you through some of the steps.
4. Semrush Market Explorer — this post comes in handy when uncovering audience patterns with the tool.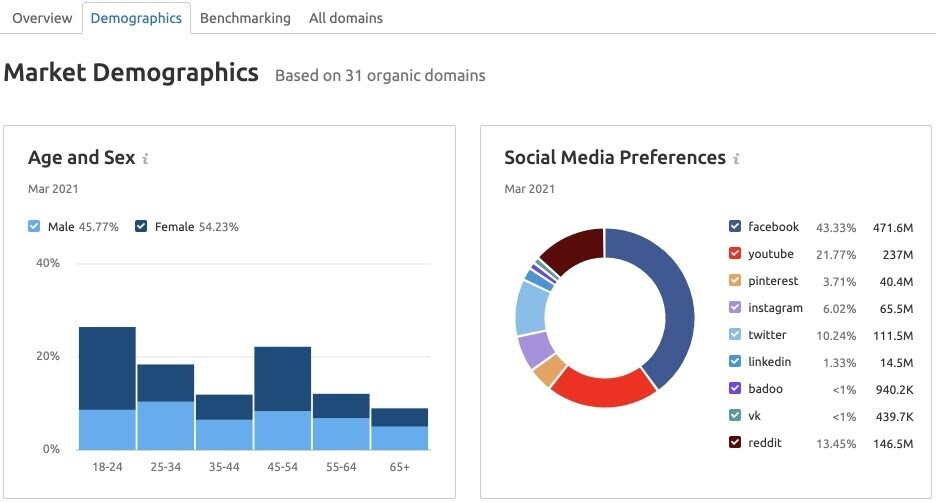 5. Tools like Answer the Public and Semrush Topic Research — they can help you better understand what your buyer persona asks online.
You will have several buyer personas, because, unlike many other businesses, different practice areas and services in your industry correspond to entirely different people, not to mention the fact that clients can be both individuals and legal entities.
We wrote about the difference between B2B vs. B2C writing — one of the particularities of B2B writing is that you're typically writing to a team or a whole SMB company that's made up of people with different job titles, demographics, and priorities.
2. Research their search queries.
96% of people seeking legal advice use a search engine to find legal information. To make you stand out from the competition, a legal content writer creates every piece of content focusing on a keyword or keywords. 
Here's what the process looks like:
1. A marketer, SEO specialist, or legal content writer does keyword research and identifies the phrases that your buyer persona might enter into the search bar.

2. Since some keywords are harder to rank for than others, a specialist analyzes which specific keywords are worth targeting. For example, if you are in the real estate business, you may have trouble ranking for the keyword "real estate attorney." However, a refined "texas real estate attorney" is much easier to rank for.
3. A legal content writer naturally implements keywords in body text, meta descriptions, etc., to let the search engine know what the article is about.
What Are the Essential Qualities of Good Content?
Having determined the topic, you set the task to the writer. Which of the texts below would you prefer to get from a writer for your website?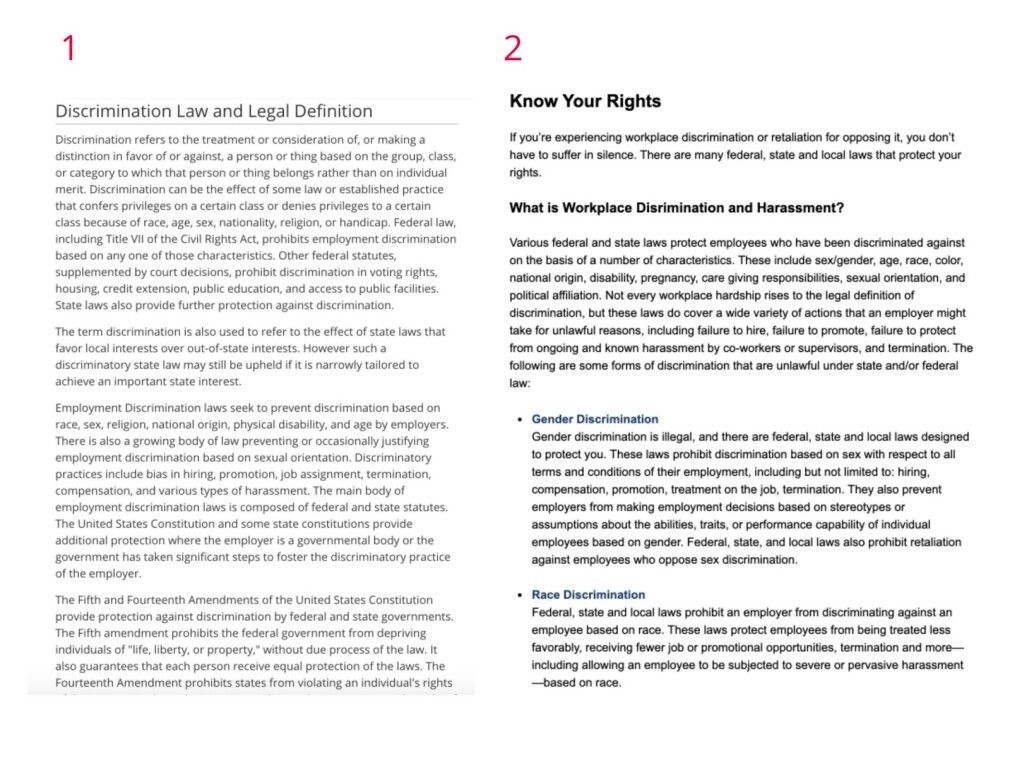 It's no secret that a more structured and readable text wins, as does the law firm that publishes it. Let's expand on what qualities the content should have to ensure that it will work for you.
A legal firm's content should be:
Relevant and useful. For example, the point, article, full name of the law, and its date are less important* than how this provision affects the reader's problem. Emphasize what they gain or lose based on the law.
* although you can mention it in a footnote. 
Readable. It is tempting to demonstrate your professionalism through legal vocabulary, but the best thing you can do is replace every professional term with a more understandable one.
Up to date. More than in other industries, it is essential to regularly bring articles in line with the current legislation in a daily changing legal world. Like readers, Google also values freshness.
Authoritative. It may go without saying when talking to lawyers... just make sure that all the sources you refer to in your article are reliable.
Actionable. Offer your clients a set of steps to take to solve a problem. The content that helped to solve the issue will be remembered, which means strengthening your relationship with a potential client.
SEO optimized. Underqualified specialists can write content filled with awkward keyword repetition (which is called keyword stuffing) and meaningless messaging. This won't inspire trust or convert leads. A legal writer can combine SEO strategy and meaningful writing into effective marketing content.
How to Turn Readers Into Customers
Your entire audience, existing and potential, according to marketing theory, can be broken down into five distinct categories:
Knows your product and only needs to know "the deal."
Knows what you sell but isn't sure it's right for them.
Knows the result they want, but not that your product provides it.
Senses he has a problem but doesn't know there's a solution.
Doesn't know about either your product or the problem.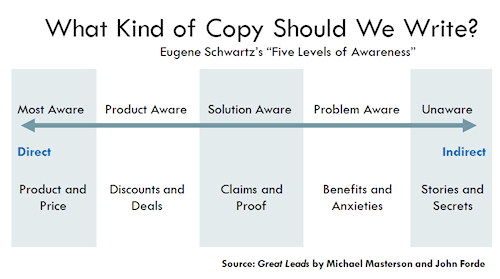 Content marketers use different types of content and strategies to guide audiences through the awareness stages. For example, for type No.3, a specialist who promotes a legal document generator could prepare an article about "How to write a statement of claim" and offer a solution through the product.
Try ImpactHero, an AI-powered tool that breaks down your content by customer journey stages, detects the most impactful pieces, and provides recommendations for content that can perform better.
It would take a separate article to describe all the strategies for moving leads through your funnel towards a purchase. So let's take a look at three of the most popular tactics:
Lead magnets are exclusive valuable content you offer in exchange for basic contact information, such as an email address. The content may be checklists, one-sheets, whitepapers, infographics, webinars, eBooks. The most important thing is to choose the truly hot topic that is worth leaving a contact for.
Page-by-page calls to action 
A call to action is your direct offer to the readers to do what you want them to do on each specific page. This may be: "Call us to schedule a consult," "Download our free eBook," or "Subscribe to our newsletters." The button on a CTA is usually the most visible element on the page.

As you're generating leads from your blog — through lead magnets and CTAs — close the loop with email marketing.
Do I Need to Promote the Content?
It's a misconception that the process of working on a piece of content ends with publication. Content requires a little push to be effective, and here's how you can do that:
Social media. Link to your new blog post in the social media where your audience follows you, especially LinkedIn and Facebook, which are considered the best channels to attract prospects and generate new clients; create a discussion around the topic via Twitter; repurpose your content for Pinterest and Instagram. You can also purchase ads to boost the number of potential clients who see your content. 
Email. Taking a proactive and more strategic approach by marketing your content with email marketing can help increase your pageviews, improve your organic search results, and enhance reader engagement.
Online forums or neighborhood groups. Find questions you can answer with your content — there are many on Quora, NextDoor, Reddit, and Facebook Groups. You can give a brief answer but suggest looking at the details via the link on your site.
Google Ads. Paid promotion will boost your content across Google, making it easier for target clients to find you.
How to Measure Whether Content Writing Works for Your Law Firm
Content writing is a long game — it will take at least six months to see the results of your work. To evaluate the effectiveness of your content strategy, keep an eye on three metrics:
Conversions, i.e., the number of visitors who find your content engaging enough to sign up to something or become paying customers. 
Mainly, you want to increase your sales and leads, but you should also keep an eye on visitors' reactions to all of your CTAs (like email subscriptions and downloads). You can also use Google Analytics to see the conversion rates of visitors moving from your content to the goal page you set (such as the Contact page or a specific landing page).
Lead quality, i.e., whether your ideal buyer personas interact with your lead magnets and submit their requests to your firm.
Website traffic, i.e., whether adding new SEO-optimized content is bearing fruit. Use Google Analytics to analyze the changes in traffic and find the most compelling content. If there is any, you can create more content on that topic on your website and across your social media. 
Conclusion
Contacting a lawyer can be a very emotional experience, depending on the situation, so how accessible and professional the text on your site is will determine whether the person decides to work with you or not. A legal content writer will be able to explain complex legal matters to readers, which will help strengthen the connection between your company and a potential client and turn them into clients. 
If you need professionally written content for your website, we've created a Marketplace:
Order content from a professional legal content writer with SEO expertise.
Get your engaging copy within ten working days.
Use up to three rounds of free content revisions.
Get a free complimentary header image for every article.
Check out the examples of our work and order your content on Semrush Marketplace.