As a small business owner, maximizing your rankings on organic search results might be a priority. Depending on the industry or locality you are in, ranking high in search results can take a significant investment in SEO and take time. 
Barnacle SEO can be a great strategy, although it should never be the only strategy you have in place. Like your review building strategy, it's a good idea to diversify your efforts. In this guide, I'll tell you what barnacle SEO is and how you can create a strategy that works for your business.
What Is Barnacle SEO?
Barnacle SEO is a strategy allowing a business or website to attach itself to a large website that ranks predominantly for its desired keywords to earn traffic, leads, and potentially, increases in rankings. Barnacle SEO was coined by Will Scott in 2008.
For small business owners, Barnacle SEO is mainly used on third-party local listing websites. A common example of a local business listing service in a lot of industries would be Yelp. Other industries have other big players, and in this guide, I'll walk you through how to find them.
Finding Your Anchor Sources
As a small business owner, you may know what third-party websites that rank well for your primary keywords. To eliminate confirmation bias, it's a good idea to use a tool like SEMrush's Keyword Overview Tool to verify what third-party websites are ranking. 
As an example, here is a screenshot of the SERP for the term "plumber Seattle"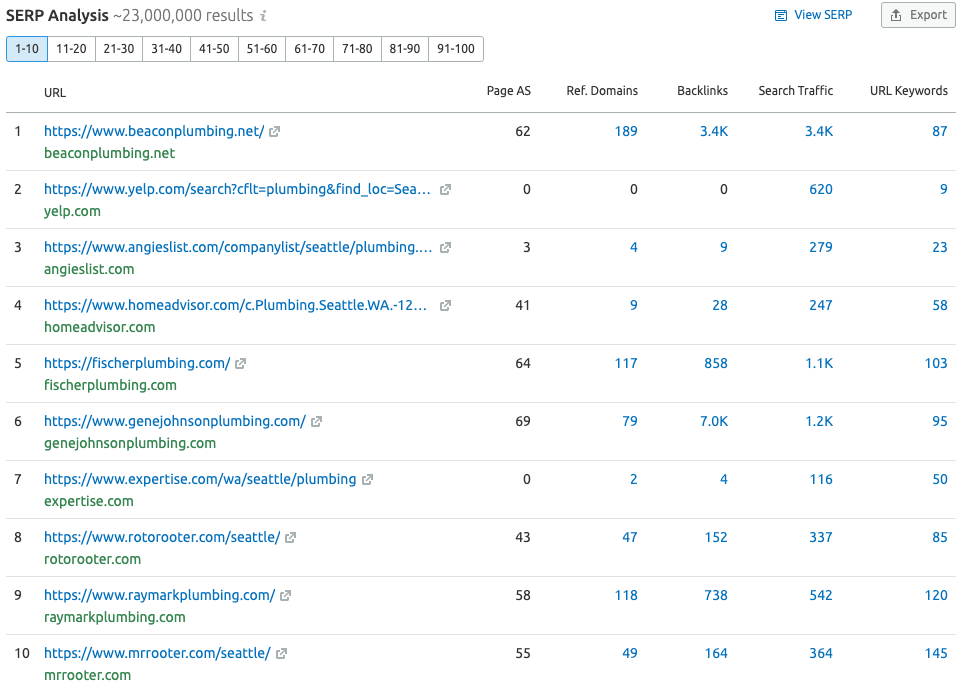 In the SERP, we see Yelp, Angie's List, and HomeAdvisor ranking towards the top.
You can repeat the process for each main keyword your company offers, or…
Click on URL Keywords (Open the link in a new tab) for each third-party that is ranking in the top 5.
The URL Keywords link will show the organic research for the page and give us a historical look at its rankings. It will also show the other keywords the page is ranking for, too, which is beneficial.
I like looking at a two-year history, and de-selecting positions 11-20, 21-50, and 51-100. 
Finally, I sort by position.
Here's how the Yelp result looks: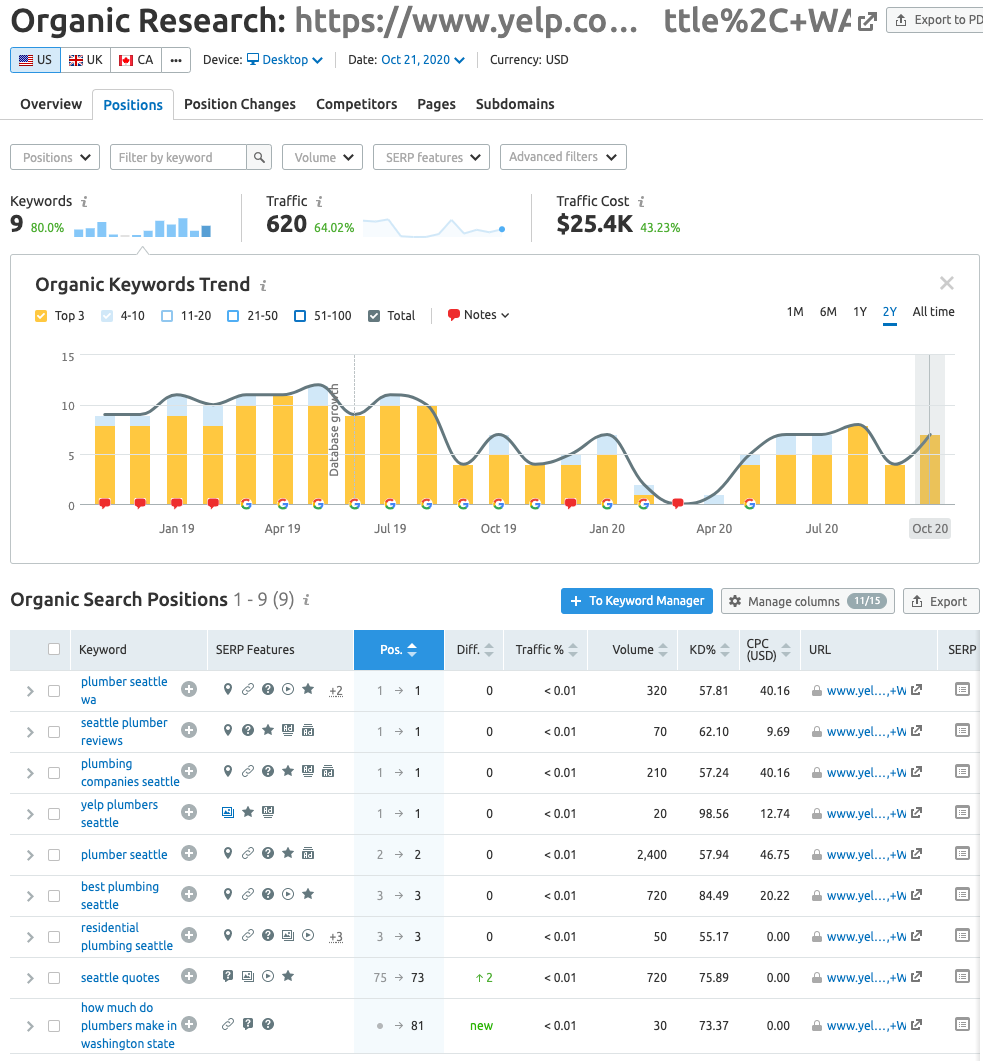 The Yelp page doesn't have a ton of keywords it ranks for, but the keywords it does rank for would be a good target for a plumber in Seattle. 
The reason to look at the history of the page is to make sure that you don't waste your time on pages that are losing steam in organic search. The Yelp page has lost rankings on other keywords but it has a nice history of ranking in the top 3 for our main topic keywords. 
Angie's List and HomeAdvisor have had similar declines as Yelp, but historically, have never had prominent rankings for our main topic keywords. We have three options for our plumber example and we're only going to want to pursue two.
The answer would likely be Yelp and Angie's List.
Creating Your Barnacle Strategy
We've identified two large websites that rank for our Seattle plumber friend, now we need to come up with a strategy for each. 
Here's a standard checklist that could be applied to most third-party listings:
Do we already have a listing?

If not, start the process to verify one

If yes, do we have login access?

Is the generic business information correct?

Do we have the appropriate primary category chosen?

What additional categories can/should we add?

Do we have a UTM tracking code on links? 

Are all available fields filled out? 

Are the listing photos great at conveying the service offering?

Are there any available CTAs available for free or a reasonable fee? 

How many reviews does the listing have?

If negative reviews are present, have they been responded to?

Where do we currently rank on the results page that ranks well organically?

Outside of sponsored ads at the top, what are the key differences between these listings and ours?
Each third-party will have its own ranking system/algorithm. Having a robust profile and earning good reviews are likely going to help your listing rank higher on their internal search results (the pages that are ranking for your top keywords).
Earning reviews is going to be quite the conundrum, especially if Yelp is one of your barnacle SEO targets. They specifically tell businesses to not ask for reviews. You can read that here. Other third-parties will have their own rules on reviews. Most are not as strict as Yelp, but it's always a good idea to be in 'the know' of what you can and cannot do.
Here are two common-sense things about reviews:
Never incentivize (discounts, coupons, etc.) customers to write reviews for your business

Owners, employees, family, or friends should never write a review for your business
Monitoring Your Rankings
I like Visual Ping to monitor changes on a page. What makes this tool super useful is you can use a container to track changes. 
For our Yelp plumber friend, I scrolled past the Sponsored results to capture the listings that are ranking 'organically' within Yelp.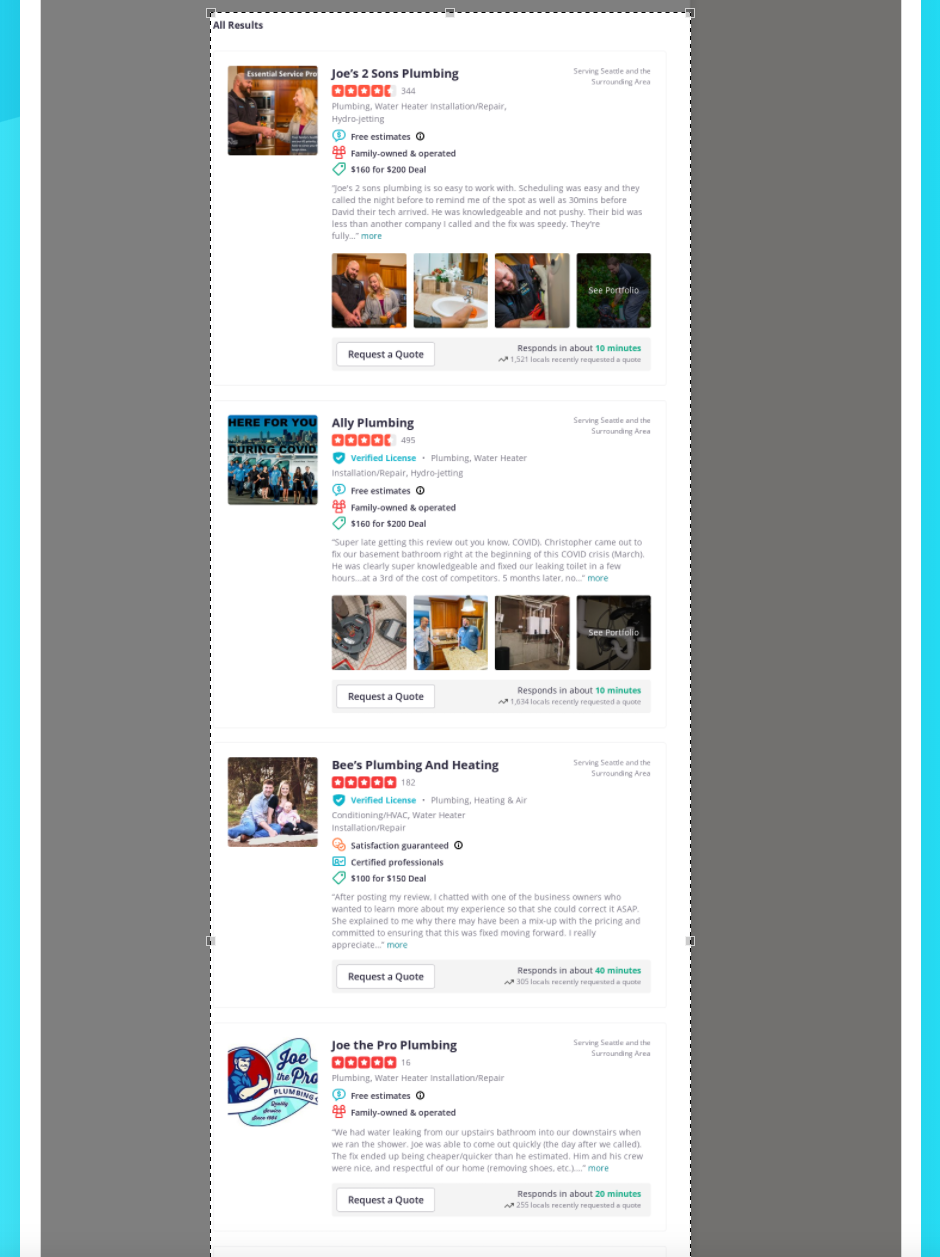 Set the alert to daily, add your email address, and customize the alert name to whatever you want it to be. 
Here's how mine looks: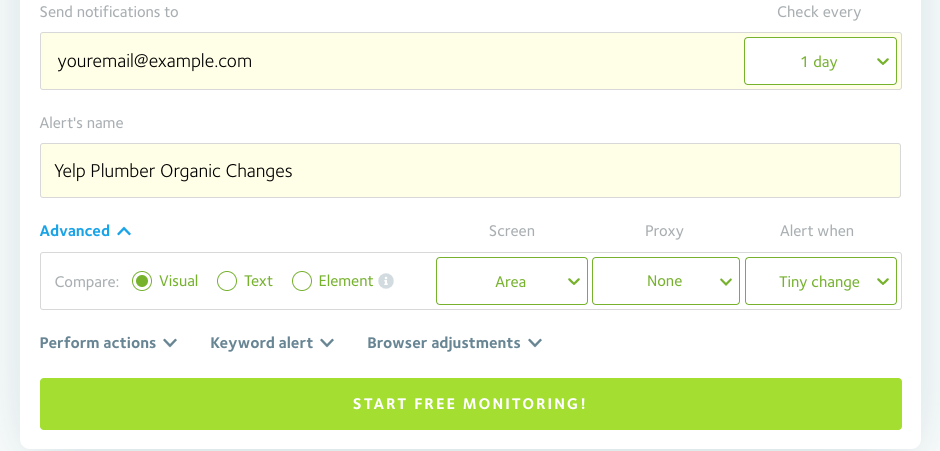 As our plumber friend keeps performing awesome services in Seattle, hopefully, those happy customers leave reviews on the Yelp listing, allowing for a nice increase in Yelp's organic ranking. 
Results Will Take Time
Another 'potential' side effect of ranking well on these sites is the theory that it could also help your regular organic rankings.
As search engine bots crawl the page, listings, and thereby, the nofollowed (now a hint) links on the listing could pass some relevance. This is nearly impossible to test but, theoretically, it makes sense. The higher up your 'link' is on a page, the more link 'equity' you would get compared to your competitors.