LinkedIn is the most popular professional networking site, but despite this, it is often an incredible source of untapped potential. Many people don't know how to use LinkedIn correctly to help them promote themselves or their businesses, and it is a massive lost opportunity.
In last week's #SEMrushchat, CMO of Splash Media, Eve Mayer joined us to talk about how to leverage LinkedIn for business development. Mayer and our experts and chat participants all weighed in on their experience with LinkedIn and the best ways to leverage and evaluate your success on the platform. Here is what they had to say:
Q1. What are the top 3 things that you should concentrate on to get the most out of your time spent on LinkedIn?
Facebook, Instagram, and Twitter get the most attention out of all of the social media platforms for both users and businesses, sometimes leaving LinkedIn shuffled off to the side. People sometimes mention that they have had an account for several years but never saw a lot of traction. If this is the case, it may be because you aren't taking the right actions.
When we asked our audience what were the best things you could do to get more out of LinkedIn, they gave specific answers that all fell under the platform of "actually use the platform." LinkedIn, after all, is more than just a place to dump your resume. After you spend the appropriate time optimizing your profile to do well in searches, it is time to dig your heels in.
This means logging in and engaging daily. Accept invites quickly, because the people who sent the connection request may be interested in you or your business and you want to strike while the iron is hot (and before your competition does). You should also be exceptionally responsive and answer messages as soon as they come in. Even if someone sends you a generic greeting message, you can send them a response thanking them for the message and letting them know that if they need help in your field, you are there and ready to assist.
Posting status messages on a regular basis is important. A lot of people only use LinkedIn's posts to make the rare, quick update about a new company they are starting or listing new services their business offers. This doesn't allow for relationship building, and to be honest, it is not all that interesting to most of your connections. Instead, post thought-provoking, industry-relevant content that people are more likely to engage with. And when they engage, engage back. Start building relationships.To get a good idea of what your audience wants to see, take a look at what they are sharing and what is getting the most likes and comments; this will give you a good place to start.
You should also be engaging on the platform regularly, which helps you to build relationships and gives your profile more visibility. Comment on other people's posts, and share great content. Join groups with the intention of offering value instead of taking it, sharing resources, knowledge, and expertise without trying to sell directly. People will notice, and they will come to you on their own.

Q2. How can a brand or business measure the impact LinkedIn has on generating leads? Are there any tools they can use?
As with all marketing campaigns, it is important to know how effective your efforts are on a platform. With LinkedIn, you will want to try to see the impact the platform has had on both brand awareness and generating leads.
Google Analytics is one of the best tools that you can use for this. You can see how much traffic is coming to your site, and how much of that traffic converts into leads or clients if you have set up goal-tracking on the platform. If you want to get exceptionally accurate and see which posts and links sent users to your site, you can use trackable URLs and place them in your posts, in your messages, and on your profile.
Eve Mayer recommends using CRM tools like Insightly to closely track the sales you have made thanks to the platform. Since CRM tools often make it easier to keep track of leads and follow up with them to drive conversions, using this software may help advance your LinkedIn lead generation in addition to just monitoring it.
Social listening tools like Social Mention and SEMrush's Brand monitoring tool are other great tools that can help. They can help you easily evaluate how many people are talking about your brand and the content that you've shared on LinkedIn. Meet Leonard is an automated marketing tool for LinkedIn that will send out mass amounts of connection requests and messages, and you can evaluate the effectiveness on a broad scale.
Certain on-site actions are also a good indicator. You can see how many messages you sent pitching your services and measure them against how many leads or new clients you were able to capture. Evaluating how many clients leave a public, on-platform recommendation for you is also a good way to gauge engagement, as these reviews are exceptionally beneficial.
Q3. What has been the most effective way to drive lead acquisition when using LinkedIn for a business?
Driving lead acquisition is an intentional process, and it is not enough just to be on the site and hope that people find you.
Maintaining a strong, professional presence while establishing your expertise is a good way to go. Sharing great content in your industry-- specifically content that offers value to your readers in the form of news, strategies, or insight-- is an excellent way to do this. Do this both on your personal profile and in the groups you belong to. It demonstrates your knowledge in your area of expertise, showing that you can do exactly what you say you can. Even more importantly, this content may help solve someone's problems or give them insight on how to do so, and that's something that people will remember for a long time to come.
In addition to sharing great content from your personal profile, you should give the same love and attention to your business's company page, too. Make sure that it is well fleshed-out, and frequently share industry-relevant articles from the profile at least once a day. This will build brand awareness, and as you're able to drive and maintain engagement, it can help to build a community while simultaneously acting as social proof.
Remember that both your personal and company profiles should be treated like a resume you want to submit for a job interview. You need to ensure that it is regularly updated and polished. This means adding new publications, awards, and accomplishments, along with asking for new reviews from customers. You should also regularly evaluate your profile to see if there's room for improved optimization to appear in more searches for certain kinds of work. While you can do a lot to bring people to you (and should be proactively seeking out new leads yourself), it doesn't hurt to make sure that you're easy to find when they are looking.
And on that note, sometimes your LinkedIn marketing might need a little bit of help in the form of PPC campaigns. LinkedIn Ads are an effective platform, particularly for B2B businesses, and using text and newsfeed ads can help you introduce new leads to your brand while presenting them with a tempting offer all at once.
Q4. How do you discover which LinkedIn groups are most valuable for your business?
LinkedIn groups can connect you with your target audience and allow you to build relationships organically, bringing in clients that trust you more from the beginning. That being said, not all groups will be equally beneficial for your business, so you will want to determine which are most advantageous so you can spend more time in the right place. If not, you're unlikely to get great results-- several of our chat participants expressed frustration with them.
When you're searching for groups, you can utilize Google to do some recon ahead of time, or you can search on LinkedIn directly. There's also the option to ask fellow industry experts or peers what groups they recommend if they know of any.
Joining groups that are related to your industry of expertise — especially those where people come to regularly ask for advice — is how you can find large amounts of your ideal target audience. That being said, you will need to join several groups, engage for a few weeks, and then gauge what kind of responses you get in each group. You will also be able to see what types of content people post and if it is a good fit for you; some groups are just full of "experts" trying to show off their latest case study without engaging, and those are the groups to avoid.
When you first join a group, you can read some of the posts and conversations happening. You will likely almost immediately be able to see whether or not you can add to the conversation. If you can, jump in and get started! If not, there is not much of a point to investing time in a group you think may be a flop, so head back to the search board and look for others that may be of more value to you. Most importantly, ask yourself if you can add to the conversation in a productive way.
Eve Mayer weighed in to give us a pro tip that we should all remember when engaging in groups: after you've established yourself within a group, you can find members that you're not connected to yet and send them direct messages for free. You can do this up to fifteen times per month at no charge, and it allows you to make contact with a warmer lead who is already familiar with you.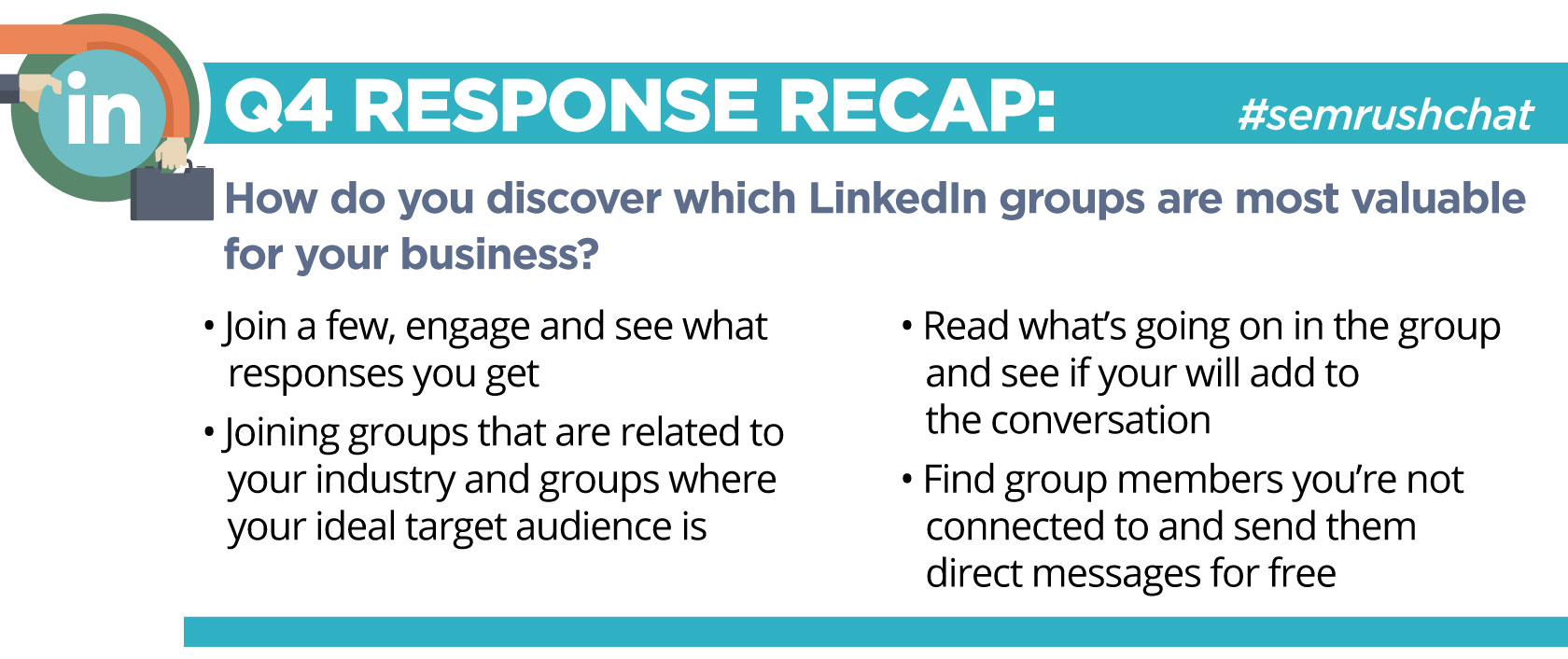 Q5. When it comes to status updates, what are your top 3 tips for success?
The status updates that you share on your profile can help you to establish expertise, build relationships, and generate leads, so it is important to make sure you're following all of the best practices. When we asked our experts and chat participants what got them the best results with LinkedIn status updates, they had a lot of great advice to share.
The most common piece of advice that we saw was to post what's important to your audience. This will get the most attention and the most engagement. This means sharing content that they are interested in and that's of direct value to them. See what they are responding to, both on your profile and on other profiles, and try to emulate more content similar to it.
This can mean posting an article that you think your followers will find interesting or valuable (or, in a best-case scenario, both). This can be an article that you have written, or that you have found somewhere online. You can also share posts linking to other articles written by your connections, which can help build some goodwill there, too. It can also mean posting great content, and thoughtful words that are written with cleverness or a touch of humor added in — while still keeping it professional — to make it a little bit more appealing. And please, no one-sentence paragraphs; multiple chat participants expressed a strong dislike of them.
Images and videos on LinkedIn, like all other platforms, are also a plus. Visual components with your post help them grab users' attention immediately and draws their gaze right to your post. LinkedIn video is still a bit newer on the platform, so use that to your advantage.
And, above all else, engage. Tag users whose content you're sharing to start a conversation with them. Engage with users who engage with your content, reply to comments and ask follow up questions to show that you are invested in their response. This is crucial to success on LinkedIn, so never skip this very important step.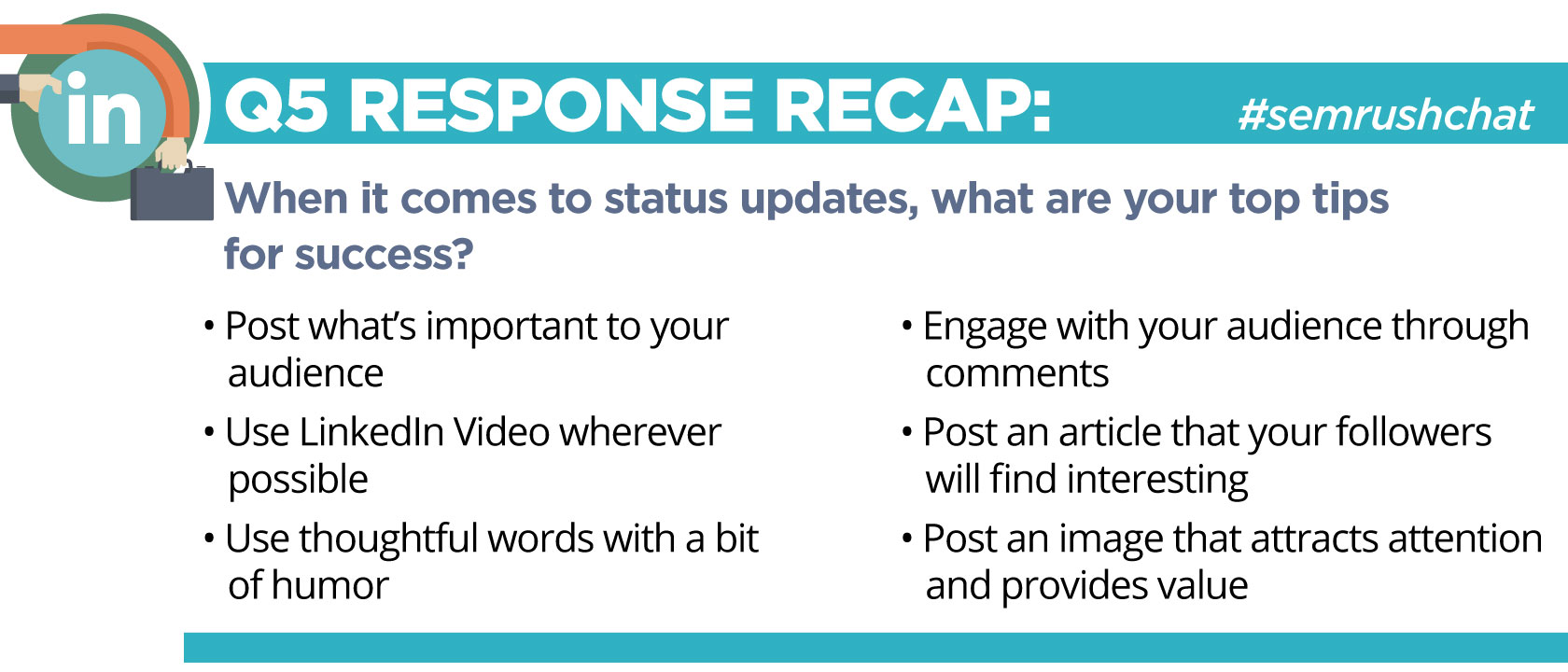 Hope you found this recap interesting and useful, feel free to join the conversation next time!