How to Use Outreach for Link Building 
With the competitiveness of online search increasing, building a solid backlink profile is a critical part of your SEO strategy. Outreach is an essential player in this link-building process. 
We'll share four outreach link-building strategies and how you can utilize our tools throughout the outreach process for a more effective and conversion-oriented approach. 
What Is Outreach? — Link Building Strategies & Techniques
Outreach is the act of contacting external organizations to request a backlink pointing to your site. An outreach strategy can help improve your chances of receiving a response and backlink. 
Four common outreach strategies include:
The Skyscraper technique
The Moving Man technique 
The Guest Posting technique
Digital PR
The Skyscraper Technique
The Skyscraper technique involves finding content that websites are already linking to, and then creating your own valuable, quality content on the same topic or niche. You'll then promote your content to those sites and convince them to link to your new content instead. 
1. Find High Performing Articles
Use the Backlink Gap tool to compare your site's backlink profile to your competitors' profiles. Enter up to 5 domains in the tool's input to see which referring domains you share with competitors or referring domains your competitors earned.
Select the Best filter to see the domains that point to your competitor's domain but not yours. These will be your top prospects for the Skyscraper technique.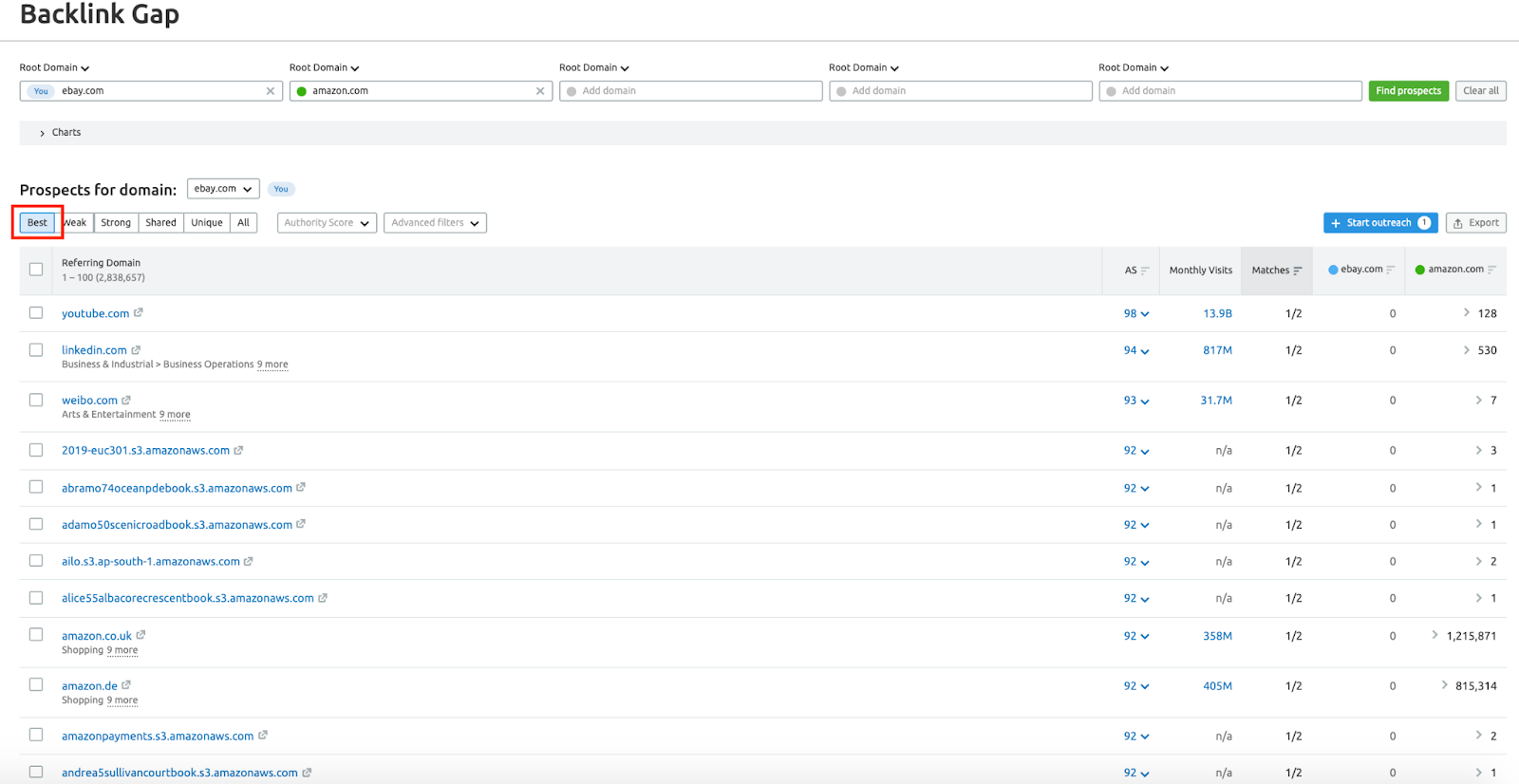 If you have a popular article in mind, paste the URL into the Backlink Analytics tool. Navigate to the Backlinks tab to see all of the sites linking to the existing article. These are the domains you'll contact later. 
2. Develop an Updated Piece
In this step, your goal is to write a better article than the one that already exists or to update an existing article you have on the topic. 
3. Reach Out to Domains
The final step involves reaching out to all sites with a backlink pointing to the existing content and requesting them to point to your improved content. 
The Link Building tool collects a list of link-building opportunities for your domain and allows you to send outreach emails directly from the tool. You can also use this tool to manage multiple link-building campaigns for your domain from one interface. 
The tool can retrieve each domain's contact information automatically, and allows you to enter contact info manually. As you reach out to prospects, the tool keeps track of your progress: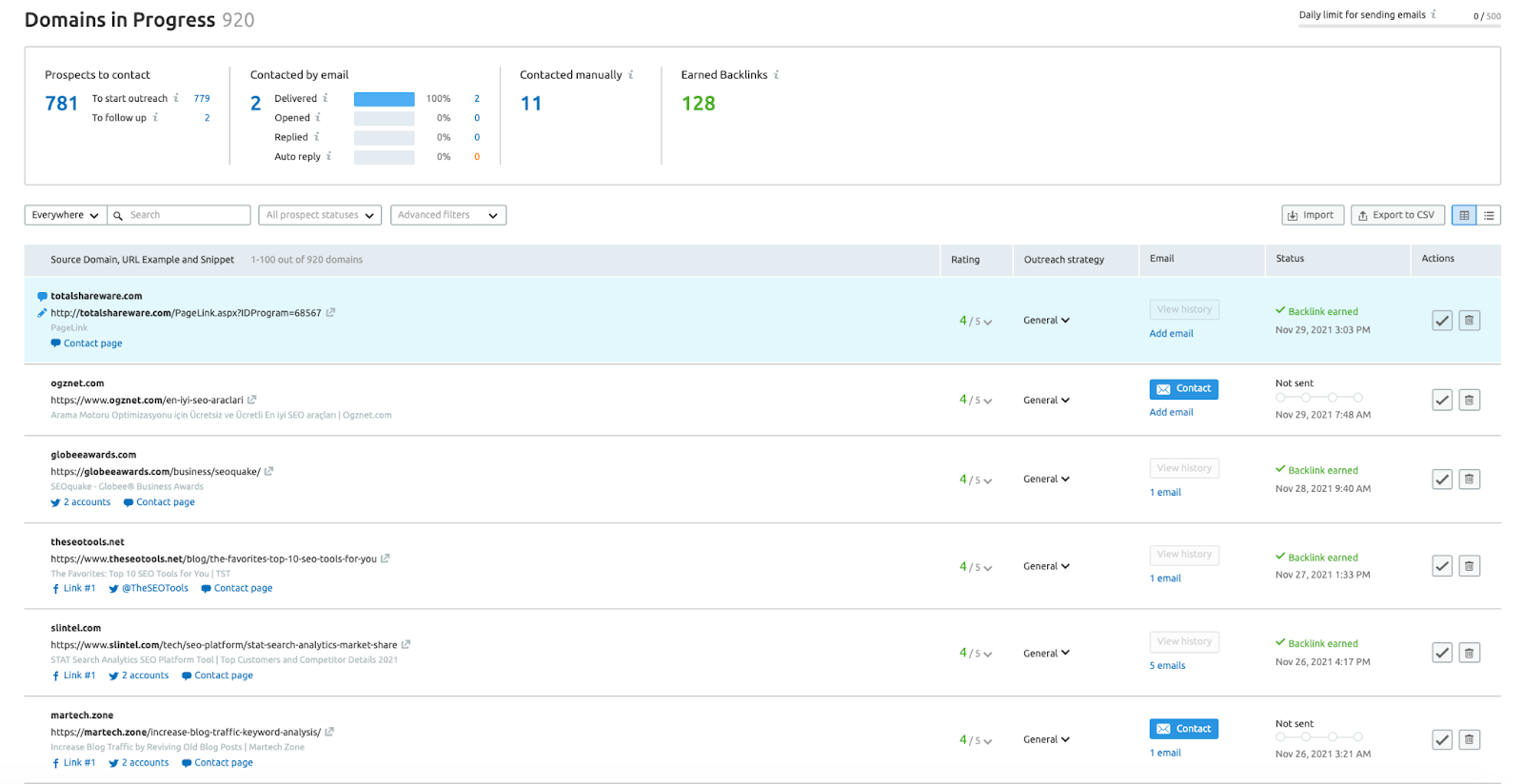 The Moving Man Technique 
The Moving Man technique involves contacting sites with backlinks to outdated content and requesting they link to your updated content. The key to this method is finding outdated links on blogs, places, and articles within your niche or relevant industry.
You want to outreach to websites with a quality backlink profile. This is a great technique to accumulate relevant backlinks to your site with minimal effort. 
1. Locate Outdated Content
This step involves finding resources and sites that are outdated or inactive. Links can become obsolete due to: 
Rebranding 
New URLs 
Defunct services 
Defunct offerings 
Unmaintained resources
To find these resources, you can use the following search strings on search modifiers on Google to assist you:
"service not available" + [industry keyword / article topic]
"We have moved" [industry keyword / article topic]
"page no longer exists" [industry keyword / article topic]
"this website is no longer updated" [industry keyword / article topic]
"this page is no longer updated" [industry keyword / article topic]
2. Find Backlinks to Outdated Content
Once you have located a prospect list of outdated resources, use the Backlink Analytics Tool to find pages linking to them. 
3. Create or Update Content
Create a new page or update an existing page with quality, helpful website content. Details are pretty important here — you'll want your content to be as unique and engaging as possible.
4. Reach Out to Domain Owners
Use the Link Building tool to reach out to the domain owners. 
Guest Posting
Guest posting, as the name suggests, involves obtaining backlinks through offering guest articles and content to be featured on other sites. This method typically works well when you are an authority within your industry.
To implement this technique, find a high-performing or authoritative blog site, build a relationship with its owners, and ask them to feature an article on their site. Within that article, you will include backlinks to your site. 
1. Find Authoritative Blog Sites in Your Industry
You will need to find blogs that hold authority within your industry and accept guest posting. Otherwise, you may be wasting your outreach efforts. 
We recommend experimenting with different search strings to find blogs accepting guest posting. See some examples below:
"Guest author" + "keyword"
"Guest post" + "keyword"
Use our Domain Overview Tool to assess the site's traffic and engagement. Pay special attention to the domain's Authority Score, backlink profile and overall organic search traffic when considering sites. You can find these metrics at the top of the tool's result page:
2. Request a Guest Post
You will need to contact these blogs in an approachable manner as not all blogs are equally as receptive to guest posting. It might help to already have the post created, so they can review the post as part of your pitch. 
3. Deliver Content with Links
The final step involves writing the blog content. Your guest content should be just as engaging, helpful, and accurate as the content you create for your website. 
Ensure your backlinks and anchor text are within the article. This stage is different for every blog you contact, so ensure you follow their guidelines. 
Digital PR
Digital Public Relations (PR) is a strategy to raise the awareness of your brand in the digital space. Digital PR is a great long-term outreach strategy that involves creating favorable PR content about your company and reaching out to relevant or authoritative organizations or journalists in your market to cover this content.
Digital PR content can include: 
Guest Blog posts 
Directory Inclusions
Press Releases 
Unlinked Mentions 
1. Come up with ideas
In this phase, you need to brainstorm a list of ideas. Come up with ideas that match the topic, intent, and channels you're working with. 
2. Create your content
You can create digital PR content about any significant company event, achievement, or development and then distribute it to related media. Your content should include a backlink to your website. Try to link to a related webpage, not your homepage. 
3. Build an outreach list
In this phase, you can utilize our tools to create an outreach list of potential journalists that are appropriate to target. Focus on media websites or journalists that write about your market or niche. Diversify your contact list as much as possible, but only reach out to prospects that would likely be interested in your content. 
4. Send your pitch
Now it's time to pitch your idea to your journalist outreach list. Active and honest communication is crucial here as you're trying to establish a long-lasting relationship with them that will benefit both of you.
6 Tips to Make Your Link Building Outreach More Successful 
The following tips will help you utilize outreach for link building. It's crucial that before you start outreach and cold emailing sites, you understand the current position of your site, the industry it operates in, and the competition you are up against. 
1. Review Your Current Backlink Profile
Understanding your current backlink profile can help you build an outreach strategy that closes any gaps in your profile.
A backlink audit evaluates all backlinks pointing to your website, then identifies any toxic backlinks that could harm your website's rankings. You can also use a backlink audit to highlight any backlinks you're earning from high authority websites.
The Backlink Audit tool uses an easy-to-follow workflow to audit, analyze and disavow toxic or suspicious links. You can also use the tool to manually request backlink removals and track any won or lost backlinks over time. 
To run the tool, you'll: 
Navigate to your website's project from the Projects dashboard. (You'll need to create a project to use the Backlink Audit tool.) 
Select the Backlink Audit tool from the project's dashboard.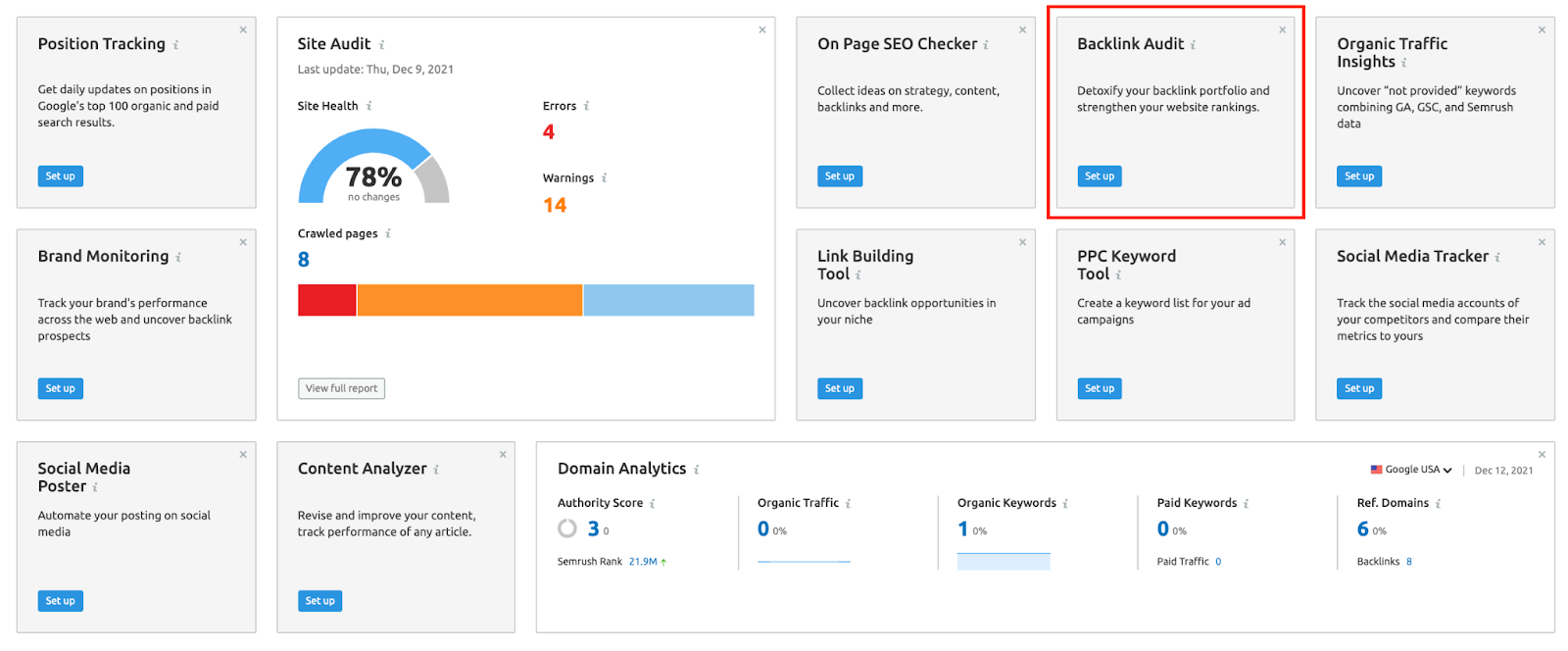 Use the tool's settings panels to adjust your audit's scope, target countries, and domain categories. Select Start Backlink Audit.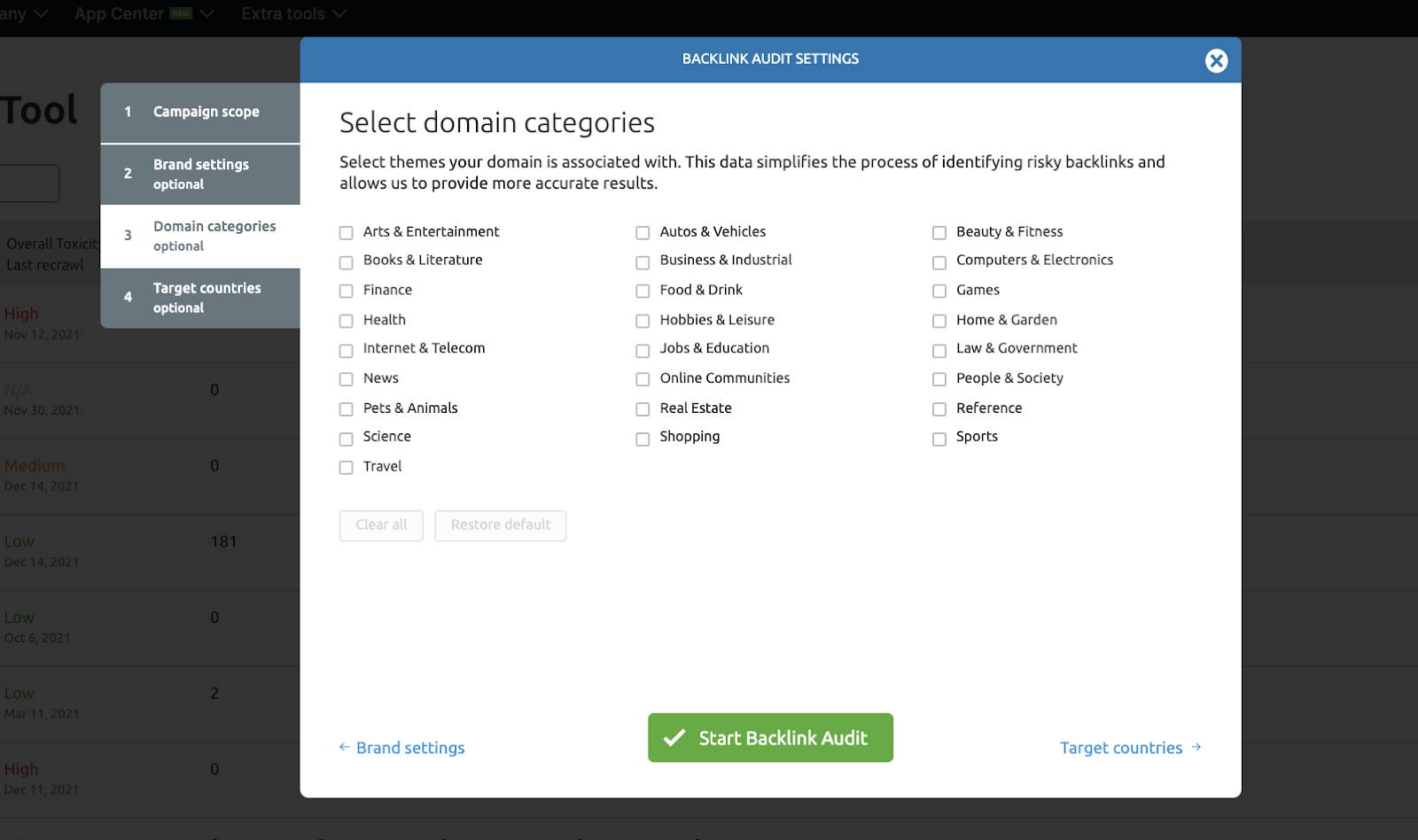 Once your audit's complete, the tool returns your site's backlink profile, complete with your site's domain authority, any referring domains, the total number of backlinks pointing to your site, and the overall toxicity score of your current profile.
2. Review Your Competition's Backlink Profile
Understanding your competition will give you the best chance at success with the techniques listed above. Most industries and niches will always have a long list of competitors, and you don't want to be wasting time vetting them. 
Use the Backlinks Analytics tool or the Bulk Backlink Analysis Tool for a quick overview of up to 200 domains backlink profiles: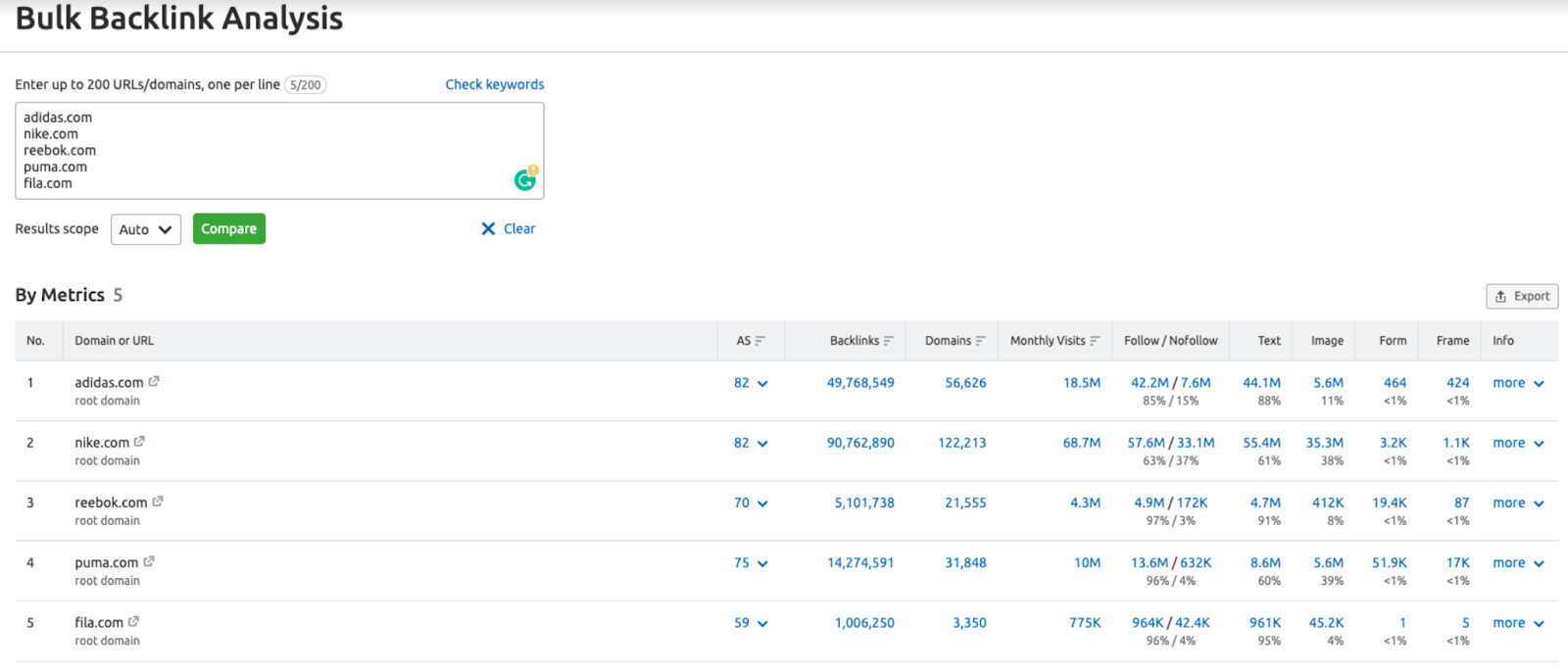 3. Prepare Outreach Emails with the Link Building Tool
Remember, the Link Building tool helps you connect with site owners so you can request backlink removals. It's a great way to manage your outreach efforts from the prospecting stage all the way to outreach.
Once you have decided on your link prospects after adding the keywords and competitors, you can move them by clicking "To In Progress." From here, you can use one of our outreach templates and email them directly from this screen. (Please note, you'll need to connect your chosen email client to the Link Building Tool.) 

4. Create a Gap Analysis
Running a backlink gap analysis is a great way to identify opportunities based on sites that are linked to competitors in the same market or niche. 
The Backlink Gap Tool compares your site's backlink profile with your competitors' and uncovers untapped link-building opportunities. If your competitors have a stronger link profile than you, close the gap by grabbing backlinks links they don't have
5. Verify Email Addresses with Mentioned–Outreach Wizard
Another important step in the outreach process is making sure you have an email address to reach out to. One helpful tool for this is the Mentioned–Outreach Wizard app from the Semrush App Center.
With this app (available with a 7-day free trial), you have a few options for finding email addresses:
Scan Content:

Enter a URL and the app finds contacts that were mentioned in the content of the page. Then, you can ask the app to find the email addresses of those contacts so you can reach out to them with an email template.

Email Finder:

Enter a first name, last name, and company domain and the app will discover if an email address exists with this name at the company.  

Email Verifier:

Enter an email address and the app will confirm if it is valid or not.
6. Personalize Your Outreach Emails
Personalizing emails and ensuring they have the correct tone of voice is crucial in a successful link prospect and building campaign. All of the hard work done to get to this point can be wasted if your emails come across as being spammy, untrustworthy, or unprofessional. 
Make sure your cold email is personable. Try:
Introducing yourself and your site or organization 
Demonstrating a pain point (and how you'll fix it)
Keep it concise and short
Sending your emails from a branded email address
Implementing these tips will help you avoid getting your email sent to the spam or trash bins.
Better Backlinking with Outreach Strategy
Backlinks are an essential and influential part of any SEO campaign. If done successfully, they can even lead to new connections and overall brand awareness. Try these tips above to build better relationships and earn high-quality backlinks over time.