9 Ways To Make the Best of SEO Link Building with Semrush
Jun 25, 2019
9 min read
Backlinks are one of the top factors in Google's organic ranking algorithm, so building and managing a successful backlink profile is a major part of Search Engine Optimization.
SEMrush team is proud that our database reached 16.7 trillion backlinks in 2019.
To help you make the most of our SEO link building tools, we put together a list of the best "moves", which will keep your backlink collection clean and growing.
In this list you will find suggestions on how to:
Gather ideas for link building and maintain the results of your efforts

Quickly get rid of harmful backlinks

Gain insight on creating the content that brings you relevant traffic from many sources, just the way Google recommends.

Speed up the process of getting new links.
Have a look at this short video about our Link Building tool, before discovering more details below:
Move #1. Check Exactly What Is New in Your Backlink Profile
The first one might look like a control freak's habit, but most of the experts recommend scheduling this check every 2 weeks, as that is typically how long it takes for Google to index new links. Time spent on monitoring will pay off for several reasons.
Let's start with a nice one, which is tracking the results of your success. Type your domain into our Backlinks report. Choose the quick filter "New" backlinks, and as an option pick only the "Follow" type to check the most valuable ones first. This way you can see whether your previous outreach activities, viral PR campaign, affiliate program or any other kind of marketing cooperation ended in failure. Combine this data with the amount of referral traffic from your Google Analytics and send it to your client or boss to prove that you are doing great work.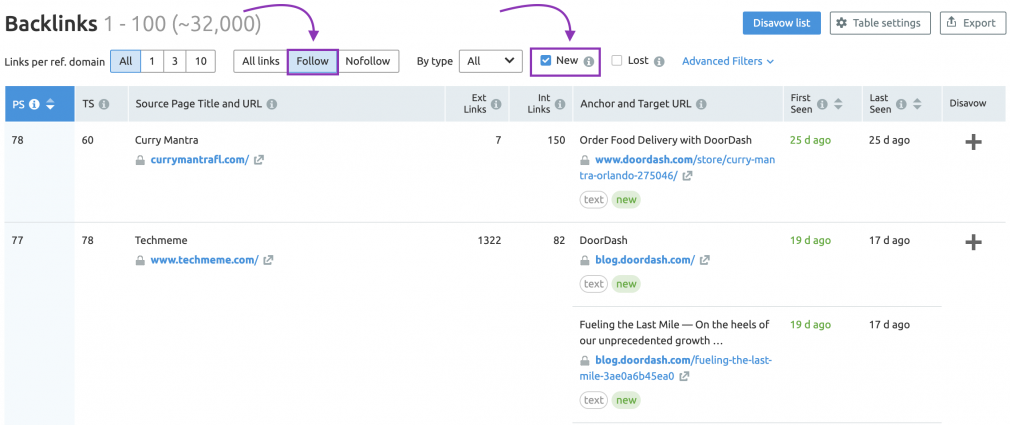 At the same time, other link building tools like our backlink checker will be helpful. Monitoring new backlinks can help you quickly detect, and more importantly eliminate, the harm from the toxic links that you didn't expect to get. The latter could happen due to a rival spam attack, your contractor's shortcoming, or a variety of other reasons.
Stay in the Backlinks report, click "All Links", and choose ascending sorting by Page Score, which is a good detector of an undesirable referring domain.
Once you find a suspicious link, add it to the Disavow list in one click. If you haven't set up the Backlink Audit Tool for the analyzed domain yet, we will prompt you to do so or export your findings in a .txt file. If you do have one, then from the Disavow list you will be able to add it to the Disavow tab in your current project, so that you can send it to the Google Disavow Tool afterwards.
Move #2. Get Everything You Have Lost Back
Getting new backlinks each time is a big deal, and you want to make sure that you are not losing your valuable links. When using the backlink checker choose the "Lost" backlinks from your profile and add the "Follow" filter and descending sorting by the Page Score. This way you will find the biggest losses of all - backlinks from trusted domains. Try to reach out to their owners and get your backlink back.

Move #3. Sneak the Best Link Building Ideas From the Right Rivals
Stealing ideas is not a bad thing in a world where everything has already been invented. Let's see how we can take advantage of this rule to boost our  link building strategies. Our  Ranking Factors study proved the fact that the number of referring domains has a high impact on the way Google evaluates your site. But how do you choose the right people to steal ideas from?
There are a few ways to pick out your most successful competitors. Our Backlinks Competitors report shows your rivals based on the number of your common referring domains correlated with the size of the websites' backlink profiles (to avoid detecting Wikipedia-type giants, which you don't want to analyze). These are companies that might be receiving referral traffic from the resources where your target audience is most likely spending time.
Now we know whose referring domains we want to analyze and the ones that will be offered to you in the Comparison tab of the Backlink Gap tool. You could also use the Organic Competitors report if you wanted to look for more of your organic search competitors.
You can click on your competitor's domain to generate a new Backlink Analytics report for it. Go to the Referring Domains tab to see the sites that refer to your competitor, and then use this list to put together your future "outreach" register. Don't forget to pay attention to the Authority Score column to only choose worthwhile domains.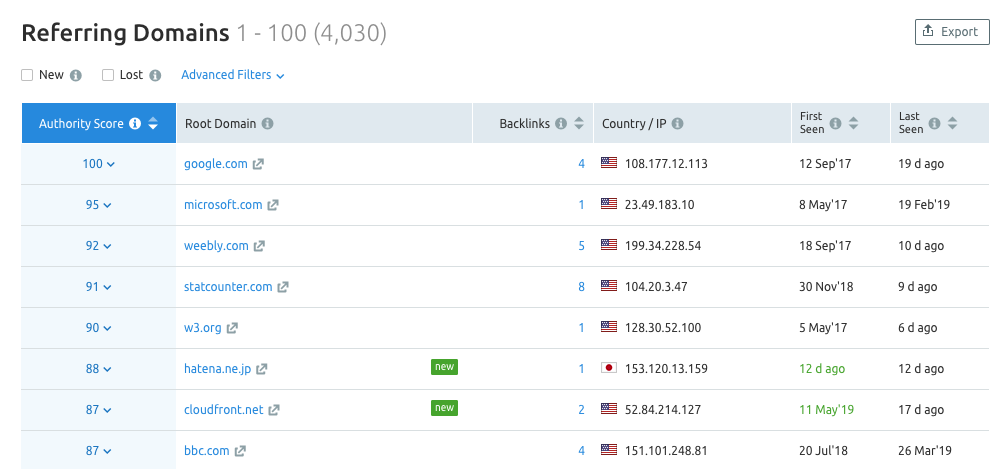 Authority Score—a compound metric used to gauge a domain's overall quality and influence on SEO. The score is based on the domain's domain score, trust score, quantity of backlinks, quantity of referring domains, quantity of referring IPs, a correlation between domain score and trust score, follow vs. nofollow links, organic search traffic (from our Organic Positions report), and the number of users (from our Traffic Analytics report).
Move #4. Find the Content Ideas that are Worth Your Efforts
If you have ever struggled with the issue of what content to create, you know how hard it is to make such decisions. It is a burdensome process in terms of both time and money. At the end of the day, you want your readers to convert into customers. But first, you need to get traffic.
Earning visibility on Google might take time, but referral traffic is always an option. In our Indexed Pages report, you can find ideas for "backlink attractive" content. Type in your rival's domain and see what pages attract the biggest number of links from different domains.

Move #5. Smartly Use Redirects for Previously Successful Pages
It is pretty common to do a great job earning backlinks to, let's say, a particular product page, but after that, you get lost in new marketing campaigns and just miss the moment when that page stops working. Let's take a look at Sephora's case.

Almost 1000 domains linked to their awesome hair kit, but the product is gone, most likely along with potential customers.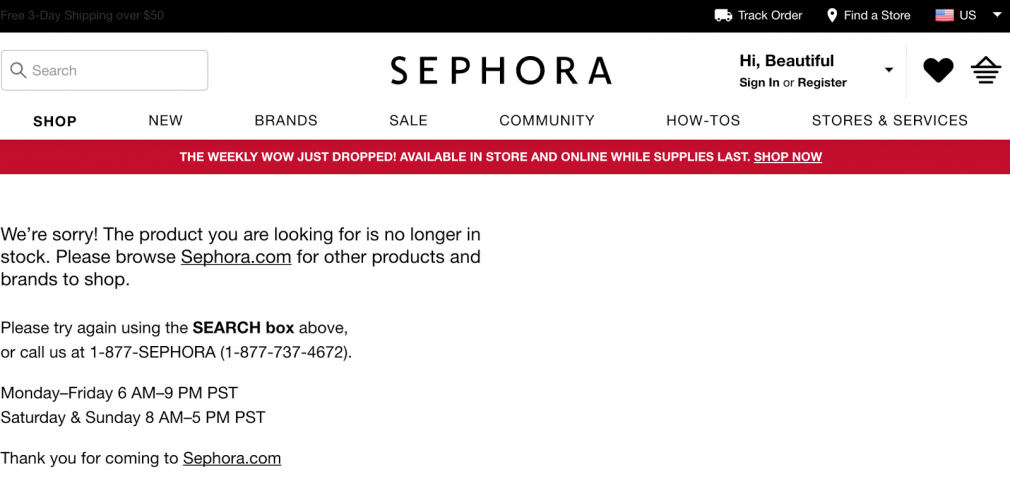 What would be good to do here is to redirect users to a page with a similar product, or at least a category of the product: https://www.sephora.com/hair-care-sets.
It is important to pay attention to your top-performing pages from a backlink perspective, not only because you don't want to lose clients, but you also don't want to ruin relations with people linking to you for future cooperation.
Move #6. Make Your Backlink Profile as Natural as Google Wants
Anchor text has never been a silver bullet with regard to links indexing, especially after a number of Penguin algorithm updates. But still, SEOs prefer to keep the right balance and build a diverse anchor profile. Since Google compares it to your on-site keyword optimization, it is good to reduce the number of money anchors (as we call them in SEMrush, which are simply the anchors that coincide with your target keywords in organic search) and maybe work on increasing the number of branded or compound (mix of your brand name and additional text) anchors.
To find all the domains that link to your site with a particular text, go to our Anchors report and type in the words you want to check. In the drop-down menu, you will see the suggestions which are taken from all the anchor texts that you actually have.

Put together a nice template asking to change the text of your anchors and speed up the outreaching process. This will help you to avoid a situation where Google considers your strategy spammy or manipulative or even penalizes your pages in SERP.
Move #7. Get Rid of All Toxic Backlinks, Like Really All of Them
Speaking of being penalized, luckily, waking up in a cold sweat and seeing all your ranking in a steep decline is a thing of the past. But all of the pros I have been speaking with allow time to check the "health" of their backlink profile every week as part of their strategy.
That got us thinking, what could possibly optimize this process? And the solution was to give you the opportunity to check all the backlinks you have in one place, which we called the Backlink Audit tool.
And once you set up the Backlink Audit you have backlinks from the SEMrush database, your Google Search Console, and any other third party data providers in one table.
All of the backlinks will be automatically merged and analyzed for more than 60 toxicity markers. You can choose to reach out to website owners asking them to remove the link, or add it to a Disavow list, if the link seems toxic, or keep the link as it is if it poses no threat to your rankings. But we decided not to stop there and added the option to send emails directly from the SEMrush interface. Add all suspicious links or domains to the Remove list and start outreaching; Backlink Audit will automatically track the progress for you.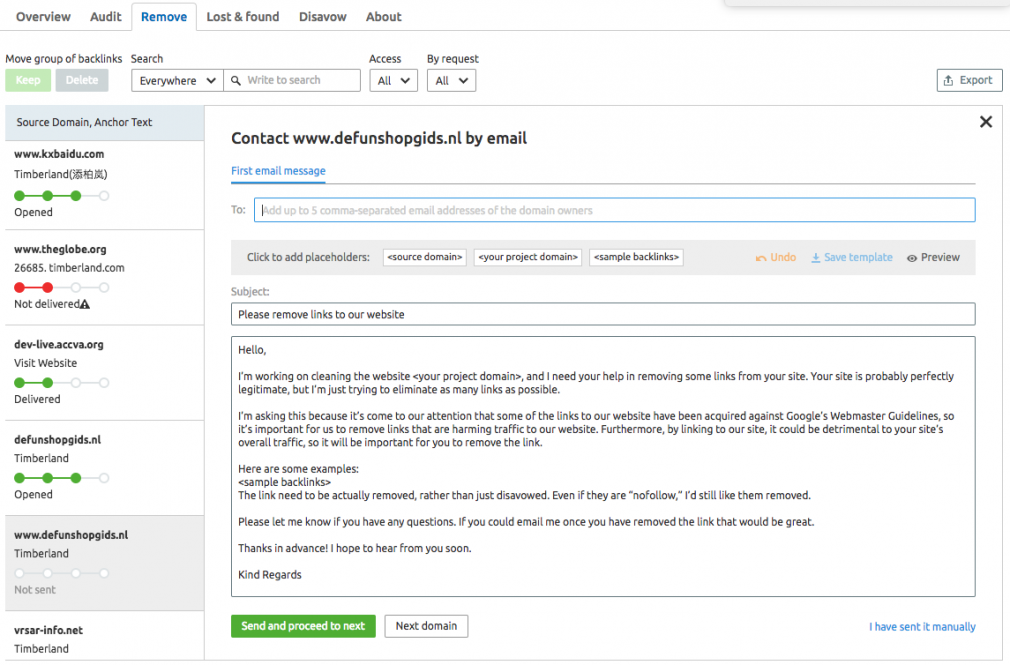 I personally like this template as a polite way of contacting website owners, but you can always customize it just the way you want :)
Move #8. Set Up An "Alarm" For the Force Majeure
Even if you regularly check and get rid of unwanted links, there could be cases where you get an unexpected spike in the toxicity level of your backlink profile. In our Backlink Audit Tool you can turn on the notifications that help many users to quickly put a spammer's attack out of action. Try not to miss them in your inbox.
Move #9. Automate Link Building Ideas Search
This one is not actually a 'move', but I want to tell you about our recently launched tool that was designed to accumulate several sure-fire ideas for link building which we gathered from our users. We simply called it the Link Building Tool.
It covers 3 main steps of the link acquisition process: ideas search, outreach, and progress monitoring.
We consider various sources of ideas, including:
Backlinks that your rivals managed to get.

Backlinks that you have lost.

Mentions without any link (which is a great way of earning branded-type anchors).

Automatic searches of good sources using advanced search operators.

Your own ideas manually uploaded into the tool.
To start the research, just click on the setup button in the Link Building widget and enter up to 10 keywords that you wish to earn a higher ranking for. The subsequent outreach targets will be presented based on the backlinks that are helping other websites rank for your target keywords. You can also enter up to 10 competitors and SEMrush will determine which domains have backlinks pointing to your competitors.
As soon as all the ideas are gathered, we automatically estimate the quality of your future links, including potentially dangerous signs of the target website, the amount of traffic this domain gets per month from our Traffic Analytics report, the number of backlinks and referring domains leading to this website, and whether your competitors earned links there or not, just like on the screenshot below.
After exploring and filtering the prospects (by URL type, TLD or keyword), you will be able to send some to the In Progress section and have the others rejected.
But that's not all! You can use a template from our list of the most common link earning scenarios to narrow your targeting: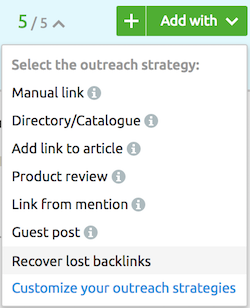 Once you're done analyzing, it's time for you to contact this domain about adding your desired link. SEMrush's automated wizard lets you do this directly from the interface. Just customize one of the provided email templates or save your own for future use.
And the fact that we automatically pull out the contact details of the website for you will save even more of your time.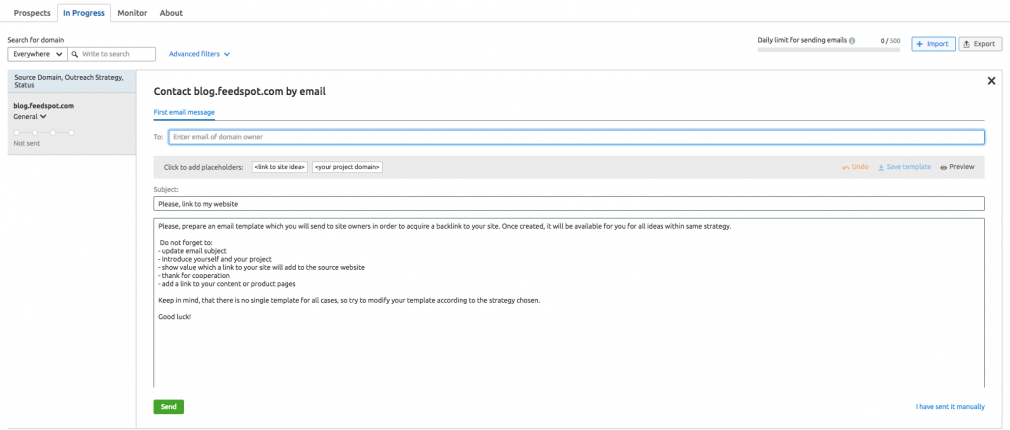 After your email is sent you will be able to monitor the status of your inquiry, knowing whether your email was delivered, replied to or not delivered.
If fortune smiles upon you and you acquire a backlink from one of your prospects, it would be reasonable to keep an eye on it. Send this link to the monitoring section of the Link Building tool to be sure it's not lost or broken.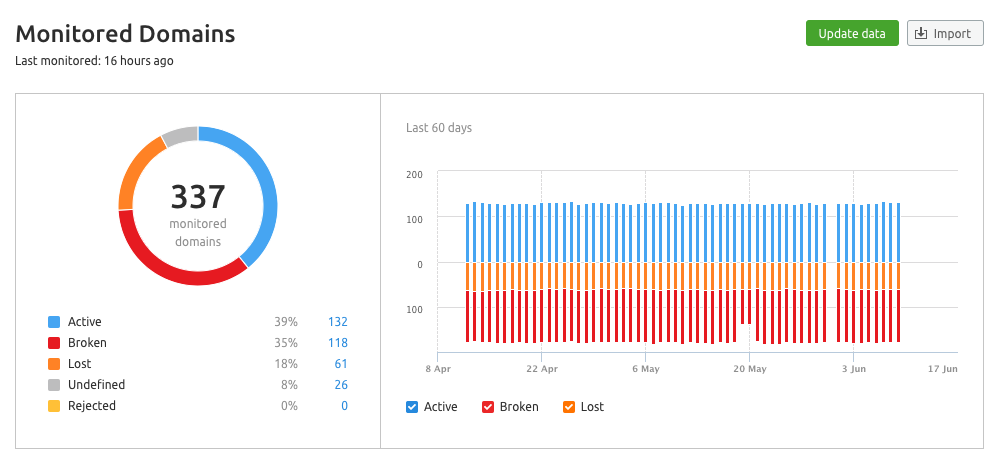 Of course, you'll need to carry out more than just 9 steps to build an effective backlink strategy and even more for successful SEO. But these tips are a great way to start building a strong backlink portfolio for your website!
Maria Raybould
Been there, done that, but nothing excites me more than writing. Slowly but surely grasping the ins and outs of inbound marketing.