We've all been tempted to sign up for LinkedIn Premium. I mean, who doesn't want to have the aesthetically eye-catching open profile and large background photo? However, what's so great about LinkedIn premium other than the logo on the profile?
Here I'm going to look at two types of LinkedIn premium accounts that most marketers and business professionals will make use of: Professional Sales Navigator and Business Plus.
LinkedIn Free User
As a free user on LinkedIn, you are able to view profiles of other LinkedIn members and provide very basic filtered searches. In the past, free users were only able to view up to 100 results and save up to 3 searches. A few months ago, LinkedIn improved their people search experience and allowed users, even those without a Premium account, to view the full names and profiles of anyone first, second and third degree in the network.
Although the search parameters have increased for free users, there is a limit to the amount of searches you're able to make during a month. A progress bar appears to warn you if you're reaching your limit and suggests you sign up for a Premium account.

LinkedIn Premium: Four Types
There's four different types of Premium accounts. They're targeted for specific users and different uses. If you're looking to find a job through LinkedIn, then the Job Seeker account would be best for you. Those looking to find sales opportunities and leads would benefit from Sales Navigator. If you're a hirer or organization looking for talented individuals to join your company, you would prefer Recruiter Lite. Finally, Business Plus is perfect for professionals looking to grow and nurture their professional network.

Of course, if you're a company looking for Premium LinkedIn features for your team, you can also look into their Recruiter Corporate for recruiters and Premium Team for sales professionals. For this blog, we will focus on Premium for individuals. There are generally three types of subscription for individuals looking to get a Premium account.

Open Profile and Messages
LinkedIn's open profile allows other LinkedIn members see the full profiles of other members with Open Profile. In addition, anyone on LinkedIn is able to send you a message without InMail or and Introduction. You can also send Open Profile messages to anyone that has an Open Profile as well. If you want to receive messages from other LinkedIn members through Open Profile, you will need to turn that on as well.
Sending InMails
InMail are messages that can be sent directly to other LinkedIn members, even if you're not connected. InMails are only available for Premium account members and there are limits for each subscription type.
| | |
| --- | --- |
| Subscription Type | Number of InMails |
| Business Plus | 15 per month |
| Professional | 15 per month |
| Recruiter Lite | 30 per month |
According to LinkedIn, InMails are 30% more effective than using regular emails for contact. They're rather different from cold emails. Think of InMails as a community member connecting to another fellow member. They can be seen as less intrusive.
If the user doesn't reply to you within 7 days, then your InMail credit is returned. Best of all, your unused InMails can accumulate over to the next month for up to 90 days.
Get Introduced
Free accounts are only allotted to 5 introductions. Premium accounts, on the other hand, allow you to have from 25 to 35 introductions, based on your subscription type.
Introductions are perfect for professionals with Business Plus plan to get introduced to other individuals through your own LinkedIn connections. It's a great way to meet new professionals online and a higher chance of connectivity, since there is a common relationship.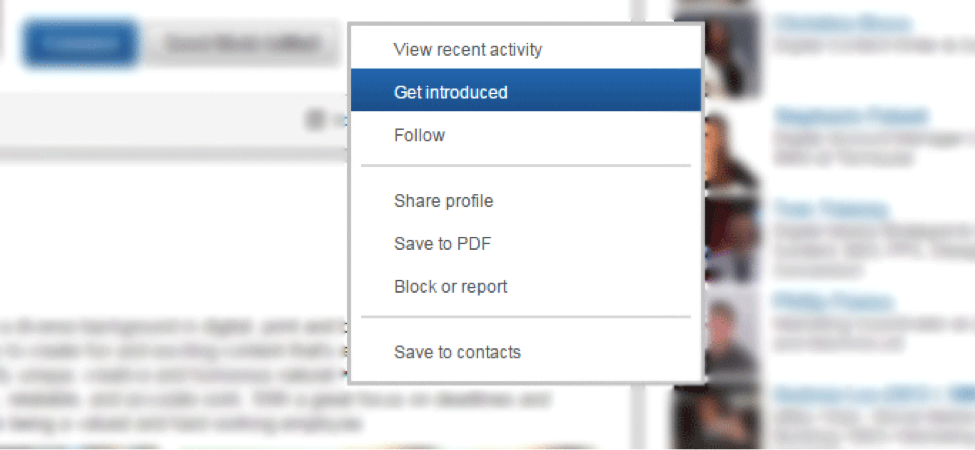 Extended Search Listing
Extended search listings is a great feature that allows you to stand out when users are searching your name or your company. Whenever you appear in a search result, your profile is extended with a few extra lines. It helps to give users searching for specific individuals more information about you, which may encourage them to connect with you.
Search Features
LinkedIn Premium accounts are perfect for business professionals, marketers or anyone looking to find specific individuals through their precise search filters. When you sign up for their Premium account, you have access to the basic features and premium accessible search filters, including groups, seniority level, interested in and company size. Unfortunately, if you're looking to narrow down your search results with years of experience and function, you would have to upgrade your account to a higher package.
This feature is great because it allows you to target search specific people you might be looking for. For example, if you're a recruiter looking to connect with a professional or managerial talent within a large company, you can narrow your search through LinkedIn premium search filters. Although these search filters allow for more precision, it might not be suitable for everyone.
See How You Rank
When you're a Premium user, you get special news feed prompts that encourages you to see how you rank in comparison to your connections. You can see updates on how some of your connections have performed this week.
When you go to how you rank, it provides you with a great overview on your performance based on the last 30 days. Although these statistics are available on your free account, you would not be able to view all the connections listed to see who is ranking better than you in a basis of your connection, company, or professionals like you. These ranking statistics allow you to have a better idea on how you perform in comparison to other professionals and exposes you to potential individuals to connect with.

Who Viewed Your Profile
This is one of my most favourite features of LinkedIn. The ability to see who viewed your profile in the last 90 days and which industry they are in. In a free account, you weren't able to get detailed information on who those individuals are. When you have a Premium account, you're able to see who viewed your account based on where they work and where they live. In fact, you can even see what they're profession is and the industry they're in.

Should I Go Premium?
LinkedIn Premium definitely has great benefits, but they're catered towards specific individuals. If you're a professional like me, just using LinkedIn to connect with other talented individuals in the industry, then these features may not be necessary for you. It's not often that we send messages through LinkedIn or need to filter searches to such definition.
However, if you're looking in a B2B perspective and connecting with individuals in the industry that are sales prospects, then you can consider using LinkedIn Premium to find specific individuals. It allows you to know who has viewed your profile and the opportunity to connect with individuals outside of your connection. Job recruiters can also benefit from LinkedIn Premium to find prospects with their search filters and connect with talents through InMail credits.
Are you using LinkedIn Premium? If so, why do you use it and what do you like most about it? If you've tried LinkedIn Premium and stopped using it, why did you do so? Let us know in the comments!