The nofollow tag was never meant to be applied to editorial links the way it is today.
A decade has passed since nofollow's introduction, and it would seem that through a combination of Google's campaigns against low-quality guest blogging, link spam and 10 years of hearsay, something terrible has happened.
Some people really believe that nofollowing every external link in all blog content on their domain is a good idea. Currently, SEMrush nofollows most external links in a given blog post.
[Ed. note: Links are made nofollow by default, as stated in our Writer Guidelines, but follow links can be created (and have been) at the discretion of the editorial team.]
More macro, does that mean sites that nofollow don't trust many of the sites they link to? What kind of signal does that send to Google?
Nofollow Everything = "Hi Google, We're Just a Spam Site?"
Here's a quote from Tadeusz Szewcyk, over at the Inbound.org conversation happening around this topic:
"IMHO a site adding nofollow to all outgoing links will be discounted as less trustworthy as it does not have editorial oversight and publishes only UGC [User Generated Content] apparently. Otherwise all their links could be paid links aka ads."
It's a reasonable conclusion. After all, the nofollow code was originally meant to combat comment spam. Look at the original post from 2005. It came as a response to an era of intense comment spam that was ruining blogs. The nofollow code was meant to dissuade spammers. So if all of your links are nofollowed, are all of your external links pointing to spam?
I actually disagree with Tad here, though.
I think it's more likely that Google considers ignoring the nofollow tag on your links, if YOUR site's link profile is filled with backlinks from authoritative and trusted places, and Google trusts you … Then they might not trust your nofollow tags on every external link. Do Wikipedia nofollow links pass PageRank?
Perhaps they only pass "topical" PageRank, or trust, or relevancy signals?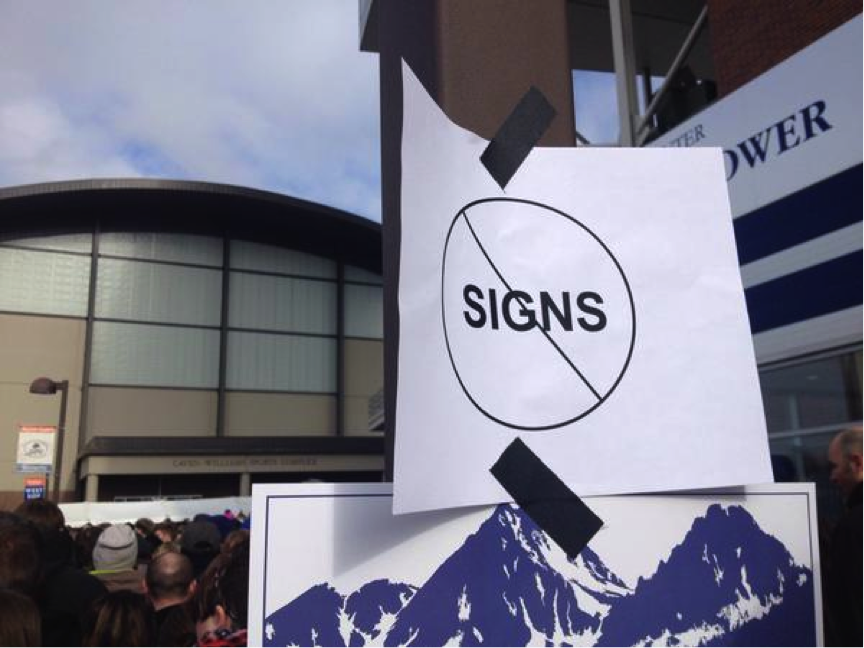 No signs. I'm not a sign, I just look like one. Curse my maker!!! Source: Mike Markley, Twitter
Over time though, the use-cases of nofollow has expanded beyond just comment links. You can find the official documentation here, but of course, statements from Matt Cutts and John Mueller contradict some of the things mentioned in the "official documentation." So, proceed with a questioning mind. Here's my summary:
Forum links - and any other kind of self-submit non-reviewed link on a site, which might encourage spam.
UGC content - For sites with massive amounts of UGC content that can't have every link moderated, the domain gets the capability to say, "We might not trust the links our users can create in content on this site."
Paid links/banner ads/etc. - You can sell links and ads without selling ranking manipulation.
Sitewide links - Because Penguin might eat you up if you get too many. And John Mueller says so ... (i.e. site design by [brand]).
"PageRank Sculpting" - Something that has been long dead, but some people still believe it can be done. The way it once worked is that you could apply nofollow tags to internal or external links that you didn't want to funnel equity to, and "hoard" or direct the link equity to the pages you want with followed links. That's been dead since 2008.
Crawl prioritization - You could toss a nofollow tag on links to your "login" and "terms & conditions" type pages that you don't care to be crawled by Google.
And now … external links in a company's blog.
The thing is, SEMrush isn't alone. There are plenty of other major publications out there nofollowing their external links. eConsultancy is one that nofollows at least all guest blog bio links. Dailymail.co.uk nofollows ALL in content links:
dailymail.co.uk doesn't trust time.com. Hmm.
Google Needs Us to Speak Up
They've got it wrong. We shouldn't succumb to the fear.
I was pleased to see Rand take a stand on this issue. A grand stand by Rand. Rand stand.
.@mattcutts Moz has guest authors on http://t.co/gJTvvU1gi9. We editorially review carefully; do we/the writers need to worry re bio links?

— Rand Fishkin (@randfish) March 27, 2014
A few months later, he came out with this post after a Moz contributor (Scott Wyden) received an unnatural links warning flagging his YouMoz guest contribution in Webmaster Tools:
"Dear Google, Links from YouMoz Don't Violate Your Quality Guidelines"
Good on ya, Rand. Fight the fear!
UGC is a legitimate reason to bulk apply nofollow to a blog, if there is no human filter between users submitting content and having it published. If you have too many users and not enough moderators to vet all of the content and links, using the nofollow tag for all links in UGC content can simplify the situation. Really, this makes the most sense in an application like a public forum.
But in Moz's case, all of their UGC content has to go through the process of editorial review. Which means those links have been vetted by an editor, and approved by the site. Those links should be followed, as they are human-endorsed by the publisher.
This is my argument I'm presenting to SEMrush (and you, dear reader!)
Every guest post on the SEMrush blog is high-quality. They all go through rigorous, manual, human editorial review. The links deserve the endorsement of SEMrush. So why do they do nofollow the majority of links?
Well, during #LinkaratiChat yesterday, the issue of applying nofollow to all external links came up. I mentioned that SEMrush is a prime example of a high quality blog that does this. Afterwards, Kathleen Garvin contacted me. She does blog and community management at SEMrush.
[Ed. note: First and foremost, all editorial policies, ours included, are at the discretion of the editorial team. Twitter screenshots were used with permission.]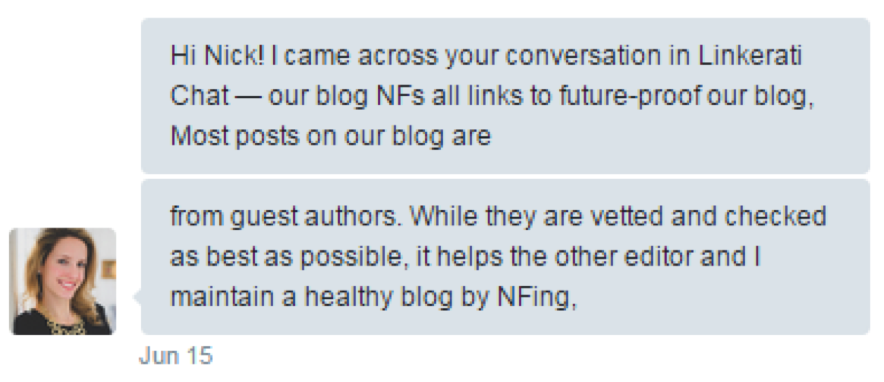 Ah. Future-proofing. Because, Google Fear. That's why Google's PR stunts (like penalizing Doc Sheldon's entire site for a single external link in a guest post) have been labeled as FUD campaigns (fear, uncertainty, and doubt). Read more about Doc Sheldon's penalty at the Inbound.org discussion, if you missed it last March.
SEMrush is afraid of Google doing to them what Google did to Doc.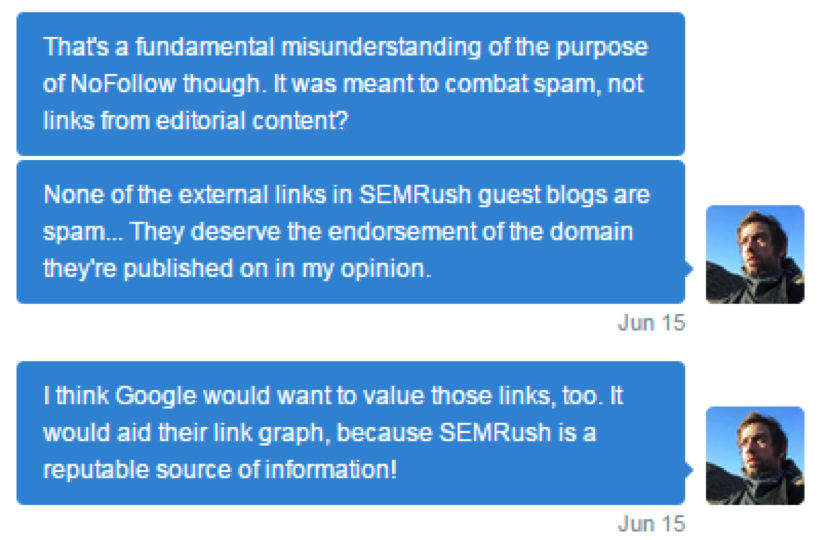 More to come on this.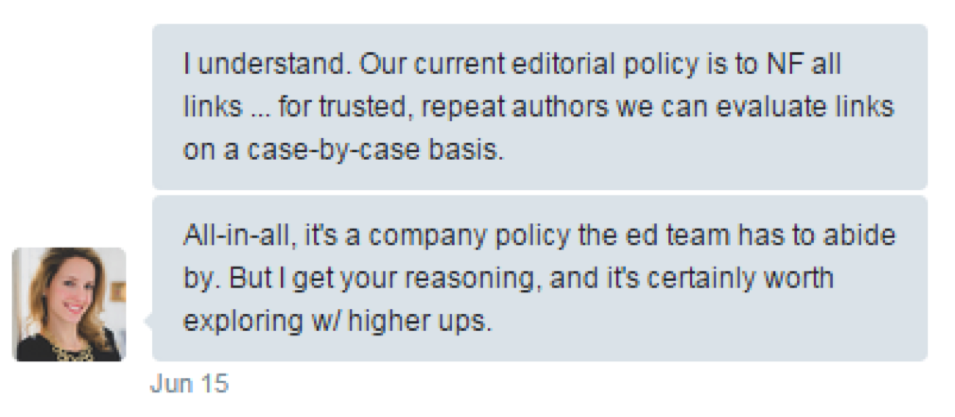 Well, maybe the higher ups will read this blog post.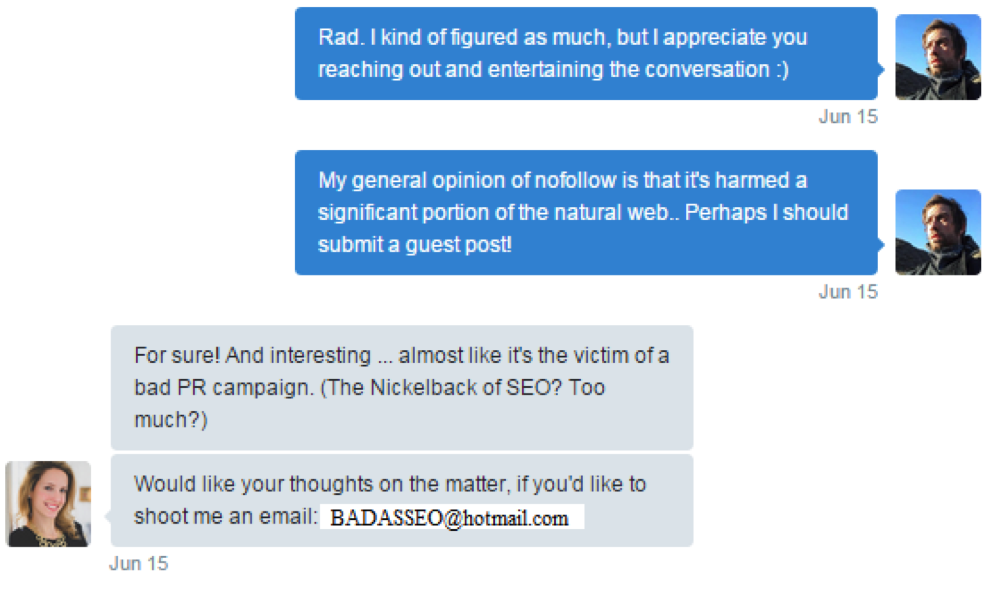 By the way, that is not Kathleen's email address. I used my pro Photoshop (Microsoft Paint) skills to do that. I should go see if that hotmail address is available. "Bad As SEO". SEO is Bad. Bad-A that is.
I agree, though — https://www.semrush.com/blog/does-google-crawl-relnofollow-at-all/ nofollow IS a victim of a bad PR campaign. Google's FUD PR campaign, which has largely been a success. Then again, perhaps it's actually been an utter failure.
TL;DR? The Modern Failure of rel=nofollow
The point of nofollow was to combat spam. Yet now we have entire websites dropping all of their votes from the link graph by tagging every external link as nofollow. That HARMS the natural web. The links from SEMrush would benefit Google's ranking quality — because SEMrush links are exactly what Google based the link graph on: editorial, relevant, human-reviewed links. Links that would be good signals for Google's own search algorithm.
As of June 16, 2015, John Mueller has serendipitously posted a thread on G+ that seems to agree with my sentiments here.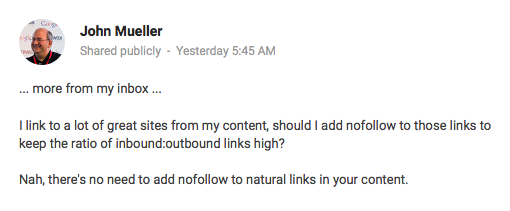 Thank you for reading. I'm happy to discuss any of the points I've made in this piece further in the comments below.
For now, I'd like to conclude with an excerpt from an excellent piece on the same topic, penned by one of my favorite authors in this niche, Dustin Verburg. I recommend reading the whole thing, but here's one of my favorite parts.
Excerpt taken from "Rantin' and Ragin': Baby's First Nofollow Request"
The Super Official History of Nofollow
Back when I was building links for clients, the common idea was that nofollow=bad. Sometimes it happened, though. There's always a human being on the other side of every link, and sometimes that human being decided that a little rel="nofollow" was the way to go and there was no way around it.

Arguments would arise, and I'd always take the position that a nofollow wasn't the end of the world. Someone might actually click that link, right? Especially if it was placed in a non-obnoxious way that made sense. Especially if the content around it was compelling. Especially if it was on a relevant website.

That's the deal with links now, and I think that's one of the best ideas that's risen out of the gigantic mess the SEO industry is currently in. Links are meant to be clicked on, and we should always have that in mind. But god dammit, links still work for search engine rankings too, and that's a fact I don't want to pretend to ignore to look cool in front on my inbound marketing friends.

"I heard you got a good link yesterday, Dustin. I bet a bunch of people clicked it."

"I actually have no idea, but it'll probably help boost some rankings."

"Turn in your badge and Moz login, you're off the force!"
Header image: Canva & Pixabay