We know Google has a lot of information about all of us, but how much?
If you have a gmail account, you can download all of the data Google has associated with it. When I requested my data in October, the zip file was 13.98GB. That's a lot of information.

A study commissioned by an Oracle lobbying group (so, take it with a grain of salt) noted that Google collects two-thirds of its data without any input from users.
For my data in the screenshot above, that would mean Google has more than 41.94GB total to work with. They know a lot about me, places I go to, my spending habits, demographic data, search history, etc.
If you're curious about your own data, check out this step-by-step to get a summary from Google.
This data is absolutely being used for advertising purposes, but surely they have to be using this data at the local level, right?
My personal opinion is Google's goal with local search is to rank what's popular in the offline world in the online world. Have you ever come across a site ranking well locally that you end up scratching your head and wondering why they are ranking?
It's almost guaranteed that if you spend time researching the business (entity), they typically have been in business for a long time and have been actively involved in the local community.
I'm talking about local events (no links, maybe an unstructured citation), community involvement, and deep ties to their local community.
Google has this real-world data on users, why wouldn't they use it to help inform their machine learning models? Here's one patent that could help my opinion:  Ranking Local Businesses Based Upon Quality Measures Including Travel Time by Bill Slawski. Here's a quick breakdown:
Google may look at how long it takes users to get to a place as an indication of the quality of that place. Furthermore, they may look at how many similar businesses one bypasses on the way to their destination as a signal of its quality. Furthermore, this "time investment" metric also plays into their tracking of Google Maps usage and walking/driving/taking public transport would be considered in this time investment as well.
Ok, back to why local links may reign supreme. Is topical link building or local link building better for local search?
For the record, local links ≠ citations or citation building.
January of this year we did some link building testing. We had five different tests, four locations per test, and a control group. When I was measuring the results, I came across a really interesting result.
A test location was ranking No. 1 in the maps for the primary query and had that No. 1 ranking for months, then out of nowhere, dropped to No. 3.
The two competitors that moved up both got a link from a local realtor that launched a brand new website. The new local realtor's site had a DR of 0, DA of 1.
When looking further into the realtor, he had more than 5k likes on his Facebook page and had been working in that community for more than 20 years.
If you looked at the referring domains of the three results, my test had a better link profile if you were looking at third-party metrics. More referring domains. Good use of anchor text. Topical links, etc.
On the Google My Business side, the test had more reviews and a faster review velocity. The content inside of the reviews was rich with great context, too. This single link squashed traditional link building logic. You can poke holes through this single scenario.
I'm not saying topical link building isn't important; it absolutely is if you're working in YMYL categories. But for industries outside of YMYL, your focus should be on building local links.
Scratch that, your focus should be focused on getting involved in the local community.
Before dropping everything and going this route, I think it's a good idea to build out a link benchmark report. You can grab a copy of a sheet I made here. The second sheet has an example I chose, randomly.
A benchmark can help inform you where you might be lacking instead of just blindly going and building links. With more emphasis being put on machine learning and structured data, we need to realize that local links help infer that your website is a legitimate local entity.
Before You Start Building These Links, Do This First
Often, agencies and business owners will just try to find sponsorship opportunities to get in front of their local audience and retain some benefits from a local link. Local sponsorships are a great way to earn local links, build up your local visibility, and get in front of potential customers.
They, more often than not, have more benefits than just a link, including;
Social mentions across their social media channels

Mentions in email newsletters

Event recognition (if applicable)

Get in front of potential customers

Actual local brand building
Do you know what your current customers care about outside of your products and services? Maybe, but probably not. There are several different ways to find out this information, each having its own pros and cons. 
Google Analytics Affinity Categories
Affinity categories will show you what your customers are also interested in besides your type of business. 
To see them, follow these steps:
Log in to analytics.google.com
Click on Audience in the left-hand column
Click on Interests
Click on Affinity Categories
Change your date range from the default 30-day view to either a 6-month or 12-month date range
Here's an example that shows the top 20 Affinity Categories for a small-and-mid-sized business: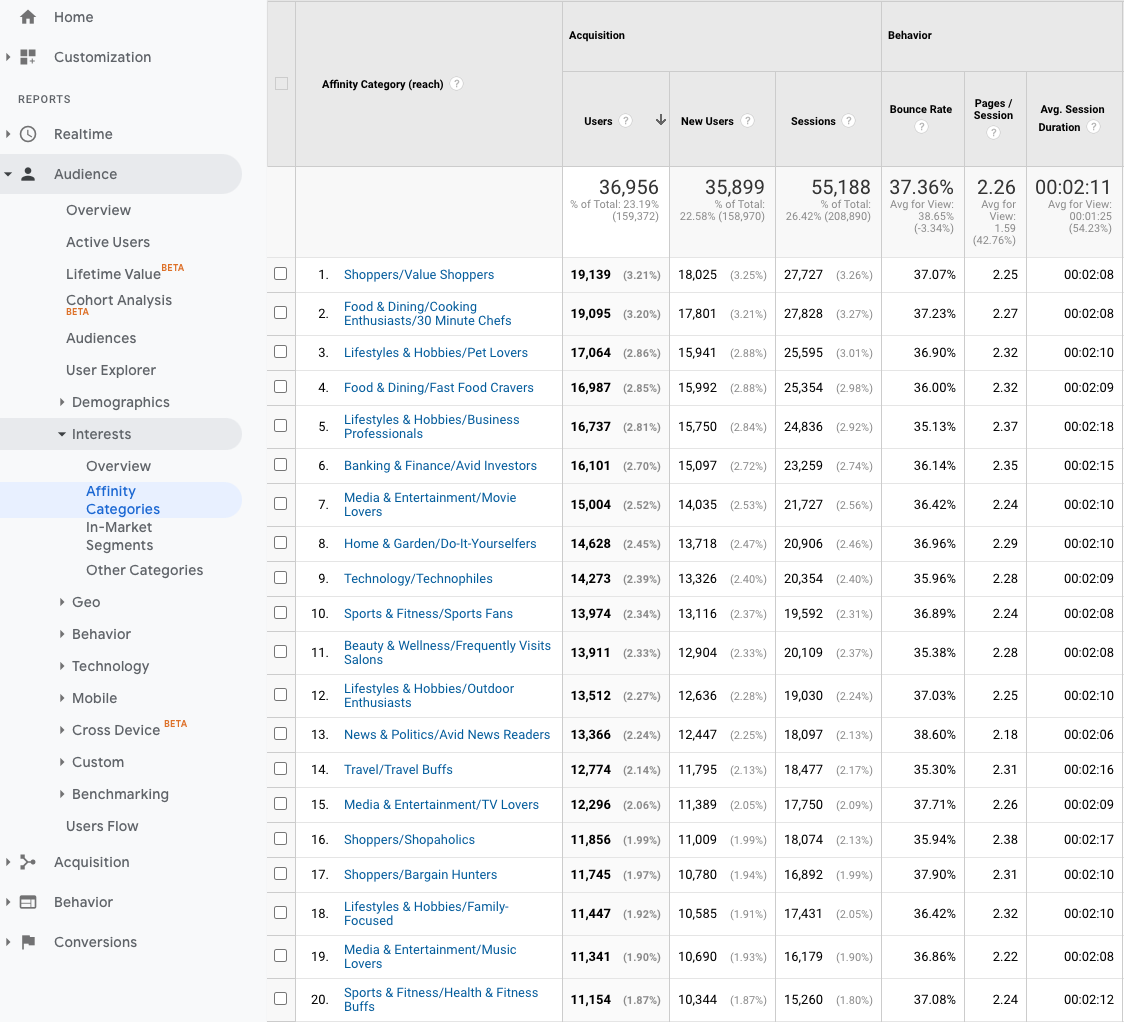 Going through the list, you might be able to pick up some patterns but you'll also find categories that can tie in nicely to local sponsorship opportunities.
Here are a few ideas:
Idea No. 1: The No. 3 Affinity Category is Pet Lovers. Why don't we see if we can work with the local no-kill animal shelter at some capacity?
Idea No. 2: The No. 5 Affinity Category is Business Professionals. Are there any local professional organizations that we could partner with and get in front of their members?
Idea No. 3: The No. 12 Affinity Category is Outdoor Enthusiasts. Any opportunity to find a local or neighborhood beautification project that we could sponsor? 
Customer Surveys
If you have your customer emails in a database or an email marketing solution, using a survey to get feedback might be valuable. However, it's not the easiest way to receive feedback.
You can use a service like SurveyMonkey or Google Forms to conduct these surveys. When conducting a survey, it's better to come into it with your ideas instead of making it a blank slate. 
I would recommend going through your Affinity Categories, coming up with your ideas, then asking your customers what idea they think your business should do. This can help build further brand loyalty because your customers are involved in which way you move forward.
Outreach
Once you look through your own Affinity Categories and find some potential opportunities, next up is reaching out to these organizations and see what the possibilities are. If you go to their website and find that they don't link out to anyone, that's actually good news! 
If you've ever worked with law firms you're familiar with Scholarship Link Building. Colleges across the country list external scholarships on their website, hello PageRank passing .edu links! 
What happened was every agency and their brother caught on to this and started offering scholarships to earn those links. What used to be a dozen or two external links on a college's external scholarships page turned into hundreds of links, massively diluting the benefit of those links. 
My point is, just because (if we use idea No. 1) the local no-kill animal shelter doesn't list any external links does not mean they are not open to it. Simply call and find who the right person to speak to is and propose your idea. More often than not, they're open to it.
Protip: Don't try this with the American Red Cross. Been there, tried it, didn't happen.
Start Building Your Community (and Local Links)
If you are able to work with a local organization that never links out and secure the link, you are the only external link on the website! 
Yeah, sure, there might be other external links but almost guaranteed you will be the only external link in your industry and location.
Begin building a relationship with other organizations in your community and develop brand awareness among the locals, and you'll be on your way to earning some additional attention online (and in-person!)