Normally, domain authority is the key to a high-ranking in Google searches. However, for local results, Google shakes up the rankings in an attempt to give you the best local options.
When Does Google Offer Local Results?
Google reworks searches for local results when your query appears to be asking for a service instead of information.
Here's an example: When I search for "oven repair tips," Google assumes I am looking for advice on how to fix my oven myself. Therefore, results are provided in the typical fashion, based on domain authority and exact keyword match, as you can see in the screenshot below (please note I have cropped out the paid search results at the top of each page).
Now, let's change the search, ever so slightly, to just "oven repair."
As you can see, Google now assumes that you want to find someone who will repair your oven, and reworked the results to better help you meet that search criteria. You don't need to type in "Chicago oven repair." Google automatically uses your location to give you those localized results.
You will also notice that the top result after the "Google reviews" section, Chicago Appliance Repair Doctor, has an extremely low domain authority of 12. This would normally spell doom in search rankings, but Google has moved it to the top of the rankings because Google sees this result as being among the most relevant and useful to the searcher.
Most local businesses are not going to have a high enough domain authority to compete in a standard Google search. Google addresses this in two ways:
Google offers local results based on Google reviews. This lets Google integrate G+ pages into search results and also offers searchers an idea of the most trusted businesses in their area. Here are results when I search for "auto repair."

Below this section are the other top results — websites that have optimized for a locational keyword. If you look at these results, you see that the majority of them have optimized around location (Chicago in this case) in their meta titles.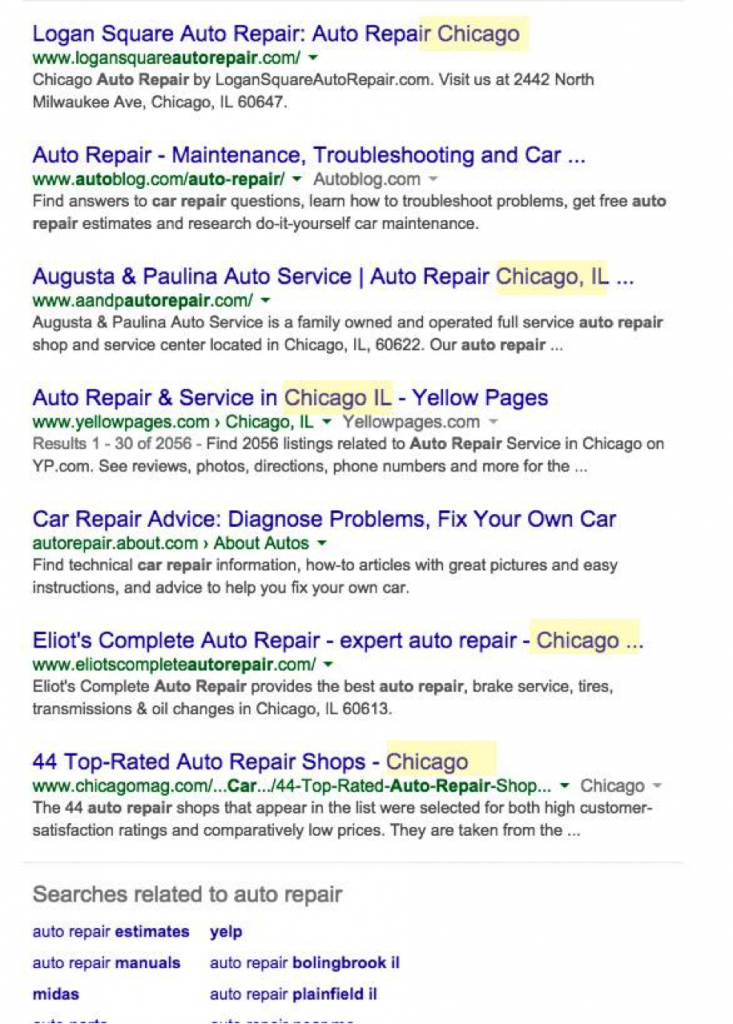 I have heard it said that you do not need to optimize around location anymore, because Google knows where your business is. Judging by these results, however, I would say that businesses that optimize around location in meta titles are still winning in local search results.
Why rely on Google knowing where your business is located if you can give them an easy helping hand?
How to Optimize Your Site for Local Search
Start by including your location in your site's meta content. If possible, also add it to the H1 on your homepage.
On the Imagination homepage, pictured below, I have used the H1 to not only describe what we do, but also where we are: "A Chicago-based content marketing agency for thought leaders."
The meta title for this page also reads, "Content Marketing Agency in Chicago."
On the careers page, rather than using the standard meta title "Careers | Imagination," I used "Content Marketing Careers in Chicago | Imagination."
This reinforces our location for Google and helps focus results for job searchers in the Chicago area.
With that said, here are the three tips for winning at local search:
Your home page H1 and meta title should explicitly describe what your company does and where you are located (if you have a local presence). That way both visitors and Google know exactly who you are and what you do.This may sound like common sense, but many companies — large and small — fail to use H1s and meta content to drive local traffic. As I noted in this post, Radio Shack (before their demise) did not rank in my local search (or in the top 50 nationwide) for "electronics stores." Their meta title read "Do More Together." This is not the way to optimize for search.
Radio Shack was a nationwide business, but they can still localize for search. Large businesses that have a local presence, such as Best Buy or Lowe's, can accomplish this by creating a webpage on their site for each store. These pages should contain the location of the store and the store's primary business offering in the meta title, meta description and H1, and should have the store's full location in the body of the page. I'd also recommend having a list of the services available at the location in the body text. Big businesses that localize well for search will have a big advantage, because they also typically have high domain authority websites (websites that are viewed as more trustworthy by Google). For example, Home Depot has a domain authority of 88 and ranks at the top of a search for "air conditioner repair" in Chicago.
A Google+ business page is the third essential element of winning in local search. As I mentioned earlier in the piece, Google interrupts the normal flow of search results with the box containing businesses that have received Google reviews. This benefits the customer by helping them make an informed decision about a service provider. It benefits business by rewarding those who have excellent service. It benefits Google by giving people a reason to use Google+. Therefore, you should definitely establish a Google+ business page for your business. If you have a national business, create a G+ page for every location.
Think Globally, Act Locally
If you are a big business, it is extremely helpful to have a localization SEO strategy. If you are a small business, it's essential.
Your meta content is not ad space — it's there to tell Google and readers more about your business. Stop getting cute with your content and start providing real information about who you are and where you can be found.
In addition, start up a Google reviews page and try to get on Yelp. if you are worried about bad reviews, then you have much bigger problems than local search.
Now get out there, get local and beat the competition at the local search game.