We live in a mobile world.
If you have a local business or multiple locations then your online local presence is key to success. 
You cannot ignore Local SEO.
Learning the steps of a local SEO strategy is key. Here is how to make sure people find the right information about your business, no matter which location.
Local SEO Basics: One Page for One Location
I see many multi-location businesses that include all of their information on one master landing page. This is a big mistake for SEO.
You need to create separate, optimized pages for each business location.
These should not be identical. Include:
That location's name, address, and phone number (NAP).

Location-specific content (staff information, testimonials, news, etc.).

Descriptions of where and how to get to your business - including mentions of local landmarks that Google can connect as entities.

Location-specific comments and reviews from customers.

Location-specific Title Tags and Meta Descriptions.

Images from inside your business and the team members that work there.
In order to automate the process and save hours, you can use local citation services to populate databases with all this information for you.
Think of your location pages as microsites that you can expand on to create relevant related content. You can set up your URL structure like this:
www.yourdomain.com/locations/location-a/testimonials

www.yourdomain.com/locations/location-b/testimonials

www.yourdomain.com/locations/location-a/directions
You should also optimize your content, title tags, meta descriptions, etc. with location-specific keywords. Apply a local business schema markup to each page so your business hours and other important information can appear in search results.
Lastly, make sure these pages are discoverable by Google. Google's crawlers aren't always able to find a page that's only available through a search or branch finder on your site.
It is a simple process: once you have created your new landing pages, submit a Sitemap to Google.
You can create one for free using XML Sitemaps. Then in Google Search Console, go to Index > Sitemaps. You will be able to submit a sitemap there. To see how to do this, see this recent video by Google Webmasters (timestamped at 5:15).
Submitting a sitemap makes it easier for Google to find and index pages, and keep up with changes on your website.
Optimize Your Google Business Profile
If you haven't already, sign up for Google Business Profile. Here you will be able to create listings for individual business locations.
Add the URLs for each of your location pages to your business profile.
Follow Google's guidelines to optimize each of your location pages. Guidelines include:
Verify each location

List accurate hours

Add photos

Manage and respond to reviews
Also, keep in mind some important rules about multi-location listings:
Name consistency: The listed names for each of your locations must be consistent (e.g., "The Home Depot" shouldn't be called "Home Depot at Springfield").

Category consistency: All locations should include at least one category that represents the business as a whole (e.g., all "PetSmart" locations would have the category "Pet Supply Store").
However, these rules don't apply if your business locations really do serve very different purposes.
An example of this would be McMenamins. It is a chain of brewpubs in Portland, OR, but some of its locations are also hotels.
Their listings reflect these differences: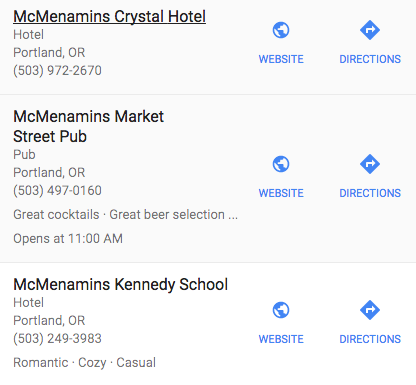 To ensure your GBP listing is perfect, see these mistakes to avoid.
Utilizing Google Business Profile Insights
Google has been working hard in the last year to improve the data that they supply in Google Business Profile Insights. I have been particularly impressed with some of their more recent additions.
The new dashboard gives you valuable data that saves time when you have multiple locations to monitor.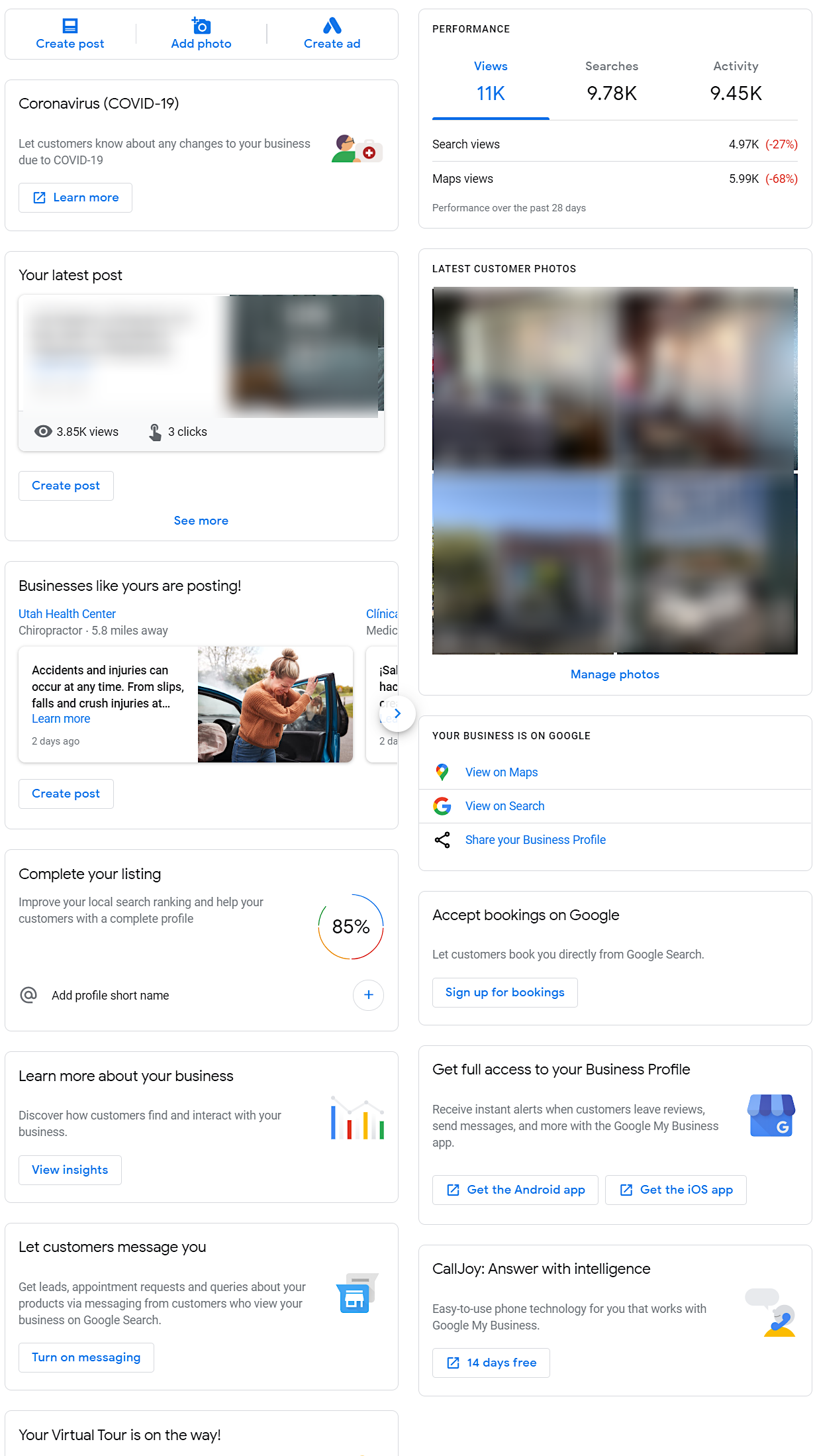 Google has even given us some of our keyword data back recently. Google Business Profile now shows us a month's worth of data on the queries that people used to find our business. In Google's (not provided) world, this can be crucial in informing your Local SEO strategy.
Dig further and you can see data for:
How customers search for your business.

Where customers view your business (listing on search or listing on maps).

Customer actions (visits to your website, direction requests, and phone calls).
Unlike older versions of Google Business Profile, you can now get that data for the last three months.

Want more?
You can always save it into a Google sheet and keep it updated moving forwards.
Manage Your Citations
Multi-location SEO involves managing mentions of your business around the web as well as on-page optimization.
Google looks at how your name, address, and phone number (NAP) appear across the web, with or without links, to determine how to rank your business in local search.
If your listings are inconsistent, it can hurt your SEO.
To prevent this, you need to scour the web and make sure your NAP is consistent for each of your business locations. This includes making sure your business name isn't annotated based on location (e.g., "Home Depot at Springfield").
Look for and fix your business listing on these popular aggregators:
Yelp

Yahoo Local

Bing Places

Foursquare

Yellow Pages
Also, look for any local or industry directories that your business might appear in.
You can use a citation tracking tool like SEMrush's Listing Management Tool to help with this. It searches the web for your business listings and evaluates how accurate they are for you:
You can quickly see where your citations are correct and where there are issues.

You can then dig into your data and see which citations are missing and which need updating.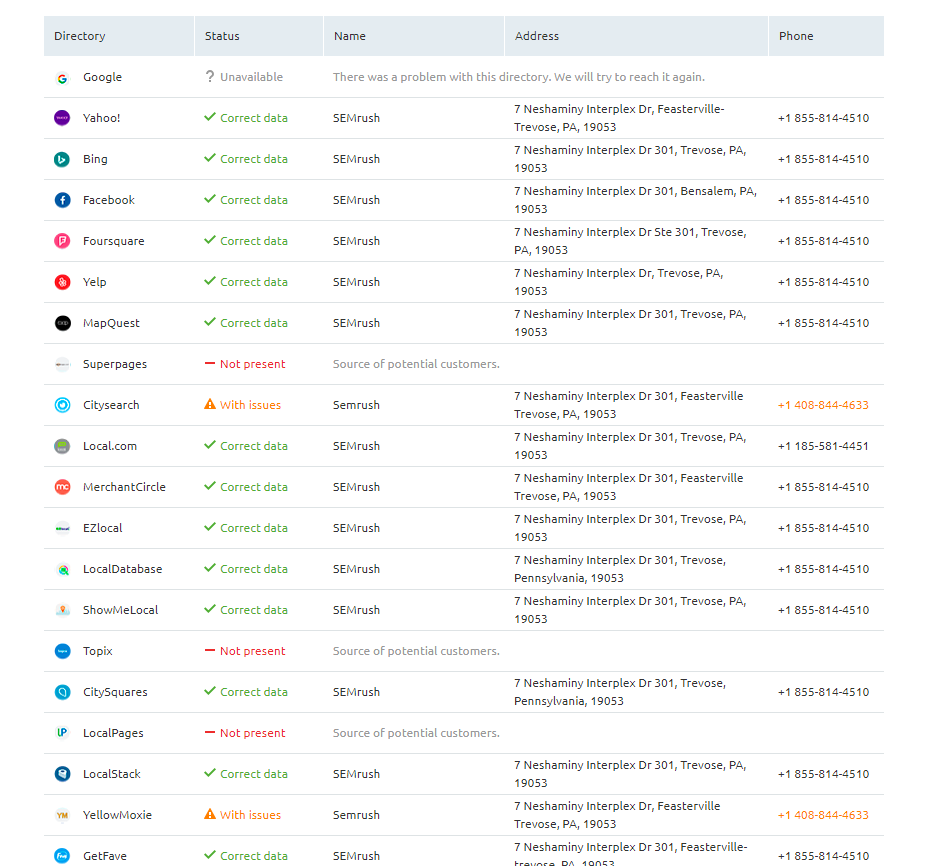 Unless you have an intern trying to keep all of this data up to date, it is going to get expensive. With the SEMrush Listing Management tool, you can have all the data distributed for $20 a month.
This is a small price to pay when Moz reports that NAP consistency is one of the most important aspects of Local SEO.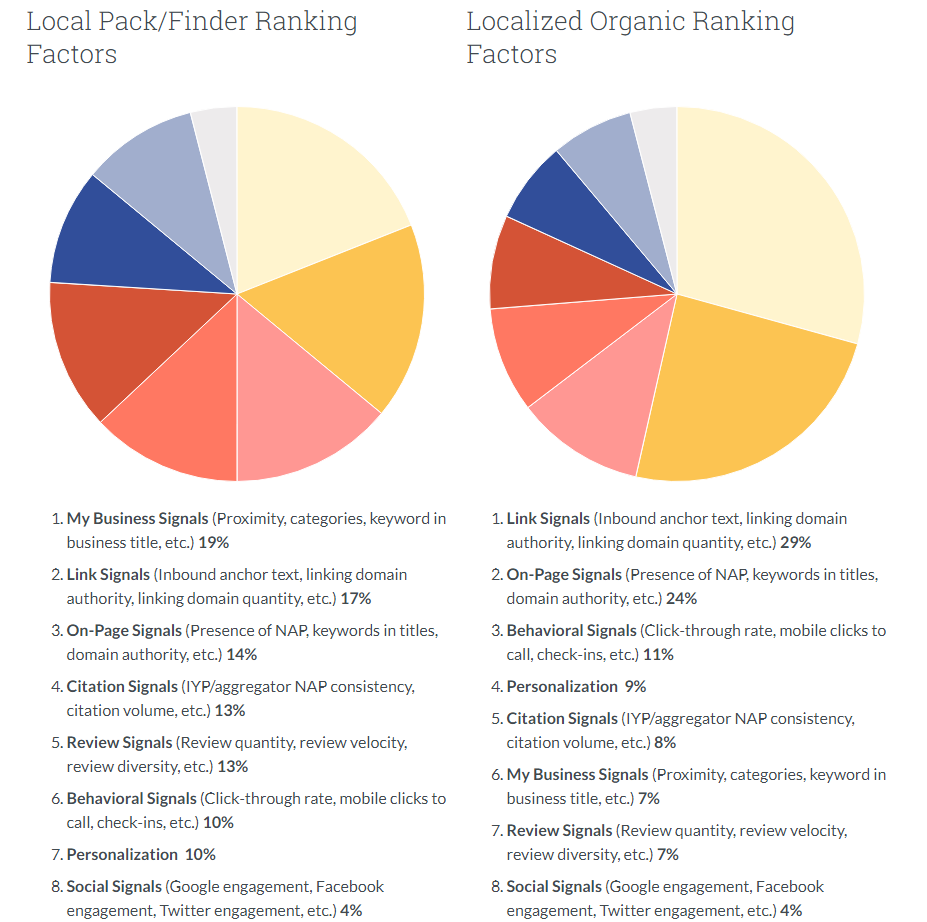 Build Links to Each of Your Location Pages
You probably already know that backlinks pointing at your site are important for SEO. But now that you have many location-specific landing pages, you need to work to improve the PageRank of each of them.
To do this, develop a link-building strategy to focus on each of your pages. Here are a few ideas:
Become a Sponsor
A popular tactic is to sponsor local events or participate in charities. This can help you build local links to your pages from the likes of colleges, event websites, and local news outlets.
Host Events
Hosting events at your business locations is another great way to create a buzz about your business and build links in the process.
Host Meetups
If you want to do something a little less formal, you could host a meetup. It's simple and free to create using a service like Meetup.com
Start Content Marketing
Create valuable local content that people would be interested in reading and sharing. Host a blog on each microsite to attract interest and links, then use email marketing, social media marketing, and paid ads (where appropriate) to disseminate your content.
Content marketing and SEO go hand-in-hand: the more pages of content you have, the more opportunities for link building.
Event Sponsorship
If you have a budget for your Local SEO campaign, you might want to consider local event sponsorship.
This doesn't have to be related to your industry, but it is important that it is local.
Local links aid Local SEO.
Structured Data for Local 
If you have a local business, structured data can be extremely beneficial. It is a language search engines understand. When a Google user does a search for a business in a specific city, they are often provided a Google Map panel with listings, or a carousel of related options. You want your business to show up in these featured areas, and the best way to do that is to use structured data.
Here is a picture Google provided showing how your local business can appear in a search.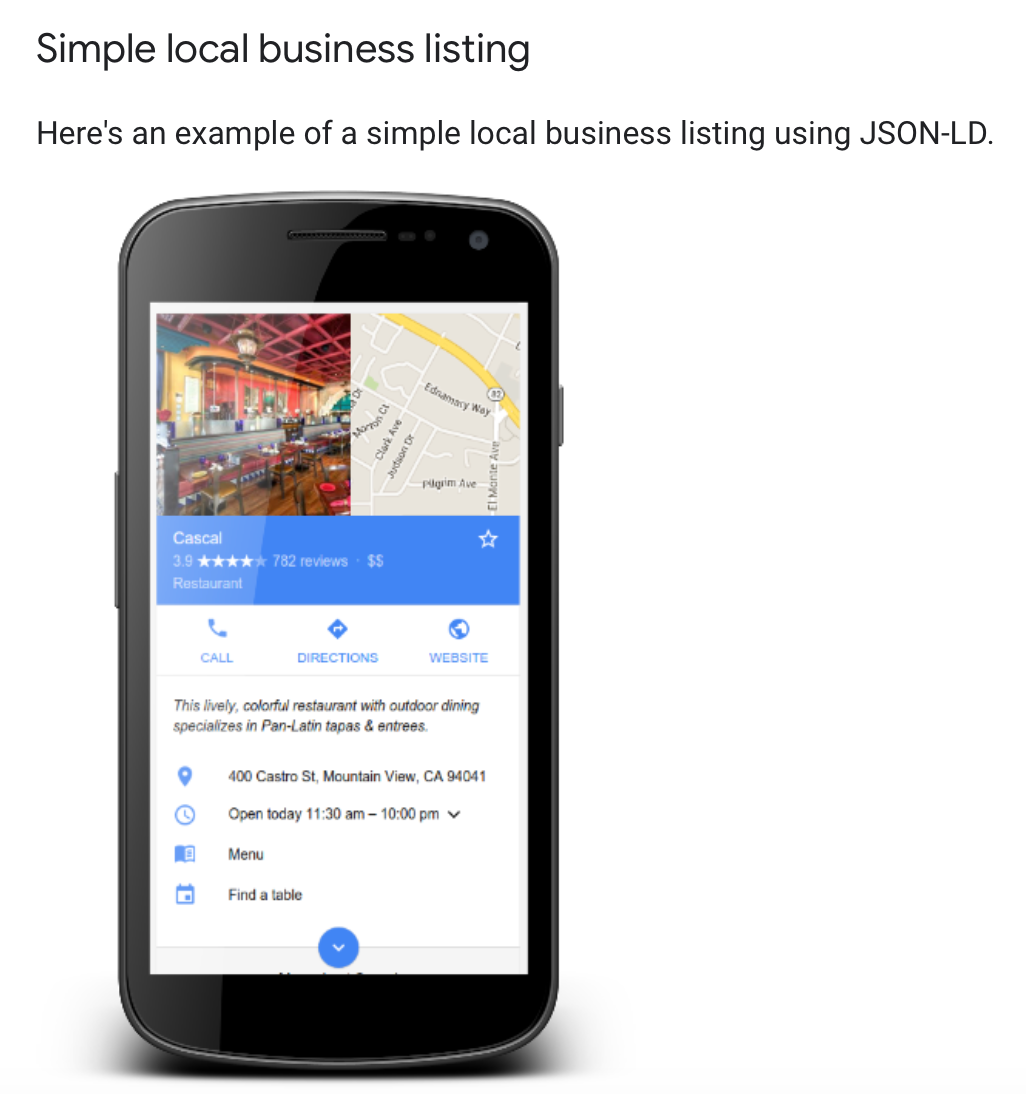 I am not going to break down everything you need to know about schema. However, I will say you need to review schema.org/LocalBusiness. Google recommends that webmasters define each local business location as a Local Business type. Here are some resources to learn about and help you with schema markup:
Manage Reviews
Last but not least, managing reviews for each business location is an important key to success.
Chain businesses often focus on garnering reviews and testimonials for their business overall, forgetting about location-specific feedback.
Ignoring this can break your local SEO.
Google displays reviews right along with your business listing in search results:
If you don't work to encourage positive reviews and do damage control for negative ones, a lot of people will never bother clicking on your business listing.
So how do you deal with bad reviews?
Respond quickly, but make sure you give a considered a calm and professional response.

Make sure you don't blame the customer.

Make sure that the language you use can't be deemed inflammatory.
How do you get good reviews?
Include calls-to-action at your physical business locations and on your location pages to encourage customers to leave reviews.
You could use a widget like the one that Bright Local provides - especially handy if you don't have a developer or the ability to code.
You can even make it easier by creating a QR code for each location's page and displaying it at that location. (Although QR codes have fallen out of popularity! Do this at your own risk.)
When negative reviews do come up, try to resolve the issue and make that customer a happy one.
I won't lie, local SEO for multiple locations can be a lot of work to set up and maintain. But the payoff is worth it – if you take the time to develop an attractive SEO strategy that helps local searchers find exactly what they are looking for.
Is your SEO strategy attracting customers to your multi-location business? Tell us in the comments below.