82% of smartphone users are turning to search engines to identify local businesses, and this is just one reason why it is essential for businesses to nail their local SEO strategy to improve foot traffic that will eventually lead to sales. This post by Paul Paquin offers quick hacks to win at local SEO, but if your site still doesn't rank, then you may be making mistakes that need to be corrected.
To get expert insights on this topic we invited a special guest, Greg Gifford, to join us in our latest #Semrushchat. Greg is a pro at local SEO and has assisted more than 2,000 businesses across the US and Canada to improve their sales. Greg, along with our chat participants, shared some great insights with our community on the usual mistakes with local SEO and how to rectify them. Here is what they had to say:
Q1. What is the biggest mistake you see all the time with local SEO?
With local SEO, it is not just enough to do it — it is important that you do it right! For instance, having reviews about your company on Google gives you a huge local SEO boost, but, if your reviews are fake, this mistake can cost you when you get caught.
Our chat participants also discussed certain mistakes that, according to them, are absolutely unacceptable. Check to see if your business is guilty of any of them:
Content Related Issues
The content you put on your website for local SEO can sabotage your rankings or reduce your store visits if it has these three major flaws:
1. Content that isn't geo-specific — Nearly 2/3 of smartphone users are more likely to buy from stores that customize information to their location. So, ensuring that your content is geo-specific is extremely important.
2. Location keyword stuffing — Inserting a city or pin code in the header or footer is easily picked up by Google's algorithm. It is now more likely to get you a penalty than a boost in ranking. It is also important to remember that the location-specific keywords you target should not include areas you don't serve.
3. Poor quality or unhelpful content — 7 out of 10 customers visit a business or make a purchase based on the information that they find online. If they do not find your content helpful, they probably won't buy from you either.
Inconsistent NAP (Name, Address, Phone Number)
Having your contact details searchable in the SERPs is essential, as most of us know. For local businesses, however, it is even more important to have the same contact information across all directories and platforms. Citations are considered to be one of the most important signals to Google; it shows that your business is authentic and that you are providing accurate information to your users. Inconsistent listings confuse users and search engines, and therefore, trust is lost. 
Not Using Your Location in Keywords at All
As stated earlier, you shouldn't be keyword stuffing with cities all around you, but that doesn't mean you shouldn't use your location in your keywords. Customers are more likely to visit stores near them than those that are farther off. So, just including your location on your website may not be enough. Instead, optimize for keywords like 'Florists in Trevose' rather than just 'Florists.'
Not Claiming Google My Business (GMB)
While most local SEO pros think claiming a GMB listing is an important step in their SEO strategy, a surprising 56% of local retailers have yet to claim their Google my business listing, according to Brandmuscle's State of Local Marketing report. This is a serious oversight in the local SEO efforts.
Not Using Structured Data Effectively
Using schema markup communicates to the search engines where your office is located, which then allows the SERPs to serve the most relevant content to your users. This is especially important for multi-location businesses with a single website, since results will be based on structured data, as opposed to websites.
Not Tracking Attribution and Not Optimizing
Taking advantage of ways to track attribution to find out where your customers come from, and why, will help you to optimize your site's content. This will also give you great insights on your customer's search behavior, thus helping you to identify top performing channels.
Q2. People treat Google Posts like Facebook posts — what are some great examples you have seen of the right way to use them?
Google Posts have more relevance than Facebook posts, especially when it comes to local SEO. By adding Google Posts to your GMB listing, you are allowing Google to auto-populate content from Google Posts to the knowledge panel of your business listing, which is a win-win situation. It also gives your customers the most relevant information about your business, while simultaneously providing your business more ways to engage with the customer.
Greg Gifford, @greggifford said that DealerOn has started using Google Posts for car dealers and has gotten a ton of visibility and click-throughs to their sites, but only if they are done right, like this example that he shared: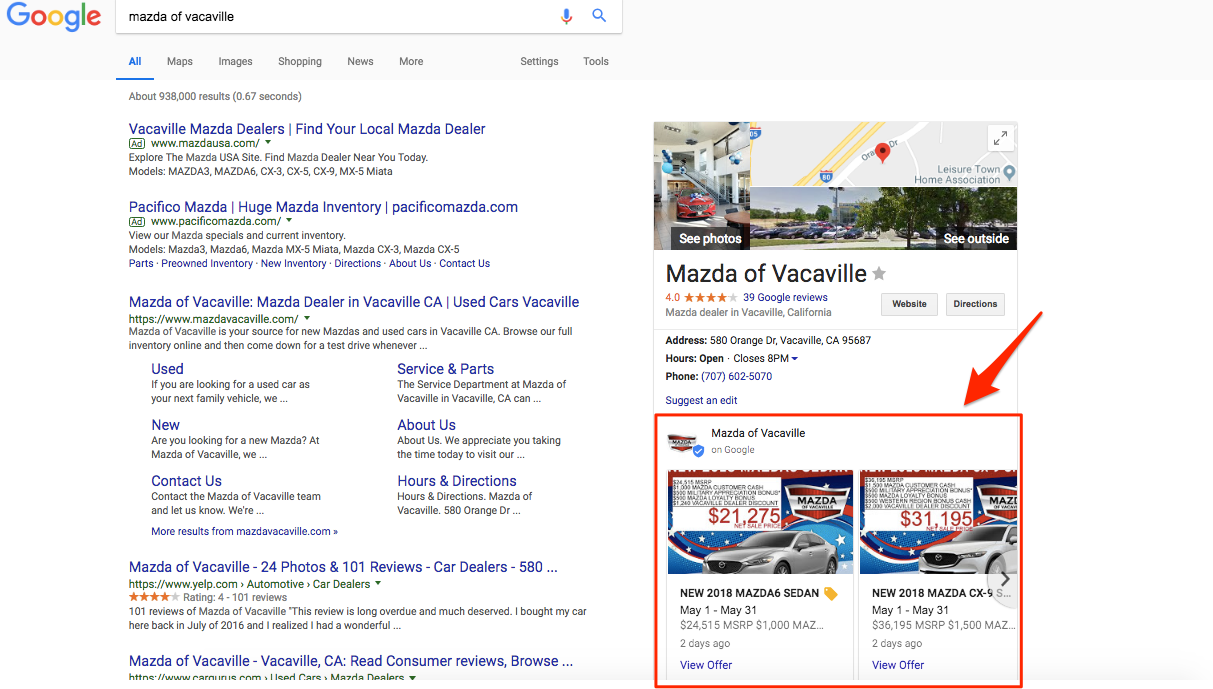 Other chat participants stated that they would use Google Posts to showcase specials and events that are locally relevant.
Similarly, in the hospitality industry and co-working spaces, Google Posts can be used to promote different offices, tours, and events for greater visibility.

Ultimately, the information you share about your local business, regarding products, services or location-specific events creates rich, location-specific meta-data on Google, which automatically gives your local SEO a leg up on your competition. However, as Ashok Sharma, @Ashok83 stated, remember to keep your posts short and to the point.
Q3. Q&A is a minefield that most businesses don't even know about — what should business owners and marketers know about Q&A and how to use it?
The minute you have a GMB listing, your business automatically has a Q&A section that displays on Google Maps. This feature allows anyone to ask and respond to questions in regards to your business. Unfortunately, not many businesses are aware of this feature and even fewer bother to check it regularly.
Here are few reasons why you shouldn't ignore Q&A and how it can be used to help your business:
It Can Help to Build Your Brand Reputation Online
Q&A is a great opportunity to build and maintain your business's brand reputation. Make sure you check your listings every day and respond to questions quickly and politely.
How you respond to these questions can help many future customers make their buying decision. Since the questions are ranked from most recent to older, time is of the essence when you respond.
It Can Help You Control the Conversation
Remember, anyone can post questions on the Q&A section, including you as a business owner. So, if you understand your target audience well, you can control the conversation by posting questions that you think are relevant.
It Can Help You Discover New Content Opportunities
The kind of questions asked can highlight new opportunities for you to write specific content based on the answers to these specific queries. Jim Fuhs, @FuhsionMktg also mentioned that businesses using chatbots can also incorporate these questions for FAQs.
 You Can Use It As An Engagement Channel
By simply making your customers aware of the Q&A section and encouraging them to post questions there, you have a new place to interact and engage with your customers. If you have a set strategy in place for certain questions, you can easily improve the quality of questions and the engagement.
They Can Help You Identify Misplaced User-Reviews
If you don't make checking your Q&A section regularly a thing, you can run the risk of missing out on reviews that a less-than-savvy user has posted.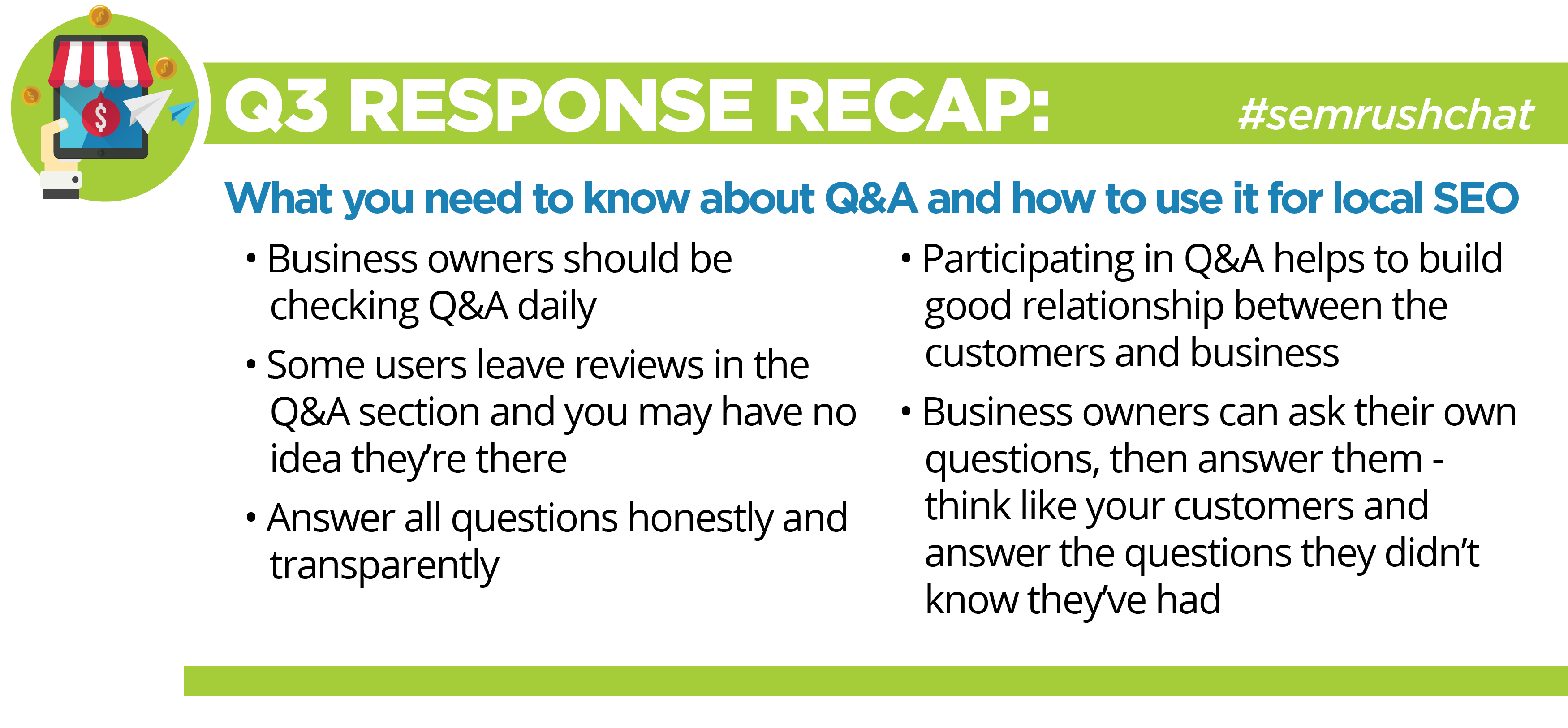 Q4. Clients in the suburbs think they should show up in the map pack for the metro, but marketers know it's not possible — how do you educate your clients so they don't have misaligned expectations?
Many of our participants had dealt with the same exact dilemma:
And, they have had to explain that, due to Google updates, many hacks that have worked in the past simply will not anymore:
However, the popular consensus was that it was easier to explain using an example, similar to this one from James Scroggie, @seoscroggie:
Another tip was to have your clients try out the service results for GMB in a particular area. This can help them to understand that distance is an important factor when it comes to purchase decisions or store visits. Therefore, targeting people who are more likely to buy from them (or use their services), due to proximity, will eventually work better for the business.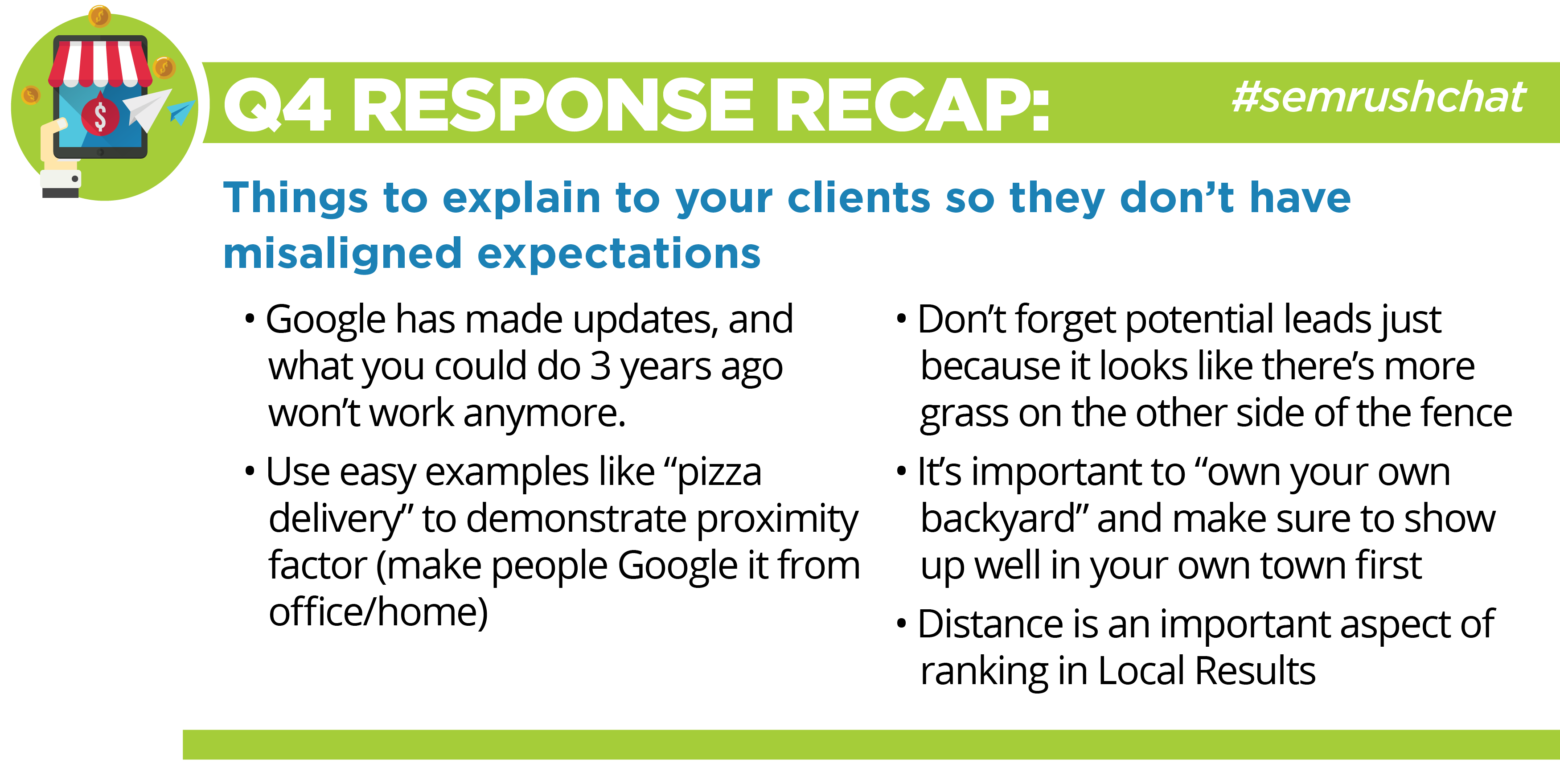 Q5. In Local SEO, keyword rankings are drastically impacted by location and proximity — do you include ranking data in your monthly reports, and if so, how do you do it?
While some of our chat participants stated that keyword rankings are important to highlight in monthly reports, others argued that more important metrics should be reported. Others stated that their report will completely depend upon their client's requirements and/or their business objectives.
Here are some examples of what you could include in your monthly reports:
A list of localized rankings for specific target keywords, including rankings for the keyword/location and a month over month change in the ranking.
Landing pages, top traffic sources, and entry sources.
CPL (Cost Per Lead) from paid channels and the number of incoming calls from GMB metrics can make great supporting numbers to show the impact of your Local SEO efforts.

Identify new keyword opportunities in the Google Search Console and track it back to GMB posts.

A5: No, you shouldn't make keyword ranking a priority in Local SEO, focus on top traffic sources, top landing pages and entry pages. You can use a search term report to build out a content bucket list, but keyword ranking should not be a priority IMO #SEMrushchat

— Danny Ray Lima (@dannyraylima) May 16, 2018
Keep in mind, despite what your reports show, when it comes to local businesses, foot traffic and final sales are ultimately what matters the most.
This is why many of our chat participants prefer to leave local SEO keywords out of their reports. However, here are some pointers to keep in mind for keyword ranking, if you do choose to report on it:
Ranking #1 or #8 does not matter as long as you are getting relevant traffic to your site and people into your store.

A5: I've never liked including ranking data for clients. It doesn't matter if you're ranking #1 or #8, as long as you're getting relevant traffic that is converting on your site. Especially for local since proximity is such a huge factor.
#semrushchat

— James Leisy (@theJimmyB0b) May 16, 2018

Ranking may not always correspond with organic traffic or leads. In fact, you can get great results with local SEO and increase your site traffic, even if a target keyword has dropped in rank.

a5 - plus, you can have a ridiculously awesome report... 50% increase in organic traffic, 100% increase in organic leads... but the client will freak out if they see a keyword dropped 5 positions#semrushchat

— Greg Gifford (@GregGifford) May 16, 2018

Ranking varies from device to device, even in the same location. So, the ranking report may not actually paint an accurate picture.

a5 - someone mentioned earlier that a computer and a phone in the same room often shows different SERPs - so a client-facing ranking report doesn't really paint a true picture#semrushchat

— Greg Gifford (@GregGifford) May 16, 2018

a5 - rank tracking just doesn't work accurately in Local.

We monitor it internally, but sharing it on a report doesn't really mean anything#semrushchat

— Greg Gifford (@GregGifford) May 16, 2018
So, if your client wants you to show keyword rankings in your reports, go ahead and include it in your report. But, you can explain to them that, in the long run, building more local authority and optimizing your business listings are a better use of your time.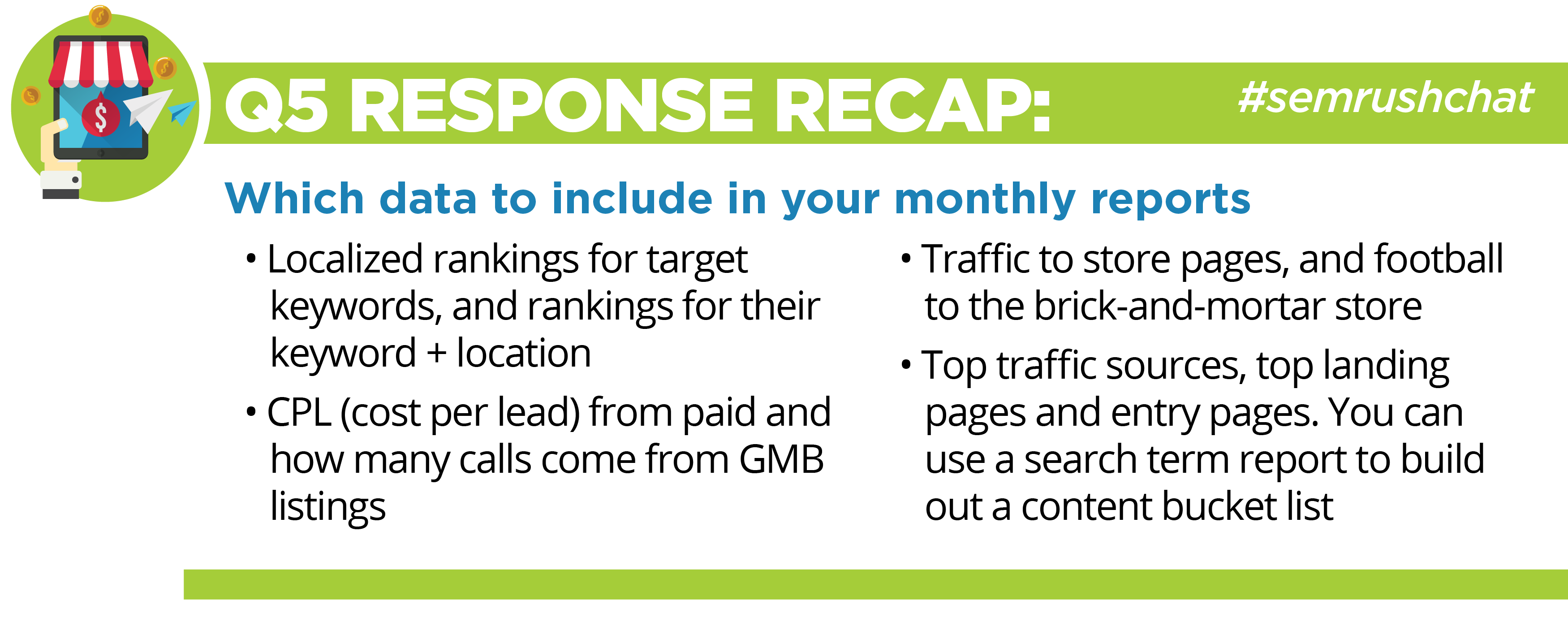 What are the Local SEO problems you face for your business? Let us know in the comments! Make sure you join us this week as we discuss "How Machine Learning is Changing the Content Game Right Now" with special guest, Geoffrey Colon!