What I simultaneously love and hate about digital marketing is its uncertainty. We have a running joke in our agency that the answer to any serious marketing question inevitably starts with "It depends".
As a content marketing agency, every day you manage uncertainty on an operational level. You tweak headlines on your social media posts, change the niches you are targeting, or run a multitude of SEO experiments. You have an idea of what should work, but you don't know. 
The pandemic didn't really change how we do things on a day-to-day level. However, it did bring an additional layer of uncertainty on a strategic level—new risks and new opportunities to watch out for. 
This is a story of how we successfully managed the former while grabbing the latter.
Meeting the Demand and Adjusting to Market Conditions
Before COVID, the future was bright. We were slowly growing and had an open job position that would finally push our number of employees into double digits.
And then the first lockdown happened. Nobody knew what to expect and how long it would last. It was time to sit down and make a plan.
First Point of Order: Customer Retention
In the early days of the pandemic, we published a round-up on adjusting a marketing strategy during a crisis. One of the included tips talked about the importance of customer retention.
At that point, we were mostly running link-building campaigns with a few content marketing projects sprinkled in between. Our personalized, flexible, and transparent approach is hard to replicate, and we were not afraid of clients switching to cheaper alternatives. The fear was that if they had to cut their marketing budget, link building was bound to end up on the chopping block.
Here are some countermeasures we deployed to help existing customers:
offered discounts to clients whose industries have been hit the hardest
kept them apprised about possible workflow changes 
assured them that deliverables will go out as planned (and delivered on that promise)
proactively suggested adjusting their marketing strategy (what to focus on with content, which niches/personas to target, channels to focus on, etc.)
reiterated the full range of services we offer and ways in which we could help them 
The result? We only lost one client. And had a few campaigns paused for a month or two.
Second Point of Order: Pivoting to Growing Niches
While some niches were demolished during lockdowns, others grew. 
Out with the likes of travel, the foodservice industry, event-organizing industry—hello to healthcare, SaaS tools for managing remote work, and the customer service industry. You get the gist.
The goal was to anticipate which industries are poised to grow—and push our customer acquisition efforts in that direction.
Whether you were using social media, sending cold emails, had a fleshed-out PPC funnel, or were focused on converting organic traffic, it didn't take that long to figure out which basket you should put your eggs in.
Third Point of Order: Being Brave Enough to Grow
Early on in the pandemic, we paused any new hirings. However, soon thereafter we were in negotiations with new prospects and some of our existing clients wanted to significantly increase their budgets. 
We were at a crossroads. Is this the time to expand the agency, or should we just play it safe until things settle down? 
Keep in mind that hiring additional staff comes with many overhead expenses—hardware, increased subscription costs for the tools you use, intra-organizational time spent on onboarding, etc. 
The title of this article gives away any suspense about our decision and its consequences. 
What it came down to was this: we believed that we were agile (an advantage every small agency has) and organized enough to quickly adjust to current and future market needs. And that the risk was worth it.
While everything turned out well, the growth was accompanied by its share of challenges. Here's how we overcame them.
Measures You Need to Take to Manage the Growth of Your Digital Agency
The rest of this article will focus on practical tips you can use to manage the growth of your digital agency, regardless of what is happening with the market.
If you are in the position to grow as a small digital agency in a sea filled with bigger fish, you are doing something right. You likely have skilled and creative team members. The challenge is how to transfer those skills and knowledge to new hires. Your expansion is sure to hit a wall if your growth compromises the quality of your services.
Flesh Out Your Onboarding Processes
Point Visible is a content marketing agency with offices in Croatia. There are no universities that teach what we do. There are only a handful of agencies that dabble in the same area. In translation, most of the people we hire have to be taught from scratch. 
This is why we developed a robust onboarding process. Luckily for us, it turned out that having ~10 people is a critical mass that fuels future growth. Only at that point did we have the luxury of dedicating one person to flesh out the onboarding workflow and to spend a third or more of their time mentoring new internet marketing specialists.
Of course, none of that would matter if we didn't pick people who showed creativity, demonstrated the ability to learn quickly, and have a genuine interest in digital marketing. 
Build Up Your Knowledge Library
Various research reports that employees spend 10 to 20% of their time looking for the right document/information. While we can debate the quality of those findings, you just need to review your last work week to realize it is true to some extent.
One solution to that problem is creating an internal knowledge base. It can contain everything from how to create a new workspace in Slack to ways of finding contact information when pitching a guest post, to guidelines for writing for the web. 
It is quite tedious to build one, but it is immensely helpful when it is done. When it is up and running, make sure to include it in your onboarding process.
Two tips for those that decide to pick up this project:
Have one person in charge of creating and maintaining it. It is never a priority, so you need someone that will make sure due dates are being respected.
Take your time to outline the structure of your knowledge base. Based on the tool you are using, it can be cumbersome to rearrange different pages and sections. 
Create Easy-to-Follow SOPs and Checklists
Every business has a unique workflow. Even if you have two agencies following best industry practices, the exact list and order of steps for executing a specific process (i.e. content audit, keyword research) will differ.
Alongside training, standard operating procedures and checklists are the most straightforward way to keep the quality of your output as an agency consistent and at the desired level.
Identify who are the most skilled people in your organization at specific processes. Ask them to outline their workflow in the form of a checklist or a diagram. If needed, they can include screenshots or even record a video.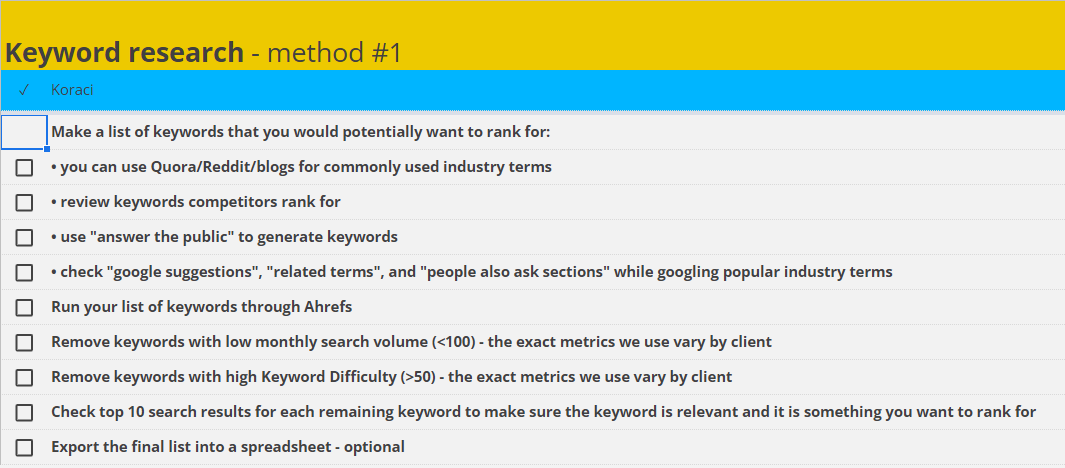 Keep in mind that these checklists serve more as a reminder—people still need to go through proper training/workshops.
Set Up a Clear Hierarchical Structure (with enough flexibility)
When hiring sped up, we quickly realized that we needed to build a clearer hierarchy. Up to that point, we had everyone doing everything.
Everyone had their own project. They had to do niche and target audience research, brainstorm topics, write and send pitches, manage writers, etc. While that worked, it wasn't a good long-term approach. 
People have different skill sets. Some will write 10 interesting topic titles in 15 minutes, others will need an hour to do the same. 
We decided to split people into different teams according to their skills and interests. Every team ended up having its own leader. In essence, these were seeds that were already sprouting into full-fledged departments.
Initially, we tried keeping everything loose to avoid creating a corporate environment. However, at a certain size, you realize that creating official departments is a necessity. It is the most efficient way to move forward. Also, most people feel more comfortable knowing exactly what their duties and responsibilities are. 
We found that even highly creative people don't mind fitting into a hierarchy, as long as you give them enough freedom on an operational level. 
Use Targeted Incentives to Drive Continuous Improvement
As you grow, it gets harder and harder to communicate company values and make sure they are represented on an operational level. 
This is often reflected in the quality of your services. One very effective way to deal with quality issues is to use targeted incentives. 
For example, when we wanted to raise the average quality of our content, we organized a contest where, each month, team members submitted two content pieces they worked on. In this case, the reward was a bonus in their paycheck.
A few months later, we had to switch to a different process because everyone was following best practices and it was hard to decide on a clear winner.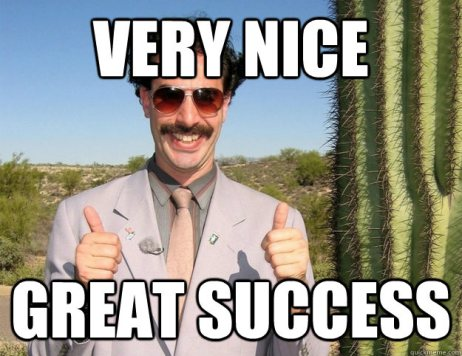 These days, incentives are directed toward people that can find a better way to execute an existing process (or are simply madly productive). For now, it seems like a decent way to work on continuous improvement.
Where Do We Go from Here?
Growing a digital agency comes with a lot of challenges. You need to hire the right people, set up a good onboarding process, give people the right tools, and build a nurturing environment with a clear structure at a strategic level—and enough flexibility on an operational level.
In retrospect, what I think worked incredibly well for us is that we let the growth happen organically. 
The organizational structure was flexible until it became problematic—so it was changed. We intentionally hired at a slower pace, which allowed us to effectively transfer intra-organizational knowledge to new employees. As those capabilities grew, so did our hiring speed.
I hope you will find success following our approach! But not too much, we are still competitors ;)