Whether you're crafting a go-to-market strategy or reevaluating an existing business, conducting a market analysis is at the heart of your future success. We've already covered how to run in-depth research, but you don't always have to bury yourself in complex business and market models to diversify your strategy.
In this post, we'll offer a framework for market analysis that should take no more than an hour. By the end, you'll be able to assess market size and composition, note the most visible trends, and outline the market segments to make future work easier. 
Among other things, these insights can help you persuade investors that you are aware of the environment you are competing in and you are worthy of their consideration.
Start with a Panoramic View of Your Market 
A broad view of your market is the first step of any market analysis. Analyzing the big picture will help you understand market size, market growth trends, potential ROIs, and competition levels. 
As a starting place, Semrush Open .Trends can offer a broad view of any industry or market, in any location. All you need to do is select the industry category and a location. We searched for "Music" in the U.S.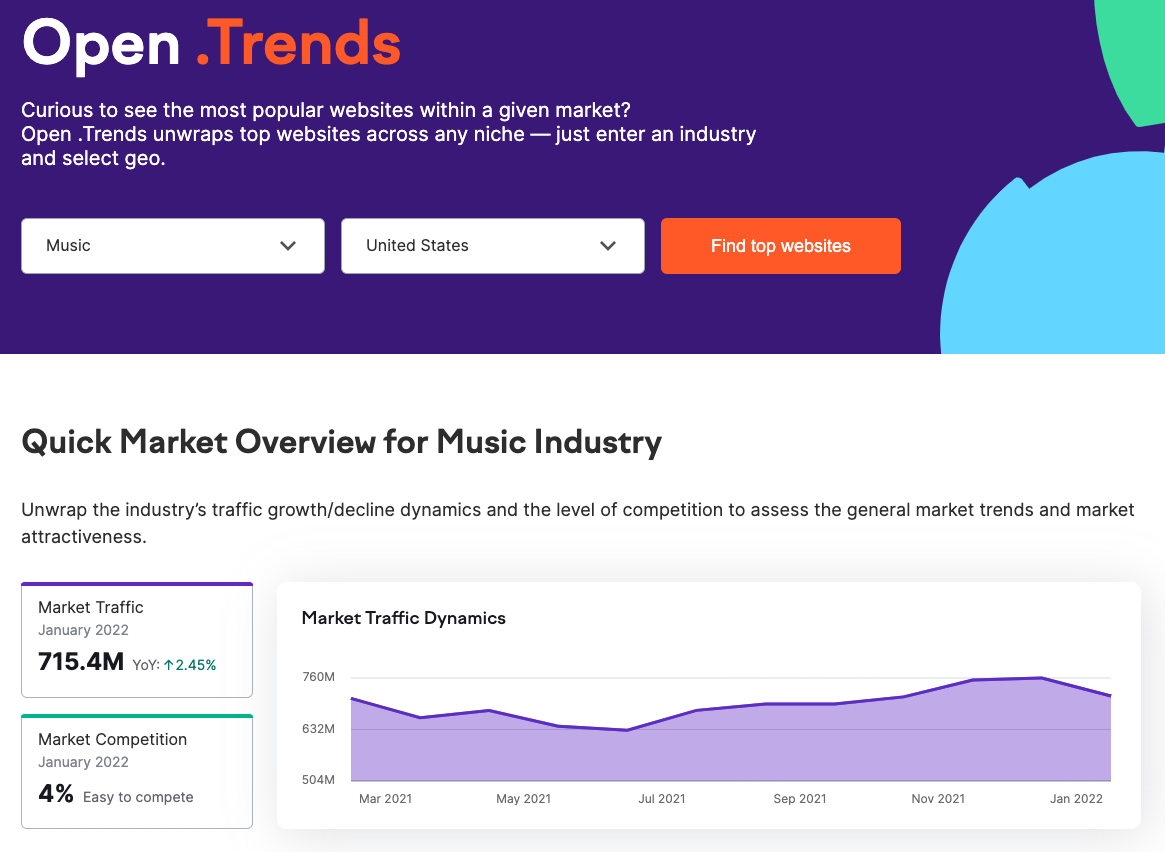 First, you'll discover a quick market overview. This portion of the report shows important market overview data such as: 
Market traffic; including YOY growth 
Market competition levels 
Market traffic dynamics across time 
For the music industry, the monthly traffic for January 2022 was 715.4M with a 2.45% growth in year-over-year traffic. As the Market Traffic Dynamics graph shows, while growth has been relatively slow, it's been steadily increasing over the past year. The competition level sits at 4%, meaning a large number of players each own a small percentage of the market. 
Below this section of the report, you'll discover the top industry websites ranked by the total number of site visits. 

Along with helping you discover the most visited websites, this portion of the Open .Trends report shows a variety of additional data points, including: 
Mobile & desktop traffic shares 
Month-over-month & year-over-year change in traffic (%) 
Main traffic sources (such as search engines or direct) 
Here, we discover the top three websites: spotify.com, ticketmaster.com, and soundcloud.com. Interestingly, each of these websites reflects a different niche within the music industry. In the next section, we'll look more closely at the live music ticket marketplace. 
Clarify Your Broad Market Analysis with Niche Research 
For a more detailed look at the general market, turn to the Market Explorer tool. The tool offers three options for compiling market data: 
Custom List lets you create a custom list by entering specific domains you want to explore. 
Find Competitors lets the tool generate a list of organic competitors for the domain you enter into the search bar. 
Analyze Category allows you to select from 110 business categories and get a wide view of industry data. 
Because we already know what niche we are interested in exploring, and we know the top player in that niche (ticketmaster.com), we selected Find Competitors and let the tool generate our live music ticket market. 

The tool then generates a market summary based on ticketmaster.com's closest competitors. For this summary, Market Explorer gathered data for 30 market domains within the live music ticket market.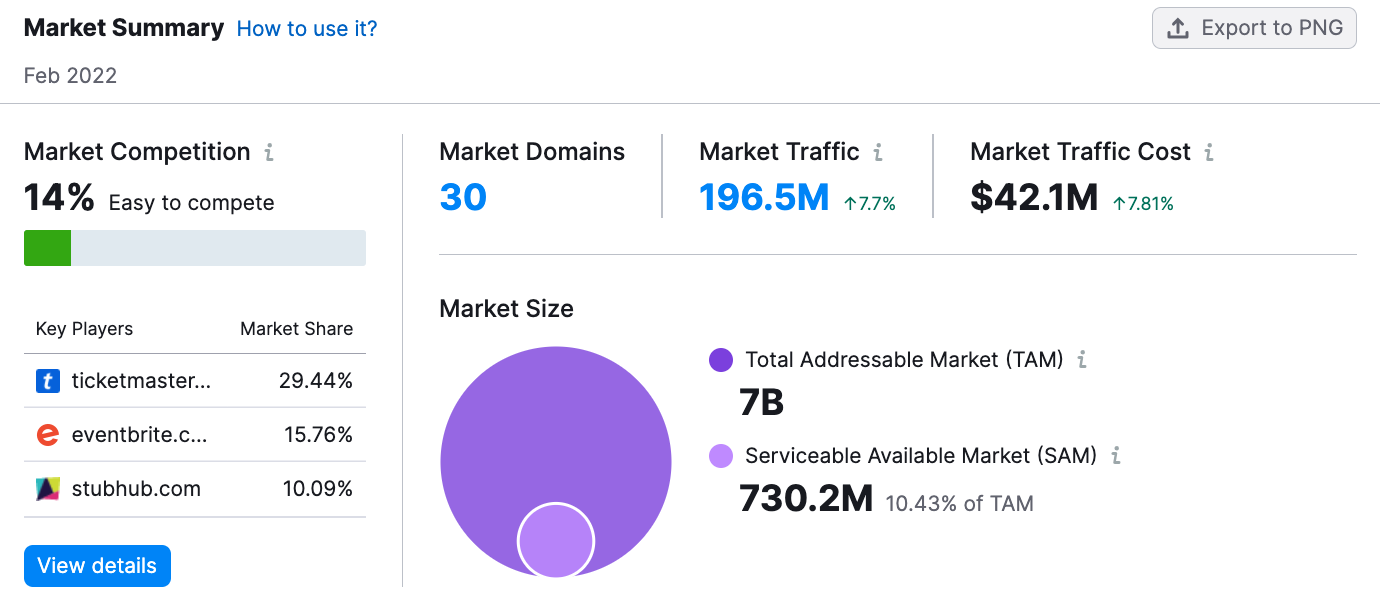 In the Market Summary section of the overview report, you'll discover a ton of information about your market as a whole, including: 
Market Competition–for the ticketing market, competition levels are at 14%, meaning it's easy to compete. This means a large number of competitors each own a relatively similar market share. 
Market share–the portion of web traffic top websites in the industry capture. Second to ticketmaster.com, eventbrite.com and stubhub.com top the chart in terms of market share. 
Market Traffic & Market Traffic Cost–these broad numbers help you understand the size of the market and the cost to rank for market keywords. 
Market Size–the total addressable market (TAM) and Serviceable Available Market (SAM) reflect the amount of demand for products or services within the market and the portion of the market a given business could realistically convert.
You'll notice a few important distinctions as we zoom in on this particular market niche. First, market competition is 14% compared to 4% for the entire market, meaning that the ticket sales niche is slightly more competitive. Also, the market traffic growth is higher than the industry as a whole, suggesting this niche is thriving. 
Now, let's take a look at the Growth Quadrant to get a grasp of the competitive landscape and the changes across time. We chose the top ten players, removed websites that don't specifically sell tickets, and selected Year-over-Year data.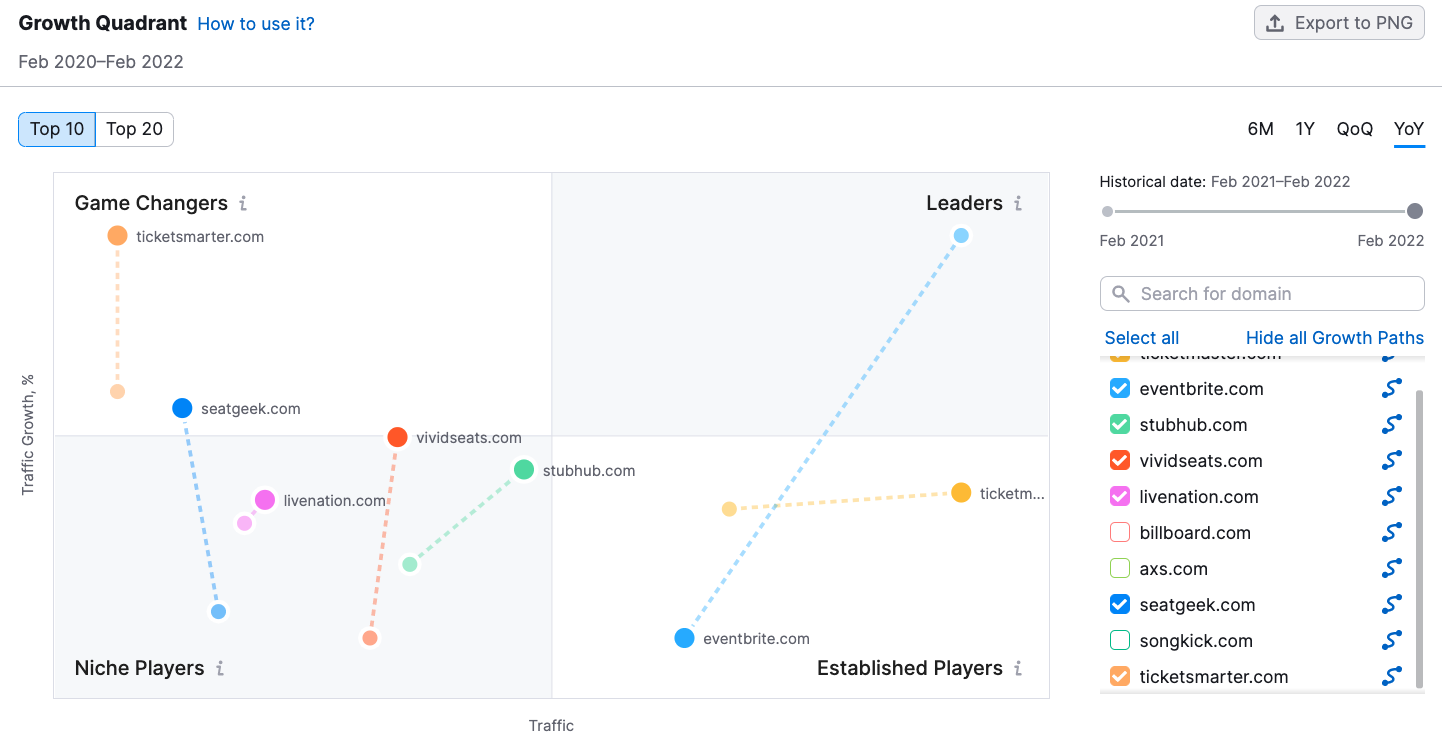 Looking at the competitive landscape over the last year, it's clear this niche is showing signs of growth. Between February 2020 and February 2022, almost all of this niche's main players saw growth in the amount of traffic going to their sites. 
For a look at individual market players, scroll down to the Domain vs. Market Dynamics graph. This widget allows you to select individual websites and compare their traffic dynamics against the market as a whole. 
Comparing individual sites against the market can reveal interesting data and help you a more nuanced view of individual players. 
For example, in the image above we're looking at eventbrite.com. This company is a top player with 31M in monthly traffic. Though comparing their traffic to the market, it's clear they haven't seen the same upswing that other companies have enjoyed. 
Explore Target Customer Demographics 
Now that we've spent a few minutes exploring the market broadly and looking a bit more closely at the potentially most profitable niche, let's consider your target audience in terms of their demographics. 
Broadly speaking, demographics are the characteristics of people within a group such as age, gender, class, and place of origin. Psychographics, on the other hand, are the psychological characteristics of people within a group, such as their desires, values, and lifestyle choices. 
Understanding your customers along these lines can help you in a variety of ways, including things like:
Attracting new customers
Offering current customers what they want 
Communicating with customers in compelling ways 
Market Explorer is a great starting point for understanding your audience. The Demographics report provides a variety of data points including an age and gender breakdown, social media preferences, and audience interests.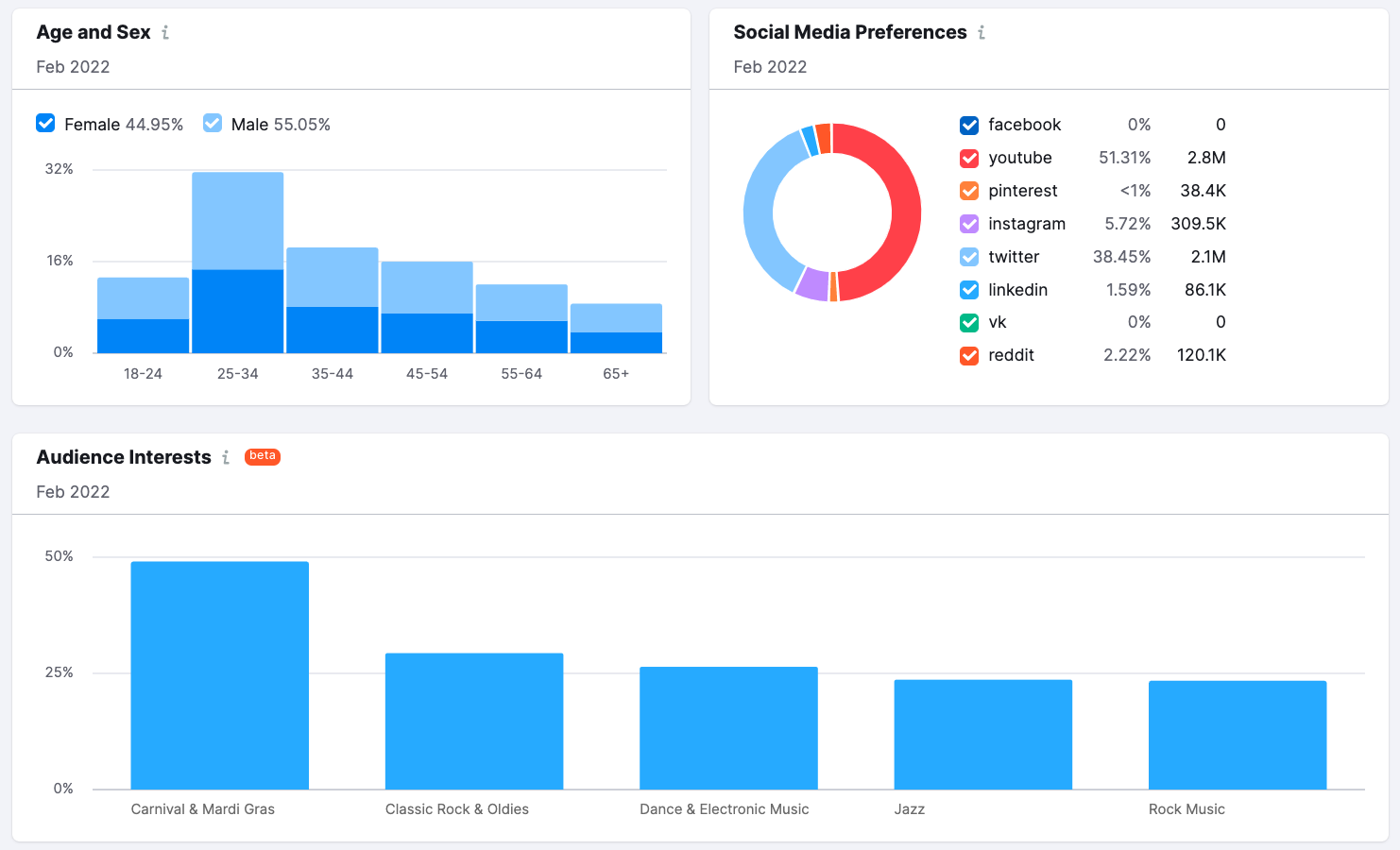 With this report, the audience for our live music ticket market becomes a bit more clear. The largest segment of our market consists of men ages 25-34, they prefer Youtube and Twitter for their social networking, and their interests are strongly related to a few specific kinds of music. 
You can get even more specific with your demographics research by heading over to the Benchmarking report. The Market vs Selected Domains: Audience widget breaks down demographic data for top players in your market. 

As we discovered in the Demographics report, the largest market segment is between the ages of 25-34. This information is reflected in the graph above, but here we can also see the preferred website of this demographic and others. 
For example, eventbrite.com is the most popular site for the 25-35 year old demographic, though it falls in popularity with older crowds as livenation.com and stubhub.com increase in popularity. 
Uncover Market Trends and Popular Products
Understanding your market means understanding what customers desire. You can begin developing a general understanding of customer trends in the market by considering what customers search for on the internet. 
Market Explorer includes a widget that shows the market's top keywords and which sites capture the most traffic based on these keywords. 

Examining the word cloud in this widget can reveal important trends and further reveal customer buying habits. For example, with the music industry, we discover two main kinds of keywords in our market:
keywords for particular artists, such as "bad bunny tickets" or "trippie redd concert" 
keywords based on tickets for concerts in specific locations, such as "concerts near me" or "seattle concerts"
While searches for particular artists make sense, the location based search is a bit more interesting. It reveals that many customers in our audience search for concerts without a particular artist in mind. 
Hopping over to Traffic Analytics, let's take a look at the Top Pages report to see what pages are popular with customers. Here's a look at eventbrite.com's top pages.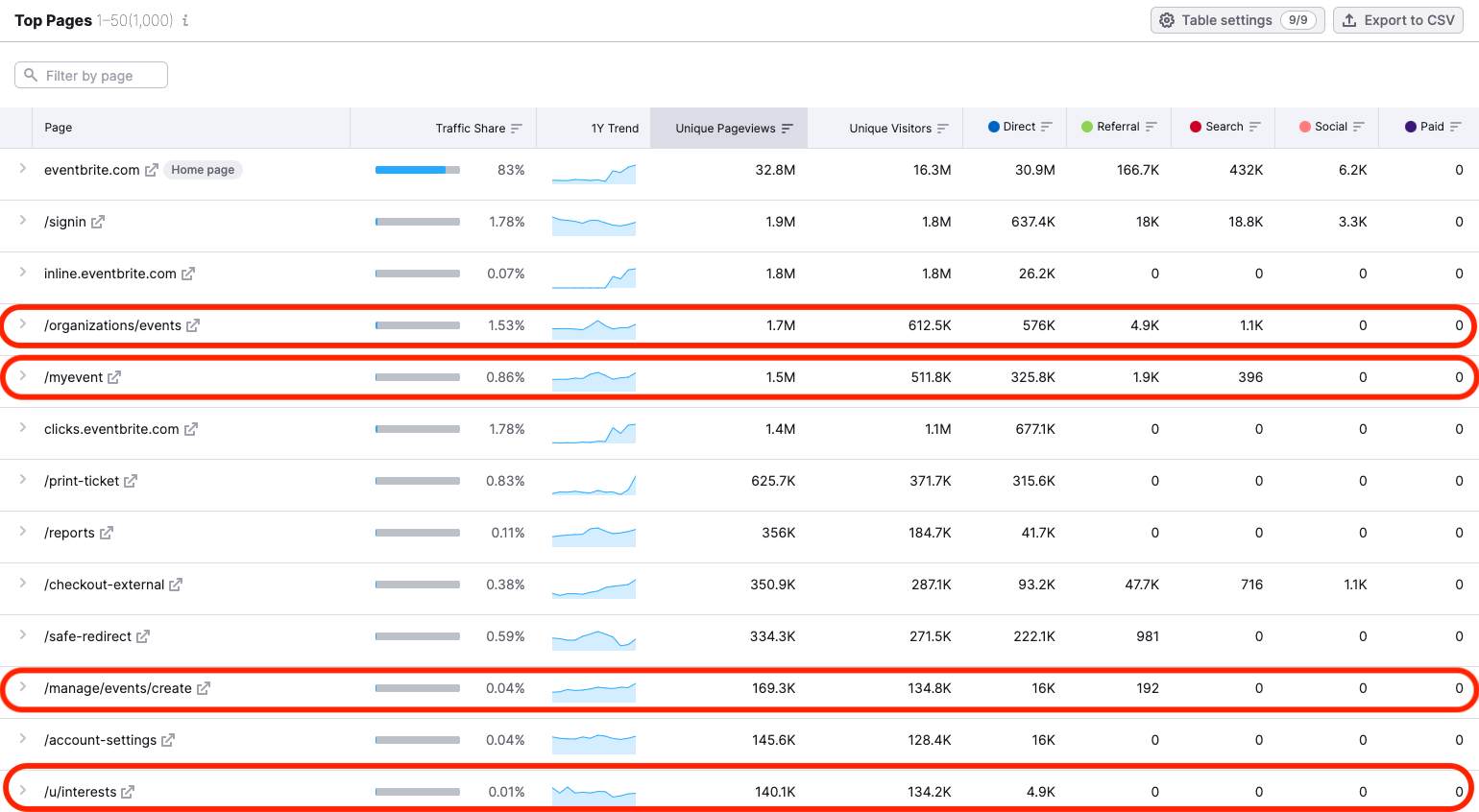 We highlighted a few popular pages that reflect general trends and customer desires for eventbrite.com's visitors. 
Of the top pages shown, a number show a level of personalization that may be a part of Eventbrite's success. On these pages, users can search for events based on their interests and create and manage their own events. 
Here, we've just scratched the surface. Looking at the products and services offered by top competitors in the market, you can develop a sense of what is popular and which way the market may be heading in the future. 
Study Top Traffic Channels Among Market Leaders 
The strategies you employ to enter new markets or capture more market share within your current market depend on various factors. We've already covered a few, including audience demographics and market size and competition levels. For further insights, especially for small businesses, it always helps to analyze top players' marketing strategies. 
The Market Explorer Demographics report is the first place to look for an instant overview of traffic trends. Select up to 5 market players and view their traffic stats alongside the market as a whole. 

You can adjust the graph based on traffic type using the tabs above the graph. Selecting for various kinds of traffic will help you understand how top players execute their strategies. For example, here's a graph looking at paid traffic. 

To the left, notice how paid traffic dropped significantly during 2020, likely due to COVID-19. Later, through 2021, vividseats.com emerged as the leader in terms of paid traffic, defining the market trend moving forward. 
Scrolling down on the Benchmarking report you'll discover the Traffic Generation Strategy and and Social Media Distribution Strategy graphs. They depict monthly traffic by channel. 

Viewing companies alongside one another clarifies their strategies. For example, Seatgeek stands out on their search traffic, denoted in red on their bar. 
To replicate this success, you'll need to develop vital SEO skills, learn about how search engines work, and understand keyword research. But SEO and Semrush go hand in hand, so we've got you covered with plenty of extra tools. Either way, we may want to analyze their traffic and search ranking later. 
Now You Know How to Make a Market Analysis… What's next? 
The process we've described in this post is a great way to use Semrush for market research and begin your journey towards entering uncharted territories and pinpointing your market potential. 
Once you discover industry growth, increasing audience demand, and real potential to compete against the top players, you can justify a greater investment of resources into running in-depth market research and more extensive competitive analysis.