There's good chance you have a messaging app or two on your smartphone, and so does a large part of the world's population. Almost 3 billion people use messengers, which already surpasses the number of social network users. No wonder modern messengers are already evolving into something more than a means of communication. Most of them already have platforms for brands to interact with their customers.
Let's see how brands can engage their audience on Viber, Telegram, and Messenger.
Viber
Viber has more than 800 million active users. Here's a list of all the marketing tools it has to offer.
Public Chats
Public Chats on Viber may look like a typical news feed in a social network, or like a chat you can read, but not write to. Chat followers can like submissions and also message the public accounts responsible for the chat.
Public Chats are used by media outlets (Mashable, The Weather Channel, Huffington Post), non-profits (WWF Malaysia), and social media influencers (Tyler Oakley). Some companies prefer to make their public chats a "window to their backstage" while the others opt to post their latest updates—articles, promos and discounts.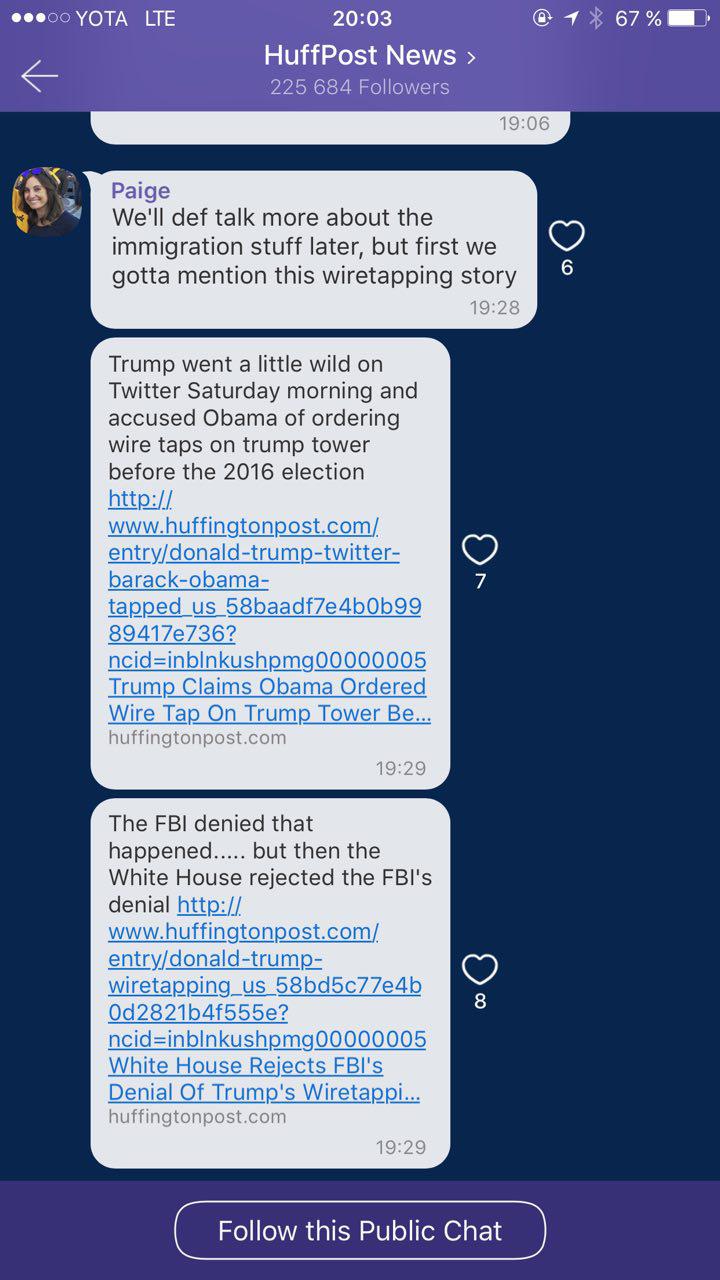 Huffington Post News public chat
Who will benefit: media projects and brands that are fond of revealing their backstage processes, and those that produce a lot of content.
If you want to benefit from using a Public Chat for marketing, but have little time to create content for yet another social network, try posting the same content to Twitter and Viber. Social media management tools such as Amplifr allow you to do just that with a single click, using Viber's Public chat API for your post.
Public Account
Public accounts are the verified business accounts that Viber users can message. Users can send text messages, pictures and stickers, and share their location with brand representatives. These accounts are great for providing additional customer support.
A public account can also be a bot, like this one by Huffington Post Entertainment which can help you choose what to watch on Netflix.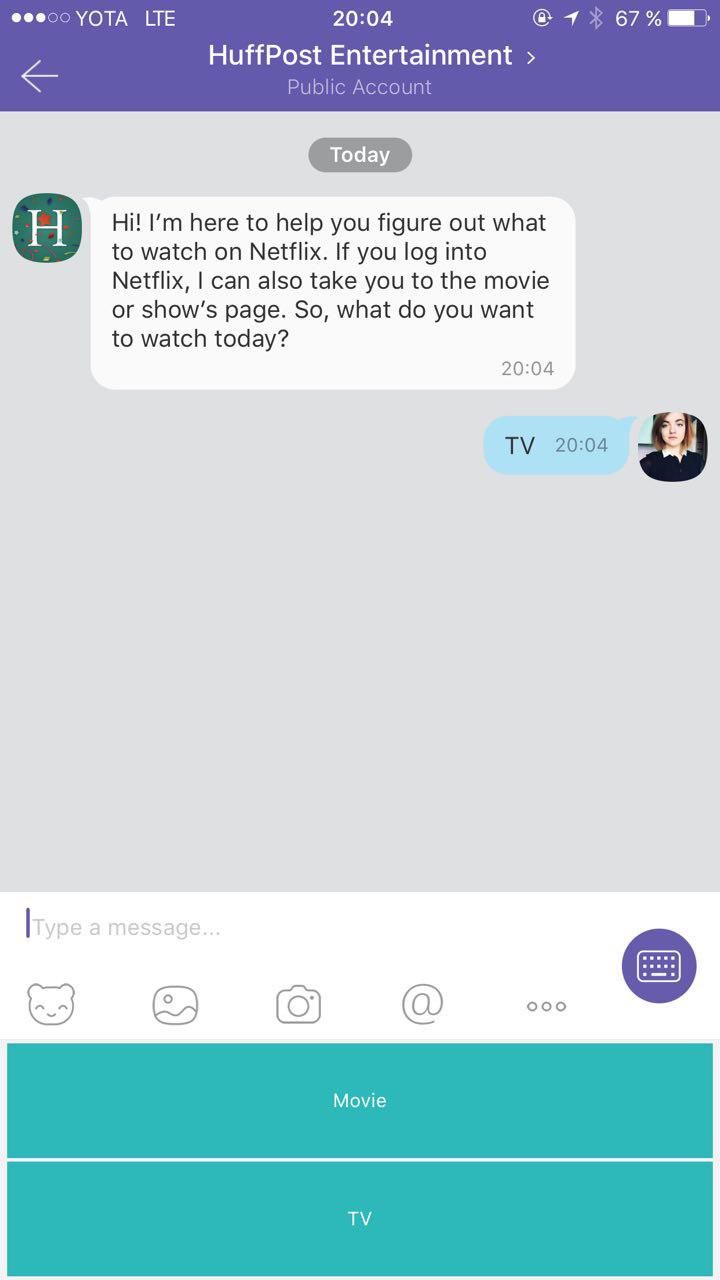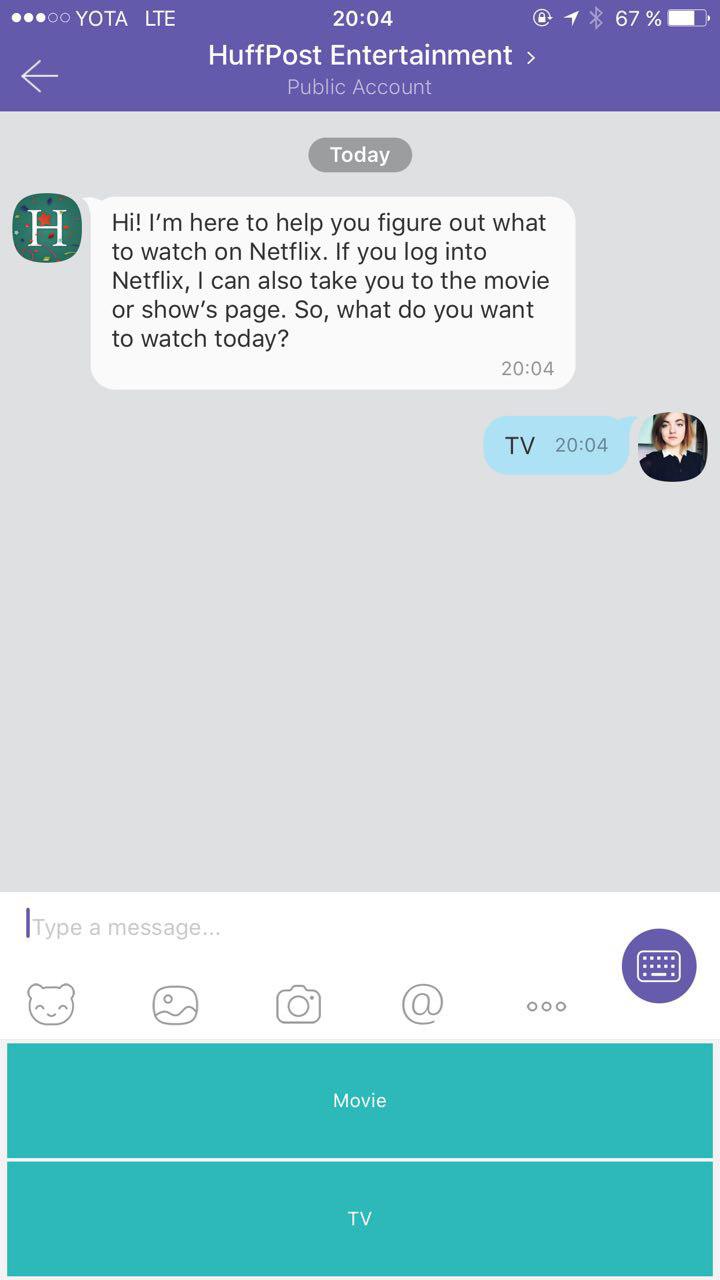 Who will benefit: businesses that need to provide a lot of customer support: retail, e-commerce, banks, airlines, media projects.
Promotional Stickers
Viber users adore stickers. Brands take advantage of that by rolling out branded sticker packs. On Viber, if a user downloads a branded pack, they are automatically subscribed to that brand's public chat, or the public account is added to their contact list. This is perfect for getting users to join your Public Chat. A decent branded sticker pack may work miracles for your brand recognition. Make sure you have some decent ideas and a good illustrator, though.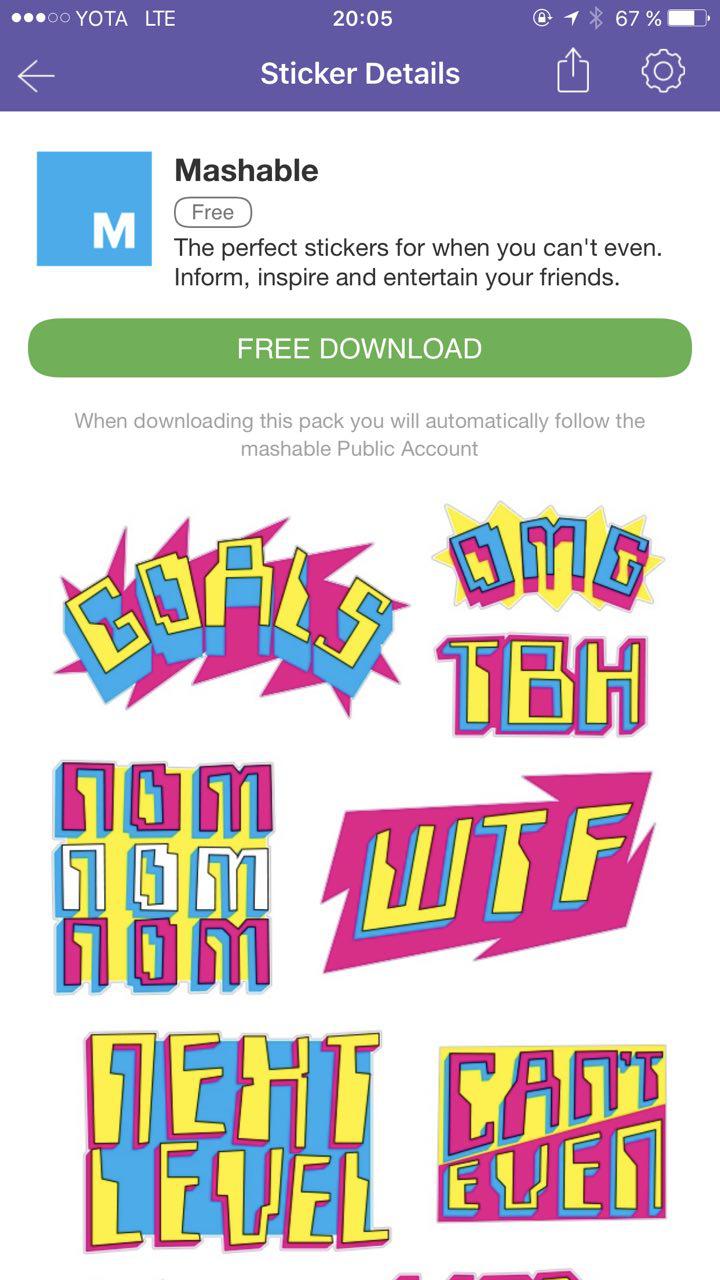 Mashable sticker pack
Service Message API
Viber also offers businesses a service messaging API. Its main purpose is to replace SMS service messages with ones in Viber. Not many Western companies use this feature; however, it's widely used in Asia and Eastern Europe.
Who will benefit: larger companies, banks, retail.
Telegram
Telegram is one of the newest messaging apps on the market, but it has been one of the fastest growing messenger apps. It has more than 100 million users worldwide, with 350,000 signups daily. Although it's not very popular in the US and other English-speaking countries primarily dominated by Facebook Messenger and WhatsApp, Telegram's privacy pledges have made it very popular in Brazil, Malaysia, Iran, Russia, Spain and Italy.
Bots
Telegram Bots are like tiny apps inside the messenger that reply to users' commands. What you can do with the Bot API is up to the bot developer's imagination. You can create bots that will send weather forecasts or currency exchange rates, watch the latest discounts, manage your bank account or even post to multiple social media accounts and receive analytics.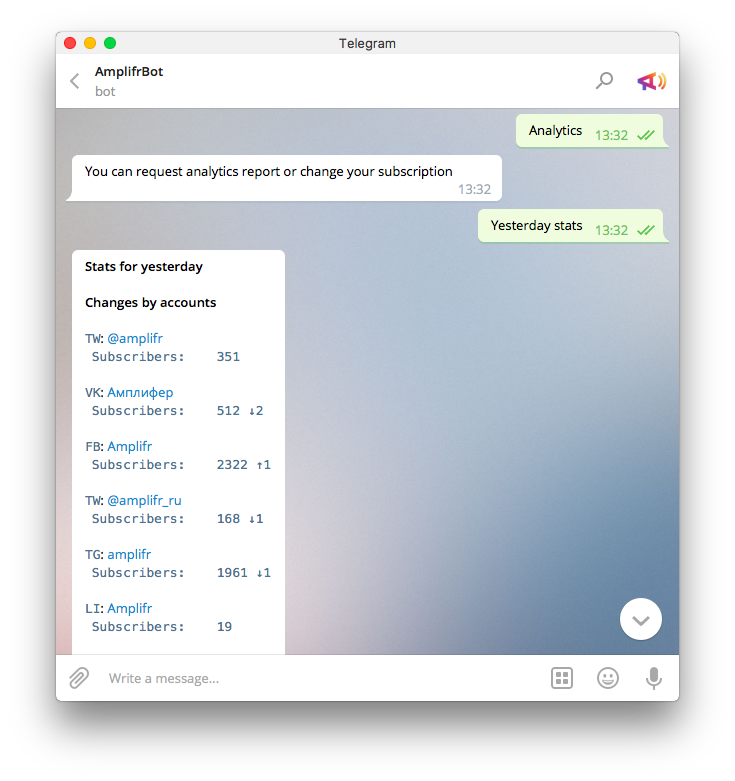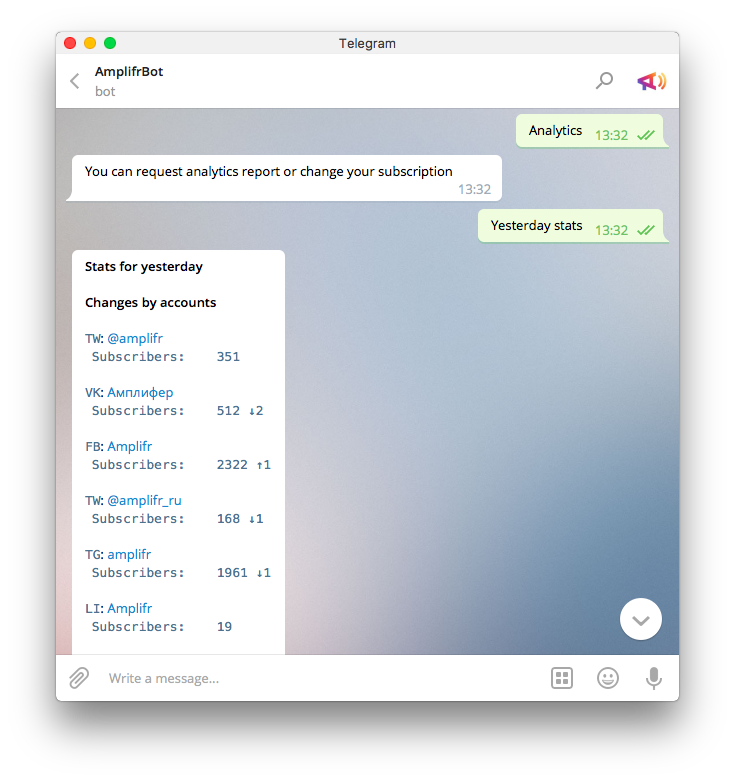 Amplifr Bot
Who will benefit: companies willing to experiment and devote some of their developers' time.
Channels
Telegram channels are somewhat like Viber's Public chats or Twitter feeds. You can post text, media, files, and links to your channel - and also enhance its content using various Telegram bots. There is a bot for mimicking user engagement, there is a bot for polling, and there is even a bot for adding Markdown formatting to your channel.
A Telegram channel with a large following can truly be called "small media." This is especially true for countries where the mainstream media are put under constant government pressure, such as Russia and Iran.
Companies that focus a lot on their content marketing can benefit from having a Telegram Channel too. You can post your latest blog updates, discounts, newsletters and news, so your customers an engage with your content from the comfort of their favorite messenger.
Group Chats
Though this may not seem obvious, a company can benefit from launching a public chat for its clients. We at Amplifr, for example, have a chat in Telegram. Some of our paying clients receive an in-app notification with an invitation while using Amplifr. If they choose to enter the chat, they (can?) join a community made up of our most loyal clients, share their experience using our service, and, most importantly, give us feedback and request new features.
Our advice for any company that decides to set up a public chat in any messenger is:
Define the rules of the chat upfront.

Make sure abusive and rude members are kicked out of the chat as soon as possible.
Who will benefit: any company with a target audience present on Telegram.
Sticker Packs
Even though sticker packs on Telegram don't have the same marketing mechanism as Viber's (e.g., you download a pack, then you join a public chat), they can still come in handy for brand promotion. We have seen sticker packs from banks, advertising agencies, retail companies, and even phone operators.
Who will benefit: any company, literally—stickers are cool. Make some.
Messenger
Facebook Messenger has over 1 billion MAU. That is a lot of people to reach out to! Unfortunately for my fellow marketing specialists, Messenger doesn't have many marketing opportunities just yet, although the general trend seems promising and Facebook has been testing out new advertising features recently.
Bots
Messenger Bots are like Telegram Bots, but they can also receive payments in a number of countries. This creates an excellent opportunity for e-commerce and retail to attract more customers and make their shopping experience more convenient.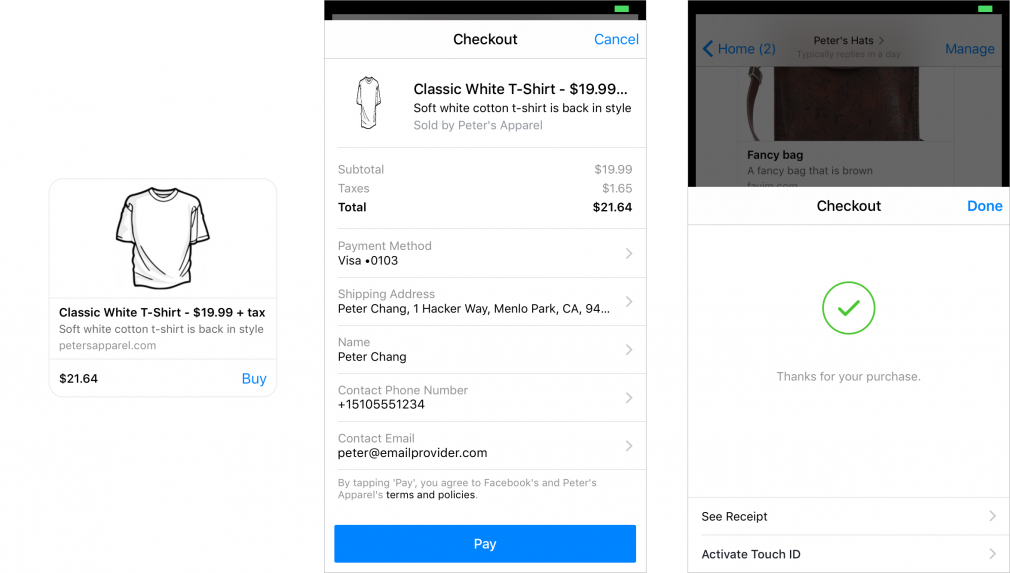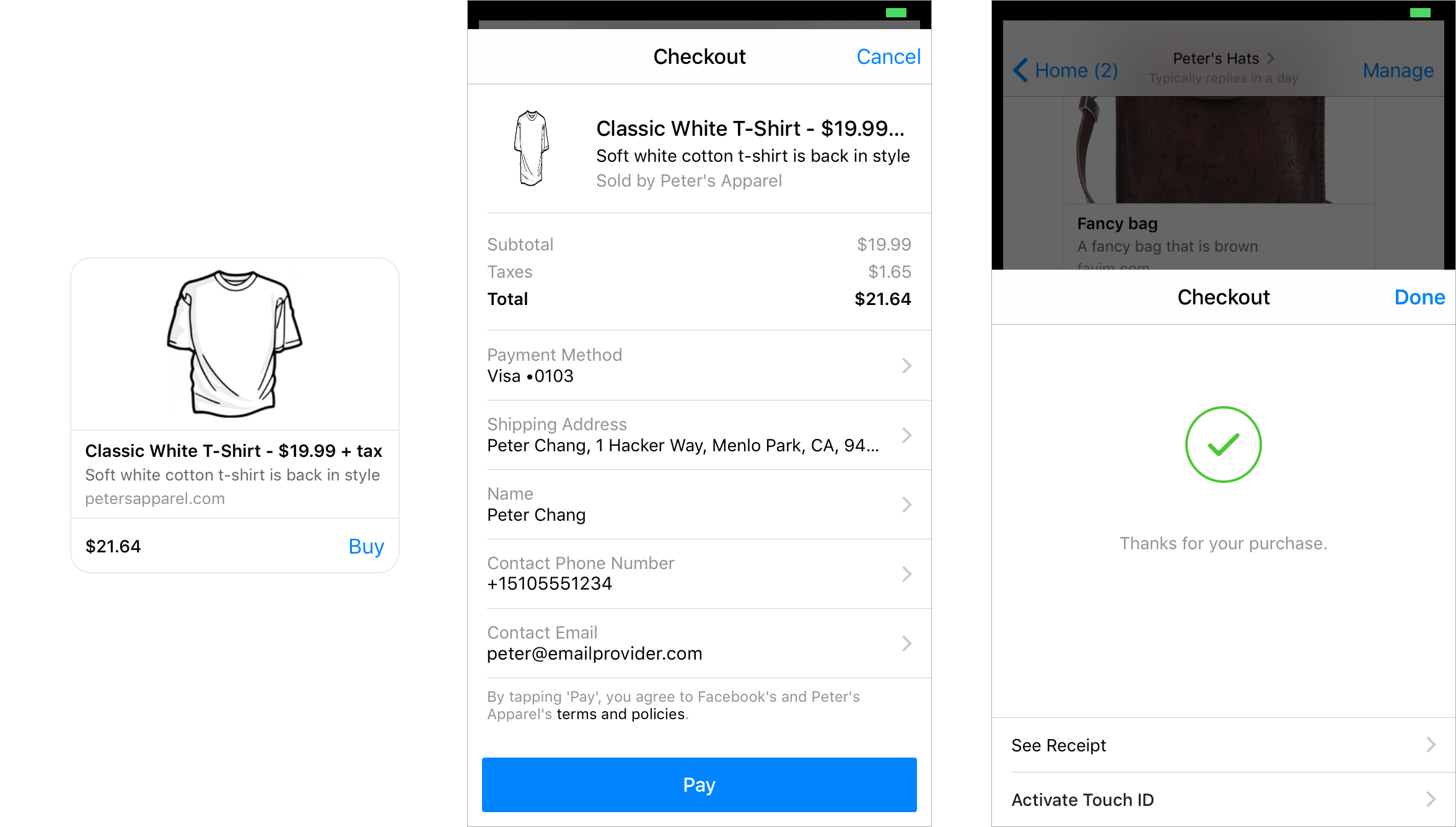 Who will benefit: e-commerce, retail.
Carousel ads on the Messenger Main Page
This feature is new and is currently being tested in Australia and Thailand. If it goes live all over the world, businesses will be able to place ads in the area of Messenger below users' recent conversations.
Who will benefit: any company that is already advertising on Facebook.
Summary:
3 billion people are using messengers. Messenger users already outnumber social network users.

Facebook Messenger is the largest messenger in the world (1 billion MAU) that has at least some marketing tools.

Telegram is one of the newest messengers, but it's definitely been one of the fastest growing. Keep an eye on it.

Viber and Telegram sticker packs are easy to create and are great for brand recognition.

Don't use personal user accounts for promotion in messengers — messenger users don't trust them.