Marketing research is an integral part of your growing business. You'll need it to research your target audience, discover any competitors, and determine where you can get the best resources for your marketing budget. 
If you're new to marketing research, it's best to start with the basics: what a marketing research process looks like, and the role it can play your company.
What Is The Role of Marketing Research? 
Marketing research can convince those with the purse strings to invest in your marketing goals. You need to spend money to make money, and in this case, you need management to sign off on your marketing proposal.
The research you present will highlight business opportunities out there. You'll also need to include any risks involved, of course, but marketing research can show you how to lessen them.
Marketing research enables you to understand your customer base and pinpoint your target audience for your marketing campaigns. The research you do will indicate what they want, what they like, and why they will buy your products and services.
Finally, the ultimate role of market research is to deliver information about the market landscape and your direct competitors, so you can make informed decisions about how to spend your marketing budget.
Here are the 5 steps to take when creating a marketing research process: 
Step 1: Define the Research Problem 
Before you begin your marketing research, you need to know exactly what you're trying to address. Marketing offers solutions to problems customers have or didn't know they had. You need to know the problems your target audience has, and then you'll need to define how you can find answers to those problems. 
One way you can start is by finding what your customers are searching online for with the Keyword Magic tool. 
In addition to highlighting popular search queries, the tool breaks down common questions around a topic. 

These seeds can inspire more customer questions that may need answers, which points to problems you can solve. 
Step 2: Develop the Market Research Plan 
Now you can use your marketing research to plan how you'll solve your customer's problem. You'll need a research practice to determine the best way to reach a solution. 
To develop this practice, you can consider:
What primary sources will you tap into?
Will you interview key individuals?
How about a focus group from your target audience?
Could you build a survey for people to answer: Consider the questions you ask. Do they help solve the problem? Are they closed or open-ended questions?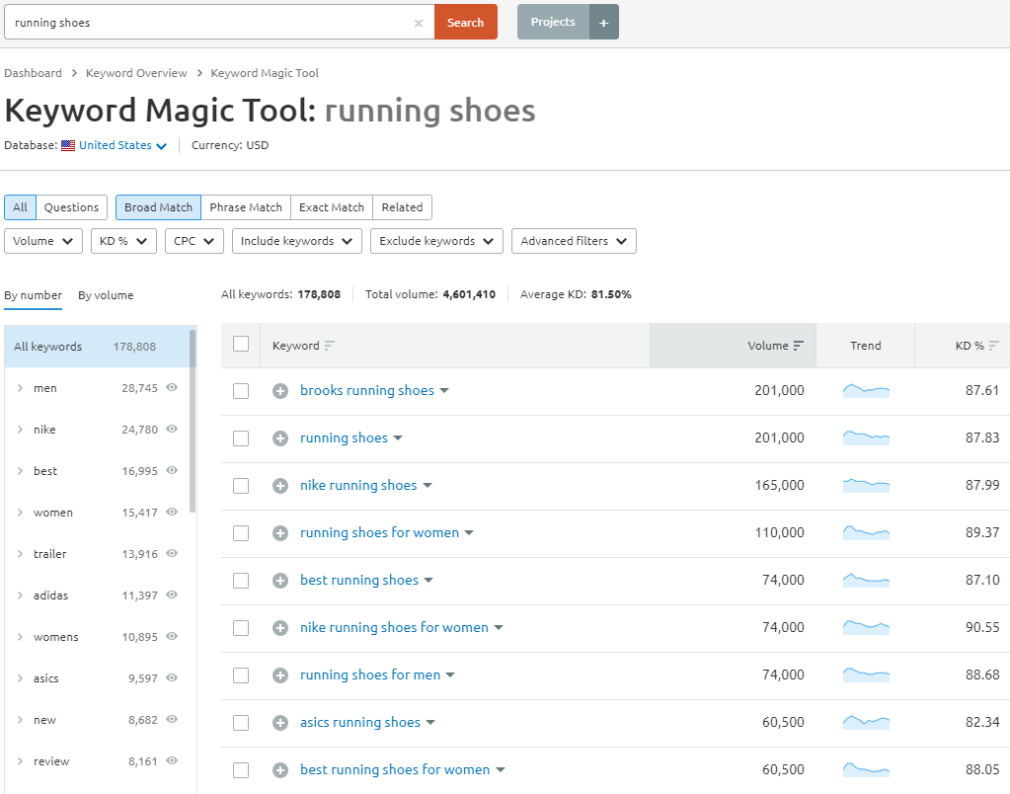 What secondary sources of information can you use?
Are there any government websites with insights into your target audience?
Could you search university article databases for research that could be helpful?
How about articles written by other companies which could help?
Your research practice will likely depend on your marketing budget and the timeframe you have to complete your research. Consider different methods that might work best for your resources and time.
For example, online surveys don't cost a lot of money; however, a focus group might cost more in time and money but could give you some great data. Grabbing data from government websites can net you a lot of useful information with little cost, but it might not be specific enough to your needs to be useful.
Once you have decided how you will conduct the research, you'll need to come up with a timeline. Delegate responsibilities so you know who on your team is doing what task and when can help tie the marketing research project together.
For more tips on developing a marketing research practice, check out our guide on the 18 best tools for advanced market research.
Get the Market Explorer & Traffic Analytics Tools
through the Competitive Intelligence Add-on
Step 3: Collecting Data for Marketing Research 
After you've conducted your interviews or surveys, you'll need to collect and prepare the data in such a way that it can be easily understood by your team members. 
How to collect data for market research
Transcriptions from interviews need to be written out. Be sure to highlight important facts and quotes that confirm your research.
Produce reports from your surveys. Many online survey tools have reporting functionality. Create a report yourself or export the results from your tool. Ensure the report can be understood and help provide the solutions you're looking for.
If there are any feedback forms from group sessions, review them for any insightful feedback or quotes that back up your research.
The more data you have, the better — as long as it is good data. You need to be able to analyze and present your data, so having mountains of inaccurate, biased, or unusable data is not helpful.
Step 4: Analyzing Market Research Data
Analyzing your marketing research data helps you discover solutions to your target problem. You can use your insights to develop reasons to find your marketing budget or project. 
How to analyze market research data
Review why you started your research and the results you wanted to achieve. Can the data you've accumulated answer the questions you had when you began your research?
Look at your data from all your different sources, and check for trends. Can you find any? Can you find any explanations for those trends?
Highlight the data that supports your argument or solves the problems you were researching.
Don't worry if the data you've collected returns what seems like a negative result or trend. This gives you a chance to change direction or abandon the project altogether, ultimately saving you time and money.
Step 5: Presenting Your Research 
You've done all this hard work researching problems and solutions, interviewing people, reading articles, and analyzing all the data you've collected into a logical sequence. Now it's time to present it to your audience.
Presenting is a skill in itself. Ask yourself: who are you presenting to and what reaction do you want from them?
If you're presenting to a board of directors, it can be helpful to include a report with an executive summary for them to review after your presentation. If you're presenting to your team or an office of managers, handouts might not be appropriate.
You don't want to present all of your information on your presentation slides. Don't read from the slides either. Present your information in such a way that it is easy to understand. 
Some people like visuals, so charts work for them. Others learn by reading, so handouts would work for them; others like to watch and listen, so you need to be narrating the information.
What is the purpose of your presentation?
If you're presenting hoping to earn money for a marketing budget, then you need to convince those with the budget approval that your research shows signs of a positive return on investment (ROI.)
If you're just presenting information to consider, then show how it fits the larger picture, and indicate how the research will be invaluable going forward.
It is also a good idea to have a backup if your audiovisual fails, or there is a power outage. Prepare for the worse, just in case.
Above all, present in a way that is informative and entertaining, and keeps your audience engaged.
Marketing Research Process FAQ
What is the most important step in the marketing research process?
The most important step in marketing is defining your problem. Without knowing the specifics, all research would be wasted time and money. The problem gives the research purpose, and the more specific the problem, the better. This lets you find niches to explore.
How long should my survey be?
Ideally, you want your survey to be as quick as possible, as long as it gets you the data results you need. Try to make the survey take no longer than 10 minutes.
Which is better: an online focus group or in-person?
With Covid-19 forcing many people into online meetings, this method of hosting a focus group is very appealing. However, an in-person focus group can bring a level of comfort and trust, and great conversations can be had in a way that may not be easily achieved in an online setting.
Online Focus Group
| | |
| --- | --- |
| PROS | CONS |
| Cheaper to host | Reliance on good internet |
| Familiarity thanks to Covid-19 | People interrupting and cutting each other off |
| A higher number of participants with the convenience from logging in from home | Disconnect from the personal touch of people being in the same room. |
| You can hold multiple events with smaller numbers | Large groups can be unmanageable |
| Contact details easy to obtain | People can just log out if they're bored |
In-person focus group
| | |
| --- | --- |
| PROS | CONS |
| In-person chemistry and bonding | The costs can be high, with room higher and catering |
| Body language can give a lot of information | In Covid-19 times you may need social distancing and masks, which can be irritating for participants |
| Participants will stay for the full time allocated | If your location is far away, some participants may not turn up. |
| Group ideas can be generated easier | One-shot to get the information, so must be organized |
This same argument can be considered for interviews. In-person interviews offer more subtle information from body language; however, a phone interview may be easier to organize.
No matter the process, you have tools to help you with your marketing research. Try using the Keyword Magic tool to discover problems your customers are hoping to solve and build your research around how to best return solutions for these problems. 
For further reading on marketing research, check out our guide to the Audience Insight tool, which can reveal helpful insights for your marketing research.
Get the Market Explorer & Traffic Analytics Tools
through the Competitive Intelligence Add-on