Effective content marketing is a combination of a well-organized content strategy, clearly defined targets, and constant analysis of the results. No matter how interesting and well-written your copy is, at the end of the day it will only be judged by the value it generates for your business. 
To start measuring and analyzing your content performance, you need to find the right metrics to focus on. In this article, we'll consider four key groups of metrics that can help you evaluate how much your brand benefits from the content you create and show you how to interpret these. 
Read the article to the end to learn about some additional content metrics to track. 
Setting Clear Goals
If you want your content marketing efforts to be successful, you should start by outlining the goals to be achieved. Once you manage to align your expectations for each piece with its specific characteristics (e.g., open rate and CTR for emails, CTA clicks for LPs, and conversions for ad banners), the results will begin to show.
However, setting the right goals requires quite a bit of research. To make your goals really SMART, you need to audit your existing content and analyze the competition. 
Let's say you want a blog post to drive some traffic to your website. How can you tell if it should be 10K or 100K visits? You can come up with a precise estimation in just 3 steps:
Check out how much traffic your top-performing articles drive at the moment.
Analyze the search volume and difficulty of the keywords you plan to target. 
Explore the SERP and your competitors' high-ranking posts. 
To set your content marketing goals right, you need to do the following:
Define the content type and the funnel stage and identify the key metric for those (e.g., upvotes and shares for a social media post).
Look at these metrics for similar highly and poorly performing content pieces (your own or your rivals') to set the benchmarks.
Look at your own and your rivals' similar content to gain a preliminary understanding of the format and length. 
Define the time frame for results measurement.
These 4 simple steps should help you formulate a goal like this: 'Create a 1,500-word guide on making donuts that will drive 2,500 organic visits to my website in 2 months.'
Essential Content Metrics to Track in 2023

User Behavior Metrics
Behavioral analytics lets you better understand how many people are interacting with your site. Besides that, you can learn which pages bring them to the site in the first place, and which pages they engage with the most — these also play a part in how Google ranks your page in the SERPs in terms of relevancy. 
Pageviews 
Definition: Pageviews shows the total number of times a particular page on your website was visited. Please don't confuse Pageviews with Unique Pageviews, which represents an aggregate of pageviews generated by the same user during the same session.
Impact: Pageviews can give you a basic understanding of how well your content performs in comparison with other publications of the same period. This metric also shows what topics attract your audience most. 
Measuring: 

Google Analytics — to see the total number of pageviews for your website in Google Analytics, head to Audience → Overview.
To see this metric for a specific page, head to Google Analytics — Behavior → Site Content → All Pages. You will be able to sort the views by Unique Pageviews and see which posts perform best, as well as check traffic for specific URLs.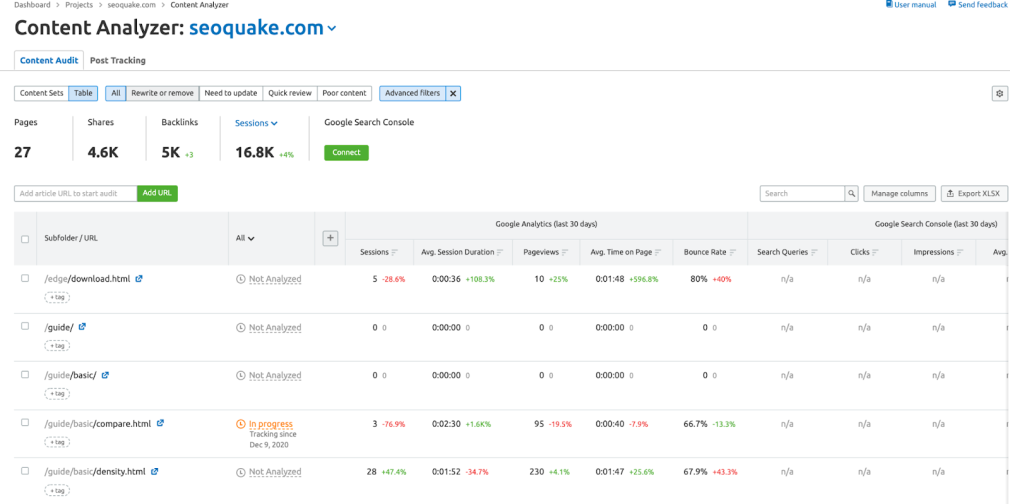 Explore the Ultimate Guide to Conducting a Content Audit
Users
Definition: Users indicates the total number of people who visited your website during a set period of time.
Impact: Evaluating the number of unique users helps you to determine the scope of your audience.
Measuring: Google Analytics, head to Audience → Overview.
New and Returning Visitors 
Definition: New and Returning Visitors shows the ratio between new and returning visitors on your website.
Impact: New visitors indicates the number of potential leads, while the number of returning visitors shows whether the visitors enjoy your content. It is better to have a healthy mix of both: create content that can attract new users and retain the old ones at the same time.
Measuring: Google Analytics — Audience → Behavior → New vs. Returning.

Average Time on Page 
Definition: Average Time on Page indicates whether visitors are attentively reading your content or just skimming it. 
Impact: Time on page shows which website pages are more engaging. When analyzing your company blog, identifying the best-performing and worst-performing articles in this respect can give you insights on the ideal format, length, and structure. 
Measuring: 

Google Analytics — Behavior → Site content → All Pages. You will be able to see this metric for each page.
To access this metric for your entire website, head to Audience → Overview.
Bounce Rate
Definition: According to Google, a bounce is a single-page session on your site. It happens when a user visits your page and leaves it without triggering any other requests to the Analytics server. Bounce rate is the percentage of all sessions on your website where users visited only one page or triggered only a single request to the server. 
This metric can be manipulated if you introduce event tracking and indicate additional actions as events (for example, scroll depth, which is more relevant for blog pages).
Impact: Though a high bounce rate may suggest that something isn't quite right with a page, its impact strongly depends on the page type and where the traffic comes from. For example, an ecommerce site with a high bounce rate on product pages can be a worrying signal; it might mean that most customers leave your website without making a purchase. 
The bounce rate can tell a lot about the efficiency of a pay-per-click product landing page, although it's not entirely suitable for assessing blog posts and other Top Of The Funnel pages tailored to drive organic traffic.
For example, a high bounce rate on a blog may be normal if you have a number of returning visitors who read new articles, find relevant information, and then leave your website. If your goal is to raise awareness, boost engagement and pass rank from the blog to the product pages, metrics like the Dwell Time become more relevant.
Measuring: 
To check the bounce rate for your entire website: Google Analytics → Audience → Overview → Bounce Rate

To check it for a specific page: Google Analytics → Behavior → All Pages — here you can check this metric for each of your pages.
Pages Per Session
Definition: The Pages Per Session metric indicates the average number of pages viewed during a session on your website.
Impact: This metric shows if your content is engaging and sufficiently well-organized to motivate a visitor to move on to another web page. It can also help assess whether your blog or website has proper interlinking (links to related posts with more detailed information on the subject).
Measuring: 

Google Analytics → Audience → Overview → Pages/Session
Traffic Sources
Definition: Traffic Sources show which sources bring traffic to your website.
Impact: This content marketing metric can help you discover the most and least effective marketing channels for specific content. Does the majority of your audience come from search engines, or is your social media strategy stronger than your SEO? Or maybe your brand is already well-known, and you mostly get direct traffic? This metric is essential to answer those questions.
Measuring:

Google Analytics — Acquisition → All Traffic → Channels.
To analyze the traffic sources of your competitors, head to Semrush Traffic Analytics → type in your competitor's domain → scroll down to Traffic Sources.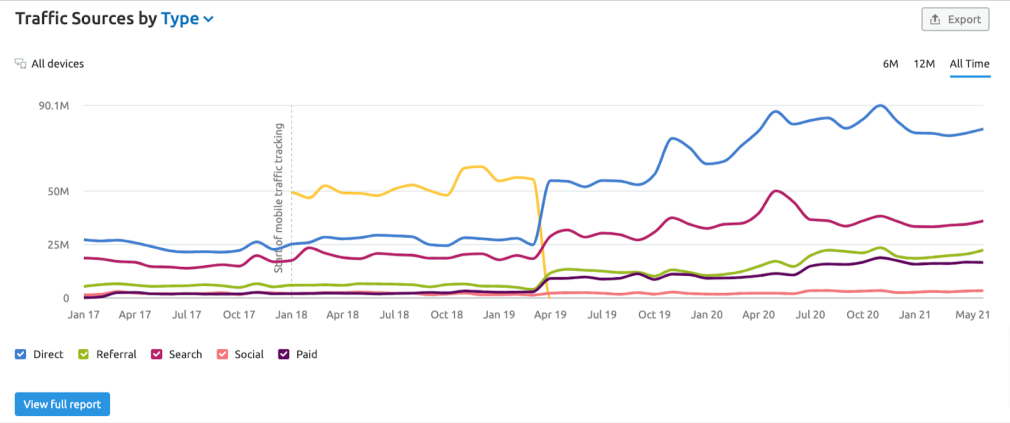 Engagement Metrics
The engagement metrics reflect how much you are connecting with your audience. These metrics are considered the most important when looking at the effectiveness of your content marketing campaigns and overall strategy. 
Likes and Shares
Impact: These are indicators of your content engagement and popularity among the target audience. 
A share is more significant than a like because it not only shows that someone found your content interesting but also expanded its reach.
Measuring: 
Comments
Impact: The number of comments under a post demonstrates the level of content engagement even better than social likes and shares do. It takes more time to write a meaningful comment than to like or share a post. 
Measuring: Use Semrush Social Media Tracker to see the number of comments and replies to your posts on social media.
To manage your blog comments, use tools like Disqus (a comment tracking solution).
Mentions
Impact: Mentions demonstrate not just the engagement, but also your brand's reputation. However, the value of a mention strongly depends on the sentiment, context, and the author's reputation. 
Measuring: Prowly Media Monitoring → Set up a project → New search query → Add the title and keywords to track 
Re-publications
Impact:
If the full text of your article, your infographic, video, or other content pieces get published on a third-party website, this counts as a republication.
When you find a republication of your content, make sure the author has included a link to the original post; it will help you to attract a more targeted audience to your website. 
In addition, you might want to consult with the website's owner and ask them to add a canonical link tag pointing to the original article. This would ensure that Google won't see those two publications as duplicate pages.
Measuring: 
Incoming Requests
Impact: A high number of incoming requests is a strong indicator of your content quality, whether it is an invitation to write new material, to give an interview, to share your knowledge base, or to cooperate in any other way.
SEO Outcome Metrics
Organic Traffic
Definition: Organic Traffic shows how many users found your website's page through a search engine.
Impact: Low figures may indicate that the page was not optimized properly, or the search volume for the selected keyword is low.
Download a 9-step SEO Writing Checklist for 2021
Measuring:  Google Analytics — Acquisition → All Traffic → Channels → Select the Organic Search group. You can also apply a Segment with only organic traffic in it.
Dwell Time
Definition: Dwell Time indicates the average time a visitor spends on the page before returning to the search results.
Impact: If a user comes to your webpage and bounces right away, it serves as a negative signal to search engines and may affect your ranking.
Measuring: Compare your Bounce Rate and Average Time on Page. For example, if you have a low Bounce Rate and a high Time on Page, the users stay on the page and click further, suggesting that you have a high Dwell Time. However, even when the Bounce Rate is high, a decent Time on Page may still indicate that the page is useful for the reader, positively affecting the Dwell Time metric.
Backlinks
Impact: Backlinks are one of the most important Google ranking factors, and therefore one of the key SEO, PR and content marketing metrics. Pay special attention to the number of links (do not forget to exclude spammy ones), the number of unique domains, and the quality of the referring domains.
Measuring: 
Semrush Backlink Analytics will help you see the number of backlinks and referring domains for your website, specific pages, or your competitors' websites and generate other actionable insights. 
Semrush Backlink Audit will let you find out whether your backlink profile is healthy and assess the toxicity score of the domains referring to your website.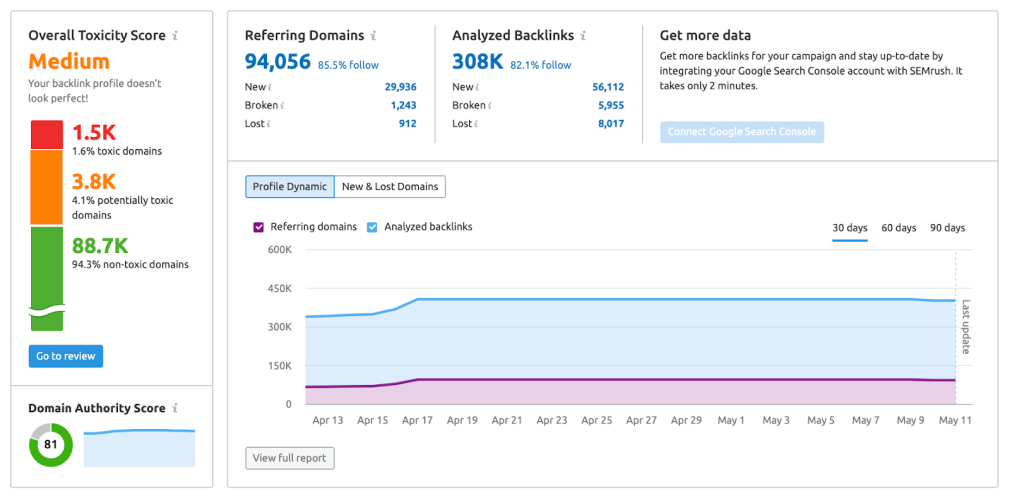 Keyword Rankings
Definition: A specific page's position in the search results for a target query.
Impact: Keyword rankings demonstrate how relevant your content is to the user search intent in the eyes of the search engine. 
Measuring: 
Semrush Position Tracking will let you monitor your ranking in real-time. Set up a project → Add keywords you would like to track. 
Content Marketing Revenue
Delivering engaging and exciting content not only lets you drive traffic and engage your target audience, but also enables you to generate revenue. While such financial metrics as sales are not always directly applicable to content, there are several KPIs you should be tracking. 
Content ROI
Definition: Content marketing ROI represents a correlation between the revenue you gained from content and the resources you invested in content production and distribution.
Impact: Content Marketing ROI helps you understand if your efforts are paying off and the time and resources you are investing in content marketing are bringing the desired results.
Measuring: 
The most common formula for calculating content marketing ROI is the return on your investment in content marketing (i.e. the revenue generated with the help of content) minus total investment (i.e. all related costs, such as copywriting and design fees), divided by investment. The final number should be expressed as a percentage. 
Content Marketing ROI = ((Return on Investment – Investment)/Investment) x 100
For example, if you attributed $3,000 in sales to content marketing, and spent $600 on production and promotion, the calculation would look like this: ($3,000-$600)/$600=4x100=400%.
You can use ImpactHero to find out how much monetary value each of your content pages brings for the company.
Number of New Leads
Definition: The number of potential clients who have shared their personal details while engaging with your content. You can get them through contact forms, sign-ups for updates and newsletters, downloads of materials, and so on.
Impact: The number of leads indicates the general meaningfulness of your content, i.e. you won't give your phone number or email address for something you don't need or are not interested in. It's also the first milestone towards converting your traffic into contacts and, eventually, revenue.
Measuring: 
Use ImpactHero to analyze the number of leads that are being nurtured throughout your content marketing funnel.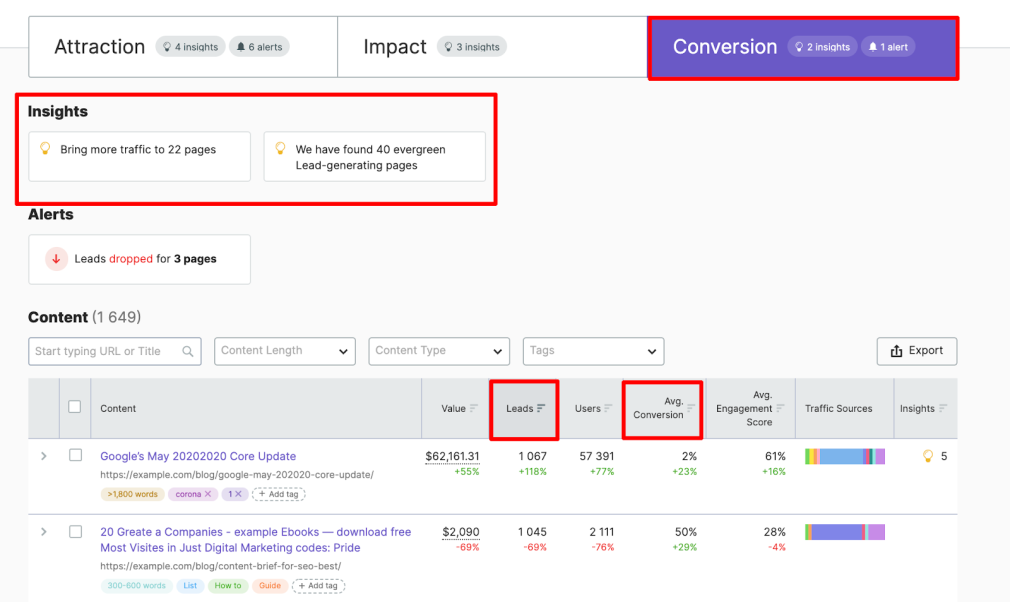 Also, to track leads generated by your content you can set up Goal Tracking in Google Analytics. 
Existing Leads Nurtured
Definition: Existing leads are the users that have already engaged with your content, shared their contact details, and keep interacting with other content pieces on your website.
Impact: It is not enough to simply get a new lead. To achieve your marketing and business goals, it is important to accompany your prospects on their purchasing processes. By analyzing the number of existing leads that interacted with your content, you can evaluate and develop better lead nurturing and assess your current content marketing funnel.
Measuring: 
Use ImpactHero to see how many leads you currently have in the Nurturing stage and which content pages helped attract them.
Track the number of returning users in Google Analytics.
Conversion Rate
Definition: The Conversion Rate is the percentage of visitors who took a desired action (click, registration, download, etc.) after interacting with your content.
Impact: It helps you analyze the effectiveness of your content marketing funnel. A high conversion rate may suggest that you are targeting the right audience with the right content and positioning, and vice versa. If you adequately aligned your efforts for marketing and sales, a successful conversion rate can closely relate to an increase in your revenue.
Measuring:
Set up goal tracking in Google Analytics and head to Conversions → Goals. You can also use the Funnel Visualization report, which is especially useful for eCommerce websites.
Use ImpactHero to see the conversion rates for each content page and get actionable recommendations.
Additional Content Metrics to Look at
Though traffic, links to your content, mentions of your brand, etc., all indicate that your authority and online brand presence are growing, there are more KPIs you can establish to develop a more effective content performance tracking system.
Scroll Depth
Definition: An indicator showing how far website visitors scroll down a web page.
Vertical scroll shows how far readers scrolled from the top of the web page all the way to the bottom.
Horizontal scroll shows how far readers scrolled a web page from left to right.
Impact: This engagement metric can be interpreted together with bounce rate to provide insights on content length. 
Measuring: Google Tag Manager → Variables (select all) → Tags → New → Then connect the tag to your Google Analytics 4 Property.
Authority
Definition: The overall grade of your website quality. An SEO metric measuring the "strength" of a given domain.
Impact: The higher the Authority is, the more weight your domain and its backlinks have for the search engine, increasing your chances of ranking organically. 
Measuring: It's not that easy to measure authority; however, tools like Semrush offer their own custom authority metrics. 
Semrush Backlink Analytics compares Authority Score to Authority Score to measure the overall quality and SEO performance of a domain or webpage. The neural network algorithm uses machine learning to measure every domain's authority based on quality, popularity, and backlink signals.
Additional Content Production Metrics
These metrics help you build a more efficient editorial plan with no gaps or wasted effort.
Content creation time: Finding out the time needed to produce a quality copy will help you evaluate the efficiency of your in-house team, plan outsourcing, and align content publication with your other marketing activities.
Performance over time: Learning how the traffic, engagement, or other metrics change after publication is a way to match the copy with its initial goal and find room for improvement. For example, if you want your copy to be evergreen, try tracking its traffic months and years after its release. 
Content Type Specific Metrics
Social Media
Social media is an awesome content promotion channel with its unique characteristics. Due to the short format of a post, the metrics we use to measure user behavior don't always apply, which adds meaning to the engagement metrics. 
Follower count: The more followers you get, the more chances you have to get your content displayed to them without spending more. This metric also allows you to track your audience growth over time.
Social media shares and likes: These show if your content has higher chances of going viral and bringing you extra attention from the audience.
Comments: Social media comments are the best measure of social media engagement imaginable. Track them to learn how people respond to what you have to say and even generate ideas for additional content.
Email Performance Metrics
Emails are a rare type of content that gives you a chance to interact with your users one on one, so tracking the performance of this content format is absolutely crucial. 
Open rate: This metric gives you a lot of information — first and foremost on the relevancy of the content you're offering and the intrigue behind your subject line.
Click-through rate (CTR): The percentage of recipients who clicked on at least one link in your email out of the total number of emails delivered reflects whether the text of the email was engaging enough to inspire action. It is one of the important indicators of your MOFU content quality and lead nurturing effectiveness. 
Click-to-open rate (CTOR): the number of unique clicks vs unique opens. It provides additional information on whether the email message truly resonated with your audience.
Unsubscriptions: A kind of email churn rate that refers to the number of people who decided not to receive your emails anymore. It helps you determine the optimal number of email blasts to avoid overloading your readers and define the right segment for each of them.
Strategic Approach to Measuring Content Performance 
Using data analytics to identify poorly performing content pieces and boost the best-performing ones is the perfect "recipe" for content marketing success. However, there's a bit more to it. Each metric we've discussed above is interpreted slightly differently depending on the funnel stage and the content format. 
For example, at the top of the funnel, where the audience is not familiar with your brand, traffic and Time on Page are more important than other metrics. Conversely, at the bottom of the funnel, conversions tend to come to the forefront. 
Besides that, different content formats help you reach different goals at different speeds and with different efficiency. This should also be taken into consideration when measuring content performance. 
Tools like Semrush ImpactHero will help you automatically break your existing content by funnel stage and define the perfect type and length for each.