Done well, app marketing can drive downloads of your product. It can also nurture a community of loyal users who will promote your app organically. Now, sit down and settle back for the ultimate guide of marketing an app for absolute success. 
What Is Mobile App Marketing?
Mobile app marketing is crucial for building your apps' name in the big wide world. According to Business of Apps, users downloaded some 87 billion apps in 2022. The market is massive. 
But, over half of small businesses and large companies—including your competition—have their own apps. That's why it's essential to make your app stand out. 
Getting people interested in your app is tricky. A strong marketing strategy must consider who the target market is. It should also work out how to tell potential users about the app and how to help them find it. 
App marketing doesn't work like marketing for physical goods. Marketing apps is a process that needs to keep users on board for every upgrade and new iteration. This is called the mobile engagement loop. 
Mobile Engagement Loop
The Mobile Engagement Loop is a continuous cycle. Its goal is to attract and keep consumers using mobile apps. Here's a quick walkthrough of the Mobile Engagement Loop's four key stages.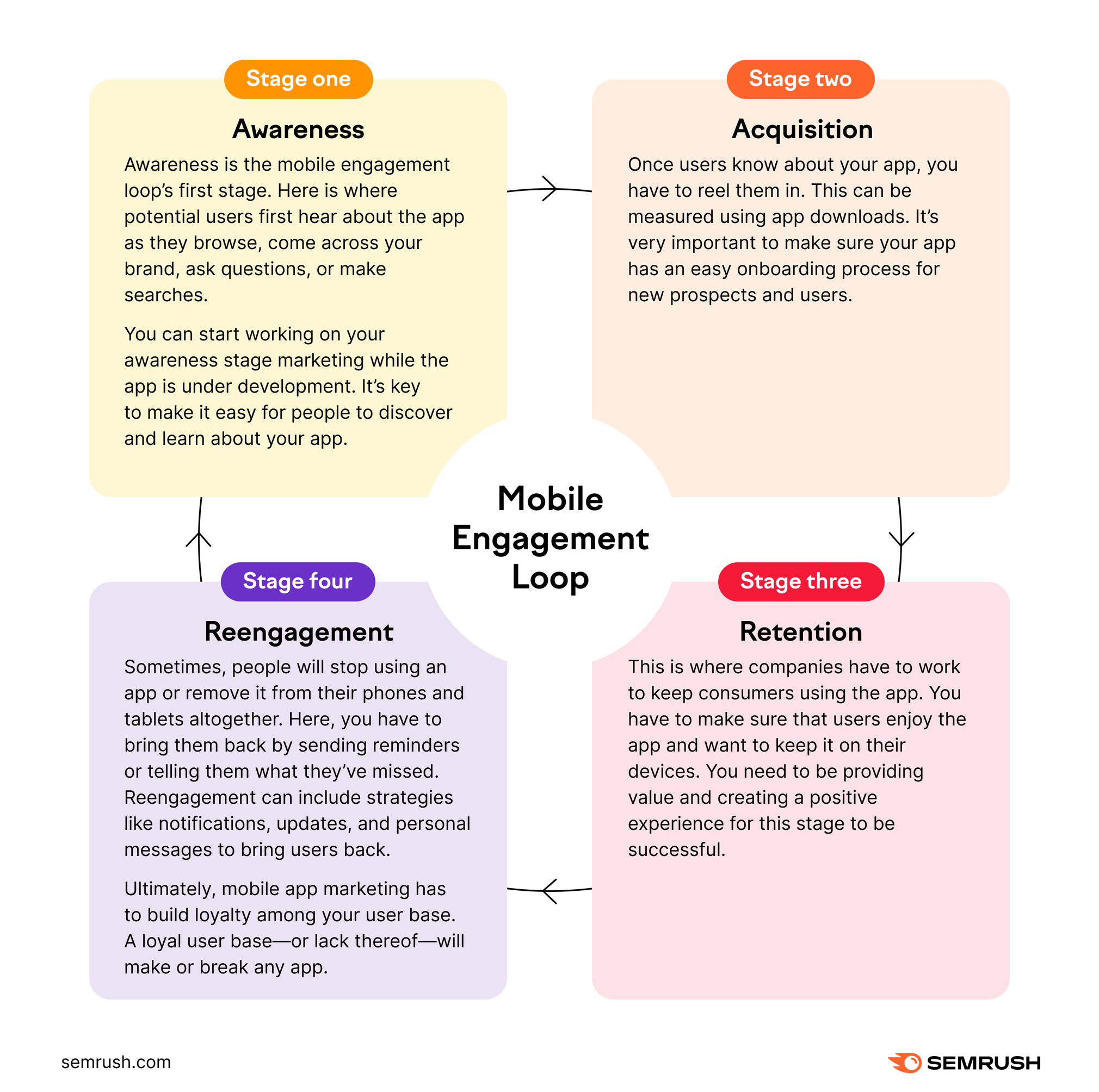 Now we'll look at these stages in more depth, starting with the Awareness Stage.
Awareness Stage
This section will examine the importance of choosing the launch date, conducting market research, and building user personas, among other topics. 
Value Proposition and Market Research
If you want to successfully market your mobile app, you'll have to put in the market research. The process helps identify your perfect customer as well as their needs and motivators. The primary aim of market research is to identify your ideal customer and how your value proposition will help them achieve their goals.
Here's how:
1. Read and Consume Content
Read everything you can that is of interest to your audience. That means the blogs, forums, groups, and websites that are popular with potential app users. You can also look at the influencers that appeal to your would-be users.
Great places to find content: 
Quora for topical questions and answers

Reddit for interest-based subreddits

Industry or interest focused blogs, podcasts, or YouTube channels

SEO research (look at Semrush Topic Research and Google's People Also Ask section)
2. Make the Most of Market Research Tools 
Use online market research tools to speed the process up. You can use tools like Google Trends to analyze search engine hits to see what your audience is looking for. 
There are also a number of tools from Semrush that can help you do this:
Mobile App Insights

, available via the

Semrush App Center

, helps track your app's performance and keep an eye on the competition. Mobile App Insights shows users the keywords that bring any given app organic downloads and provides an option to check out related keywords, too.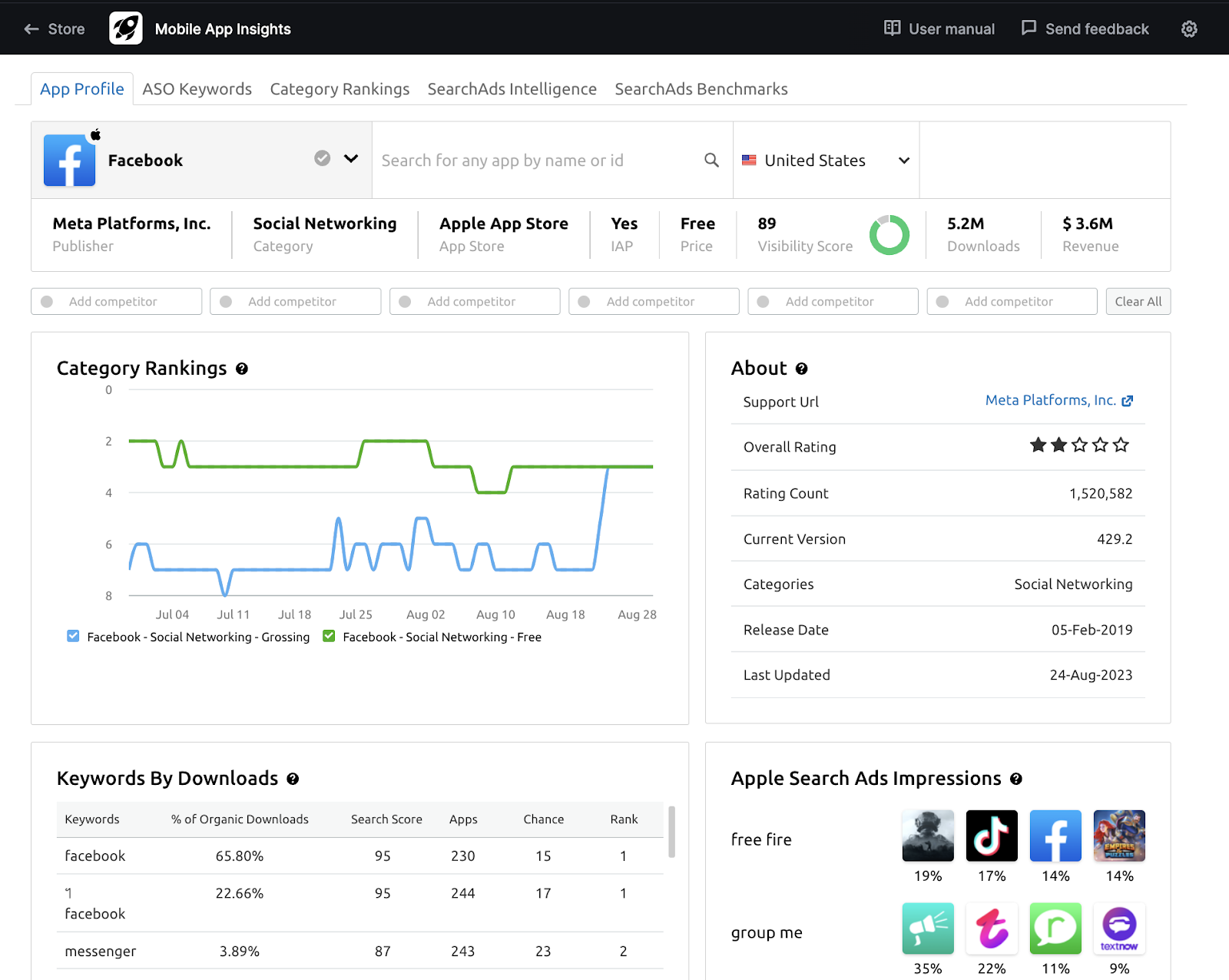 The

Topic research tool

can help you mindmap topics that will resonate with your audiences and niche to focus on in your marketing and SEO efforts. 
Semrush Trends

is another powerful tool that help you jump on digital trends in your industry, helping you get an overview of the market overview and discover competitive digital insights

The

Audience Intelligence

application can provide you with a full audience research report. One report will dive into a specific audience's demographics, psychographics, online habits, media affinities, and more. Just enter any Twitter handle that has an audience you want to study and the app will do the rest.
You can read how to do market research and audience research in more depth here.
3. Get to Know Your Audience in Person
On the topic of online research, it's a good idea to do your own primary research while you prepare your launch. This is research carried out by your company or by an agency on its behalf. 
You can do the following: 
Conduct one-on-one interviews. Use a tool like

Otter.ai

to transcribe your conversation.

Attend online events or webinars your audiences may be interested in (and pay attention to the questions people ask).

Explore review sites (like TrustPilot, for example). These can give you an idea of what people are looking for and value.

Run surveys—tools like Typeform and Google Forms can help you.

Form focus groups of up to 10 people to get feedback on your app, including what they like and don't like about it.
4. Use Secondary Market Research 
Secondary research can be very helpful. It typically involves information, research, and reports published by others. These organizations can include government agencies, trade associations, or industry businesses. 
One app that can help you is the Consumer Surveys app in the Semrush App Center. With this app you can dive into existing surveys all about consumer insights and forecasts on various industries.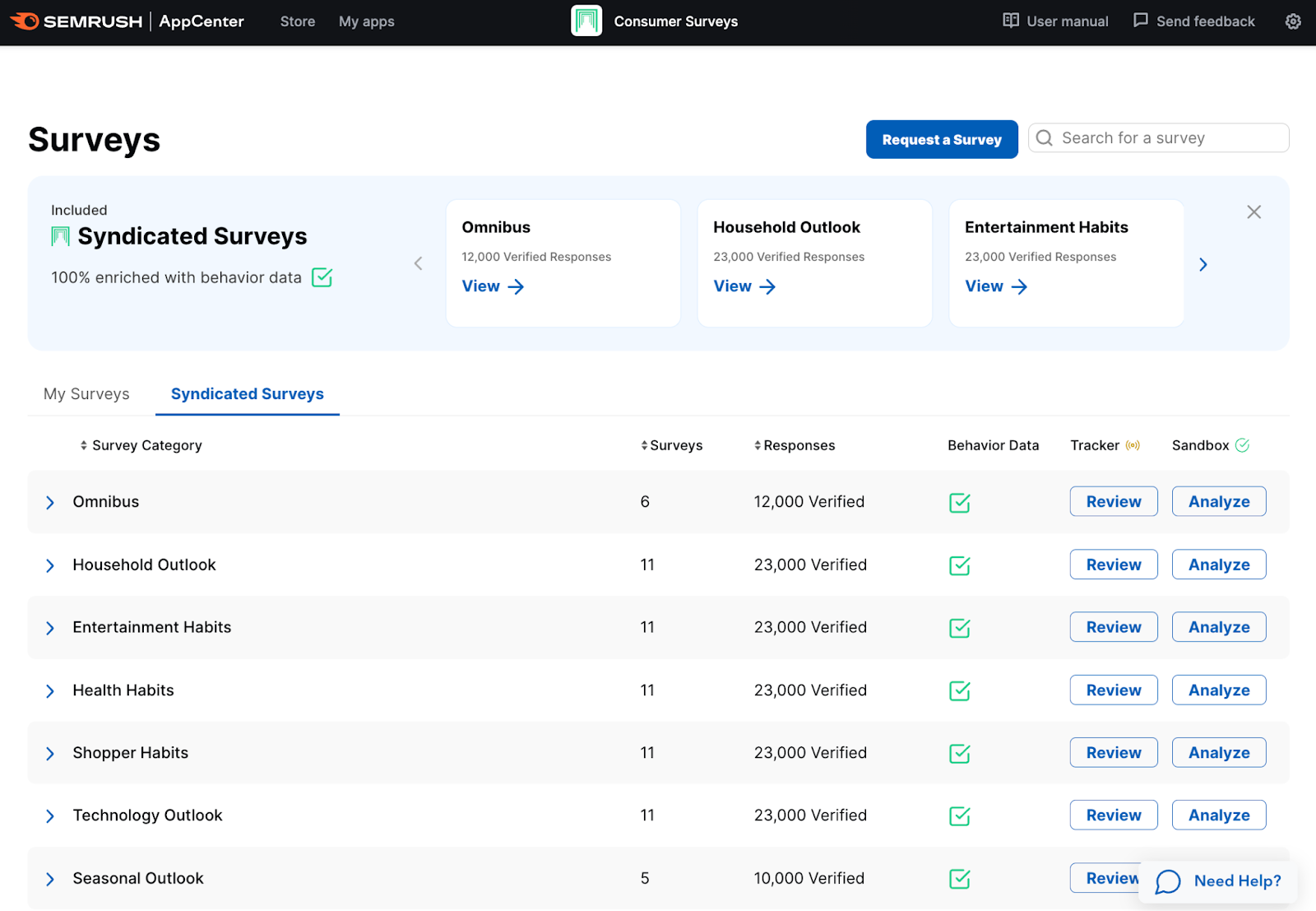 5. Competitor Analysis
It's important that your app stands out from the crowd—and it can only do this if you know exactly what the competition is offering and understand what your target customers want. 
Mobile App Insights is a great tool for keeping tabs on your competitors. You can use it to check out their keyword rankings and their Apple Search advertising keywords. You can get a sneak peak of their success strategies and see how you can use their tactics to help you. 
Remember, if it turns out there are similar offerings on the market, you need to make sure you can show how it is different. Researching competing apps can include analyzing your top competitors by building a feature matrix.
Include pricing, user experience, and ranking in the app store, among other things, to pinpoint what you can do better than them. 
See below for an example:
Mobile App Competitor Analysis Example

Price

Free (in app purchases)

User experience

Difficult onboarding 

Easy to share with friends

Regular in-app notifications and push notifications

Unique value propositions

The only app to offer instant translation

Rating

3 stars, people find it hard to register

Many reviews comment on a fun experience, but difficult to learn how to use it.
You can use a number of tools to help you with competitor analysis. For example:
Building User Personas
Buyer personas or—in the case of apps—user personas are useful tools for marketing. A user persona is a data-driven representation of your app's perfect users. You can build them using the market research you gathered by following the steps in the previous section.
Since your target audience will not be homogeneous, you can build numerous user personas for your app.
These profiles can help you shape your product and later marketing strategies. 
For example, by identifying a person's goals, needs, or challenges, you can develop content ideas that will resonate with them. 
In business to business (B2B): A marketing manager needs to save time when scheduling posts. Your scheduling app solves this problem. You develop a downloadable guide to content scheduling for each social media platform. 
Buyer personas also help identify the most effective channels for your campaigns. 
In business to consumer (B2C): Part of your younger audience is on TikTok. You decide to funnel some of your paid social budget via this channel, in order to reach the biggest audience. The rest of your campaign, targeted at slightly older audiences, is run through Instagram and Facebook. 
User personas are also great for spotting which approaches to content marketing you should take. They can assist in establishing your brand identity, as well as many other elements of the marketing process. 
How to Build a User Persona
User personas can be built with the market research you carried out earlier—this includes your customer research, direct feedback, and industry insights, among other sources. 
If you don't want to start from scratch, you can take advantage of user persona templates. 
Semrush has a free buyer persona templates to help you get started.
Pre-Launch Marketing: Mobile App Promotion
Once your app is ready, you have a launch date, and you have done your market research, it's time to start laying the groundwork. This is vital for winning your app the best possible reception on its release. Here's a list of the things you can do to secure success:
Landing Page
All the best launches need a pre-launch landing page. Also known as a "coming soon" page, these websites build buzz around your app. It should detail your upcoming offering concisely. 
You can also use the pre-launch page to build leads and prepare potential conversions. Asking people who visit your page for contact information or to subscribe for updates can help build your audience before you launch. This is an important phase of marketing any mobile app. 
Content Marketing 
Content marketing helps sell your app using relevant content to build interest in your product. This differs from traditional marketing in that it serves educational and community-creating purposes. The more useful the content, the more staying power your app will have. 
In B2B, content marketing can also help establish your company directors as thought leaders in a given field. You can start by answering common questions and providing helpful content with your app messaging.
This will make you, your business, and app a point of reference for your audience. That means users will frequently look to you for advice, troubleshooting, and other help. 
In both B2B and B2C marketing, content can achieve objectives like finding new customers and building trust. It can also contribute to your search engine optimization (SEO) strategy (more on this later). 
Content Types and Formats

Blog posts are super versatile. They can be optimized for search, answer your users' burning questions, share tips, tricks and guides, and even walk through your app's latest features.

Emails can keep your users up to date with your latest features, share offers and keep your app top of mind.

Infographics are highly visual ways of sharing information. They can have lots of different uses—from sharing facts and how tos, to showcasing your users' success stories. 

Also known as lead magnets, ebooks, white papers and longer form guides can all be placed behind a gateway. Simply collect the contact details of the people who download your content and you can let them know about your app launch. 

Case studies show how people have used your app to solve a problem or succeed in some way. They are especially useful in B2B marketing campaigns. 

Whether you appear on other podcast series or create your own, podcasts are a good way to spread the word and drive awareness of your app. 

Landing pages outline the benefits and features your app offers. They also provide links to download the app directly. 

Videos are a highly engaging form of content marketing and can be just as versatile and valuable as blogs. 

In fact video marketing is often more powerful than text content, as it can help build an emotional connection with your target audience. They are easy to share across social media platforms and, unlike text, you don't have to repurpose the content. 
Influencer Marketing
Influencer marketing is exactly what it sounds like. Businesses team up with social media influencers to better reach their target audiences. 
In this type of marketing, influencers get money to promote products and services to their followers. They offer businesses access to their audiences, with which they have great relationships. 
According to Influencer Marketing Hub, businesses see a return of investment of $5.20 for each $1 they spend on influencer marketing. 
There are several types of influencers. Take a look at the list below to better understand what some of your options are:
Nano-influencers
Nano-influencers have fewer than 1,000 followers. However they have remarkable engagement with their audiences. They often have specialized niches, which make their posts very impactful. They are often among the cheapest influencers to work with.
Micro-influencers
Micro-influencers have between 1,000 and 10,000 followers. They sit somewhere between nano-influencers and macro-influencers. Their posts also see high levels of engagement. They are far cheaper than macro influencers. 
Macro-influencers
Macro-influencers have many thousands to millions of followers. Working with them is obviously the most expensive option, but they offer direct contact with huge audiences. 
Want to read more? Get a general overview of influencer marketing here or dive into strategies for YouTube influencer marketing.
Acquisition Stage
After the awareness stage comes the acquisition stage. The point of this stage is to turn prospective leads into users. The two main areas here include post-launch advertising and SEO for apps, which is better known as App Store Optimization (ASO). 
Advertising
This is relatively straightforward. Once your app has launched, you need to start paying for ads. They should also be targeted. That means this is yet another opportunity to reap the rewards of your solid market research.
If you found that your target audience was most at home on Facebook, that's where you should be paying for ads. Likewise, if they hang out on Instagram or Tiktok, you should be spending on ads there instead.
ASO
If you have not heard of SEO before, it is the process of maximizing visitor numbers to your website. You can achieve this by using keywords and common search terms that push your website higher up a search engine's list of results. 
App Store Optimization (ASO) is the app store equivalent of SEO and a crucial part of any mobile app marketing strategy. As discussed, there are millions of apps. There could be scores of competitors. ASO can help your app perform better in terms of search returns and downloads. 
Build your ASO strategy on the following foundations:
Picking the right keywords will push your app higher up the search returns list. You can use tools like the Mobile App Insights tool from Semrush to identify the best keywords for your app and track your rankings. As time goes on, you'll have to update your app store copy to include new keywords to stay relevant.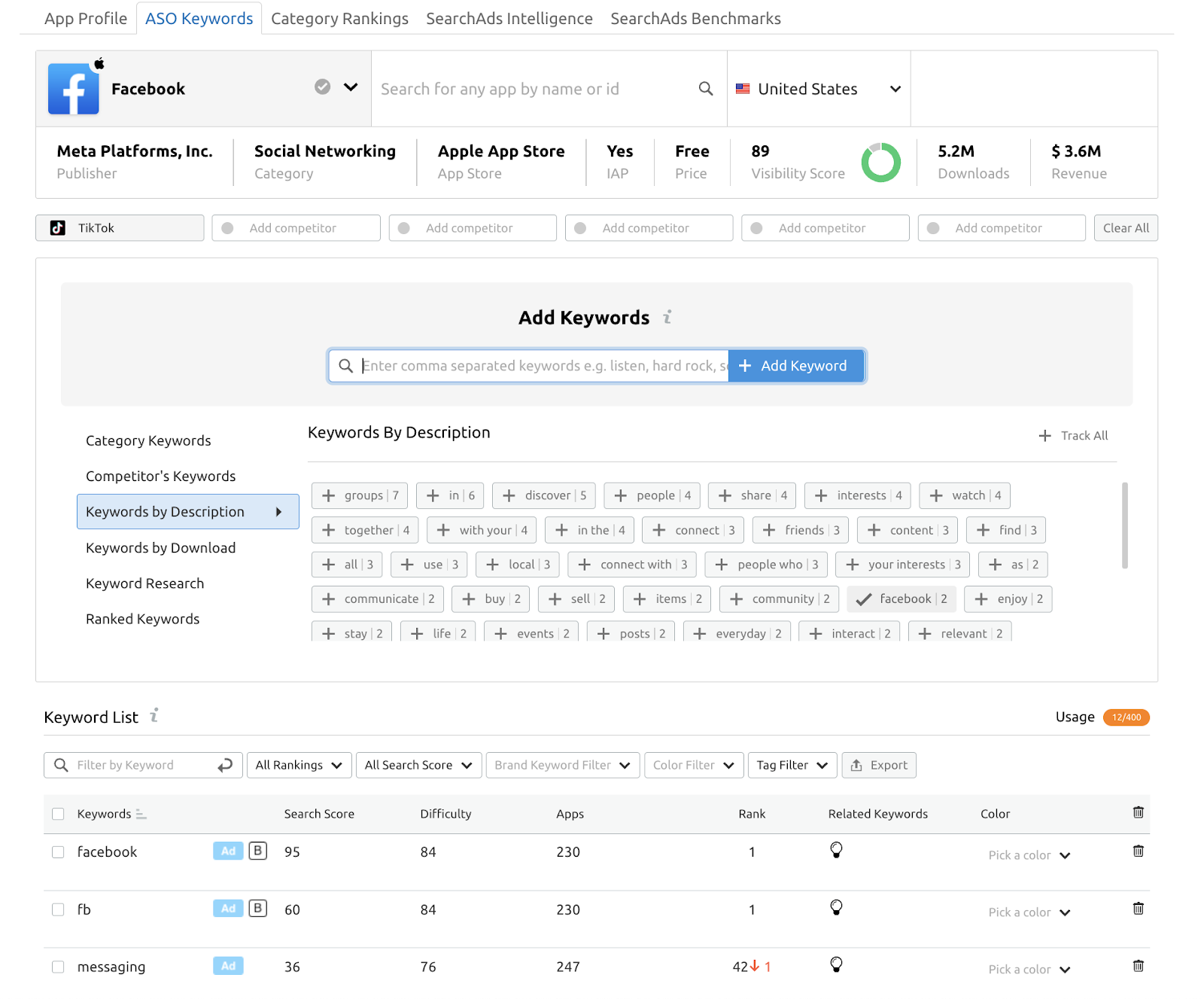 Boost For Voice Searching
We can now search for apps (and anything else) with voice commands. Voice searches are less robotic and more natural than written requests. Keep that in mind when optimizing your entry for voice searching. 
If you want to be a global sensation, you can't just stick to English. App store searches in other countries will do better in their own languages. Translate your app to make sure it does better internationally. 
Public Relations
An app launch wouldn't be complete without a press release. This is a notice to the media that explains what your app is, who it's for, and how it can be accessed. You can send a press release pitch directly to industry journalists and news wire services, being sure to include why your new app is worth writing about. 
Product Hunt 
Product Hunt is a popular place to launch new apps, products, and updates. This tech website lets you submit a product to be featured and users upvote their favorites. It's a great place to get your app in front of journalists, early adopters, and future users. 
Paid Marketing and Teaser Campaigns
Don't forget about paid search and social media campaigns, to target potential users by interest and keyword. Paid and teaser campaigns are a great way to pick up new users and generate buzz around your new app. 
Retention Stage
So, you've managed to reel them in. Now you have to keep your hard-won users. There are lots of ways to do this. 
Notifications
In-app and push notifications are a powerful tool for keeping users updated on new developments. This can include app updates, special content, or promotions. 
For example, the popular game Clash of Clans sends notifications about competitions, changes to gameplay, and other news. You should be careful about how many notifications you send, though. Overwhelming your users with too many could see your app deleted quickly. 
Communications
Communicating with existing users is another example of content marketing. Language-learning app Duolingo is great at this. It frequently sends emails and other messages to get people back into learning if they have been gone a few days. It also sends facts about language learning, with cool statistics and other information. You can manage communications with newsletters, blog posts on social media, and other content. 
There are other options you can choose, such as:
Rewards and Loyalty Programs
Easy to understand—people like prizes and your users are no different.
Game-like challenges can keep people coming back for more.
Exercise apps do this a lot. They retain users by letting them compete with friends via the app at a distance.
Show you react quickly to issues reported by users.
Let users enjoy the app offline. Think Spotify offline playlists, or Google Docs. This allows the app to be used anywhere.
Include Positive Reviews Within The App
Powerful social proof can vindicate people's decision to use your app. Flaunt that positive feedback. 
Reengagement
Sometimes, relationships don't work out. Over time, some users may decide to stop using your app. That doesn't mean you can't win them back though. The reengagement stage of the mobile engagement loop is about winning back wayward members of your app's flock. 
Here are some of the things you can do to win back departed users:
A/B Testing 
A/B testing is when you present different versions of your app to two different test groups. Fiddle with things like the user experience, notifications and other updates. Present changes to one group of former users, while the other group stays with the original app. Then you can see which gets better feedback for potential roll out across your app.
Community Building
Use your target audience's preferred social media platform to build a strong community. Even when someone leaves, the chances are they will keep seeing app updates from the social media scene. 
Updates and Improvements 
Release updates and improvements as often as possible. Base these on user feedback to re-engage people who didn't like an earlier version of your app.
Time Limited Offers
Send offers to entice people back to your app. You can target these to email addresses and other contact details you have from people that no longer use your app. 
These are some of the most effective tactics available to you. Have a play and see which combination works best to re-engage former users and get them back on your app. 
Summary of a Mobile App Marketing Strategy
So there you have it, the ultimate guide to marketing your app. 
Landing Page Building
It's clear that laying the groundwork for your app's launch is vital for success. Building a "coming soon" page and working with influencers can generate buzz for your offering before the big day.
ASO and Advertising
After you've launched, it's about maintaining momentum. Paid ads and serious effort on your ASO can make sure your app stays visible to potential users. 
Retention Tactics
Special mention should go to retention tactics. Keep them coming back for more with notifications, communications like content marketing and things like offers, rewards, and other incentives. 
Reengagement Tactics
When users leave, don't give up on them! Use reengagement tactics to win them back. A/B testing can identify the most popular iteration of your app. Community building can make your app indispensable to a given target audience over time.
Remember to make the most of the tools that are available to you. Semrush's Mobile App Insights application helps you monitor the competition and see what tactics have worked best. You can use it to track up to 40 apps and add over 400 keywords to monitor.
Have fun playing with all these tactics and see what works best for you. Best of luck on your launch!