When using SEMrush, there has most likely come a time where you have seen something that drew your eye, and in turn, caused you to draw a logical conclusion. Although we try to explain everything as best as possible to our users, some elements become lost in translation. I've decided to draw up a list of common "myths" about SEMrush. Here are the top three myths most users assume about SEMrush. Let's see what we can debunk.
Myth #1: Traffic Numbers Are Exact Numbers
It's understandable why people would come to this conclusion. This often happens when visiting Organic Positions report or the Advertising Research Positions report. You expect the traffic number listed to be exact. However, this is not meant to be an exact number.
In our US Database we have over 80 million keywords. These are the top 80 million keywords by search volume.
We get our information by analyzing the search results for the first 10 SERP pages for each keyword in our system. This means we analyze the top 100 results organically and the top 11 results through AdWords. And this is what determines what is displayed for any domain or keyword within SEMrush.
So because our system is limited in what is displayed for a domain or keyword, this will not take into consideration three factors:
Keywords the domain is ranking for that do not fall within the top keywords for the given database.
Keywords the domain ranks for out of the top 100 Organic results or top 11 Paid results.
Any keywords ranking at a local level. We gather our data at the national level.
This is why you might also see a lower amount of keywords. So when you are looking at these numbers for a domain, please keep in mind we are basing our assumptions off these select amount of keywords we found for the domain.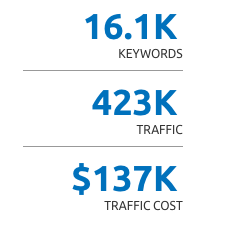 Another thing to mention is that we do not have access to other website's internal analytics. Because of this, we can only make technical assumptions for traffic numbers with averages. The number listed at the top of the Organic/ Advertising Positions report is an average monthly traffic number.
This number is based on the keywords we found the domain ranking for specifically through that channel. For example, if you see that eBay has an average monthly traffic of 93.7 million, this is looking specifically from an Organic standpoint for the keywords we found.
Other keywords they are ranking for that do not fit within the criteria for our system will not be taken into consideration. Also, this will not be taking paid search or referral traffic into consideration either. This makes it easier to notice how well your competitors are performing through a specific channel.
Myth #2: SEMrush Can Replace Your Internal Analytics
As mentioned before, SEMrush cannot access other website's internal analytics. Because of this, our software is meant to complement your internal analytics rather than replace it. Since we don't consider referral traffic or other keywords that either do not fit within our system or websites that are not ranking within the top results, you should always look at your internal analytics for a clearer picture.
How does it complement your work? When you are looking through your internal analytics, you may have found keywords that show up as "(not provided)" or "(not set)." By analyzing the information provided by SEMrush and comparing it to your internal analytics, you can uncover what these keywords are.
Myth #3: No Data Means SEMrush is Broken

You may have seen this before as well. You enter a domain or keyword into our system and see a "Sorry we haven't found any information" message appear across your screen. Before you throw your monitor out the window its important to understand why you may be seeing this message.
As noted above, SEMrush only tracks the top keywords by search volume for each of our databases. Also we only track the top 100 results organically and the top 11 paid results. This is what your query can mean:
By Domain: The domain does not rank within the top positions for any of the keywords within our database.
By Keyword: The keyword does not fall within the top keywords for the given database.
Here is a Pro Tips video we created which explains further what this message means:
Also, this is not necessarily a bad thing. For example, if you are looking up a potential client in SEMrush and there is no data, you can use this to your advantage. By showing your potential client that they do not show up for any keywords within the top positions within our database, it tells them they need a change in their digital marketing efforts. And who better else to help them than you?
These are just a few myths about how SEMrush works. We try to be as up front as possible so that you can utilize our software to its full potential. Now that you know exactly what all of this data means, you are ready to conquer your digital marketing campaign and hopefully debunk the competition!
Are there other questions you have about SEMrush? Please let us know in the comments below!
If you still have questions about any of this information, please feel free to reach out to our Customer Success Team at: (855) 814-4510 or by email at mail@semrush.com. You can also contact us on Twitter by using the #semrushcare hashtag.