The SEMrush teams are focused on continually fine-tuning our tools so we can improve your user experience. As we stated last month, our "What's New" series will make sure you are informed on all of our product updates and recent changes. We urge you to test out the new additions and give us feedback on what you like, what you don't like, and what you would like added. 
SEO Tools
Domain Analytics Tools — France and Brazil
The process of updating and expanding our databases is ongoing. Now we have more data for France and Brazil in Organic Research, Advertising Research, and PLA Research tools. French database has 24 million keywords for desktop and there are finally more keywords for mobile - 3.6 million. Brazilian mobile database has 3 million keywords now!
?? France +12 million desktop and +2.6 million mobile keywords
?? Brazil +2 million mobile keywords
Keyword Magic Tool Database
The Keyword Magic Tool database is also growing. The latest update gave us a database growth of over 606 million, so now the KMT has 15.5 billion keywords in total (including 98 million new keywords in the USA country database). Other milestones include: 
?? Brazil +70 million – 1.5 billion keywords

?? United Kingdom +40 million – 723 mln

?? France +40 million – 941 mln

?? Spain +24 million – 600 mln

?? Germany +30 million – 592 mln

?? Italy + 22 million – 525 mln

?? Mexico +22 million – 417 mln

?? Argentina +19 million – 375 mln
You can always check any other stats about SEMrush big data here.
Keyword Overview
We added a new widget, Keywords Suggestions, to our Keyword Overview so you can instantly understand the keyword value. The widget is driven by Keyword Magic Tool data. A fast glance at the number of keyword semantic variations, as well as the total volume and average Keyword Difficulty, will give you an idea of how deep you can develop your keyword research. 
Keyword Suggestions widget on Keyword Overview
Link Building Tool — Outreach
There is a new widget for outreach that has been added to the 'In Progress' tab. A quick evaluation of your outreach efforts is available. You will also find contacts' details and email templates that are available at the tool interface. The widget is also available at the Overview report.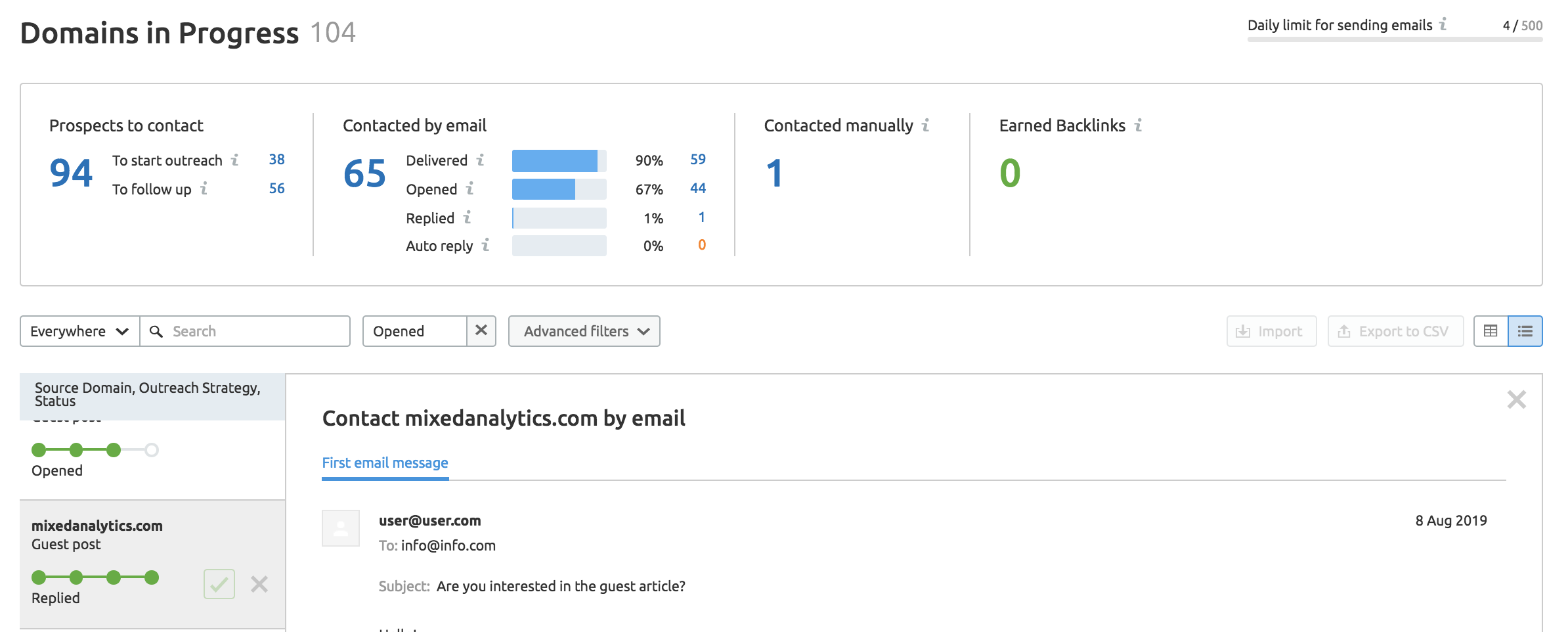 Outreach progress widget in SEMrush Link Building Tool
SMM Tools
Social Media Poster
Our Social Media Poster allows you to prepare your posting in advance for different social networks (Twitter, Facebook, Instagram, and LinkedIn). It now also allows you to boost your most important Facebook posts directly from the SEMrush interface. We have added detailed analytics for the boosted post so you can boost posts and check results in the same tool.
You can check metrics such as reach, impressions, link click, CTR, CPC, and more. This metric data will help you analyze which boosting parameters work best and help you adjust your future ads to improve results.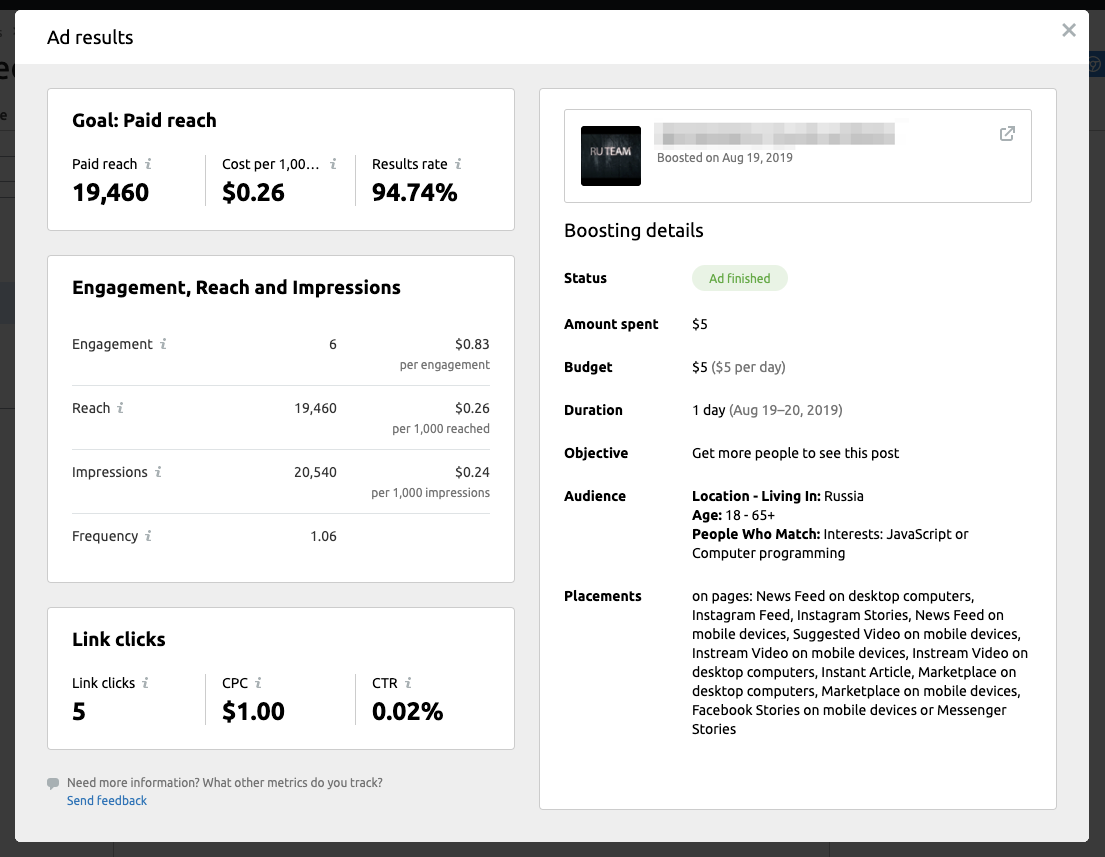 Facebook boost results in Social Media Poster
Poster Calendar
In the Poster Calendar, we will indicate the top posts that are worth being boosted to expand your visibility on Facebook. By clicking the button "Top posts to boost", you will see your most engaging Facebook posts in the last 60 days, and you can easily boost the post you wish.

Top Posts to Boost suggested by Social Media Poster
Great targeting in boosting is crucial. If you choose the wrong audience to target, not many people will see your post, and you will spend your budget with no ROI. So, we decided to add a hint at the interface, which can help you see which posts didn't spend the daily budget. In one click we will show you more details about what is going on and why, and tips on how to fix it.

Boost targeting improvement in Social Media Poster
Related reading:  Managing Your Social Posts
LinkedIn Analytics Widgets in Social Media Poster
We added new widgets to the Analytics tab in our Social Media Poster, which are based on LinkedIn data. The same report was in the Social Media Tracker but will disappear soon. So just remember it will still be available in Poster. Some of the metrics you can see include the trend of followers' growth, detailed information about engagement, reach, impressions, etc. Just a small reminder, we also have only data about Facebook & Instagram Business in that report.
LinkedIn Analytics Report in Social Media Poster
Competitor Research Tools
Traffic Analytics Top Pages Report
In our new Top Pages report, you can find data on pageviews, unique visitors, entrances to the website, and their sources. This report is in "beta", so your feedback will be much appreciated.
Please note that this report is available for users who have access to Traffic Analytics. If you still don't have access, feel free to test the Traffic Analytics report and discover its powerful market analysis data. It gives you market insights for developing a successful business strategy.
Traffic Analytics Top Pages report
Content Tools
SEO Writing Assistant
There was a small but handy update regarding the SEO Writing Assistant; we added some more useful options to the Overview in the SEO Writing Assistant interface. We now show keywords to add on or remove from your content and provide a recommended number of words to add or remove from the article.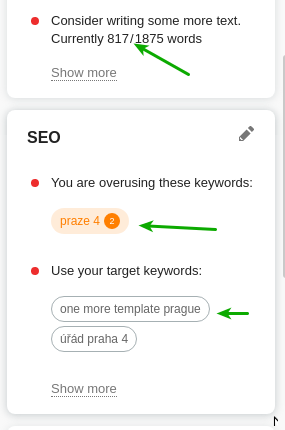 SEO Writing Assistant add-on
Related reading:  How to Create SEO Friendly Content with SEMrush
Content Audit
We presented our new service, Content Marketplace, in a previous post. Content Marketplace was designed for ordering content directly from our interface. Of course, we understand that rewriting is a high demand service as well. Using the SEMrush Content Audit, you can analyze your content performance and also understand which content should be improved. 

Article rewriting option in Content Audit
Projects
Besides analytical reports, we have additional powerful tools in the Projects section like Site Audit, Position Tracking, Backlink Audit, On-Page SEO Checker, Content Audit, and much more. If you are still using an old version of the Projects list, it is time to switch to the new one.
Projects section — new version.
The new version is much better organized and informative. Pretty soon we are going to completely switch the project list to the new version, so be prepared for that change.
Reporting
My Reports
Creating the right kind of reports is vital to our customers. We know many use tools like Google Analytics, and we want to provide the best options for our clients and let them combine the data sources they need. The My Reports tool allows you to create a fully customizable report while combining different sources of data as Google Analytics, Google Search Console, Google My Business, Google Data Studio, and SEMrush.
Position Tracking Widgets
We added new widgets from Position Tracking in the My reports tool so you can add an overview of information about your SERP visibility results. You can provide the following in your reports: rankings, improved or declined positions, global visibility in rankings, and the number of keywords in top 3, top 10, top 20, and top 100.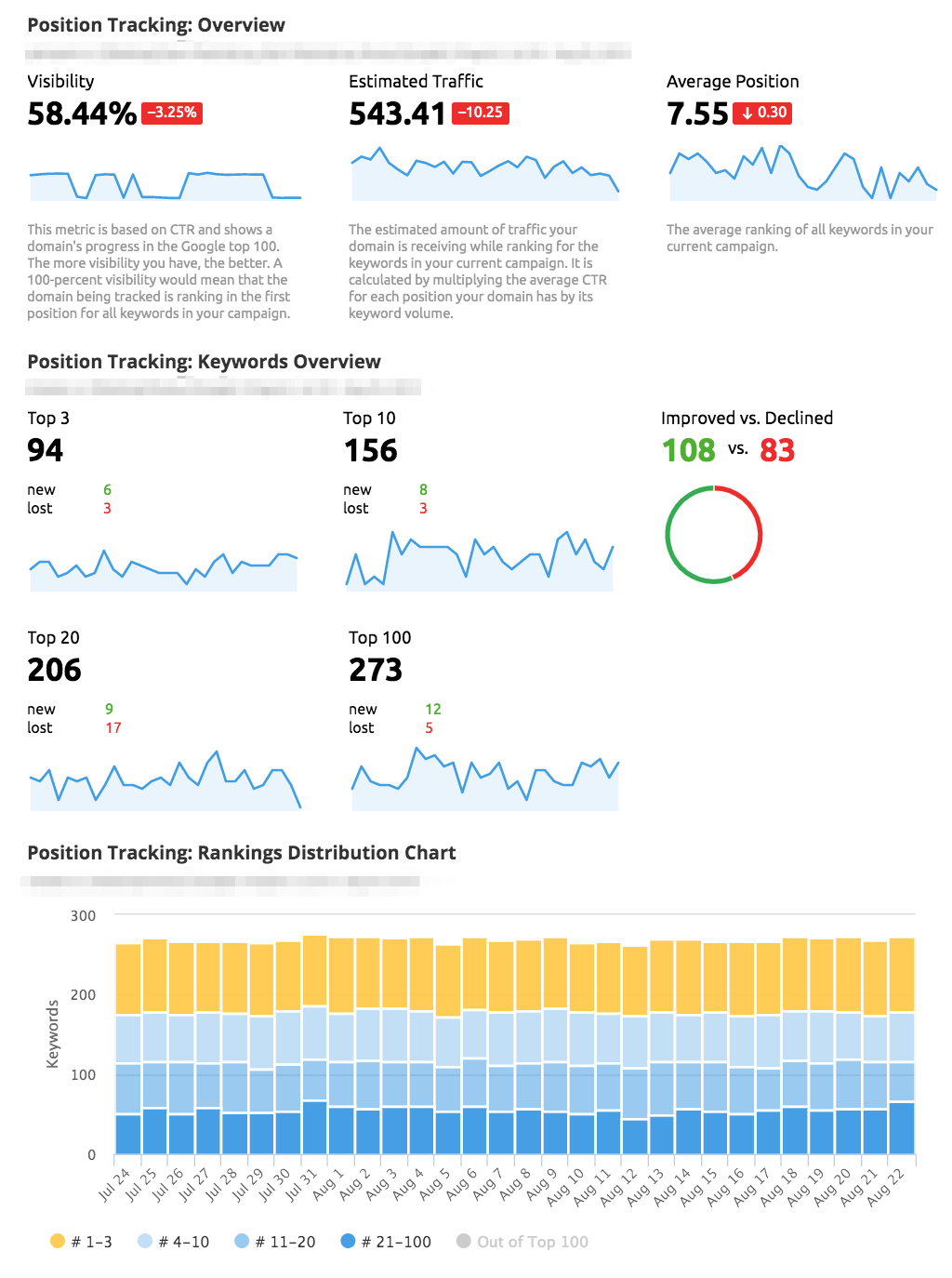 SEMrush Position Tracking new widgets in My Reports
Some other useful widgets include information on top competitors, top keywords, top landing pages, and SERP features.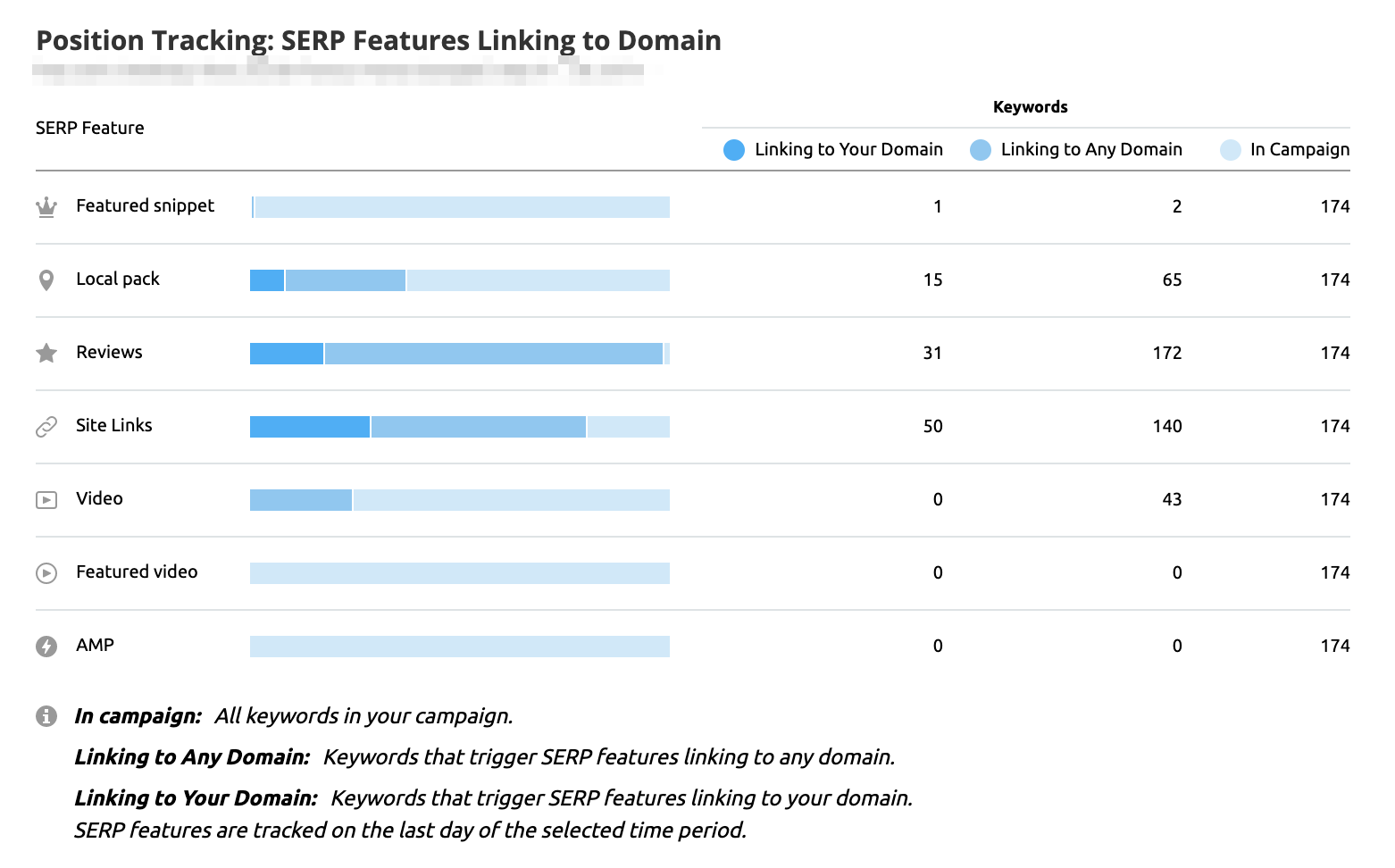 SEMrush Position Tracking SERP features Linking to Domain widget in My Reports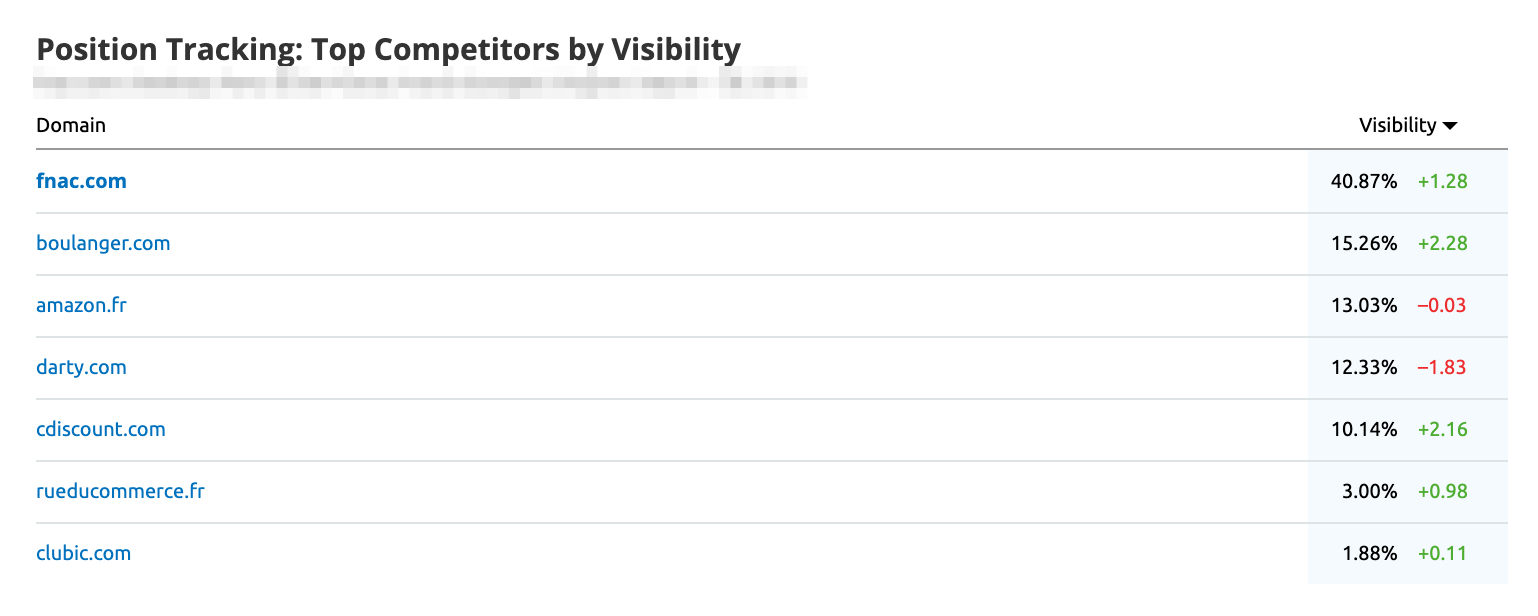 SEMrush Position Tracking Top Competitors by Visibility widget in My Reports
Google Data Studio 
Google Data Studio is a free online tool with  150 sources of data available to help you create custom reports and dashboards for your business. As you may know, we have Google Data Studio connectors for Domain Analytics reports and Position Tracking, and you can add SEMrush data into your reports in Google Data Studio. This feature is available for those with a SEMrush  Business subscription. 
Using the  SEMrush Position Tracking connector, you will see in the GDS report our Position Tracking Organic or Google Ads Visibility, organic or Google Ads Positions or an Organic Overview report from an existing Position Tracking campaign. The max limit of keywords for the Positions report has increased to 5,000.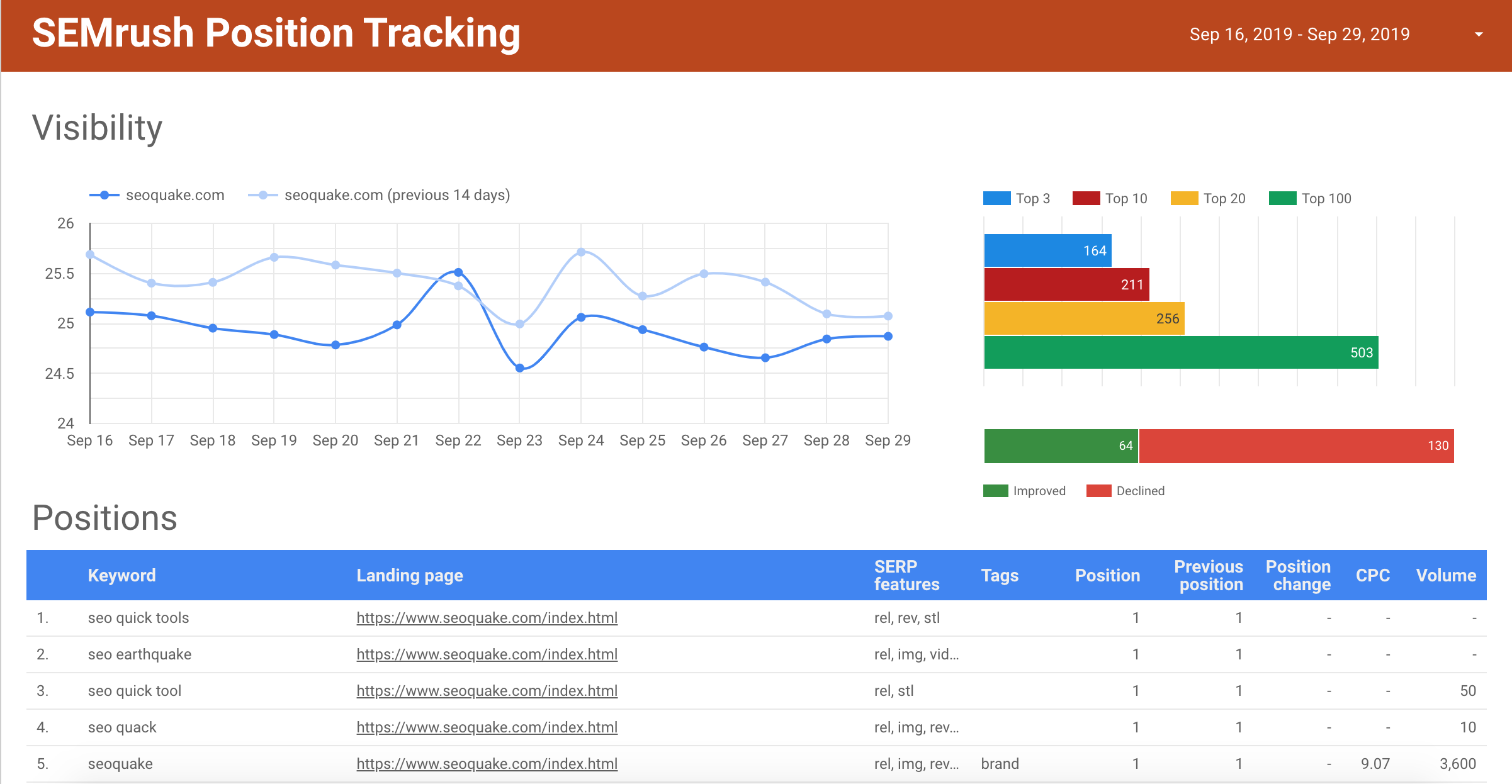 SEMrush Position Tracking data in Google Data Studio
Other News
User Management
Have a SEMrush account and want to add additional users? It is now easier to do that. Just go to the 'Manage users' option on your profile menu, and you will be able to buy additional user access quickly. You can invite your teammate to use the SEMrush data based on your subscription level. 
User Management Section in SEMrush
SEOquake
SEOquake is our free add-on which gives website information right at on the SERP. We support and improve SEOquake because our users love to discover website data and parameters in one click. There are SEO or Advertising metrics, website rank, age of domain, etc. We have now added an option to see some traffic data from our own Traffic Analytics tool, so users have an overview of website traffic at one glance. You have to just connect your SEMrush free or paid account to SEOquake and get the data you need.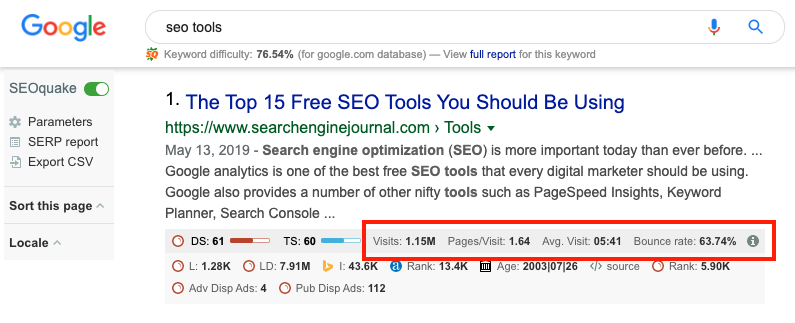 SEOquake SERP Overlay
New Academy Course
Finally, we have rolled out a new Academy course about site audits for people who would like to get some more technical knowledge and learn skills for auditing and fixing a website's technical issues. If you use Site Audit, just go to any of your projects and find a banner about the course inside or click this link if you are interested -  Site Audit Course with expert Ross Tavendale.
---
That is all the updates for September. Let me know how you like this overview post and what other information you would like to have in our updates. Also, if you would like to share your thoughts on any of the features mentioned above, we would love the feedback. Please leave all your tool wishes, even the most extreme ones, in the comments.