Newsjacking is believed to be an instant marketing tactic capable of taking a brand ahead of the trend by attracting significant traffic, increasing social engagement, boosting sales and…the campaign expiring as soon as the hype fades away.
We at SEMrush wanted to see if there was anything more to it and if newsjacking could be done below the very top of the customer journey funnel. Since 2017 we have been following the Game of Thrones topic, and we discovered that it can be fun and very productive when you manage to ride the wave and incorporate the elements of a TV series into a product. Keep reading to see how we managed to make the most of it, both in terms of promotion and added value, and the results we got.
Dragons Per Click: Westeros Map in CPC Map
Before we go through previous campaigns, here is an update we rolled out just a few hours ago — the new "country" in our CPC Map!
About the CPC Map tool
CPC Map is one of the newest SEMrush tools. It provides a way to compare the costs of advertising on Google Ads across different states or regions of a country. The tool lets you analyze states side by side and compare costs and demand in the top search industries.
Analysis of advertising costs across different states or regions in an industry
Compare both PPC costs (avg. CPC) and PPC demand (avg. search volume) in international currencies
Data on multiple industry verticals, from Banking to Travel
Most of the great houses act a lot like modern businesses, with numerous attempts to overrun competitors in their quest for power. So we decided that there would certainly be a place for advertising in George RR Martin's world. Our PPC toolkit team found it interesting to imagine what it would be like to advertise in Westeros.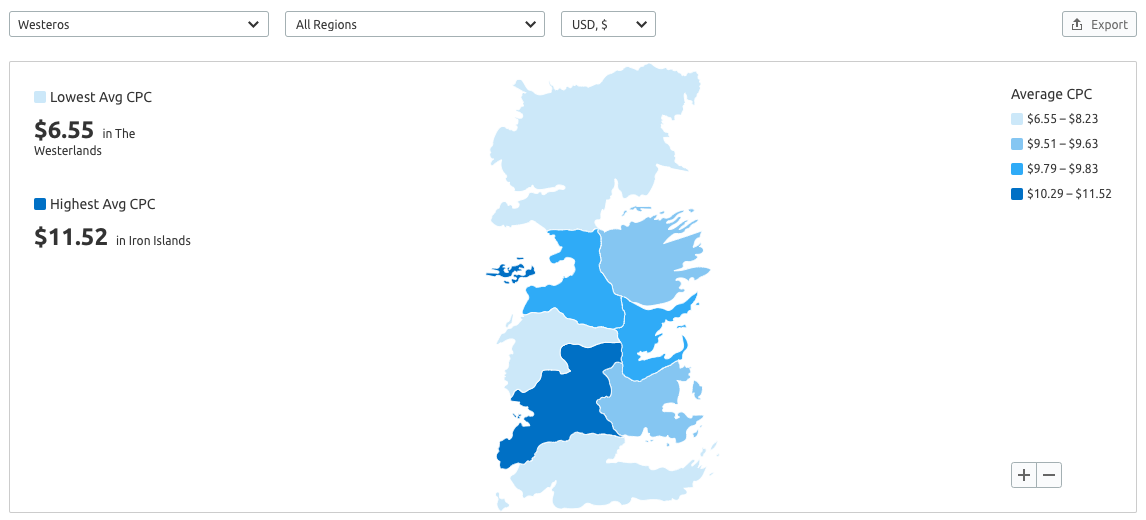 Along with the actual map, we also came up with the keywords that would be relevant for each of the industries we analyzed: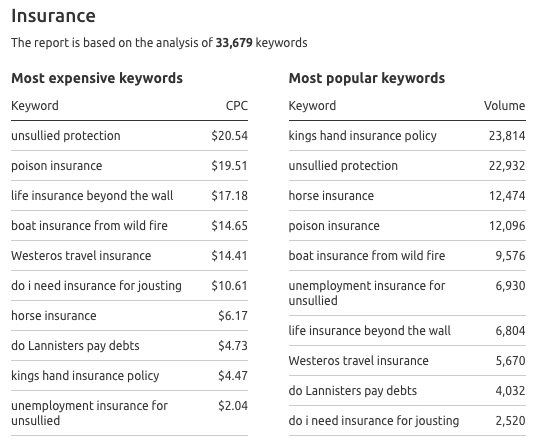 Explore it and tell us what you think, and which keywords we may have missed on the list!
Dothraki Database for Keyword Magic Tool
With more than 30 languages in the database, it wouldn't be too difficult for SEMrush to bring in some more for you — even if the language is fictional. This is how Elena, our product marketing manager, and Dmitry, our education specialist, came up with the idea of adding the Dothraki language to our Keyword Magic tool in July 2017. Within a couple of weeks, this became the basis of quite a successful marketing campaign.
Idea: Add the Dothraki language to the Keyword Magic Tool and arrange an international marketing campaign to emphasize the volume and versatility of the SEMrush keyword database. The database was taken from the Dothraki Language Dictionary and contained over 1,500 terms. All the metrics (search volume, CPC, keyword difficulty, etc.) were calculated based on the English analogs.

It took the developers about a week to implement the Dothraki language into the tool. Marketers spent a couple of weeks preparing and localizing creatives. The campaign was promoted on social networks and via a mailout.
Results:
9.26% conversion to registration rate

13% growth in the number of active users compared to the previous month (despite the low season)

400% increase in positive product feedback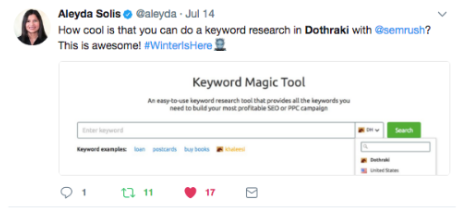 Lessons learned: Content produced during newsjacking campaigns can be evergreen as we are still getting around 1,000 organic monthly visits to the pages related to this campaign. However, as well as praise, we also got some negative feedback from those who hadn't seen Game of Thrones as the concept didn't resonate with them at all. So, be prepared for people who don't follow the trend, and you might want to have another card up your sleeve for them.
On the Throne of the Marketing Department
Since the series premiere in 2011, thousands of people have imagined themselves living in the world of the Seven Kingdoms. But what about a little role reversal? During a brainstorm, the SEMrush French team came up with the idea of depicting Jon Snow, Tyrion Lannister, Daenerys Targaryen and other characters of the movie as marketing department employees.
Idea: We wanted to draw parallels between the Game of Thrones personalities and different positions in the marketing team. We also highlighted SEMrush tools the characters (and the corresponding digital marketers) might be using in their work.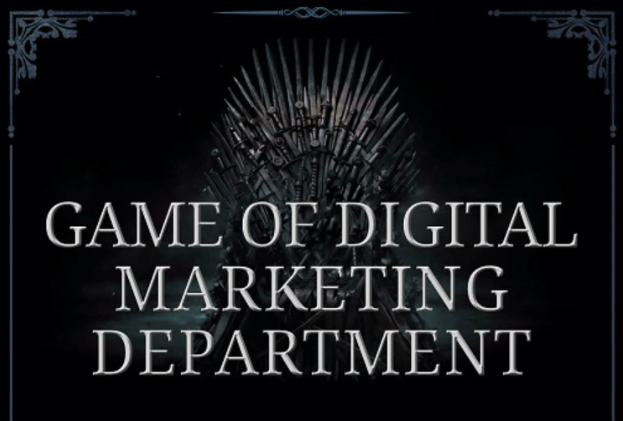 The infographic was initially created in French and promoted on social networks and other media in July 2017 to celebrate the 10 million views of the first episode of the new season. Then, after getting massive social engagement, the infographic was also translated into English.
Results:
1,200 social shares

Publication on one of the top French media webmarketing-com.com (over 200k traffic)

Over 10 re-publications in media
Lessons learned: Experiments sometimes bring more than you bargained for. When deciding where to publish the infographic, we had thought that this format would not suit our blog. But after seeing the reaction, we realized that even not-so-serious content can also drive engagement and bring value. Publishing it on an external resource actually deprived our blog of a great deal of traffic. So we are not making the same mistake again; this time we are going to turn the infographic into a quiz, so soon you will be able to discover who you would be in the game of digital marketing! Keep an eye on the blog for the quiz coming soon.
PR Ice and PR Fire
PR is obviously the area in which newsjacking works best. Since 2017, we have published a dozen studies regarding all things Game of Thrones: the most searched season, house, hero of the series, the related searches and the most popular questions — all based on SEMrush data. We also analyzed the most popular hashtags and emojis that go together with the series in social media.
Results:
Over 40 re-publications in big media across different countries, including the US, UK, and Brazil (the latest quote we had was from Express.co.uk).

Cumulative traffic of these media is over 20 million monthly visits.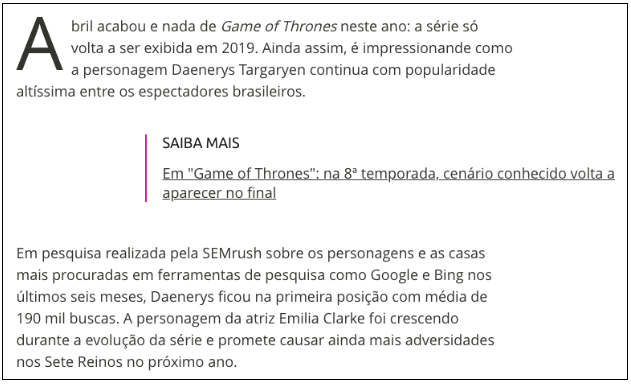 Lesson learned: Media outlets love data. In particular, they love any kind of topical data, so if you deliver it at the right time, you have a big chance of riding the wave and gaining visibility.
Is the Game Worth It?
For us, newsjacking proved to be even more effective than we thought. Here are a few takeaways from our campaigns that you might find useful.
The content you create may gain traction long after the campaign ends, ranking organically for some relevant search terms.

You can benefit even more by repurposing content and changing promotional channels.

Newsjacking goes far beyond PR and helps add value to a product — seek a creative way to integrate the two worlds.

There is always a part of your audience that doesn't follow the trend, so we wouldn't recommend creating a campaign entirely based on newsjacking when it comes to important technical updates or new launches. Product always comes first, after all.
So keep all your users covered, manage your content wisely, check how you can make the most out of the news, and…Valar Dohaeris.