For SaaS startups, attracting venture capital funding is usually the foundation for driving explosive growth. However, for some businesses, success is the result of hard work and good marketing with no huge funding to help.
Instapage and Grammarly are two businesses that have achieved success without funding. If you are looking to bootstrap your way to glory, here are some of the actionable lessons you can take from these two brands.
Instapage
Instapage allows users to build designated landing pages for their marketing campaigns. With a simple drag-and-drop interface, building custom landing pages is easier than ever.
This is a huge time saver for marketers. It also provides a more personalized experience for users, which leads to higher conversions.
In a few short years, the company was able to achieve astronomic growth.
Build Something People Actually Want
Many of the entrepreneurs I have met have gone through the agonizing experience of coming up with an idea that they think is amazing, executing on it and then coming to the shocking realization that no one wants to buy what they are offering.
This is a common mistake for new entrepreneurs and if you have done it yourself - don't worry, be proud and wear it like a badge of honor.
However, when you are ready to move forward and build a business that has a high chance of being profitable - there must be no ambiguity over whether people will buy your products or services. In other words, the market demand needs to be verified by data.
Tyson Quick, the founder of Instapage, had a previous business and was discouraged by the fact he was only receiving a 5% conversion rate from ad clicks. He learned that this figure was standard across multiple industries - which lead him to his idea for Instapage.
The best products are those that alleviate a stinging pain point, and marketers feel the pain most acutely in their wallets. No marketer wants to lose 95% of potential conversions, so by delivering a service that would help to boost post-click conversion rates, Tyson knew there would be a demand.
In an interview with Forbes, he states:
"I would say that the most important thing for people that want to bootstrap is to find one particular problem that matters to people and work to solve it better than anyone else."
Use Designated Pages for PPC Campaigns
In the digital era, it is no secret that personalization is an essential ingredient in marketing campaigns. Long gone are the days where you could churn out generic messaging and hope that it gets through to the right buyers.
On the Instapage podcast, an amazing statistic is quoted: "For every $92 people would spend on optimizing an ad, they would only spend $1 to optimize that landing page."
This insight is incredible because the conversion happens post-click, not pre-click.
I perform a lot of competitor research for my clients, and I am constantly amazed at the number of businesses who are sending Google Adwords traffic to generic product catalogs or even worse, their homepage - despite the fact that the ad pertains to a specific product or service.
If you want to improve your conversions, there needs to be a seamless transition from the ad to the landing page, in terms of aesthetics, tone, and the actual offer.
Leverage Digital Outsourcing
Tyson states that without Instapage's foreign workforce, he would not have been able to bootstrap his way to success. Talking to Forbes, he states: "We love our foreign colleagues. They are just as hard-working, they are just as talented, and deserve opportunities."
The advantages of hiring remote workers are numerous. In addition to not having to pay overhead to keep people in an office, the rate of pay is often more affordable than what you would pay for a native worker - yet it is still more than adequate for the worker in his or her own country (the two contractors who helped grow Instapage in the early stages where from Poland and Romania).
It is an unfortunate reality that many managers are still stuck in the 19th century. You don't need to communicate face-to-face in order for your workers to be productive, and with collaboration tools such as Asana and Slack, it is easier to keep your communications streamlined on the projects at hand.
Grammarly
Grammarly is an advanced online grammar and spell-checking tool that allows you to enhance your writing, identify repetitive word usage, and check for plagiarism. You can install it on Google Chrome, as well as MS Word, to take your copywriting and proofreading efforts to the next level.
Even though SaaS businesses like Grammarly are attractive for potential investors, the brand achieved meteoric success with good old-fashioned marketing brilliance rather than financial leverage.
Deliver Value Through Content Marketing
If Grammarly only produced articles about spelling and grammar, the content would get boring quickly.
Fortunately, Grammarly understands that spelling and grammar is only one part of a professional worker's life. Grammarly produces articles on a range of topics, from career advice to instructional articles on writing the perfect apology letter.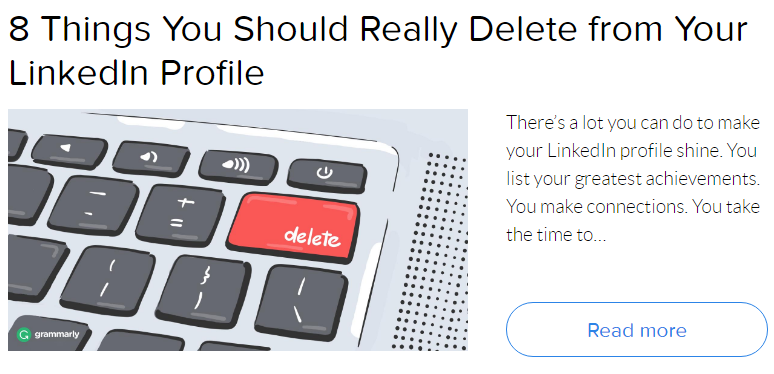 Grammarly also uses interactive content such as quizzes to engage their audience. Apparently, I didn't do well on their networking quiz!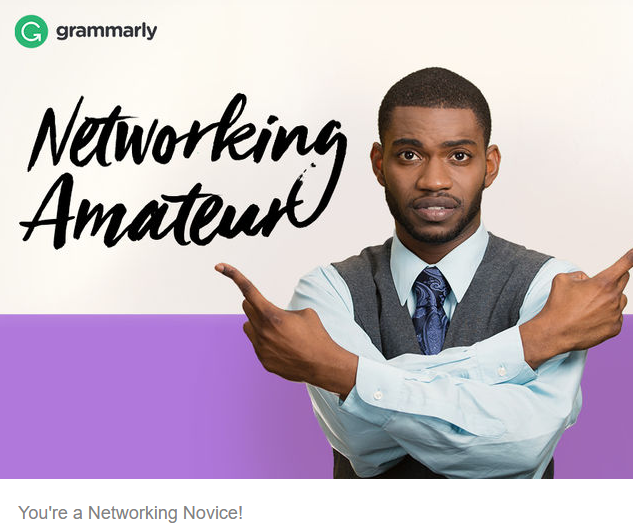 By learning about the values, desires and pain points of their audience, the content team at Grammarly has consistently produced superb actionable articles to boost engagement and remain visible.
Dominate YouTube
85% of businesses now have staff and resources for producing video content in-house. This is because video content is crucial for building an audience and driving traffic in the current era.
People have their own preferred channels for consuming information. Personally, I love reading blog posts, but I know there are lots of people who would rather watch a video than read an article.
If blog readers and video watchers are potential customers, you need to produce content for both types of people.
Grammarly's videos are short and insightful. Some videos deliver instructional tips for improving your writing, while others are more entertaining and help to inject humanity into the brand's marketing.
Some videos feature CTA buttons where users can click through to the Grammarly domain, and there are always links in the description to drive traffic and acquire leads.
Acquire Relevant Backlinks
Much of Grammarly's SEO success can be attributed to the brand's procurement of high-quality backlinks from reputable domains. For instance, Grammarly's backlink profile includes numerous links from .edu and .gov websites which are hard to acquire but are worth their weight in gold.
Fortunately, government institutions and schools care a lot about spelling and grammar, so when Grammarly reached out to promote content that helps students to write better - the band was rewarded with some excellent backlinks.
Are you producing content that authority sites would love to link to? If not, you should be, and if you are, then you need to focus on outreach.
Conclusion
Make no mistake, it is not common for startups to achieve 6.9 million daily users like Grammarly or generate $10,000,000 without funding like Instapage. Most startups aren't even profitable - Grammarly and Instapage are truly exceptional growth hacking case studies.
While Grammarly and Instapage used a series of powerful growth hacks to achieve success, you can certainly get a startup "up and running" with only a few of the tactics mentioned in this article. Once you find one or two things that work well for your business, you know where to put your focus.
Do you have any tips for bootstrapping your way to success? Please let me know in the comments below.