In the previous videos of the On-Page Boot Camp series, A.J. Ghergich told us how to gather keyword ideas and win featured snippets with SEMrush. If that helped you out, let us know in the comments down below!
In the third video, A.J. is going to tell us how he uses the On Page SEO Checker to refine the content strategy and find opportunities to gain rankings. — SEMrush Team.
Video Transcription
Hi! A.J. Ghergich again from Ghergich & Co. We are on our third video, and this one is going to be about the SEO Ideas tool. This is that assistant you've been waiting for to help show you what you should be focusing your SEO efforts on. Today we're going to be covering Strategy Ideas, SERP features, and looking at Content Ideas, specifically, on-page suggestions. Let's dive in!
Strategy Ideas
Let's look at Strategy Ideas. If you are unfamiliar with how any of these modules are working, just hover over them in the Overview tab and there is a detailed explanation for each one. Strategy Ideas may not work the exact way how you might intuit. What it's really about is showing you where you're cannibalizing yourself – or, at least, your search results.
For instance, let's look at these two ideas. You'll see that this is about keyword or page cannibalization.

What's happening here is this keyword has two different positions – 13th and 14th – but two different URLs.

As an SEO, now you need to decide: Should I throw one 301 redirect on, should I block Google from one view, should I prioritize internal linkage to one over the other? You could just use canonical tags. There's a lot of things that you could do to rectify this. Especially if you have a large site, it's so easy to inadvertently compete against yourself.
So Strategy Ideas is really about preventing the cannibalization of your own results. And this is a great tool that helps you rectify it.
Content Ideas
Let's go back to landing pages. I want to look at Content Ideas. This is kind of the "bread and butter" of the SEO Ideas toolset here because this is where you're gonna get your on-page optimization keyword placement, content length, readability scores, those kinds of things.

You can see, there are already tons of ideas in here for pages. Now what I do is I actually go over to Organic Research and Pages, put in the domain, of course, and I sort it by keywords. And what I'm looking for are pages with a ton of potential.

And right off the bat, it's like – holy cow! Look at this! I mean, the Science Center has over 4,000 keywords in the top 100 in Google... which is ridiculous!

Now if I were to click on this, you'd notice that a large majority of these land in 50 to 100. They're not 4,000 top-10 rankings. The next thing you would notice is that they tend to be grouped around science fairs, projects, and experiments, so like 2nd-grade science fair experiments, 4th-grade, 6th-grade, and on and on and on. What I would normally do is take a lot of these keywords and bring them over to the SEO Ideas. I've already done that, but if you wanted to do that you could import.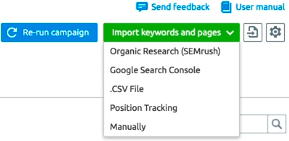 There are lots of options: you could manually import, you could come from Search Console, from SEMrush's database. There are all kinds of different ways to import. But since I've already done it, you can see the pages here – and I brought in 31 keywords – and I now have four specific ideas.

If you click on those ideas, you can see that these keywords aren't in the body – they're essentially missing. And if you click on Detailed Analysis, you'll see what I mean: 4th-grade science fair projects, 5th-grade science experiments. So "grade" and "projects" and "experiments" all around "science fairs" and things like that.
When you look at the My column, you'll see they're not using them at all. And if you look at your rivals, they're not doing it either. So rival's average is like top 10 – not very much usage at all with the rivals.
And so I would say Energizer's sitting on a massive opportunity. They have a potential for 4,000 keywords with this page. What I would do is set up subfolders for each grade and then folders for each grade with projects. So if you had a 4th-grade section, you would have appropriate experiments for a 4th-grade science project. And I think, if they did that, they could take down a ton of this traffic. So this is really the power of this SEO Ideas toolset. That's why I keep referring to it as an assistant. Because you can't be everywhere and be all things to everybody, right?
SERP Features
So let's look at the next one: SERP Features. We click on SERP features. This is new, and I love it because it's about SERP features.
I was looking at this result: AAAA batteries. First of all, because I didn't know that was a thing, and so it interested me. When you google 'AAAA batteries', you can see that a lot of the big players – Best Buy, Walmart, Home Depot – they have the star ratings.
But when you go to Energizer's own results, they don't. They have no ratings at all.

If you click in on the idea here, SEMrush is telling you that you lack stars (review stars) and that other people have them.

That's really cool; it's getting very micro so you don't have to. Pointing out something that's an easy fix, but would be hard to find that out yourself.
Keep It Up!
My challenge for you this week is to pick a project, and if you haven't already, of course, connect Google Analytics and Search Consoles, so you get the best possible results. But once you pick that project, go over to the Pages report, find some high-potential pages, and make sure you import them into the SEO Ideas tool.
I'd love for you to hit me up on Twitter, hit up the SEMrush community as well, and let us know what you are finding and how you plan to implement the fixes.