Earlier this year, SEMrush released the findings of our research into the online banking industry in 2018. The dataset for our study encompassed the top 500 online banking websites for seven countries: Spain, Italy, France, Germany, Brazil, United Kingdom (U.K.), and the United States (U.S.).
Results of our analysis, augmented by the research since completed with the expanded capabilities of our digital marketing toolkit, reveal five significant trends to consider in planning the marketing strategy for your online banking site in 2019:
Mobile Friendliness

SERP Features of Organic Listings

Mobile Devices as Primary Target of Paid Ads

Paid Search Volume & CPC growth

Increasing Importance of Direct Traffic
Here, we will discuss each of these key trends and recommended marketing strategies for leveraging them to your competitive advantage in the online banking space going forward.
Mobile Search Rankings & Google's Speed Update
Mobile traffic to online banking sites is growing in search volume, approaching and even surpassing desktop search traffic in some countries. Site owners and webmasters have adapted to this trend by making their sites more mobile-friendly for both users and mobile devices.
An especially critical factor in mobile search performance and user experience is page upload speed, so much so that Google began rolling outits "Speed Update" as a ranking factor for mobile searches in January 2018 before expanding it in July to include all users — giving online banking sites that much more incentive to invest in AMP (accelerated mobile pages).
Our research found that the top 500 online banking sites were largely mobile-friendly. In this highly competitive space, it is essential your website is optimized for mobile performance not only in terms of page speed, but site design (responsive is the default option for mobile devices) so it renders well on mobile devices.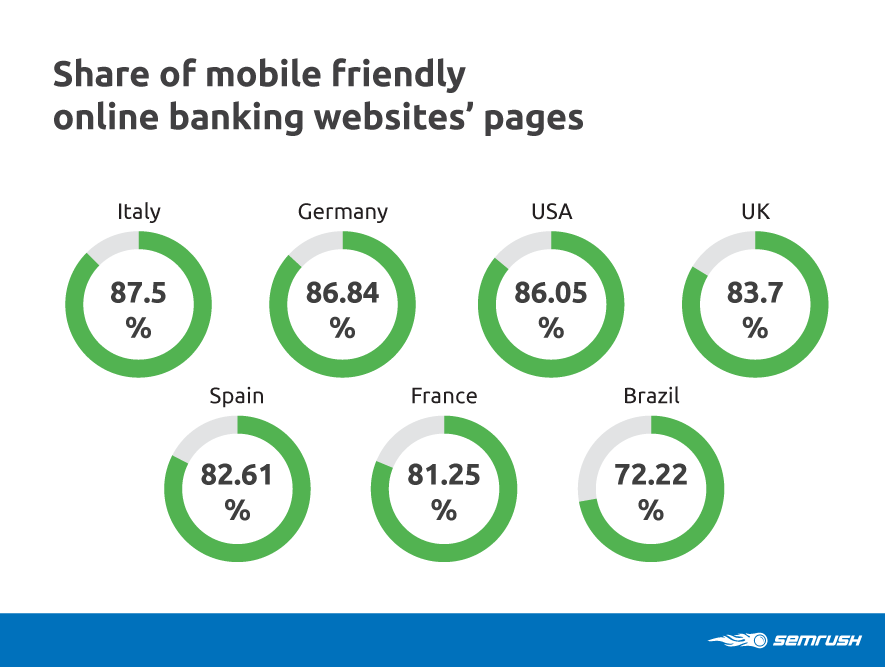 Organic Search Trends: The Role of SERP Features
After direct traffic, organic search proved to be the second most significant source of online banking website traffic for all seven of the countries included in our study.
In terms of overarching trends, our analysis found that of the 13 features of online banking site pages indexed in the top 20 search engine results page (SERP) listings, the more prominent are tied to signals of trust, relevance, and authority.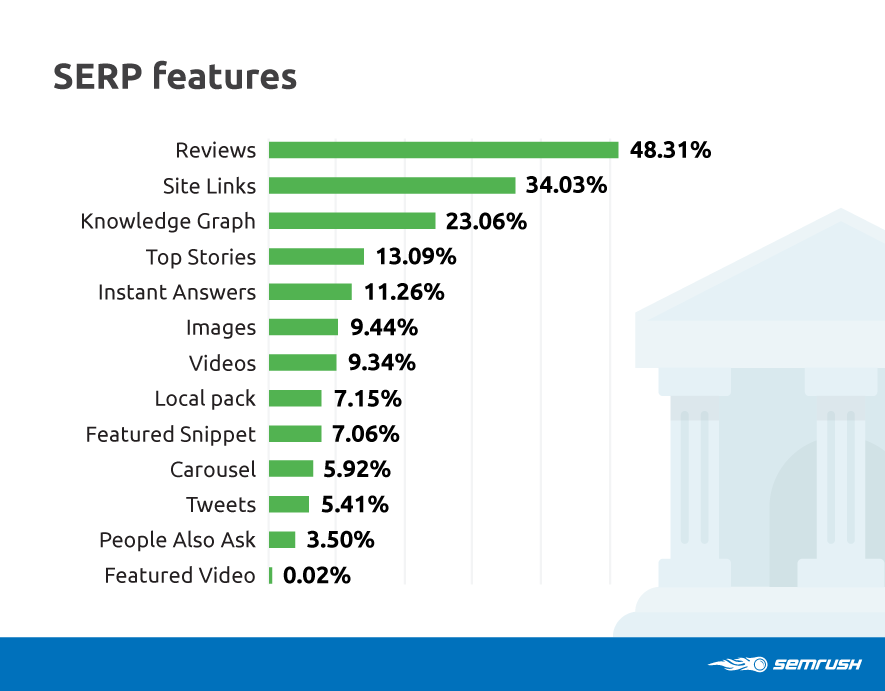 The data analysis for U.S. online banking sites reflected the findings for those in the U.K., shown above.
As an example, reviews — a trust signal used by Google —remained the leading SERP feature for both U.K. and U.S. online banking sites throughout the course of our study, followed by site links, which further connote relevance and authority when referred from reputable sources.

Example of review SERP feature
While certain features for site pages that ranked in the top 20 search listings cannot be directly influenced by site owners or SEO specialists, what we see gaining momentum as a leading SERP attribute are featured snippets. Occupying the strongly contested "position zero" at the very top of search results, featured snippets are rewarded by Google for providing the best possible direct answer to a given search query.
Example of featured snippet
It follows that a savvy strategy to claim this top spot would be to provide longtail keyword answers to trending search queries , giving due diligence to keyword research and competitive analysis. When creating content to leverage this strategy, you want to ensure that the answers you provide are relevant, neatly worded and well structured -- in short, snippet-worthy.
Paid Search Trends
Although our study found that paid search plays a less significant role than organic in driving traffic to online banking sites, it complements organic search efforts well, rounding out an overall digital marketing strategy.
Display Ad Targeting by Device: Mobile is the Medium
Analysis of the data shows that the overwhelming majority of display advertising targets mobile devices, which include smartphones and tablets, rather than desktop. Not altogether unexpected, given the larger trend of mobile search approaching, if not overtaking, desktop search.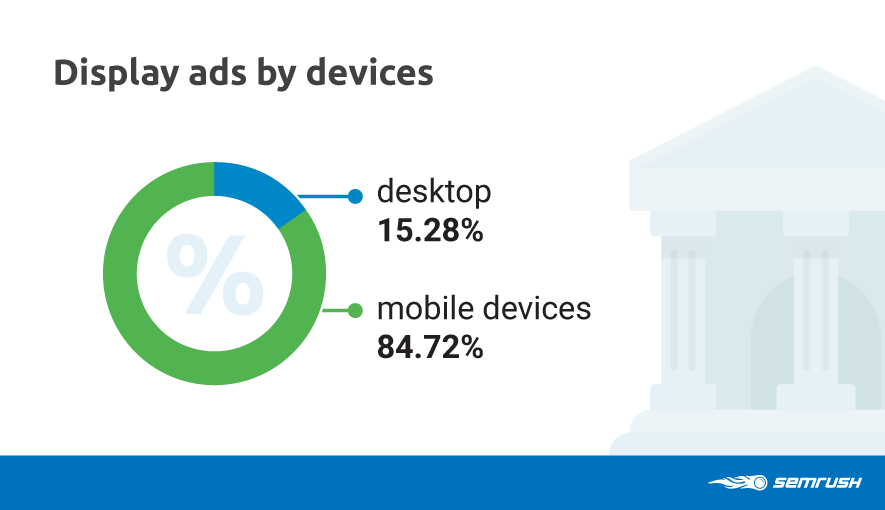 Since mobile devices are targeted often, it makes sense to make sure your ads on web pages are built using the AMPHTML framework. The same is applicable to AMP-constructed landing pages that are designed to continue the streamlined mobile experience that users initiate when clicking on a mobile AMP ad.
CPC & Search Volume Trends: Onwards & Upwards
Supplementing the findings of our online banking study, the SEMrush CPC Map indicates the parallel upward trends of CPC and search volume at the country level. As the online banking industry continues to grow, so will the CPC and search volumes.
For example, the online banking CPC Map and search volumes for the U.S. over the last four months look like this: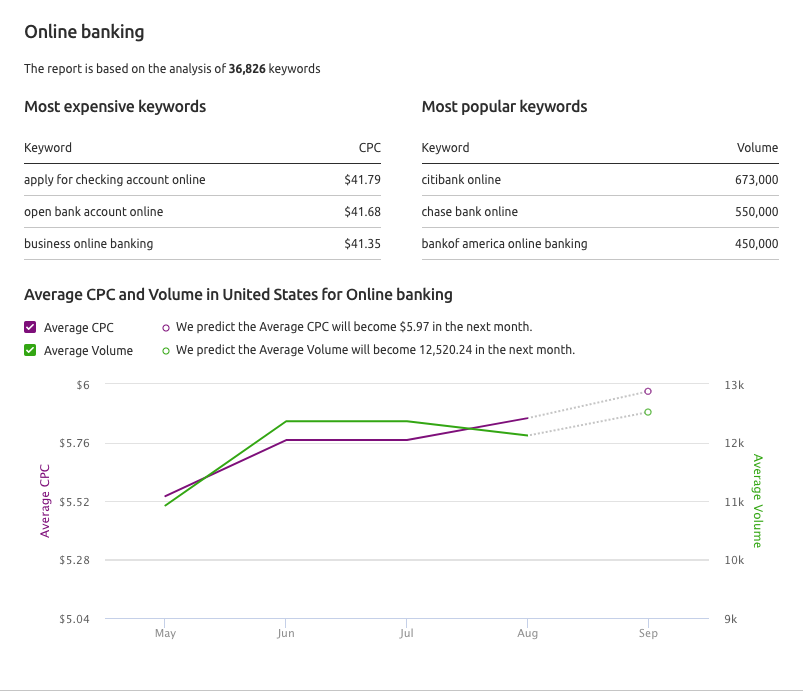 As shown in the example, the CPC Map includes projected growth for the following month for average CPC and volume.
Increasing Importance of Direct Traffic
As the traffic sources breakdown in the online banking study shows, direct traffic ranks first when it comes to online banking website traffic sources. People seem to be well aware of such websites' domains hence the prevalence of the direct visitors.
Paid traffic and social traffic are less significant sources. When considering display ad placement, it should be noted that two of the largest display ad platforms, Google and Facebook, have either outright banned or restricted ads for Initial Coin Offerings (ICOs) and cryptocurrencies like Bitcoin due to their potential for — and instances of — abuse by scammers. Just recently Google ended a cryptocurrency ad ban — but only for certain kinds of ads and only in the United States and Japan.
Conclusions
As we round the corner of Q4 2018 moving into Q1 2019, the findings of our online banking study still hold.
The leading source of traffic is direct, followed closely by organic traffic. As such, marketing campaigns emphasizing brand awareness and organic search strategies focusing on the leading SERP features of reviews, authority links, and featured snippets have the most potential for funneling unique visitors to your online banking site.
The trend towards mobile search is only going to accelerate. With that top of mind, it is well-advised to either continue enhancing your website's mobile friendliness or make a healthy start!
Finally, while paid search traffic is a distant third in terms of volume, it serves as a complementary strategy to those of direct and organic search.