You've done your research and you know your brand's reputation is key to online success. You also know that establishing a brand reputation doesn't happen without some skillful SEO (search engine optimization). But now what?
Let's take a look at all the Semrush online reputation management tools at your disposal. We will compare and contrast the most popular tools, and we'll give you some advice on how to select the right tool to help your business dominate the search engine results pages (SERPs) to showcase your stellar reputation. 
What Does an Online SEO Reputation Management Tool Do?
Put simply, an online reputation management tool (sometimes called a brand management or brand monitoring tool) helps you monitor, influence, and manage the online presence of your business. 
If you've been working in digital marketing or digital PR for any length of time, or if you have any level of familiarity with SEO, you know it's a lot of work for one person or even one in-house team to tackle. 
You are also probably aware that a solid online reputation and top presence in Google's SERPs can earn you more business. In fact, over 90% of adults using the web leverage search engines to get the information they are looking for. 
So, you want your potential customers to find positive information about your brand when they go looking for solutions to their problems. An online reputation management tool can take the guesswork out of answering the question "How well is my brand performing in the SERPs?" 
But how do you know which tool is right for your business? Let's take a look at that now. 
Finding the Right Online Reputation Management Tool for Your Business
Due to the sheer number of available options, it can be overwhelming to decide where to invest your time and money. 
Choosing an online reputation management tool is the first step toward streamlining your digital marketing workflow. 
The best choice for you will come down to a few factors: 
Where your business is appearing in the SERPs right now (page 1 or page 16?) 
What kind of results are appearing for searchers (negative or positive?) 
How much content is on your website
How eager you are to tackle this project 
Your SEO experience level
Once you mull over these factors, it will become much easier to select the perfect tool for your brand. 
To help make the decision even easier, let's take a side-by-side look at some of the top brand monitoring tools Semrush offers. We'll talk a bit about what each tool does and summarize who will get the most use out of each. 
Surround Sound 
Surround Sound is a solution designed to help you spot hidden but critical opportunities for your brand to be mentioned around the web. Specifically, it allows you to find the content people are reading when they are ready to make a purchase decision for the product or service you offer. It instantly reveals where your competitors are part of the conversation but you're not. 
The goal with Surround Sound SEO, and the tool in particular, is not to rank your own pages but to be present on the pages that are already ranking for your keywords, increasing your share of search and the chances that people will hear about you everywhere they go.
Surround Sound finds all the web pages ranking for your high-value, high-intent keywords (think "best running shoes," for example). Then you can see where you're mentioned, find where your competitors are mentioned and you're not, and begin reaching out to make sure your brand is included in all the important pages for "value mentions" and links. 
These may take a little more work to obtain than getting a link on a random website, but the fact that these target pages rank for your keywords (and are key to your buyers' decision-making process) makes it worth the effort.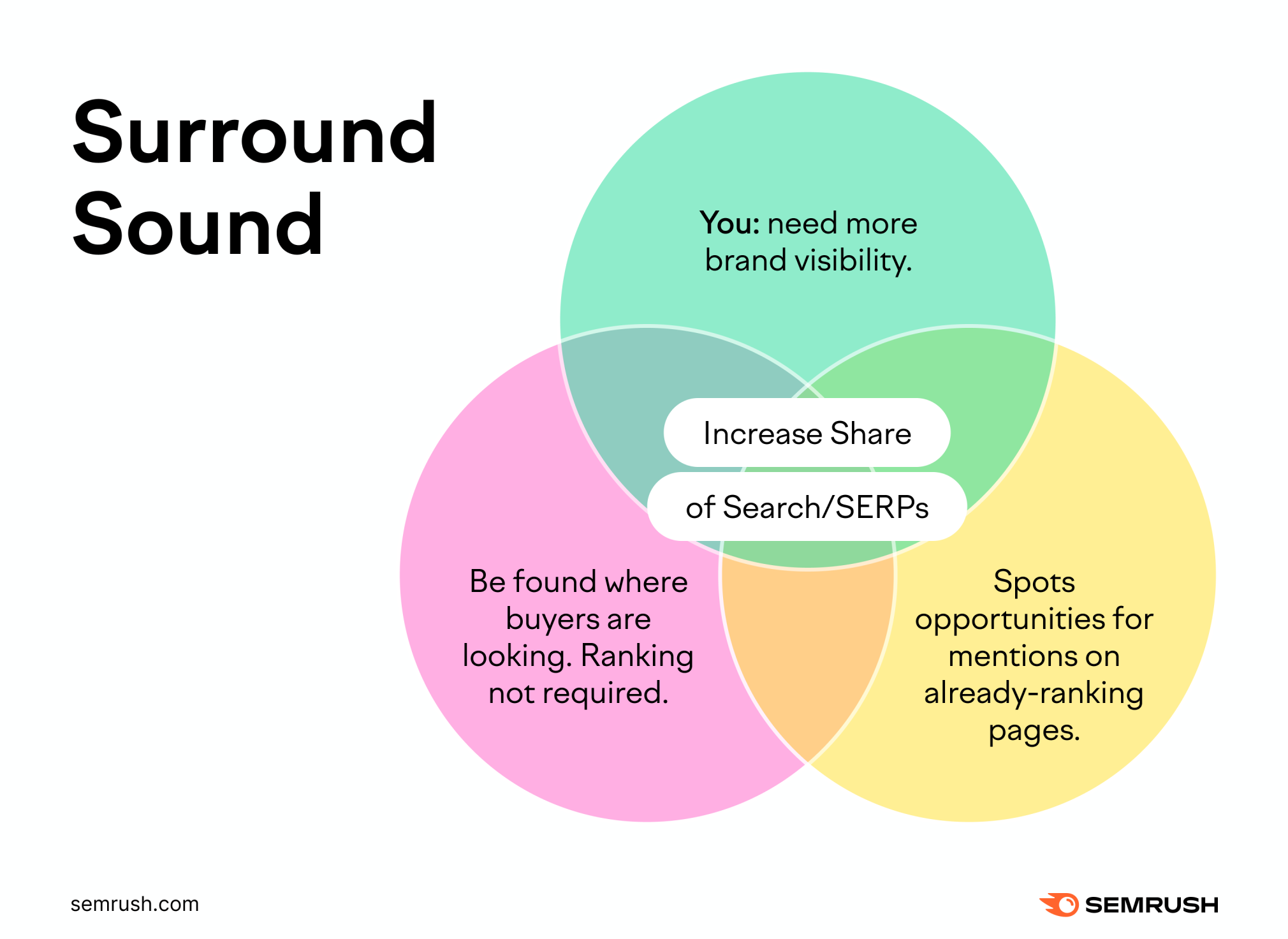 Use the handy graphs to report on your progress overall and compared with your competitors. Ultimately, you want to use Surround Sound to dominate the search results, even if you only rank for one page. Check out our recent webinar if you'd like to learn more. 
How to Use this Tool 
1. Enter your brand information, high-intent keywords (for example, "best running shoes for beginners") and your competitors' information. Be sure to add any additional brand names people might use when referring to you.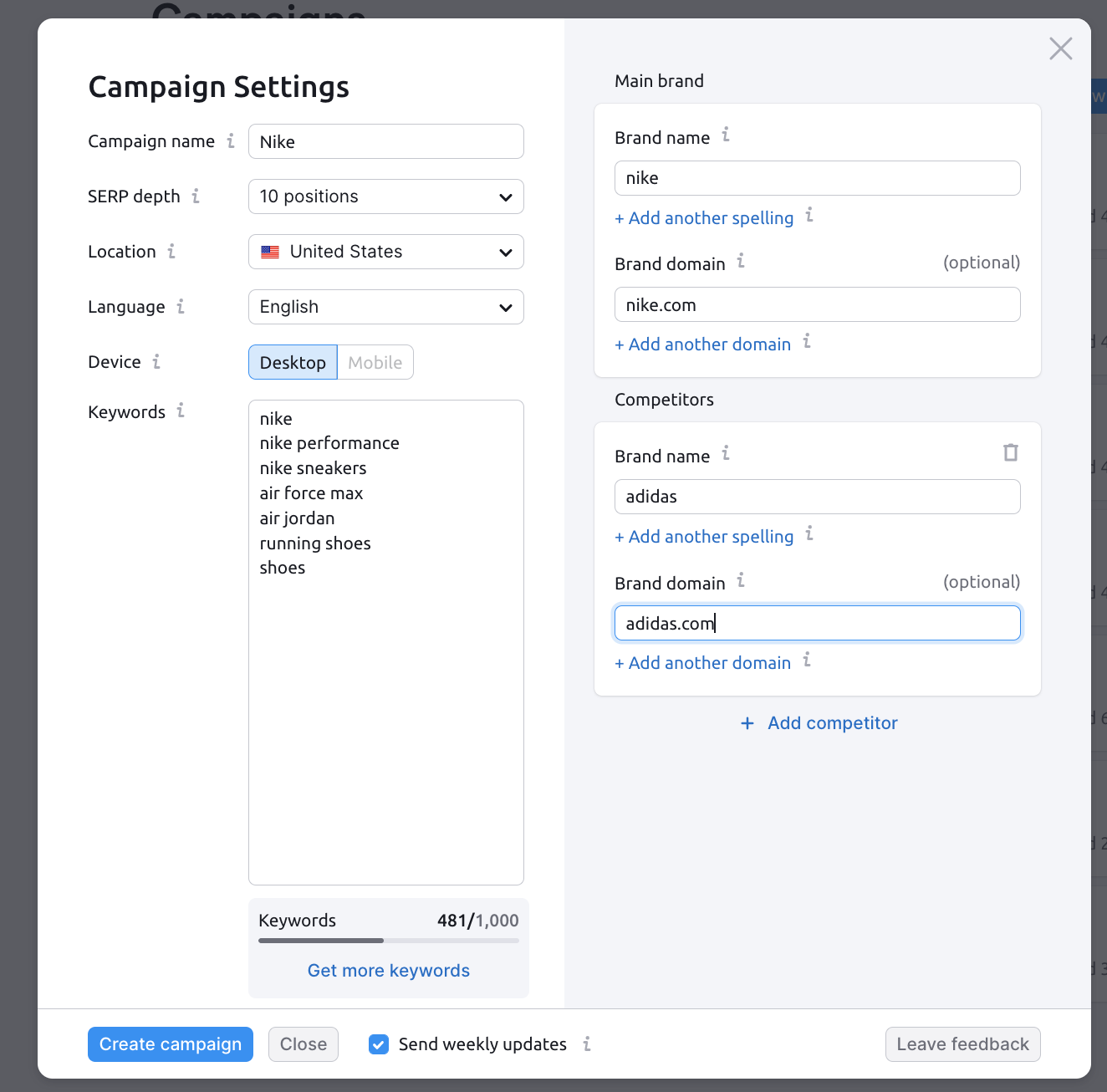 ↳ You can easily add all the information you need to build a campaign from one pop-up window in Surround Sound. Here, we are targeting shoe and Nike keywords. We are also looking at a competitor site, Adidas.com, in this example. 
2. See how you stack up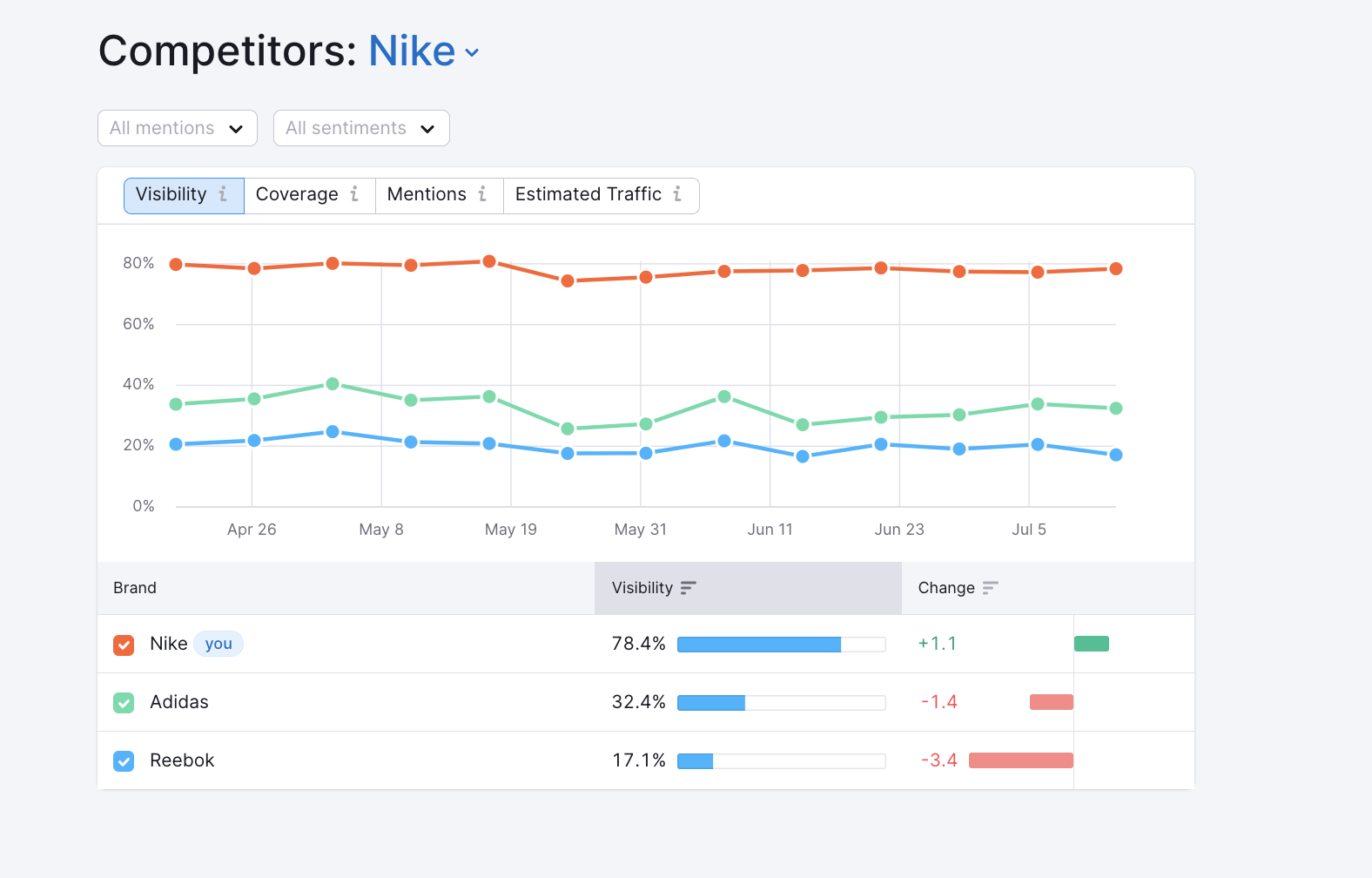 ↳ This snapshot shows how Nike is stacking up against competitors Adidas and Reebok in terms of visibility in the SERPs. For the keywords used, Nike is way ahead of the competition. 
3. Find opportunities for new mentions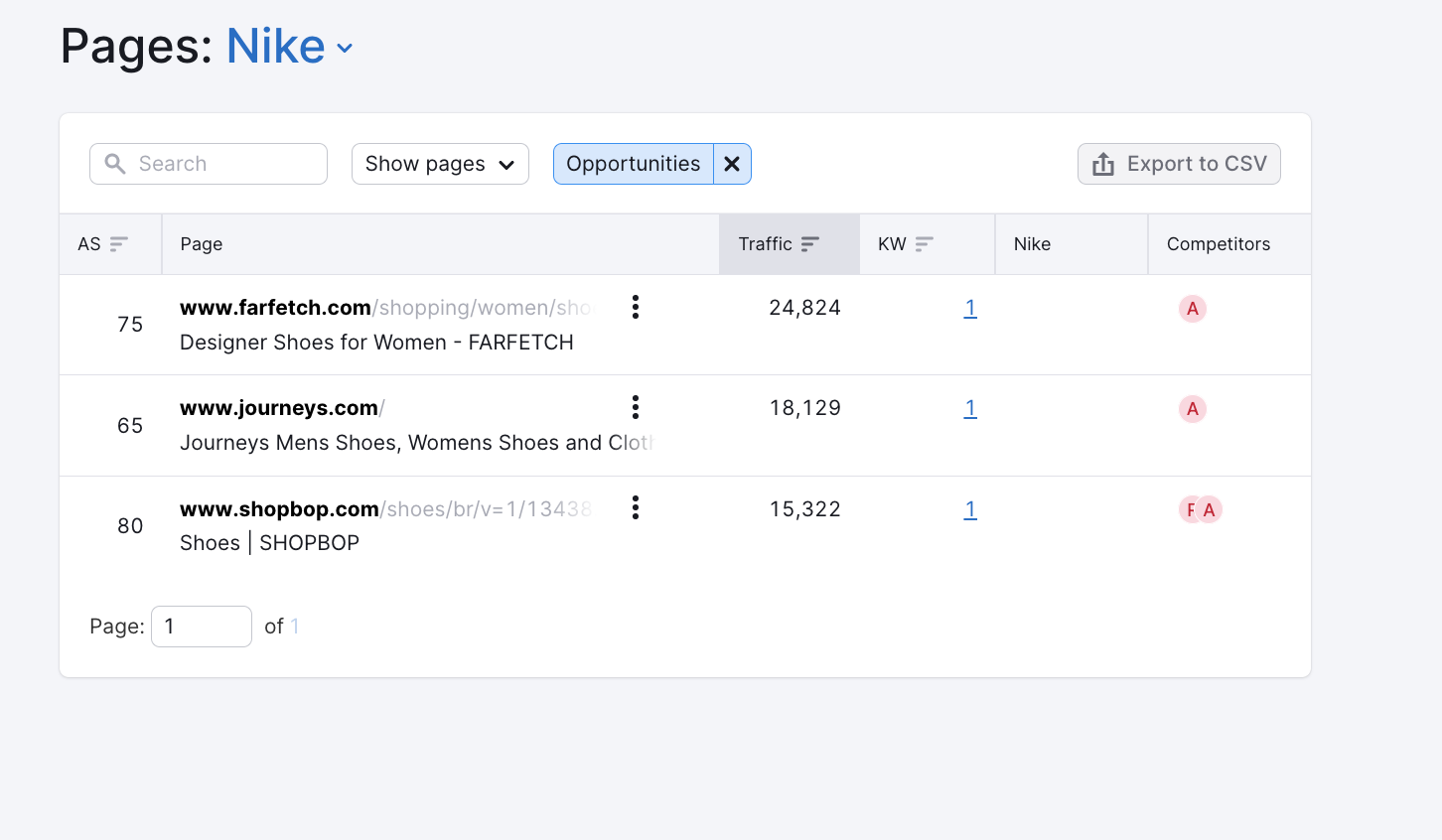 ↳ Surround Sound shows you the pages where your brand is ranking for certain keywords. By looking at these pages (and particularly where your competitors are mentioned but you're not), you can spot opportunities to grab more positive visibility for your own brand. 
4. Track your progress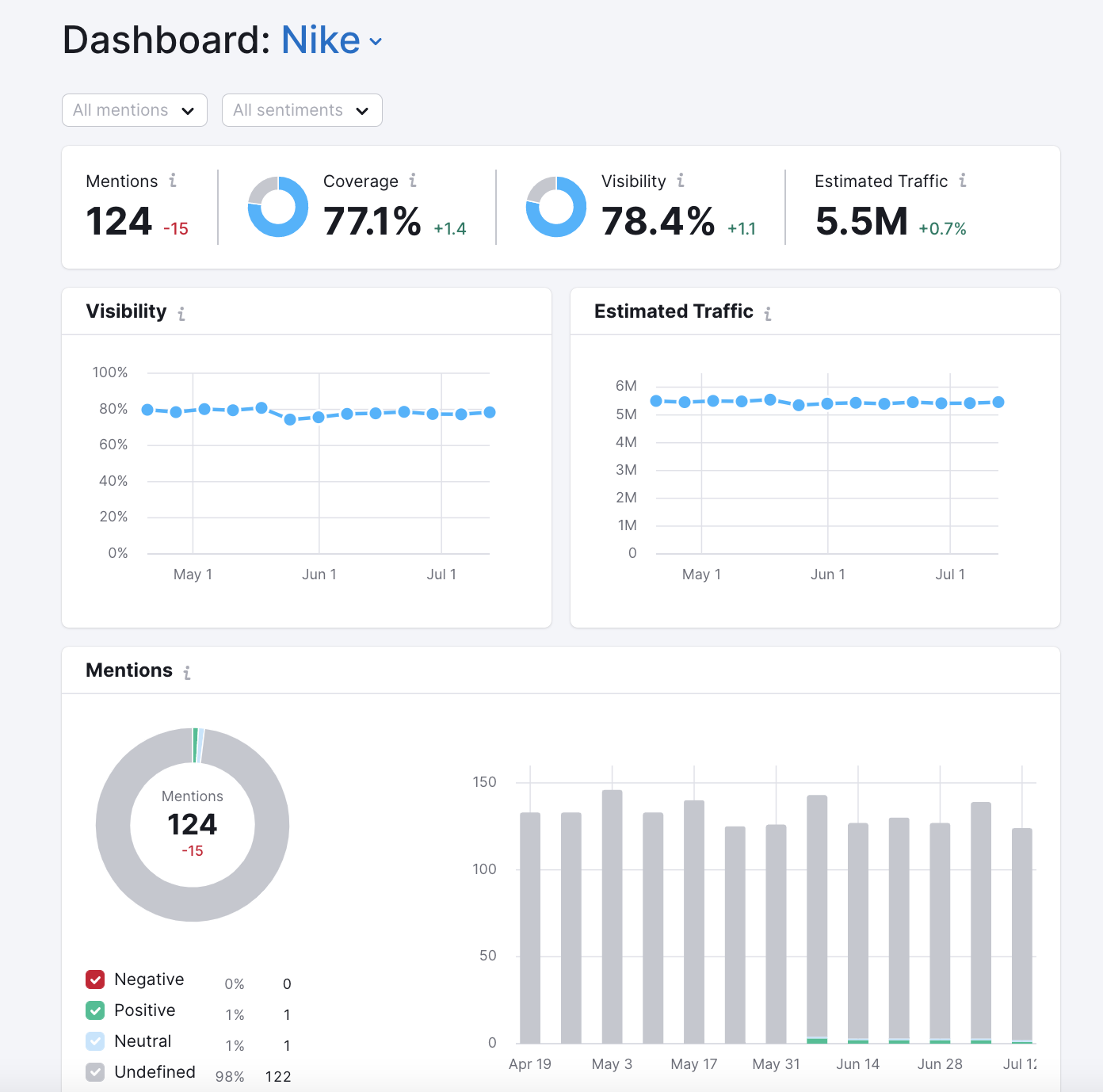 ↳ The Surround Sound dashboard holds a plethora of information about your SERP coverage and visibility as well as your progress over time.
Surround Sound is a great tool for businesses that need a boost in the SERPs. If you operate in a highly saturated market, this tool can help you push through the digital noise and find opportunities to be mentioned anywhere people are looking for help with purchase decisions. For instance, instead of "how to start running," think "best running shoes for beginners."
Surround Sound allows you to be found in SERPs even if your own site isn't ranking for your keywords yet. 
If your business' overall brand sentiment needs instant attention (i.e., you need to get on top of many negative mentions), you'll want another tool to do that for you (we'll get into this in just a moment). 
Backlink Gap
The Backlink Gap tool works by comparing your domain to that of your competitors. It analyzes each website's backlink profile and looks for prospective backlink opportunities you might not have considered. It sends you a list of target domains that you can focus on in your link-building campaigns. 
Backlink Gap looks at link coverage from the domain level, not page level. So, this tool is for quantity link building rather than value link building. It does not take ranking or specific keywords into account.
Building backlinks is a great way to amplify your content and help rocket it to the top of the SERPs.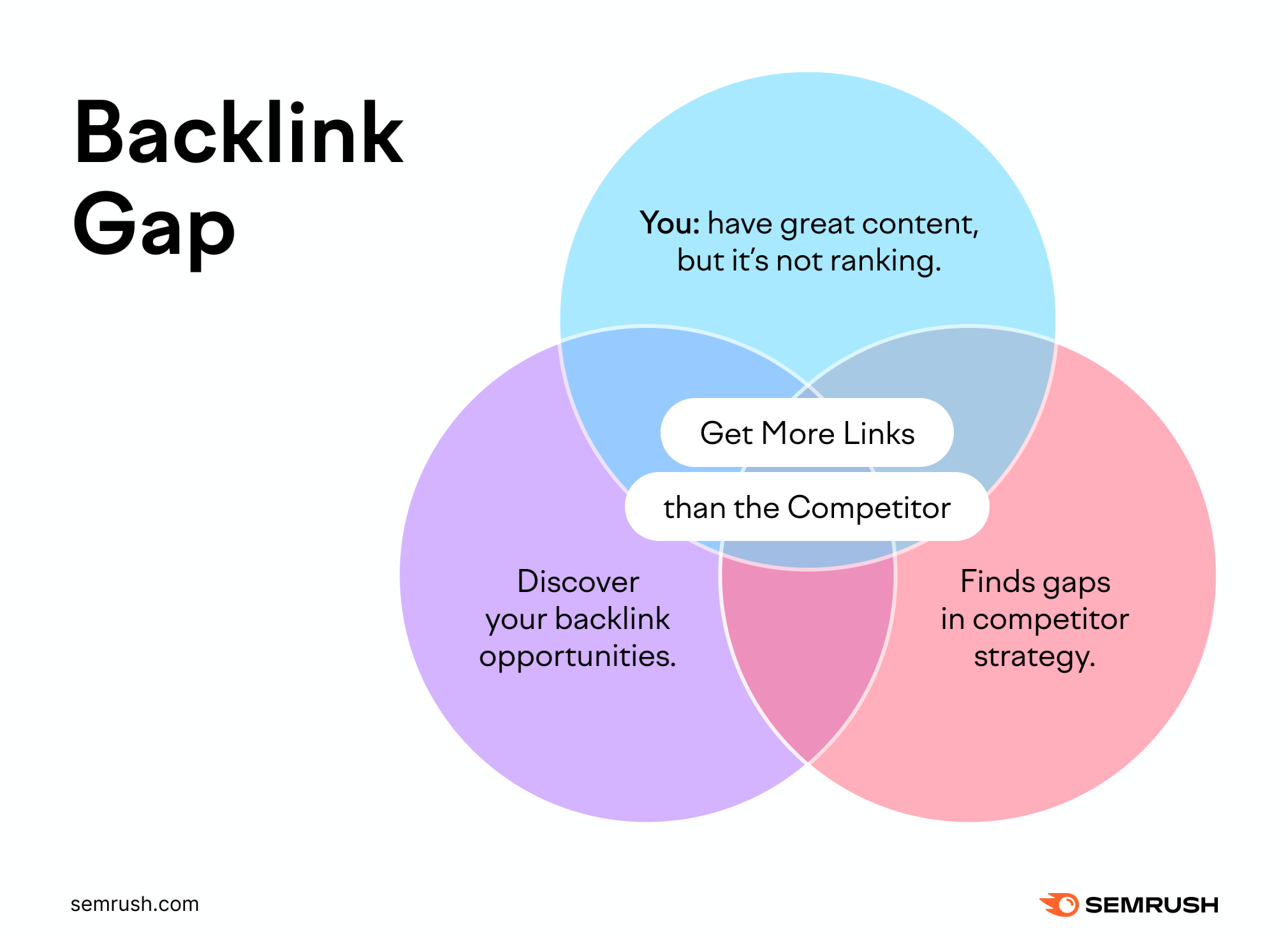 How to Use this Tool 
1. Compare your domain with competitor domains
↳ The Backlink Gap dashboard gives a tidy side-by-side comparison of your brand's backlinks against your competitors.
2. See where your competitors have links and you don't
↳ This is a great example of an opportunity for Nike to gain backlinks on avclub.com, since its competitors have anywhere between two and 56 backlinks, whereas Nike has zero. 
3. Get a list of domains to target for link building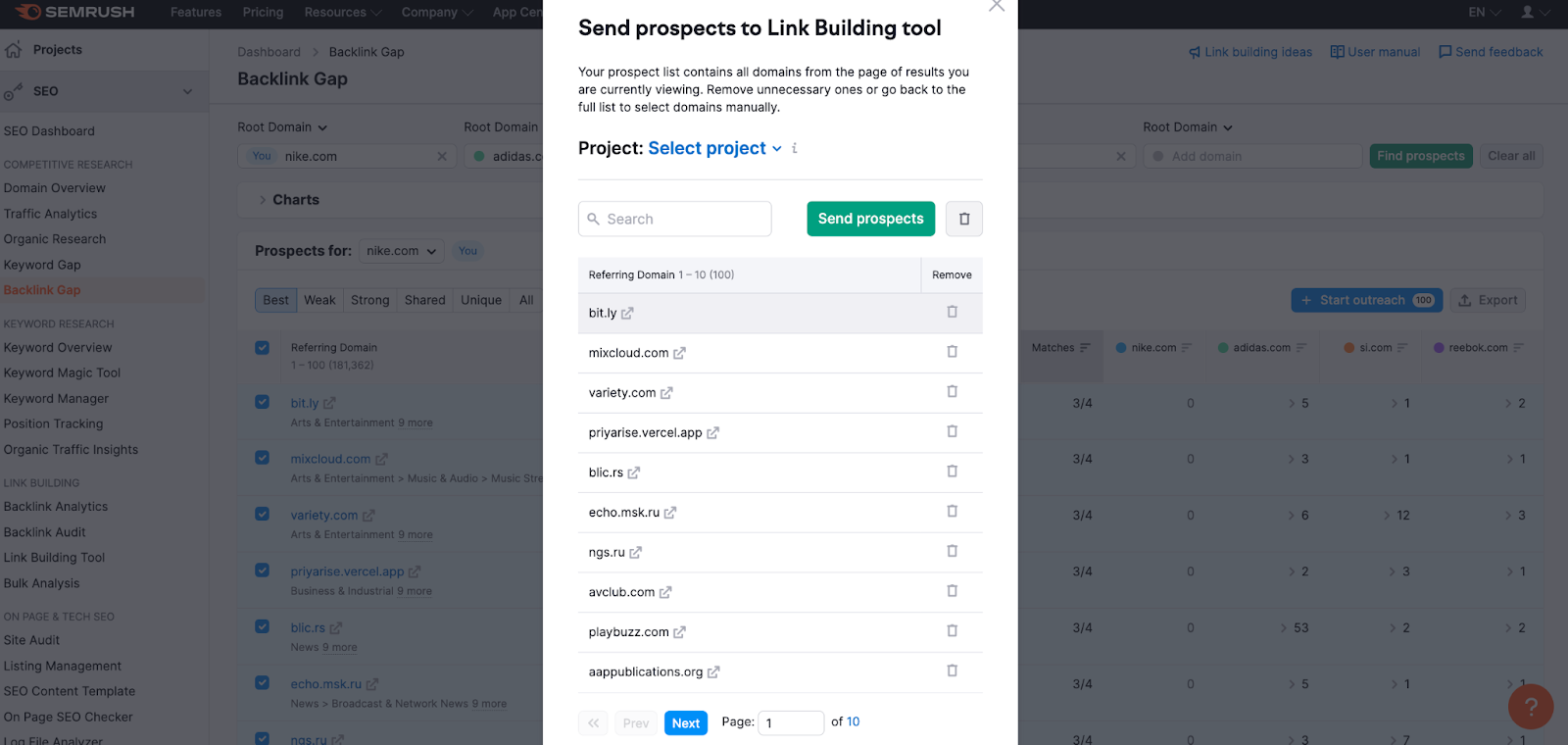 ↳ You'll get a list of domains you'll want to consider building backlink campaigns around. This list can then be sent to the Link Building tool. 
This is an ideal tool for businesses that have a lot of compelling content but just need help getting it to appear higher up in the SERPs. This is also a great tool for building relationships with publishers. 
Consider another tool if your business already has plenty of healthy backlinks from relevant publishers in your industry. 
Backlink Analytics
Looking to evaluate and compare link profiles in-depth? Want to know what kind of link building your competitors are doing? 
Backlink Analytics is the tool for you. You can analyze your backlink profile and track your growth against your competitors.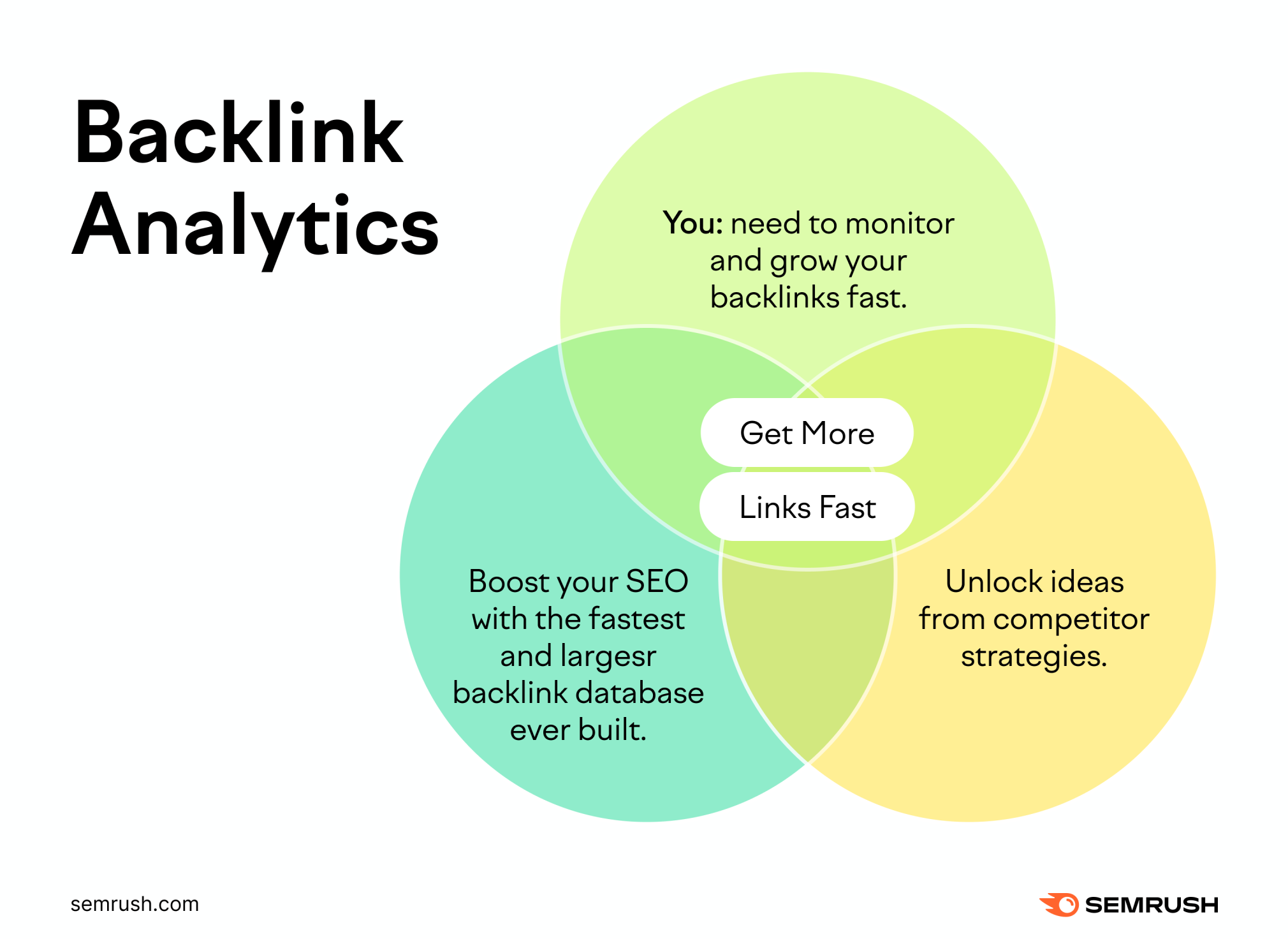 The best part? 
It's free! 
How to Use this Tool 
1. Type in the web domain you want to analyze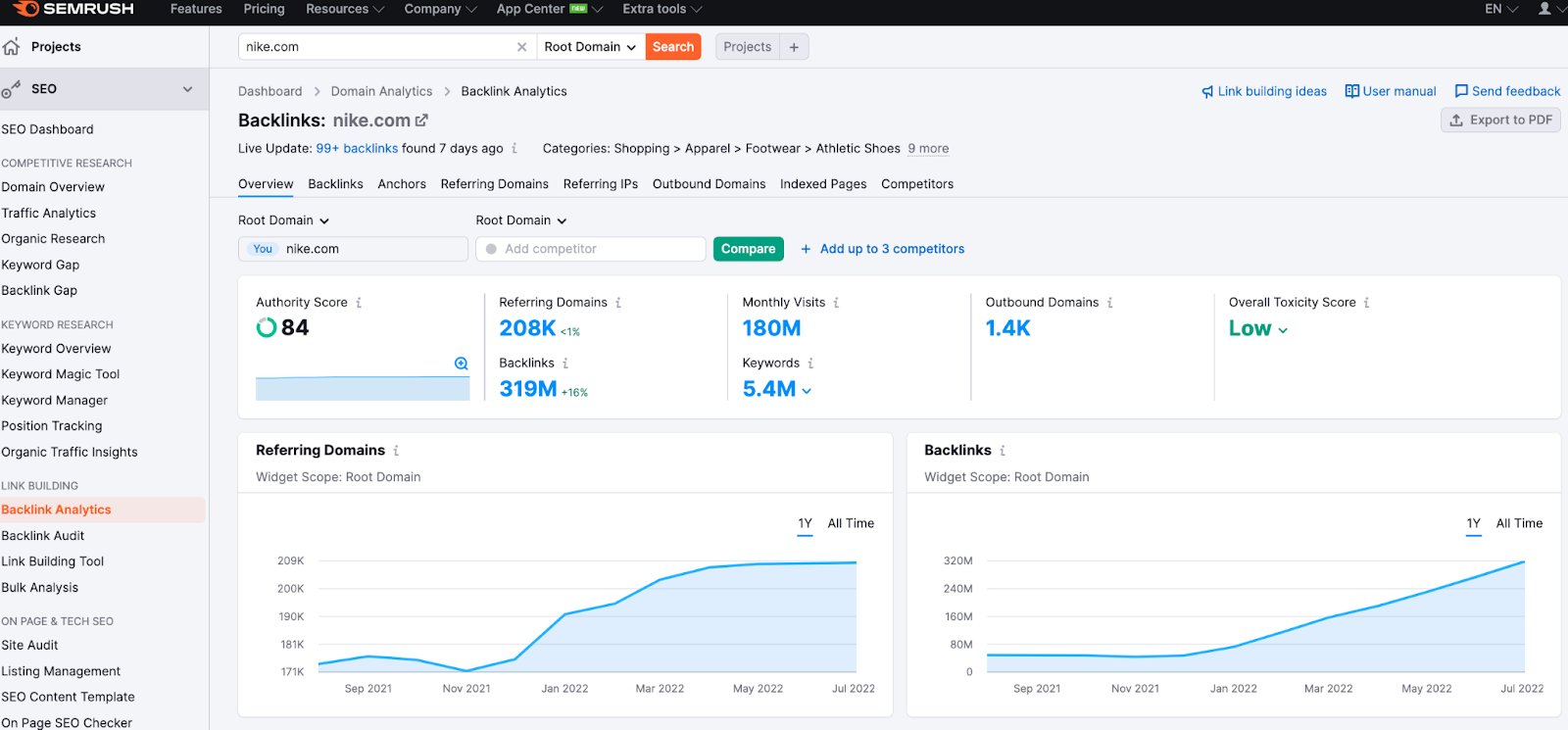 ↳ The Backlink Analytics dashboard gives you a holistic view of your backlink profile.
2. Take a look at the "Backlinks" tab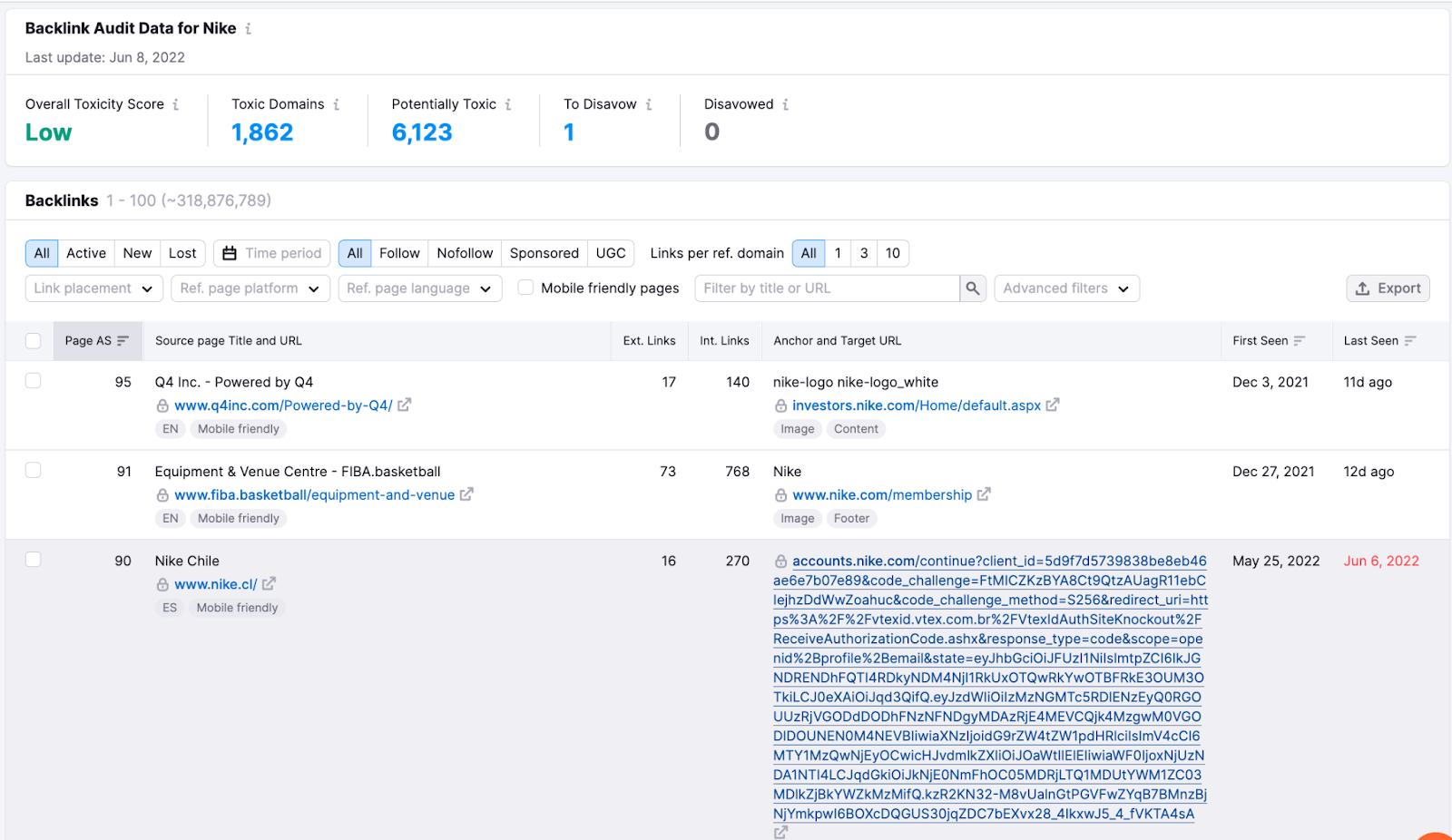 ↳ The backlinks tab will reveal your individual backlinks. You can assess whether these are positive or toxic backlinks, which links are no-follow links or follow links, and a lot more.
3. Be sure to look over the "Competitors" tab to see how you stack up against your competition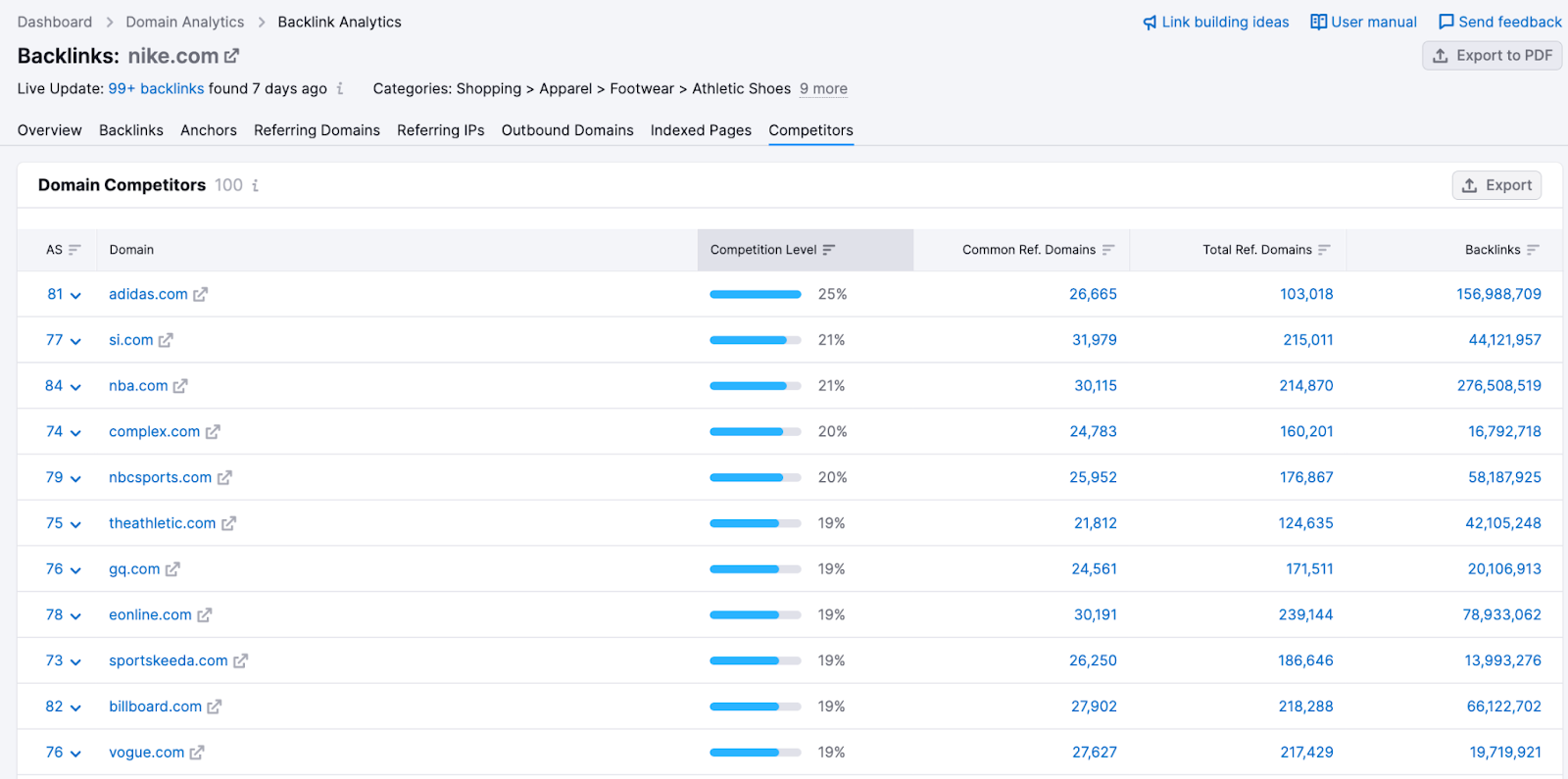 ↳ By clicking on the "Competitors" tab in the Backlink Analytics dashboard, you will get a "Competition level" score, the number of common referring domains between you and the competition, the number of total referring domains, and the number of backlinks each competitor website has. 
This is perfect for businesses that need an in-depth overview of their backlink profile. If you want to know the status of your backlinks, this is a great free option. 
Consider another tool for your business if you really want to hone in on individual backlinks and assess whether you need to disavow certain links or reach out to publishers for corrections (we will talk about this next). 
Backlink Audit
If you really need to dive into your backlinks or you need to know how many good versus bad backlinks you have, Backlink Audit is a great tool to leverage. You can fully audit your backlink profile to get rid of potentially harmful links and greatly reduce your risk of Google penalties.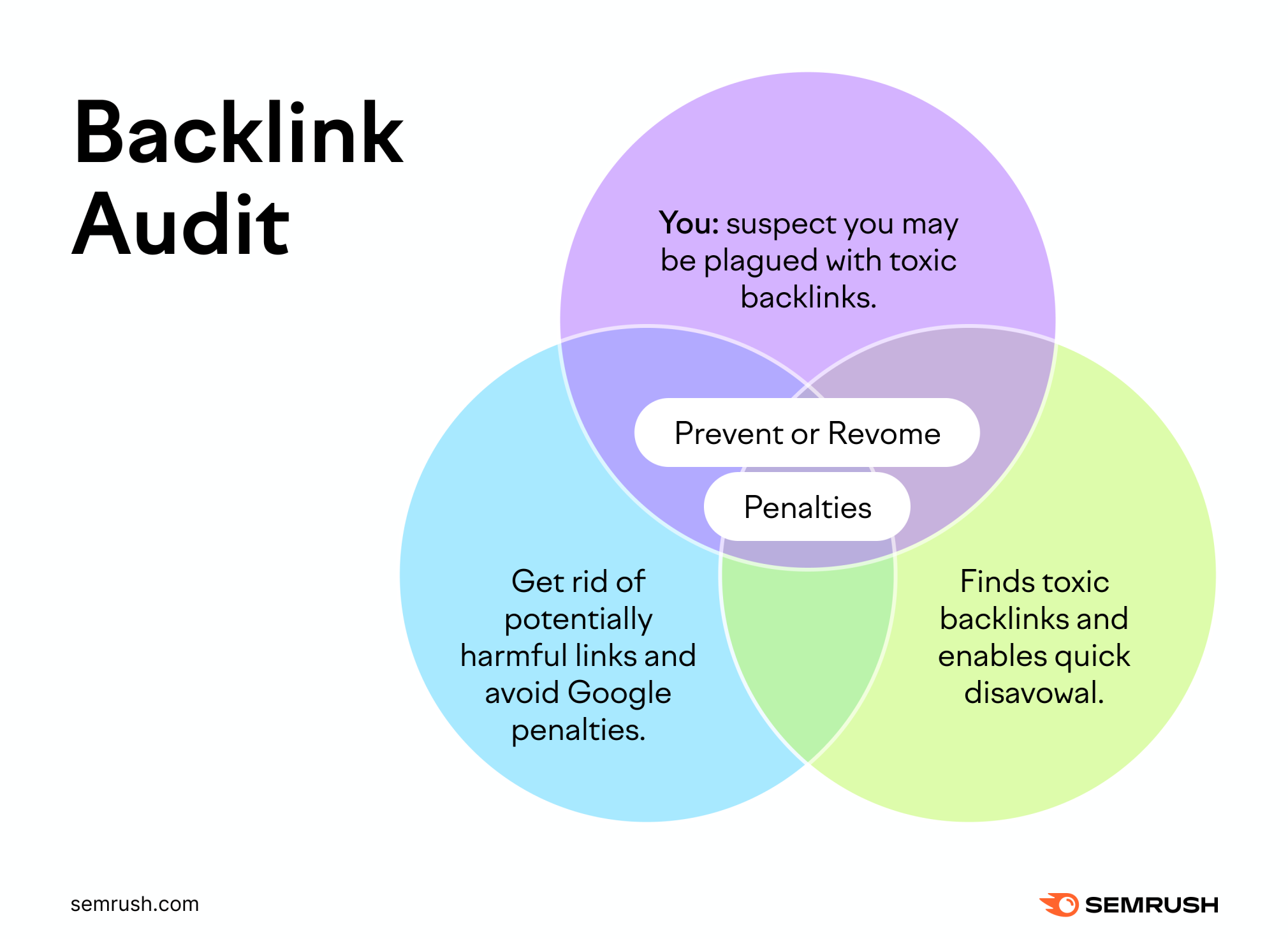 You'll be able to spot toxic signals quickly, then reach out to website owners to have them remove potentially toxic links. This boosts your authority and trust, not only with Google but also with your customers.
How to Use this Tool 
1. Enter your domain

↳ In the Backlink Audit tool, just click "Create project" and enter your domain name to get started.
2. See the toxicity score of every backlink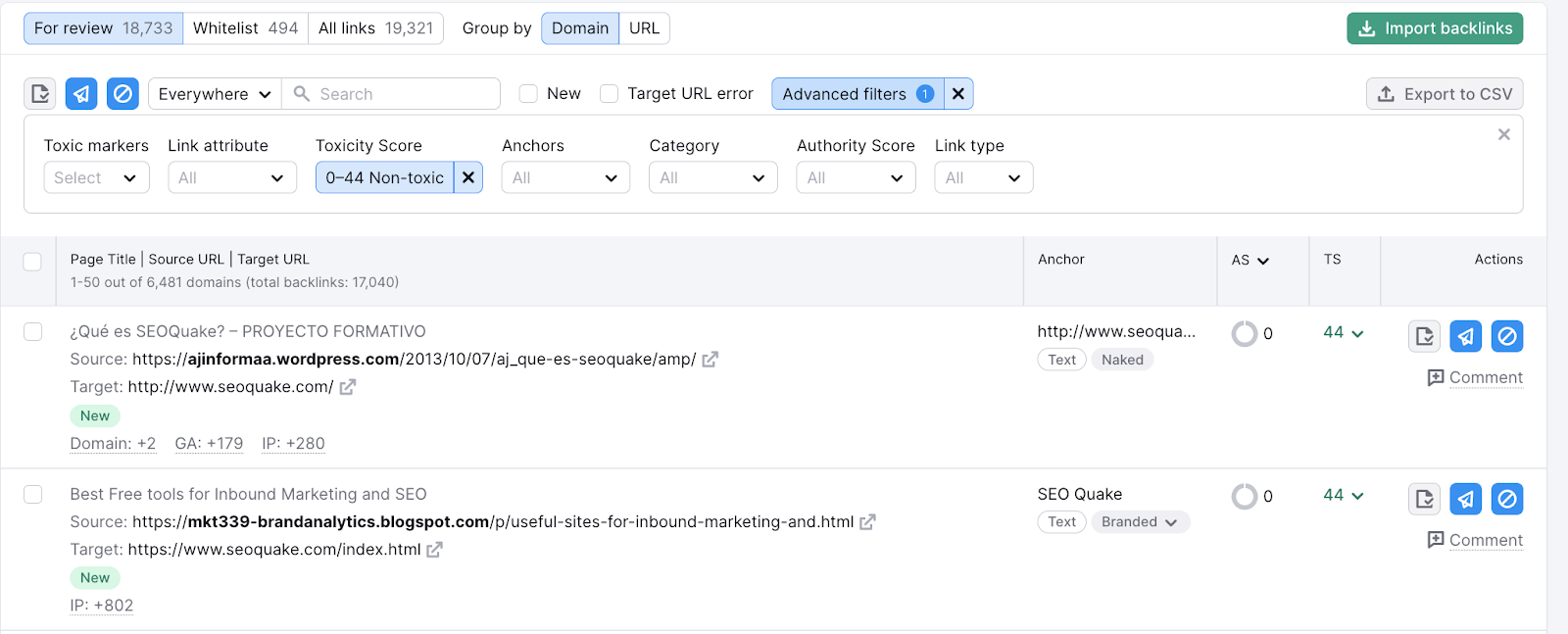 ↳ The Backlink Audit will give you an overview of your backlink toxicity as well as a granular view of each backlink and its potential negative or positive effects on your domain. 
3. Weed out harmful links workflow

↳ If you happen to find toxic backlinks in the tool, don't panic! You can click on one of the three buttons to the right: "Move to whitelist" (if you believe the flagged link isn't toxic), "Move to remove list" (if you need to contact the publisher to have the link removed), or "Move to disavow list" (if you need to let Google know you don't acknowledge this backlink as related to your site). 
4. Check back regularly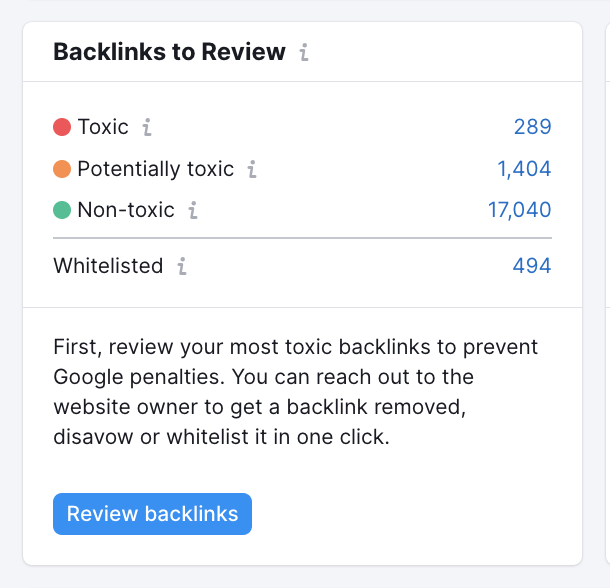 ↳ The Backlink Audit tool is constantly on the hunt for backlinks leading back to your domain. Get a list of backlinks to review from the dashboard—just click "Review backlinks." 
This tool is perfect for businesses that need to know if they are plagued with toxic backlinks. If you suspect your backlink profile is leaning toward the negative, the Backlink Audit tool offers great peace of mind and a seamless workflow to fix the problem. 
Consider another tool if your business has a number of high-quality backlinks. In reality, this tool benefits virtually every business that utilizes it because toxic backlinks are plentiful. But if you are sure you don't need to audit your profile, you might want another tool that is more proactive than reactive. 
Link Building Tool 
The Link Building Tool gathers a roster of link-building opportunities for your website and then provides you with a special management interface that makes it easy to build outreach campaigns to potentially acquire links. Utilizing this tool within Semrush makes it easy to run competitive analysis on your rivals and operate a successful outreach campaign in unison.
How to Use this Tool 
1. Get a list of prospects based on keywords, competitors, brand mentions, and more
↳ By clicking the "Prospects" tab on the Link Building dashboard, you'll get a comprehensive list of prospective backlink opportunities, along with domain authority score and other metrics that will help you determine if the link is worth pursuing. 
2. Review results and choose the ones you'll pursue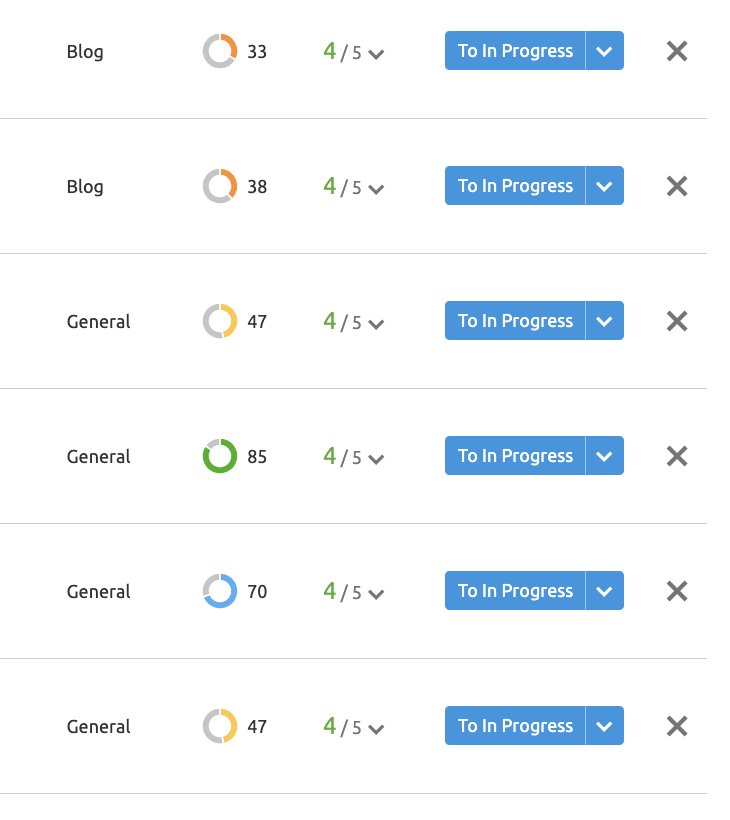 ↳ Reviewing the domain score and other factors will help you determine which backlink opportunities are most likely to yield the best results. 
3. Set up email outreach and track progress
↳ Get an overview of your outreach campaigns and track your progress from the "Monitor" tab on the Link Building dashboard. 
4. Monitor active, broken, lost, or rejected links

↳ The tool will break down backlinks that are active, broken, lost, or rejected. 
This tool is ideal for businesses that need to quickly amass quality backlinks. If you are running short on backlinks, chances are you don't have great visibility in the SERPs. If that's the case, this is the tool for your brand.
Consider another tool if your business already has plenty of backlinks and a workflow that is working well to create more. 
Prowly 
Prowly is an all-in-one workflow automation solution for PR professionals. This exciting media relations tool helps you find the best journalists for your pitch, saves time on getting your story heard, and supports you in storytelling with dozens of PR software solutions. 
You can use this tool to land earned media publications and even valuable backlinks. From sending personalized emails to journalists, creating interactive press releases, and monitoring email statistics to building media-friendly newsrooms and monitoring the media for mentions about your brand, Prowly has everything you need to succeed in public relations.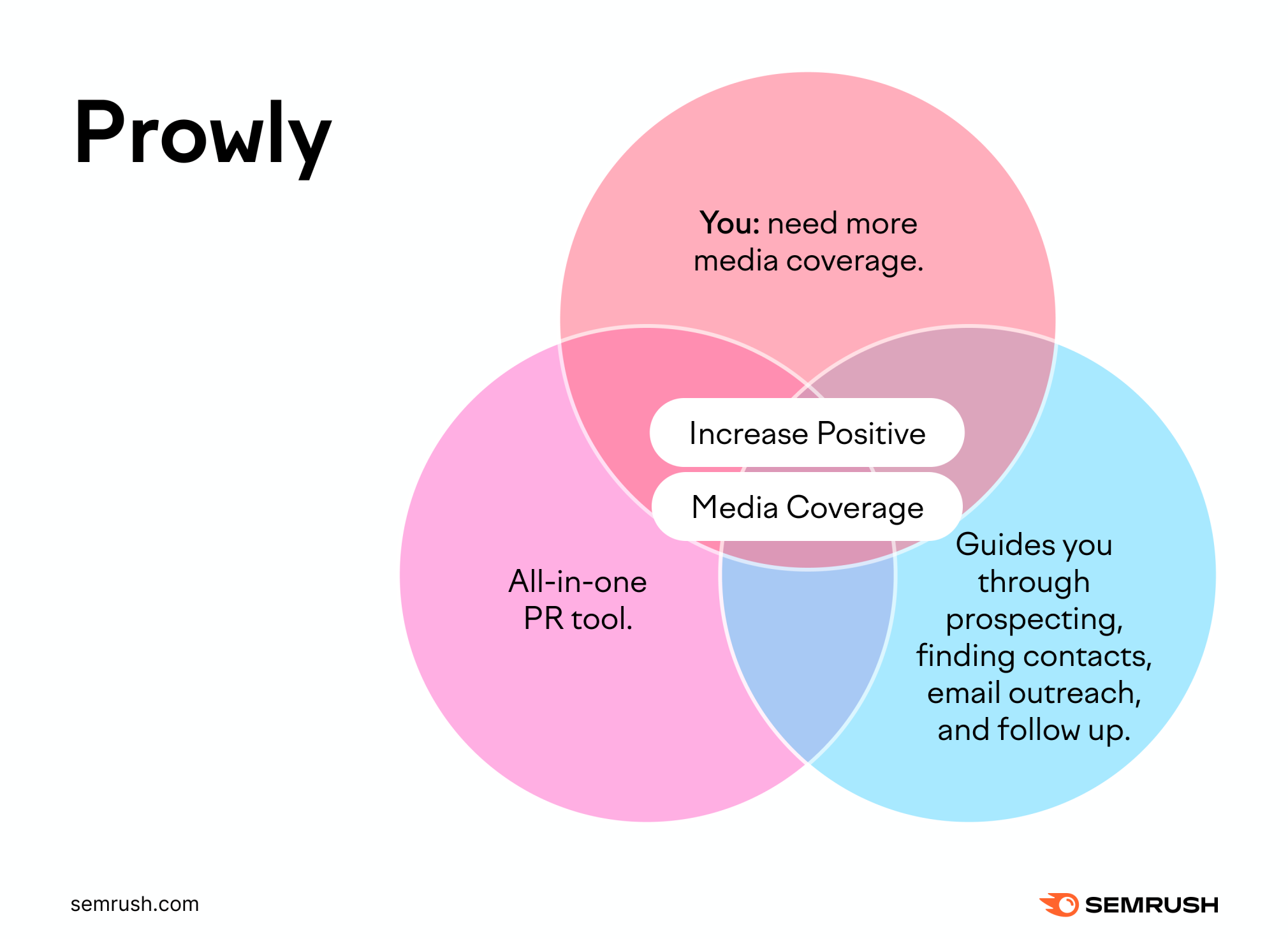 How to Use this Tool
1. Find media contacts
Finding the right journalists is never easy, and if someone tells you it is, they're lying. Prowly is helping you make this process as smooth as possible by providing you with a media database of over 1 million contacts, where you can search for the perfect media contact by their name, outlet, keywords found in their latest articles and tweets, and more.
2. Send personalized emails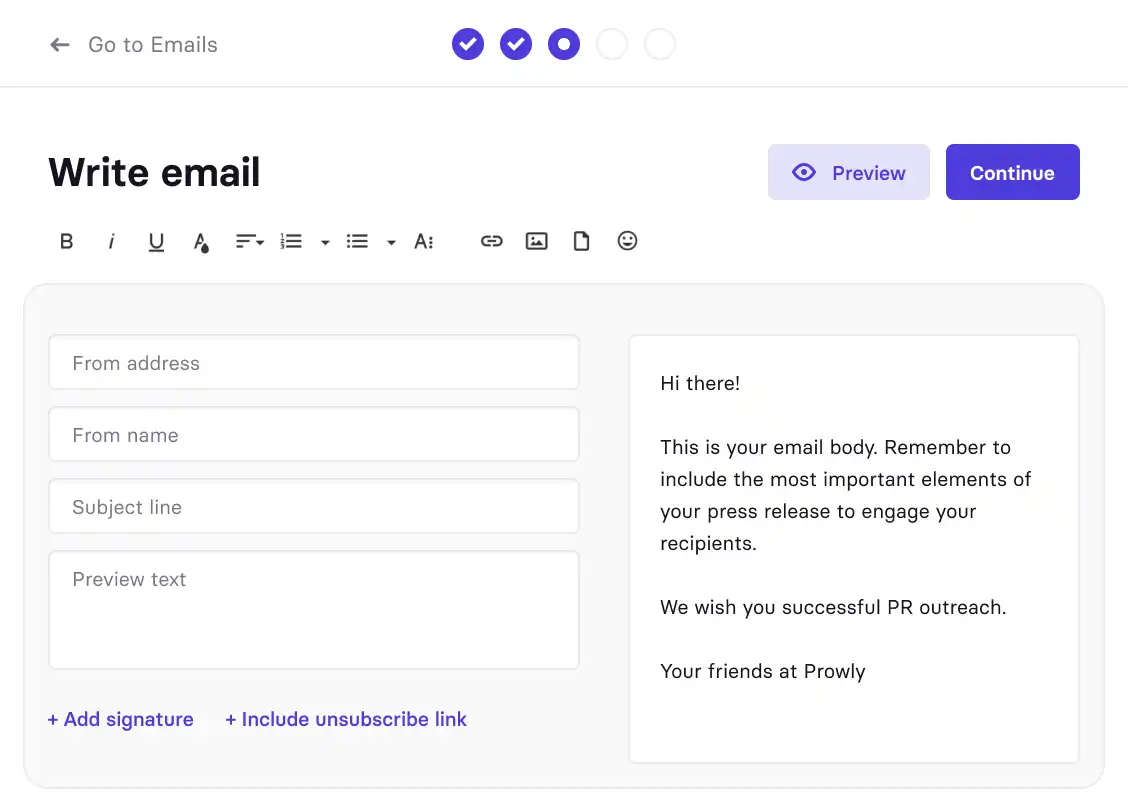 To elevate your pitch, use Prowly's press release creator instead. Draft original, customized messages and capture your recipient's eye with interactive content and a sleek design to get your message across. 
3. Get stats on your pitches
Numbers are the most accurate way to measure the performance of your pitches. Was the open rate too low? Perhaps it's time to change your subject lines. Not enough people clicked on the link? Step up your game with more targeted content. With Prowly, you'll get all the statistics you need to improve your performance.
4. Monitor mentions in the media
See who is saying what about you (and where) even before it's indexed in search engines. Prowly's Media Monitoring feature will show you all the statistics on your earned media presence and assist you in setting up alerts for new, important mentions you don't want to miss.
5. Prepare PR reports
Not everyone was born a graphic designer, so creating coverage reports shouldn't be a week-long task either. Show off accomplishments to your clients or stakeholders with personalized PR reports. Collect clippings, metrics, and other relevant data in just a few clicks.
6. Build an online newsroom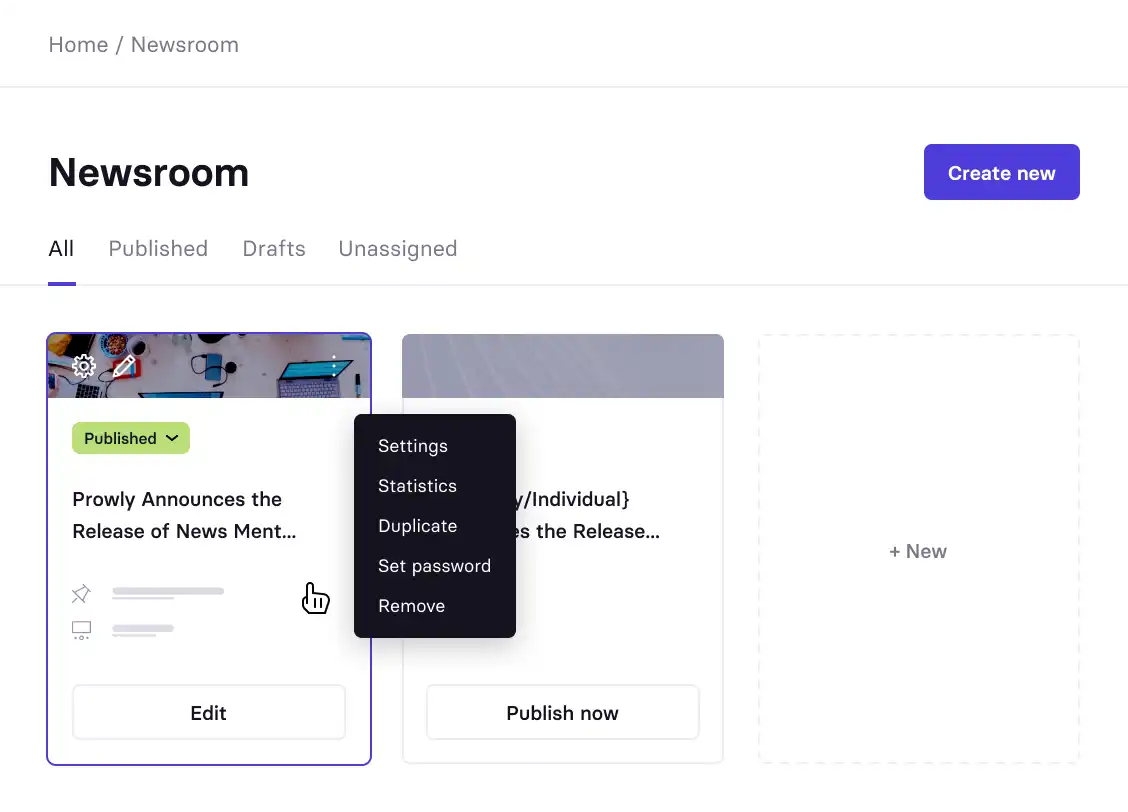 Not sure where to put all the important information about your brand? Prowly's newsroom builder is the easiest way to help others see what your company is doing in the form of blogs, videos, and other interactive materials. No coding skills required!
Prowly is great for businesses that need help managing stellar PR relationships. This tool probably works best for medium to large companies and agencies that pitch often, collaborate with coworkers on a daily basis, and need to closely manage their online reputation.
You might want to consider another tool if your business is small and doesn't field a lot of public relations requests. If you are a five-person business that makes just a few products, this might not be a worthwhile tool for you just yet.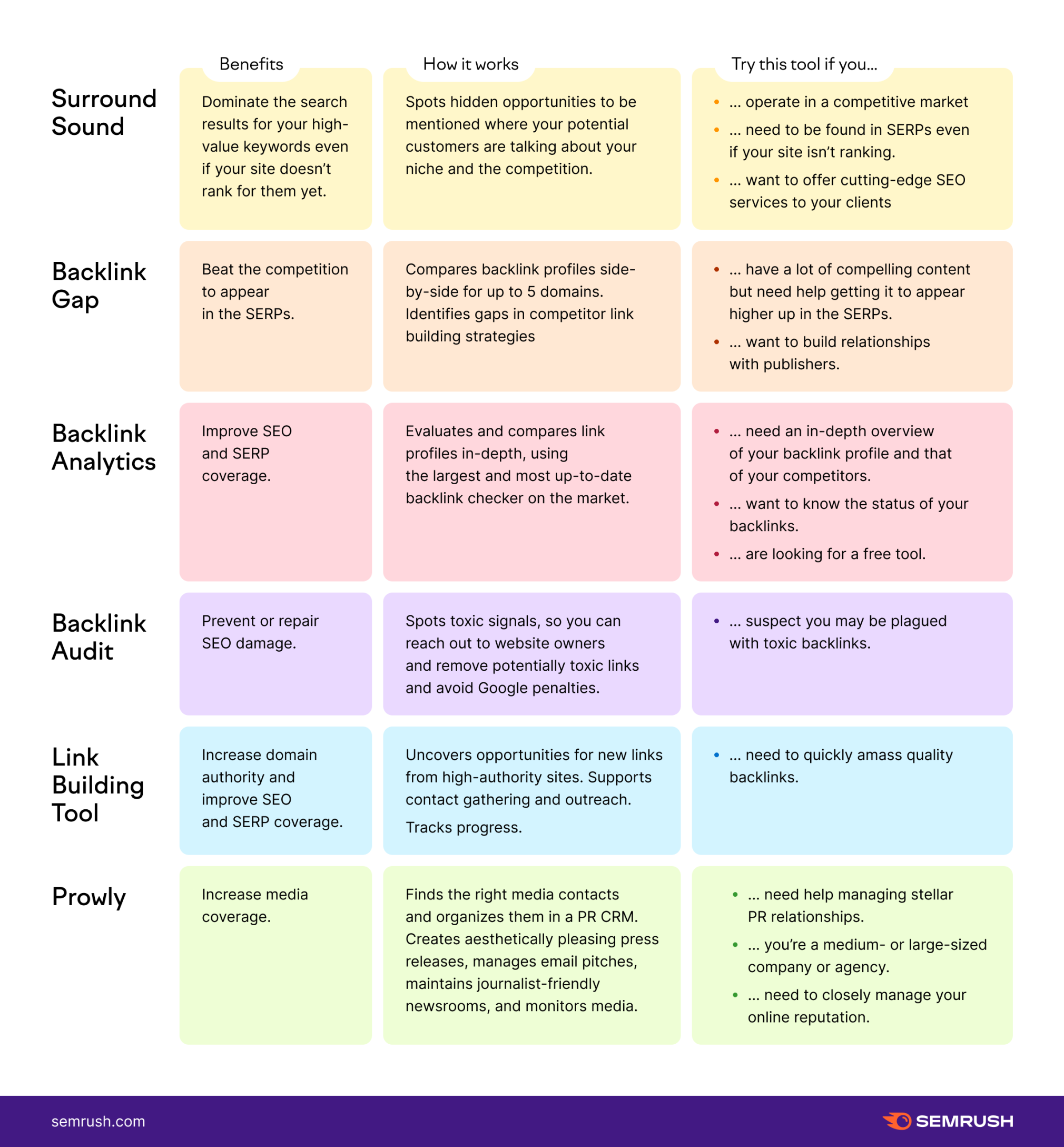 Experiment to Find the Best Option for Your Brand
Finding the right SEO-driven online reputation management tool can take a little trial and error. You might find that you need a few tools to get the job done correctly. However, some holistic tools work for virtually every brand. Of the tools we discussed above, one in particular comes to mind.
Surround Sound takes a 360-degree look at the SERPs and determines where you can gain leverage and visibility over your competitors. Let's be honest; almost every brand on the planet—in every industry—could benefit from additional, positive exposure across the web. 
Give Surround Sound from Semrush a try and see for yourself how quickly you begin to dominate in the SERPs.