The way we search for information online is changing rapidly.
In the early days of SEO, the majority of searches consisted of broken sentence fragments, like "free payday loans" or "best pizza New York." As a result, most websites were optimized to target specific keywords. This was how Google would decide which content was the most relevant to a specific search query.
However, now that Google is capable of understanding the context of those keywords, search is becoming more interactive and conversational. As Google continues on its trajectory toward semantic search, things get a little bit more difficult from an SEO perspective.
Semantic search provides a more personalized search experience by determining the intent and contextual meaning behind a search query. Google is able to do this by incorporating a variety of factors, such as user location, daily/weekly trends, synonyms, vernacular and other natural language elements.
In this article, I'll discuss how SEOs and online marketers can optimize their online presence to reap the benefits of semantic search.
Use Semantic Markup
Semantic search relies on a constellation of entities scattered across the web — people, places, things, ideas and concepts, etc. One of the most effective ways to define these entities is by using structured markup. When a search engine crawls your site, structured markup helps the search engine understand the context of your content. It's essentially a way for webmasters to label their content to help search engines sort through individual entity attributes and provide the user with more targeted search results.
For instance, if I do a search for "Fleetwood Mac tour dates" the first organic result is from www.ticketmaster.com. You'll notice that it lists several upcoming tour dates, and each is linked a unique URL where you can purchase tickets for that specific date/venue. This is achieved using structured data.

The most widely used markup formats are microdata, RDFa and JSON-LD. If you're not familiar with structured data, I would recommend checking out schema.org. There you'll find a robust, shared library of markup vocabulary and several examples that walk you through the implementation process.
Schema.org is also one of the only markup vocabularies sanctioned by major search engines, such as Google, Bing, Yahoo! and Yandex. Google even created this nifty tool that allows you to highlight specific elements on your website and then generate the HTML code with the markup included, which makes for easy implementation. Afterwards, you can also use Google's Structure Data Testing Tool to check that your markup was implemented correctly.
Break Out Your Keywords into Multiple Tiers
With semantic search, you should focus on context, not just keywords. When optimizing for user intent, it helps to divide your keywords into three separate tiers, based on their context.
Tier 1 — The first tier is comprised of your "core" keywords — these are the keywords that don't deviate much from your target set. A good way to identify these keywords is to use Google's "related searches" feature.
For example, if we were targeting "Nike shoes," then we would see the following for related searches:

Tier 2 — The second tier should include your "thematic" keywords — these are the keywords not directly related to your target set, but still associated with the central theme or concept. For instance, if your keyword is "Nike shoes" then some thematic keywords would include "running shoes" or "men's athletic shoes."
Tier 3 — The third tier is for all of your "stem" keywords — these are the secondary keywords that usually answer a searcher's question. If we use the "Nike shoes" example again, a stem keyword could be "Nike shoes review" or "Nike shoes price."
Consider Your Audience
Your marketing strategy should always be tailored to your specific audience, especially when optimizing for semantic search. In order to identify and understand your target audience, I would recommend that you start by evaluating the following criteria:
Sector — Are you B2B or B2C?
Identity — Establish the basics: age, gender, average income, etc.
Location — Where do your customers live? Define your territory.
Sentiment — How do customers respond to your brand?
Once you identify your target demographic, you can then peel back the layers and analyze psychological factors. These factors are commonly referred to as psychographics, and they help marketers and business owners understand what makes a customer tick.
Psychographics can reveal characteristics such as:
Personal values
Lifestyle habits
Personality type
Online behavior
Personal interests
Millward Brown published two really awesome graphics that break down brand archetypes. Your achetypes should be much more specific, but this is a great starting point.
The first graphic shows the archetypes: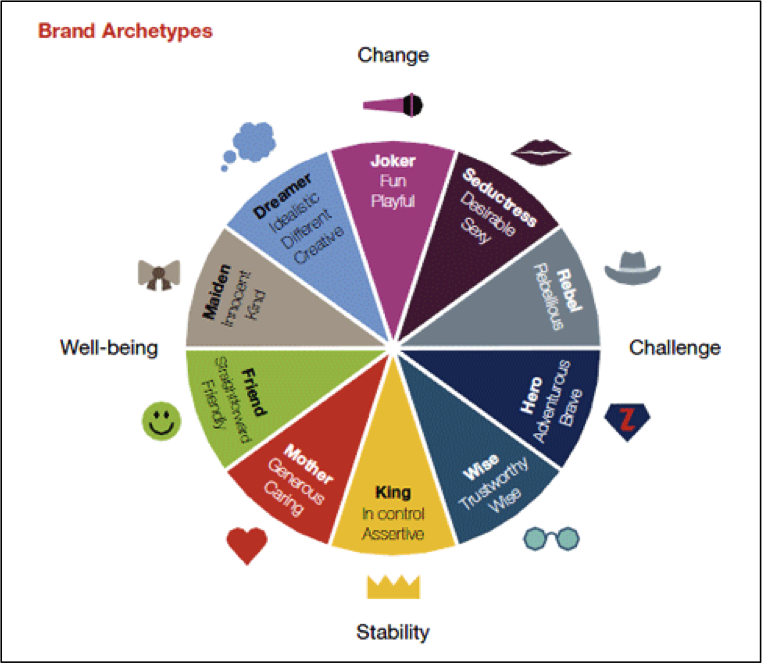 And the second graphic shows the strength of each archetype:
You can create a similar chart using your own data to figure out how each archetype converts, independently. The more targeted, the better.
I would recommend breaking larger sets of data into smaller sets, whenever possible. For instance, if you find that 90 percent of your demographic is in their 40s, I would recommend breaking the age bracket further down into a smaller group, so you could gather more data.
You can start gathering data by looking at your user behavior and demographic data in Google Analytics. You can also gain some insight from analyzing your paid search and social media data. The more you learn about your target demographic, the more you'll understand about how they search online.
The Future of Search
Semantic search isn't anything new, but I still think we've only seen a small fraction of what it can do — not only for consumers, but also for businesses.
Google continues to add semantic features, such as Google Now (predictive search), conversational search (voice search) and Google Knowledge Graph. As Google fine-tunes its ability to understand user intent, businesses and marketers will be forced to do the same.
By following the tips outlined in this article, you can get a leg up on the competition and start optimizing your site for the semantic web. If there's something you would like to add, let us know in the comments.