If you're a regular SEMrush user, you probably already knew how to use the software to get typical keyword research for your SEO and PPC efforts.
However, with the size and scope of the SEMrush database, there are a lot of opportunities to get creative and find insights that extend beyond the typical use of the software.
For example, since today is National Pi Day, maybe you would want to know what types of pie are most popular around the globe. Well, what better way to celebrate Pi Day than to do the research with SEMrush!
The way we found the data was simple. First, we searched "pie" in SEMrush search bar. Then we navigated to the Phrase Match report. Then, we added a filter to only look for phrases ending with the words "pie recipe."

Keyword filter for keywords ending with "pie recipe"
To see this filtered report live in SEMrush, go to Keyword Analytics - Phrase Match - search "pie" - add advanced filters - keyword ends with - "pie recipe"
This way, the software shows us a list of the most searched keywords in the form of " ___ pie recipe."
We repeated the process in six English-speaking databases (US, UK, Canada, Ireland, Australia, and India) and saw everything from apple pie recipe, to banoffee pie recipe and even steak pie recipe showing up as top-searched keywords.
The infographic below illustrates the top ten "__ pie recipe" searches in each database. For each country, you can see which recipe search was the biggest slice of the pie.
"Apple pie recipe" took the cake as the clear favorite across these six countries, amounting for a combined total of over 214,000 monthly searches.
In the UK database, however, recipe searches for fish pie, cottage pie, and shepherd's pie were more popular than apple pie. Looks like the British may have less of a sweet tooth than the rest of the world…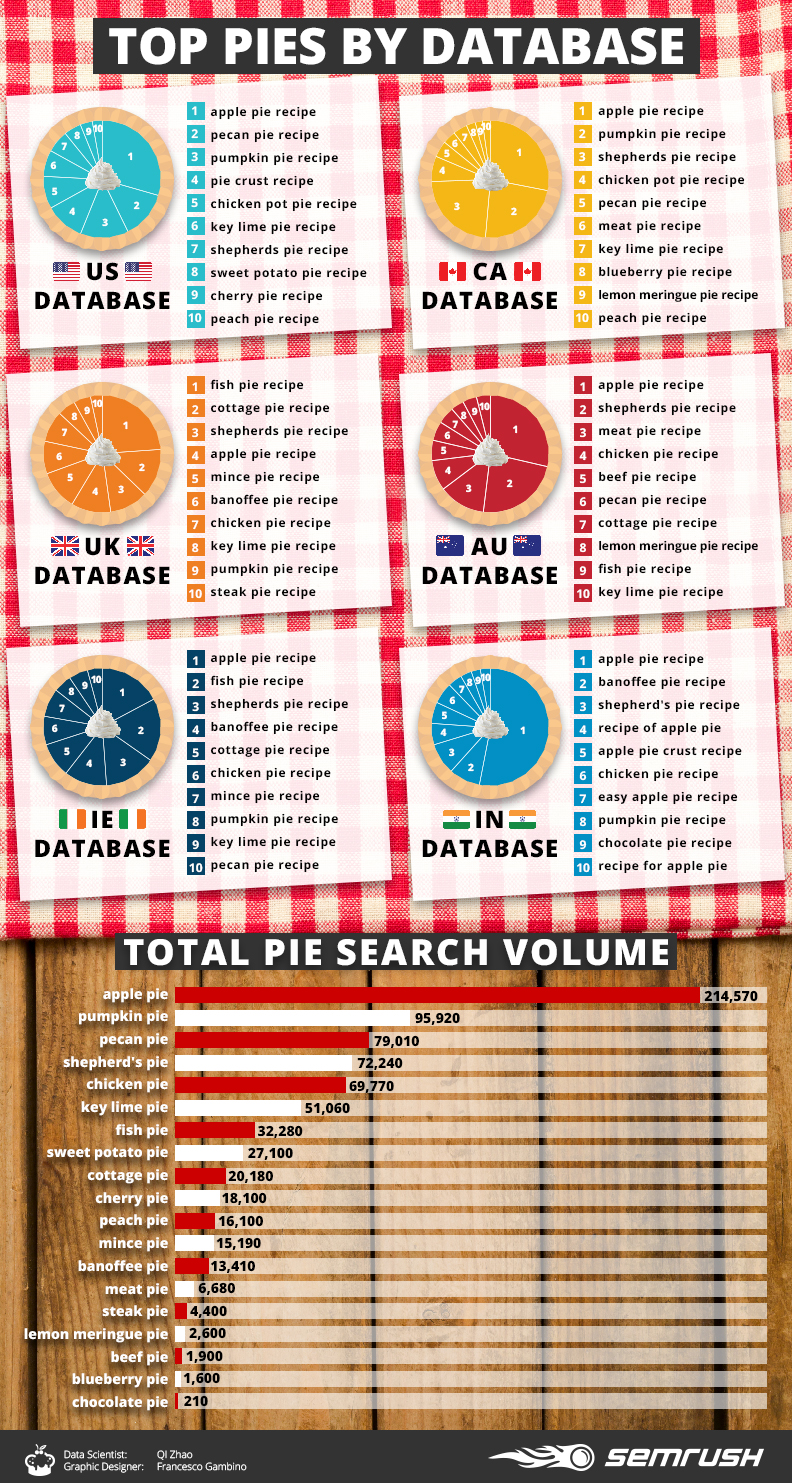 Do you ever use SEMrush in a creative way to gather market research? Let us know in the comments below!