Despite our SEO-focused appearance, we have always had a soft spot for the thrills of online advertising here at SEMrush. And seeing as we already have a history of researching the perspective of people who produce and run digital ads, we thought it was only fair to take a closer look at what is up on the other side of this business. That is how we set our gaze on people who help deliver those ads to the general audience – the vast and diverse network of online publishers, content creators and influencers scattered around the virtual plains of the Internet.
So to unveil the mysteries of online publishers, we did what SEMrush marketers do best. We googled it. And while most times this method would work, this time it didn't. To our confusion, we couldn't find any comprehensive research on how the ad publishing business was faring. But we are not ones to back away from a good mystery, so our advertising department put together a team and started researching.
The results were surprising, to say the least.
Publishers Miss Out on 79% of their Monetization Potential
Yep, you read that one right! Online domains that sell their ad space for a living attain as little as 21% of their monetization potential. So, the average blog and ad-packed website is losing 79% of their potential revenue from displaying third-party ads, making 21 the loneliest number you can ever be in the realm of online advertising.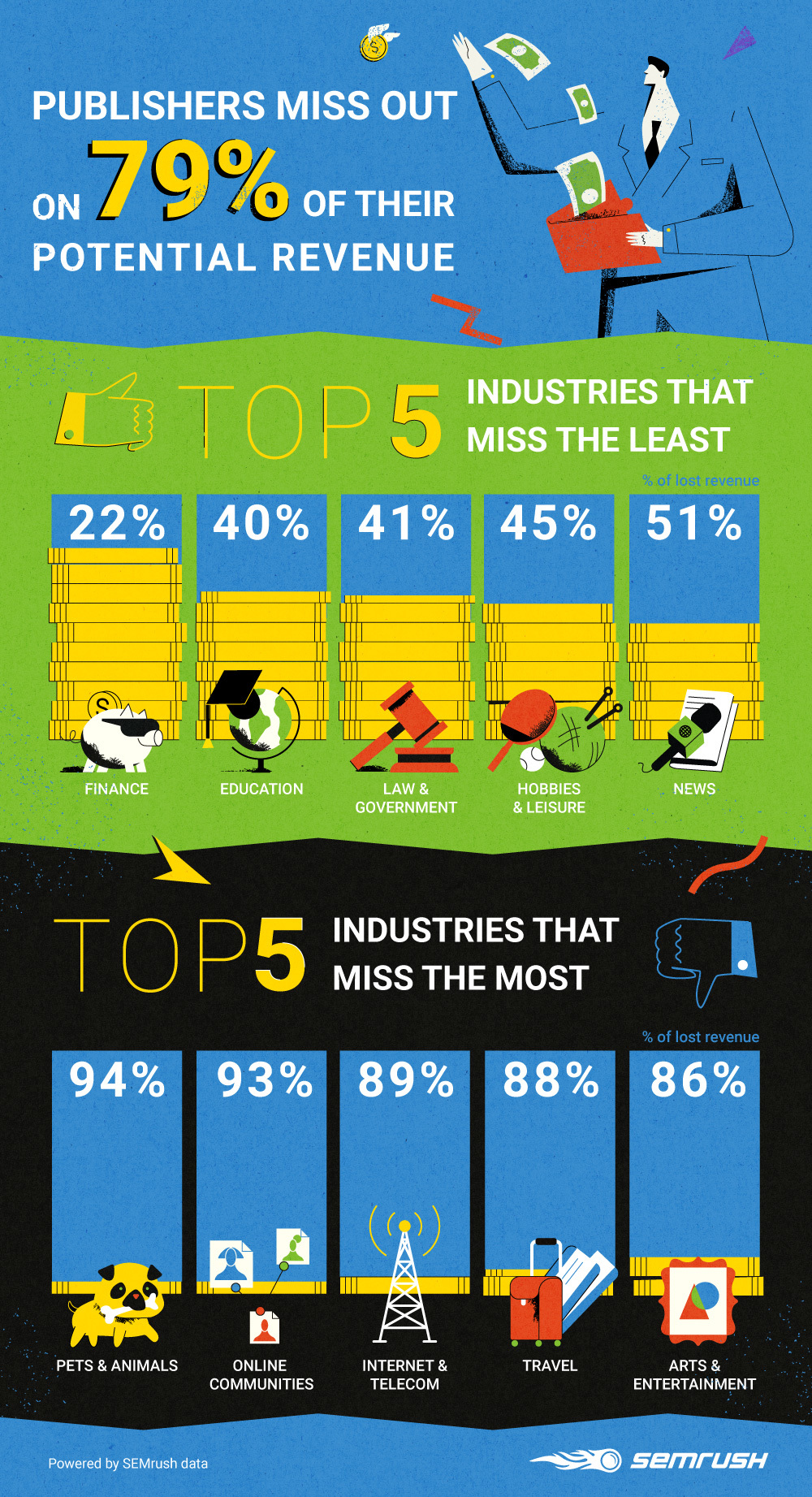 Are you a publisher, blogger, or an affiliate marketer?
We hate to come off as cold, but odds are you are part of the statistics, making five times less than you could. Ouch!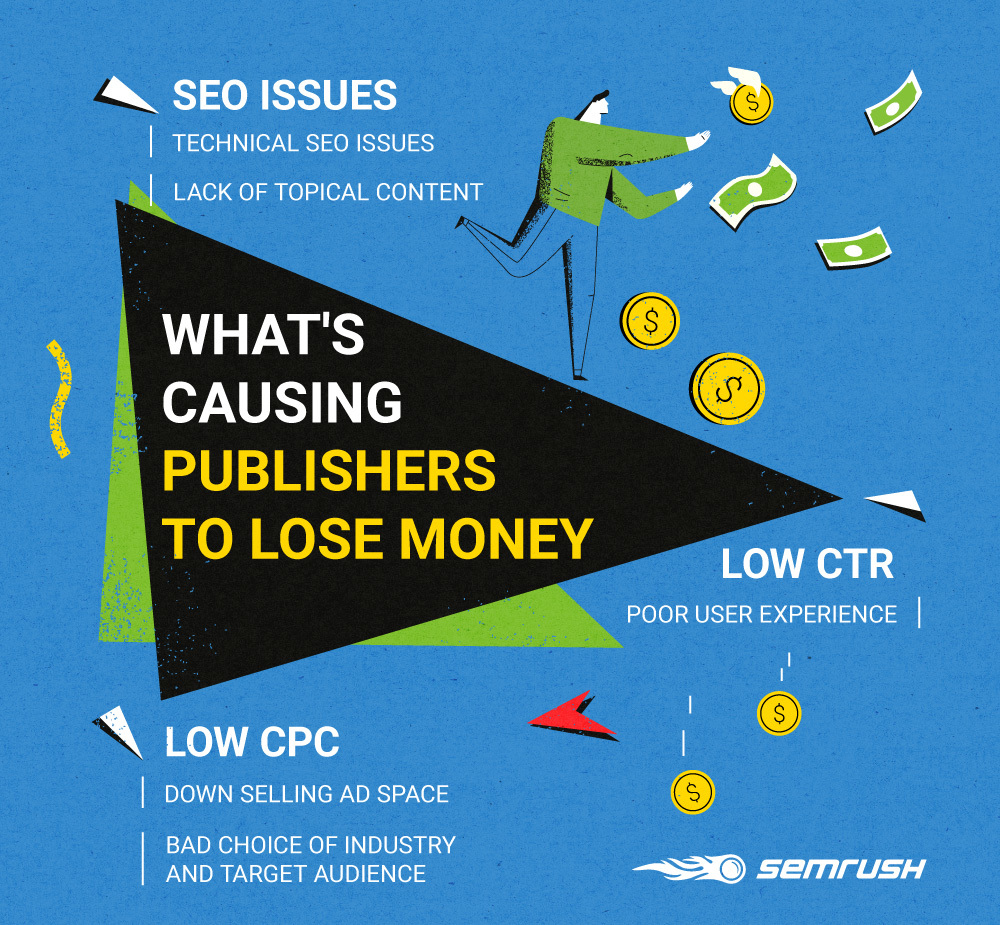 These sure seem like bold claims, but we are willing to back them up with data gathered across 30,000 domains and 20 industries. Still, don't just take our word for it – see for yourself. Why not set your website, blog, or any other online medium for a quick reality check?
You can totally do that with the new AdSense Benchmark tool we have put together during our latest market research. Just type your domain into the search bar below to see if you are making the most out of your monetization campaign. What is the worst that could happen?
[adsensecalculator]
You Can Make Up for Lost Revenue
So, how did the benchmark thing go? We know, right? The numbers you see can be intimidating, but you can always turn this around! Look on the bright side – the bigger the gap between your actual and possible revenue from ad publishing, the more room you have for growing your online monetization business. And thanks to the wonders of technology, it is not nearly as complicated to accelerate your domain's monetization revenue from 21% to that precious one hundred.
Get 100% for just $99.95 with SEMrush PRO. Double down on both the data and the tools to turn your domain into a monetization powerhouse!
Bottom line: no matter how much higher your advertising potential is, you can totally make it there. All you need is a magic formula... and we have it figured out for you!
The Magic Formula of Monetization
Whether you use AdSense or direct advertising, ultimately your ad publishing revenue is built upon three massive pillars: 
The CPC pillar, which defines the average payout you can expect from advertisers for running their ads on your domain. Basically, this one sets the maximum price that an impression, click or target action can yield you.
The Organic pillar – the lifeblood of your monetization efforts. The more organic traffic you get, the more resources you have to deliver views, clicks, and conversions on those ads.
The CTR pillar – if the SEO pillar attracts potential customers to your domain, this one is built to ensure they stay long enough to interact with your content, including the ads. A better user experience means more clicks and conversions – and advertisers love conversions.
And now that we have got the magic formula figured out, how about we put it to good use? Theory is fun and all, but it is practice that makes things perfect and fun. So practice we shall!
CPC Pillar – Making the Most out of Your Ad Space
Let us begin with the people's champion – the CPC pillar. Now, if you are a publisher, then building a robust CPC pillar boils down to picking the most profitable industry/audience/region combination to gear your domain and content towards.
And if you are a creator – a blogger, artist, musician, etc. – it actually works the same way. Even if it all started for the love of art alone, every content producer wants to know if they can monetize their creations at some point.
If you have reliable data to power the dozen intimidating decisions that you will have to make, it can be much easier to attain the epic ad payouts you are looking for.
G for Generosity: Google pays 68% of ad revenue to publishers working via the AdSense network. Learn more about AdSense from this article.
The Challenges
Picking Your Target Niche
To achieve financial success, you have got to make sure your content hits home with the right topic and demand from the market. Naturally, picking the right niche and topical keywords should be paramount for you as a publisher or creator. Especially with monetization in mind, powering the most important step on your journey with reliable marketing data seems like an absolute 'must do'.
Choosing Between 'Popular' and 'Expensive'
Lots of inexperienced publishers succumb to the temptations of through-the-roof payouts offered by advertisers in certain industries. Sadly, not all that glitters is gold. A high-payout advertising offer is only feasible so long as there are people willing to click on the ads. 
Think of trying to advertise a castle in Scotland for sale. It is expensive, alright, and you can expect a nice payout from the advertiser. But there are few people in the market for castles these days, so it might take a while longer than you would like for someone to click on your ad.
That is to say, a generous payout offered by the advertiser or an impressive 'average CPC' does not guarantee you a huge profit. The most expensive keywords and industries won't generate you much revenue if there is a really tiny market for them. Some 'CPC underdogs', however, can make up in quantity what they lack in price-quality.
Targeting the Local Markets
AdSense or not, if you want to see that hard creative work pay off with advertising revenue, picking the right industry alone won't cut it. Choosing your audience wisely and establishing your presence in various local markets is just as important. For instance, if your content is in English, you can try to resonate with the entire world, or you can go local and target a specific market – like the US – to increase your payouts. Thinking global is a good thing, but acting local can be a lot more profitable. 
Solution: CPC Map
The CPC Map does all the research legwork for you, so you can make an educated decision as to which industry, country, or keywords have the best monetization potential.
Our new tool is happy to crunch gigantic amounts of advertising data across 15 countries, multiple industries and exactly 5,567,193 keywords to display it in a concise, easy-to-read and fully interactive report that looks as great as this:
Allow us to quickly flip through the most common scenarios that you can use the CPC map for as a publisher or content creator:
1. Taking a Bird's-Eye View of the Market
The first thing you can do with CPC Map is get a pretty detailed SitRep on what is up in the advertising department in a particular industry, country or state/region:
Just pick a country and/or industry and get a good overview of the local advertising market of your choice.
It is also a great way to discover the average CPC payouts you can expect from running ads in a specific industry and region.
2. Researching Price vs. Demand
Like we said before, not all that glitters is gold. So chasing after the most rewarding keyword or industry based on payout figures alone is not necessarily the most profitable option. High-paying ads aren't much use for you as an ad publisher if there is little to no demand for the products they are trying to sell.
With the CPC Map, you can compare the Price vs. Demand for both industries and keywords, and either nail the perfect balance or find industries and keywords that are both popular and expensive to advertise in: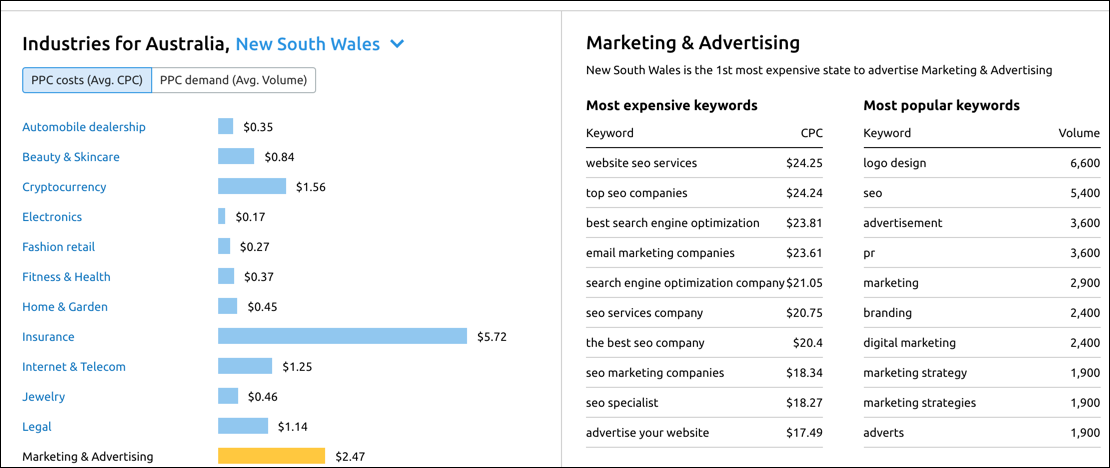 3. Trend-Spotting
For better or worse, few things in online advertising last forever. Trends come and go; prices spike and drop. But you can stay ahead of the curve with a very special section of the CPC Map: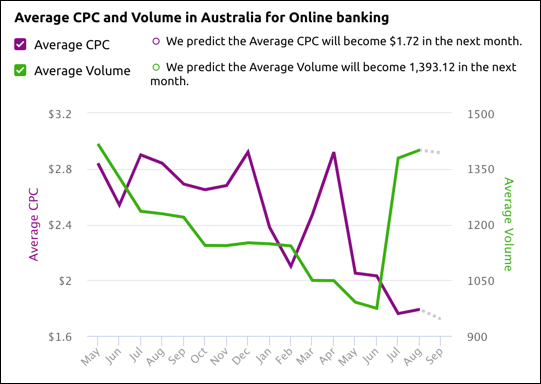 And that does it for building the CPC pillar! If you are new to SEMrush tools, or the CPC Map in particular, and would like some extra pointers, please check out our detailed workflow – How to Monetize Your Content with CPC Map.
The Organic Pillar
Our next guest needs no introduction – that is right; we are gonna play the SEO card in this section of our guide. Because no matter how you choose to monetize your domain – either by running ads or selling your products – you are going nowhere fast without organic traffic powering your entire business:
Pro Tip: on average, moving up one spot in the search results will increase your domain's CTR on Google's SERP by 30.8%.
Source: a recent study by Backlinko.
We are going to show you how to get a quick boost of organic traffic with minimum time and effort invested. Let's call it 'Casual SEO for Busy People'.
The Challenges
Most publishers, bloggers, and online monetization enthusiasts give in to the very primal sins of SEO. After analyzing over 30 thousand sites with our Site Audit tool, we figured out the most frequent mistakes on publisher websites: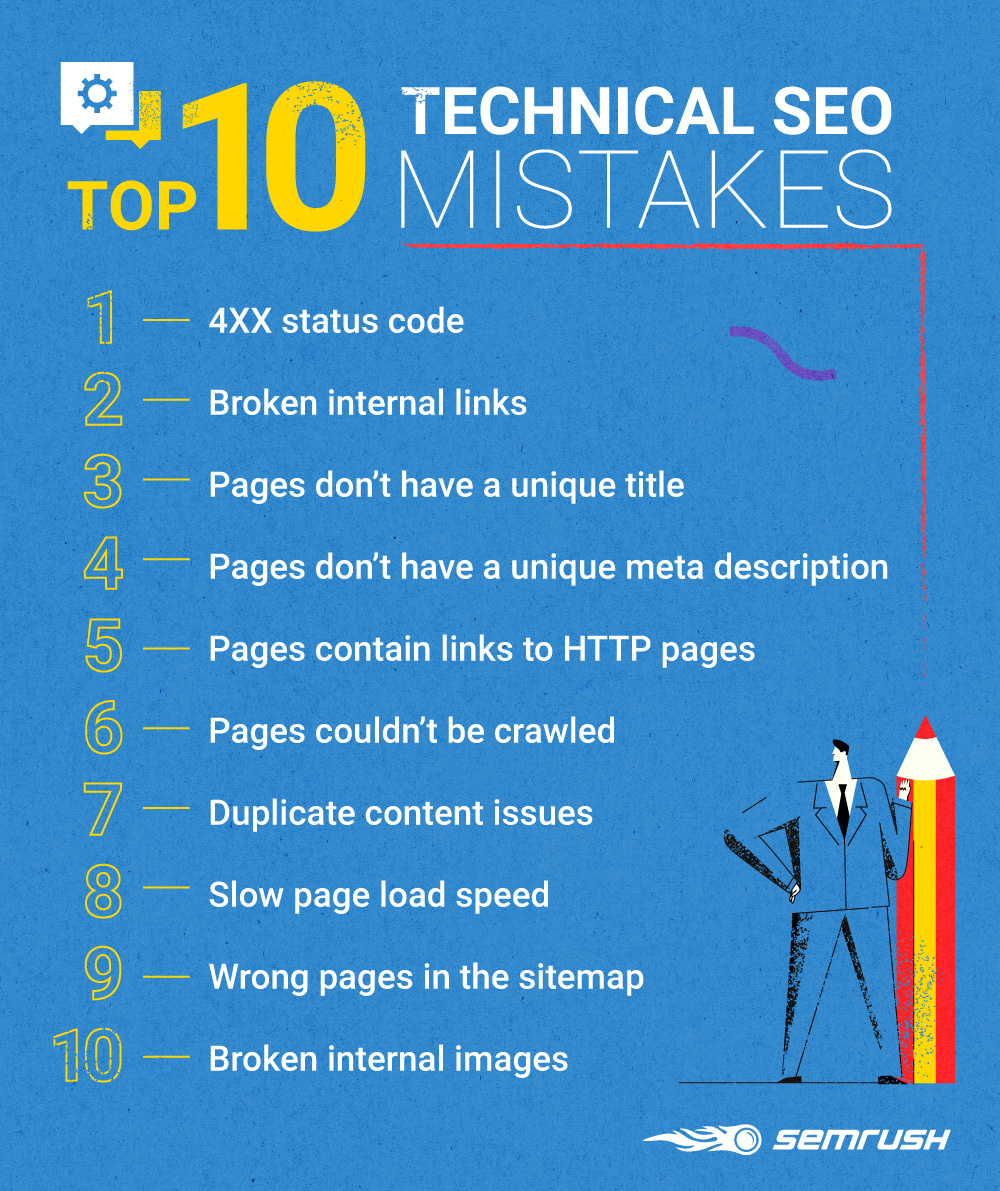 The biggest SEO challenges for your average publisher are pretty straightforward:
Making a full and honest list of your domain's SEO issues

Fixing the issues in good time
Solution: On-Page SEO Checker
Fixing all the major technical issues alone will give a massive boost to your website's online visibility, but you can always take your SEO game further. After all, making it to the top of the SERP is not only about fixing what's broken, but also capitalizing on what's already good and making it even better.
You didn't hear this from us, but it doesn't take a Ph.D. in SEO to get some pro-level results in a matter of months. Not with a reliable plan and a smart toolkit that automates all the routine work for you, anyway. And, fortunately, we have both to offer!
Meet On-Page SEO Checker
Every hero needs a sidekick. So please meet yours! On-Page SEO Checker – a nicer, better-looking cousin of your average SEO tool out there, that actually likes humans.

The short story is – if you ever hoped for an SEO tool that you could instantly figure out and start using immediately, then there you have it. On-Page SEO Checker builds up a list of actionable recommendations (not only the technical ones) and guides you every step of the way.
Get Ideas – And Act on Them!
Once you have successfully set up the On-Page SEO Checker, it will immediately offer you dozens of optimization ideas for each and every page you think needs a boost. This data is extremely helpful when it comes to pulling pages vital for your monetization campaign out of the depth of Google's shadow realm.
The best part is – you will get your boost at the expense of your closest online competitors! Essentially, the On-Page SEO Checker will gather intel from the most successful rivals of your selected page and show you how to use it to tip the odds... in your favor.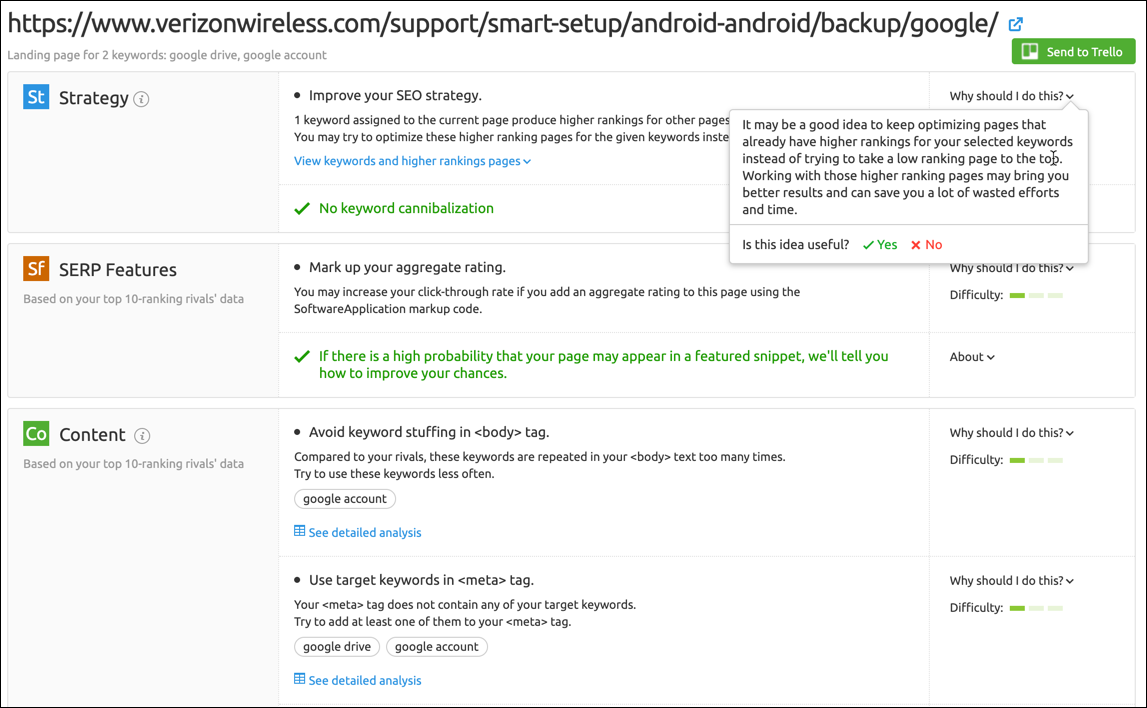 We harnessed the power of On Page SEO Checker by ourselves - and distilled down 10 most frequent recommendations ad publishers tend to come across. Be sure to take these ideas into account first, they are likely to produce quick and tangible results!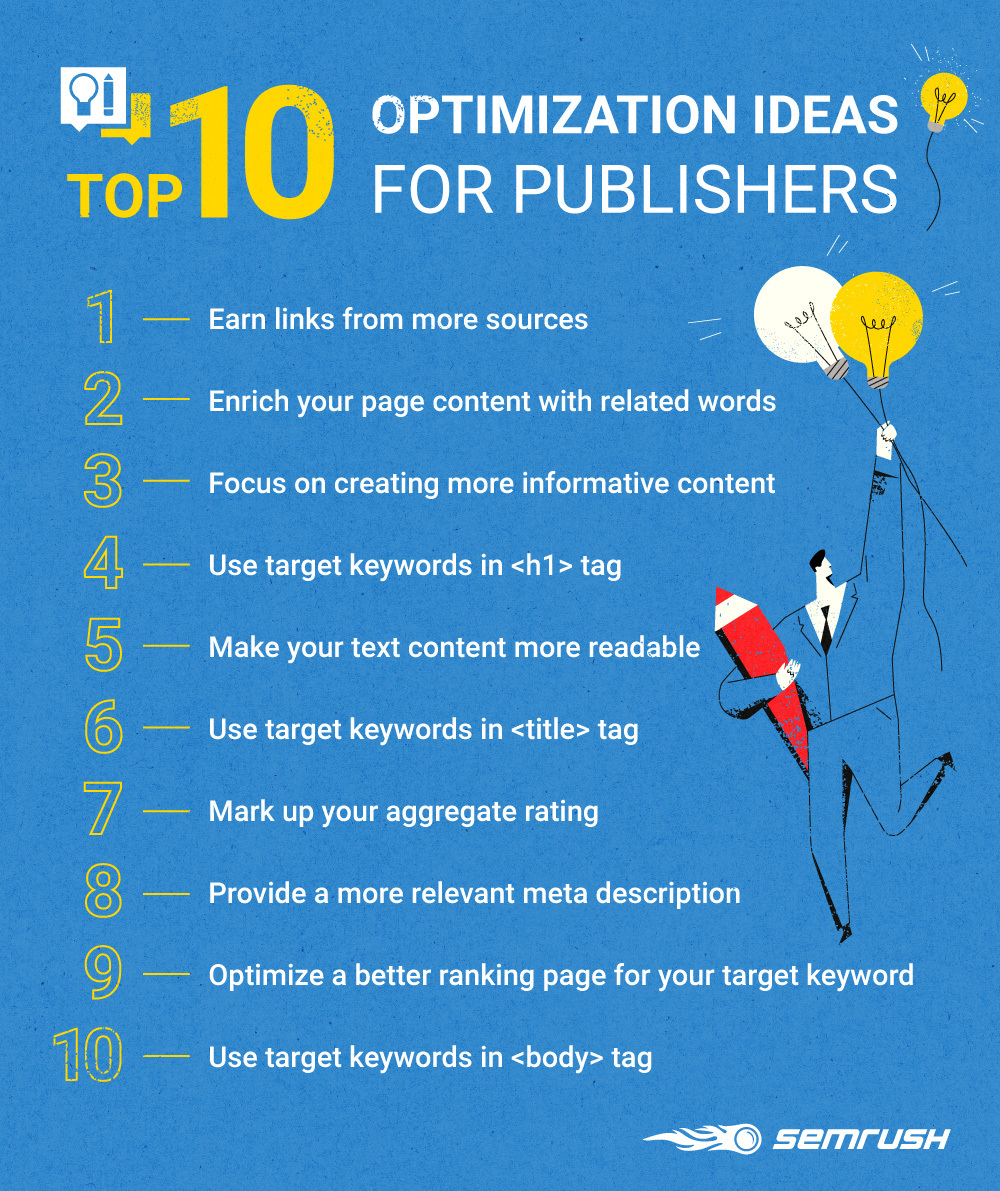 That covers the basics. If you are looking for a place to start your study, try out this entry-level SEO for Monetization guide in our knowledge base.
CTR Pillar
The CTR pillar is like a distillation still of your entire monetization effort. The better ad placement experience you provide to your audience, the better results you can expect from converting organic traffic into dollar bills. One other thing to note – the CTR rate is also the measure of your viability as a publisher in the eyes of Google AdSense and other advertisers.
The Challenges
Poor ad placement, bad calls in web design and technical issues all contribute to poor user experience (UX) visitors have with your domain. And poor user experience has a massive negative impact on how willing your audience is to interact with your advertisements, tanking your CTR rating as a result.
And while the majority of UX issues that damage your CTR the most are fairly easy to resolve, spotting them can be a pain.
The Solution: Display Advertising
One thing you can do to increase your CTR is to scan your competitors for ingenious ad placement, or web design ideas using Display Advertising. Just type in their domain name and see what ad formats they are running, as well as research their top-performing landing pages.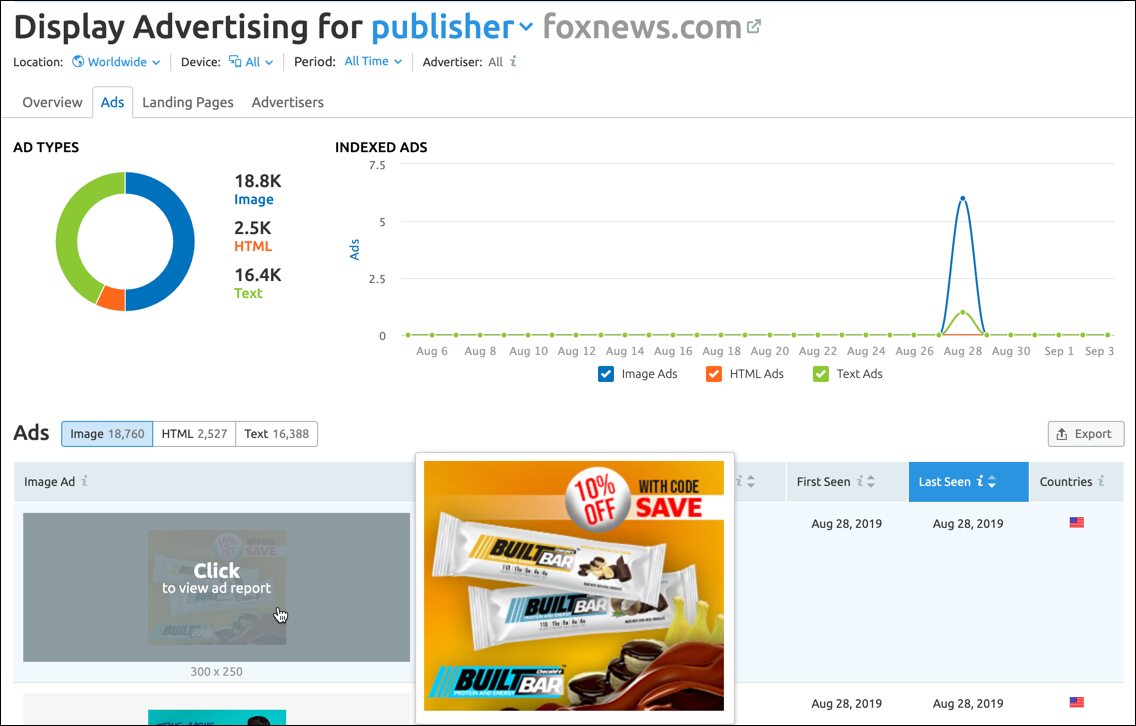 Alternatively, if you would like to attract the interest of a particular advertiser or industry, you can use Display Advertising's 'Publishers' section to check out the kinds of publishers specific advertiser prefers for distributing their ads: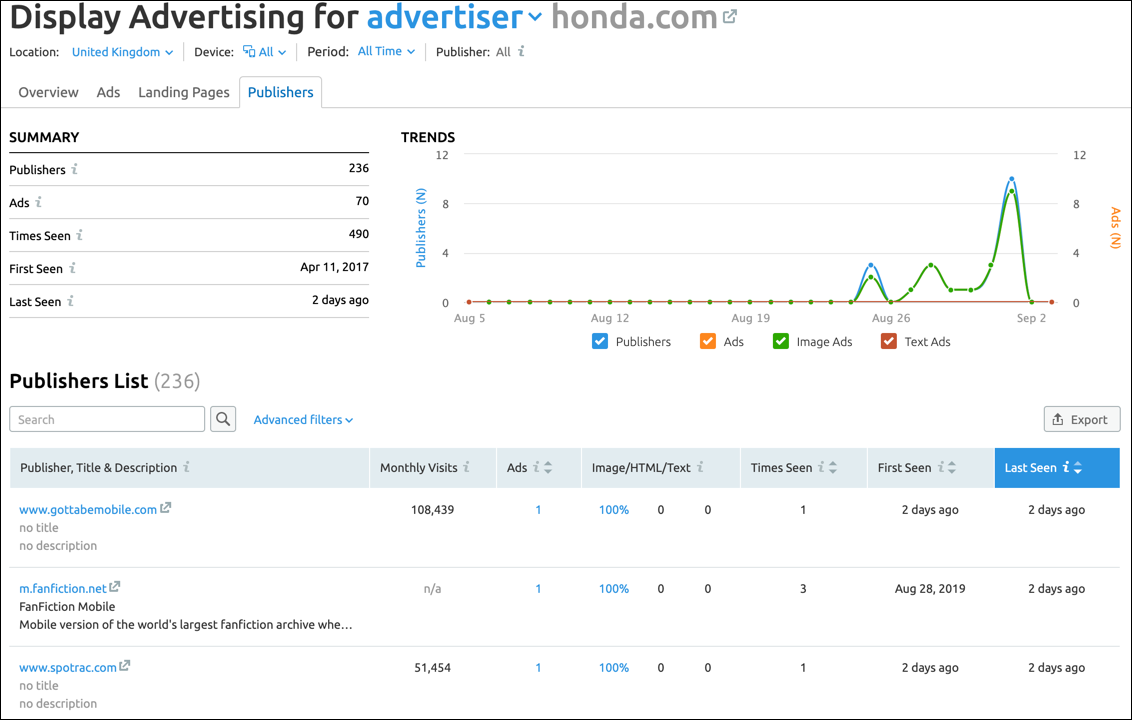 If you would like to learn more about the Display Advertising tool, all of its features and how to use them in your work, please see this article in our Knowledge Base.
Content – Don't Knock the Small Wins
Content is omnipresent and is there to make sure that all three pillars stand firm. It is the lifeblood of any online domain, and every ad publisher relies heavily on a steady supply of this precious resource. 
So whether you create your content yourself or outsource this task to others, we are positive you can benefit from the SEMrush Content Marketing Toolkit in your line of work. It is part of the package anyway, so you might as well give it a try:
Topic Research
Coming up with fresh ideas for your content can be tough. And finding a topic that will resonate with the market is even tougher. Fortunately, the Topic Research tool will gladly take this work off your shoulders and set you up for creating topical killer content in just a few clicks.
SEO Writing Assistant
Nothing hurts an author's pride more than rewriting their content masterpiece to fall under SEO restrictions. The SEO Writing Assistant will help you avoid this by delivering unintrusive optimization ideas for your text just as you're bringing it to life.

And if you find yourself in the editor's shoes, working with external writers, this tool will help you quickly check if their content does everything right in the SEO department. They like it, you like it, but this tool will make sure that Google likes it too.

Marketplace
If you are not a great writer, hate to overexert your creative genius or simply lack the manpower to scale your content strategy, the new Marketplace service is right up your alley. Just give us a title, place an order, and have an expertly crafted article delivered directly to your mailbox.
4. Conclusion
And that's all we wrote! For now, at least. This is the first time we have approached the idea of digital marketing and online monetization from this angle, but we are not going to stop at this point. So be sure to tune in for more content geared towards this topic in the near future.
As always, we are anxious to know what you think! Which pillars do you think are the most important for publishers and content creators, what was your experience building them, and how did it work out? Don't hesitate to share your stories, ideas and suggestions with us in the comments section below.
Thank you for your time, and keep on monetizing!