If content marketing plays a crucial role in your current online marketing strategy, understanding how to better optimize your content for Pinterest should be toward the top of the list when it comes to your preferred social media channels.
Often overlooked by companies who are trying to position themselves on more popular channels like Facebook and Instagram, Pinterest is still quietly gliding along delivering high volume and high intent traffic to savvy content marketers. With higher market saturation in the United States than both Twitter and Snapchat, Pinterest offers significant potential as a discovery channel. As site owners have continued to see a steady decline in referral traffic from Facebook, Pinterest has spent the past few years steadily climbing as a referrer and is responsible, on average, for roughly 8% of referral traffic across the web.
While Pinterest is technically considered a social media channel, most users tend to view it less as a place for peer to peer interaction and more as a place for discovery. Users view Pinterest as a place to search for or stumble across ideas and products that can easily be sorted into a curated collection of resources to that can be called upon when they are ready to engage more fully.
98% of Pinterest users report having tried something they found on Pinterest and 84% claim they use it to help them decide what to buy. Pair those figures with the idea that 97% of the most popular searches on Pinterest are non-branded and you have got an incredible opportunity to get your products, services, and content in front of a highly engaged audience with demonstrated intent.
Pinterest Runs on an Algorithm
With more than 175 billion items pinned onto 3 billion pinboards, Pinterest has no shortage of content to offer users. To that end, Pinterest has come to rely on several layers of algorithms to help decide what content to users wish to see.
There are three primary areas where the Pinterest algorithm comes into play:
The Pinterest Smart Feed: This is the content shown to a user when they log in to their Pinterest account.
The Following Feed: This tab includes a more chronologically driven set of pins pulled from the accounts and boards a user has followed.
Pinterest Searches: These are the results that appear when a user runs a search for a keyword or keyword phrase.
While there are best practices and SEO related guidelines to helping your content rank well in Pinterest, there are also some nuances to the individual displays that are important to keep in mind when working to optimize your Pinterest presence.
The Pinterest Smart Feed
As the default interface, the Pinterest Smart Feed represents important real estate. Pinterest knows that users on a mission will likely switch gears to run a search if they come to the channel with intent, but they also know many view Pinterest as a destination in and of itself. With the latter group in mind, Smart Feed aims to offer up a relevant mix of pins designed to catch a user's eye and hopefully drive engagement.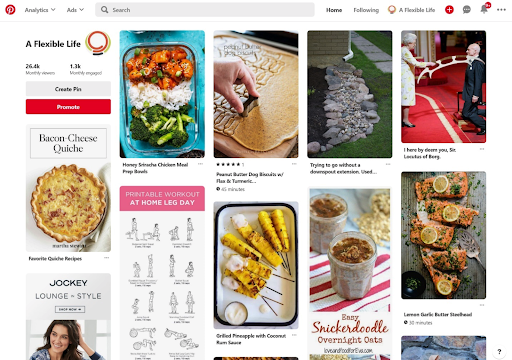 The Smart Feed pulls content from three locations: accounts and boards followed by the user, targeted advertisements sponsored through the Pinterest system and individual pins a user might not normally see, but that Pinterest feels will appeal to the user at the time they logged in. Pinterest uses a combination of factors like account authority, domain quality, pin quality, and recent Pinterest activity to sort and prioritize content from each of these three sources. Pinterest serves up a collection of pins from each of these three funnels to a user and adjusts what they see moving forward based on how they engage with the content appearing in their feed.
Recent activity on Pinterest (i.e., searches, repins, click-thru activity, etc…) factor in VERY heavily in the Smart Feed display. Users can see an almost instant shift in pin focus as they engage with the content, with Pinterest quickly prioritizing the content topic with which a user is currently engaging.
The Pinterest Following Feed
A fairly recent addition to Pinterest, the Following Feed is Pinterest's attempt to give users a current reflection of the content their chosen connections are interacting with on the site. While there is an algorithmic influence in this feed; this is the discovery area most focused on delivering recent content from accounts a user has already chosen to follow.
It is important to note that timestamps on your published pins factor very heavily into this feed; it is not uncommon to log in and see content from the past few minutes. Pinterest went on the record in early 2018 stating they prioritize the first five pins of each day from each pinner in the Following Feed as a way to keep the feed from being flooded by a single account. (Worth noting: they have since removed this guideline from their Content Tips page and have downplayed it in interviews; take that as you will.)Pinterest has also stated there is no difference in how they view content that is pinned through third-party scheduler verses directly to the site, opening the door for savvy marketers to utilize scheduling tools to more strategically position top content in the Following Feed.
The Pinterest Search Interface
Pinterest's primary function as a place for inspiration and ideas paves the way for a significant amount of search activity.
Pinterest helps searchers dig deeper through its "guided search" suggestions. Guided search uses a combination of common search terms and a user's activity history to help offer up suggested words or phrases aimed at further fine-tuning results. Pinterest also relies heavily on more traditional SEO factors to help determine which pieces of content are served up by a Pinterest search.
The Pinterest Hashtag Feed
A lesser-known area of exposure on Pinterest is the hashtag feed. While hashtags have been fully functional on Pinterest since 2017, Pinterest users continue to be slow to adopt them.
Like the Following Feed, hashtag results are heavily influenced by the time stamp on a pin, with newer pins carrying priority in the listings. Hashtag searches can be triggered from the Pinterest search bar, or by clicking on the existing active hashtags in a pin description. Pinners can add up to twenty hashtags to a pin description, and hashtags added by content owners are given weighted priority in the algorithm.
Understanding the Algorithm Using The Pinocchio Effect
Hardcore marketers who work to reverse engineer the algorithms of various social networks can find incredible insight by following the Pinterest Engineering team on Medium. You can use it to gain a better understanding of Pixie, the recommendation system utilized in the Pinterest algorithm, or what types of user signals Pinterest takes into consideration.
If the nuances of an algorithm make your head spin, a simpler way to look at it is to consider the Pinocchio Effect. You may recall that Pinocchio was a wooden puppet whose goal in life was to become a "real boy." Much like Pinocchio, algorithms aim to replicate human judgment. Ask yourself if the action you are about to take echos how humans might judge or value something. If the answer is yes, that factor likely either figures into the algorithm now or will eventually.
Optimizing Your Pinterest Content for Increased Exposure
Jump to the Pinterest Optimization Infographic
Now that we have established a basic understanding of how and where Pinterest is serving up content to users let's dig a little deeper into what you can do to give your content a bit of a lift in the system.
Like most social channels, Pinterest relies heavily on quality indicators and engagement activity to determine how much exposure a piece of content gets. Unlike most social channels, Pinterest seems more intent on boosting organic exposure than it does on restricting it. Here are some critical high-level factors to consider:
Original Content vs. Curated Content
While Pinterest has somewhat backed off from the "first five" pins of the day concept, most marketers would still be wise to consider the order in which they pin content strategically. Few sites generate enough original content to justify multiple new pins each day, so make sure that when you do have original content to pin, you prioritize it. It is known that Pinterest favors accounts that post consistently and good user experience also tells us there is value in curating third-party content that may be of interest to your followers.
Using scheduling tools to prioritize the daily release of pins for your original content with a blend of curated pins your followers are likely to appreciate gives you the highest overall chance of driving strong engagement and building new exposure.
Domain Quality
Taking the time to switch over to a Pinterest business account, claiming your domain, and enabling rich pins are critical quality indicators to Pinterest. Pinterest prioritizes pins, descriptions, and hashtags created by the owner of the pinned content, making it essential to claim your site on the service. Secondary factors include engagement on click-thrus and general activity around third-party users pinning content from the domain to Pinterest.
Pinner Account Quality
Pinterest also examines general quality indicators around the individual Pinterest account that posts a pin. An active account with a history of consistently posting well-received content will see an algorithmic lift leading to increased exposure.
Targeted Keywords
Pinterest considers the keywords and phrases used in the description of the pin, as well as looking at the keywords in the board title and board description where the pin is saved. Pinterest also looks for keywords in the title tag and page content of the pin destination.
While keywords play a role in Pinterest searches, it is also worth noting that keywords and related phrases are used by the Pinterest algorithm to serve up pins related to a user's Pinterest activity.For example, a user who runs a search for "chocolate milkshake" and then clicks on chocolate milkshake pins that also feature keywords like "keto," or "avocado" can trigger Pinterest to pull additional content related to those terms as well; this is why it's wise to make use of Pinterest's own Guided Search feature to help craft pin descriptions that can trigger new pin exposure.
Engagement Quality
When a Pinterest user pins or repins a piece of content, the Pinterest algorithm first shows it to users who have elected to follow the feed or board a pin is associated with. High engagement among these early viewers will cause the pin to receive additional exposure. Click-thrus, saves, comments and ratings can all serve to bolster a pin's engagement quality. Each round of exposure will either grow or slow based on the direct engagement the pin receives. Engagement quality's value in the algorithm means keeping your current audience happy is the best way to increase your overall exposure.
Canonical Pins & Pin Stats
Early Pinterest users remember the challenge of seeing the same piece of content show up repeatedly in a feed over days, weeks and even months. Facing the challenge duplicate content created for user experience and aiming to find a way to collate things like comments, ratings, and other engagement data for business accounts, Pinterest introduced the idea of Pin Stats.
While Pin Stats offer valuable insight for business accounts regarding how users are engaging with pinned content, they also serve another function. The development of Pin Stats opened the door to a form of pin canonicalization, with Pinterest taking a content owner's version of a pin and prioritizing its description and related data even as other pinners are pinning or repinning the content with their own descriptions.
More often than not, Pinterest now serves up a single pin with a direct link to the source URL, a collection of the photos and comments users have attached to the pin, and a cumulative total of how many times the pin has been saved to various boards. If a pin has special features like "shop the look" or rich pin features enabled, that content will also display.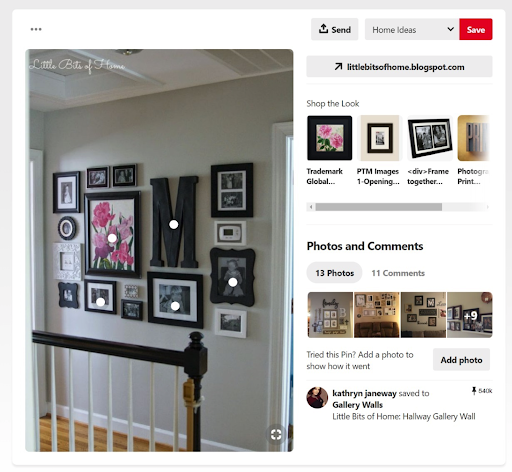 This option makes it even easier for Pinterest to measure historical user engagement with a pin and to look at the collective descriptions, comments and board titles used by various pinners as they saved the pin to their boards.
It should also be noted that by collecting this information into a single pin, Pinterest has given much stronger quality indicators to the users seeing a pin for the first time, making them more likely to engage with pins that have a demonstrated history of being well received by others.
The Anatomy of an Ideal Pin
Now that we have covered the big picture concepts regarding Pinterest optimization, it is important to break down just what goes into the creation of an optimized pin.
Ideal Images
The ideal pin image runs in a 2:3 ratio, with an ideal size of 600x900 pixels. While Pinterest can display pins up to 600x1260 without cutting off any of the image; pins that veer too far from the 2:3 ratio are likely to see lower distribution rates.
Pinterest users are often looking for ideas and inspiration on how to solve a problem, or how to put something to work. To that end, lifestyle images or images that incorporate a product into a contextualized environment tend to perform best.
Pinterest Descriptions
Pinterest is still experimenting with when and where to show descriptions, with many mobile users not even seeing a description unless they click into an individual pin. That said, description content is critical for keyword purposes, and including a strong call to action can help boost both saving and click-thru rates, providing an engagement boost on the pin as well. Pinners can also include up to twenty hashtags in a description, triggering inclusion in the hashtag feed as well.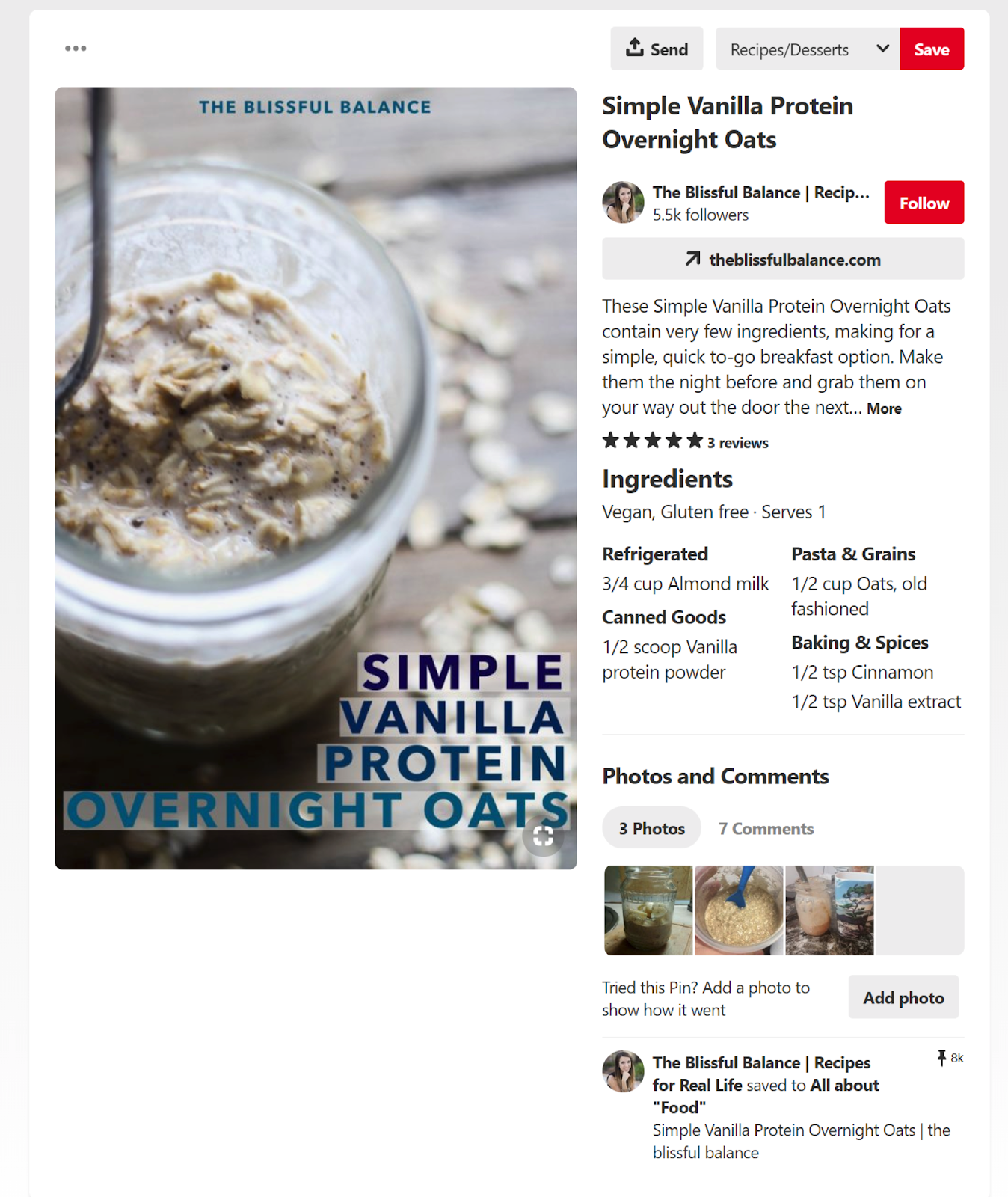 Pinterest Boards
The title and description of the board a pin is saved to also has a heavy impact on how and when a pin appears in the feed. If you know a pin applies to more than one board, make sure you first pin it to the board you most value the keyword and topical association with, as that is the information Pinterest will prioritize within the algorithm. Utilizing Pinboard sections is also an effective way to dig deeper or share multiple applications of a pin because board section descriptions provide further context and keyword information for the algorithm.
Pinterest Active Engagement
As you are now aware, direct engagement with a pin carries heavyweight with the Pinterest algorithm. Comments, repins and click-thru activity is important, but the photos and reviews associated with the "Tried this Pin" feature are critical indicators to both Pinterest and other users of the ultimate value of the pinned content. Encouraging followers to utilize the "tried it" option on your pin can go a long way toward boosting exposure.
Keep in mind, that individual pins can be embedded into a blog, email newsletter, or other locations to help draw attention to and encourage engagement of this style.

Putting it All to Work
As with most other areas of content marketing, Pinterest optimization is all about creating and curating high-value content your target audience wants to engage with. Utilize your existing keyword research and content calendars in collaboration with a third party social media publishing system like SEMrush's Social Media Poster to keep a steady flow of optimized content on your business's Pinterest account.
Keep tabs on what works and what doesn't using a combination of Pinterest's business analytics and tools like Social Media Tracker to analyze and fine-tune your results.