I remember my Digg days — back when folks used to have fun on Digg, consuming crazy content, getting into political debates, and experiencing that high when something they submitted "popped" to the front page.
Back then, we were all looking for crazy content that could go viral and keep making that popping sound. "Pop!"
The types of sites that had some of the coolest content often had rows of links at the bottom of the page to lots of other cool content on other sites. And there are still plenty of sites that have these. Do you know the ones I am talking about? There is usually a startling or sexy or simply odd square image with a tabloid-style caption that makes people click through just to see what it's all about. Like these...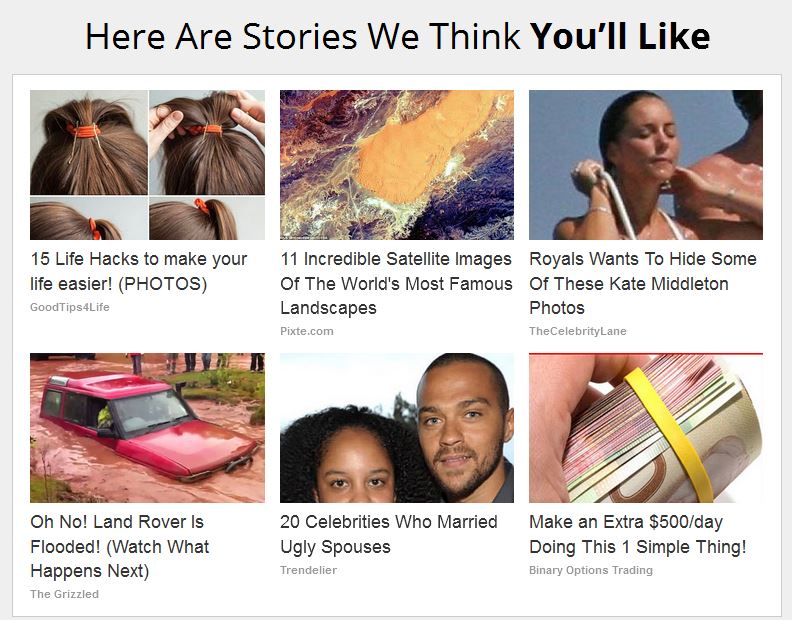 And most of the content, when it would be good, would be fitting for the tabloids. Fail videos. Fashion emergencies. Sexy pics. When it was bad, it was just boring.
Times have not changed much in the last five or six years. "Native content delivery" still exists. In fact, it seems to have grown in popularity as the Web has grown. This type of advertising appeals even more to the Web of today, because it relies on visuals, which have become more popular with the increase in mobile browsing.
What makes these "native advertising," a term that is confusing to most people, is that they appear to be suggestions for other stories or items on the site. There is nothing that says they will take you to another site, or if there is, it is a fairly understated aspect. Appearing as if they are the site's own content is what makes them "native."
Native advertising has exploded over the last year to a $7.9 billion industry, and is expected to reach $21 billion by 2018. That would be nearly tripling in growth in just three years.
By the way, that data comes from Business Insider, where this was displayed beneath the article:
Yes, native advertising and content recommendations are all over the place. An Association of National Marketers study reveals that 63 percent of marketers increased their native advertising budgets for 2015.
That does not mean that those little image blocks are an $8 billion industry. There are many kinds of native advertising, and we are referring specifically to content referrals.
If anything, these content referral ads are exploding even faster. "As a leader in native advertising, we've seen 900 percent growth over the last year," says John Lemp, CEO of upstart Revcontent, a native content delivery network that is focusing its energies on audience identification and targeting. "And with our reach continually growing, we're expecting to be the largest content recommendation company in the world in the next 12 months."
Native Content: Why the Growth?
What is fueling this growth? There are a few obvious trends:
The Web is getting bigger. That means more websites want to monetize their pages by selling advertising space.
The Web is getting bigger. That means there is more content to promote.
The Web is getting bigger (did I mention that?). That means that not every website can rank well in Google and Bing, and they need more options to drive traffic.
More people are on mobile. They are looking for more bite-sized content that is easier to view on tiny screens. And these ads are just perfect for that.
With that kind of growth, you would think everybody would be jumping into the game. And it seems like they are. There are over 30 players offering native content widgets. Among these are some big names in the world of content marketing and blogging that you might not expect to see in the native advertising niche.
One of those is Disqus, best known for managing blog comments on numerous websites. If you read a lot of blogs, and you leave comments, you will surely run into Disqus sooner or later. In fact, all you have to do is leave a comment on this blog post to interact with Disqus.
Another big name in the world of blogging is Sharaholic, possibly the most popular social sharing widget that bloggers install to make it easier for their readers to tweet their posts and share them on places like Google+, Facebook, Pinterest and LinkedIn.
With so many options to consider, where does a publisher or an advertiser start? Ash Nashed offers four key things to look for in a native ad network:
No long-term contracts at trial
Clear rate structure
Advanced analytics and technology
High-quality, diverse ads (yes, that's important even for the advertiser)
It is looking more and more like major online businesses need to be considering native content delivery as part of their business plan. This will take content marketing to a new level. Those of us, and that includes me, who equate content marketing with writing will have to adapt and see that there is a much bigger picture happening on the Internet. Content is no longer just the creation of good writing or even good images; it is now also part of advertising.
Do you have experience with native content? Let us know what's worked for you in the comments below.