73% of consumers use multiple engagement channels in their interactions with a single preferred retailer, which is why a brand that can provide a seamless experience across all channels is more likely to have an 89% retention rate when compared to others. Whether you are looking to explore multichannel engagement for your business, or you are just looking to tweak it, we invited Lisa Raehsler, SEM expert at Big Click Co. who has helped numerous businesses grow through integrated search engine marketing strategies, to our latest #SEMrushchat. Lisa and our chat participants discussed PPC in a cross-device world and provided key insights on nailing multichannel marketing. In case you missed it, here is what they had to say:
Q1. Do you think a cross-device strategy is essential in today's digital world?
For most of our chat participants, the answer was unanimously a yes. Lisa pointed out that a cross-device strategy is more of a default move in today's marketing strategy than an option.
With the average household having at least 5 connected devices (as of 2017), the buyer's journey has drastically changed. Nowadays, a user can start a search on one device, move over to another device, and then complete the purchase. So without having a cross-device strategy, you run the risk of having gaps in the buying journey that can negatively impact your conversions.
A typical buyer's journey becomes multi-touch and multi-channel. It could begin with a promo email on the user's phone, then continue on a desktop for a more detailed search, and finally, end in a purchase from a tablet at a more convenient time. So, having a strategy that does not take into account such a fractioned user journey across channels would be, as Craig Campbell - @craigcampbell03 pointed out, "madness."
For this to work, a thorough understanding of the buyer's journey across devices is essential. For instance, if only a small fraction of conversion happens through one particular channel, then it can be focused on less, but not ignored.
As technology impacts search even further, marketers will have to focus not on just the devices, but the way people are searching as well. With emerging technologies such as Siri, Alexa, and Google Voice influencing the way that people search, ComScore predicts that voice is expected to dominate 50% of searches by 2020. Therefore, your marketing strategy should reflect that.
Q2. What is your best practice for optimizing cross-device campaigns?
A three-pronged approach is required to optimize your PPC strategy across various channels:
1. Targeted Content
The strategy should be mobile first since 89% of media is viewed through mobile applications.That means not just having a responsive landing page, but getting the Ad format right, that having exclusive mobile-specific content is required. The content can also be device specific, campaign specific, and more targeted to get better results.
2. A/B Testing
Testing each of the variations or a tweaking marketing strategy is an absolute must. A/B test the bidding strategy, device placements, the responsive design, and any other variables that will have an impact on conversions.
3. Data Analysis
To find out what actually works best for your business and converts, you should analyze the data of the A/B tests where the campaign result is mandatory. This is why you should ensure that "cross-device tracking" is enabled on Adwords.
On a basic level, you can analyze which channel is giving you more ROI. In the example that Lisa shared below, she outlined how the conversion rate for mobile is less, even though it has it has a higher number of conversions. This could mean that, for your business, mobile as a channel definitely has a lot of potential. However, the ads or the landing page could be made more conversion centric to improve conversion rate.

(Credit: Lisa Raehsler)
While performing a detailed data analysis, it is also essential to know which metrics to focus on. For instance, if the mobile channel has more traffic, yet the desktop channel commands more conversions, then there is a noticeable difference in the customer expectations from either channel.
This insight could help you go back to the content and tweak it to further improve the ROI of your campaigns.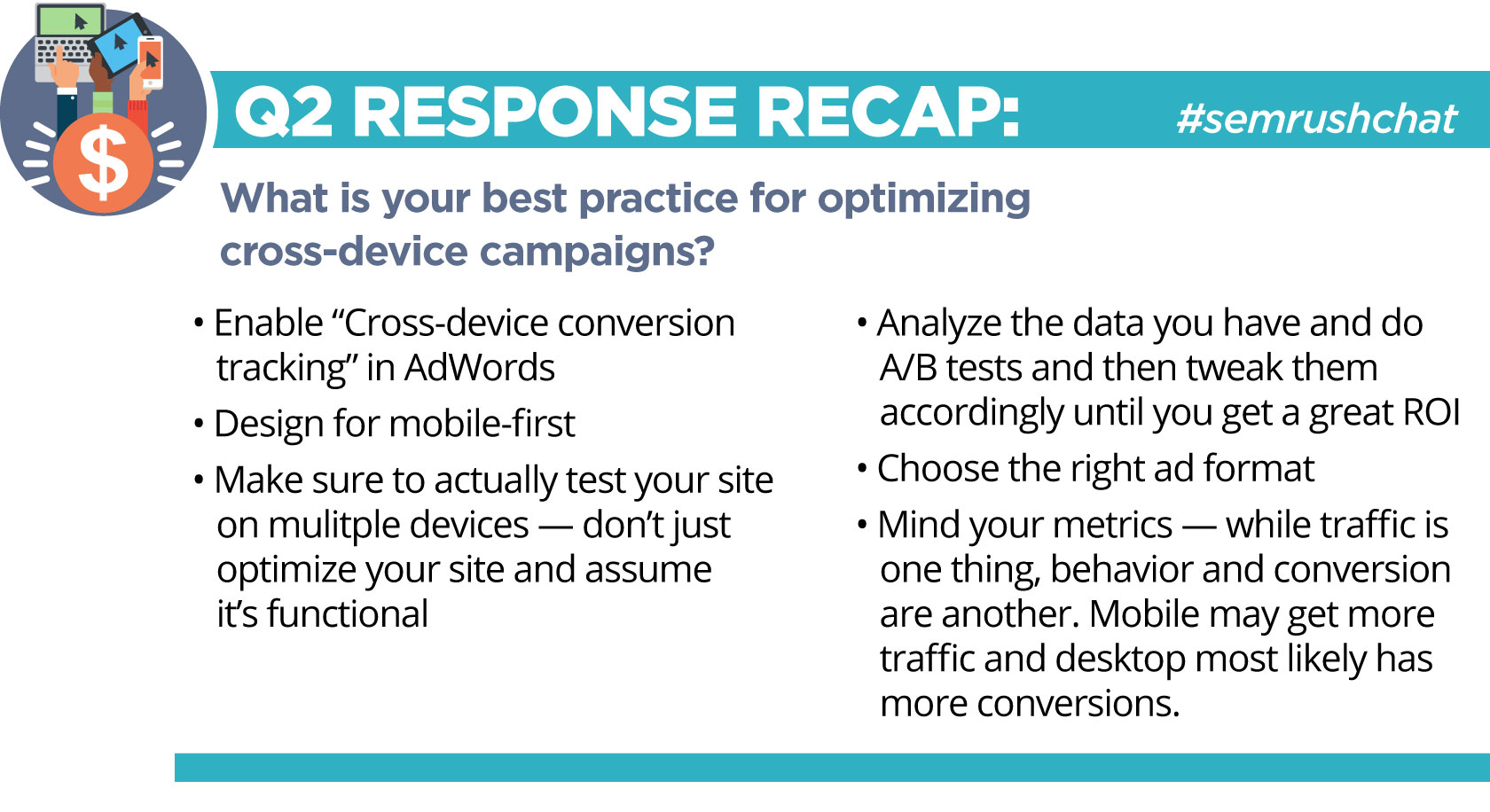 Q3. Explain the process of how you define your audience segments across devices and the data that feeds into them?
Audience behavior across devices can vary depending on the business. To figure out what you should do, you should choose to go with the initial buyer persona and then adjust the campaigns across devices based on it.
Segmenting them can be as simple as identifying mobile users by screen size or based on the channel used, for example, Facebook and Instagram ads tend to be geared towards mobile users.
If the above methods do not work for you, then here are some options you can try:
Audience Segmentation Based on Campaign Performance
Start with data, but don't analyze blindly without having a particular goal. For instance, check your data for campaign performance across each device and compare it with the overall performance. This information will tell you how your audience is already engaging across multiple devices. You can always tweak and test it to improve the ROI.
You can also use a tool Like Google Analytics to attribute traffic to conversions by device.
Audience Segmentation Based on Demographics
You can also carry out competitor analysis and choose to segment the audience based on demographics.
Audience Segmentation Based on User Intent
Another approach could be to identify the user intent behind each channel or content type (content journey). For instance, desktop users would be researching your product, while mobile users would be more likely checking for offline stores. This can help you build a buyer's profile that you can use to segment your audience. Moreover, this can help you use content to direct the users to pages that you think will encourage them to convert better.
Key metrics like user onsite behavior, CTR, messaging, conversion behavior, keywords, etc., can all form part of the profile to help make the segmentation more targeted.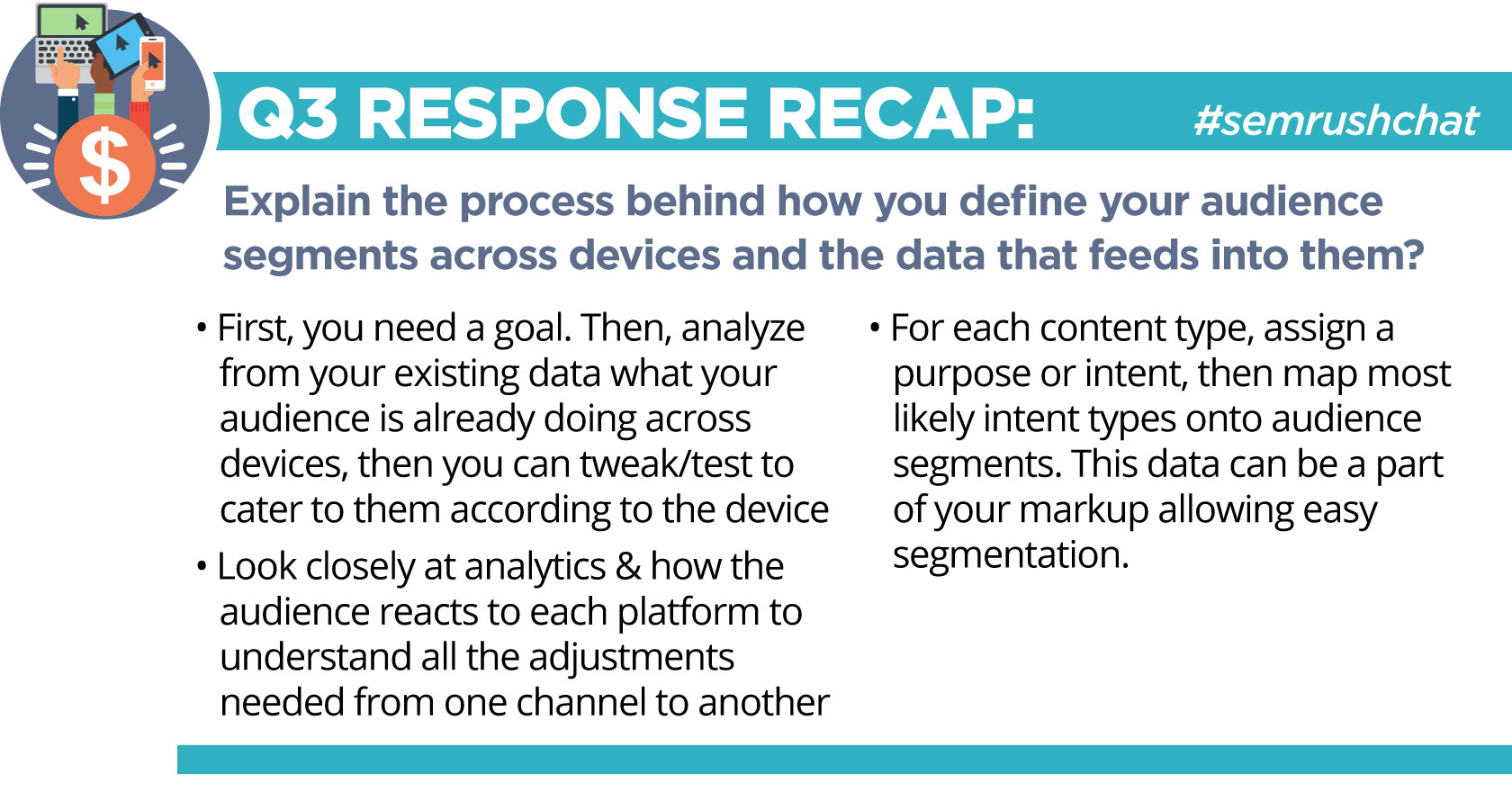 Q4. When creating a PPC strategy, is it crucial to have device-specific campaigns?
Most PPC platforms give you the option to indicate if a particular ad is mobile-specific in an all-devices campaign. So, it is not strictly necessary to always opt for separate strategies for each device because a good device specific campaign is a lot of work.
However, it is something you should consider if:
A specific channel commands a large portion of traffic, conversions, and budget. You can identify this by starting an all devices in one campaign and then segment the campaign performance according to the device.
It makes more sense for the business objective, like an App download, which can have a mobile-specific campaign.
The creatives and messaging for each device are vastly different. The mobile version can be more action-oriented, with a compelling CTA, while the desktop version can have different copy.
The ROI for a particular channel is higher than others. This could stem from a wide difference in audience behavior across devices like using desktop for research while using mobile to search for offline stores.
Fine tuning and micro-optimizing each campaign is important. Having a device-specific strategy allows for better budget management and more opportunities to increase conversions.
Ultimately, it boils down to you or your clients' goals and user behavior. So, set up a comprehensive campaign first and then use the analytics data to integrate a cross-channel strategy for your campaigns.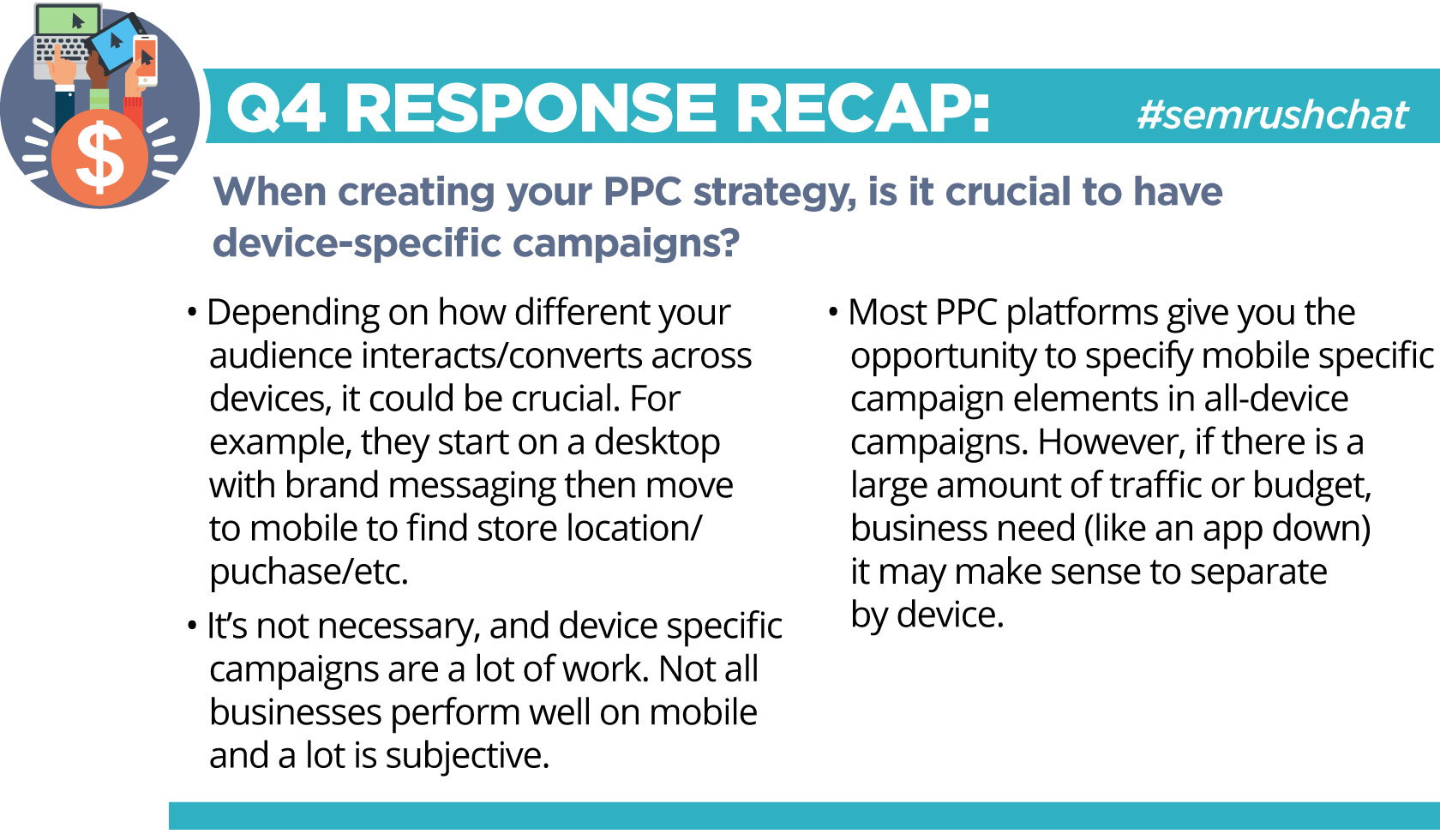 Q5. When, if ever, should an advertiser opt-out of targeting a specific device?
Here are some scenarios our chat participants mentioned to let you know it is time to opt-out of device-specific targeting:
Limited Budgets
Device specific targeting can be incredibly draining on your PPC campaign budget. So, if you are faced with a budget constraint, it is better to switch to an all device mode and use bid adjustments.
When the ROI is Less
If the device-specific campaign is not performing, thus resulting in lesser conversions, then it may not make much sense to continue with it.
When the Device is No Longer Supported
It is not logical to have a mobile-specific campaign for a website that is not mobile friendly. While you will win conversions with this, it will drain out your resources. Even worse, it will just end up being a bad user experience and frustrate your site users instead of helping them.
When There is a Better Way to Segment the Audience
Unless the market for your product is highly device specific, (like a mobile app for Android), the audience can be segmented and targeted using other criteria. If this segmentation results in much more engagement and conversions, then it negates the need for a device-specific strategy.
When User Behavior Does Not Vary with Device
If the user or your target audience behaves the same across all devices, more often than not, the ROI across all devices will be rather similar. So, having a different strategy for each device will just be redundant and a waste of resources.
When the Strategy is Not Relevant to the Audience
If the audience or the customer journey is not device specific, then targeting them accordingly will not make sense for your business. This could be specific for a lot of B2B companies, which rely on different audience segmentation to accelerate conversions.
Remember to opt-out only after a thorough analysis of why your campaign is not working and only after trying various combinations and A/B tests. It could just be that the device-specific campaign only needs specific tweaks to perform.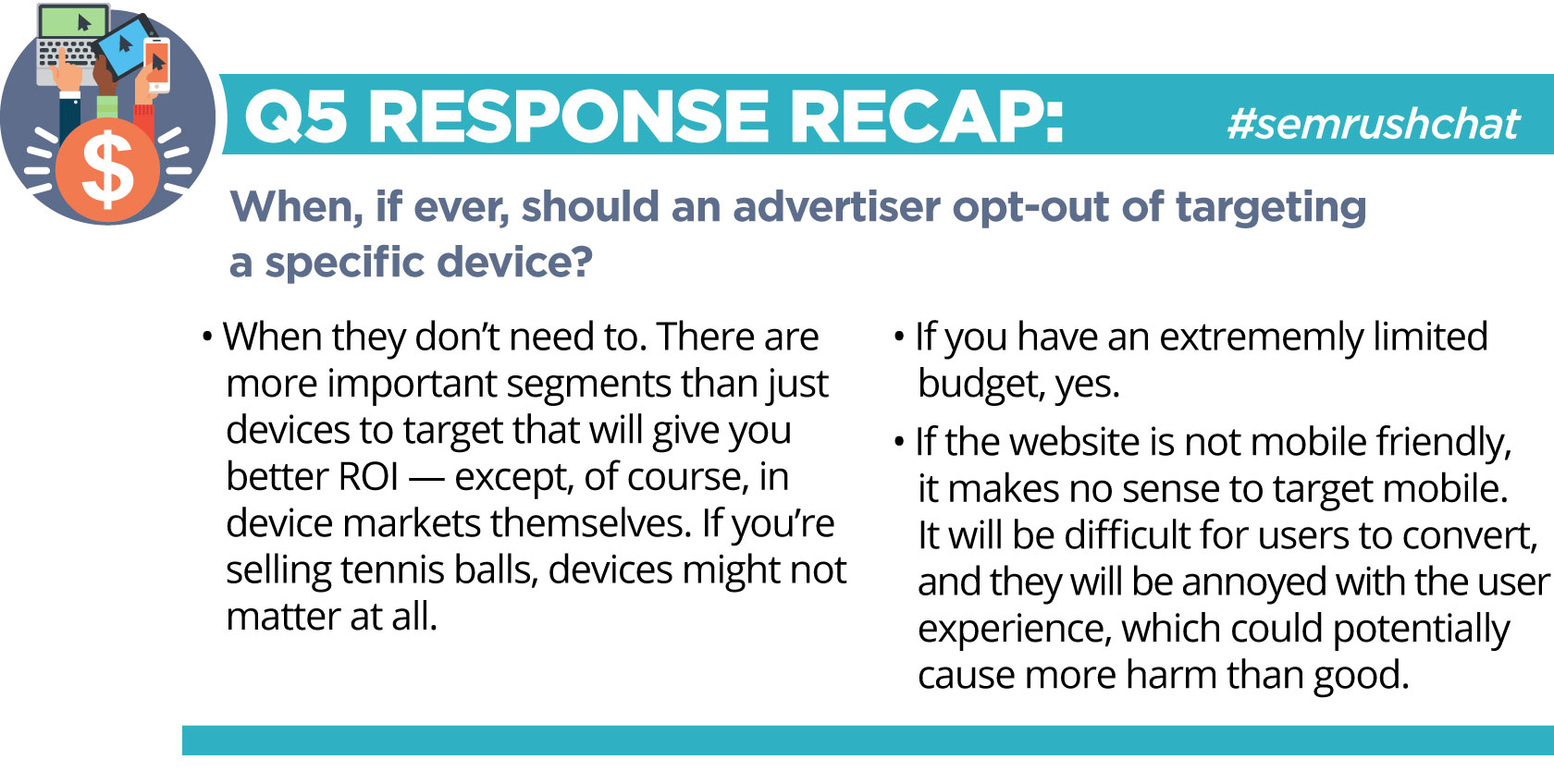 That is all for today! What challenges are you facing in implementing a seamless PPC campaign across devices? Let us know in the comments!
Make sure to join us this week as we discuss "Successful Link Building Through Content Marketing" with special guest, James Brockbank!