PPC traffic is considered an "easy" one to get. You allocate a budget, set up a campaign, hit the button, and see the traffic flow and turn into valuable leads.
This is how things went in the early 2000s when the competition was low, and CTRs were high. Almost 20 years later, the effort you need to put into creating a successful PPC campaign has grown exponentially. More platforms, more targeting options, more formats — sometimes it takes all your time to manage them. The good news is that you can vastly improve your ad performance and do it rather quickly with some smart tools.
We talked to our PPC team, as well as dozens of PPC marketers at several conferences we attended this spring and came up with a list of 40 tools that make the lives of paid advertising pros easier. The list below will help you save time, lower ad costs, manage accounts, get more leads, and automate some laborious tasks you may have considered unavoidable.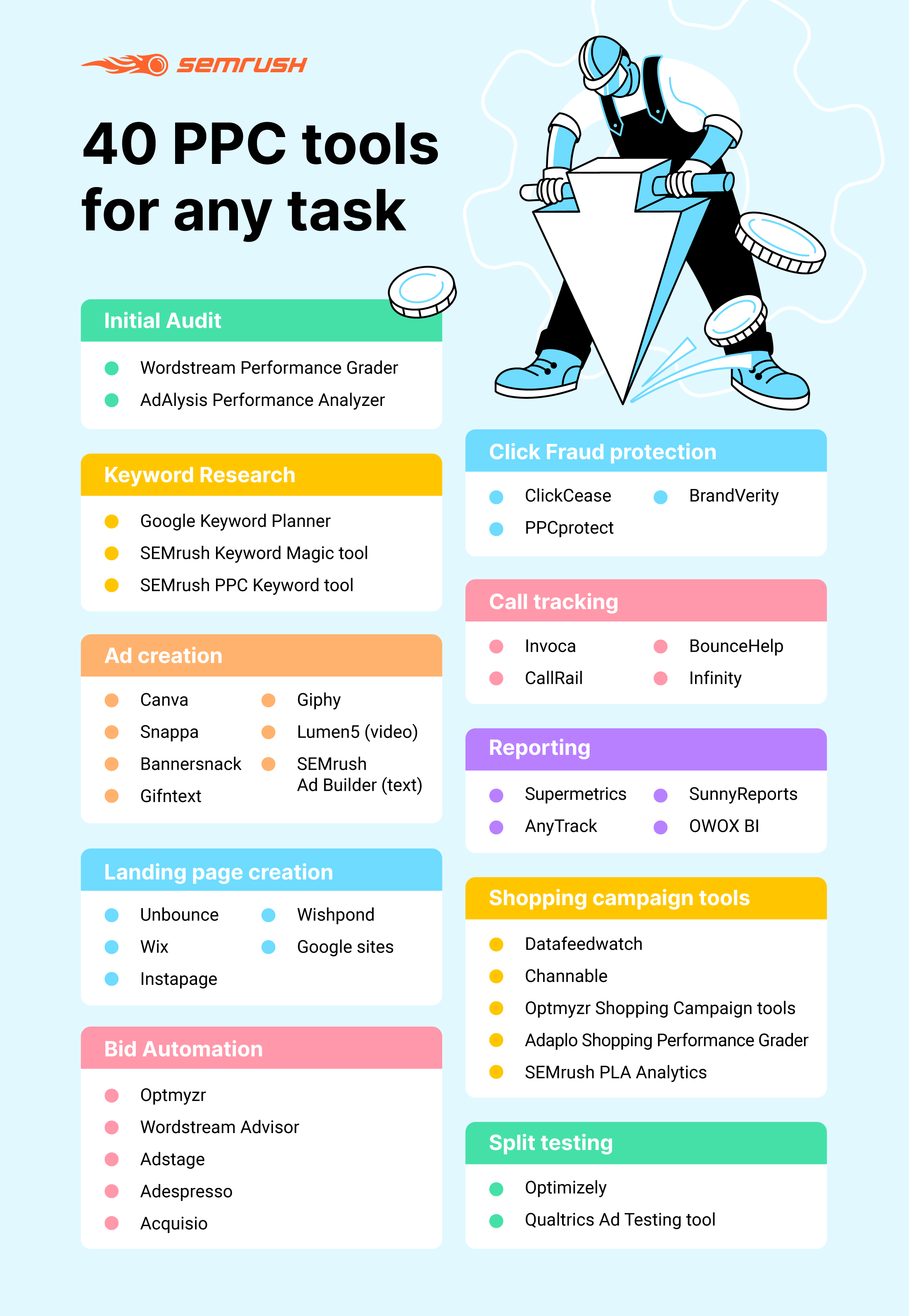 Audit Tools
When you approach a new campaign, especially in a new niche, you need to analyze a lot of aspects, such as keywords, ads, and their CTR, and landing page performance. Many of these tasks can be partially automated, especially when it comes to big campaigns.
Unlike SEO, PPC audit tools are few and far between. But there are a couple that will quickly help you identify the problem areas in any pay-per-click campaign — they don't replace manual audits, but will highlight the areas that need improvement, so that you can dig deeper into detail.
Source: Wordstream
This little tool by Wordstream will scan your Google Ads account and analyze 8 crunch metrics like quality score, impression share, negative keywords, CTR, long-tail-keyword optimization, account activity, ad text, and landing page optimization. The recommendations are quite basic, but this is something you can start with. And it is free!
2. Adalysis Performance Analyzer (Free 14-day trial; monthly plans start from $99 for the entire suite)
One of the multiple Adalysis tools, this PPC audit tool will provide a quick overview of your account. It will analyze how and when new ads were introduced, CTR, conversion rate, CPA, conversion value/cost (ROAS), and conversion value/impressions.
Keyword Research Tools
The core of all successful PPC campaigns is comprehensive keyword research. And in paid search, it is essential to identify not only the words to bid on, but also the words to exclude from campaigns to decrease wasted spend.
There are many ways to collect PPC keywords, and it is better to use multiple keyword sources to get a robust and efficient keyword list.
3. Google Keyword Planner (Free)
Including any Google tool on the list may seem too obvious, but Keyword Planner is the tool you can't skip when it comes to gathering keywords. You can start with one seed keyword to get quite a lot of search term ideas with different CPC and search volume.
When you search for new keywords, make sure you do the following:
Specify the location you are going to advertise in. Keyword metrics can differ significantly across cities or states.

Provide some seed keywords and/or relevant websites from your niche to get more suggestions.

Take a look at the automated keyword suggestions from Google — sometimes they are quite useful.

There is, however, a pitfall. If you don't run paid search campaigns at the moment, Keyword Planner will provide very limited data; this is how the results look for the SEMrush account, with hundreds of active campaigns:

And this is what you see with an inactive account (screenshot taken from this Google Keyword Planner guide):
4. SEMrush Keyword Magic Tool (Freemium; monthly plans start from $99 for the entire suite)
While many marketers use it mostly for SEO, this tool has a lot of data for PPC specialists. SEMrush boasts the world's biggest keyword database, with over 10.6 billion keywords at the time of publishing.
It works in a similar way to Keyword Planner: you enter your seed keyword, choose the country, and get up to 3 million related keyword ideas, grouped semantically.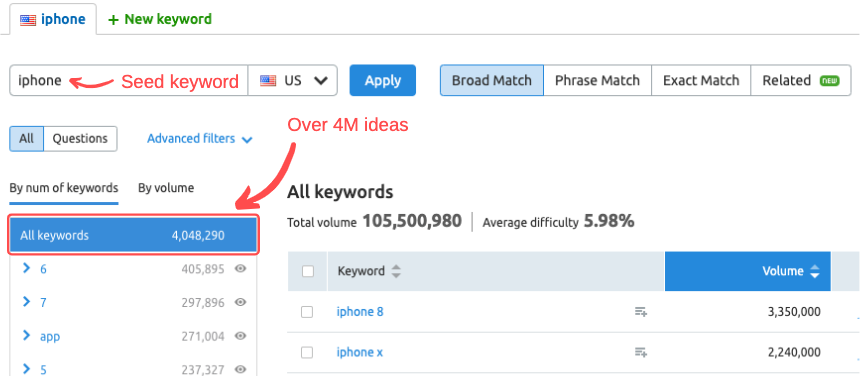 We recommend you play with advanced filters to find the keywords with the right CPC and search volume or question keywords or similar keywords…there are so many options.

Related article: How to Do Keyword Research with the SEMrush Keyword Magic Tool
5. SEMrush PPC Keyword Tool (Freemium; monthly plans start from $99 for the entire suite)
A valuable addition to Google Keyword Planner, this tool allows you to find keywords using different options:
Long-tail matches

Competitors' paid or organic keywords

Semantically related keywords

Mixing words to get long-tail keywords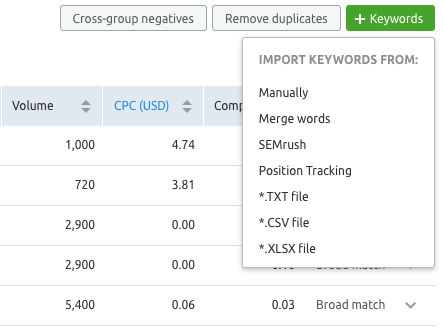 At the same time, it makes it easy to group, clean, and cross-group negative keywords before uploading the final list to Google Ads: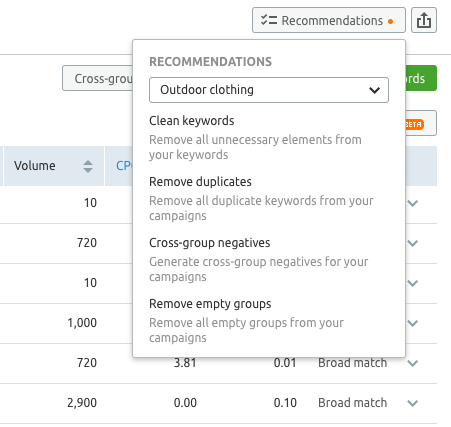 Split Testing Tools
In this dog eat dog world of PPC, you need to test all aspects of your campaigns to optimize conversion. Or your competitor will.
Split testing tools allow you to test various elements of your PPC campaigns (ad text, landing page copy, etc.) quickly and decide which ones work best. Using these tools, you can test numerous hypotheses simultaneously.
6. Optimizely (pricing on request)
Optimizely allows you to A/B test two versions of the same ad against one another in real time, allowing you to see which one performs better. Also, you can A/B test anything from headlines to texts, images, colors, and the rest. Also, this is the right place if you want to experiment with targeting visitors from individual ad campaigns and create campaigns with "symmetric" messaging (by changing the landing page text according to the search term used by the visitor).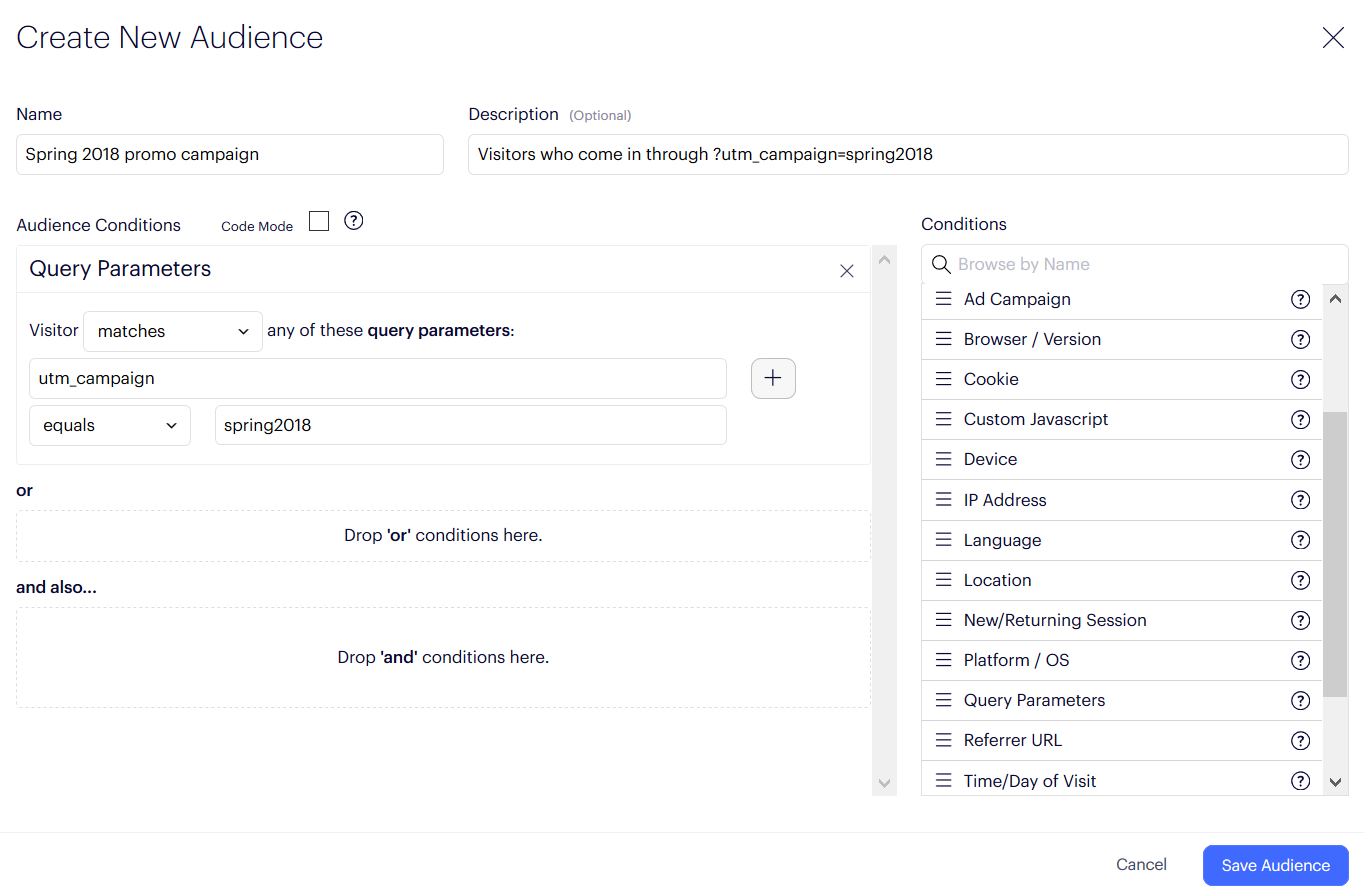 Source: Optimizely
Bonus: Optimizely has a free tool to calculate the necessary statistical significance for a split test.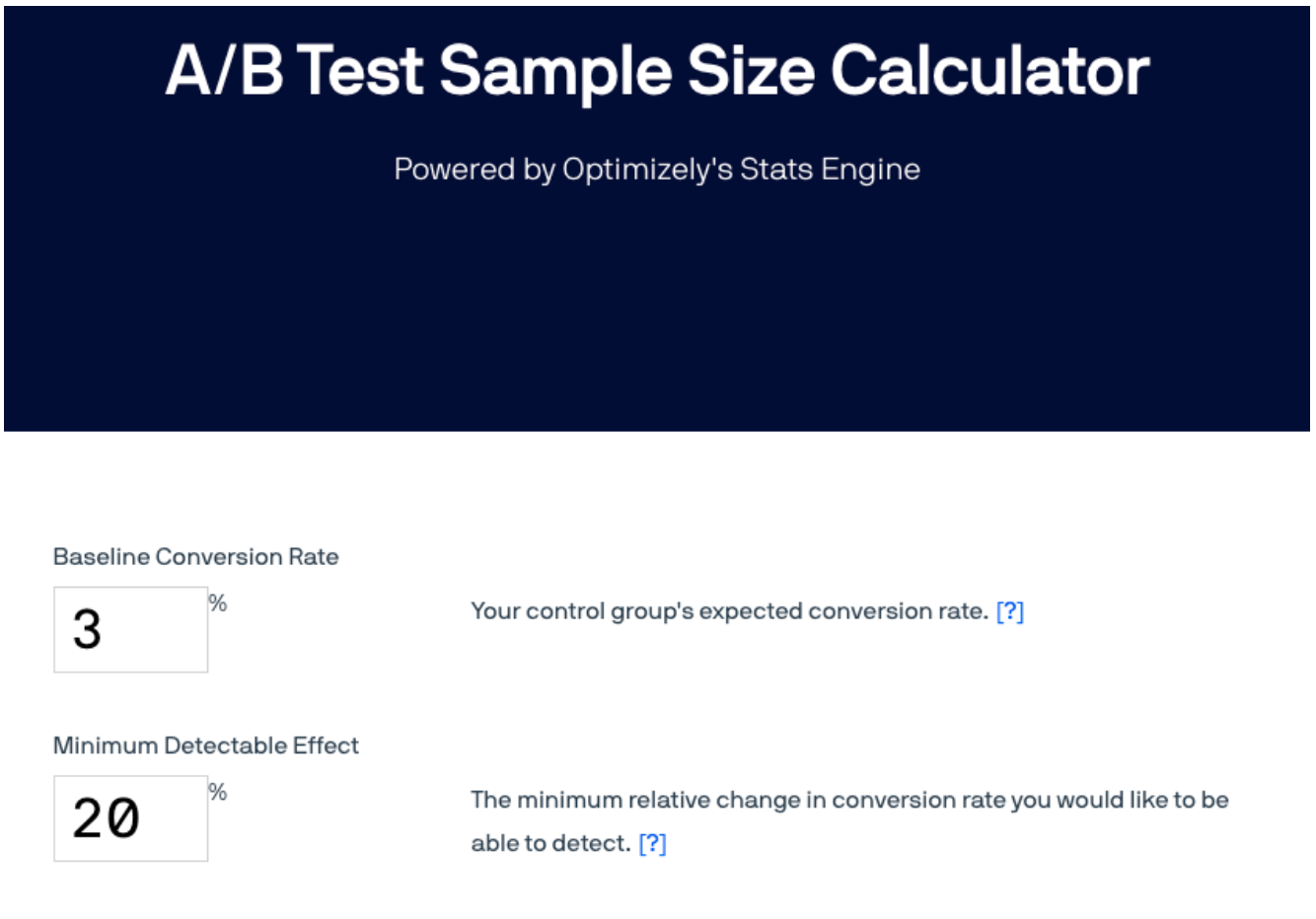 Source: Optimizely
7. Qualtrics Ad Testing Tool (pricing on request)
Qualtrics offers an ad testing tool helping to validate your ad concepts and test them with a sample audience. You will also be able to launch a survey for this audience to discover how they react to a specific ad creative.
Source: Qualtrics
Ad Creation Tools
In this fiercely competitive space, everyone's screaming to get noticed. Mundane, run-of-the-mill ads simply don't cut through the noise. For your PPC campaign to stand out, you will need compelling copy supported by visuals to connect with your audience and stand out from competitors. Online tools can help with this, whether you are creating a video for Facebook, a banner for GDN, or a text ad for search.
Another reason you may want to use these tools is the overload of your designers. At SEMrush, we have a design team helping our PPC and paid social with ad creatives, but sometimes we need to use the online tools to quickly come up with a banner or promo video.
8. Canva (Freemium; Pro plan costs $9.95 per month)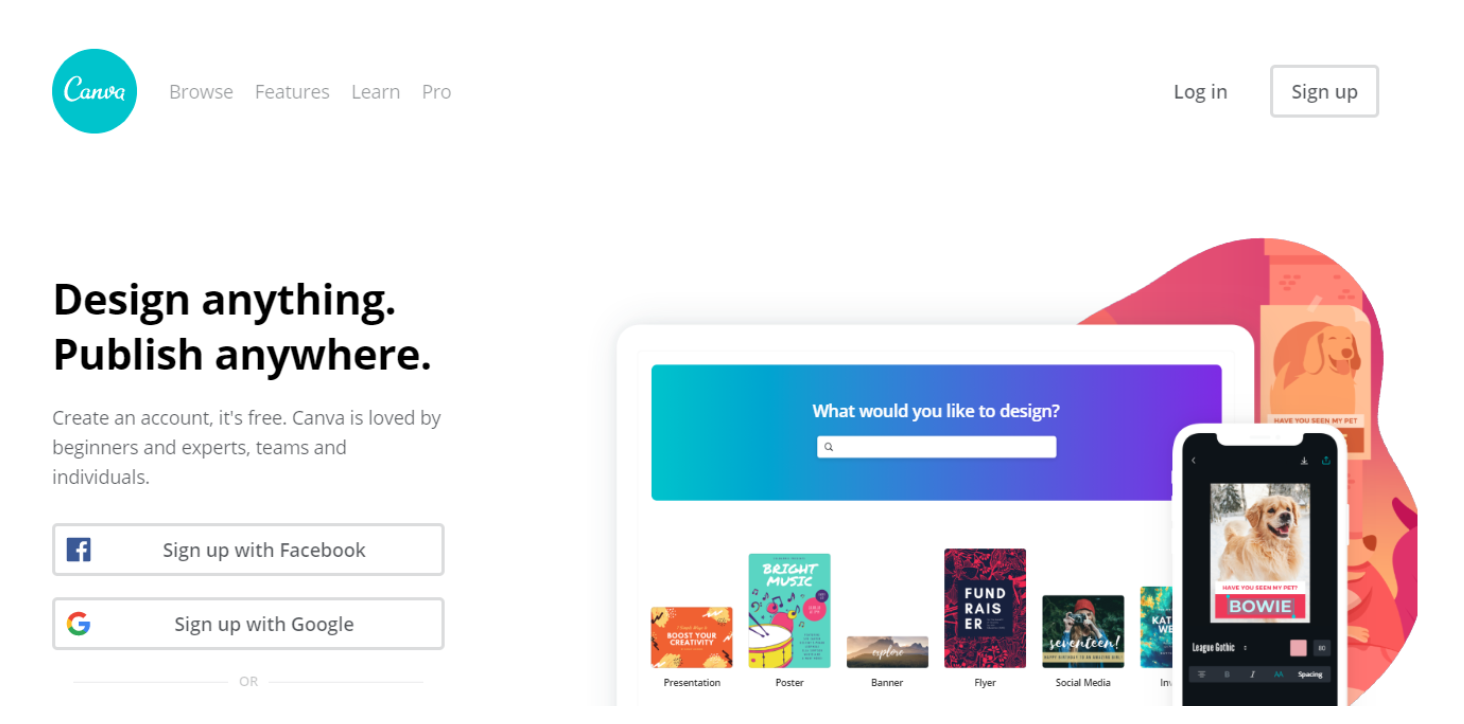 This is one of the most comprehensive design tools out there. Our marketing team has been using the Pro version for over 4 years. It will let you create visuals for everything from social media ads, posts, PPC banners to logos, YouTube thumbnails, you name it. You can download, print, or share on social media straight from the app. The free plan is quite generous, but if you want to add brand colors and logo packs, it is better to use Canva Pro.
9. Snappa.com (Freemium; paid plans start from $10)
With this online tool, you can create graphics for your social and display campaigns, even without any graphics skills. Like Canva, it offers templates for most popular social networks and formats — Facebook posts, Instagram posts and stories, Pinterest pins, etc. Here are the most popular sizes:
Source: Snappa
10. Creatopy (Freemium; monthly plans start from $7)
Creatopy is designed specifically for advertising specialists. One of its most convenient features is the ability to create entire banner sets in one go; this means less time spent on designing banners of different sizes. You can also create individual banners.
11. GifnText (Free)
While their interface is rather too minimalistic (more than Google's), Gif n' Text gives you the power to create GIFs for your PPC campaigns (especially for Facebook ads). You can upload your own GIFs or simply paste the URL and add an animated text.

12. Lumen5 (Freemium; monthly plans start from $29)
In 2019, video ads are arguably better in driving engagement than image ads. We promoted our downloadable study on top PPC skills for 2019 on social media using an image and a short video created in Lumen5 in just 30 minutes, and decreased cost per download by 5x!
Lumen5 allows to make text and image-based marketing videos with a drag-and-drop interface, add animated texts and sound effects from thousands of soundtracks.
13. Giphy (Free)
What started as a fun pop-culture platform now serves 1 billion GIFs each day. Memes, celebs, cute pets, funny clips – GIFs are dominating the market with ever-growing popularity. Giphy gives you free access to a huge library of GIFs. You can also create your own.
14. SEMrush Ad Builder tool (Freemium; monthly plans start from $99 for the entire suite)
Have you ever discovered some great competitor ad copy and borrowed ideas from it? You can now do this automatically with the Ad Builder tool. Enter a keyword, get a list of relevant ads, pick those you liked the most, and use them as templates for your own creatives.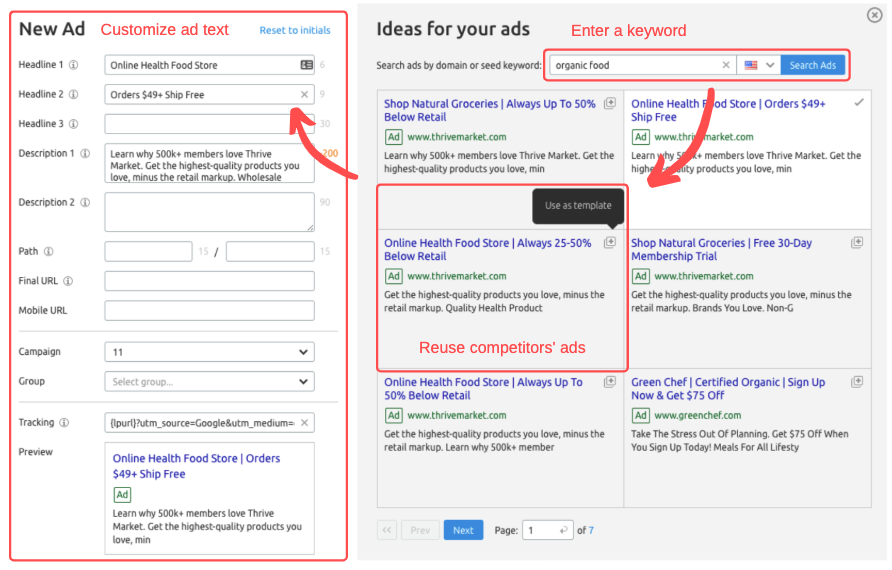 Account Management and Bidding Automation Tools
Search engine marketers are overburdened with the management of hundreds of PPC campaigns. Doing all of this manually is a tedious task. Account management and bidding automation tools allow marketers to run numerous campaigns smoothly while managing bids and optimizing conversion.
15. Optmyzr (14-day free trial; monthly plans start from $499)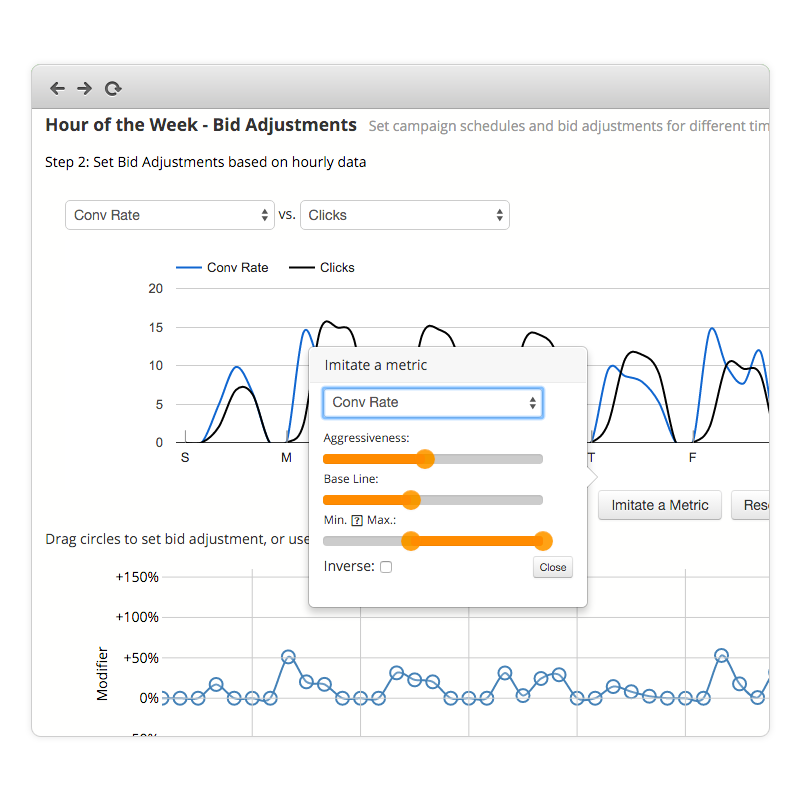 Source: Optmyzr
Named Best PPC Management Software Suite in 2018, Optmyzr gives you the power to drastically improve your PPC ads in a fraction of the time. Optmyzr's advanced bid management feature enables you to adjust bids on an hourly or daily basis and lets you stay within budget with flexible spending settings. Two of the founders are former employees of Google.
16. Wordstream Advisor (monthly plans start from $264)
With Wordstream, you will be able to analyze your accounts, save costs, and automate your reporting. The tool is declared to be tailored specifically for SMEs.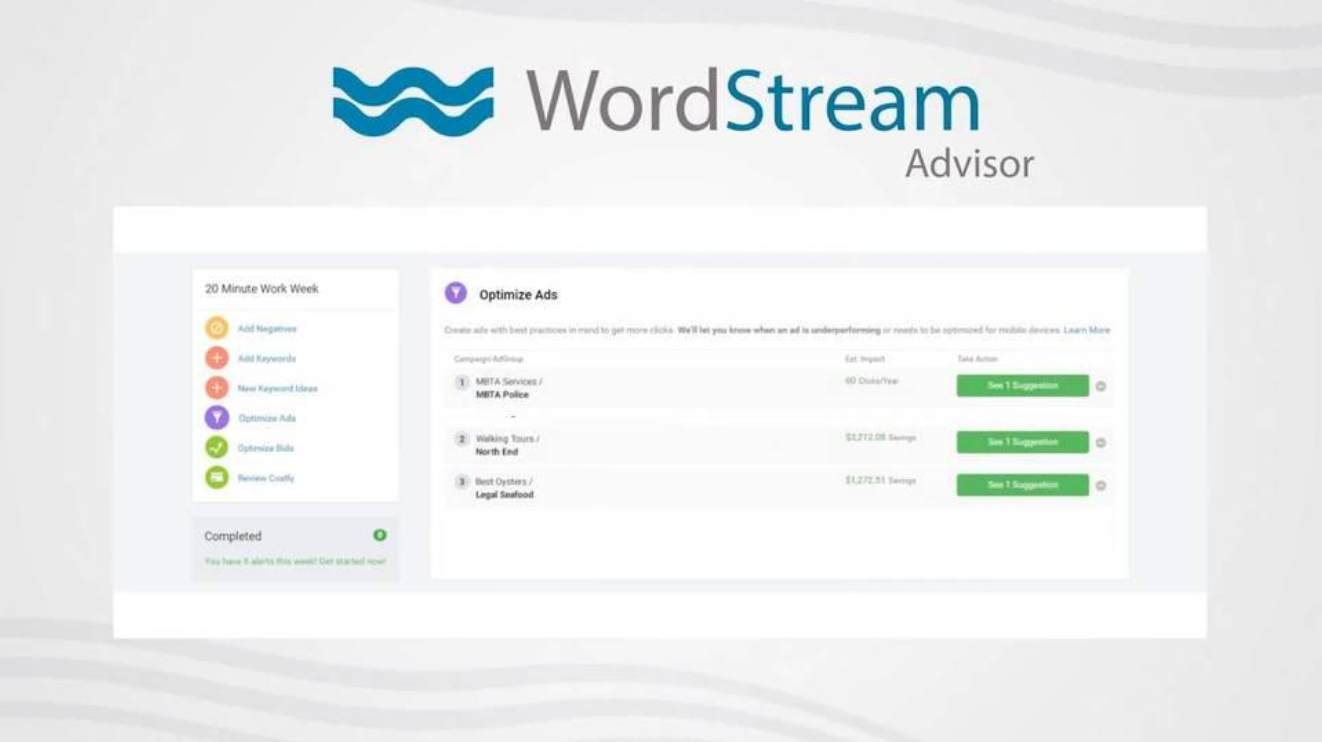 Source: Wordstream
One of the special tool features is the Wordstream Advisor. According to the tool's creators, it can cut your 40-hour work week into 20 minutes a week. The '20-Minute Work Week' is a prescribed set of alerts that reveals valuable actions unique to your specific advertising efforts. The tool scans all areas of your Google Ads, Facebook Ads, and Bing Ads accounts to identify the most actionable, low-hanging performance optimizations.
17. Adstage (free trial; monthly plans start from $149)
Adstage is a platform that lets you view and manage all major PPC networks (Google, Facebook, Bing, LinkedIn, Instagram, Twitter, Yahoo, YouTube) from a single point. Its robust, built-in app 'Automate' does all the routine tedious jobs by automatically rotating or scheduling new ads to run for specific calendar dates or based on performance metrics. Now, you can keep yourself fresh for creative tasks.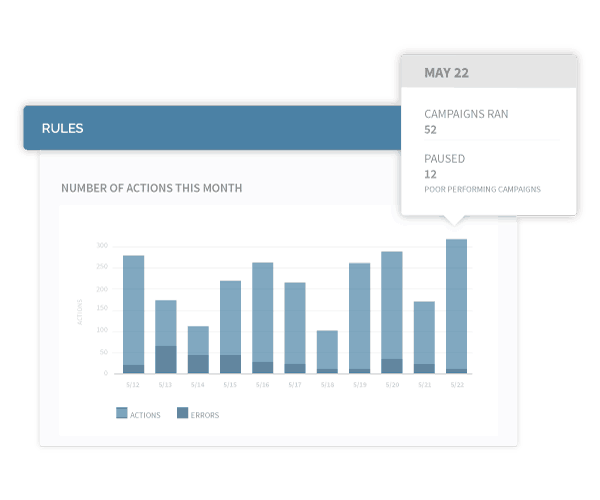 Source: AdStage
18. AdEspresso (14-day free trial; monthly plans start from $69)
AdEspresso is a cross-platform ad manager. You can create Facebook, Google Ads, and Instagram campaigns from one interface, saving time on switching between platforms. Among its many features for campaign automation, we can mention automated custom audience creation — there is no need to upload endless CSV files to Facebook anymore. AdEspresso supports direct integrations with Mailchimp, Hubspot, GetResponse, and other marketing platforms.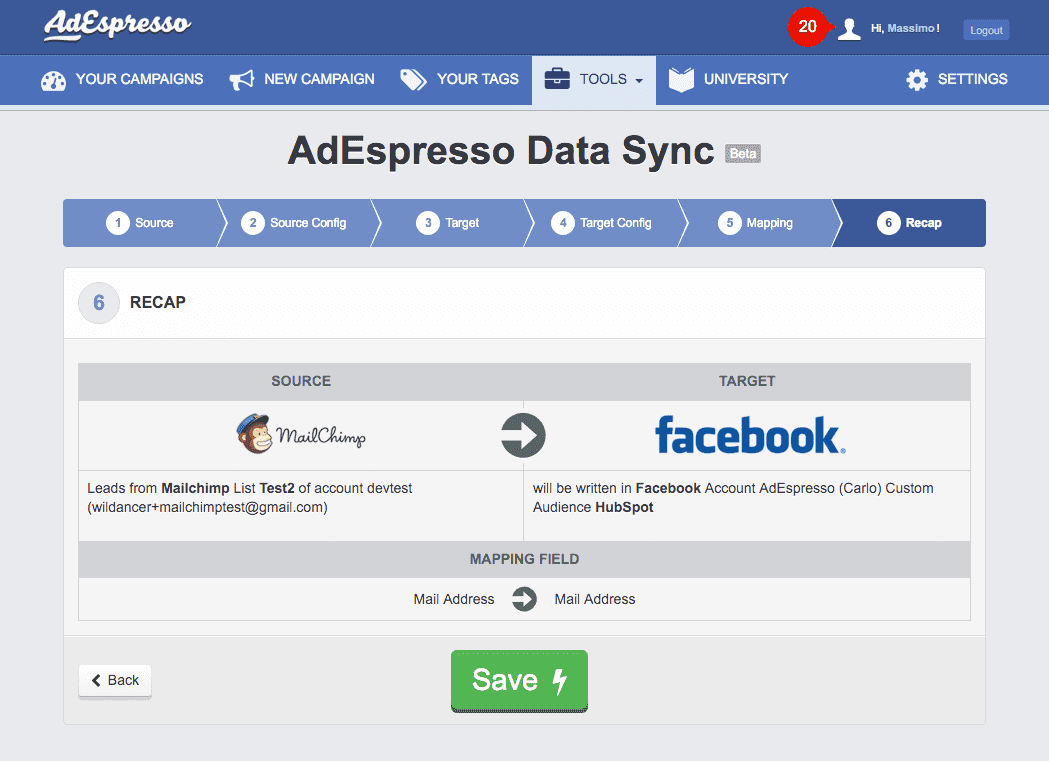 Source: AdEspresso
19. Acquisio (monthly plans start from $300)
This platform allows you to manage Google, Bing, Facebook, Instagram, GDN, and programmatic ads under one roof. It also has Acquisio for Local, a product concentrated specifically on local PPC campaigns. For example, it allows you to input some basic info about the client (business name, address, country) and launch a PPC campaign with a predefined template.
Source: Acquisio
Conversion Tracking Tools
Most of the tools from the section above offer reporting features, but sometimes you need more, especially when you have to combine PPC data with data from other marketing channels. So let's move on to the specialized tools that will take the pain out of your end-of-month reporting. Because when you run campaigns in Google Ads, Facebook Ads, Instagram, and other platforms, the last thing you want to do is to pull together all the data from different sources and juggle the spreadsheets.
20. Supermetrics (14-day free trial; monthly plans start from $19)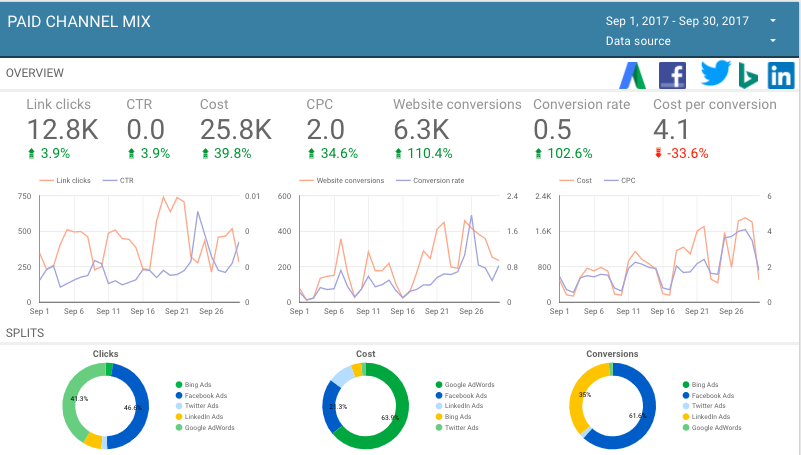 Source: Supermetrics
This reporting automation tool helps you pull all your analytics into one place with spreadsheets and data visualization. Supermetrics helps collect the important numbers in one place using integrations to various platforms, such as Google Ads, Facebook Ads, Twitter Ads, Amazon Ads and many more (over 40 data sources available at the moment).
21. AnyTrack (14-day free trial; monthly plans start from $50)
AnyTrack is a tracking platform that seamlessly tracks, attributes and syncs all your conversion data sources with your Google Ads, Bing Ads, Facebook Ads and favorite Analytics platforms. Their unique feature is that you simply add their TAG on your site to start seeing conversions showing up across your marketing stack, without modifying your code or the involvement of an IT team. Their system uses both server-side and client-side tracking, to guarantee that you can track all touchpoints across your customer journey, whether conversions happen on your site, an affiliate network, call tracking or offline conversions from your CRM.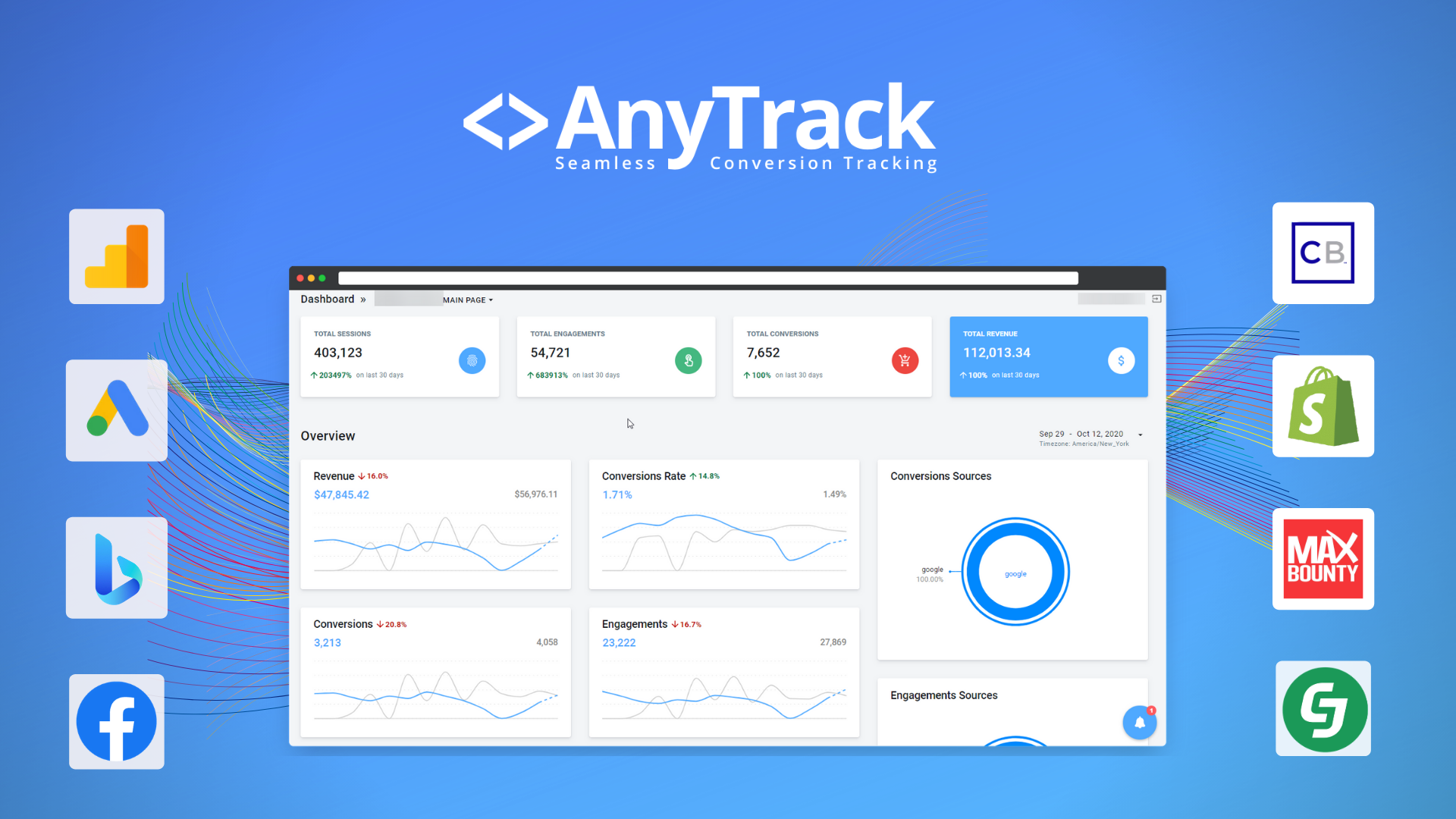 Source: AnyTrack
22. SunnyReports (Freemium; monthly plans start from $15)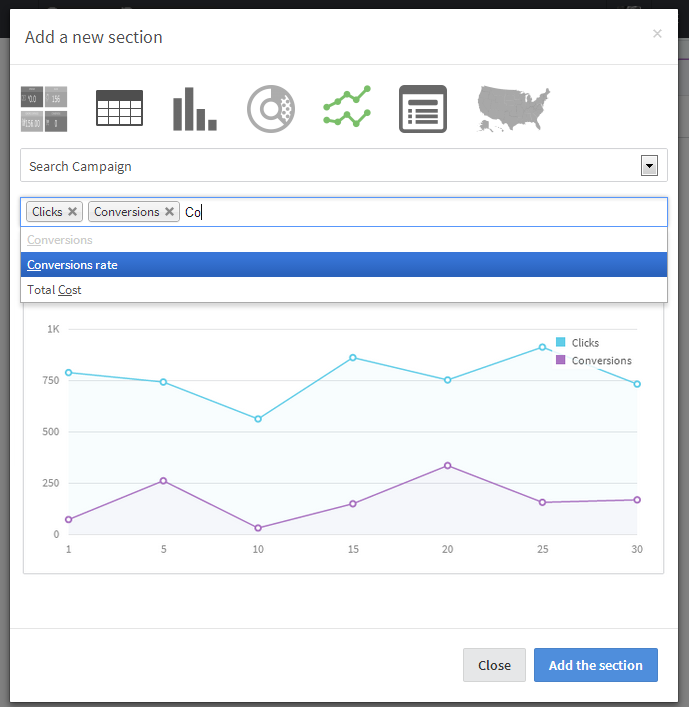 Source: Sunnyreports
SunnyReports make it simple to produce effective reports and send them to clients. The tool was designed for anyone working as an Ads manager, and for web agencies. You can choose the metrics you want to show (clicks, CTR, conversions, etc.) and the visualization (blocks, diagrams, and so on). You can also add notes and comments and choose the frequency of your reports.
23. OWOX BI (7-day free trial; free plan Start, monthly plans start from $42)
All-in-one marketing analytics platform, OWOX BI helps you automatically collect and process all the data you need from Google Analytics, advertising services, your website, and CRM systems to Google Analytics and BigQuery, from where you'll be able to upload it to Google Sheets and different visualization tools. You can easily build any reports you need and get a complete overview on your marketing performances. This lets you answer thousands of questions about buyers, products, orders, and advertising campaigns across Bing, Facebook, Twitter, LinkedIn, Criteo, and other advertising services.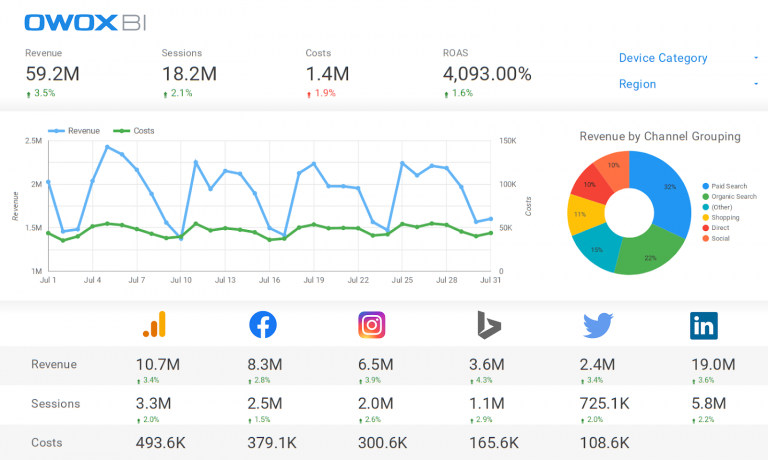 Source: OWOX BI
Call Tracking Tools
Mobile devices are causing havoc in the industry. According to Kissmetrics, BIA/Kelsey predicts that the annual number of mobile phone calls to businesses will reach 162 billion by 2019. You need call tracking tools to know who called you, who received these calls, who performed well, who called to convert, why they converted, and why they didn't.
24. Invoca (pricing on request)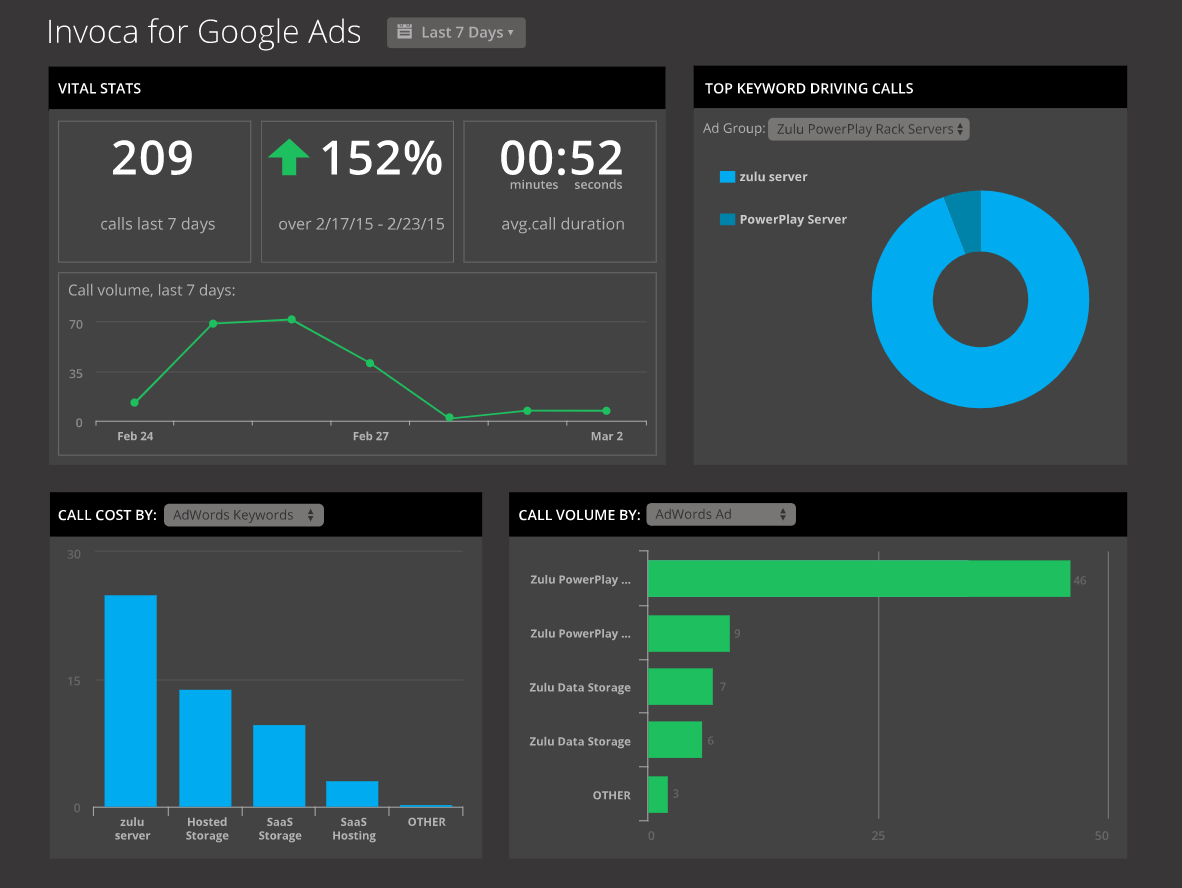 Source: Invoca
This is an AI-powered call tracking and analytics solution. It is integrated with Google Ads and Facebook, as well as with other marketing platforms. They offer real-time data to help you make informed decisions based on what happens during inbound calls. Dynamic phone numbers, call recording, and bid management integrations are also available.
25. CallRail (14-day free trial; monthly plans start from $30)
A platform for marketers who want to manage tracking numbers, get call analytics, understand their data and grow. CallRail integrates with Facebook, Google Ads, and Wordpress, among others. CallRail allows you to discover which campaigns, websites, and even search keywords are driving conversions.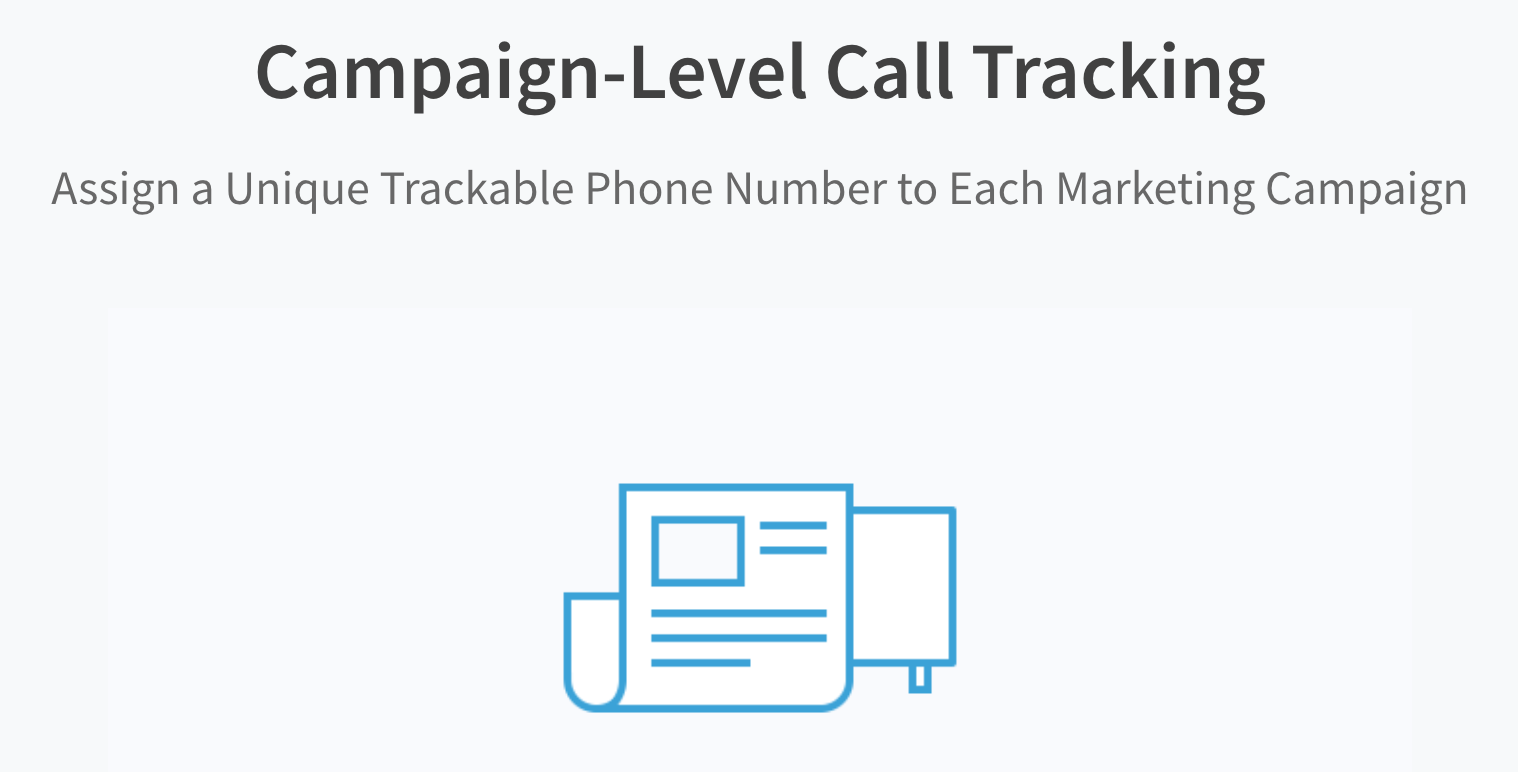 Source: CallRail
A platform for marketers who want to manage tracking numbers, get call analytics for marketing campaigns and keywords driving conversions. CallRail integrates with Facebook, Google Ads, and WordPress, among others. CallRail allows you to discover which campaigns, websites, and even search keywords are driving conversions.
26. DialogTech (pricing on request)
DialogTech has been successfully in the business of call tracking for over a decade. They can help you with call attribution, conversion analytics, and more. Along with all major ad networks, it can also integrate with CRMs like SalesForce.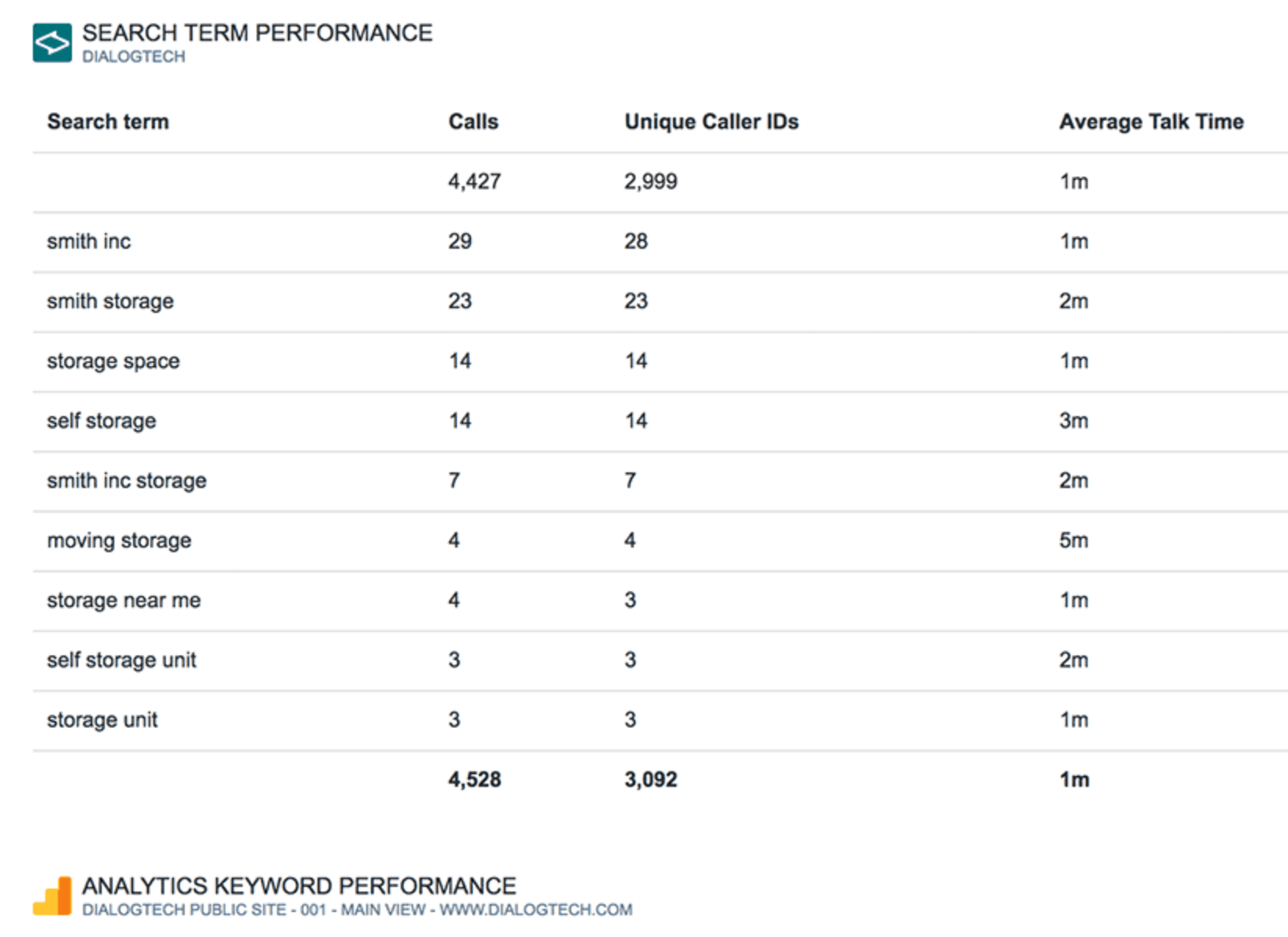 Source: DialogTech
27. Infinity (pricing on request)
This call intelligence platform has an integrated visitor tracking mode and can track calls from your site plus tell which marketing activity brought these visitors to your page. So, you get a better insight into your overall marketing performance and a better understanding of your PPC campaign's effectiveness.
Source: Infinity
Landing Page Builders
Sending targeted leads to a generic page is like wasting your hard-earned money in a pub. You need landing pages to convert these leads. And these pages need careful data-driven attention.
You can get your designer and developer to make one from scratch, but many landing page builders allow you to do it with no coding skills required. Besides this, they have huge volumes of data and the marketing intel to know what really works best.
28. Unbounce (14-day free trial; monthly plans start from $79)
Source: Unbounce
Probably the first name that pops up when it comes to landing pages. Our marketing team has been using this tool for years as a back-up solution when the design team is overloaded. Besides the convenient drag-and-drop page builder, they also provide extended post-click analytics. Plus, you can A/B test, view visitor stats, and launch experiments.
29. Instapage (14-day free trial; monthly plans start from $99)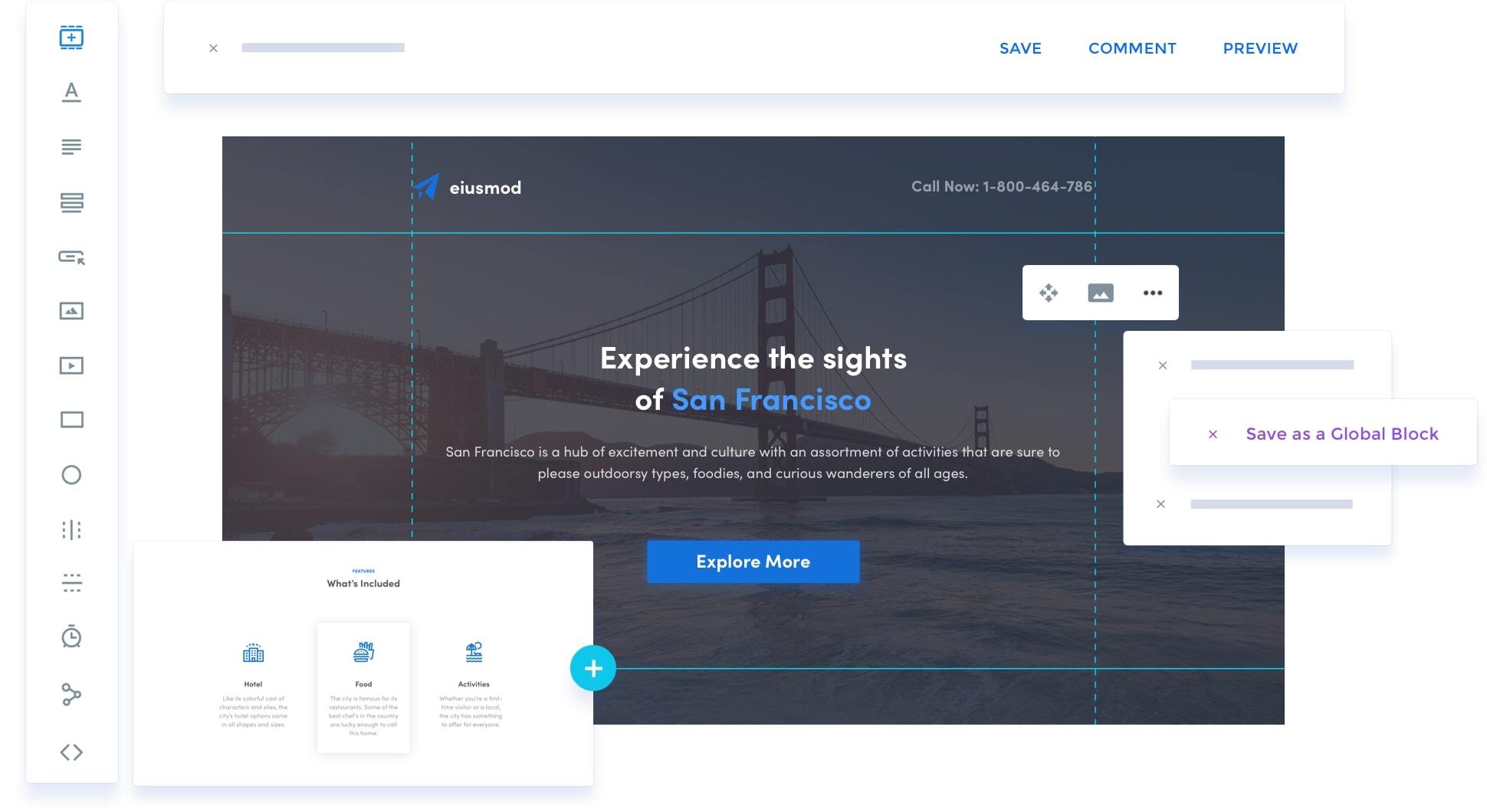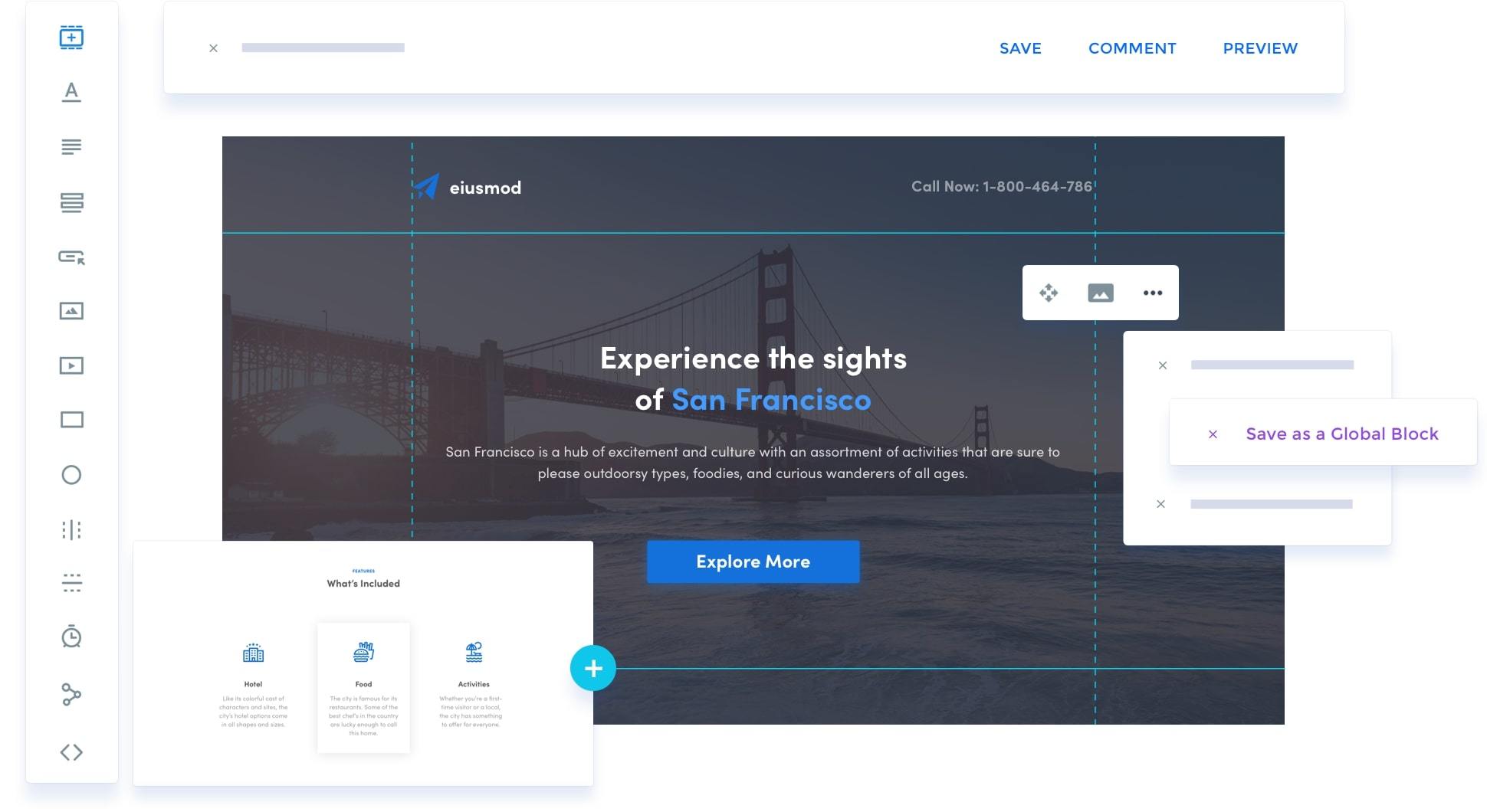 Source: Instapage
Even as a beginner with minimal experience, you can quickly create a landing page with this drag-and-drop editor. For PPC campaigns, InstaPage offers several features: message-matched landing pages for remarketing campaigns and personalized post-click experience for every ad for display and search campaigns. Having a page with relevant and dynamic content also helps increase the Google Ads Quality Score.
30. Wishpond (14-day free trial; monthly plans start from $49)
Source: Wishpond
Wishpond allows you to create social content, pop-ups, and run basic automation tasks. Even with the basic package, you can create unlimited landing pages and social contests. You can choose from a huge library of templates and then customize the one you chose. Also includes all basic marketing automation features.
31. Wix (Freemium)
Allows you to create personalized, optimized landing pages with no coding knowledge (and optimize them for mobile as well). You can choose from dozens of templates and use their own email marketing service (WixShoutOut) to start a drip campaign.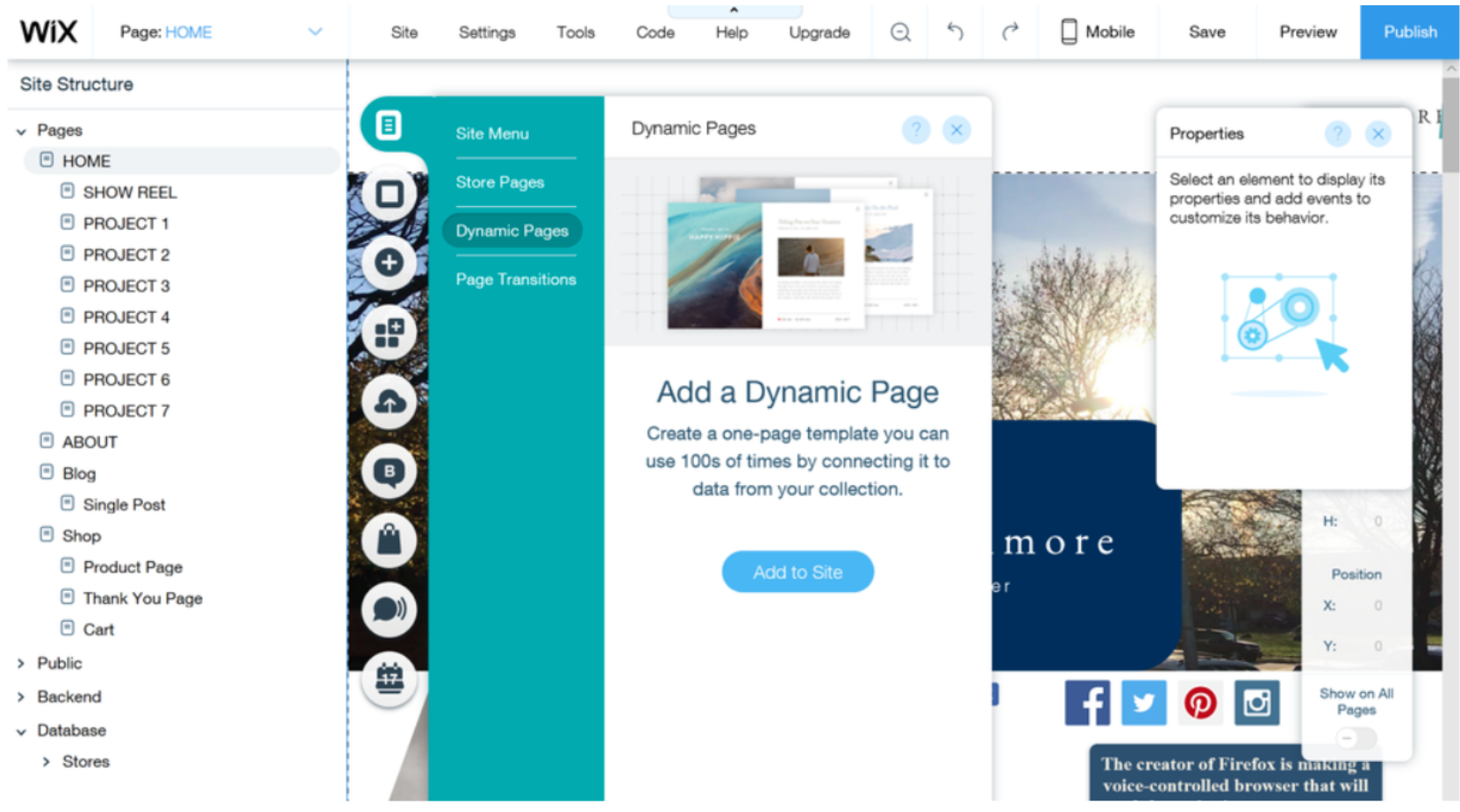 Source: Wix
With Wix, you can also create a blog or even an online store.
32. Google Sites (Free)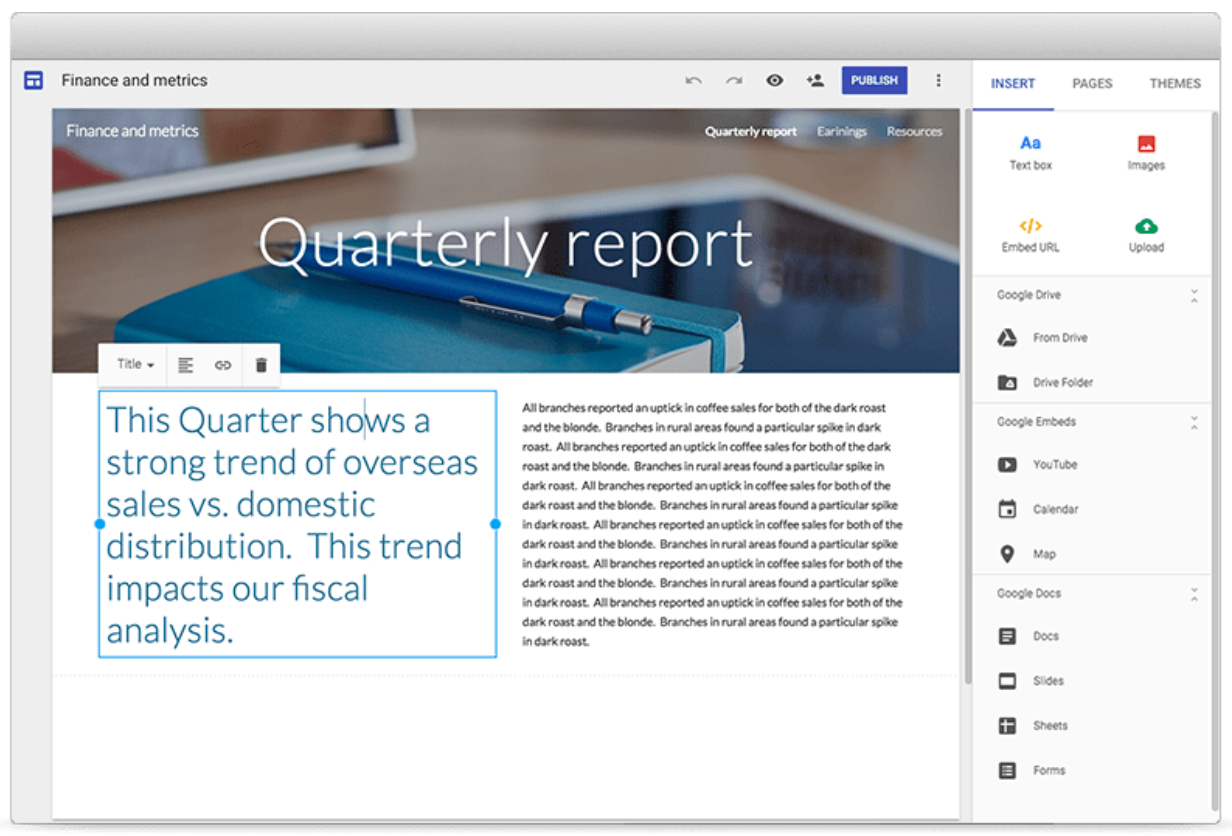 Source: Google Sites
This option is great for those with a low or no budget. It is free, and you can log in and start using it with your existing Google account. As with all things Google, this is a simple tool with no bells and whistles, yet powerful. The real strength lies in its seamless integration with other Google services like Docs, Sheets, Drive, etc.
Fraud and Brand Protection Tools
Fraud and Brand Protection isn't something many marketers discuss on a routine basis. But when running a PPC campaign, you need to be aware of the fact that up to 85% of companies are victims of ad fraud. Trademark infringements can also damage company reputation, customer trust, and revenue. So, here are some tools that can help you can protect your brand and eliminate fraudulent clicks.
33. ClickCease (14-day free trial; monthly plans start from $15)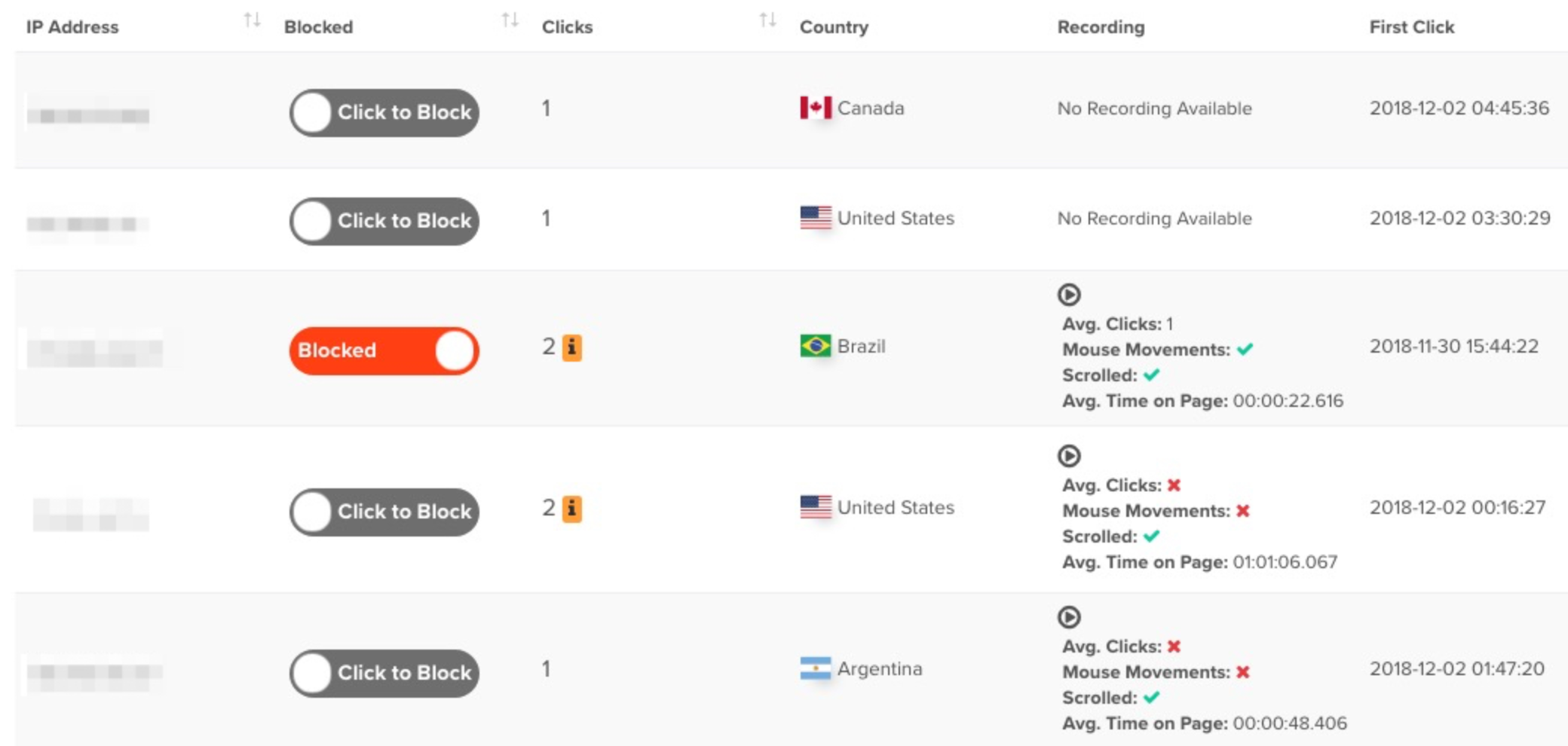 Source: Clickcease
This is a solution for businesses trying to shield their ad campaign from fraudulent clicks. ClickCease prevents competitors and crooks from generating fake clicks on your ads. With this tool, you can detect fake IPs that work to damage ad campaigns. It integrates with both Google Ads and Bing Ads.
34. PPC Protect (30-day free trial; monthly plans start from $29)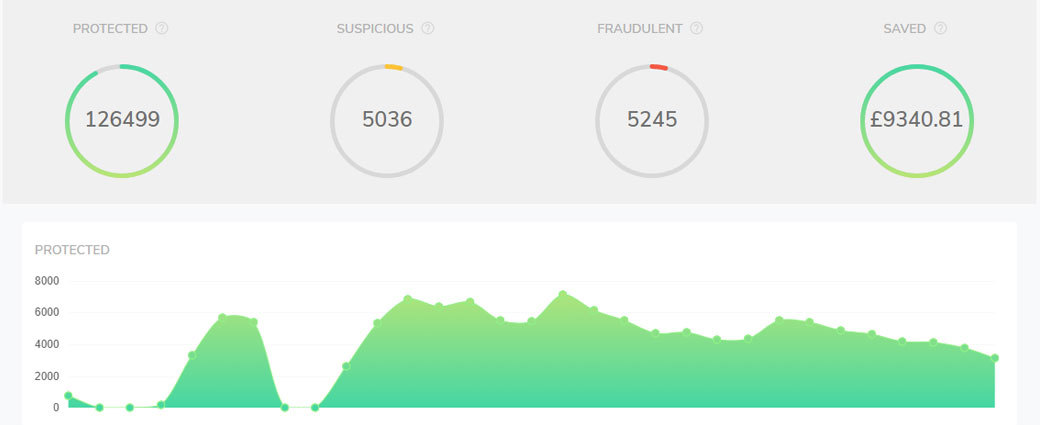 Source: PPC Protect
This award-winning SaaS solution for PPC marketers automates real-time monitoring of ads to stop fake clicks, thus preventing click farms from emptying your ad budget. A 30-day free trial is worth checking out to discover how much you can save.
35. BrandVerity (monthly plans start from $799)

Source: BrandVerity
This is a brand protection monitoring tool for paid search and web compliance for digital marketers specialized in retail, travel, pharma, and hospitality. It crawls thousands of pages and alerts you if there is any brand violation or infringement. Helpful for those who want to monitor partners and affiliates' online behavior and protect themselves from brand violations.
Tools for Shopping Campaigns
Google Shopping is a huge profit driver for e-commerce businesses. At the same time, this niche is extremely competitive, with thousands of big and small players fighting for their room on a SERP. Managing thousands of products manually is almost impossible; this is why multiple tools have been developed to make the life of advertising specialists easier. From feed management to competitive analysis, we picked 5 tools that may help get your ducks in a row.
36. Datafeedwatch (monthly plans start from $34)
Source: Datafeedwatch
This app allows merchants to optimize their product data feed for Google and multiple other shopping channels in many countries. With improved feeds and actionable analytics, you will be able to vastly improve your campaign's performance. The app works with all major shopping carts like Shopify, Big Commerce, WooCommerce, Magento, etc.
37. Channable (monthly plans start from EUR 29)
Source: Channable
This tool will send your products to over 1000 price comparison websites, affiliate networks, or marketplaces globally. You will be able to better control the flow of your products to each channel and generate more traffic by creating product listing ads from one dashboard; this helps in maximizing campaign performance while keeping the cost down to a minimum.
38. Optmyzr Shopping Campaign Tools (monthly plans start from $499 for the entire suite)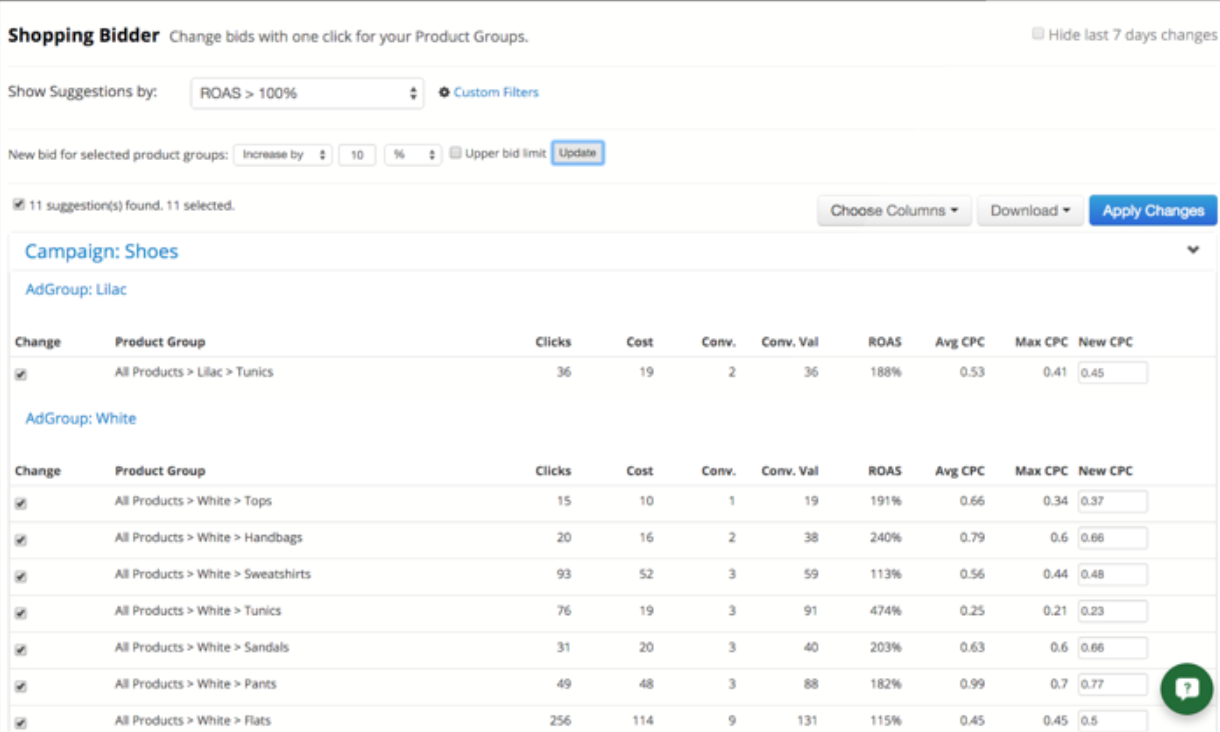 Source: Optmyzr
Optmyzr offers a wide range of services to maximize your shopping campaign performance (works with Google and Bing). With their shopping campaign tool, you can set up PLA campaigns faster. As you create a new campaign right in the interface, the tool will structure your feed automatically based on the attributes you specify. Bid management solutions and reporting are also available.
39. Adaplo Shopping Performance Grader (Free)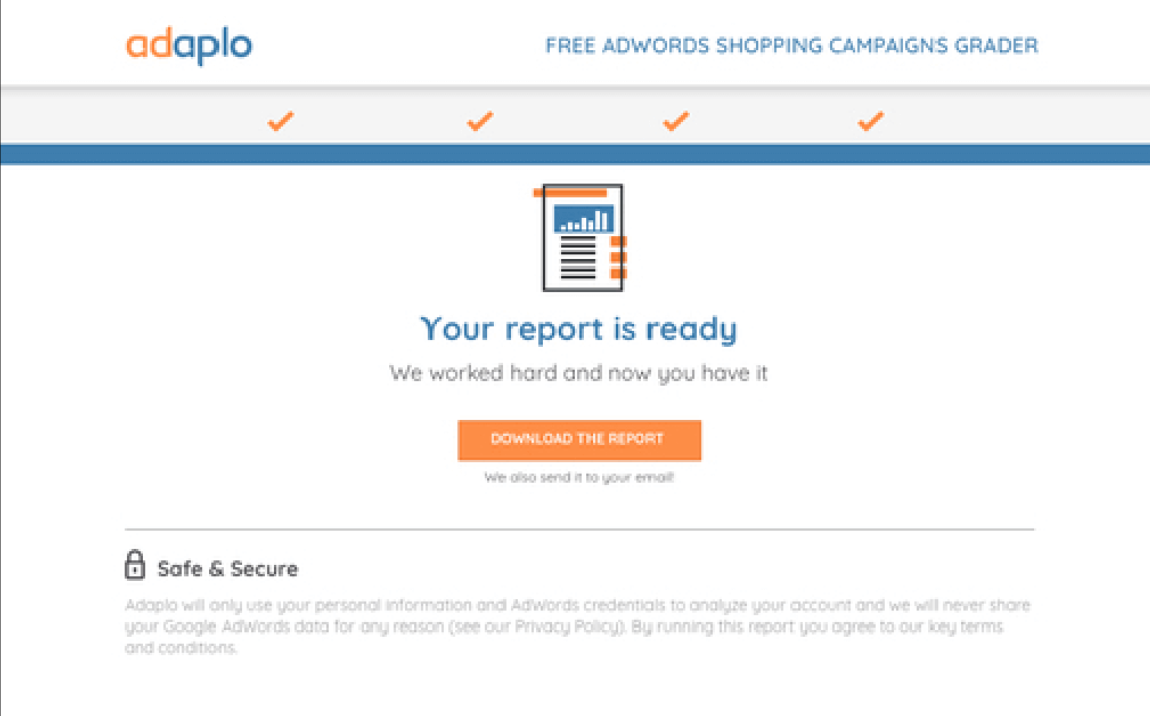 Source: Adaplo
This free tool will scan your Shopping campaign and give you recommendations on the following aspects: campaign structure, negative keywords, device and location bid modifiers, and more. The report comes in PDF format.
40. SEMrush PLA Analytics (monthly plans start from $99 for the entire suite)
This tool helps analyze your competitors' Google Shopping campaigns. As you probably know, you can't specify the keywords for your Shopping campaigns — Google is the one to decide who to show your listing to and when. However, with SEMrush, you can reverse engineer your competitors' campaigns and see which keywords triggered their ads.
Passing the Mic Over to You
There are hundreds of PPC tools out there. We'd love to know which of them you use to automate your PPC routine and why you chose them over the others. Don't hesitate to share this article on social media and add your suggestions!