In the battle of online marketing, everyone wants to be #1. But achieving the first position is not an as easy as it seems. You need to invest your time, make continuous efforts and implement various strategies to gain this position.
And once you become successful in getting a pole position, don't think you are done. You need to put an equal amount effort to maintain that position. You need to keep upgrading your skills and implement updated plans and strategies accordingly.
Now, the question is, how does one implement their marketing strategy?
Well, to do that, you need to first audit your current digital marketing strategy. In fact, this is something you should do regularly. It will help you find out what action items and fixes will help you to retain your lead.
Let's take a detailed look at why you should audit your digital marketing strategy.
Why Audit Digital Marketing Strategy?
There could be multiple reasons to conduct your digital marketing strategy audit. Some of them are listed below:
Your Website Traffic is unstable or decreasing
You are not achieving your sales target or want to scale up
You have a low social following or simply want to increase your current following
Your paid marketing budget is higher than your sales or want to increase sales with less budget
You want to optimize bounce rate on web pages
You want to improve CTR in Email Marketing etc.
If you want to achieve or get rid of all of the above mentioned points, you need to perform a Digital Marketing Audit to determine the actionable stats and strategies to fix them.
Let's now look at the different components of Digital Marketing Audit and discuss each one in detail:
Is your SEO strategy working? Time to audit!
SEO is the heart of Digital Marketing Strategy. It helps you to improve your ranking in search engines and drive traffic to your website.
According to econsultancy report, 61% of consumers use search engines to research a product before making a purchase. This means, if you want to get discovered, you need to rank well for your targeted keywords.
Now, if we talk about search engine optimization, there are two main warriors that we need to battle with. First is search engine algorithm update and second is your competitor. Both can affect your rankings any time. So you need to perform SEO audit regularly to be the winner in the battle with both warriors.
Although it takes a lot of time to implement SEO strategy on a website, the steps below can help you to better optimize your website for better ranking.
Keywords Analysis: The very first step is to analyze keywords for your website. Are you targeting the right keywords on your site? If not, then you need to find keywords that people are looking for. You can use them on your website for better optimization. But be sure not to overdo it, because unnatural keyword stuffing can harm your rankings
On-Page Optimization: To perform an on-page audit, you need to crawl your entire website and identify on-page issues. 
Top tools to automate an on-page audit process:
In on-page optimization, common issues will be missing or duplicate Page Title, missing or Duplicate heading (H1), missing or duplicate meta description, canonicalization issue, content duplication, thin content, pages without content, Page Load time, internal linking, broken links (404), improper use of redirection (301) etc.
Off-Page Optimization: Check your existing backlink profile. Are the links from authoritative websites? Disavow backlinks from spam websites as they can hurt your website. Also, audit your current SEO strategy to earn new backlinks, and check if you are following Google guidelines.
Technical Issues: You need to check your entire website for programming, development, structure and design related issues. Are all the forms, buttons and others items functional? Is your website properly working on all browsers like Chrome, Firefox, Internet explorer etc.? Are all the pages throwing proper status codes? These issues should be fixed as soon as you find them.
Mobile Responsiveness: Mobile industry is one of the fastest growing industries in the world. According to ComScore report, mobile users have increased as compare to desktop users.
Mobile users are gradually increasing, so it is necessary to make your website mobile friendly and optimize it accordingly to avail maximum benefits from escalating mobile market, too.
Social Media Marketing Audit
While Search Engines help to find information related to any product, Social sites help you learn about product reputation. Econsultancy reports that 75% of people (age: 18 – 26) use recommendations and reviews for a specific product from social sites before purchasing.
Conducting a social media marketing audit
Now, because Social Media Marketing is so important, you need to focus on it equally well. Some of the most prominent social sites are Twitter, Facebook, Google+, LinkedIn, Pinterest, Instagram. For a solid social presence, you need to maintain your business profiles on these sites.
Identifying Social Networks: First of all, you need to identify famous social sites according to your niche. Facebook, Twitter, Google Plus and LinkedIn will be on top of the list for any kind of business. Create your business profile on these social sites.
Maintaining Social Profiles: Now you need to maintain these social profiles on a regular basis. Also, set a brand image and attractive cover photo for branding purpose. Fill the whole profile with information like description, contact number, website address, business address etc.
Content Sharing: Share informative content from your own website and others that people love to read and share. You should share at least 3 posts on daily basis. It will help increase your followers and engagement.
Time to Sharing: Analyze your followers according to your location. Track when they come online and share content on that time. This practice can help you increase your reach and engagement. Here's a guide on the best time to share social content. Check it out for more info.
Use Hashtags: Plan a strategy to identify famous hashtags for each post and use them before sharing. It will help you get better visibility in Social search.
Content Marketing Audit
 We all know that quality content is king. But just generating quality content is not enough. You need to spread your content so it can reach the people it was written for. To conquer the digital world, you must focus on both, content creation and content marketing. You need to plan a proper strategy to market your content for maximum reach.
According to CMI, 42% of B2B marketers say they are effective at content marketing.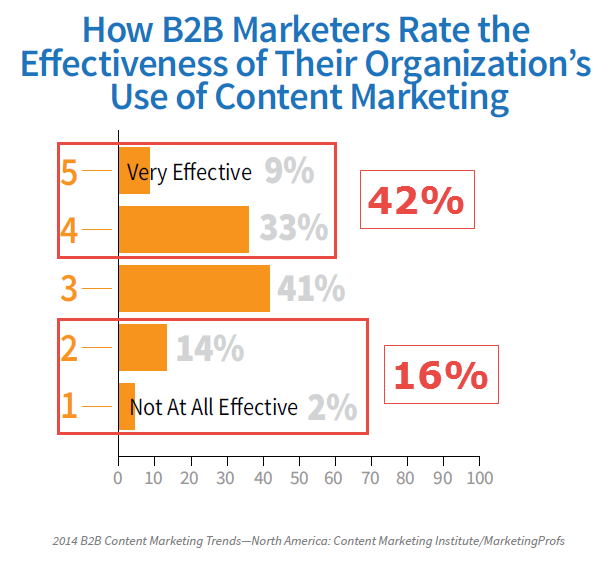 Now, the question is, how to market your content? Although content marketing is the most important part of SEO, very few people do it properly. The ones who do have a content strategy in place are the ones with the highest visibility.
If you, too, want to have a visibility like them, you need to have a great strategy to market your content.
Below are some areas that can help you audit your content marketing strategy to make it better:
Audience Research and Evaluation: First of all, you need to find your target audience. You need to understand their nature of interest and demand. Observe them deeply and find out the content types that they are appealing for.
Content Strategy: After you have decided your target audience and channels, it's time create content by analyzing and observing the target. Create content that can easily capture their attention. It is only possible when you provide the content your audience is looking for.
Content Optimization: Your content should be optimized for both readers and search engines. Apply best SEO strategies that can help you to rank better in search results.
Paid Advertising Audit
Paid advertisement is a way to sell your products or services inorganically at a faster way. Although, it's a faster way to make sales but, it requires a heavy budget. And if you don't have a proper paid advertising audit strategy, it can easily burn your money without bringing anything in return.
When we talk about online advertisement, most businesses invest their budget into Google AdWords. You need to be very creative and smart while bidding. Your cost should be low and you should stay away from costly bidding wars with competitors.
Below are some checks on paid advertisement to make it lucrative:
Keywords Analysis: There should be a proper keywords analysis before targeting. Make sure that you are targeting proper keywords. Are you targeting potential related and long-tail keywords? Are you filtering out negative keywords? Also, you need to check what keywords your competitors are targeting It can help you find further opportunities for keywords to target as well.
Targeting Analysis: Targeting should be your most focused area. There are multiple targeting options like Geographic regions, demographics and device type. These are all crucial factors for a successful AdWords campaign. Below are some essential checks in target analysis:
You need to check which regions and devices are converting at the highest rate. Also try to find the cities that can bring the best ROI. Once you find the most converting regions, devices and cities that work for you, set up new campaigns by allocating maximum budget against them for a better ROI.
Also find the best time of day during which your ad gets highest clicks and conversion. Once you find that time, simply activate your ads during that time and save your cost at other times. Also, you can set up separate campaigns by allocating max budget to get maximum clicks/conversions.
Quality Score: Ad relevancy is one of the most important factors for a successful AdWords campaign. Ad's quality score indicates how relevant your ad for AdWords system is. Google calculates quality score through ad's CTR and the copy of ad and the landing page. Quality score directly impacts your Cost Per Click (CPC) and ad's ranking in Google, so you should make it the most important factor to focus on.
It is very hard to find the exact metrics that Google considers to calculate your ad score but a known metric is your ad's CPC. Also, below are some tricks that you can use to better optimize your ads:
Use targeted main keyword in your ad headline. It will increase your ad's relevancy and conversion.
URL should be short and relevant and should include your target keyword in it. You can skip Http/s and www to get more space for your keyword.
Write a catchy description to attract and persuade more people.
Add clear call to action to get a higher CTR.
Benefits like Free Delivery, Discount, Warranty etc. should be clear in you ad.
Ad Optimization: You should optimize your ad by performing A/B split tests. You need to test your ad by changing your headlines and description. A little change can help you get better clinks and higher conversion. Perform multiple A/B test with your ads and find the best ad that convert well and allocate your budget for that ad to get maximum ROI.
Landing Page Optimization: It's not enough to just optimize your ads. You should also optimize your landing page. It is possible that user can bounce back after visiting your landing page due to poor design, text, and irrelevancy etc. So, it is also necessary to optimize your landing page using best practices. Below are some tips to optimize your landing page:
Your page should be relevant to your ad. If you don't have a relevant page for your ad, create new one. It will help you to improve both, conversion rate and quality score.
Your landing page copy should be relevant and clear to users that are landing from your ad. They should feel that they are at the right place.
Landing page copy should be to the point and clear. Avoid adding unnecessary information on your landing page to avoid confusing your visitors.
A clear call to action should be there on your landing page, so that the visitors can easily buy products and services that you are offering.
As the New Year is just around the corner, it's time to update your digital marketing strategy for the New Year to make your business more lucrative, effective and align to your business goals. If you apply these pro tips to audit your digital marketing strategy, your new year will be off to a great start!
Do you have any tools that you recommend that you have used to audit your digital marketing strategy? Share them below!