We all have heard the term of people "creeping" on other people's profiles whether it be through Facebook, Twitter, Instagram, Google+, etc. This has become more common as people are always looking to find out more information about people than what they already know. Maybe you want to know who your ex has been hanging out with or maybe just to see what kind of person a certain individual portrays in their profile. When if you could apply this same concept to your competitors? When if you could see everything your competitor is doing?
[Tweet "You can 'creep' on your competitor's AdWords profile."]
Whenever you do any form of advertising, it is important to know how much you need to do in order to edge out your competition. You should know what your competition is ranking for. You also want to know where they rank for those keywords. Manually, this process would take way too long. Most SEMrush users know that this is what we are known to be able to reveal. We can show you exactly what keywords we found for your competitor and in what particular position. Through CPC and Search Volume analysis, SEMrush is able to estimate your competitor's ad budget.
Now, before you stop reading this article and go directly to the Advertising Positions report, pump the breaks. The number that you will see in this report will not exactly match what your competitor sees in their AdWords account. If you are unsure of why this is the case, there are a few things you must first consider.
First, you must understand how we get our data. For SEMrush, we have a database of over 100 million keywords. Our US database carries 40 million keywords, which are the top 40 million keywords by search volume. The way we gather the data in our system is through the result pages. For each keyword in our system, we go into the SERPs and analyze the first two pages of results. You can see these screenshots by clicking the "View SERP" button in the second last column on the Positions report.
We then take these screenshots and analyze the information to show you what you see in our database. So for each keyword in our database, we will be carrying the Top 20 results Organically and the Top 11 results through AdWords.
In order for your website to show up in our system, you must be ranking for one of these 40 million keywords, and you must be ranking within the top positions for that keyword.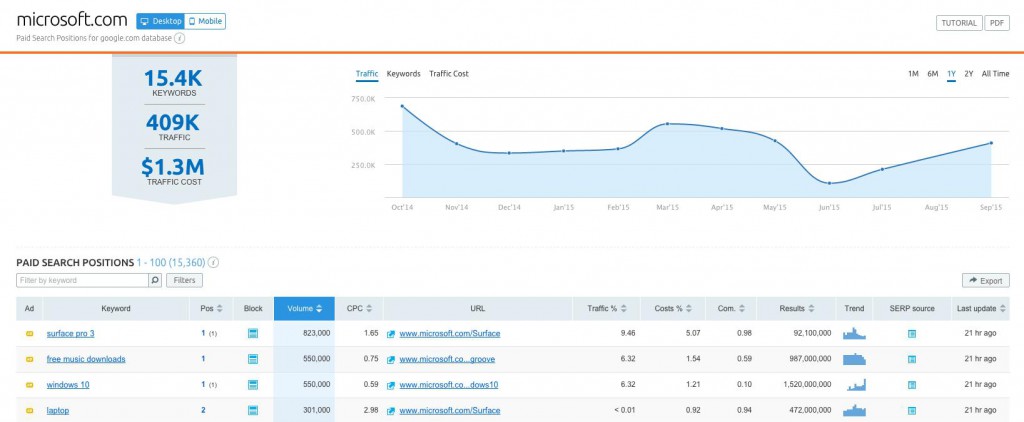 Another thing you must consider when looking at this report are the three numbers listed in the banner at the top of this report. The first number will represent the number of keywords that we have the given domain ranking for. Although this domain may rank for more keywords than what appears here, it is important to note the first point listed here as to how we get our data. Although they may rank for more keywords than SEMrush lists here, if they do not fall within the top 40 million keywords, SEMrush will not have that displayed because the keyword won't be included in our database.
The next point is for the traffic number. Now many people find trouble understanding what this number represents. This number is representing an average monthly number. Based on the keywords we have this domain ranking for and in the positions we have found them ranking, we can conclude on average per month they receive this much traffic. This is based on our own proprietary formula that we have to calculate this information. Also remember to relate the way we get our data to this as well.
The next number, and what this article focuses on, is the traffic cost. This number represents on average per month how much the given domain pays to rank for the keywords listed in AdWords. This number is also listed through a proprietary method of how we gather our data.
You may be looking at this number and are thinking that there is no way possible that this number can be right. Please keep in mind that this is an average monthly number based on the keywords we have in our system. This domain could very well be bidding on keywords that are simply not included in our system.
In order to come up with a more realistic number, especially if you are analyzing a very close competitor, is to look at yourself.
You will first want to search your own domain in SEMrush. Analyze the data that we have for your domain including traffic, keywords and cost. How close are these numbers? Very close? Far apart? You may have different answers depending on your domain.
The way you come up with this more realistic number is to compare what SEMrush has in its system for your domain and what your AdWords account is telling you. Figure out a ratio that can be applied to the difference between these sources. This will be key in your analysis. Once you find this ratio, you can then apply to the other competitors you research in SEMrush. This ratio will then serve as a formula that you can then apply to what you search in SEMrush to receive a more realistic number.
You should now be able to determine a clearer number for your competitor's analytics and determine how much they are spending per month. What can you do with this data? Well you can now determine how much more or less coverage your competitor has through advertising and how you should alter your campaign as a result.
[Tweet "You can now determine how much more or less coverage your competitor has through ads."]
Has this worked for you using SEMrush? Do you have another way of using this report? Let us know your thoughts in the comments!
If you still have questions about any of this information, please feel free to reach out to our Customer Success Team at: (855) 814-4510 or by email at mail@semrush.com. You can also contact us on Twitter by using the #semrushcare hashtag.
Image Credit: Pixabay