Proposals from LinkedIn can provide higher value than you think
LinkedIn is still the #1 social media platform B2B marketers use to generate business and take advantage of getting in front of decision-makers online.
It's probably more important than any other form of social media marketing.
Social Proof
At Purr Traffic, we've successfully used LinkedIn as the primary means of generating inbound leads over the last three months.
Deal sizes range from $2-12k per MONTH.
I find this is because I'm able to talk to the business owner, the real decision maker, rather than an account manager or sales director.
But let me put my money where my mouth is: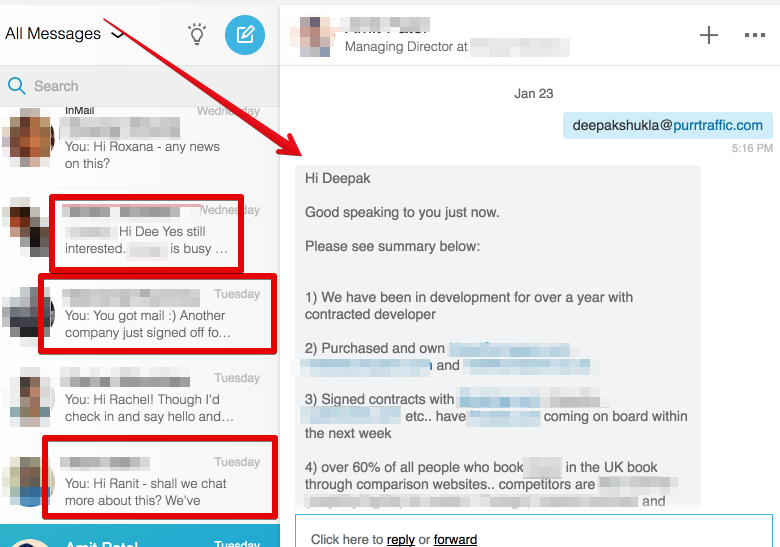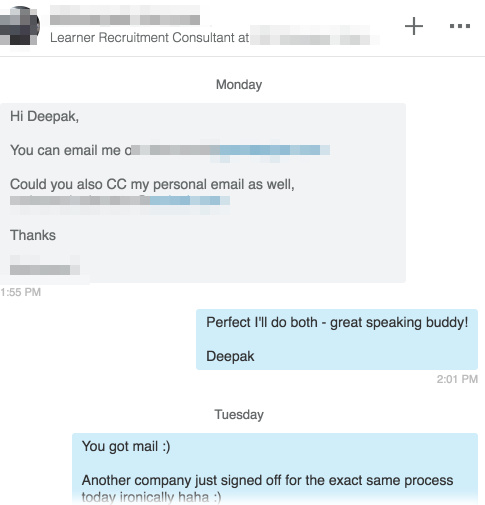 Using my own proposals from LinkedIn to get leads
This strategy for building inbound leads works on the basis of a couple of assumptions:
Have a background cover that's clean, clear, and relates to your industry.

Have a professional photo. Not cropped, not pixelated, not blank, or of your company.

Clearly state your business function, use some keywords, and some 'social proof' where possible.

Have a profile summary that opens with a point of content and a concise explanation of what you do.

Fill in all relevant links to contact you.

Build out work experience (not going back more than 10 years).
Also:
Fill out all the relevant elements of your LinkedIn profile.
Building the funnel without having a strong product (ie. your profile) becomes difficult. 
Make sure that you build out your profile before you start a LinkedIn lead generation campaign.
For those with <500 connections
Be as aggressive as you wish in adding people.
But beware, the more aggressive you are (e.g. adding 50+ people per day) the more chance LinkedIn could slap you with a penalty.
I'd say start small e.g 5 per day then scale up on a weekly basis.
But there is no formula to this other than: don't be overly aggressive - as your network grows you can scale up.
Even now whilst I have close to 10k connections - I never send more than 40 connection requests per day (and typically 50% of that).
LinkedIn seems to have a 30k connection limit which means that if your profile has less than even 10k connections it's of no concern to you.
When you're starting out with your LinkedIn connection requests, I recommend that you pursue an 80:20 rule.
For 80% of the connection requests you make - ensure that it as close as possible to people that you actually know.
Why? When you have a smaller network, it is more likely to be subject to a manual review if you start engaging in aggressive connection request activities which could land you in trouble.
I know because my ability to send out connection requests has been limited on a couple of occasions when I was adding people aggressively.
For those with >500 connections
Now, with a profile that reads as having more than 500+ connections - you can now switch the 80/20 around.
Spend 80% of your time adding relevant people that you would like to do business with.
With this in mind,
Build a key jobs list
Who is the decision-maker?
Probably the person in charge of budgets.
The bigger the organization, the narrower the role specialisms.
I.E: A founder at a 100+ person company isn't perhaps the right person to contact/connect with re: marketing budget.
They'll have their own department.
Who are the people you need to speak to in order to make a potential sale?
Let me illustrate an example:
If you're in the private medical insurance industry and seeking to sell your medical policies, you will likely want to talk to people that can afford (and have need of private insurance).
On an individual basis this could mean: Accountants, Lawyers, Professional Sportsmen?
On a company wide basis: Accounting Firms, Private Medical Practices, Law Firms.
So depending on the company we want, we consider the kinds of job roles we should target to build relationships at a partnership/referral level rather than a 'per-person' basis.
I'll leave you to figure out the particulars.
Then consider these factors:
Make sure they're in your 2nd-degree network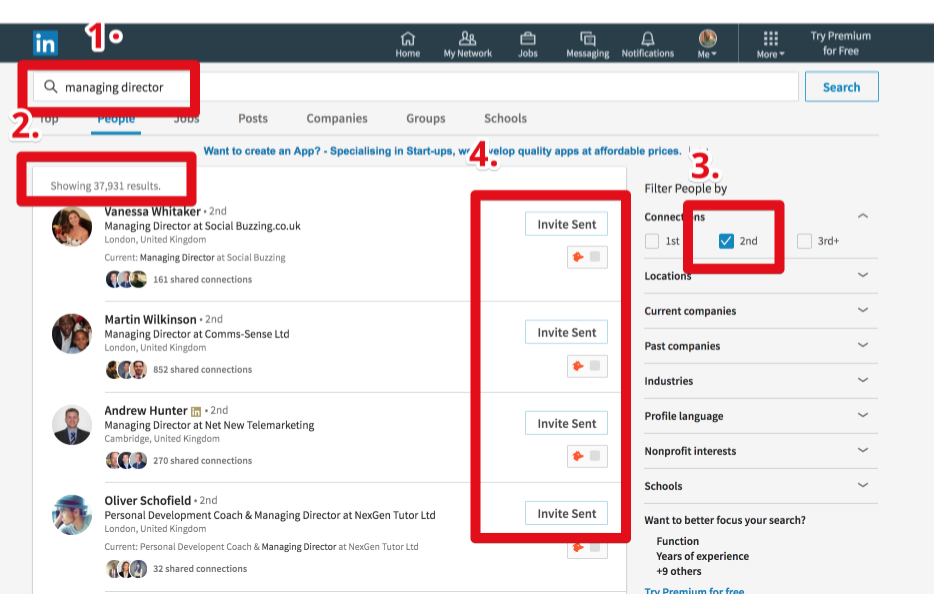 You can see the keyword search I've done here.

This tells me the amount of Managing Directors I have in my 2nd-degree network; 38k basically.

This is the icon that you should always click upon to focus upon people you can directly connect with.

LinkedIn now tells you who you've already sent a connection request to alongside allowing you to send more out.
So along with the parameters above, I'd also say see if you can find something in common with your connection.
Even if it's only your locations, e.g. I'm based in London so I heavily prioritize connecting with folks in London because it can:
Form some basis for a connection.

Gives the feeling of proximity.

I'll also focus upon associated industries to digital marketing, e.g UX, Software, Startups, Technology etc
Adding a note to the connection
LinkedIn has now began asking you if would like to add a note to connection requests that you make.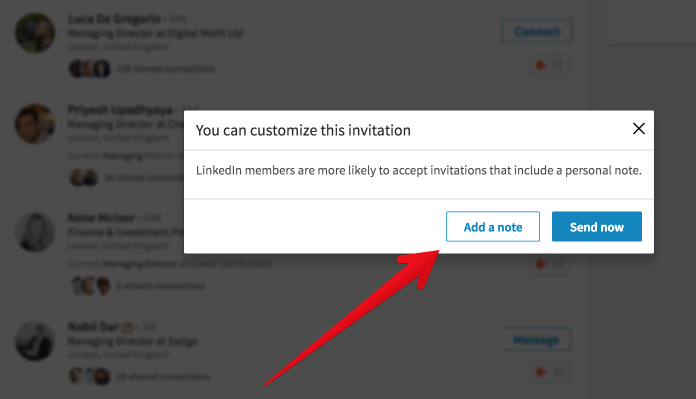 The short answer with this is: the more customized, the better (because ultimately it's going to become the norm - especially the more senior the person you're trying to connect with) - but at the same time I know a common sense approach applies.
So at a minimum do this:
Use their first name.

If you send them a link, try to send them a link that keeps them within LinkedIn (e.g. an article you like or have written).

Offer value.

DON'T SELL - quickest way to close any future conversation you have.
Have a piece of text you can copy and paste (that fit's most use cases) and then customize per connection request.
Comments, Likes, Congratulations Et Al
So, on LinkedIn there are several potential activities.
Let me run through them all and tell you what matters and what doesn't.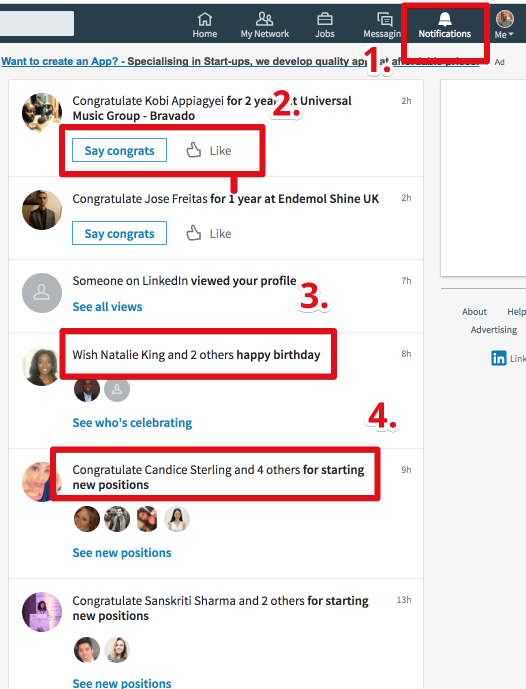 The notification tab is where certain types of engagement happen - the 'lower-tier' I consider it ultimately.

Not important: Congratulating people on work anniversaries. Pretty sure this is something people don't even realize and not the smartest way to connect. But if you're desperate, go ahead.

Less important: Happy birthday's work. I always find it somewhat odd to get a 'happy birthday' from someone I don't know. I expect a sales follow up shortly after. Keep this in mind when wishing someone a happy birthday. But it works better than work anniversaries.

Most important: Starting a new position - this is probably a safer bet as LinkedIn IS professional and this is a good professional announcement so make the most use of this.
What I do recommend doing daily 1/2x (or more) is the following.
1. When you comment upon someone's post you appear in THEIR newsfeed as you are in their first-degree network.
However, you are also connected to their network at a 2nd-degree level.
Thus, you can appear to people in their network that you aren't as of yet connected to.
E.g, if you comment on 'Sam's post' then Sally who is connected to Sam but NOT connected to you can now see your comment.
Furthermore, it's actual engagement - if you like a status/comment/update. Act upon it.
2. Liking it is even easier to do (has less of an impact of course) but uses the same delivery system.
3. Be aware of posts such as these — if you're doing it solely for SEO purposes your comment will get lost.
Of course, make it genuine and commit to a regimen of 1 like and comment per day.
So this is perhaps the part that I believe (alongside adding connections) led people to connect with me.
There are ultimately four kinds of shares you can make and I'll list them in order of effectiveness:
Write a LinkedIn blog post.

A status update that uses text and/or images.

Share content within LinkedIn (i.e someone else's blog post/status update/link to another site).

Share content from outside LinkedIn.
We will discuss #1 last. Let's consider #2 & #4 as that's actually what I personally do (as it can be automated - I don't really every do #3).
Don't let the following image scare you! I'll talk you through it: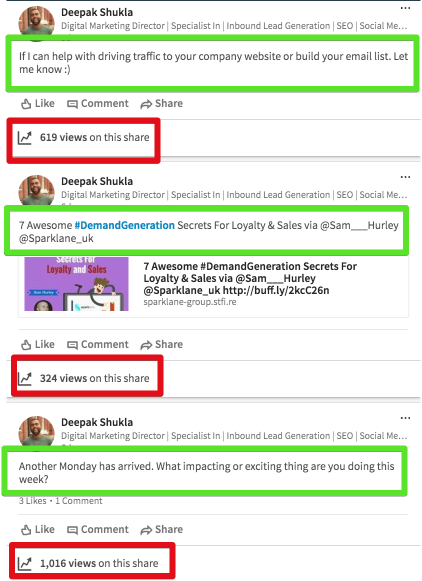 Green Comments
Here you can see three types of updates (from top to bottom):
This is a status update that I've posted on LinkedIn that clearly explains my services.
This is effective because:
It reminds my network of what I actually do/can offer people in a soft way rather than directly messaging folks.
Third party updates and what you actually do can often be very different things (e.g 'how to run an Adwords campaign more effectively' could be the title of a blog-post - but your services could actually relate to social media campaign management).
LinkedIn status updates.
A third-party update in regards to demand generation marketing - uses a keyword which users might find when searching using the LinkedIn app - but has an image - images always fare better.

Another status update but this goes one better. It asks my audience a question - a simple one. LinkedIn (and my audience clearly like this the most!).
Red comments
From top to bottom: Status updates, third party content and question updates all receive different levels of views.
It's clear that updates that ask questions alongside those that don't take people away from LinkedIn are those which get viewed and engaged with the most.
Typically I post <1.5x per day - which within a network that's 9.5k people wouldn't be considered too spammy.
I'd estimate that you can increase the level of posting up to a MAXIMUM of three per day - but that would be at the 20k+ point - so a safe bet is 1/1.5 updates per day on average per week per 10k connections you have (p.s I have tried 2x per day every day before and got told 'Deepak you're too spammy').
My advice is then to engage in all three kinds of status updates (as well as the 4th - sharing content from within LinkedIn) - I automate the third party content to go out 2x per week via Buffer:
This ultimately means I need to find 10 updates (which Buffer allows on their free plan) to have enough content (on the basis of 2x shares per week) for 5 weeks.
That will take around 15-30 minutes to find at a very leisurely pace and Buffer's plugin makes it even quicker: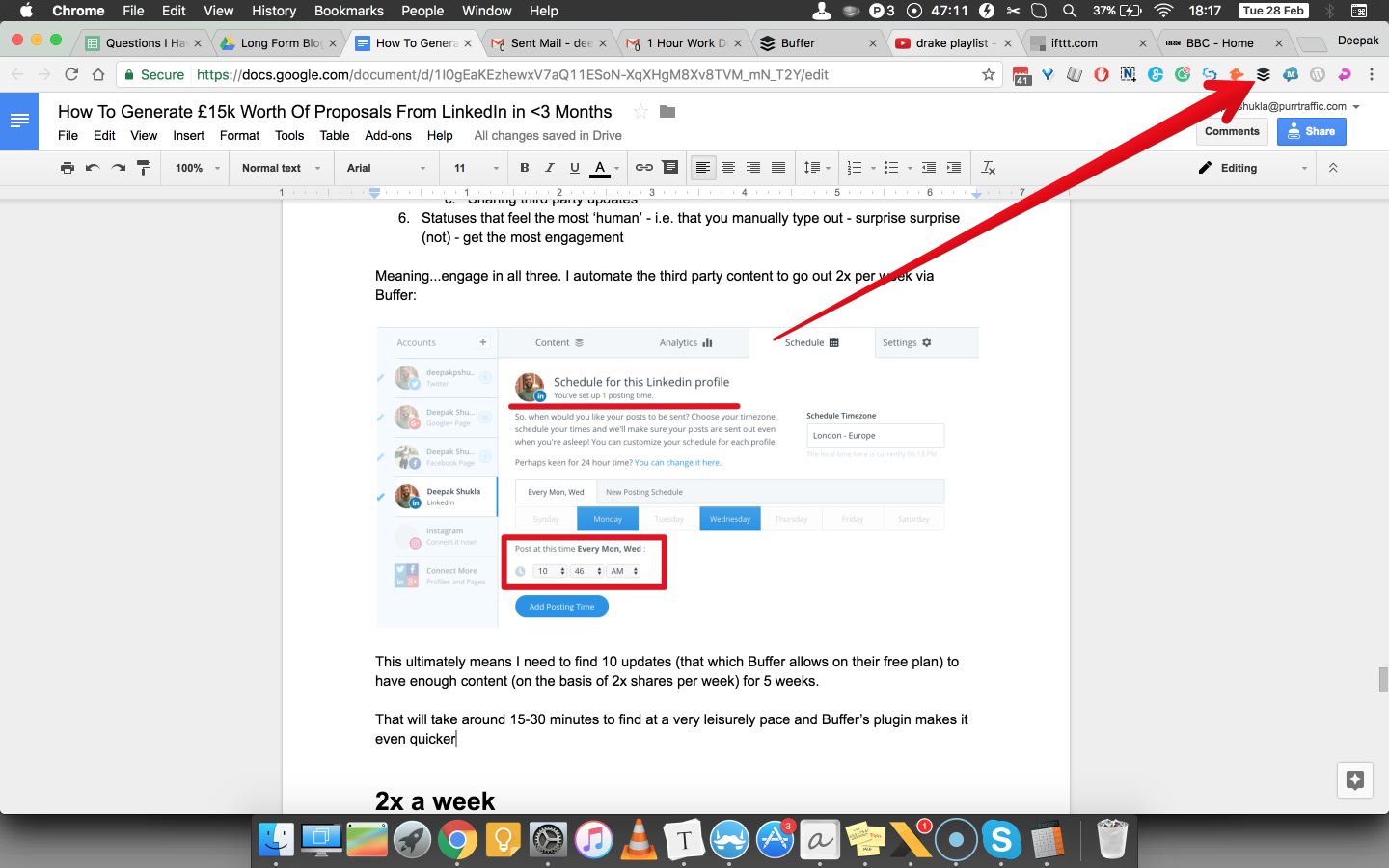 Alongside this, I'll use IFTTT to post an update 2x per week on my account in relation to prompting people about what it is that I actually do.
2x per week may seem like a lot but given the number of updates within my network (of almost 10k people) that are being pushed out continually, it'll gently remind people that do see it more than 1x (likely to be over the course of a couple of weeks) - as well as informing 'newcomers' to my network - of what it is I actually do.
With this in mind I am pushing out 2 third-party updates per week alongside 2 status updates, leaving one day without a status update and room for me to share my own posts manually.
And so now we come to a key component of how to generate £15k worth of proposals from LinkedIn in <3 months.
My proposals from LinkedIn to write content
So a brief word on writing content, I'll talk you through what works for me with my target market in mind.
I am focussed upon developing relationships with Managing Director's (or similar) in charge of 3-15 person businesses (or more - but beyond that, at times the layers and sign off's get more complex) that are in the Financial Services space (as I'm an ex Tax Consultant) that have an interest in doing 'something' with digital.
Short-form seems to work well on LinkedIn from what I have experienced - in as much as I've seen the results it's delivered me.
Let me be clear - long-form DEFINITELY works as a medium.
But going back to my target market, I don't think they want technical solutions.
They want strategy and broad brush - and simply won't read long-form - but account managers and implementation people (that don't control budgets) will prefer long-from plus technical.
This is alongside the most important factor: the realities of the rest of your business/life means that you're likely not going to write a long-form post.
Unless you're SUUUUPER committed, but I'm not.
Therefore, here is what my content calendar looks like:
Publish LinkedIn post 2-3x per week.

Make it relatively high level.

Don't write more than 500 words (it's usually not more than 250 words in truth).
Here's a spattering of some of the titles I have posted.
Why this is so effective is because your entire network of connections will EACH get an individual notification that you published a post.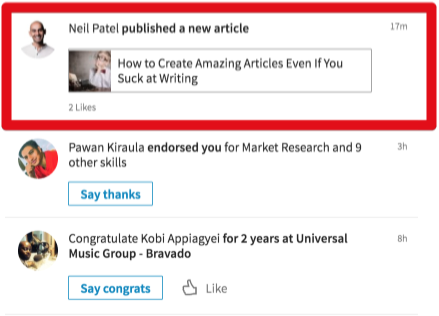 And this is where the power of the notification comes in - i.e. keeping you at the top of your network's minds WHEN the times comes they need help of your kind.
In Conclusion
I hope that uncovers how I've built a LinkedIn Inbound lead generation funnel - through a variety of marketing activities that I carry out on a weekly basis.
A summary:
Fill out your entire profile.

Put in job titles that will support your current role.

Use rich media wherever possible.

Comment and like daily within LinkedIn.

Add targeted connections on a daily basis.

Share updates daily.

Write LinkedIn posts weekly.
And watch the inbound leads trickle (not storm) in.
I invite you to join my webinar " LinkedIn Lead Generation with a $0 Budget".
Do you have extra proposals from LinkedIn to share us?