Whether you're running a full time business or are just interested in listing a few items to make some extra cash, eBay, Amazon and Craigslist all offer easy access to people who want to buy. However, what many companies forget is that these platforms are also search engines, which means they need optimization if you want to see the full benefits. It's important not only to optimize these platforms the way you would Google, but actually recognize what new tactics are available and work best specifically for eBay, Craigslist and Amazon.
Let's break down some of the best SEO tips for these three platforms. The tips below focus on the creative options as opposed to your obvious "use-your-keywords" type advice, so as soon as you have a good handle on your business this is a great next step to get more advanced.
eBay SEO for Your Products
Store Name Option
Many people overlook the usefulness of clever store names. If you can, create a name for your eBay store that includes one or more keywords that relate to the products you will sell. The screen capture below showcases a store selling vintage ads, and cleverly has both "vintage" and "ad" in the store name. This will go a long way in boosting SEO optimization.

Headers
If you are going to create an eBay "store," be sure to utilize the header option. This feature can be turned on or off, but using header text with keywords related to your products will improve your SEO. The use of engaging images and intro text will increase the chances that people visiting your page will stay and look around for a few minutes.
Use engaging images and text in your eBay headers. Click to Tweet
Write an eBay User Guide
EBay has a wealth of information available in its Guide section here. Topics vary and cover a wide array of interests, from "How to Host a Rustic Dinner Party" to "An Overview of Rubber Stamp History." Probably the best reason this can help you with optimization is the fact that eBay will offer guides to users if they think they are relevant, so you get easy visibility. See the screenshot example to the right.
In addition, writing and submitting a guide will not only showcase your talents and knowledge of your products but it will also give you an opportunity to link back to your store. Backlinks, whether from internal or external sites, can help boost SEO. You can kill two birds with one stone if you also choose to link to other websites you may run – perhaps a blog or another site related to the items you are selling. You can learn how to create a guide here. The screenshot below shows the homepage and where you need to click to create a guide: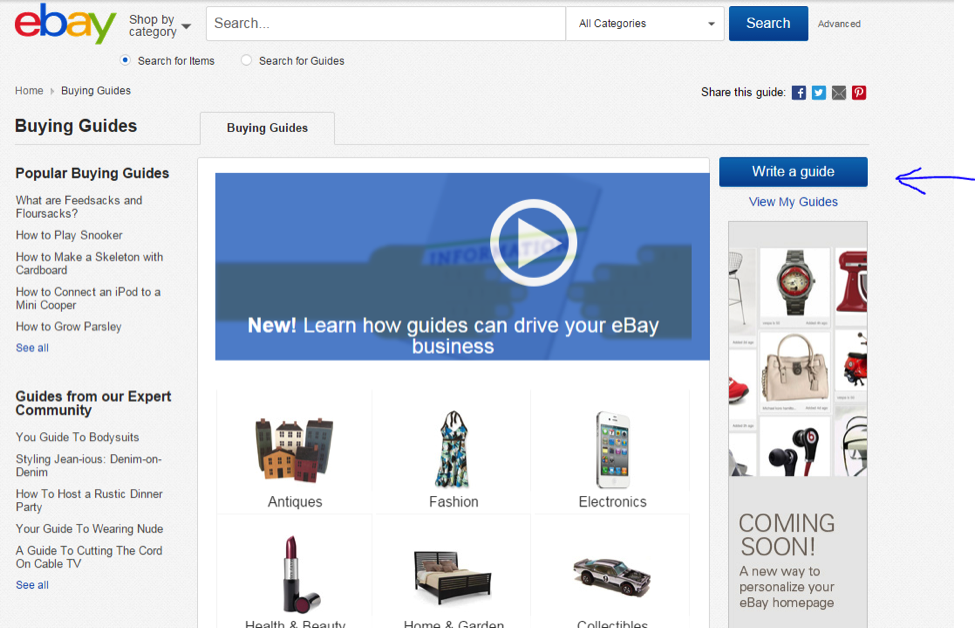 Amazon Optimization
Keyword-Rich Titles
It's not uncommon to see products listed on Amazon with long product titles. Take full advantage of this norm by including as many keywords as possible in your title. This is very different than when you're optimizing for Google, so this is one of the biggest missed opportunities for marketers. Check out the example below:
As you can see above, this example manages to squeeze in the brand name, product name and three separate descriptors – all in just the title. Try mimicking this in your store to help optimize your SEO efforts.
Utilize Bullet Points and Description
Aside from the title, the bullet points and description sections are going to be the two most important areas to pack in key words. Stick to short phrases that utilize key words for the bullet points, as seen here: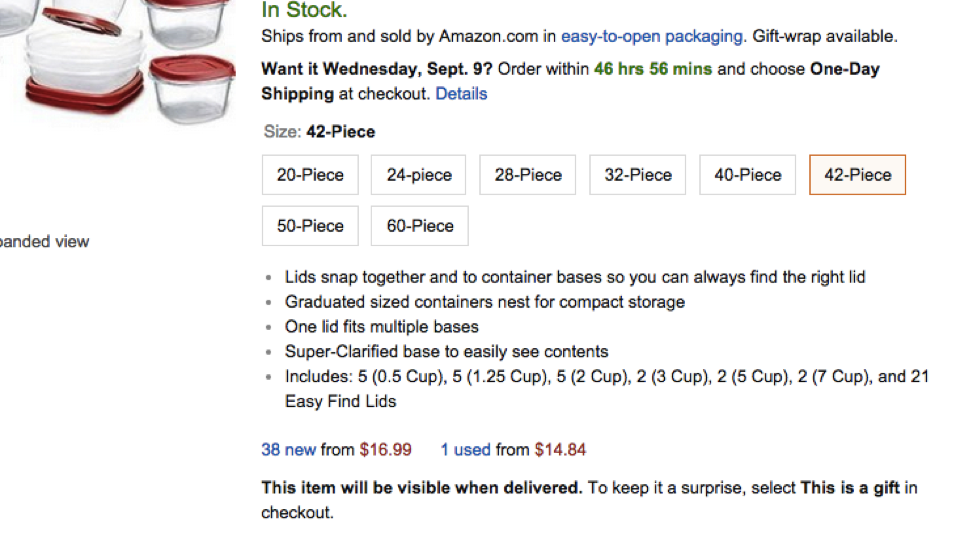 A good rule of thumb for bullet points is to expand on the keywords in the title. For example, the Rubbermaid title above makes mention of lids, and then the first bullet point expands on this – all while including two more mentions of the keyword "lid."
Extra: While not a required field, it's also very important to make good use of the Product Description field. You can treat this section as a place to pitch your product again, all while including lots of additional keywords. Below is a screenshot example:
Use Your ASIN
This was an idea Search Engine Journal expanded upon here. Each product listed on Amazon has an ASIN, or Amazon Standard Item Number. You can use this product number to your advantage. By undercutting your competition's costs, even by a few cents, you can appear on their product page as a "used or new" option.
All you need to do is add the competitor's ASIN to your product description and make sure you have one of the lowest prices listed. This option won't work for a seller who isn't willing to lower prices, but if you are willing to be competitive, this option will allow you to find a seat at the table with some high-ranked Amazon sellers.
Craigslist Optimization Tips
Keep Keywords in Titles by Keeping Them Short and Sweet
If there's one item to take away from your SEO research, it's to focus on keywords (and make sure you do so naturally in your product description copy). What is confusing, however, is how to use keywords and titles based on the platform. In the case of postings on Craigslist, you have a lot of liberty when it comes to how long your title is, and you should take full advantage of this whenever possible. However, it's not always necessary to create a long title to get maximum impact, as seen here:

This poster was able to create an effective short title by making 75 perfect of the words keywords. Redundancy is permissible here (in fact, it will help you). Instead of just typing "Vintage windows" the poster added "glass" at the end. This added another keyword in a clever way. Just remember: a human is reading your title; if it doesn't make sense, they might interpret it as shady.
Use Links When Appropriate
Craigslist is not the place to dump links to the homepage of your website in hopes of increasing that site's SEO rankings. It would be, however, appropriate to post a direct link to the product you are listing. This may not be applicable if you are only listing your product on Craigslist and nowhere else, but if your product is available somewhere else; it is okay to include a direct link.
Lots of Keywords in Body Text
People who come to Craigslist are most often going to quickly skim through pages. Seeing this, you want to make sure the words of your ad pop out. The easiest way to do this is through repeat usage of you main keywords. Here is an example of what not to do:

A better description might read:
"I have 3 vintage glass windows available. I am willing to sell the vintage windows separately as well. Sizes of glass panes are 30x25 and sizes of the entire vintage window (including wooden frame) is 33x28 ½. Please email if you are interested in these vintage glass windows."
It may seem redundant, but someone who is skimming the page is now more likely to process what they are reading, and search engines are more likely to pick up your posting.
Repost Every 48 Hours
Craigslist allows you to repost an article every 48 hours, and you should take advantage of that. Posting your ad again fairly soon will help guarantee a spot near the top of search results. The more updated the listing, the more likely the search engine is going to feature it up top.
Do you have any other tips to add to the list? Let us know in the comments section below.