When our #SEMrushchat participants join in for a real-team site analysis, they share some amazing insights and strategies for our community to learn from.
Last week, our industry experts and chat participants conducted a real-time site analysis of CT Home comfort Showroom's website. They broke down what they would do to improve the site and its performance using real-time analysis from SEMrush tools. They also gave their opinions on what the site was doing right.
This chat recap will show you different aspects you should consider when doing an analysis on your website, so keep it bookmarked for your next site audit.
Q1. After the first glance, what is one thing you would definitely change about cthomecomfortshowroom.com?
First impressions can make or break you, and that is particularly true online, where users can click away and find a competitor in three seconds or less. Ensuring that your home page registers well is important, so we asked our chat participants what they would do to change CT Home Comfort Showroom's site. Here are their thoughts and recommendations.
It Is Overwhelming
The Design Isn't Intuitive
It is important to have a clean, simple site design that feels intuitive for users. You want your site to be easy to navigate so that users move through the funnel you have designed for them online. The homepage should typically funnel users towards a second page where they are given more information.
On this site the further down you scroll, the more cluttered the page becomes. There is a large number of different brand logos that appear on the page, without any explanation as to what they mean or how they are connected with the brand. This is commonly seen on many websites; always make it clear why you are showing other logos.
The Logo Doesn't Fit
And when it comes to logos, several chat participants were put off by the brand's logo. Some felt it didn't look professional, and others thought that it didn't fit in with the site's other branding at all to the point where it looked like an advertisement for another site instead.
The Domain Name
One participant even brought up the domain name, which is long and a little complicated. This can make it difficult for users to remember your domain address or to type it correctly; both of these should be considered when choosing a domain.
The SEO Could Be Improved
Another chat participant noticed early on that they hadn't optimized the meta title, description, and web design for SEO, or for social shares, to the point that it was easy to detect from the user's perspective. We will look at this a bit more closely in the next section.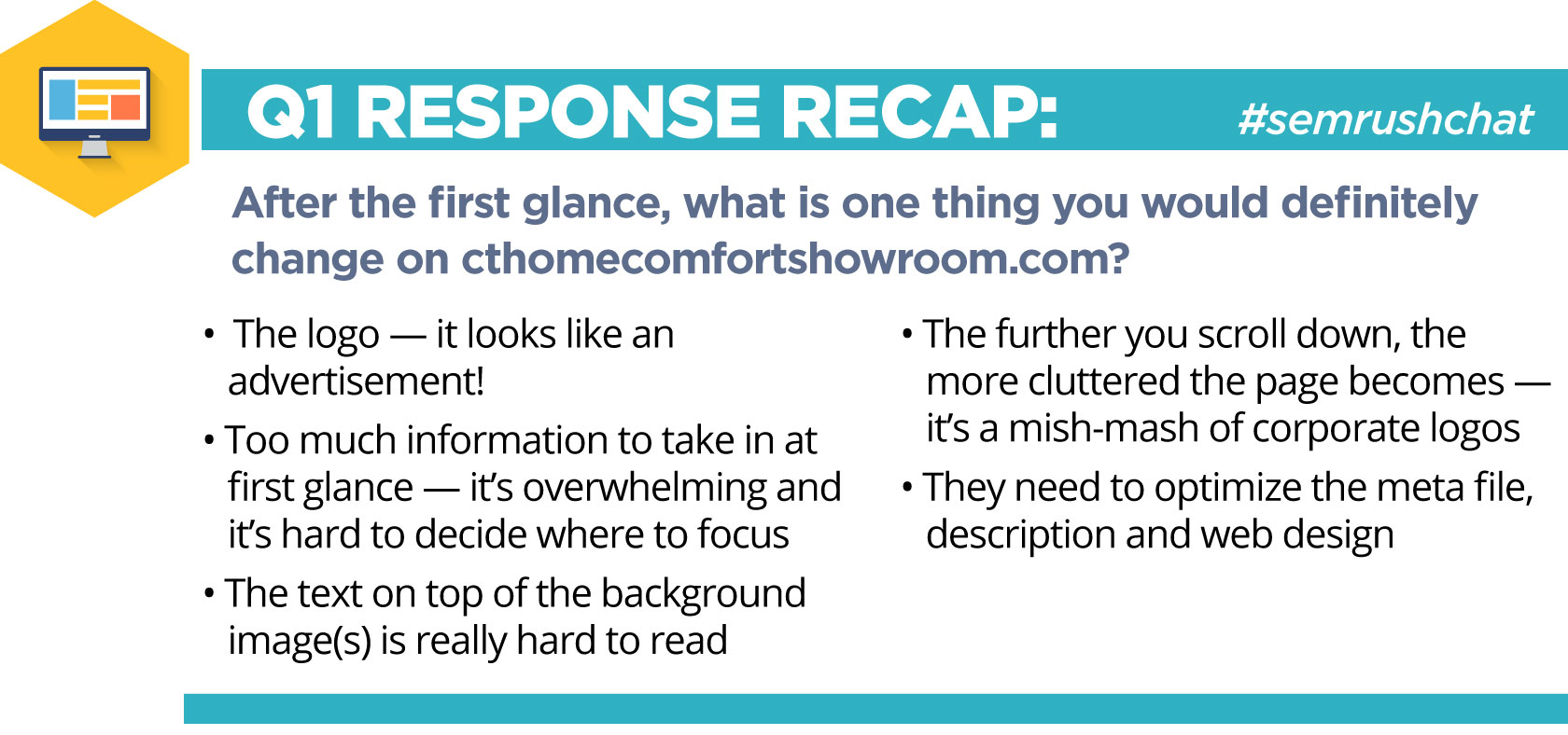 Q2. SEMrush's On-Page SEO Checker offers 46 ideas to improve the domain's pages that rank on Page 2 of Google. What would you improve on the site to get it to TOP-10?
Many site analysis reports will flag multiple problems; in some cases, there may only be eight or nine ideas to improve the ranking, while others (like CT Home Comfort Showroom's) will have significantly more. Understanding how to prioritize fixes for best and fastest results is important.
Our chat participants identified the key issues that the site should address first for the most significant changes. Ultimately, usability and conciseness were the two biggest things that needed to be changed first.
Improve Readability
On this site, the first step would be to fix the alignment bug, which was stacking some text on top of each other. Not only does this keep users from being able to read the text, but it also looks unprofessional, and you risk losing credibility.
Reduce All Clutter
Some recommendations for this site, which really apply to all sites: removing site clutter, i.e., anything that is irrelevant (including the header photo), adding whitespace to clean up the design, and featuring more of what is important to the customer.
This also means getting rid of content that is clearly doing nothing but keyword stuffing and instead replace it with keyword-conscious content that focuses more on providing value. Even though you're reducing the number of keywords in a single given area, this will still work in your favor. You should always write for users first, and Google second, especially since Google is smart enough to be able to track synonyms. Cut back, choosing to optimize for only the keywords that are bringing the most traffic, and toss the rest.
Write Copy for Your Audience
This will give you the opportunity to write more concise copy that clearly explains what the company can provide to their customers and what makes them unique. The copy on your site that it shouldn't be so full of industry jargon that your customer can't understand it or relate to it. Since this site could use an update on branding (including the logo and domain name), this would be a good time to evaluate the customer's pain points and understand what the site can offer them that competitors can't. Following strong content with a single, strong CTA, can increase CTR and conversions.
Add Social Sharing Buttons
One tiny quick fix that could be done in a matter of minutes and make the site look just a bit more modern would be to add social sharing buttons. This could also increase social proof if customers were to share the site with their friends.
Q3. What purpose should their blog have? Does the existing blog match it?
Blogs need to serve distinct purposes if they are going to be worthwhile to businesses. And, like the rest of the site, they should also be updated consistently and have clean navigation paths (which this blog was lacking).
This blog's purpose is clearly designed to sell, but the brand didn't go about it in the right way. Posts are too long and overwhelmingly salesy to the point where it can be off-putting to readers. Because the posts read like a forced sales pitch instead of genuine relationship building or offering valuable content, the posts unlikely to be effective.
Write For Your Audience
A company's blog is a chance to show potential customers insight into the company's value and experience while slowly introducing them to the products or the brand. That being said, the focus should always be on the readers themselves.
This even includes choosing topics that aren't just sales-focused, but customer-oriented, like "How to Lower Your Winter Heating Bill." Just like with copy, you should also be using the same language that your customers are familiar and comfortable with; this site continually uses industry-specific jargon like "ductless" that isolated our chat participants.
Developing topics that your readers are interested in is very effective; relevant topics keep readers on your site longer, and readers will come back for more information moving forward. From an SEO standpoint, you gain readers that find you while searching for similar content, and they are likely to engage with it and to share after reading.
To develop more content ideas, this brand could use SEMrush's Topic Research or Answer the Public and find what their audience is most interested in reading and the questions they are asking. Answering questions your target audience has is always a great strategy.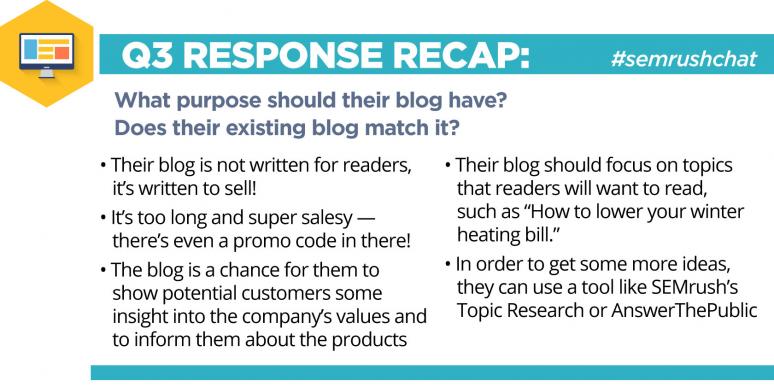 Q4. How would you rate their mobile website on a scale from 1 to 10? Why?
Having a responsive mobile site that works just as well as its desktop version is essential in today's mobile world. Smartphone and tablet traffic have surpassed desktop traffic, and Google's mobile-first indexing for more sites is coming.
When our chat participants were asked to rate CT Home Comfort Showroom's mobile site out of 10, the average rating came in at about a 4.9.
Not Entirely Responsive
Mobile sites often have different issues from the desktop version, but CT Home Comfort Showroom's two sites had a lot of overlapping problems. This was partially because the mobile version was barely changed at all.
Too Much Text
Chat participants immediately flagged the fact that there was too much text. It was to the point where it felt disorganized and messy, and that the text itself wasn't strong enough to get any results. Mobile copy needs to be concise and to the point. This wasn't helped by the fact that some users had bugs with alignment or formatting of the text.
Images Need Improvement
The logo and other images either hurt the impression users had or did nothing to help it. Visual components can help a landing page, but only when they seek to advance your brand or help you tell your story. Otherwise, they just clutter a page, and the point you are trying to get across is lost.
Weak UX Design
While the design was technically functional, the UX was poor. There were oversized banners and pop-ups, neither of which you want to have on a mobile site. There was also a lot of clutter, which can slow down the site loading speed, decrease the effectiveness of SEO, and drive users away at the same time. The headers were also too long, and the navigation felt clunky.
Lacking Mobile-Specific Best Practices
This site is on the right page by having a mobile responsive site, but it would be in much better shape with some updated copy and site design. They should implement mobile-specific best practices, like making phone numbers clickable so users can call with just a touch of a button. The site designers also need to check performance on each individual device, as users with some iPhones didn't find the site to be responsive at all.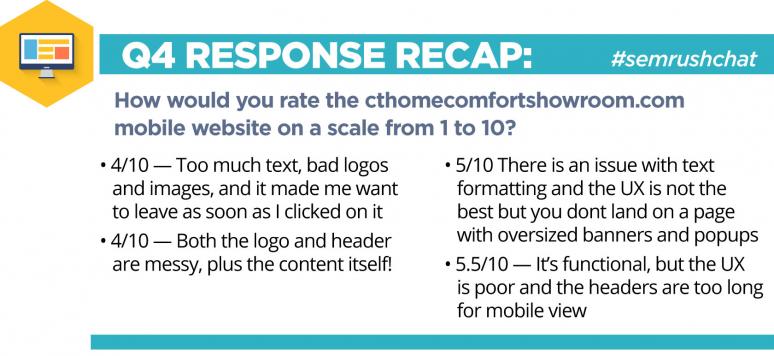 Q5. What did you especially like about the overall content and features and how can they utilize it more?
We looked a lot at where there is room for improvement, but looking at what a site is doing well is an important part of the process, too. Despite the copious amounts of constructive criticism revealed in earlier questions, there are some good things to acknowledge about the CT Home Comfort Showroom's site, too.
Their Knowledge is Solid
Their expertise is clear from the beginning, and it was obvious that they have a lot of in-depth industry knowledge. You can tell they know what they are doing, which is always something you want in a business. They even have plenty of information about their products available to customers, making them more transparent. All that is needed is to present that information in a more customer-friendly way and to consider hiring an SEO specialist to help make sure content is worded in a way that is search engine friendly, too.
The Theme Is Modern and Clean
The modern theme is also a plus for the site, with the grey/green color scheme being aesthetically pleasing. If they were able to incorporate those themes and colors into their logo and fully integrate the other pages on their site to feel more cohesive, this would make the site appear more professional.
The Blog Is Headed in the Right Direction
The blog is also headed in the right direction, even though it needs some work. By adding more client-focused content designed to answer questions and educate their audience instead of just selling, their conversions are likely to increase significantly. They could also add and incorporate a YouTube channel, with videos embedded on the blog, to further explain about their business, products, and process of operating.
Their Contact Information is Readily Available
The phone number and contact forms are all front and center, making it easy for site visitors to see how to contact them and get more information. With the right CTAs in place and optimized site design, they would be even more successful at getting customers to get in touch.
The Foundations are There
CT Home Comfort Showroom is a brand that has closely considered site design and search engine optimization. A lot of what they are doing is good and allows for a strong foundation; they just need to tweak their execution for better results.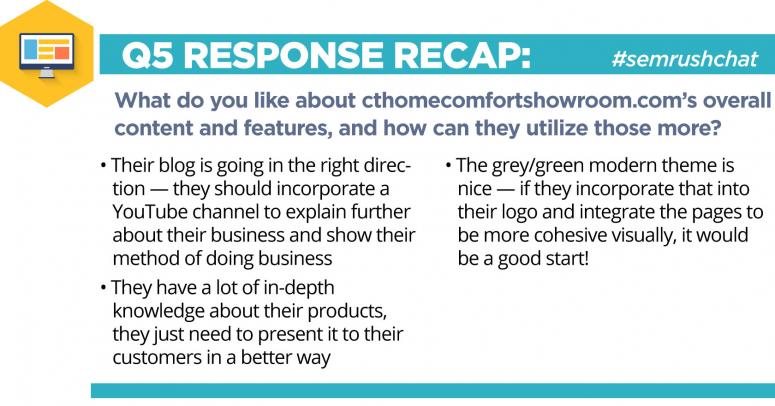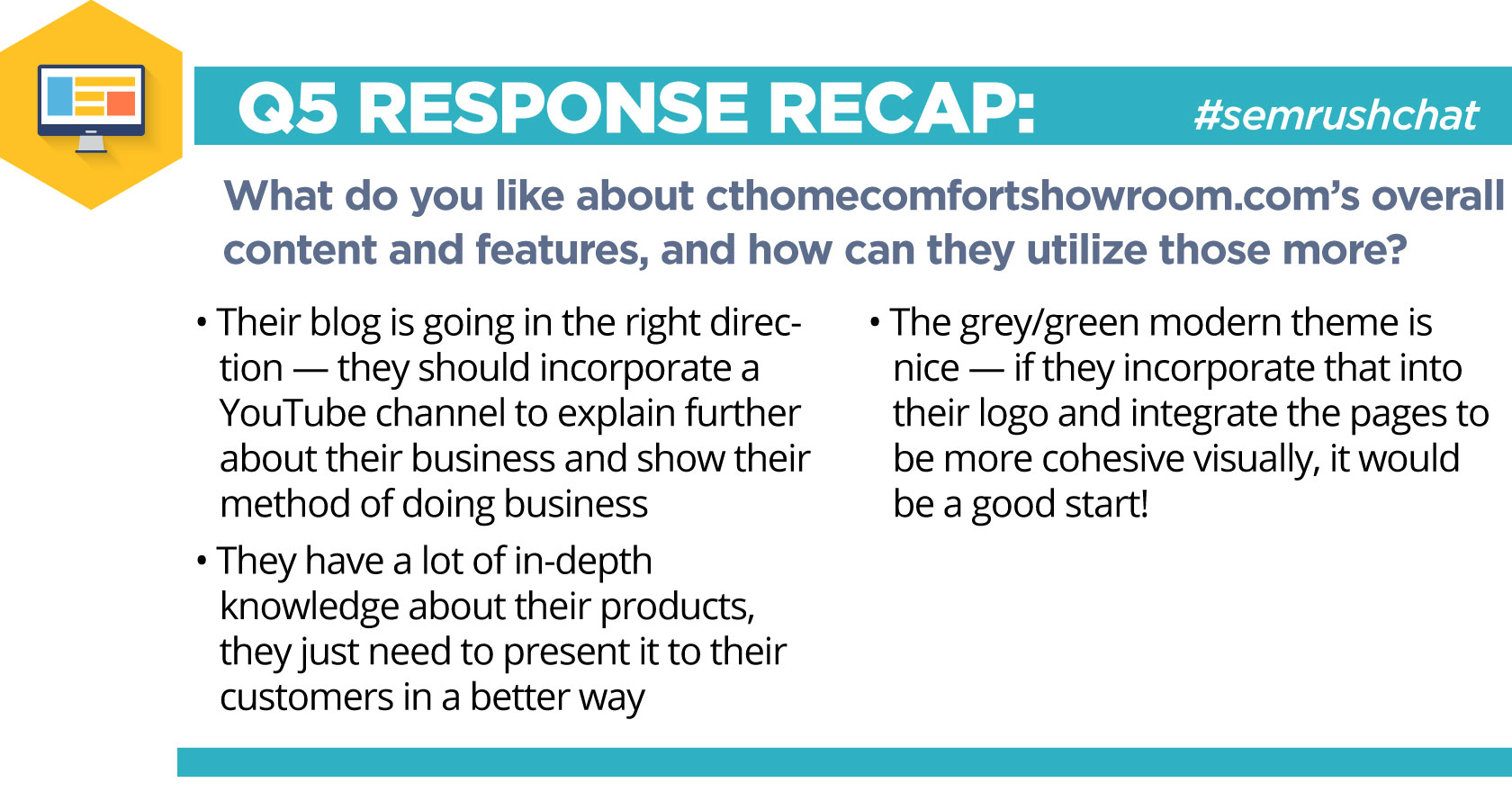 That is all for today! Make sure to join us this week as we discuss "Local SEO Tips Your Competitors are Neglecting" with special guest, Jesse McDonald! 
Maria Kalyadina
Maria is the Social Media Marketing Manager at SEMrush and the host of the weekly #SEMrushchat. You can always connect with her on Facebook and follow her on Twitter! Join the #SEMrushChat every Wednesday at 11 am ET/ 4 pm BST!