Every so often on #SEMrushchat we conduct a real-time website analysis where we choose a website that needs improvement and then our chat participants share their tips on what can be fixed to improve its performance. Last week, we evaluated RIPEn Creative; a website aimed at helping people to create websites.
Want to know if your site has the same mistakes? Check out the following recap: 
Q1: After the first glance, what is one thing you would definitely change on ripencreative.ca?
Visual appeal contributes to the overall success of your site and it fulfills several important tasks, such as: attracting site visitors' attention, creating first impressions, and evoking user's emotions. According to Taylor & Francis online, it takes only 50 milliseconds for users to form an opinion about your site and decide whether they should stay or leave. Well-designed webpages can help your brand to better communicate its message, but on the other hand, it's very difficult to retain visitors on a site that lacks a visually appealing design. As Jake Yeaton @jakeyeaton pointed out, "It's very static and not really creative."
Missing value proposition
A clear value proposition, which is a statement that explains how users can benefit from your product or service, grabs your site visitors' attention once they land on your webpages. This can be a powerful way to convince users that your business is exactly what they are looking for. Our chat participants noticed that the site we were analyzing did not have a clear value proposition on its home page. The better you can articulate the primary value of your product or service, the higher chances that users will prefer your company over your competitors.
To learn how to create a useful value proposition, you can check out this thorough guide with examples by Peep Laja.
Poor content organization
Aside from providing useful, relevant content on your website, it's important that your site is organized properly. You must define a clear information structure for your content, which ensures that your site visitors can quickly scan and easily find the information that they need. The better your site structure is, the easier it is for web crawlers to access and index your content.
Rachel Howe @r8chel_Marie noticed that the services the company provides are described at the very bottom of the page, while they need to be placed on top of it:
Having a blog that's regularly updated with high-quality, relevant content can be very beneficial for your business. Not only does it help you to create and nurture a strong community for your brand, it helps you to distribute your message to a broader audience, solidify yourself as an industry expert, and helps to boost your site's traffic. Eric Haskell points out that by having a blog on your site you can boost on-page SEO. For this, you need to update your blog on a regular basis.
You can check out a few other answers in the following recap.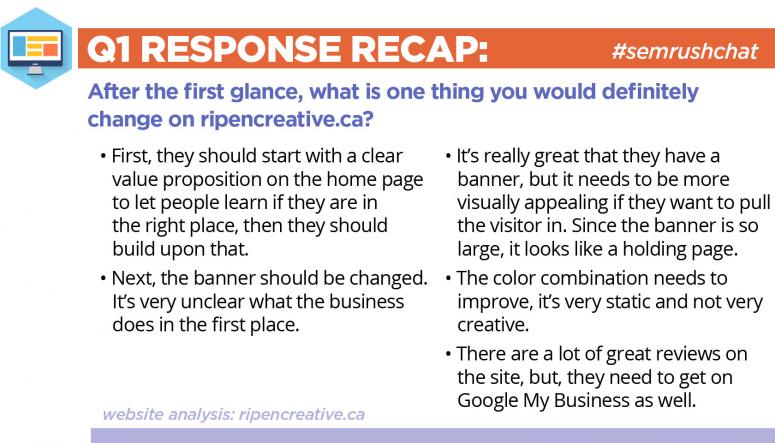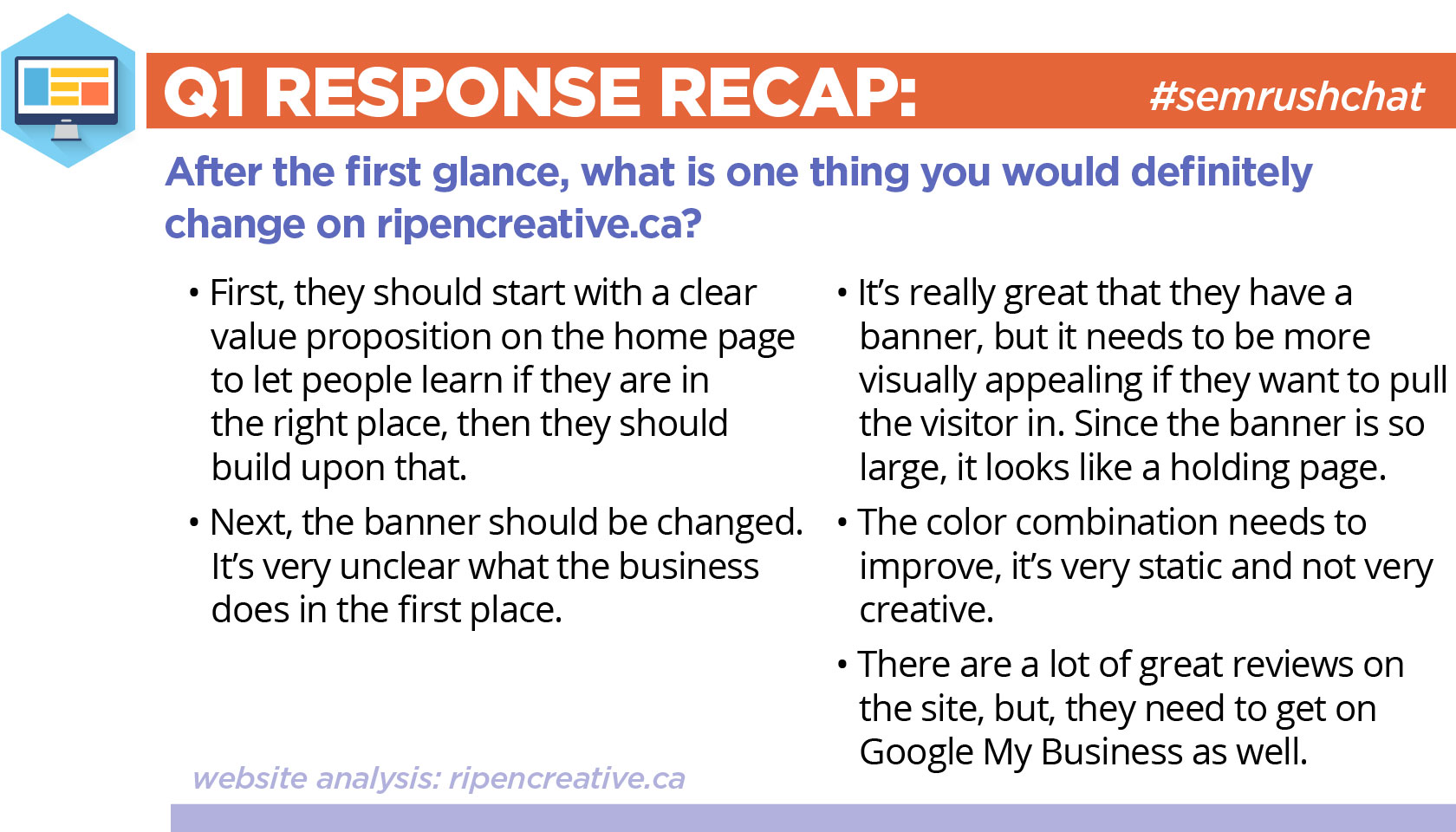 What would you advise that the site owners should change? We'd love to hear any tips you may have!
Q2: Out of the top three issues we detected with SEMrush site audit tool, which one should the company fix ASAP?
With the SEMrush Site Audit tool, we detected three major issues on ripencreative.ca:
64 internal links contain nofollow attributes

55 pages have low text-HTML ratio

42 pages don't have an H1 heading
Let's take a closer look at each of these issues:
Internal links with nofollow attributes
Links are a very important element to SEO, therefore, Google created PageRank to evaluate the quality and quantity of links to a particular webpage. The main idea behind this metric is that when a website links to your site, or when you link from one of your webpages to another, the link passes the PageRank points, AKA "link juice."
Follow links allow search engines to follow them, pushing link juice, while nofollow links don't pass PageRank and anchor text signals. This means that a nofollowed link is not crawled by search engines. Back in 2009, Matt Cutts explained that using the nofollow of PageRank sculpting isn't the best way to use your PageRank and recommended letting PageRank flow within your site without hindrance. In 2013, Matt Cutts published an answer to the question about using the nofollow attribute on internal links to a login page, saying that it won't hurt if you did. However, he added that it also won't hurt if you didn't add a nofollow, because in general, it's better to allow Googlebot to freely explore your site.
When it comes to internal linking, Gary Illyes explained that websites shouldn't nofollow their own internal links. The bottom line is that you need to keep things free and fluid, allowing the link value to flow to and from internal pages.
Pages with low text-HTML ratio
Each of your webpages is written in HTML code, while your content is usually displayed in text. The text-to-HTML ratio is the amount of actual text content on a page versus the HTML code on the same page. This ratio is not considered a direct ranking factor for search engines. Nevertheless, it should be balanced, because it affects several important aspects, such as better user experience. Pages with very low text-to-HTML ratio tend to be less readable and understandable for your site visitors. Also, some of the code may be slowing down your pages. Therefore, it's worth trying to make your code cleaner to improve the user experience.
Pages without an H1 heading
H1 heading is an important element of HTML code that helps both search engines and your site visitors easily define the main topic of your webpage. An H1 tag allows your readers to see what your page is about immediately and, thus, understand whether or not this page is exactly what they were looking for. It's the highest level tag, and search engines generally give it more weight over other headings.
To find out more on the topic, you can check out this guide on how to use H1-H6 element properly posted on Hobo.
Most of our chat members recommended the site owners to fix nofollow attributes and missing h1 headings issues first.
According to our findings, low text-to-HTML ratio and missing h1 tag are among the most common on-site SEO issues, appearing on 28% and 20% of the analyzed websites, respectively.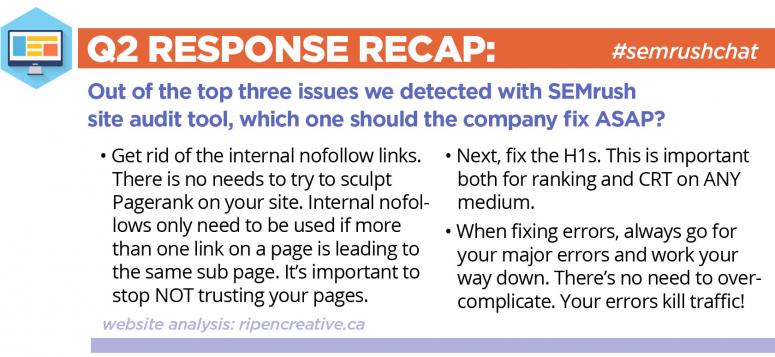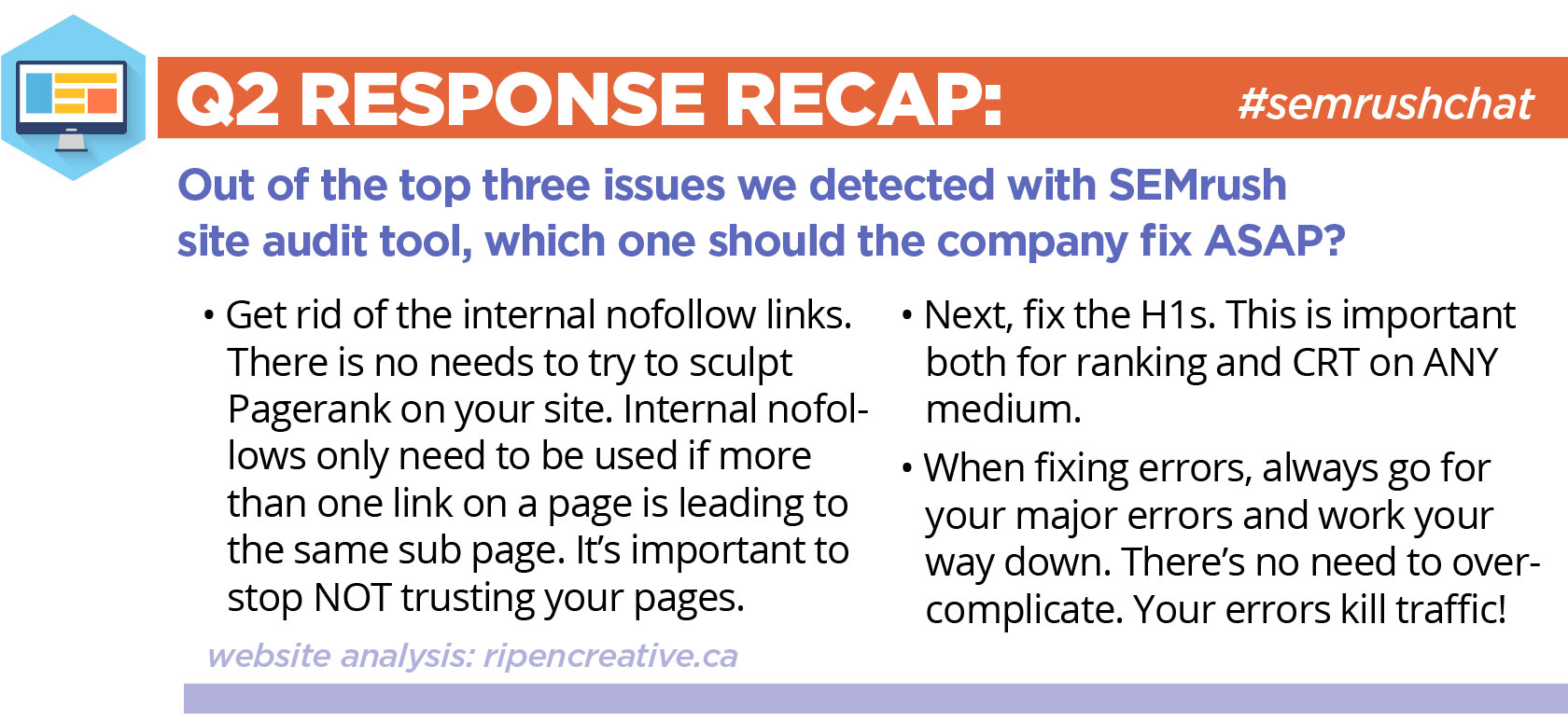 Q3: What features/UX issues/content mistakes could be setting them back?
To stay ahead of the competition, online businesses need to care about multiple elements of their websites. Poor user experience may result in high page abandonment rates and low conversion rates. When analyzing ripencreative.ca, our chat guests noticed several issues that might be setting this site back:
Because of poorly written calls-to-action, your website can be missing out on leads and sales. An effective CTA is all about putting the right message in front of the right audience at the right time. To fulfill its purpose, your CTA button needs to be attention-grabbing, inspiring, and benefits-oriented. Make sure that it's obvious enough on your site and easy to find.
Hierarchy design mistakes
Design hierarchy is one of the most important visual aspects behind a good website. A correct hierarchy makes it easy for you to communicate crucial information to your site visitors. Professional designers use various visual hierarchy techniques to influence what people see on your site and how they see it.
Some of our chat participants also pointed out that the site navigation needs improvement. Perfect navigation has a major impact on the success of your site, affecting both user-friendliness and conversions. Rachel Howe @r8chel_Marie said, "I definitely would reorganize some content, adding all of the services to the main navigation drop down and trying different colors for CTAs."
Creativity comes after the basic principles of a quality website design, but, it's still an important element of many sites because it helps to better grab its visitors' attention. If you make your site visually appealing, you're encouraging visitors to stay for a longer period of time.
Adding videos to your webpages provides a more interactive experience to your users. Statistics show that more than a half of Internet users watch videos online every day. Adding quality, relevant videos to your site can boost user engagement and increase the time visitors spend on your site.
Let's sum up these key points.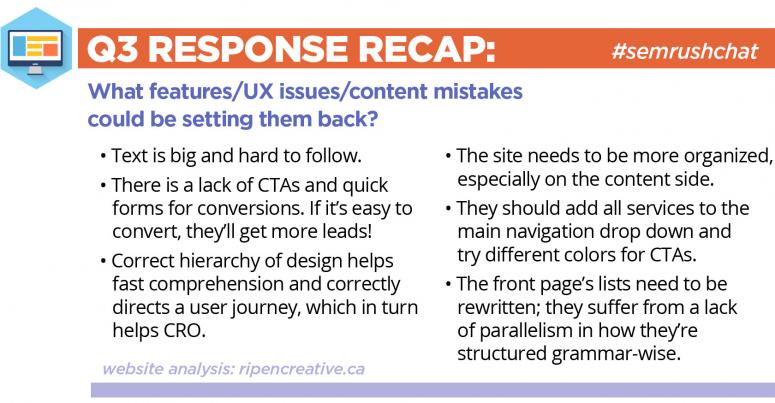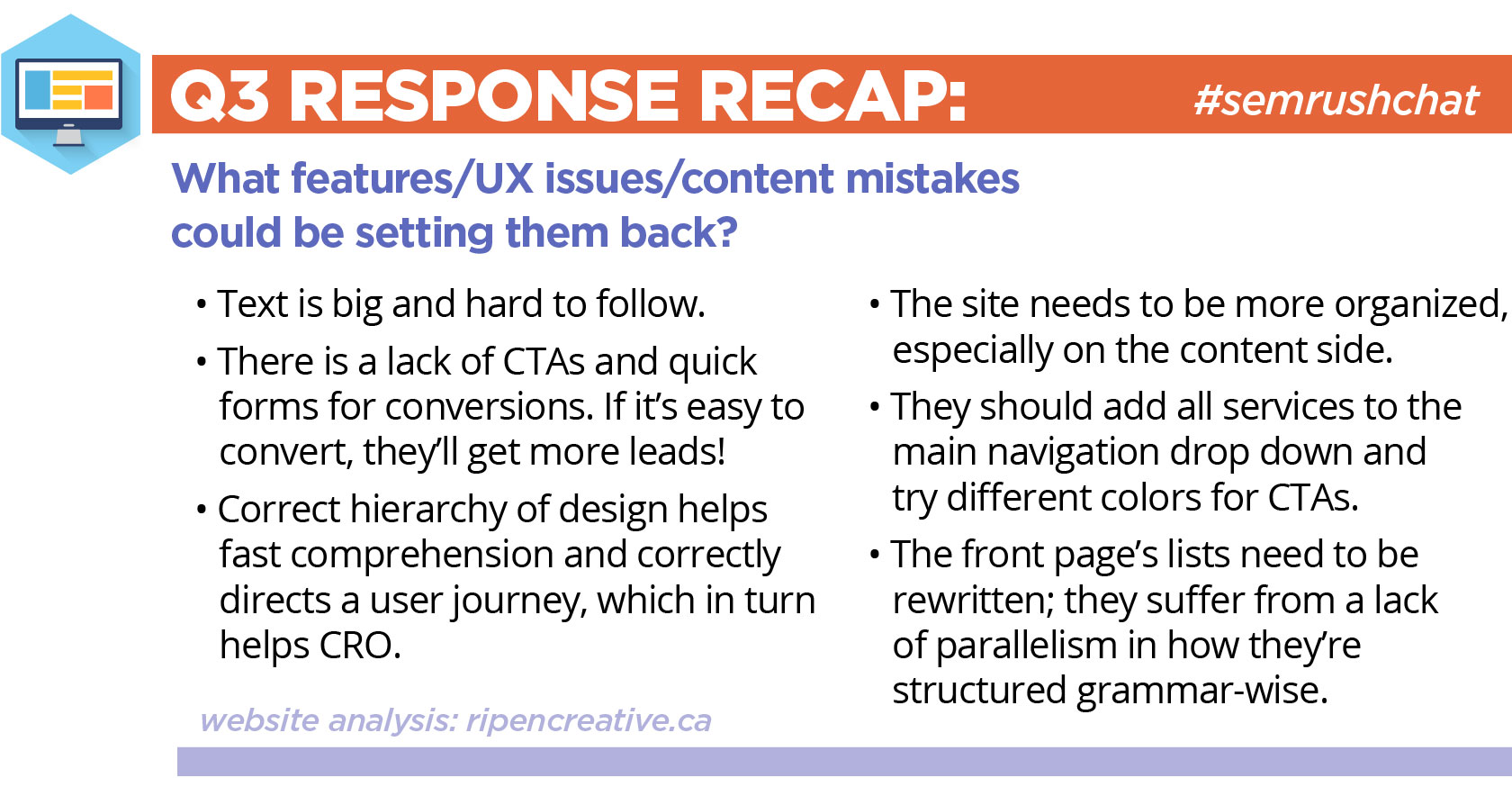 Q4: How would you rate their mobile website on a scale from 1 to 10, why?
During our real-time website analysis, our chat participants rate RIPEn Creative's mobile website on a scale from one to ten. We received various ratings
Dawn Anderson made a screenshot of how the website looks on iPhone 6. As we can see, the font is too big. However, she pointed out that the way its pages are displayed can vary on different devices.
For the most part, our chat participants pointed out that the mobile version of the site has a great page load time. However, everyone agreed that it has some issues that need to be fixed.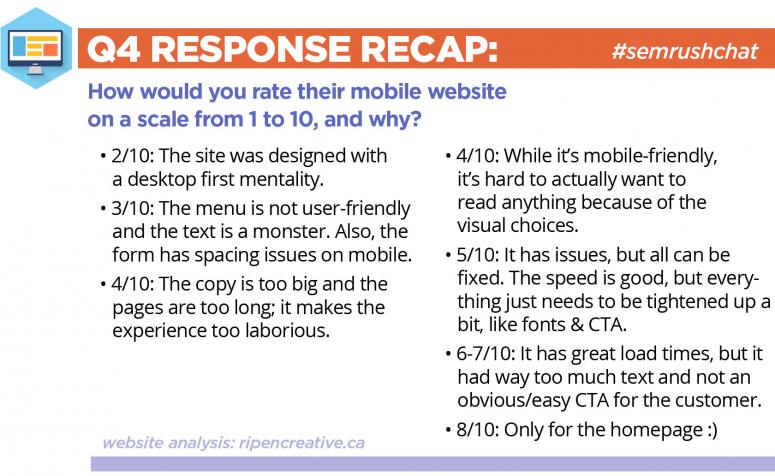 Assuming that mobile web usage is now overtaking desktop, business owners have to invest more time and effort into improving the mobile version of their sites to attract more users.
Q5: Which creative link building/earning techniques should ripencreative.ca use?
Our chat participants shared effective link earning techniques that ripencreative.ca should use. Some other site owners may find the following tips useful as well: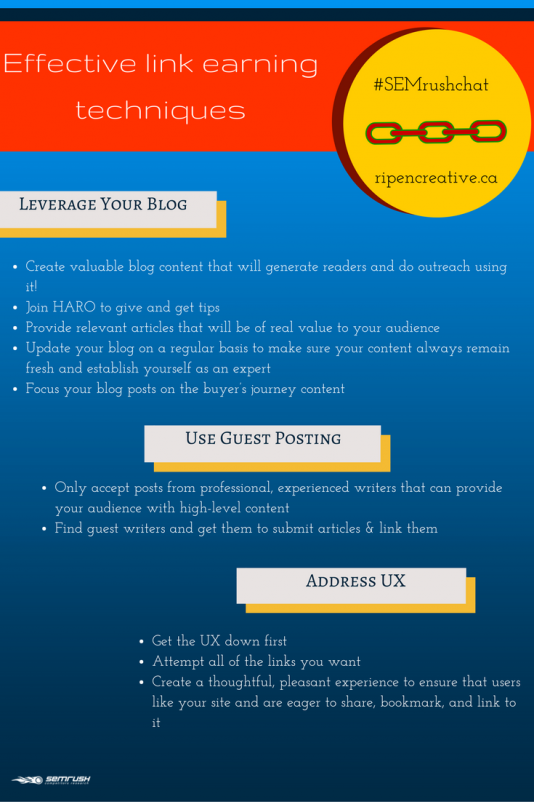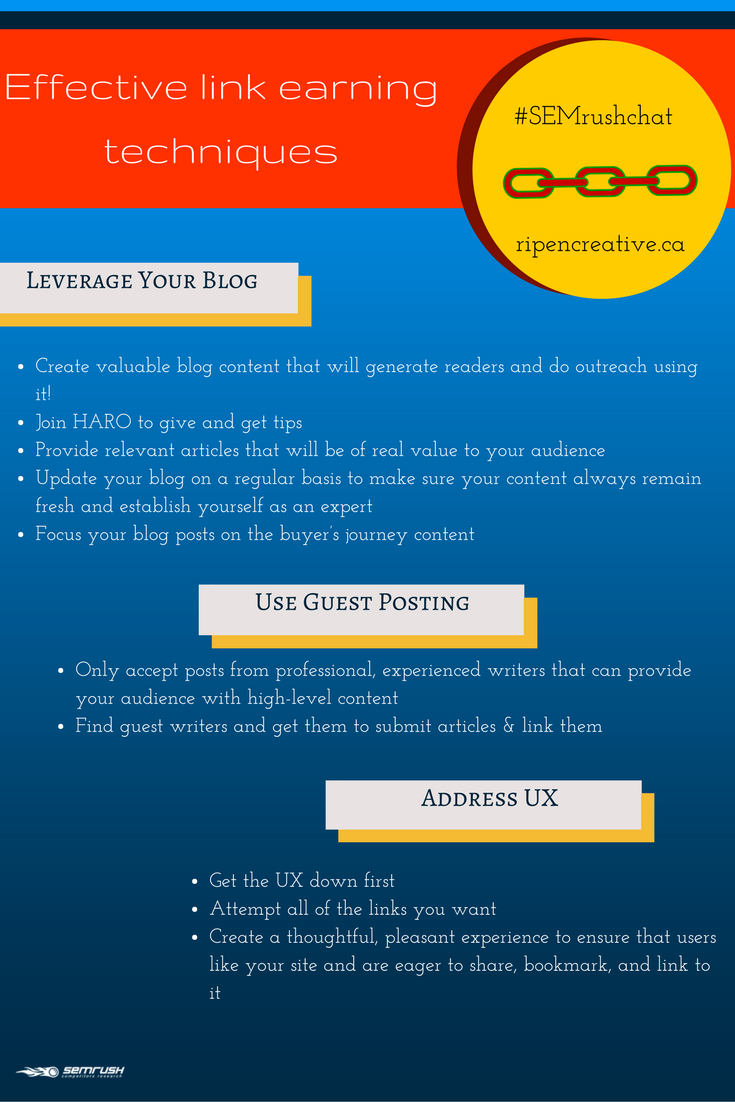 That's it for today. We hope you found some useful tips in this post and hope to see you at our next Twitter Chat!
And special thanks to the following participants whose tweets we used to create the images: @Blogging_Geek, @thinkSEM, @OptiLocal, @trafficjammedia, @dawnieando, @bill_slawski, @lindsaykavs5, @coreyw85, @iPagesCMS, @dannyraylima, @twel5, @thinkSEM
Maria Kalyadina
Maria is the Social Media Marketing Manager at SEMrush and the host of the weekly #SEMrushchat. You can always connect with her on Facebook and follow her on Twitter! Join the #SEMrushChat every Wednesday at 11 am ET/ 4 pm BST!