No matter where you search or follow on the Internet, you won't find many accounts of full Penguin recoveries — and even fewer that are specific to Penguin 2.1.Some say that it's not possible to recover, and many of the posts out there with Penguin recovery claims are not clear with respect to tactics.
This post will outline a method that is 100% white hat and should provide the foundation for a long-term, sustainable organic SEO strategy for many types of websites.
Disclaimer: This contrarian approach may not be for everybody — and for some sites, maybe not even possible. It is certainly not the conventional wisdom, and in many ways is the opposite of what many webmasters are doing today. 
How are most Webmasters trying to recover from Penguin?
Months after Penguin 2.1, many frustrated site owners are still scrambling to clean up their backlink profiles. We know that Penguin targets spammy backlinks and we know that Google created the link disavow tool in Webmaster Tools essentially to address Penguin issues. Thus, the conventional wisdom of afflicted webmasters has been to initiate the long and tedious outreach process of contacting site owners to get links removed.
There are many horror stories about the process, including sites that charge a fee to remove existing backlinks! Then, after you complete and collect the evidence of your backlink removal campaign, you are advised to use Webmaster Tools to disavow any links that can not be removed via outreach. Additionally, if your site has received a manual action penalty, you have to take the extra steps of making a reconsideration request and providing Google with evidence of your link cleaning efforts.
This process can take hundreds (maybe thousands) of man hours to complete, and could take months, if not a year or more, to see any signs of a recovery. There has to be a better way — and there is — for many types of websites, anyway.
A 100% white hat method for a Penguin recovery
Assumptions: You have a website with great content, an active/quality blog, and white hat, search engine-friendly structure and coding.
1. Buy a new domain
This is going to hurt to hear, but if you have a Penguin penalty, that great domain you've owned since the beginning may now be damaged goods no matter how hard you try to salvage it. This does not mean giving up on your old domain completely (more on that below), but with this method you will basically be putting it on the shelf for the foreseeable future.
When buying a new domain, do not buy something spammy or too EMD. Short domains are great…something with one keyword or part of a keyword is pretty good. Exact match domains have been hit really hard, and although some EMD domains have seen a bit of recovery, the exact match domain party has long been over. You will be much better off in the future with a shorter, branded domain.
Tip: Be careful buying an aged domain or a previously registered domain — you may be buying someone else's penalty or back link baggage. Be sure to use Semrush before buying an existing domain from a third party or auction.
2. Buy a new hosting account
You will be pointing the new domain to the new hosting account. Do NOT 301 redirect your penalized domain to your new domain, and do not point your new domain to the old host. Keep your old domain pointed at the old host. There are a lot of black hat recovery tactics that use 301 redirects from penalized domains to new domains — this is not one of them.
3. Move your old content to the new hosting account and new domain
You now have a brand new domain on a brand new hosting account with all that great content you've been building for last many years. That stuff has a ton of value.
I suggest not using the same url structure; consider changing all your inner page links to something new, and preferably less spammy if you previously had long, keyword-stuffed inner page urls. This could also be a good time to consider a new site structure to gain a structural advantage for SEO. The main reason for re-optimizing your url structure is so the search engines will have much less of a chance to algorithmically detect a site move. Google in particular has mentioned that they 'could' pass a Penguin penalty to old content that has no link relationship. This seems highly unlikely and a bit unfair (as you are starting from scratch from a domain and backlink standpoint), but you can still take steps to minimize algorithmic detection. And this would be an important one: change the domain and domain structure footprint.
Now it's on a clean platform where it belongs — not one single link pointing to it (yet).
4. Keep your old domain pointing to your old site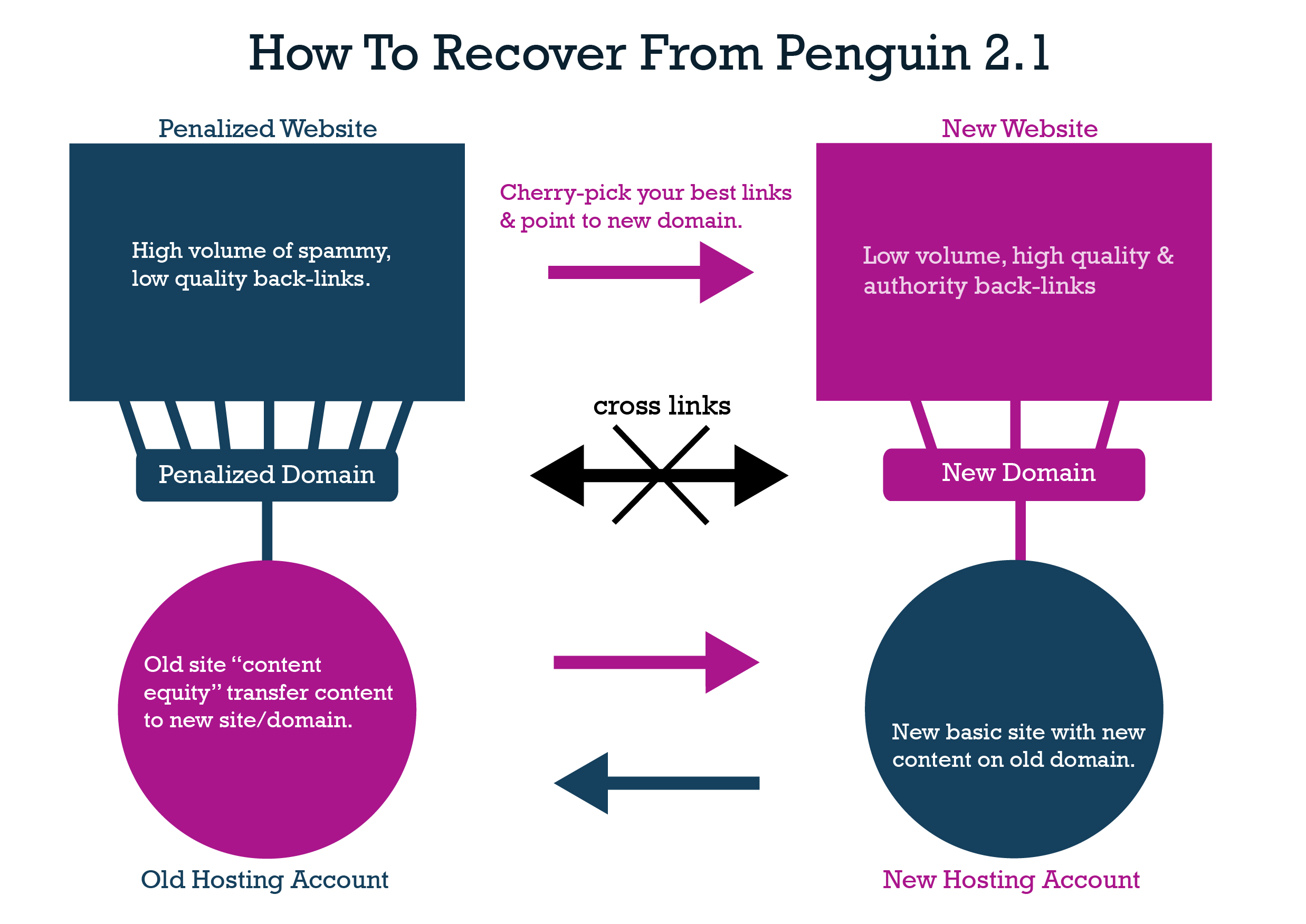 5. Install a new basic website on your old domain & old hosting account
Keep this new site simple and branded. There is still value here because many of the links in your toxic backlink profile have traffic value. More importantly, much of your offline marketing materials, signage and contact info still may still refer to this domain.
For most company websites, all that is needed is a simple five-to-10 page site with a blog, contact info and some occasional blog posts. You are not going to be spending much time on this domain anymore, but you may want to spend some time keeping it alive.
There are other SEO reasons for keeping the old domain alive as well. Even if you have a massive amount of backlinks pointing to your old domain, there is a good chance that your old spammy backlink profile may clean itself (eventually) by attrition. Many of those spammy, high-risk links pointing to your old domain will naturally fade away. Since the old way of cat-and-mouse SEO link building is quickly becoming extinct, the thin artificial sites and tiering networks (Web 2.0, Blog Networks, Blog Comments, Profiles, etc.) that you or your clients may have used in the pre-Penguin era will eventually be removed or expire.
Your old domain could miraculously come back later (think in terms of months and years), so you want to position your old website 'if' this does happen.
6. Subscribe to a good link analysis service
There are several great commercial site explorers and link checking tools available. Of course, we've used them all and Semrush is our favorite. These tools, in addition to your Webmaster Tools account, will provide all the information you need for analysis and for the next steps of this process.
7. Start Cherry-picking your best links
THIS IS WHERE THE MAGIC HAPPENS.
Run a link analysis for your old domain. Start identifying the links pointing back to your old domain site that are of the highest quality, the most relevant and with the highest domain authority. You will also need to cross-check your backlink profile in Google's Webmaster Tools.
8. Roll up your sleeves
Instead of spending time to contact web spam sites to get bad links removed, you are now going to manually get your best links updated. No, it's not easy — but the payback is huge.
For some of these links, you have direct access to edit the link (like your G+ page, LinkedIn, Twitter, etc). Yet, most of your best links may be on other sites via guest blog posts, mentions and high-quality articles, etc. These are the links you will have to work for — it will take time, effort, begging and pleading. You won't get all of your best links back — not even close — but you'll get more than you think.
While it may be hard to believe, your new domain will have much better ranking power with a relatively small amount of high authority links. For many small businesses, regional and niche sites, it's possible to recover in a very short period of time, as in a few weeks or months.
9. Closely Monitor New Website Links
Since you now have a website with a pristine backlink profile, you need to be proactive about managing incoming links. In the post-Penguin era, you don't necessarily want to see the incoming link volume increase — in fact, this is now big a red flag. You need to have a commercial tool and Webmaster Tools to properly monitor incoming links on a regular basis. In some cases, you may want to contact websites and ask them to remove incoming links if they do not meet your quality or relevance criteria. If unsuccessful, consider disavowing them as soon as you detect an unwanted incoming link.
10. Admit To Yourself That Black Hat & Grey Hat SEO is Dead
Search engine optimization is no longer link-centric, it's content-centric. Your path to sustainable search engine rankings is no longer through backlink accumulation or manipulation.
The future of SEO is here. You need to establish your company by online branding, your person through authorship and your website through content marketing and social media participation. You will get the best, most beneficial backlinks by creating and distributing great content and publishing on your site, third party sites (i.e. by way of targeted and highly selective guest blog posting) and social media channel distribution/participation.
Content really is King, and Google means it this time. While starting over with a new parallel site sounds radical, it's not baseless. Matt Cutts was quoted back in 2012 saying, "If you've cleaned and still don't recover, ultimately, you might need to start all over with a fresh site." That sounded ridiculous at the time, but flash forward, and it really does seem like the only option for many website owners.
Additionally, if you still have good rankings with a risky backlink profile, it's never too late to develop a backup plan; if and when the next Penguin update tanks your site.