Many brands like the idea of being able to outsource content writing, but some struggle to implement the process for a number of reasons. 
We wanted to dig deeper and find out why so many felt that some aspect of content marketing was either inaccessible or challenging -- so we did. 
Our Research 
We surveyed 485 respondents, who we broke down into two groups: those who outsourced, and those who didn't. 
With those who outsourced content, we focused on their biggest outsourcing bottlenecks so we could find solutions to overcome them.
When it came to those who didn't outsource, we looked at what was preventing them from getting started and how it could be made more accessible if they changed their minds. 
Those Who Do Outsource 
When it came to respondents who did outsource, there were two main goals that they focused on: boosting organic traffic (90%) and scaling content (60%).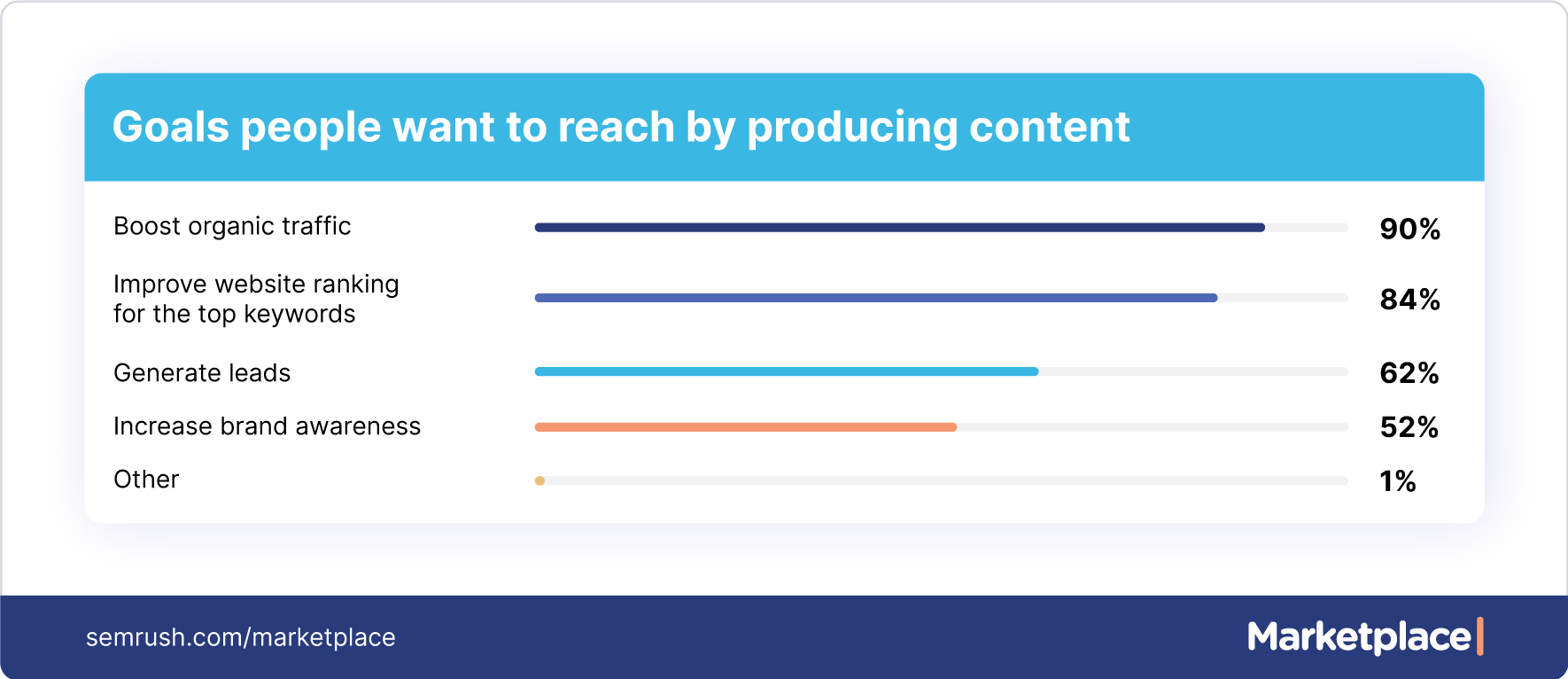 Both of these goals require three things that not everyone has:
The ability to consistently produce and publish new content, which 69% cited as the reason they outsource content (lack of time for writing). 

The expertise needed to create SEO-optimized content, which 34% of our survey respondents cited as the reason they outsource (lack of copywriting skills). 

Human resources. 33% of respondents said they have in-house writers, but needed to outsource to scale. 
We found that there were five common bottlenecks that we saw over and over that made the outsourcing process more difficult or ineffective. Let's look at each one and how to overcome them.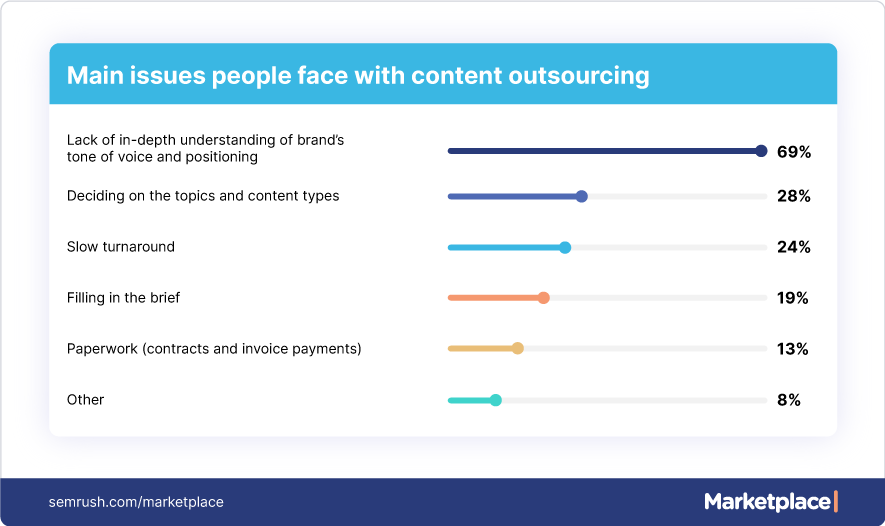 Lack of Understanding of Brand Voice or Business Values 
69% of survey participants named a lack of understanding of brand voice or business value as their biggest bottleneck. 
Some brands struggle to find freelancers who can develop a solid understanding of either their brand voice or the value that their business offers their customers. This can prevent the freelancer from properly conveying either in the content.
How to Prevent This 
We recommend taking the following three steps to tackle this concern:
Create a brand style guide. This should include information about your audience and buyer personas as well as your brand voice and general communication tone (which can be funny, conversational, or formal). 

Share examples. By sharing samples of content that have the same communication style you're looking for, whether it's yours or someone else's. 

Have your in-house team review the content. The best option if you have an in-house expert to check the accuracy of technical details. If not, then hiring a provider with expertise in your industry will help you to ensure the article is accurate from a technical perspective. 
Choosing Topics and Content Tasks 
We found that 28% of respondents struggled with choosing topics and content tasks. Many marketers feel overwhelmed trying to develop or select topics, or to create content tasks and assignments for freelancers. This slows down or stops the process altogether. 
How to Prevent This 
The solution here is to create a content plan with a list of topics once and then just invest your time in creating a brief, which is much easier and faster when you know what you want to write about. There is a step-by-step approach to generating new topics for content. Here are just a few of them:
Start with your product value and target audience. Think of the main feature of your product/service. Then define your audience's pain points that this feature solves. Generalize it into a concept and write it down as a list of pillar topics (e.g. content outsourcing, SEO copywriting, content writing services).

Define 5-10 pillar topics. Make sure your pillar topics are searched for online. Check this list with a keyword research tool to make sure each topic has a substantial search volume (1,200 to 6,400). 

Expand your topic list. Based on discovered pillar topics, look for more ideas under each of them. Use multiple sources like brainstorming, competitors' keywords, search, and social media trends. 
Slow Turnaround 
24% of our survey participants said the slow turnaround was their biggest challenge with outsourcing content. 
How to Prevent This 
First of all, it's good to keep in mind that standard turnaround times may be one to two weeks, as writers need to spend time researching audiences and keywords, structuring the article, and then writing. 
When outsourcing, you always want to be clear about all deadlines involved in a project, including when they'll send a title, first draft, and/or revisions. 
Discuss delivery times in advance. Before you start reaching out to freelancers or content providers, it's helpful to know how quickly you need the article. If you happen to need something faster than their standard turnaround time, see what's possible. They may be able to expedite the post for a rush fee. 

Factor revisions into the deadlines. Determine how long you'll have to provide feedback for revisions, and how long it will take to receive them. 
Filling Out the Brief 
19% of survey respondents named creating a brief as their biggest challenge with outsourcing. Creating an outline or brief can be very time-consuming because you need to provide a lot of details about the audience, targets, tone of voice, and so on.
How to Prevent This 
Streamline the process by creating a brief template. About half of the information on the brief will be similar each time (including the audience personas, goals, tone of voice).
A brief should include the following:
The specific audience niche that you're targeting

Your goals for the post

Any keywords that you want the writer to incorporate into the content

An outline that includes the general structure and the key points you want to be covered 

Target word count 
Learn more about how to create the perfect content brief or download our free brief template here:
Completing Paperwork 
13% of those surveyed said that completing paperwork -- which includes handling invoices or negotiating contracts -- was a major struggle with outsourcing. 
How to Prevent This 
If you're looking for a content provider urgently, content marketplaces are a great option. They usually have standard terms of service placed on their site. All you need is to just proceed with payment when the brief is ready, no contracts required. 
Those Who Don't Outsource 
Out of all the survey respondents who don't currently outsource content, 60% have considered it at some point.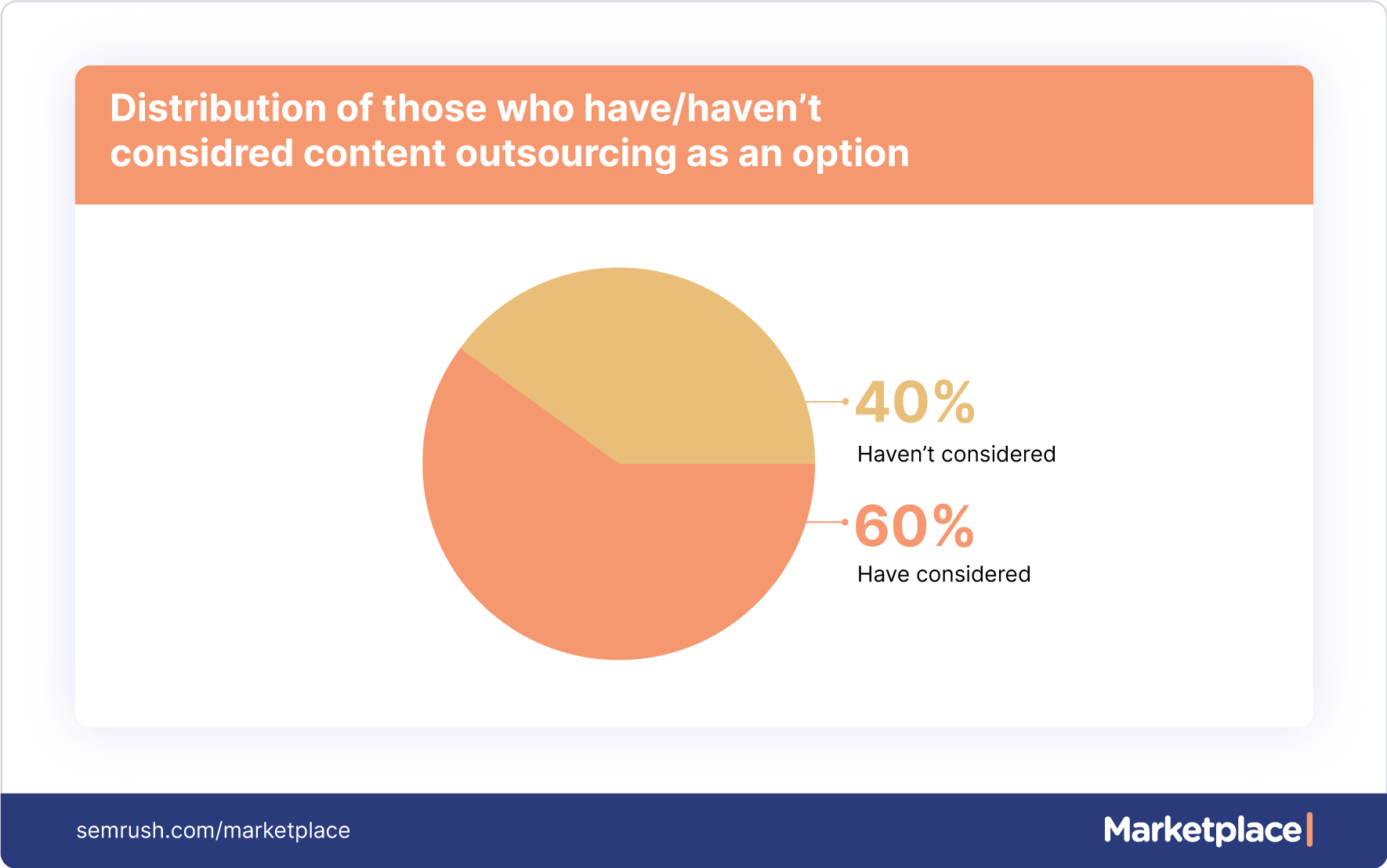 We found that 63% are currently writing the content themselves, and 39% have an in-house team of content marketers. Only 2% said that they didn't need content at all. 

Since over half have considered outsourcing, we wanted to know what prevented them from doing so, and what could be done to make outsourcing more accessible. Here are the reasons that we found:
Fear that Writers Won't Understand Brand Voice or Business Values for the End-User
42% of users feared that freelancers wouldn't understand their brand voice or business values. It's perhaps not surprising that the biggest pain point associated with outsourcing content is also the most common reason why some choose to forgo it altogether. 
How to Prevent This 
As we mentioned above, clear guidelines (which you can reuse!) are the best way to prevent this from becoming an issue. 
It's important to acknowledge that while there's no 100% guarantee that a freelance writer will fully understand your business by their first draft submission, strong writers with solid experience are typically able to incorporate direct feedback. Try two or three articles as long as the overall quality is strong, providing feedback along the way. 
Even if it takes time to get into a smoother workflow with a writer, the time you save by outsourcing even part of your content can be worthwhile once they "feel" your brand. 
Quality 
42% of survey respondents who don't outsource content say that their concern about quality is the reason behind their decision. 
"Quality" here can mean any combination of the following:
How well the article is actually written, both overall and in value to the end audience

How well the company values and target messaging were communicated

How well the post is optimized for SEO 
How to Prevent This 
Choosing either an experienced freelancer who understands your industry and strategy or a content marketplace that pre-vets writers for you can help mitigate potential problems with low quality. 
Outsourcing is essentially establishing a partnership, and if you want a good outcome, you need to put some effort in on your end as well. Make sure that you clearly explain anything that's important to you, which can include anything from keywords you want to be incorporated to specific image dimensions. 
Here are a few examples:
If you're worried about the article structure or the value to the end-user, then working with a subject matter expert is a safe bet.

If you're concerned about the messaging, provide detailed guidelines, and explain business values.

When you're concerned about the quality of SEO, you can include target keywords and clearly state that you want this post to increase organic traffic. 
Some services may offer a trial article. Many established freelancers require payment for trial articles, though they may offer a discount on these. 
Looking to hire a content writing service? Check out our 21 Tips for Finding a Content Writing Service to see the top criteria our audience has listed for choosing content writing services and actionable tips to help you along.
It's Too Expensive 
31% of survey respondents said that they choose not to outsource because of a common misconception that it's too expensive to be affordable. Many prefer to try to write the content themselves, not realizing that by outsourcing, your time could be better spent on other, more strategic tasks. 
Keep in mind that content outsourcing comes in a very wide range of prices:
Novice writers trying to break into the industry will typically be cheapest.

Options like content marketplaces offer good quality for competitive pricing, designed to be accessible to most businesses.

Established, expert freelance writers with their own brand or agency will be the most expensive. 
How to Prevent This 
If you're worried about costs, there are a few steps you can take to plan accordingly and find content that fits your budget:
Consider how many articles you need upfront. Do you need four posts a week, or are you okay relying on one great post per month? This will impact what "per-word" rate you can afford.

Research costs from different providers. Pricing for a 1000-word article can range from $30 to $1000 depending on the provider that you work with. Finding the right provider who aligns with your budget is essential. 

Consider doing a 50/50 split. Are you able to do some of the writing yourself, and outsource a percentage to content providers? This can reduce your overall costs while increasing the scalability of your content overall. 
Conclusion
There are so many benefits that come with content outsourcing when it's well-executed. Survey participants named the following benefits they discovered after outsourcing:
72% said that it freed up time for strategic tasks.

60% said there was a new ability to scale content.

37% said that they got fresh and authentic content from professionals.

34% said that there was a streamlined process of content creation.

22% said they received content with added expertise. 
Content creation doesn't have to be difficult or overwhelming. See for yourself by testing out our Content Marketplace today.